What's the best UST projector? The inaugural ProjectorCentral.com and ProjectorScreen.com laser TV showdown is just a day away. I'm looking forward to not merely attending, but also representing Home Theater Review and being a judge at this exciting event, one that will showcase the latest ultra short throw (UST) 4K laser protection technology, and seek to identify the best performers.
Ever since 4K USTs debuted in the US, with Sony being the first to the party but aiming very high with native 4K, 3-chip SXRD and five-figure price tags. Hisense is the primary trailblazer of more affordable DLP-based UST solutions, but now you'll find models made by many companies. I've followed the technological progress within the category with great interest, going so far as making a point of focusing my projector reviews on the UST category.

There is robust competition in the UST, consequently, there is rapid innovation and the result is consumers have more choices than ever.

First, let us address the fact that these DLP UST projectors are not native 4K. This is true, they instead utilize pixel shifting technology to increase the apparent resolution above that of the DMD, the chip that contains the tiny little mirrors that reflect the light and help create an image using this technology. It is without question that pixel shifting works, and although native 4K is more resolving the impact of the lens on native 4K projectors means that among relatively affordable consumer projectors, there's little difference between the pixel-shifted 4K and the native variety.

Long story short, you have to pay big bucks for a high-quality lens on a native 4K long-throw projector. So, 4K flagship 4K USTs happen to cost a lot less than similarly powerful, laser light source long throw projectors.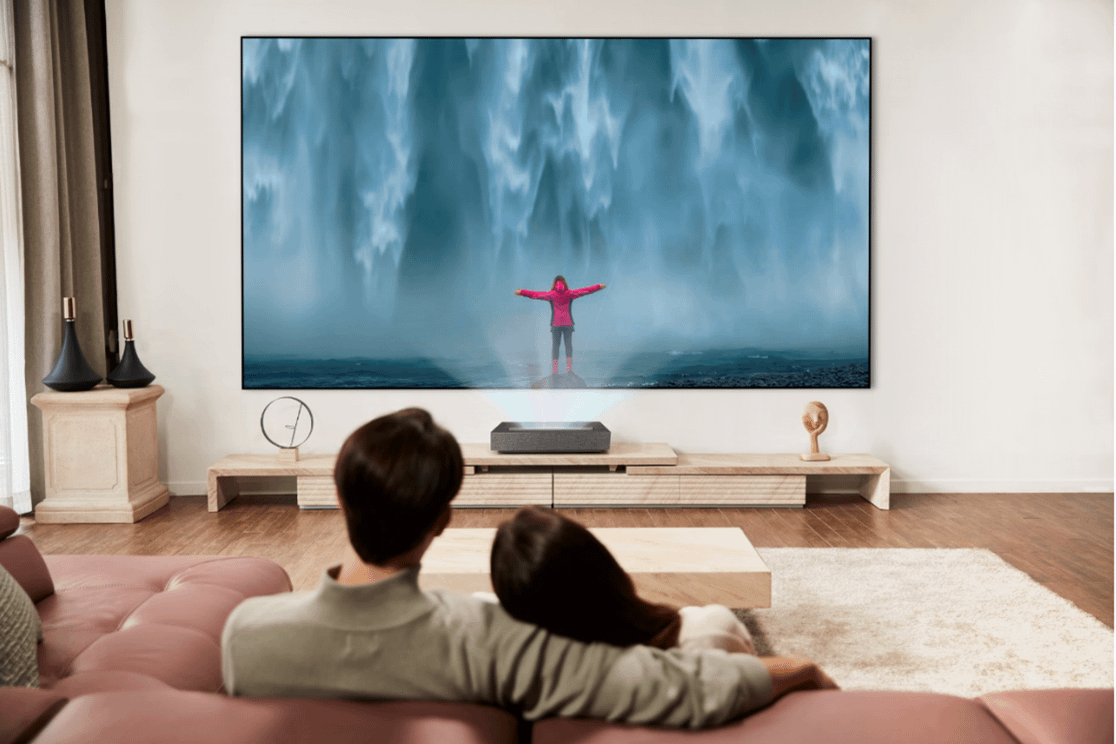 The lens on UST projectors is an interesting element, it is much simpler than the lens mechanisms you'll find on a long throw home theater projector. But it has to do something pretty tricky, because the point of a USB projector is that it sits underneath the screen, very close to the wall. So you do need a good lens, sharp edge-to-edge with minimal vignetting are good traits, but the lens doesn't need to have zoom or shift, just focusing. And it's a much simpler lens with fewer elements. And the reason this is important is that it allows for high-powered, premium UST projectors without the attendant leap in MSRP you see with laser light source long throw units.

UST projection has grown into a vibrant subcategory of consumer displays. It is the fast and easy way to bring a 100-inch-plus projected image viewing experience into a living room or family room setting, with some models offering unparalleled color saturation that exceeds what flat panel displays currently achieve. It is also a hotbed of innovation because the UST category lays claim to the first implementation of Dolby Vision in a consumer projection solution.

The other cool thing we've seen with UST projectors is an increase in native contrast ratio for DLP-based projection. It was commonly thought that DLP maxed out at around 1000:1 native contrast, making the technology good for use in inexpensive, bright projectors. But recent UST projectors have significantly expanded the native contrast, I've personally measured up to 4000:1 contrast, and there are numerous midrange and premium models that support 3000:1 contrast. This makes a significant difference in black levels and makes these projectors more appealing for lights off, home theater style viewing.

That's all a long-winded way of saying that today's UST projectors are not just substitutes for TVs in rooms with ambient light; they are viable solutions for lights-out, totally dark rooms and high-impact cinematic experiences that leverage the strengths of DLP projection, which includes excellent rendition of motion and high ANSI contrast. Oh yeah, and some of these projectors even still support 3D!

Another thing that 4K UST has done is bring down the price of projectors with laser light sources. They are available in single laser plus color wheel and the color wheel-free triple-laser models. And another trend I've seen among these projectors is the virtual elimination of the DLP rainbow effect, this used to be a significant and distracting issue with DLP projectors that held back there adoption by picky enthusiasts, along with the limited contrast. But you don't see that with DLP 4K UST anymore; they create a clean image.

These projectors have other differentiating factors as compared to the more traditional long throw. For example, the built-in sound is typically on par with a basic sound bar, allowing for standalone use. Some of these projectors are compatible with Dolby Atmos and come equipped with an eARC connection.

Anyhow, the opportunity here is to see these cool projectors side by side, calibrated, in a showdown run by Rob Sabin and Projector Central. I have personally reviewed a number of the competitors, but seeing them all side-by-side at once is not something I could achieve in my loft. Plus, the showdown will include more than just myself; there are six judges total!

Stay tuned for my inside follow-up on the event and the whole experience, which I'll post here on Home Theater Review.