We'd like to thank ProjectorScreen.com for their assistance with our projector evaluations and testing. Their yearly shoot-out, extensive selection and helpful attitude makes our life easier when we need to dig in a little more.
The Cosmos Max 4K Home Projector ($1,799) is at the top of the line for Nebula -- a brand that may not be as well-known as Epson, JVC, or Sony, but as a division of Anker Innovations, there is serious backing behind the name. The Cosmos Max is more than a simple video projector, in that it has built-in speakers and Android TV 9.0, making it an all-in-one entertainment system.
The Cosmos Max 4K is a "Faux-K" projector in that it utilizes a 1920x1080 DLP panel and uses pixel shifting to create a 3840 x 2160 image. Nebula obtains 1500 ANSI lumens with an RGB LED light source. In addition to Android TV streaming capabilities via Wi-Fi, the Cosmos Max 4K can also receive signals via Chromecast, as well as its HDMI and USB inputs. The HDMI input will accept signals up to 4K at 60 frames per secondm with support for HDR10 and HLG. Its static contrast ratio is rated at 1000:1, witha claimed dynamic contrast ratio of 100,000:1. The fixed 1.2 zoom means you will need to place the projector between 31 and 157 inches from the screen to get an image between 30 and 150 inches. The instructions suggest placing the projector so it squarely faces a flat, white wall. The Cosmos Max has a built in autofocus system that worked to quickly focus the projector, resulting in a sharp picture. I tried the keystone correction and it worked fairly well, but resulted in some visible artifacts that were easily eliminated by squaring the projector up to the wall.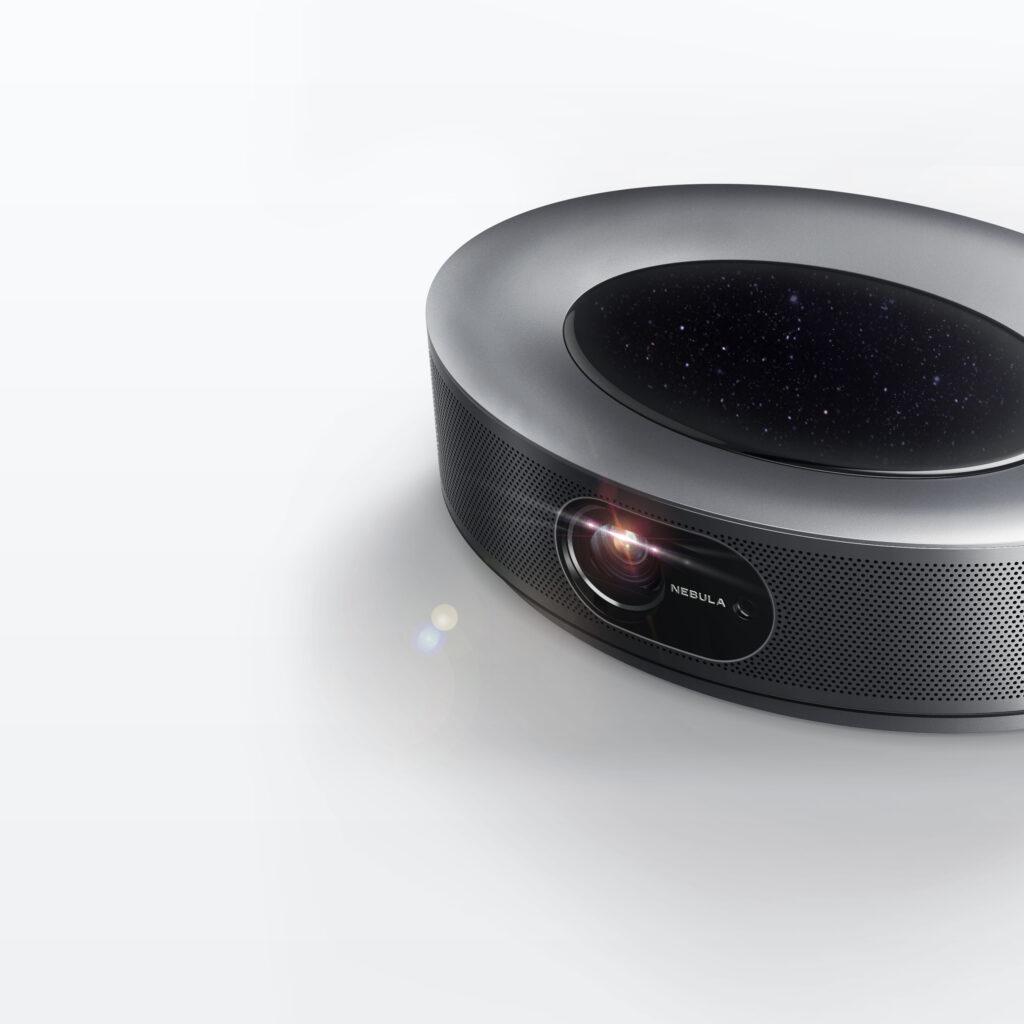 The Cosmos Max has a socket in the bottom for mounting to an optional ceiling pole mount or tripod. I used a tripod I already had on hand and placed it approximately nine feet from the wall, which provided an image measuring just over 7.5 feet wide. The image was bright enough to be watchable during the day in a room with windows, so long as the sun was not directly hitting the viewing surface. Contrast was fairly good in a dark room, but the image appeared washed out in a room lit well enough to read. While the Cosmos Max's brightness is reported as 1,500 lumens, it appeared a bit dimmer than other similarly spec'd projectors.
During my time with the projector, most of my viewing was through the built-in streaming apps, including my son's favorite, YouTube. Netflix had to be "side loaded" with the firmware I had, but that may change with future versions. I also did a little bit of viewing via my Oppo UDP-203 using the Cosmos Max's HDMI input. The Cosmos Max had no problem accepting signals ranging from 480p to 4K and did a decent job with upscaling lower-resolution signals, but with a few more jagged edges than when I set my Oppo to do the scaling.
In addition to trying a white wall as a screen, I also used my Stewart StudioTek100 screen, which made a noticeable improvement on sharpness and color uniformity. I should note that those of you without a screen or white wall are not entirely out of luck, as the settings menu has presets for other wall colors. I tried them on other walls of different colors and it was a decent start, but the farther you get away from white, the harder it will be to get reasonably accurate colors.
The speakers on the Cosmos Max sounded decent for their size, but don't expect the equivalent of a dedicated audio system. If you are used to a full-blown speaker setup like I am, you may find the same quirk as I did. If the projector is close to the wall, the sound will come from an imaging point that makes sense, but if you hang the projector from the ceiling or set it on a table, voices will be strangely oriented from the projector rather than where you see the projector. Connecting the Cosmos Max to an external audio system will of course fix this.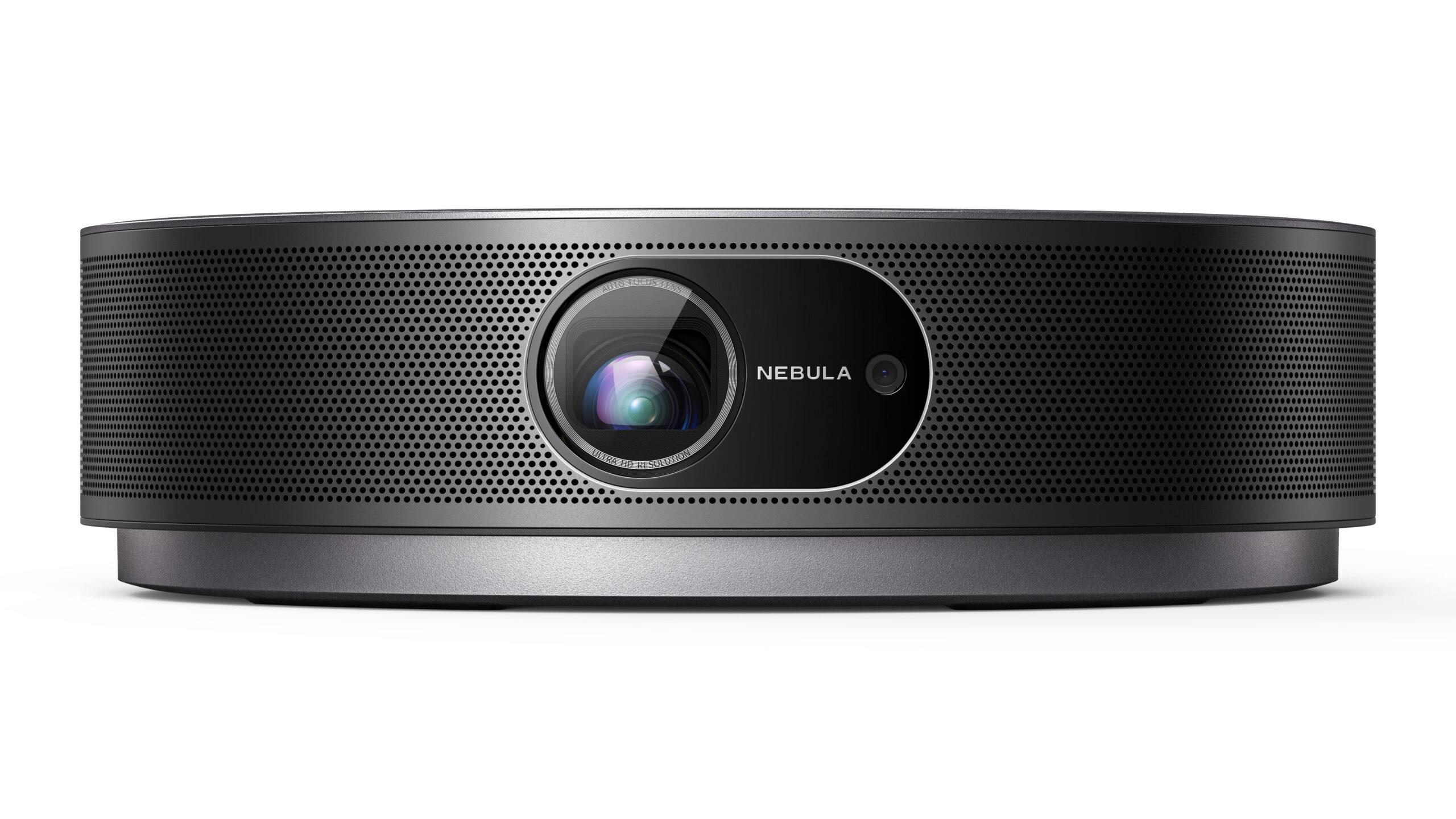 High Points
The Cosmos Max is incredibly easy to setup and use, making it much more likely to be used more often.
The built-in speaker sounds surprisingly good, with intelligible dialogue, reasonable dynamics at moderate volumes, and even a respectable soundstage.
The video quality of the Cosmos Max, with its out of the box settings and autofocus, was not entirely accurate on the color spectrum, but quite watchable without further tweaking.
Low Points
The Cosmos Max's power cable has a large brick in a few feet away from the projector. This is not a problem if you are setting it on a tabletop or tripod, but can be a problem if you are doing a ceiling mount.
There is a slight green tint to the right of white text that is visible when sitting close to the screen.
The picture is a bit dimmer than what I would expect to see given the rated light output.
How Does the Nebula Cosmos Max Compare to the Competition?
The BenQ HT3550 ($1,699) is also a DLP pixel-shifting projector, but has ISF Certification settings and a large color gamut. The speakers do not appear to be as good as those built into the Cosmos Max, but the 2000 lumens of brightness may make up for it depending on your needs. If you need even more brightness, the BenQ TK850 has less color accuracy but is brighter at 3,000 lumens.
Optoma's UHD52ALV ($1,799) 3, projector appears to employ the same DLP chip and has an optional wireless dongle for streaming. It also has Alexa and Google controls.
Lastly, the Epson EF12 ($899) is a small laser-based 1080p, LCD, 1,000-lumen unit with built in streaming.
For a more projector related information please be sure to check out HomeTheaterReview.com's projector page.
Final Thoughts
The Cosmos Max surprised me, in a pleasant way. I am used to high-performance projectors and audio gear in a dedicated theater room, which doesn't exactly make me a prime candidate for reviewing an all-in-one unit. Then again, although the Cosmos Max cannot match the performance of any of the better 4K projectors or any decent audio system, it doesn't really need to. The projector puts out a perfectly watchable image so long as the room is relatively dark, and while the sound may not shake the room, it is enough to be engaging. In my many years of reviewing audio gear, this is one of only a handful of products that has caught the attention of my "non-techie" friends.
My friends were impressed by the same thing I found to be the real beauty of the Cosmos Max: it's a highly portable entertainment system that you can set it up just about anywhere in just a couple of minutes and start watching whatever you want to stream. If you want even more performance, you can use the menu to adjust the picture and audio output to connect to a full audio system. The flexibility of the Cosmos Max to be either a portable, all-in-one entertainment system or a projector in a dedicated theater system makes it attractive. At $1,800, it's a good start for a home projector from a relatively new brand, but I think it would be more attractive in the $1,400 to $1,600 price point. If the price tag is a little too steep for your wallet, there is a 1080p version called the Cosmos (sans the "Max"), available for $799.