Audio Glasses
By Brian Kahn
Google's smart glasses may have been short-lived, but they opened the door to the consumer market for this new segment. There are a growing number of "smart glasses" on the market and I use that term loosely as the feature sets can vary greatly. The Soundcore Frames (from $199) are my first experience with smart glasses, and I was interested in trying this new to me product type.
The Soundcore Frames—a CES 2022 Innovation Awards winner—are actually a system comprised of the temple pieces which hold all of the electronics and the frame which holds the lenses. As of this time, there are a total of ten frame styles available. There are eight sunglass frames that come with polarized lenses and two eyeglass frames that come with blue light filtering lenses. Soundcore sent a variety of frame options and both my teenage son, and I was able to find frames that fit us in both style and size.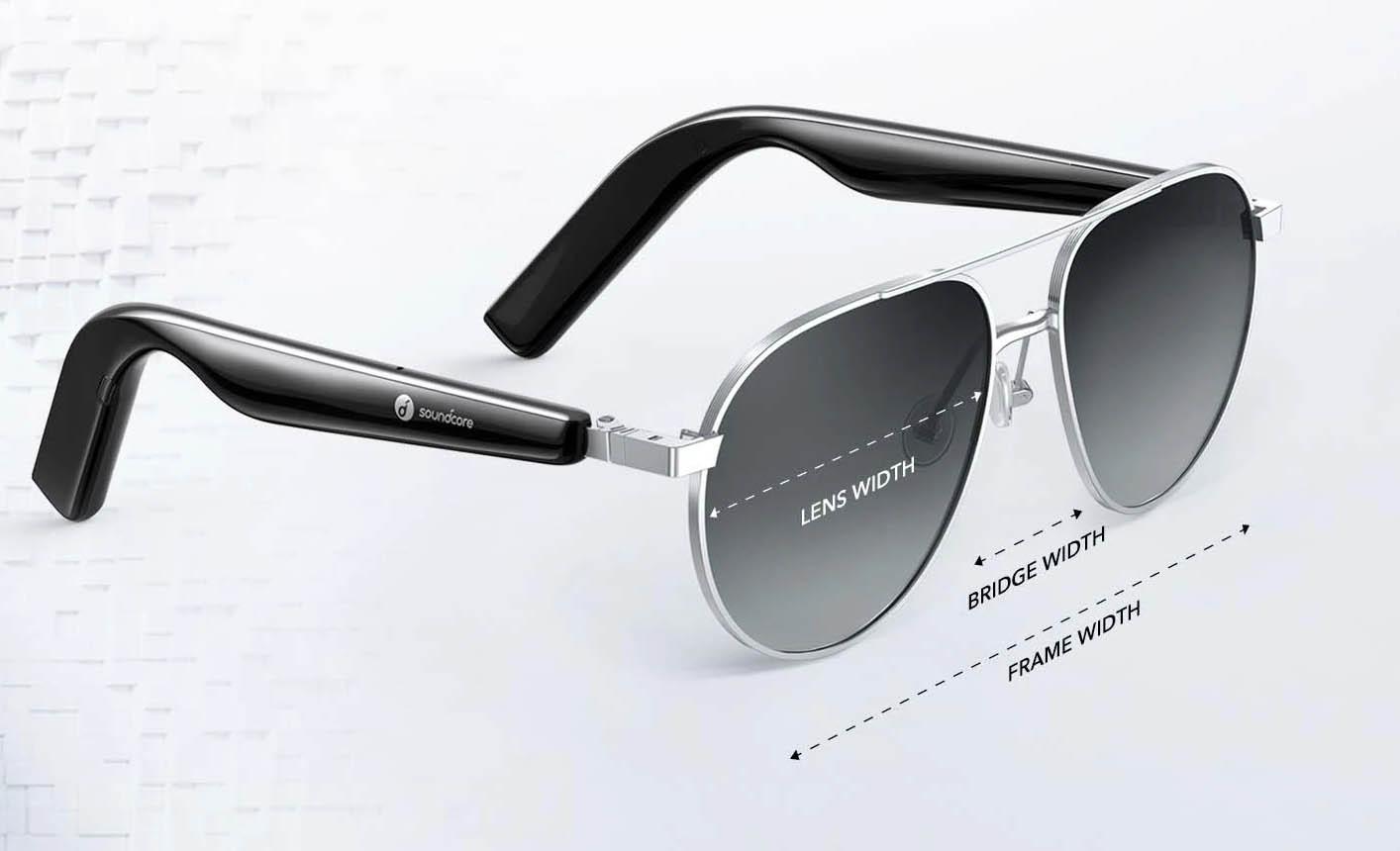 Some of the frames come in multiple sizes and all but one feature removable lenses so that you can fit them with prescription lenses. Swapping out frames is as simple as pulling the temple pieces out of the frame and pushing in a new pair. No tools are required, they simply snap in and out with a firm tug or push. Each temple piece contains a microphone and a pair of speakers as well as a rechargeable battery.
The Soundcore App lets you choose among seven levels of surround sound, customize controls, equalization and selection of privacy mode which appears to mute or greatly reduce the volume from one of the speakers and uses beamforming to prevent those nearby from hearing what you are listening to. The default setting is to enter privacy mode when on phone calls.

A local, built-in voice assistant provides control, and you can of course also use the microphone to access your mobile device's voice assistant, in my case that was Siri through my iPhone. The frames can also be controlled by taps or swipes which can be configured however you like through the app.
Billie Eilish's "Bad Guy" from the album When We All Fall Asleep (Tidal, Interscope Records) The hard pans with Billie's vocals were more speaker like but the driving bass line that runs through the song was on the anemic side. This impression was consistent with everything I listened to. The speaker placement a bit farther from the ears created a more speaker-like image as opposed to headphones. However, this comes at the cost of bass response.
---
High Points
I found the speaker like imaging of the Soundcore Frames to be appealing, perhaps it is because it is a change from the normal headphone experience.
The variety of frame styles and ability to fit prescription glasses means that most people should be able to find a style and size that fits them.
As someone who wears glasses, I like the idea of being able to use them for calls or listening to music without having to keep something inside my ears all day. There is also the added benefit of being able to hear ambient sound without restriction.
Low Points
I would be hesitant to use these if you did not want others nearby to hear what you are listening to. Privacy mode helps a lot and should keep from bothering those nearby but if you want to keep things private from those eager to listen to private conversations, there are better options.
As an audiophile I find the sound quality to be a bit lacking. The customizable equalization can help a lot but if audio quality is your focus, a more traditional headphone or earphone would be a better choice.
The temple pieces have limited physical adjustment as they house the speakers, microphone, battery and other electronics.
---
Competition and Comparison
The other smart glass options that come to mind are the offerings from Bose and Ray-Ban. The Bose ($199) glasses have button controls as opposed to touch control but have very thick ugly temple pieces. The Ray-Ban ($299) glasses come in three styles and are more stylish. They also have video and photo capabilities and a neat Facebook App to share what you are capturing. On a practical note, they also come with a charging case similar to that which most wireless earphones come with.
Conclusion
The Soundcore Frames are a convenient way to be able to listen to music or take calls without having your ears covered or stuffed. I found this let me wear the Soundcore Frames for longer time periods than I would earphones without discomfort. The temple pieces of the Soundcore Frames are not small, but they are not bulky, ugly pieces that scream nerdy tech glasses like some other options, this, coupled with Soundcore's variety of frame styles means it is likely that you can find a style you would want to wear on a regular basis.

As a prescription eyeglass wearer, I like that extra frames are available for $49 so I can have two pairs of prescription glasses, one for indoors as well as sunglasses. There is a compromise with audio quality, but I can always put in earphones or wear headphones when music listening is my primary activity rather than being in the background.