Anker's Soundcore brand has been busy this past year bringing lots of needed products to market. Despite already releasing their successor model of noise cancelling headphones, the Soundcore Q35, the Soundcore Q30 still represents an incredible value and remains available at many retailers. Perhaps best known for their chargers, hubs, docks, and other accessories for mobile devices, they also offer an expanding, wide range of audio products, including headphones and earphones. I recently reviewed their Liberty 2 Pro True Wireless Earphones and their Spirit X2 Waterproof Wireless Earphones, and was impressed with the quality and performance of both. Now Anker has sent me their Life Q30 wireless noise-cancelling headphones ($79) to review.
The Life Q30 is a wireless noise-cancelling headphone and is quite possibly the most comfortable full-sized rig I've ever worn. It's not only light, but also passes the head shake test (not falling off or even drifting askew under strenuous activities) with just the right amount of caliper pressure. Too much caliper pressure, of course, and your head feels like it's in a vice. Too little and the headphones fall off your head. The Q30 strikes just the right balance of secure fit and comfort.
Main Features of the Soundcore Q30
The Life Q30 boasts Hi-Res audio certification. What is that and what does it mean? The official Certified Hi-Res specification includes precise requirements for headphone performance. In order to be Certified Hi-Res, headphones must be able to reproduce frequencies up to 40 kHz or above. This is well above the standard "full-range" frequency response of up to 20 kHz. Additionally, Certified Hi-Res playback devices, like a set of headphones, must be able to convert 96 kHz/24-bit digital signals into analogue audio for listening.
The newer Q35 version adds LDAC Technology - this higher bit-rate Bluetooth mode uses 3 times more data for near lossless wireless transfer. This feature adds nearly $50 to the price and depending on how critical your listening is, may not make a huge difference to you.
The Q30 have something called Multi-Mode Noise Cancellation. This is basically three settings: ANC Off, ANC On, and Transparency Mode. In a quiet room, there is very little difference between ANC on and off, which is a good thing. This means the ANC processing is not adversely affecting the audio quality. Thankfully, neither does transparency mode. Again, in a quiet room there is very little difference in the sonic signature of what you are listening to, and that is as it should be.
But ANC's value is in how it performs in noisy environments right? So how well does the ANC work on a plane, on a train, or when operating a crane (channeling my Dr. Suess here!)? They are good, offering competitive ANC to offerings from companies like Sony, Bose, Sennheiser, and Apple, all of which cost many times the price of the Q30. I'm not saying the ANC is on par with that of the Sony WH-1000XM4 (reviewed here) or Bose 700, so if ANC is your primary motivator, you might consider moving up to one of the aforementioned leaders in this area. But you will pay more for the best ANC. I rate these just a step down, and at this price point, they are quite the value.
The earcups of the Q30 enclose the ear fully, which provides an extra degree of passive noise attenuation even when ANC is switched off. Not a closed-in, stuffy kind of feeling, but a welcome comfortable sense of reduced noise. There is that word again: Comfort. Anker really got this right with the Q30.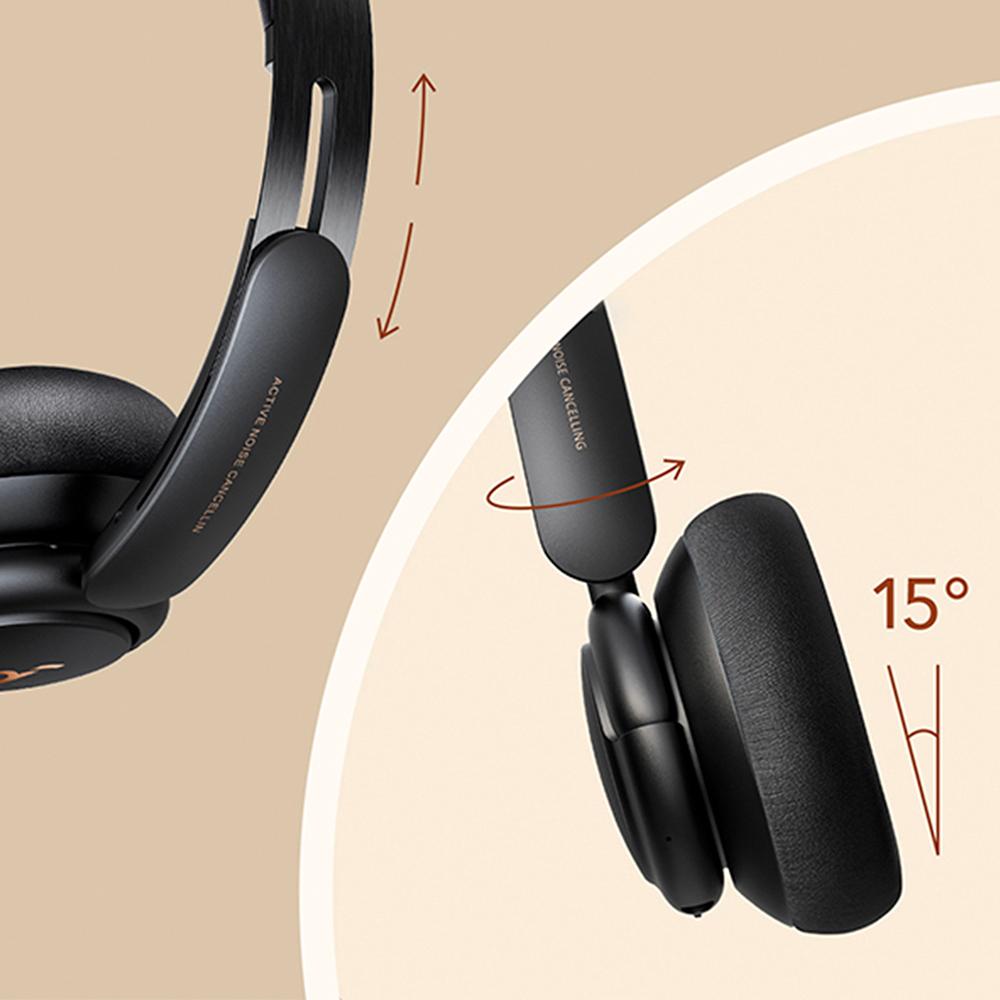 The Q30 also comes with an attendant app called simply Soundcore, which is designed to support several Anker headphones and provides additional customization of sound via the EQ section, including a setting called Soundcore Signature that ends up bringing out the best in this headphone. I'll qualify that by saying I tried all twenty-two options (yes, twenty-two!) and actually, if you include (and you should) the additional custom setting that lets you adjust any of the eight EQ bands from 100Hz to 12.8 kHz, it's 23 settings. Yet, after trying all other options, I still favored the Soundcore Signature setting. But, different horses for different courses; I encourage you to try them all and try them while listening to all the various types of music, movies, games, and spoken word.. You can also open the app and change the EQ settings depending on what you are listening to at the moment, so there's no need to commit to one sonic profile.
The Soundcore app also features something called Sleep Mode, which includes eleven ambient sounds designed to improve sleep. I like the first six and the last one: rain, birds, wind, chimes, fire crackling, and wind, but the other five are more like torture settings in my humble opinion. Can you really call water dripping, a thundering locomotive, a clock ticking, and seriously disturbed livestock mulling about "sounds to improve sleep"? Not me. But I'm not giving credit enough for the ones I like, and maybe others will prefer those that I don't. Horses and courses again. so even if just one of them is useful to you, consider it a free bonus.
How Well Does the Soundcore Life Q30 Perform?
Since the primary use for wireless headphones is with our smart phones, it's not out of line to start by asking: how does the Q30 handle calls? The answer: exceedingly well, mostly thanks to what Anker calls "uplink noise reduction." The bottom line is voices are intelligible and clear on both ends of the call, even in windy or other noisy environments. There is one feature conspicuously absent here however: there is no voice control to summon your device's smart assistant. Some competitor's headphones and earphones have either button or voice-controlled access to Siri or Google Assistant or Alexa, or whatever digital voice assistant your device supports. There isn't even mention of accessing your digital voice assistant anywhere on the box, website, or in the paperwork that comes with the Q30. That said, when wearing the Q30, I simply said "Hey Siri" and my iPhone responded just fine, so kudos to Apple for this and maybe even kudos to Anker for realizing they didn't need to build something into their headphones that works anyway.
As for pairing, remember when it was rocket science to get Bluetooth to connect your phone and headphones? That's been solved for a while now, to the point where it's expected that your Bluetooth devices pair quickly and consistently, and that is the case with the Q30. They even offer NFC pairing in addition to the search and select method. I also had no problems pairing these with my laptop and even the Soundsync A3352 Bluetooth transmitter hooked up to my TV. Range was more than the expected thirty feet, line of sight. Impressed yet?
The battery in the Q30 gives you best-in-class 40 hours of listening (and that's with ANC turned on) and if you run flat for any reason (forgot to plug them in after a week or so), five minutes of charge will give you four hours of listening. One drawback here is that there is no visual representation of battery level on the Q30 itself or via the Soundcore app. Turning it on after charging and you're met with a pleasant female voice telling you "Battery High," and I guess she would update that to "Battery Medium" and "Battery Low," but even if so, I would rather have an LED readout on the headphone or at least a battery level meter in the app so I could check before hunting for an outlet.
There is an included eighth-inch cable to switch to a wired connection, but more and more mobile devices these days come without an analog headphone output, so the value of such is questionable. Still, it's nice to have for that odd moment when that would work better for you.
How Does the Q30 Sound with Music?
Sitting down to audition the Q30 with my favorite tracks for a few hours, I noticed a few issues that would generally not present themselves unless critically listening while doing nothing else. Needless to say, the Q30 isn't built to perform to audiophile standards, despite the Hi-Res certification.
Simply put: the overall sound, while pleasant, is not immersive. The soundfield is a bit constricted, and the focus is really on midrange frequencies, meaning the highs are there but don't really sparkle and the bass definitely makes its presence known, but can be slightly distorted at times. Mids, as prominent as they are, also get challenged by dense mixes, resulting in a midrange flatness.
Mind you, these criticisms are measured against my internal baseline of audiophile-quality headphones costing many times the price of the Q30. If the Q30 did any better against this benchmark, I would be amazed. As it is, they sound very good for the price, better than anything anywhere near their overall value proposition.
Among the tracks from my demo playlist, I chose a classic by The Rolling Stones: "Angie" from Goats Head Soup
That amazing acoustic guitar work by Keith, Nicky Hopkins' delicate piano accompaniment, and one of Mick's best vocal performances backed by minimalist drum work by Mr. Watts challenges headphones to resolve the placement of each instrument in the mix. That said, it wasn't as if the song was unenjoyable; it simply wasn't what you'd get from much pricier cans. Mids were nice, as was the bass, but the music lacked something in terms of high-end sparkle.
Next, I thought I would check spoken word, since podcasts and audiobooks have become a much bigger part of my listening rotation this year. I've become a fan of WTF with Marc Maron. The show's back-and-forth exchanges sometimes feature overlapping voices that can make it hard to understand what each participant is saying. Here is where the Q30 really shines. Speech is articulate and distinct, making listening a pleasure.
Last up I checked out how well the Q30 would handle the low-frequency effects elements from an action movie against whispered dialogue. The Q30, while not quite able to keep up with my 5.1.4-channel Dolby Atmos sound system, did a very good job of punching and thumping along with the soundtrack and effects, though not necessarily with the level of articulation or control you would get from much costlier headphones. The takeaway here is that you can enjoy an entire move or binge-watch for hours and enjoy solid sound quality in comfort -- and with transparency mode on, you'll hear Grubhub ring the doorbell with your pizza and wings.
High Points:
The Soundcore Life Q30 is extremely comfortable even during extended use, as in long plane trips or binge-watching half a season's worth of The Walking Dead.
The Q30 is positively packed with features and offers an incredible 40 hours of playback time, even with ANC engaged.
The fold-up design of the Q30 is much appreciated, as is the protective carrying case.
Low Points:
The Q30 and its companion app both lack a visual battery level indicator, meaning you're left with vague vocal battery indicators to know when you need a charge.
Unlike many wireless headphones, the Q30 doesn't turn off when you take it off your head.
Sound quality, while great for a full-sized headphone at this price, isn't exactly world-class. There's an overemphasis on midrange frequencies, highs are a little inarticulate, and bass isn't as well-defined as I would like, though it can be a little too prominent at times.
Comparisons and Final Thoughts
The Soundcore Life Q30 is priced well against the Audio-Technica ATH-ANC500BT and JBL's TUNE 750BTNC, both of which sell for a little more at $99. The Audio-Technica model sounds very good and has very good active noise cancellation, but half the battery life of the Q30 at 20 hours. The ANC500BT is also comfortable, but not the equal of the Q30 in that department, and there's no associated app for more control.
JBL's TUNE 750BTNC has even less battery life at 15 hours, but does allow hands-free voice control for digital assistants including Alexa, Google, Siri, and Bixby. It also supports Multi-Point Bluetooth Connection, which automatically switches to whichever device is "active" at the moment among previously connected devices. Sound quality is good, as is the ANC feature, but there's no associated app for more control.
Amongst these three affordable feature-rich, full size Bluetooth headphones with ANC, you really can't make a bad decision. It will come down to what's most important to you. None sound truly bad, though I prefer the Q30, especially with its associated app offering tons of EQ options and three ANC modes. They all integrate well with your mobile devices, though I give the nod here to JBL for their enhanced hands-free voice control of all major digital assistants. All offer great clarity for making and taking phone calls. Battery life and extreme comfort are where the Q30 really set itself apart, so of these are important factors for your wireless noise cancelling headphone needs, the Anker Soundcore Q30 is a great choice even compared to more recently released models.