Soundcore, the audio brand under Anker Innovations, has introduced the Motion X500, a compact and portable Bluetooth speaker that promises to elevate your audio experience with Hi-Res audio support and spatial sound. The Motion X500 builds upon Anker's reputation for delivering high-quality audio products, and it is now available for pre-order.
The Motion X500 is the latest addition to the Soundcore Motion family, positioned between the Motion X600 and Motion 300 models. Designed with portability in mind, it features a sleek and compact form factor, making it an excellent choice for various scenarios, from indoor use to outdoor adventures like picnics and garden parties.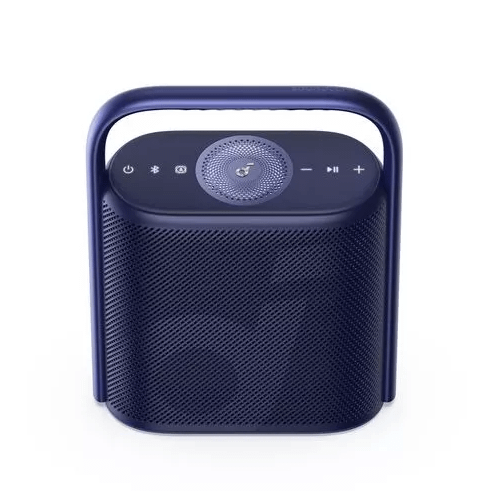 The Motion X500 distinguishes itself with its spatial audio capabilities, thanks to its incorporation of an inventive upward-firing driver known as the "Sky Channel. This innovation is part of Soundcore's proprietary 3D Sound algorithm, designed to expand the soundstage both in height and width. With three full-range drivers, including the Sky Channel, the Motion X500 can produce a total of 40 watts of audio power, promising a detailed 3D spatial sound that can fill a room.
The Motion X500 is also well-equipped in terms of audio compatibility, boasting support for Hi-Res audio and the LDAC codec, which is known for delivering higher sound quality compared to standard codecs found in most Bluetooth speakers. Additionally, the speaker supports the AAC codec used by Apple devices, ensuring broad compatibility.
To further customize your listening experience, the Soundcore app provides a 9-band graphic equalizer that allows users to fine-tune the speaker's tone according to their preferences.
In terms of construction, the Motion X500 features a durable matte aluminum casing with an embossed Soundcore logo on the speaker grille. Its waterproof rating of IPX7 makes it resilient to rain and water splashes, and it can even float if accidentally submerged.
The Sky Channel driver on top of the speaker not only contributes to spatial audio but also includes dynamic LED lighting. The lighting can adapt to different EQ modes or be customized through the Soundcore app, allowing users to create a visually engaging audio experience.
The Soundcore Motion X500 Bluetooth speaker offers a choice of three stylish colors: Black Deluxe, Glitzy Blue, and Pink Punch. It is currently available for pre-order at www.soundcore.com for $129.99 (or £129.99 / €129.99), with shipping starting on November 9. After the pre-order period, the price will be $169.99 (or £169.99 / €169.99).