At this year's AXPONA show, the Polk Reserve R200AE speakers proved that you don't have to break the bank to get excellent sonics, including room-rumbling bass. The letters "AE" in the model name stand for "Anniversary Edition" because this collectible edition of the acclaimed R200 bookshelf speaker—which is limited to 1,000 pairs worldwide—was launched to celebrate the company's 50th anniversary.
At AXPONA, the speakers were in a setup with a Denon PMA-1700NE integrated amplifier (140 watts per channel) and a Denon DCD-1700NE CD/SACD Player, resulting in a stunning, surprisingly affordable system that filled the room with realistic, clear sonics and deep bass. (Masimo Consumer owns the brands Polk, Denon, Marantz, Bowers & Wilkins, Definitive Technology, Classé, HEOS and Boston Acoustics, which allows it to provide customers with a wide variety of products and price points.)
Designed and engineered in Baltimore, the Reserve R200AE is fueled by a 1-inch Pinnacle Ring Radiator Tweeter and a 6-and-a-half-inch Turbine Cone Woofer. The speakers—which looked and sounded particularly great on stands at AXPONA—have a gorgeous, cherry wood veneer that gives them an understated elegance.
"The Turbine Cone Woofer is a made from very lightweight yet very stiff material, and it's also flexible," said Ryan Merryman, regional brand activator for Masimo Consumer. "The turbines help the cone to flex, and coupled with the X-Port on the back, really gives you that punch—the feeling that there's a subwoofer in the room, but there's no sub in here."
Pinnacle Performance
The Pinnacle Ring Radiator Tweeter's unique waveguide delivers broad, high-frequency dispersion. It offers sound reproduction beyond 40kHz, as well as extremely fast and ultra-accurate transients, resulting in sonic clarity throughout the room.
"The 1-inch Pinnacle Ring Radiator Tweeter has fantastic dispersion," Merryman said. "Think about a flashlight versus a flood light. A lot of tweeters are more like a flashlight, [creating] a pinpoint, sweet spot in the room. The Pinnacle Ring Radiator Tweeter makes it so that any seat in the house is a great seat."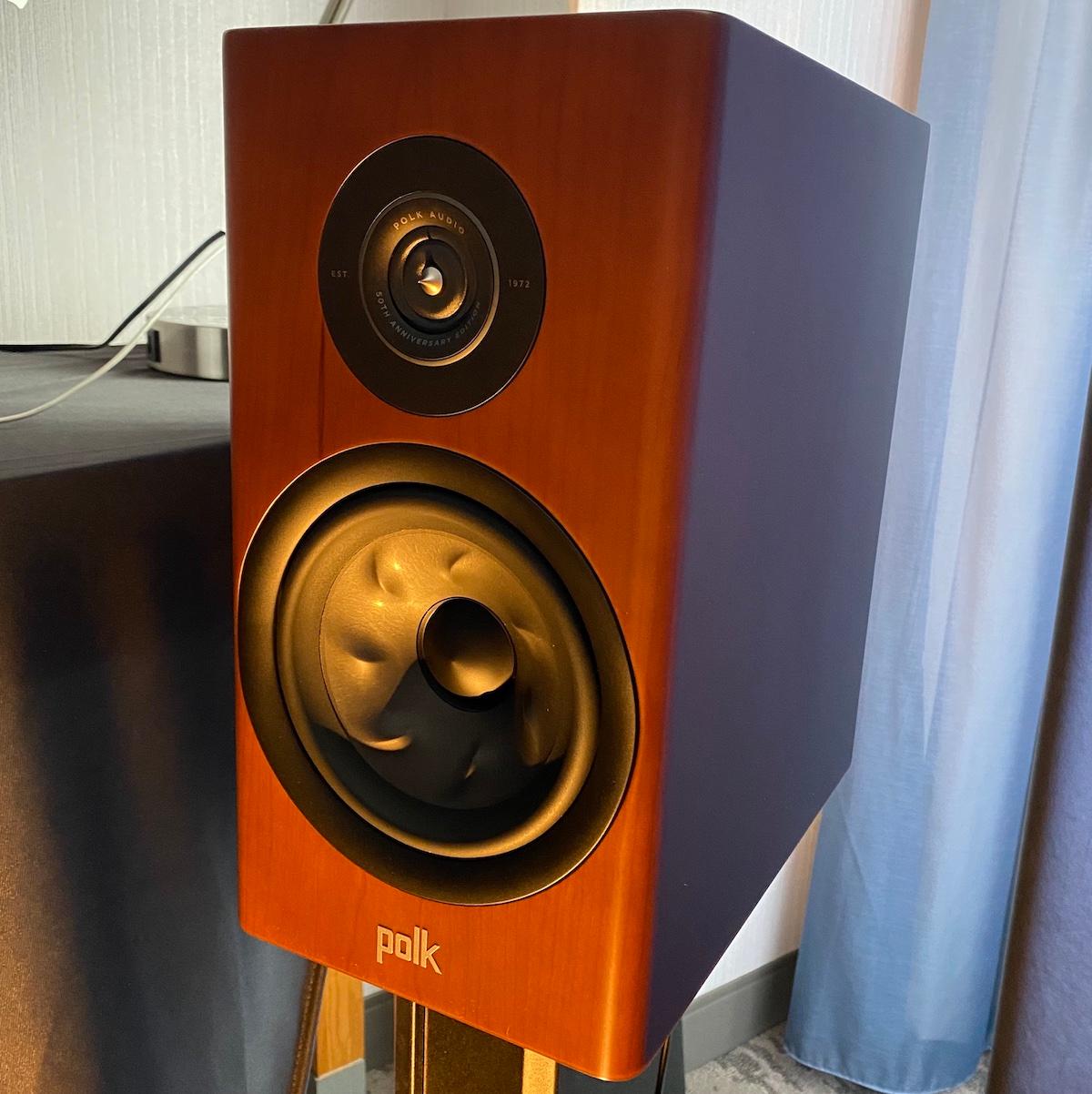 Ported & Plated
As veteran audiophiles know, ported speaker designs certainly increase low-frequency performance. However, one potential problem can be the lack of clear midrange details because of port resonances. Polk engineers addressed this by developing the proprietary X-Port, which uses specially tuned eigentone filters to cancel out unwanted resonances.
In addition to the distinctive X-Port, the back of each R200AE has a serialized commemorative plaque with Matthew Polk's laser-etched signature on it. Furthermore, the speakers have 24K gold-plated five-way binding posts. And under the hood, the anniversary edition offers upgraded crossovers.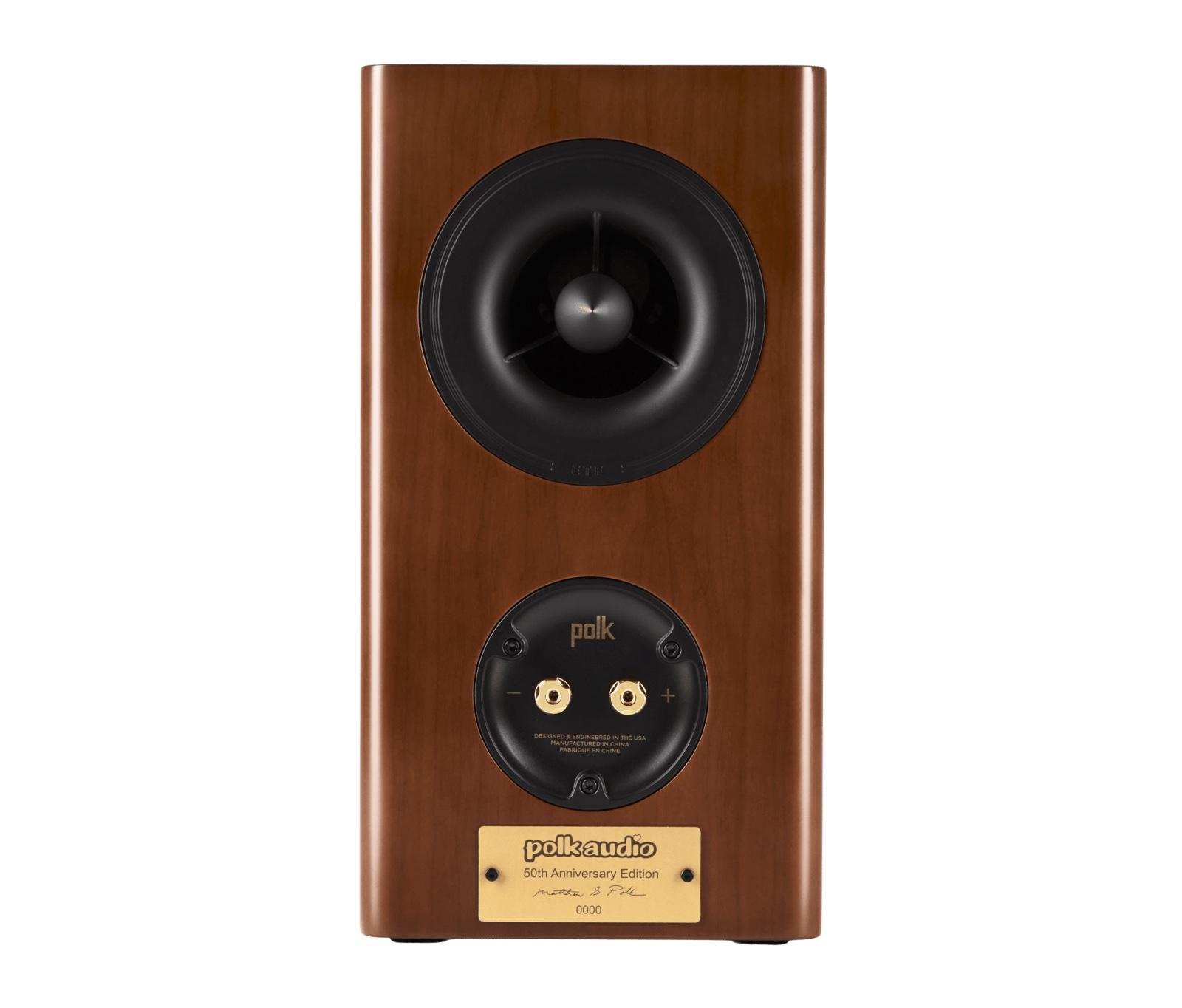 Meticulous Interior Engineering
Standing just over 14 inches tall, and weighting about 19 pounds, each acoustically inert speaker cabinet has been cross-braced and optimized through laser Doppler vibrometry to eliminate unwanted interior resonances.
Pricing & Availability
The Reserve R200AE is available from authorized Polk retailers, including Crutchfield, for $1,299 per pair. In recent years, the R200 has won acclaim throughout the industry, racking up an array of awards. So, if you've been considering these sleek bookshelf speakers, this new anniversary model might finally seal the deal for you. But don't hesitate too long because the collectible nature of this model means that it might not be available for an extended time.