The best budget AVR? In the world of AVRs, Denon looms large as the most popular brand, and it offers a broad array of options that satisfy a wide range of uses and price points. The new AVR-X1700H ($699 MSRP) is the latest addition to the family and offers a nicely balanced mix of features, including 8K video support.
Denon's AVR-X series of AV receivers come packed with powerful features ranging from advanced connectivity to highly effective and customizable room correction courtesy of Audyssey.
A Familiar Foundation
The hardware foundation of the AVR-X1700H is familiar territory, with amplification that specs out identically to its predecessor, the AVR-X1600H. The big difference here is the HDMI upgrade that supports 8K/60Hz and 4K/120 Hz plus ALLM in three of the six HDMI inputs and the one HDMI output. This AVR offers eARC for high-performance surround-sound while using your display as the audio source.
This is a 7.2-channel AVR delivering up to 80 watts of per channel into an 8 ohm speaker (but less when all channels are driven concurrently, as is the case with most AVRs). Also, the amps on this AVR are rated to drive 4 ohm loads, which increases the number of speaker system options available for this AVR.
The AVR-X1700H is a solid choice for a living room system, or a starter home theater. The 8K compatibility is more future-proofing than useful today, but 4K/120 Hz support with ALLM (auto low latency mode) and VRR (variable refresh rate) is sure to appeal to gamers seeking an elevated surround-sound experience.

Of course 4K and 8K are about more than just pixels. HDR is a key feature and the new Denon is up to the task: It supports all major high-dynamic-range video formats, including Dolby Vision, HDR10, HDR10+, Dynamic HDR, and HLG. HDCP 2.3 is supported on all six of its HDMI inputs and the output.
"The AVR-X1700H is a great starting point for budding enthusiasts looking for a fully-featured AVR at an accessible price. Complete with multiple 8K HDMI inputs, virtualized surround sound and several other technologies usually found in premium home theater systems, this AVR has it all. At a time when so many people are considering system upgrades to watch their favorite TV and movies in higher quality, this receiver handily delivers the next-gen experience our customers are demanding."

Trip Randall, president of Denon
Speaking of elevated surround-sound, this AVR offers Dolby Atmos and DTS:X 3D immersive sound. And thanks to height virtualization, you can experience 3D envelopment without having to go crazy installing a ton of speakers. And thanks to Audyssey XT room correction, this Denon will adapt to your space and deliver high fidelity that sounds clear and properly balanced.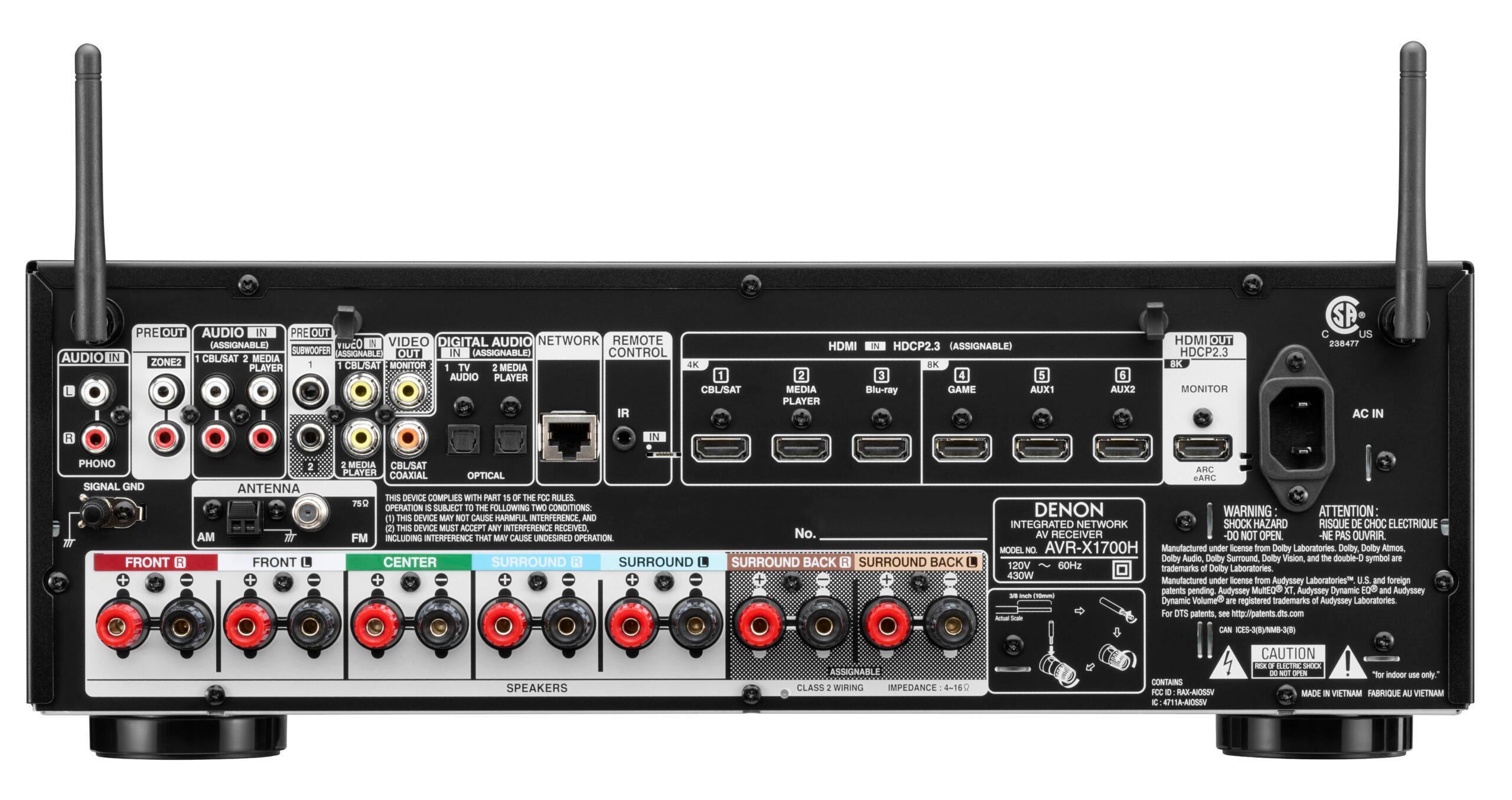 Since this is a new AVR, there are not yet objective/measurement-based reviews available to offer insight into its overall technical performance. But since it is an evolutionary design, and a Denon, there's reason to expect its baseline audio performance will be in line with its predecessor, and good enough to give you goose bumps if you set it up properly.

If the goal is to hugely upgrade the sound of your main TV or projection system, while gaining support for the numerous nice features offered by 8K HDMI (and not go broke in the process), an AVR of this quality, plus a sub and some good speakers will easily outclass a soundbar system. It even offers a phono input for vinyl record lovers and being a receiver, you can even use it to tune it to AM and FM radio.

The Denon 8K AVR-X1700H is shipping, but being brand new, inventory is in flux. Currently, you'll find it is either coming soon or available to preorder. Once steady inventory is established, we'll add a list of retailer links to this post.