When setting up your home theater system, you should consider getting a projector! A projector is an electronic device that takes media from a different device and projects it onto a wall or a screen. They are a good choice to use for your home theater because you can have the feel of a big-screen TV with the option to move it as you see fit. What also makes them great for watching the Super Bowl and other sporting events is the ability to enjoy a large, high-definition image that will make the most out of all the action going on in the game. Using the right equipment paired with your projector, an immersive experience can easily be created in your home.
One deal that we found that you have to see is for the Optoma UHD55. This is a projector that is loaded with many different features that make it a must-have for your home theater. Available for a limited time only, this projector is on sale for $300 off its original price of $1,799.00, which is $1,499.00! Catch it before it's gone!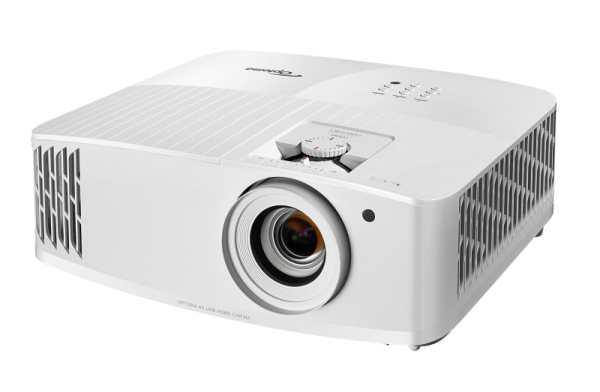 For an entertaining night of fun, you should definitely consider using the Optoma UHD55 to watch the Super Bowl with your family and friends. Between its 4K resolution and HDR support, this projector will provide you with stunning picture quality and incredible on-screen details. The lamp's light output is 3,600 lumens, creating a high-quality projected image that can still be visible in rooms where light may be present. Gamers can also benefit from using this projector as its short input lag will always keep you in the game and ready to play! Some other useful additions are that it has Smart features like streaming apps (Netflix, YouTube, Hulu, etc.), Google Assistant, and Amazon Alexa so all sorts of entertainment are at your fingertips. Don't miss this discount and get the Optoma UHD55 today!
Check out these other awesome specials on projectors right now!
You need to have a projector that goes above and beyond to give you a true cinematic experience. That is why you should get the Epson Home Cinema 4010! This projector has been tested by experts and is found to be crisper than most HD projectors on the market. Packing a powerful punch, this device makes it possible for you to use it to watch both 4K and HDR media for a significantly less price than a typical 4K projector. Its 2,400 lumens are great for supporting color and white brightness and you never have to worry about your picture not being sharp. At a discount of $200, you can get the Home Cinema 4010 for $1,799.99 instead of its retail price of $1,999.99! Hurry because this offer won't last long!
With the Hisense PX1-PRO, you wouldn't want to take your eyes off the screen for a second. The way this projector delivers outstanding visuals with its HDR compatibility and 4K resolution, you'll feel like you're watching the game from the stands! It also has a built-in sound system that supports Dolby Atmos, so you can listen intently and enjoy high-quality audio. Besides that, its Smart features give you more options for what you want to watch, whether that be a YouTube video or a movie on Disney+. An extra bonus to using the PX1-PRO is its ultra-short-throw design. You don't have to stress out about this projector taking up a great deal of space and it could be placed close to the screen. Currently, the Hisense PX1-PRO is specially priced at $2,999.99, which is a $500 discount from its original price of $3,499.99! Get this projector now so you can have it in time for the Super Bowl!
If you're curious about getting a projector for your home theater but not sure which type is the best choice, you should definitely read this article written by our experts. It's full of helpful information to help you choose the right projector to fit your needs. Check it out so you can make an informed decision.