Over the past couple of years, BenQ has been refreshing their lineup of projectors with some impressive 4LED powered models. The GP500 is a competitive entry in a growing market of semi-portable solid state projectors. Featuring great color, fantastic out of the box performance, solid speakers and a good design this projector sure has some strong positives. Let's jump into the review to see why we decided to give GP500 our Highly Recommended award.
High Points
Fantastic color out of the box
Auto-focus works well
Solid build quality
Effective dynamic contrast
Low Points
Poor contrast
So-so HDR handling
Over processed sharpening
Design and Features
The GP500 is, in a word, adorable. It looks like it's a character out of the movie WALL-E. I didn't think I'd want an adorable projector but I really like how this projector looks. Coming from the last projector I reviewed, the Optoma UHD35STx, I appreciate the thought that BenQ put into the design of this projector. It's well built and no part of it feels like an afterthought.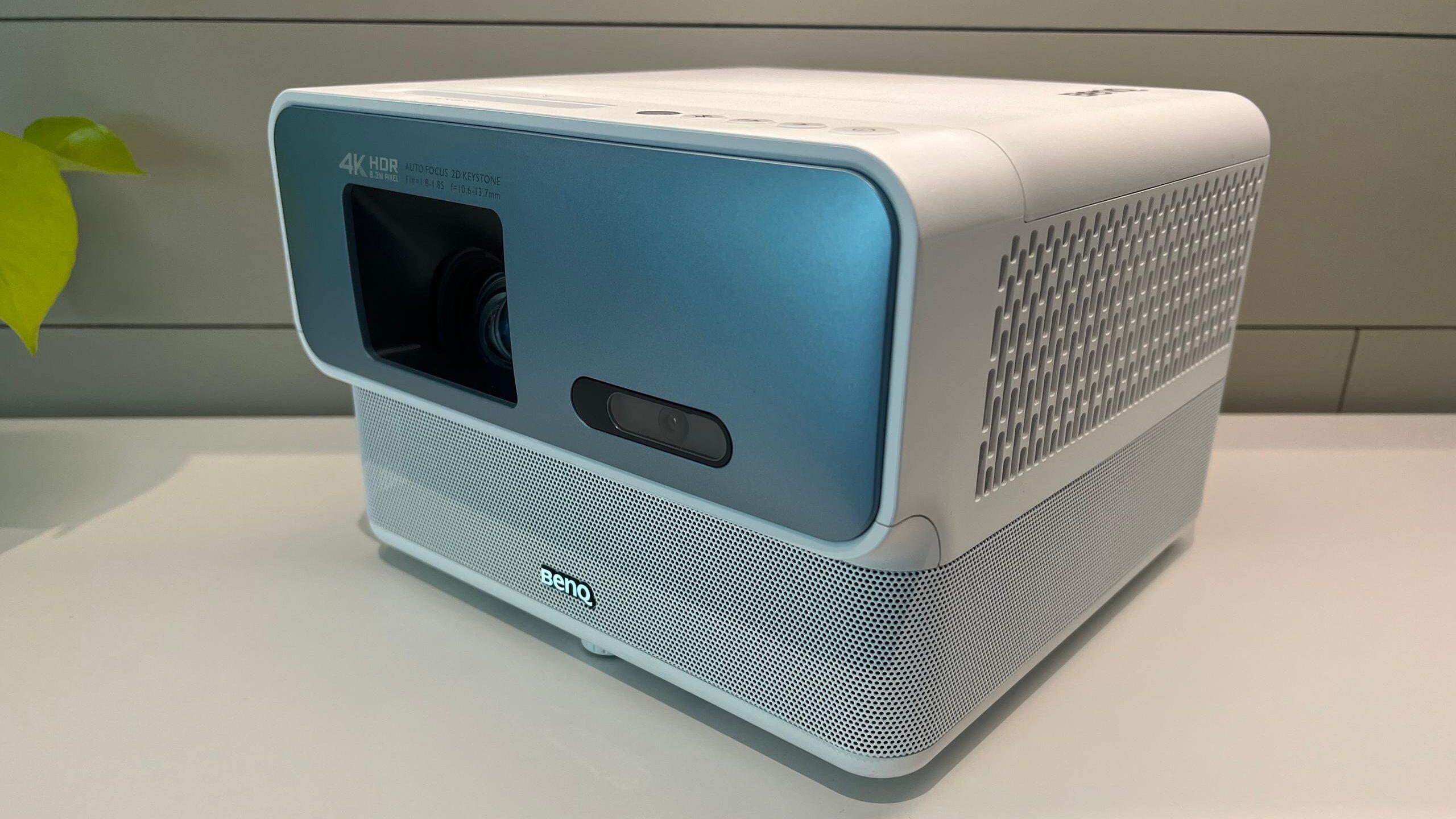 The projector's throw ratio is 1.0-1.3, which can be controlled by a zoom slider on top. A 100" screen can be projected from 7.3ft away. There is no lens shift, but the GP500 does have a slick auto focus (and motorized manual focus) that works well. There is also a suite of alignment controls such as digital zoom, object avoidance, and automatic 2D keystone.
These are useful for temporary setups, but we recommend avoiding them for permanent installations as they can reduce effective brightness and resolution, as well as create artifacts.The GP500 features 1500 lumens, 4K resolution via the 4-way pixel shifting 0.47-inch DLP DMD (Digital Mirror Device) with XPR (Xpanded Pixel Resolution) from Texas Instruments.
The 4LED light source features individual LEDs for red, green and blue, as well as a white LED for additional brightness. BenQ specs this 4LED system to cover the full Rec709 gamut and 90% of the DCI-P3 gamut - impressive given its price point. Wrapping up the notable features is the 360° sound field powered by four speakers and designed by treVolo.
Smart OS and Setup
The GP500 comes with a proprietary streaming stick that runs on the familiar Android TV platform. Netflix is not included, which is not unusual for setups like this, but it is a downside nonetheless. The streaming stick is stored in a hidden door on the top of the projector that is removed with two screws.
One unusual aspect is that BenQ provides you with a single remote control that can operate both the projector and the streaming stick. This almost makes it feel like a single unit but it isn't quite there. I ran into a couple hiccups where the remote got out of sync with the streaming stick somehow and I had to reconnect it.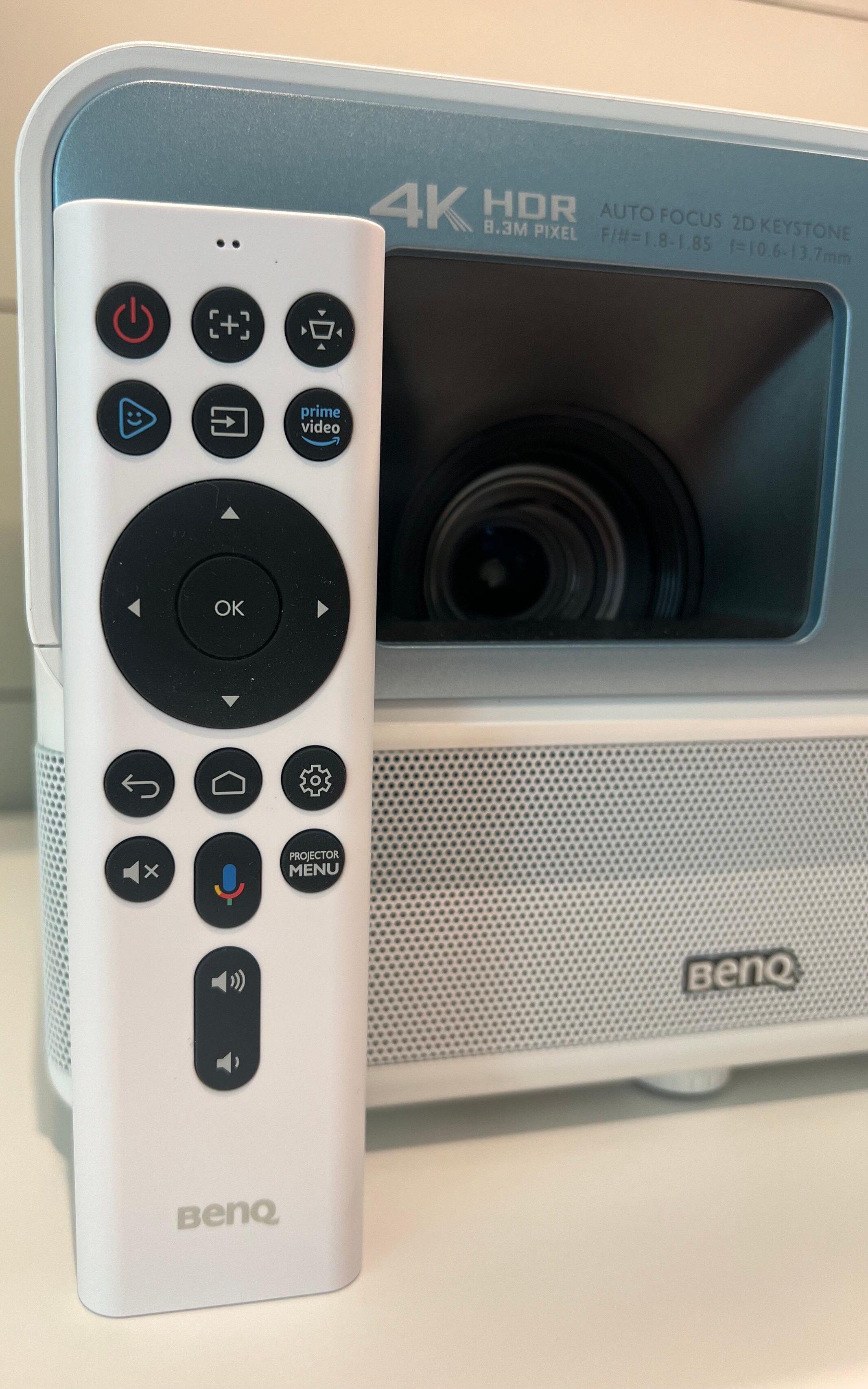 Operating Android TV on the streaming stick was quite smooth. No real hangs or glitches. Other than the lack of Netflix it aligns with what one would expect from a streaming stick in 2023.
Setting up the projector was pretty straight-forward. Once getting it leveled and at the right height, setting the zoom was simple and the auto-focus feature worked like a charm. I tried improving the focus manually but to no avail - fantastic.
Going in and out of the projector's menu is a bit cumbersome. There's just a single button to enter the menu without any shortcuts to picture modes, HDR settings, or calibration settings. These shortcut buttons found on other projector remotes, or even other BenQ remotes were sorely missed.
Calibration
"Wow." That was my audible response when running my first pre-calibration sweep. The Cinema picture mode is incredibly well calibrated out of the box.
Using my Calibrate ColorChecker Pro, X-Rite i1Pro 2, and Calman Ultimate by Portrait Displays I measured the average and max DeltaE, or dE under 2 for greyscale tracking. (DeltaE is the measurement of how close to reference a color is, under 3dE the average person won't notice and above 5dE is considered poor.) A full saturation sweep had an average of 1.1 dE 2000 and a max of 2.7!
After calibration I was able to get it to an average of 0.6 and a max of 1.8 dE. A full ColorChecker sweep showed an average of 0.9 dE. These are fantastic results. Gamma and greyscale were similarly excellent with very little effort.
Pre-calibration SDR
Pre-calibration SDR
Post-Calibration ColorChecker
HDR calibration wasn't as stellar but still very good. Surprisingly, this projector exceeds its specified 90% DCI-P3 coverage by 5% (with the Wide Color Gamut filter engaged, which reduces brightness by 18%). Only one picture mode for HDR is offered, HDR10, but there are unique CMS settings for when the WCG filter is engaged. dE errors averaged a bit under 3 for color but greyscale tracking was again under 1 dE.
My concern with HDR calibration was the way this projector handled tone mapping. The EOTF (similar to gamma for SDR) was pretty droopy which led me to believe HDR wouldn't have the desired pop. This was true and I'll touch on that later. Other than that, the calibration performance here is great.
Post calibration for both HDR and SDR I measured 1231 lumens in the projector's shortest throw. 1014 lumens for HDR with the WCG filter engaged.
Performance
I kicked off my viewing on the GP500 with the Spears & Munsil UHD HDR Benchmark discs to put the BenQ through some tests and known demo material. Starting off with SDR testing, this projector punched well above its weight class. Based on the calibration report I'm not surprised how well it handled the vibrant colors.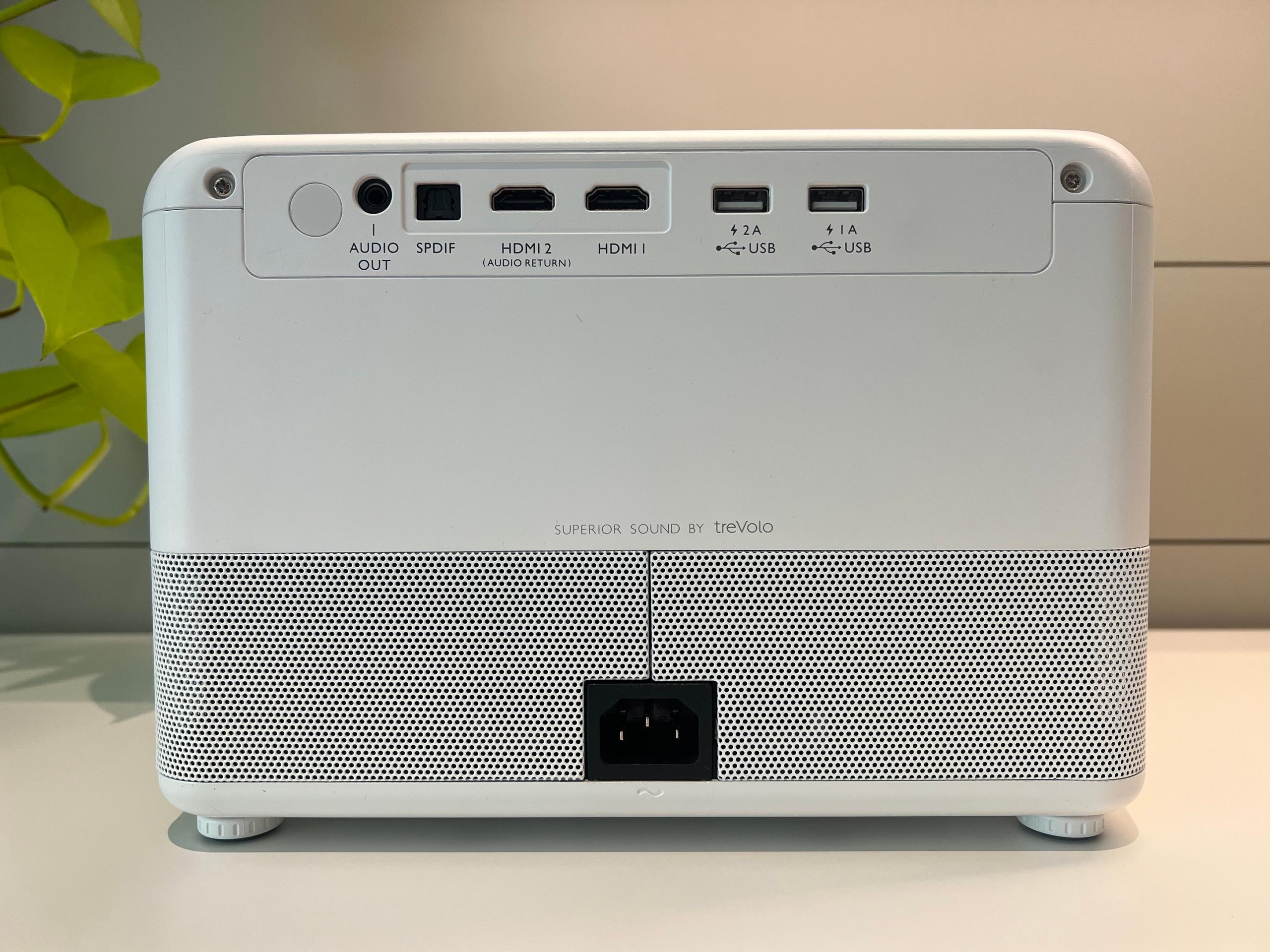 Testing sharpness I did notice some issues with highly detailed patterns and scenes. Edges of fine details would dance, shift and flicker as the scenes progressed. I turned sharpness down all the way which helped a good amount but this effect couldn't be completely eliminated. Most movie and TV content isn't sharp enough for this to be an issue but could be spotted occasionally.
Jumping over to movie content I threw in one of my favorite movies, The Italian Job, in 1080p SDR. The GP500 handled this movie really well. Skin tones were spot on, shadow detail was clear and overall tonality was great. The only issue, and one that will come up again, is the native contrast of the projector is fairly low -I measured only 750:1 as I had it set up.
The Italian Job isn't a very bright movie and many of the dimmer scenes appeared a bit hazy from the lack of depth. Engaging the SmartEco light source mode helps and is nearly required for this projector. SmartEco enables BenQ's dynamic contrast system which dims the LEDs for scenes with less light. It works quite well and I rarely saw any brightness pumping. Without it, dark scenes are just too washed out. But with it engaged, they are mostly acceptable.
Watching the NBA Finals on the GP500 was quite a nice jump up in picture quality from the previous Optoma I reviewed. Color reproduction was spot on and motion was handled very smoothly. It isn't the brightest projector at only 1250 lumens post calibration so using it for a Super Bowl party on a large screen (over 110") would not be recommended as it wouldn't be able to handle much ambient light. On smaller screens, or in dark rooms it will have plenty of light.
The first 4K HDR movie I watched was 1917, which I often use to test dark scenes. Halfway through the movie, there is a night scene that begins in a very dark stairwell. This scene is a great test for a projector's black levels, shadow detail, HDR tone mapping, and dynamic contrast.
I enabled the Wide Color Gamut filter which disables the ability to select the SmartEco for the light source mode. This was a bad combination for this movie - a lot of movies, actually. Without dynamic contrast, this 1917 scene was horribly washed out. One of the worst renderings of it I've experienced. But, disengaging the WCG filter and enabling SmartEco made a huge difference.
Suddenly I saw better blacks, shadow detail, and contrast. The scene isn't great, but it is easily good enough now that you can see what's happening in dark scenes. Unfortunately, this means for dark movies you aren't going to be able to use the WCG filter since it can't be combined with SmartEco.
Wanting to see what the 4LED system could do for color I threw in The Angry Birds Movie 2 in 4K HDR. This movie reaches well into the P3 color gamut and looks great on projectors that can reproduce such color. The GP500 didn't disappoint.
Since this movie is bright throughout I felt comfortable flipping the WCG back on and using up the 90% plus of P3 gamut coverage it could offer. Red, the bird, was a deep rich red. Not an orangish red which can happen on lesser projectors.
Chuck, the yellow bird, popped on screen, and despite the not so good contrast numbers, Bomb, had nice depth with punchy colorful features. It wasn't just the characters, the whole movie popped and was a pleasure to watch. My kids must be rubbing off on me - it is their favorite movie.
Flipping through a few more movies like Life of Pi, Aquaman, and The Meg the GP500 revealed many strengths, but also a few more weaknesses. Overall, the GP500 can present a quite cinematic feel even with the WCG disengaged. The dynamic contrast algorithm really brought depth to the few night scenes in Life of Pi; this movie, in general, shined on the BenQ.
Again, without the WCG filter Aquaman looked good despite it's propensity to cause HDR tone mapping issues for some projectors. On the other hand, The Meg's bright daytime maritime scenes were too much for the BenQ's built in tone-mapping. The bright cloudy blue skies turned to an almost bleak overcast day. Reaching for the remote to tone down to -2 the HDR Brightness setting buried multiple levels in the projector's menus still wasn't enough to bring out the sky details.
On most HDR content I found myself bouncing between 0 and -1 on the HDR Brightness setting depending on how the content was composed. HDR mastering has come a long way in the past half decade where content is more consistent than it used to be. The GP500 handles your average new flick quite well but anything that's tricky and it will fall down making the image flat and not very HDR-like.
Competition and Comparison
As aforementioned, the market the GP500 enters is heating up and their are plenty of competitors to compare to. A recent entry is the JMGO N1 Ultra 4K 4000 lumen triple laser DLP projector. For a bit more you can get full Rec2020 coverage, HDMI 2.1, better native contrast (no dynamic contrast), and a snazzy gimbal stand.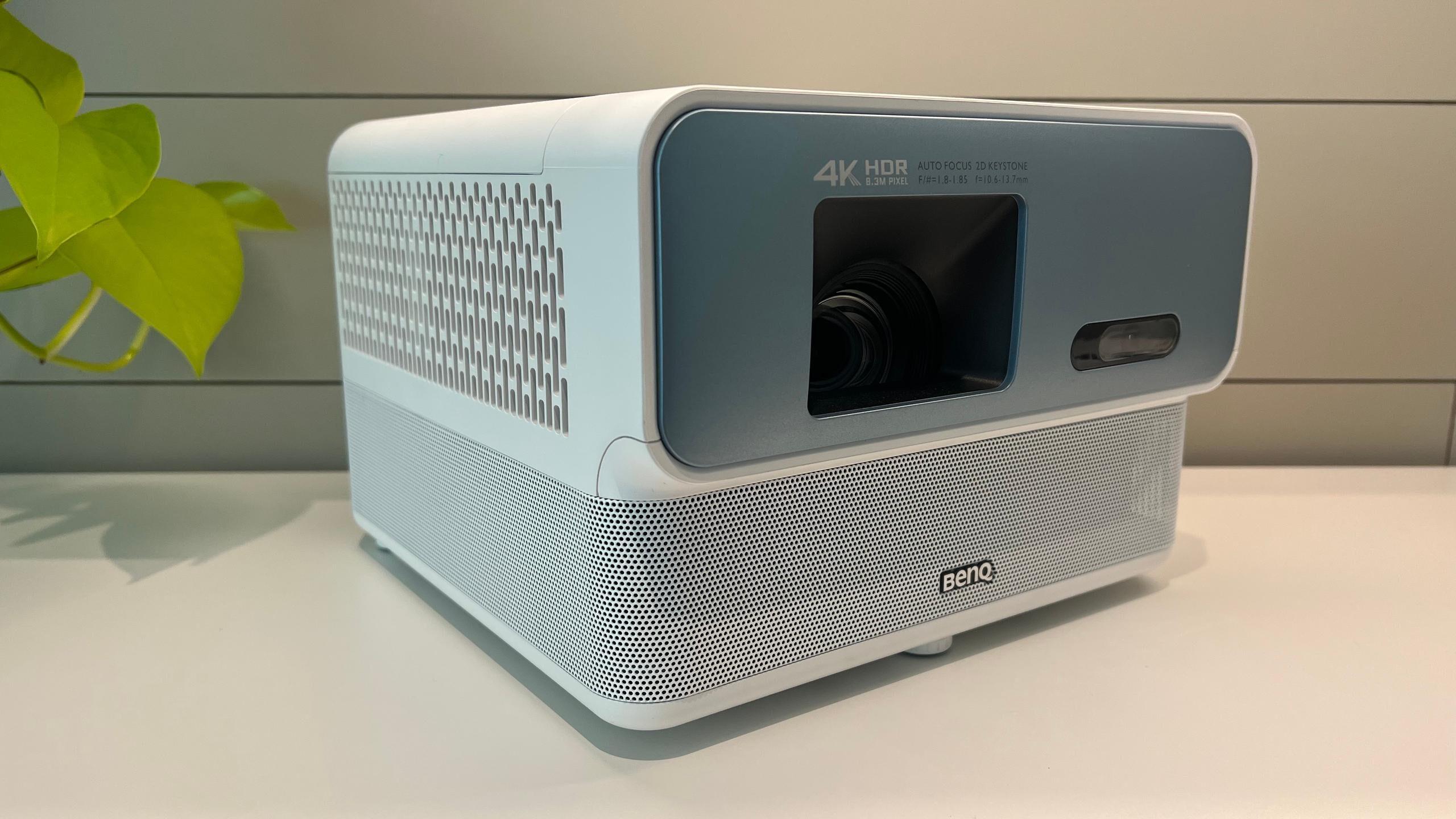 The XGIMI Horizon Pro 4K LED projector with 2200 lumens is also a consideration coming in just a bit cheaper than the BenQ GP500. This projector has been around for a couple of years and has gotten many good marks over that time.
There's also an option from BenQ's own stable, the X3000i. This gaming focused 3000 lumen 4LED projector will offer a much brighter picture and better contrast but won't have the same impressive speaker system from the GP500. A bit longer throw and more focused gaming features are also differentiators here.
Lastly, the Dangbei Mars Pro is also a worthy consideration touting 3200 ANSI lumens via a single laser ALDP engine.
Conclusion
The BenQ GP500 really wowed me with it's pre-calibration and color performance. There's something really nice about being able to open a box, plug the projector in and know you are getting an accurate picture without fiddling or calibrating.
If you care about an accurate, balanced image with minimal setup, the GP500 will more than meet your expectations, and it deserves a Highly Recommended award in my book.
Measurements
Measurements

Lumens

| | | | |
| --- | --- | --- | --- |
| Mode | Normal | Eco | SmartEco |
| Bright | 1507 | 1102 | n/a |
| Living Room | 1273 | 1022 | 1002 |
| Game | 1185 | 985 | 981 |
| Sports | 1248 | 981 | 981 |
| Cinema | 1231 | 968 | 968 |
| User | 1244 | 977 | 981 |
| HDR10 | 1231 | 972 | 972 |

Contrast

| | | | |
| --- | --- | --- | --- |
| ADL % | Max Throw / Cinema / Normal | Min Throw / Cinema / Normal | Min Throw / Cinema / SmartEco |
| 0 % | 890 | 764 | 2600 |
| 1/4 % | 875 | 754 | 753 |
| 1/2 % | 870 | 750 | 751 |
| 1 % | 856 | 740 | 738 |
| 2 % | 828 | 734 | 737 |
| 3 % | 796 | 715 | 719 |
| 4 % | 783 | 714 | 712 |
| 5 % | 762 | 698 | 705 |
| 10% | 684 | 683 | 686 |
| 15% | 622 | 664 | 671 |
| 20% | 561 | 641 | 648 |
| 25% | 515 | 631 | 639 |
| 30% | 467 | 599 | 608 |
| 50% | 284 | 291 | 298 |

Noise

The noise floor in my room was 30.9. SmartEco fluctuates the fan speed and is similar to Normal at its loudest. I found the GP500 to be fairly unobtrusive, placed just a few feet from me during most of my testing.

| | | |
| --- | --- | --- |
| | Normal | Eco |
| Left | 33.2 | 32.5 |
| Back | 33 | 32.2 |
| Front | 32.5 | 32.8 |
| Right | 33.5 | 33.4 |
| Above | 34.4 | 33.7 |

Gamut Coverage

| | | |
| --- | --- | --- |
| P3 Gamut | | |
| | 1931 xy | 1976 uv |
| With WCG Filter | 91.64% | 95.03% |
| Without WCG Filter | 77.85% | 86.66% |
| | | |
| BT2020 Gamut | | |
| | 1931 xy | 1976 uv |
| With WCG Filter | 68.82% | 76.65% |
| Without WCG Filter | 58.86% | 70.30% |