I've always talked about setting up an outdoor projector for movie nights during the warmer months, but the complexity of projectors has always scared me away. And I imagine I'm not alone in that. The good news is that BenQ has made the difficulties of setting up a portable backyard cinema disappear. The company's new GS2 wireless portable projector was made for people exactly like me.
The $599 projector is rated to deliver 500 ANSI lumens output, and although projected resolution is limited to 720p (1280 x 720 pixels, 16:9), it will accept a 1080p signal via HDMI. Its internal battery will last for about the length of an average movie - with power saving features enabled it is likely to reach 3 hours.
In a nutshell, the BenQ GS2 projector is not only portable but truly lives up to the promise of "hassle-free wireless setup." Going into it skeptically, I went from unboxing the GS2 to streaming video through it via my iPhone literally within minutes, much to my surprise.
For testing purposes, I relied on both a home-made plywood outdoor screen and my living room wall (textured paint). In both cases the image was crisp and sharp from edge to edge with vivid accurate colors. There was no vignetting and viewing angles were great.
Aside from the easy setup, there's a lot to like about the cube-shaped portable projector, which measures in at 5.4 by 5.6 by 5.4inches and weights just 3.5 pounds. Very often, products are described as portable when they really aren't. The GS2, though, earns that adjective not only due to its size, but also its nice, soft canvas carrying case, which holds everything you need for an impromptu exhibition, including the projector's power adapter along with a few accessories.
Like most people, I rarely read electronics instruction manuals. But in this case the quick start guide was right there, so I took a look.
The process it details will almost take you more time to read than it actually takes to do. First, you connect the included magnetic power adapter, which is great for instantly disconnecting in the event someone trips over the cord. Then install the wireless dongle.
The bottom of the BenQ GS2 has a standard 1/4"-20, which instantly brought to mind thoughts of my Gitzo tripod. The projector attached securely to the tripod and now can be placed anywhere, not just where I have a flat surface. Relying on the level built into the tripod head, it was quick and easy to get the projector positioned and oriented in no time at all. I also attached a small sand bag to keep it in place.
For the most part, any flat surface will work, just make sure it's sturdy. The BenQ GS2 has a built-in keystone adjustment of 1D, Vertical ± 40 degrees, making it easy to get a level image.
Once the BenQ GS2 is powered up, focused, and centered on the screen, choose the Wi-Fi network and your device (iOS, MacOS, or Android), and connect them. It was seamless connecting an iPhone, iPad, and MacBook Pro, although the content you can stream varies by device.
Via my iPhone, I was able to get directly onto specific TV apps for local stations and CNN, for example. When I went to play Netflix, though, I got an on-screen message: "The app is not compatible with your device. You can download a compatible version from the Netflix website." Except I couldn't.
As stated on the BenQ website, "Please be informed that watching online streaming media content, like Netflix, Amazon Prime Video, or Disney+, from mobile devices with a BenQ projector is not a viable option at this moment. This is due to their subscription-based business model with license and copyright concern."
Hopefully someday soon the copyright gods give our iPhones streaming permission with Netflix and other streaming services to all devices. But not to be defeated, I took out my MacBook Pro and, with Firefox as my browser, I had my Netflix and YouTube accounts working perfectly with the BenQ GS2.
All in all, downloading apps directly to the BenQ GS2 was kind of confusing, but after a few tries I had them playing. Part of the confusion was due to the wireless remote, which did drove me crazy. It not very responsive and it seemed like I had to have it pointing directly at the sensor and be within a short distance. I put in a new battery and it wasn't much better.
The BenQ GS2 is built with durable construction, though, including a unibody structure and soft rubber exterior, enabling it to withstand a 1.6-foot drop, which doesn't seem like much, but it's something. The projector is also IPX2 splash resistant, meaning it can withstand dripping water when it's tilted at an angle up to 15 degrees. Even knowing, play it safe. Don't drop it and don't set it up next to your pool.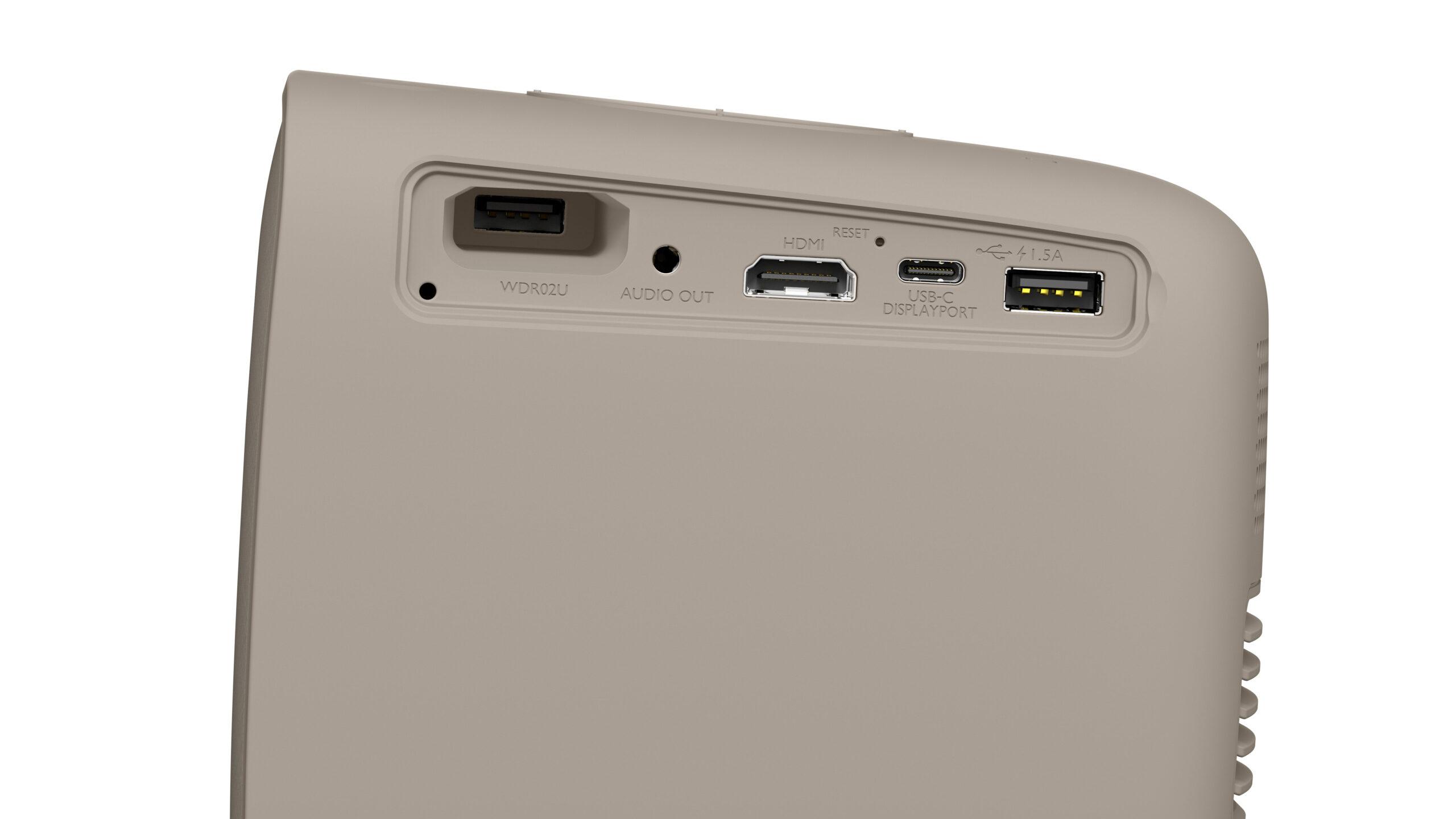 Some features of the BenQ include built in Bluetooth 4.0 to send the audio to your own speaker if you don't want to rely on the pair of internal two-watt speakers. Built in Wi-Fi works with 2.4 and 5GHz and the interface ports include HDMI (1.4a with HDCP 1.4), USB-C, USB 2.0 (type A), 3.5 mm audio out, and a light sensor.
High Points
The BenQ GS2 is just as advertised, a portable projector that is easy to use.
Thanks to its built-in battery and speakers, the GS2 is a complete package for a quick, easy family movie night under the stars.
The image it delivers is crisp and sharp from edge to edge, with vivid and accurate colors
At only $599, you're getting a lot of projector for your money, assuming you don't expect 4K imagery or HDR support.
Low Points
Not all streaming services are available, but hopefully that will change in time.
The wireless remote needs to be close to the GS2 and isn't always responsive.
Battery life could be improved.
The internal speakers are there, but the sound isn't going to be the life of a party, adding your own speakers makes it come to life.