Beyerdynamic, the renowned German audio brand celebrated for its professional-grade audio equipment, has made a significant foray into the gaming world with the launch of its debut wireless gaming headset, the MMX 200. This highly-anticipated release promises to redefine the gaming audio experience with its studio-level sound quality, cutting-edge features, and a design that should seamlessly transition between gaming sessions and the home office.
The MMX 200 wireless gaming headset features a set of 40mm dynamic drivers that have been meticulously tuned to deliver a superior auditory experience. According to beyerdynamic, these drivers offer a remarkable combination of powerful bass, clear midrange tones, and detailed highs, catering to the discerning ears of both professional gamers and audio enthusiasts.
What sets the MMX 200 apart is its custom-built drivers that not only improve impulse response but also extend the frequency range for more precise and immersive soundscapes. To further enhance the audio experience, the headset incorporates a digital signal processor (DSP), which should result in lifelike and immersive in-game audio.
For gamers who enjoy vocal communication during their gaming adventures, the MMX 200 is equipped with a detachable 9mm electret condenser microphone. This microphone boasts the capability to withstand high sound pressure levels (SPL), which should ensure clarity in voice transmission even in the heat of intense gaming moments.
Its broader response range and reduced noise levels distinguish it from conventional gaming microphones. Importantly, it is power-efficient, contributing to extended battery life when used wirelessly.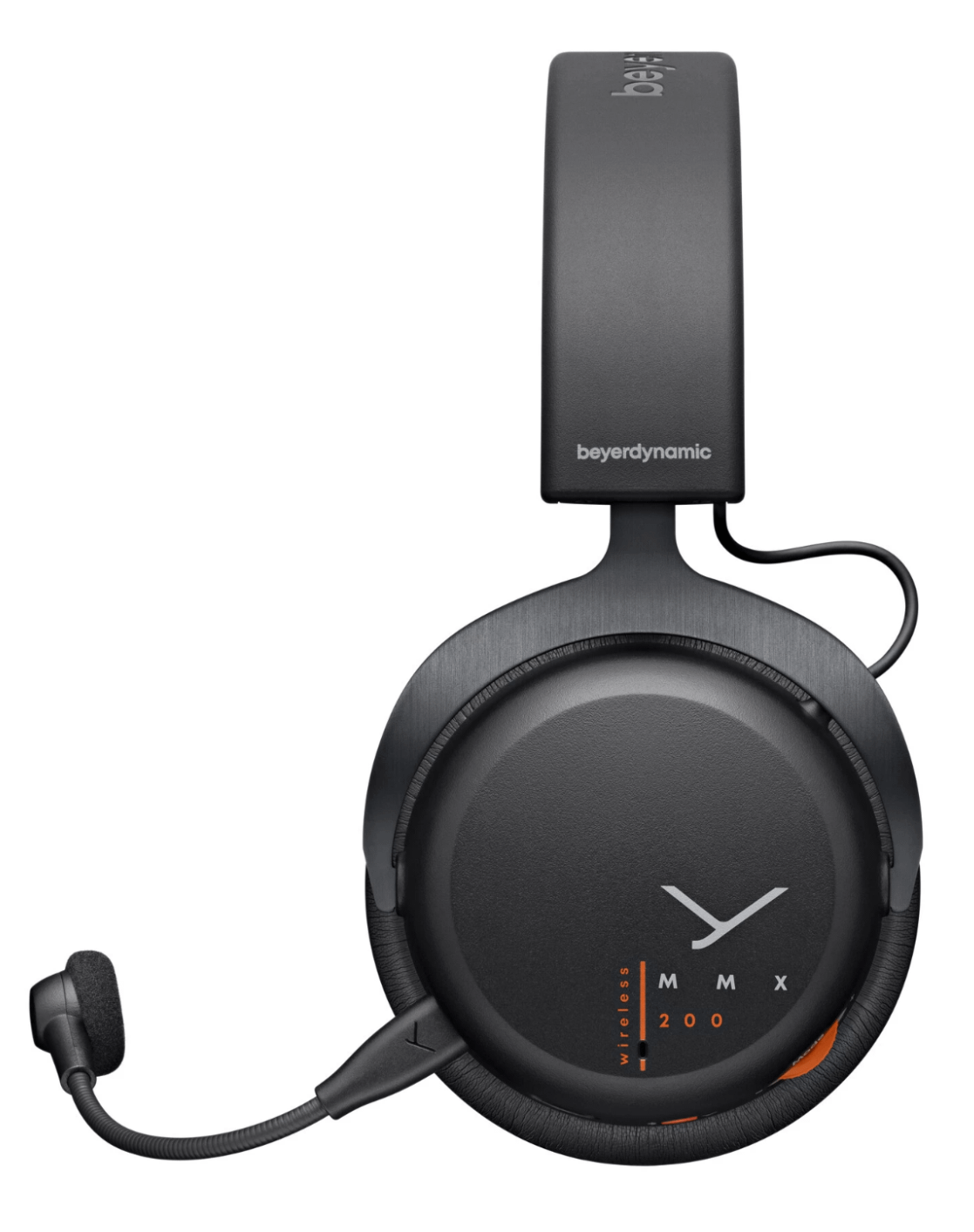 Wireless connectivity is at the core of the MMX 200's design. It utilizes the latest audio codecs and Bluetooth 5.3 technology to provide a seamless and lag-free connection. For ultra-competitive online gaming, beyerdynamic introduces the Low Latency Wireless Adapter (LLWA), delivering minimal latency and enhancing the gaming experience further.
Additionally, the headset offers a Hybrid Mode, which combines the analog signal of the LLWA with Bluetooth for simultaneous connectivity, allowing users to switch between devices effortlessly.
Comfort is a key consideration for prolonged gaming sessions and the MMX 200 addresses this with a light clamping force and plush 28mm earpads featuring memory foam padding. The result should be a headset that remains comfortable even during extended gameplay sessions.
Beyerdynamic has also incorporated a rechargeable battery that provides a quoted playing time of 35 hours, with real-world usage reported to be closer to an impressive 40-50 hours when idle periods are taken into account.
The MMX 200's versatile features should make it equally suitable for gaming and home-office use. With a single press of the volume wheel, users can mute the microphone, indicated by an LED light on the boom arm. A longer push of the wheel activates Augmented Mode, transforming the closed-back headphones into an ambient noise-enabled headset, a feature typically associated with open-back headsets.
The multifunction button on the headset allows users to answer incoming phone calls with a single press. For seamless device switching, a triple press of the same button instantly toggles between the Low Latency Wireless Adapter and Bluetooth connections, facilitating the transition from gaming to business calls and multitasking.
"The wireless iteration of our MMX 200 Gaming Headset significantly enhances our product lineup," says Tim Völker, Director of Global Sales and Marketing - Gaming. "With the wireless gaming headset, gamers get exactly the headset they need to deliver their peak performance. In terms of sound, communication, flexibility, and comfort, beyerdynamic's new headset sets new standards."
The MMX 200 wireless gaming headset is available now in elegant black and grey finishes at a competitive price of $249.