The Bose Smart Soundbar 300 ($399.95) is about as simple a one-piece audio solution as you could hope for. It took longer to get out of the box than it did to get it working. Plug the power cable in and then connect to your TV either via the included digital optical cable or HDMI ARC (you'll need to buy your own cable if you go that route) and after selecting the proper settings in your TV's labyrinthine menus (including turning off the on-board speakers), you'll have an upgraded audio experience without the fuss or muss of a component sound system (or most soundbars these days, for that matter). Of course, you'll have to tinker a little more if you want to access features like the Bose Music App, Voice4Video, SimpleSync, and additional connectivity via Wi-Fi, Bluetooth, Apple AirPlay 2, and Spotify Connect, but even adding those services are relatively straightforward and easy to access. We will dig into those features and benefits later in this review.
The soundbar measures 2.25 inches high by 27.5 wide by 4 inches deep and weighs 7 pounds. There are four "full range" drivers – one in each end cap and two flanking the tweeter in the center – and a whole lot of baffles and processing engineered to create a spacious, enveloping sound with an emphasis on dialogue intelligibility. What Bose is going for here is simplicity and clarity. If you want more low-frequency impact to reproduce explosions and the bass line of your favorite EDM tracks, you can add the Bose Bass Module 500 ($359) or Bose Bass Module 700 ($699), though the more expensive bass module is much preferred . And for enhanced spaciousness and immersion, you can add the Bose Surround Speakers ($299). All are wireless, though it should be noted that the surround speakers are wired to a common receiver, so they will require a speaker wire connection to that wireless receiver as well as power for the receiver. The soundbar can be positioned on a tabletop or wall-mounted with the optional Bose Soundbar Wall Bracket ($40.00).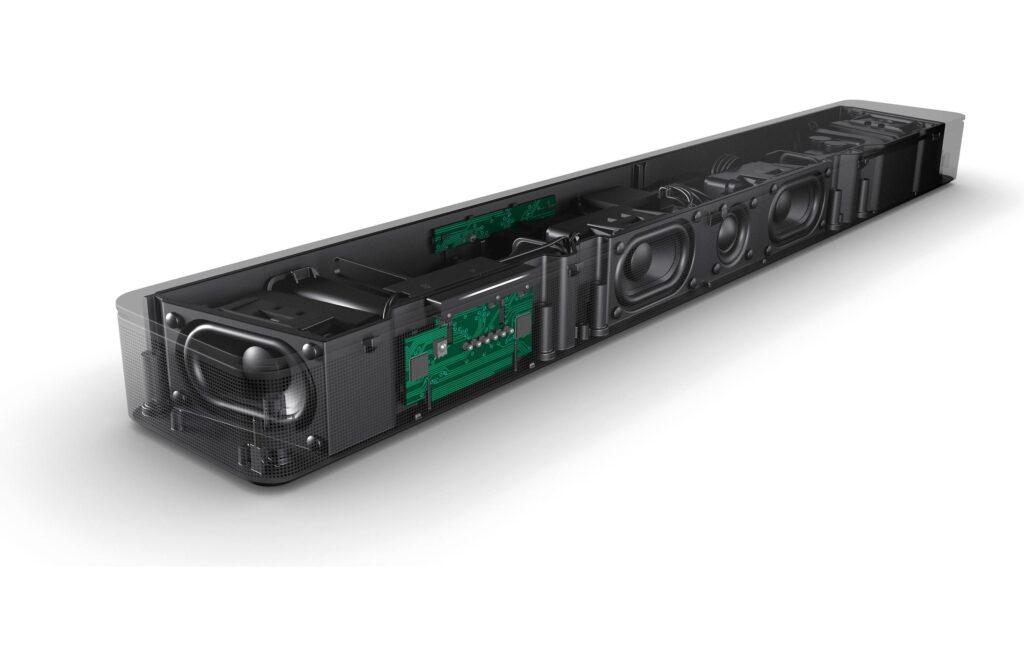 Continuing with the emphasis on simplicity, the remote features 8 buttons: Power on/off, volume up and down, Mute, TV (input select), Bluetooth (input select), Music (Bose Music App select), and Play / Pause / Skip Forward / Skip Back. There are also dedicated microphone on/off and power on/off buttons on the soundbar itself.
How does the Bose Smart Soundbar 300 sound?
Clarity and intelligibility are front and center – literally – of the Bose Smart Soundbar 300's overall sonic character. In these respects, I would put the SB300 (as Bose refers to this product) on equal footing with the best of the dozens of soundbars I have reviewed recently. To put this to the test, I sat down to re-watch Christopher Nolan's Tenet again, since my first viewing was marred by an inability to hear important dialogue since the music and effects are so out front and much of the expository is sotto voce.
My first experience with Tenet was in my home theater, which has a full-on 5.1.4 Dolby Atmos system. It is a tribute to Bose's articulation in the mids and mid-highs that I was able to understand much more of the dialogue via the SB300. No, not all of it, as Nolan intentionally obscures some of the dialogue. But at least it was better.
This prompted me to do some comparisons with the Yamaha YAS-209 I recently reviewed here. Again, I must rate the dialogue reproduction of the Smart Soundbar 300 just a bit clearer and more intelligible, but the sound field and effects impact of the Yamaha were superior. Yes, the YAS-209 has an included subwoofer, but fair is fair, and the Yamaha is $50 less expensive before adding on the Bose Bass Module 500, and a whopping $400 less if you do opt to reinforce the 300's bottom end.
Bluetooth pairing was quick, easy, and reliable. My iPhone discovered the Bose soundbar as soon as I selected Bluetooth from the Smart Soundbar 300 remote. I opened the music app, selected a song, and it started playing straightaway. But music revealed inadequacies in terms of spaciousness and low frequency extension a lot more than did movies. Thin and narrow is how I would describe the overall music performance.
The same is true when using Pandora or TuneIn via the Bose Music app or using Spotify Connect or AirPlay 2. It's nice to have all these options to stream, but they don't make up for the limitations in sonic quality to the Bose one-piece design.
The Bose Music app does include a basic EQ section, but even after concentrated experimentation I was not able to get the rich, full sound I was looking for. Low-frequencies start to drop off at 60 Hz and then more steeply from 33 Hz to 28 Hz where they plummet so steeply that there is hardly any bass energy generated from the soundbar at all below 55 Hz. This is with the EQ settings flat and at an overall volume level just short of too loud for the medium -sized room where my testing took place.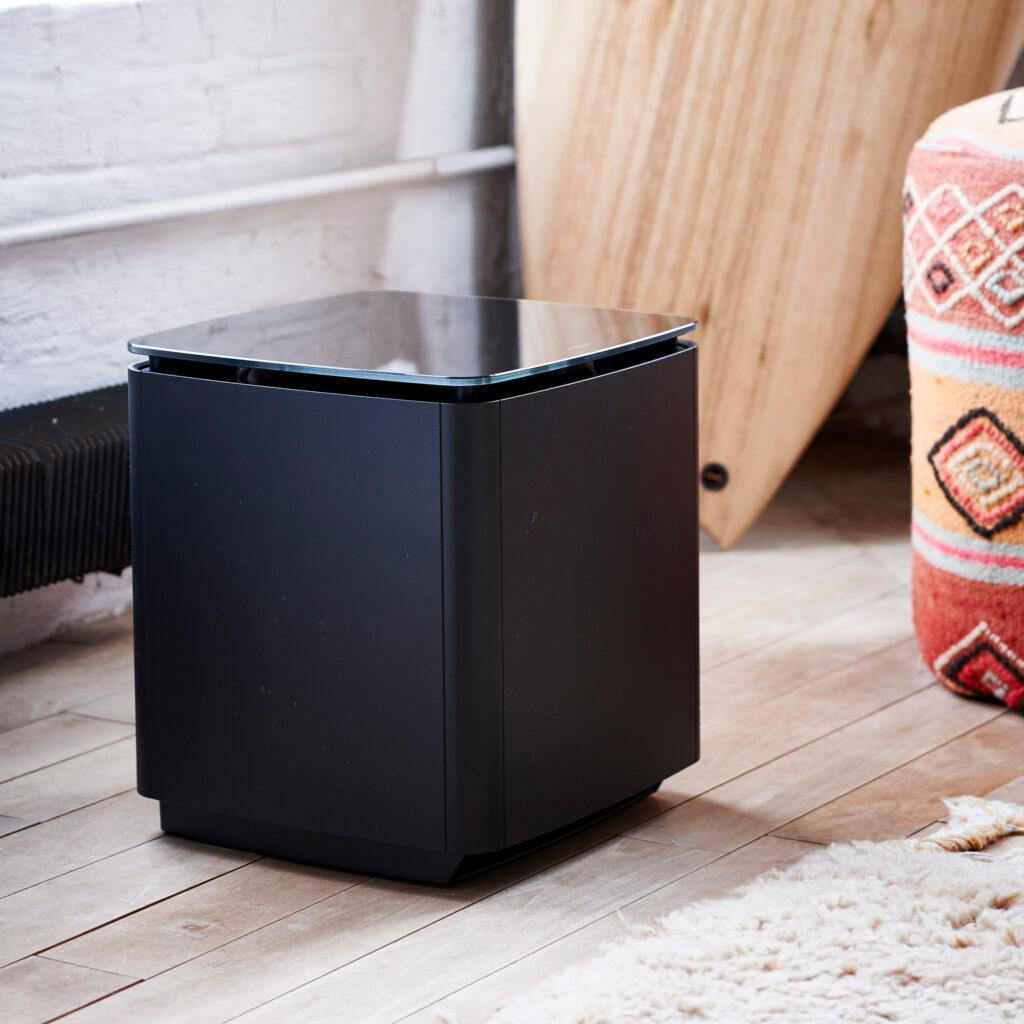 Adjusting the bass level in the EQ section of the Bose Music app was not much help, as the mids get muddy and the highs start to lose their definition – along with dialogue intelligibility takes a hit, long before the bass can make any meaningful impact. For movies and TV low-frequency effects, you simply won't get the intended the satisfying punch other systems offer and even music reproduction was a bit lacking as there can be a lot lost below 40 Hz across many musical genres. Still, it's worth noting that if you're shopping for a soundbar that delivers music well, the Bose 300 as a one-piece solution may not be your best pick without the add-on bass module. There are two available, the Bose Bass Module 700 and Bose Bass Module 500.
A unique feature of note and value is what Bose calls SimpleSync. To quote from the online manual: It lets you connect a single pair of Bluetooth headphones or a single speaker or soundbar to play along with your Bose smart speaker. While many Bluetooth speakers and headphones can connect via SimpleSync, many Bose products are optimized to play sound in sync with your Bose smart speaker. A full list can be found here.
In my opinion, the greatest value of SimpleSync is to connect to a supported Bose headphone, in cases where you might not want to wake the baby or the neighbors, for example.
Then there is Voice4Video, which works with Amazon's Alexa voice assistant. This allows you to control your TV, or a source device like your cable or satellite box, with just your voice. Hands-free calling is also enabled so long as you have an Amazon Echo device on the same Wi-Fi network. There is also some compatibility with Google's assistant but no support for Apple's Siri.
High Points
In terms of delivering clear and intelligible dialogue, the Bose Smart Soundbar 300 is best-in-class.
Setup is as easy as anyone could hope for. The one-piece Smart Soundbar 300 will be up and running in less than ten minutes.
The soundbar offers an impressive array of source options, and Voice4Video and SimpleSync are great features
Low Points
Audio quality, especially for music, is thin and the sound field is narrow.
The system lacks the 360-degree immersion of other soundbars that include surround speakers and, in some cases, up-firing height channel drivers.
The lack of ethernet connectivity means that music services must be connected via Wi-Fi or Bluetooth.
How does the Bose Smart Soundbar 300 compare with the competition?
The Sonos Beam ($399) offers one-piece design and simple two cable set-up, voice control (Amazon Alexa and Google Assistant), and interconnectivity with all other Sonos speakers. You can add a pair of One SL speakers ($179 each) for surrounds and the Sub ($699) for low frequency extension, or just purchase the Surround Set for a bundled price of $1,359. This works out to a $300 premium over the Bose system. The Beam alone offers deeper, more impactful bass and a wider sound field than the Bose Smart Soundbar 300, but the latter's dialogue is just a bit clearer and setup just a bit quicker and easier. Sonos products are available in black or white.
The Vizio SB36512-F6 is a four-piece, Dolby Atmos soundbar package that includes a wireless sub, which then feeds a pair of surround speakers. The soundbar sports up-firing height channel speakers to create a more immersive surround sound experience. It works with Google Assistant and includes Bluetooth and Chromecast wireless connectivity.
The Yamaha YAS-209 ($349.95) is a soundbar/wireless subwoofer package with Amazon Alexa capability. The YAS-209 soundbar alone will give you a wider sound field than the Bose SB300, and the included wireless subwoofer provides the thump and punch a soundbar alone just can't match.
Final thoughts
Bose has always commanded a premium price by virtue of its storied legacy and Apple-like "it just works" approach to sound reproduction. The Smart Soundbar 300 has a lot of features that make this an undeniable upgrade to the paltry sound that comes from your HDTV. If a simple setup and clear, intelligible dialogue are the two most important reasons you are in the market for a soundbar, this is a top-contender.