Bowers and Wilkins PX7 S2 ($399) headphones pick up where their well-regarded PX7 predecessors left off. These are thoroughly modern, full-sized, closed back, over ear, Bluetooth wireless, active noise cancelling headphones. With an MSRP that is exactly the same as the PX7, the S2s are in the pricing zone that makes them direct competitors to Bose, Beats, and Sony models that are equipped with similar features.

With a newly developed driver and an updated design, the PX7 S2 is a luxury headphone with a premium look and feel. Coming from Bowers and Wilkins, there is a focus on performance to go along with the sleek styling: The S2's new drivers feature larger voice coils and a more powerful motor system vs. its predecessor.
---
---
Features and Specifications
These new headphones are designed to offer high performance in a luxurious, lifestyle-friendly package. So, like the original Px7, there is a focus on ease of use. The wear detection sensor is a key component and lets the headphones know if you are using them or not, so when you take them off your head, they don't keep playing and draining the battery.

As is the trend, these headphones eschew the traditional 3.5mm stereo connector. But that does not mean they leave you out in the cold if you have a preference for using an old-school headphones jack: The headphones come with a 3.5 millimeter to USB cable that works as you'd expect, plug-and-play. But there is a catch, these headphones need to be charged to operate. There is no purely passive mode.

With up to 30 hours of battery life from a single charge, it's unlikely that you'll run out of power before you get a chance to top off. And the Px7 S2 charges quickly; 15 minutes gets you 7 hours of playback.

Bowers and Wilkins tout new, advanced noise cancellation that relies on four microphones—there are six mics total, two are used for voice—and it's designed to deliver a strong ambient sound suppressing effect without altering the character of the audio you do want to hear.

On the left ear cup, there is a "quick action" button that cycles noise reduction options (on/off/ambient pass-through) and may also be programmed to summon a virtual assistant. On the right you'll find three buttons as well as the power switch (which also handles Bluetooth pairing).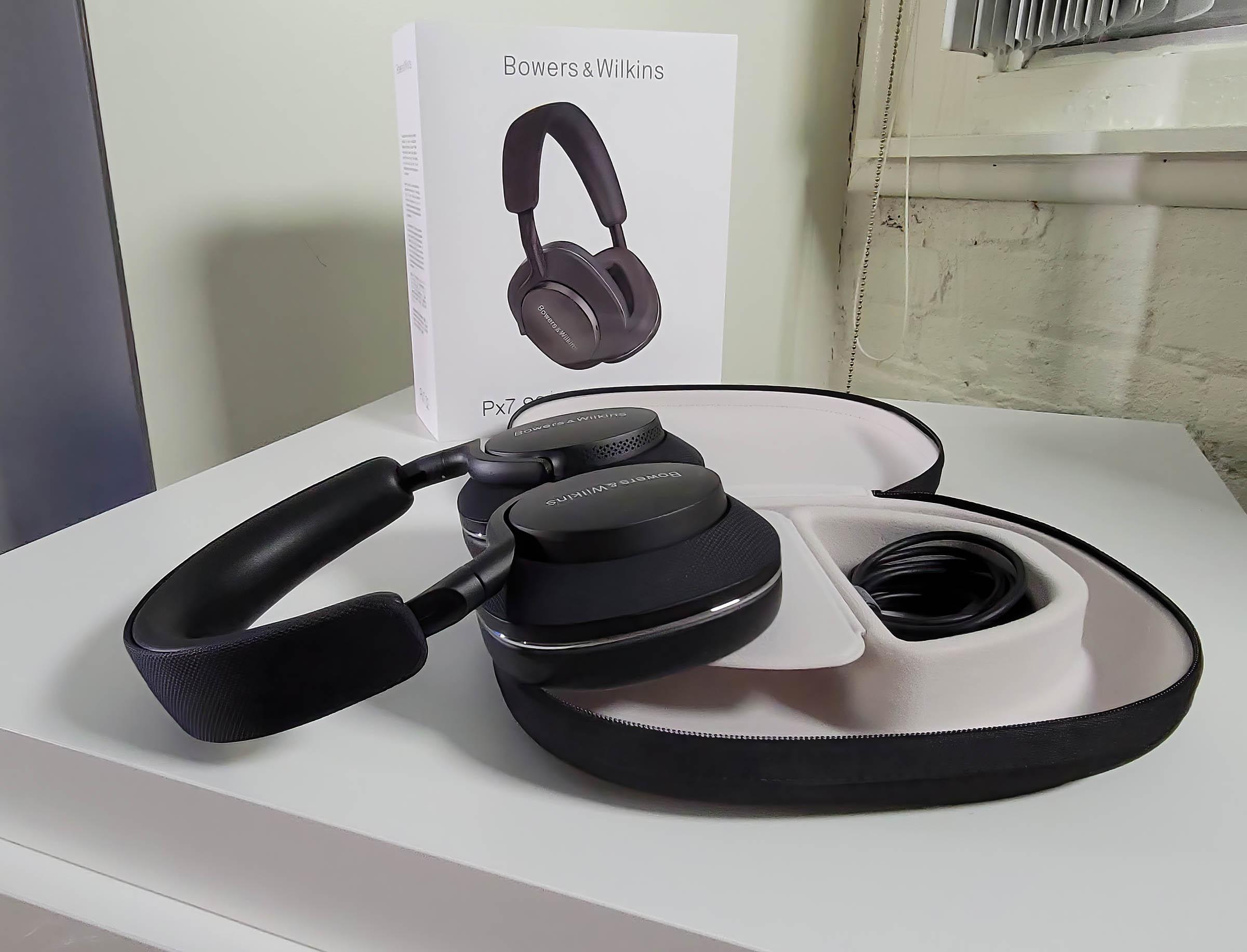 Two of the buttons are for volume adjustment, and a third button between them serves as a multifunction button. With the latter, depending on the number of presses and how long you press it, you can control media playback as well as telephone functions.

On the right ear cup you will also find a status indicator LED, you'll have to study the meanings but basically, it can flash and change colors between white, amber, red, blue, and green. For example, when the light is green and flashing, it is rapid charging. and it is blue and flashing, which means Bluetooth pairing mode is enabled; it'll go solid blue if the pairing is a success. And if it is red and flashing, it means it's time to charge the battery, and that means you can't use the headphones until you do. Meanwhile, a solid red light means that there's only 10% or less power remaining.

Pairing is accomplished easily; you slide the power switch and hold it in the upper position for about 5 seconds until the headphones enter their pairing mode.

These headphones incorporate where detection sensors; these are found in both your cups, so if you lift one ear cup off of your head, it'll pause the music automatically. If you take the headphones off completely, they will go into a low-power standby mode, thus preserving the battery charge. Upon wakeup, the PX7 S2 will automatically pair with the last connected Bluetooth source.

These headphones can remember up to 8 different paired Bluetooth devices. You can even pair them with two devices simultaneously, and switching between the devices is as simple as pausing audio on one and playing it on the other, and the same goes for phone calls.

If you have an Android device, you can use Google Fast Pair Service (GFPS). Where this function, when you turn the headphones on, you place them within 4 inches of an Android device that has Bluetooth enabled. At that point, you should get a prompt that allows you to press the connect button to finish the pairing process, and you'll also get an automatic prompt to download the Bowers and Wilkins Music app from the Google Play store.

In addition to Bluetooth and the 3.5-millimeter to USB C adapter, you can connect these headphones directly to a USB C device such as a laptop or a tablet, or phone, and they will show up as a USB sound output device while automatically disconnecting from Bluetooth. The USB-C connection operates at a fixed 24-bit, 48 kHz.

When connected via USB C, the headphones will also charge, while retaining the ability to play audio. Note that this is not a two-way connection; with a wired connection—including USB—the headphones do not show up as a microphone on a PC. However, they do work as a communication device if you connect via Bluetooth.

The USB-C connection also worked perfectly with my PlayStation 5. I plugged them in, the PS5 asked which profile I wanted to use the headphones with, I chose my default profile, and I had instant high-quality sound. And while like on PC there is no mic, that's not a big deal because there is a microphone built into the controller.
With a Bluetooth connection to your phone or tablet, you can use the Bowers & Wilkins Music app to control the Px7 S2. This provides a unified ecosystem where you can tap into numerous streaming services and control multiple Bowers and Wilkins devices throughout your home. But you're going to have to wait for a forthcoming update to use the in-app player with the new headphones. The Music app also supports B&W's Panorama 3, Formation, and Zeppelin, so you can enjoy your audio any way you want, anywhere you want.
One touch that I really appreciate, certainly not unique to these headphones but also not standard (even though it should be standard on all headphones) is that the left and right ear cups are clearly marked on the inside with an L or an R; there's just no ambiguity about which cup goes over which ear.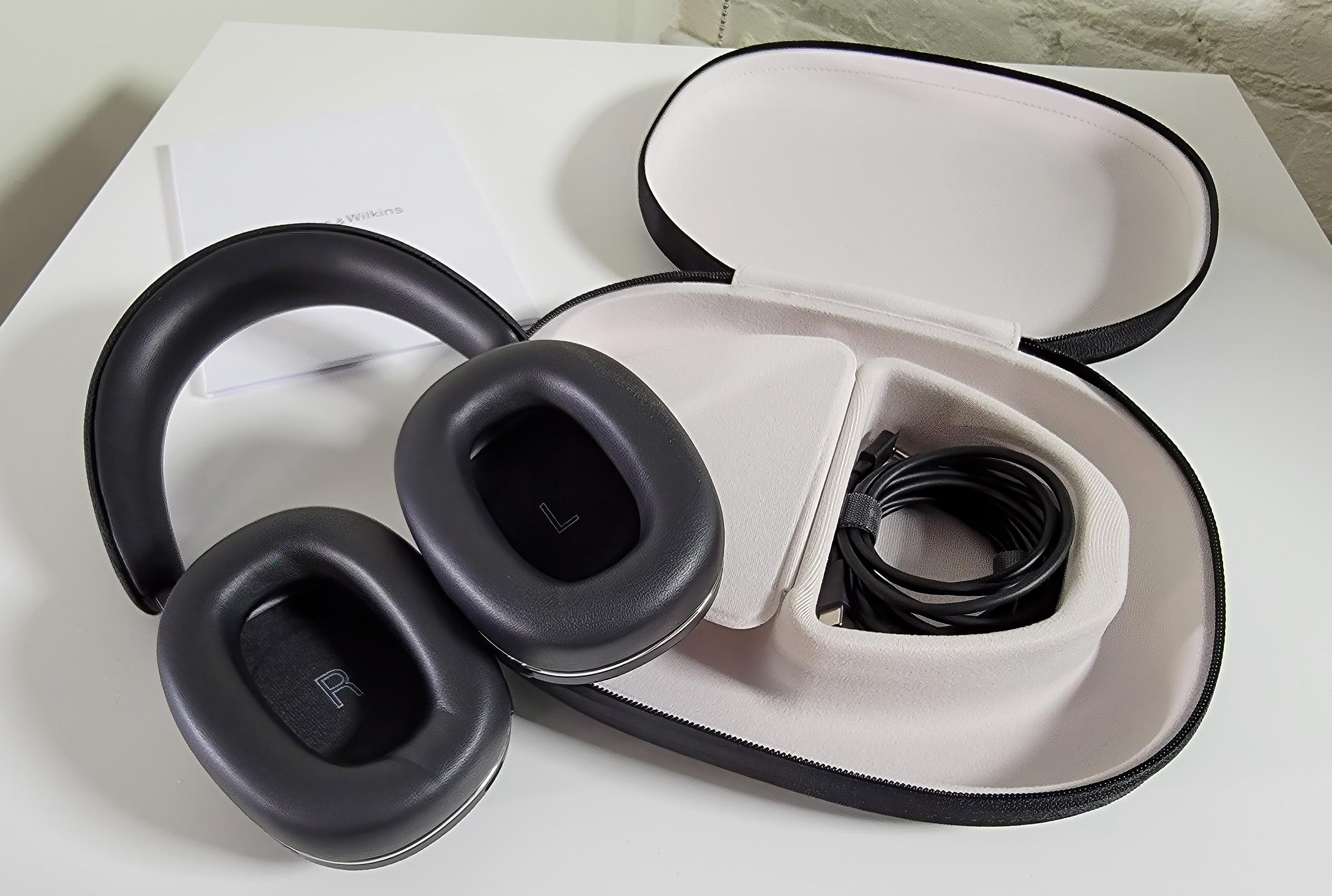 ---
Hands-On Impressions
I used the PX7 S2 in several contexts, and I appreciate how well it works with all my devices. I am particularly a fan of USB connect headphones that act as their audio device; this "eliminates the middleman" so to speak, by using the DAC contained within the headphones to deliver high-resolution sound. The key is the uncompressed hi-res digital signal is converted to analog at the last possible moment, within the headphones.

While have to turn to some other or technical review for reference-quality measurements of the frequency response (I'm counting on rtings.com to publish those). For the sake of this review, I at least have my ears and subjective comparisons to other playback systems. I know not everybody is into that approach, but let's just focus on the fact that there will be measurements available from other sources, for those who prefer to make buying decisions with hard data.

Notably, with my PC, I typically use a pair of Audeze LCD-XC closed-back ($1299) and a MOTU M4 audio interface ($270). It may not be the very best headphone rig in the world, but it's up there and extremely capable. For this evaluation, this (my reference rig) is demonstrably superior to any of the other headphones mentioned in this review.

So, with my ears as the main evaluation tool, one of the first things I did is connect the Px7 S2 to my PC and fired up Room EQ Wizard, so I could send frequency-specific sine wave test tones to the headphones. The purpose of this exercise is to roughly gauge the bass response and to listen for irregularities such as mechanical sounds or audible distortion.

I was pleased to hear these headphones play clean and smooth right on down past 20 Hz, which is clearly audible with only a hint of distortion, down through 16 Hz where the base becomes essentially inaudible, but I can still feel the pressure differential on my eardrums. At 16 Hertz, I can still hear the faintly audible distortion, and technically there's still bass coming out of the headphones; it's just that my ears literally cannot hear it. Take it or leave it, my subjective impression is these headphones have conquered bass and cover the entire audible spectrum tightly, cleanly, strongly, and in proper proportion.

Of course, I used these headphones with the Bluetooth connection, with my PC, my iPad pro, as well as several smartphones. But I also had one more use for these headphones, which is to monitor sound when shooting video. For that, I relied on the 3.5-millimeter adapter cable.

My most frequently used fill-size ANC headphones are a pair of Sony WH-1000XM4, which have notably excellent noise cancellation and a sound profile that I happen to enjoy, with somewhat boosted bass. Unfortunately, I do not have a pair of the original Px7 to compare.

The Sony headphones are what I typically use for monitoring. This is due to their comfort, portability, durability, and perhaps most importantly, the effectiveness of the noise cancellation plus passive noise attenuation. They are very effective at creating a bubble of silence that allows me to focus on the sounds I'm monitoring.

Although they are quite different, the other headphones that I used for comparison to the Px7 S2 to are Apple AirPods Pro, which is among the most popular True Wireless earbuds. They are my go-to for use with my iPhone, and they possess reasonably effective noise cancellation capability.

Ultimately, I found the Px7 S2 edges out the Sony WH-1000XM4 for comfort but also for audio fidelity. and the fit and finish are considerably more premium. But, the noise cancellation of the Sony headphones is still slightly better, the Px7 S2 let a little bit of midrange through, while the Sony headphones only allow the slightest hint of high-frequency sound to leak through.

Let's put it this way, both headphones will eliminate the hum of appliances and fans in the background. But only the Sony noise reduction will come close to eliminating the crying babies on a packed flight. Mind you, that's with nothing playing—put on some music, and it is difficult to hear the difference in noise reduction performance.
If you've read my reviews over the years, you know that I've settled on Daft Punk's "Disc Wars" as a standard of sorts, a catch-all test of a systems mettle. The reason is simple, it is a combination of the London Symphony Orchestra and Daft Punk synthesizers, the mix is thick, and the bass is relentless and deep. It genuinely taxes lesser systems to the point where it becomes claustrophobic, or the dynamics are diminished, or the bass is not expressed properly. Not only are there none of those issues described above, I would argue that the Px7 S2 goes above and beyond the call of duty in terms of peeling through the recording's layers, and translating it all into an emotionally involving listening experience.
So, with Disc Wars basically on loop, I went between the Audeze LCD-X, the Sony 1000XM4 and the Px7 S2 (AirPods Pro had to sit this one out, they cant handle it). And the result was shocking. Yes, shocking. The Bowers & Wilkins came close to the Audeze in overall clarity and beat them in deep bass. And the Sony headphones, I just... I loved those headphones, but after hearing them get so thoroughly trounced by the Px7 S2, they are likely to be relegated to airplane duty. While still my go-to for blocking out crying babies, I'd much rather have the new Bowers & Wilkins on hand for just about any other listening I might do, because the quality is so much better.
This impression of superior audio fidelity holds up with many other test tracks, although not all pose a similar challenge, and in many cases, the Sony headphones were closer to the Px7 S2 in overall quality than was the case with Disc Wars. But there certainly are other tracks where the gap in fidelity is laid bare.

One of the most impressive demo tracks for bass, but also for vocals, is John Rutter's "Pie Jesu," performed by Turtle Creek Chorale and the Women's Choir of Dallas. This is one of the few tracks in this style—real choir, real organ—that I've heard during multiple cost-no-object system demos.

The track has practically no dynamic compression, so you have to turn up the volume quite high to hear it properly, and it is very dynamic and demanding of a system. And as you listen, the big organ comes in. And by big, I mean one of those organs that can do 16 Hz as a real note. As I mentioned earlier, that's the point where you stop being able to hear a sound, limitations of human hearing mean that you can only sense it as pressure on the eardrum.

If you were using a subwoofer, and it was loud enough, it would certainly feel it, as you would if you were physically present in the room with the organ. But with headphones, there is no tactile element, you can usually only tell a 16 Hz note one or two ways, either by hearing the distortion byproducts or by feeling it. And the reason it works with headphones is you can both hear and feel the 20 Hz notes that precede the 16 Hz note, so you can recognize the 16 Hz sensation.

Of course, there's much more to the track than just those organ notes. The extreme dynamic range in the recording, going from whisper to crescendo, begs for a silent backdrop. And that's where the noise reduction, as implemented by Bowers & Wilkins, does its best work. At home, I can slip on the headphones and activates the noise cancellation and it eradicates the sound of my HVAC. Now I can concentrate on the music and here are the finest details because the noise floor is so low and the fidelity of the headphones themselves is so high.
So, the funny thing about headphones is it's kind of up to the mix itself whether the soundstage is stuck inside your head, or more expansive. What I'll say about the Px7 S2 is they are capable of rendering the 3D illusion of binaural audio with great precision.

Some of my favorite recordings are not music at all, they are ambisonic recordings rendered as binaural sound, captured with the Zoom H3-VR recorder ($229.99 on Amazon). For example, this clip starts with a helicopter overhead, flying around Center City Philadelphia. Then, there is a quiet period where you hear the bass rumbles coming from vehicle engines. All of this appears to take place outside your head. And that's when you begin hear a pack of dirt bikes, first a whisper on the right within the soundscape. It grows to a rollicking crescendo as the group rides by and is a bracingly realistic listening experience through the Bowers & Wilkins headphones.
---
Conclusion
Bowers and Wilkins is strongly associated with high fidelity sound. The original Px7 were good headphones, but there was room for improvement. With this redesign, the resulting Px7 S2 are serious performers that also offer a better, more comfortable fit.

Not only is this a clear improvement upon their predecessor, but the new model also represents a serious challenge to the likes of Beats, Bose, and Sony. It's got the comfort, audio fidelity, build quality, and noise reduction performance needed to compete.

Let's put it another way. It seems to me these $399 headphones are gunning for the ultimate prize, which is being an alternative to the $480 AirPods Max, which similarly feature high-grade materials to go with the high performance. The Px7 S2 hit a sweet spot for price, performance, and quality. Relative to the competition, if your priority is high fidelity sound in a luxury-oriented product that offers compelling value at $399, they are worth every penny.