The original Bowers & Wilkins 600 Series speakers were introduced twenty-five years ago and they have been the company's best-selling speaker line over the years, so an update to the line is certainly noteworthy. The 600 Series Anniversary Edition line celebrates six generations of engineering improvements and the sale of over one million units.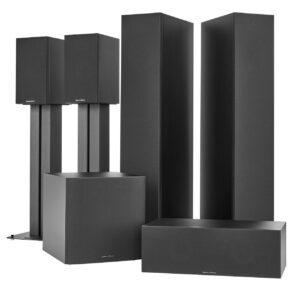 The new 600 Series Anniversary Edition is the seventh generation of the 600 Series and is comprised of four speaker models,: the 603 S2 floor standing speaker ($2,000 per pair); the 606 S2 stand-mounted speaker ($800 per pair); the 607 S2 compact stand-mounted speaker ($700 per pair);, and; the HTM6 S2 center channel ($800, each). Optional stands are available for the 606 S2 and 607 S2. Three powered subwoofers — the ASW608, ASW610 and ASW610XP ($500, $800, and $1,500, respectively) — provide low-frequency reinforcement for the series. B&W sells a pair of the 603 S2, a pair of the 607 S2, a HTM6 S2 center, and a ASW610 sub as a package for $4,300.
Although this series is the entry level series of Bowers & Wilkins' home audio lineup, its speakers do benefit from technology borrowed from B&W's reference-grade speakers. The new speakers borrow crossover technology and components used in the more expensive 700 Series Signature range. The 600 Anniversary series incorporates a "refined and upgraded" version of the Decoupled Double Dome tweeter, which pushes the breakup point to 38kHz. The midrange's Continuum cone, which was first used in the 800 Series Diamond, promises to provide improved detail and accuracy in comparison to prior midrange drivers. The 600 Anniversary Series speakers also feature a revised and upgraded crossover design.
The 600 Series Anniversary Edition speakers are available in four finishes: white, black, oak, and a special-order red cherry. My review samples were finished in a matte black. The vinyl wrap finish was plain but cleanly applied.
The 603 S2 is a three-way, ported design with a slender profile featuring a one-inch aluminum dome tweeter, a six-inch Continuum midrange driver, and two 6.5-inch paper bass cones. An optional plinth-style base can be installed for additional stability, good to have if pets or younger listeners are around. The grilles are secured with hidden magnets, which allow for a clean front baffle. The clean baffle coupled with the pleasant aesthetic of the contrasting silver finish of the tweeter and midrange, and the black of the two woofers on bottom makes for a clean, modern look.
The 603 S2 tower is 41.5 inches high when mounted on its base, 7.5 inches wide, and 13.4 inches deep. The plinth style base is 12.6 inches wide and 14.6 inches deep, so despite the narrow profile of the speaker, you will need some additional clear floor space if you want to use the base. The 53.1-pound speaker feels pretty solid but is not as inert as the similarly-sized but more-expensive Revel F206 / F226Be. Bowers & Wilkins states the frequency response as 48Hz to 28kHz (+/-3dB, with a 6 dB down point of 28Hz). Nominal impedance for all passive speakers in the series is 8 Ohms, and the sensitivity of the 603 S2 is stated at 88.5 dB (2.83V, 1m).
All of the speakers in the line feature what appears to be the same rear plate, with double binding posts in case you want to bi-wire and B&W's familiar dimpled and flared port. A two-part foam bung is supplied so you can partially or fully plug the port to tune the speaker to your listening room and the speakers' positions therein.
The ASW 610 sits in the middle of the ASW 600 series subwoofer lineup. As with its siblings, it's a front-firing, sealed suspension design. The built-in Class D amplifier is rated at 200 watts and has a frequency response of 26Hz to 140 Hz (+/- 3dB), with a 6dB down point of 20Hz.
Setting Up the Bowers & Wilkins 600 Series Anniversary Edition Theatre System
The speakers arrived securely packed in cardboard boxes with clear instructions on the outside, which made unboxing them a breeze. I installed the base plinths in just a few minutes with the four included bolts and included Allen wrench. The speakers come with sets of simple spikes for carpeted floors and rounded plastic feet for hard surfaces. The included manuals provide clear, easy-to-follow instructions and setup advice.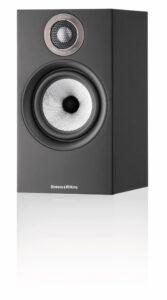 I listened to the 603 S2s and 607 S2s in both stereo and multi-channel configurations. Starting with the stereo system, I used the Naim Uniti Atom all-in-one music player (reviewed here), connecting everything with Austere cabling. I had a pair of SVS SB-2000 Pro subwoofers (reviewed here) already set up in the room, so I tried those with the 607 S2's until I got the B&W ASW 610 in from the garage and unboxed. The ASW 610 does not come with an App or any sort of room correction software, but does provide a back-panel controls for both line and speaker volume, low-pass frequency cutoff (including a switch to disengage), bass extension, equalization, and phase switches. I ended up with the equalization switch set to "A" and bass extension set to "C."
After a few days of two-channel listening I moved the speakers into my theater room where I connected them to my Krell TAS Amplifier (reviewed here) and Marantz AV8805 AV Preamplifier(reviewed here). Oppo's UDP-203 (reviewed here) and a Roku Ultra (latest model reviewed here) were my primary sources. The HTM6 S2 sat on top of a low equipment rack and the ASW 610 was positioned just inside the right-channel 603 S2.
How Does the Bowers & Wilkins 600 Series Anniversary Edition Theatre System Sound?
Joss Stone's "Chokin Kind" from The Soul Sessions (Tidal, Virgin) can quickly reveal problems in the upper midrange and treble, but the 603 S2s handled themselves very well. Stone's voice can be hard to reproduce cleanly, and the 603 S2s did so with only a hint of hardness at higher volumes. So far, the new tweeter was off to a good start.
The drums on this track provide a solid foundation without being overpowering, and the B&Ws did a good job of portraying them with composure, never devolving into the sort of one-note bass that can plague lesser ported speakers. I found the dynamics to be good even at volumes louder than I could comfortably listen to.
Joss Stone - The Chokin Kind
"Everything I Wanted" by Billie Eilish (Tidal, Interscope Records) provided solid imaging with Eilish's solo vocals, solidly positioned in space slightly behind the plane of the speakers. While most of the track features synthesized music, Eilish's now-familiar voice provided ample opportunity for balanced, detailed, and natural musical reproduction., The layered chorus vocal tracks were a bit diffuse. as they were on the other speaker systems through which I auditioned this track. The 603 S2s were able to reproduce the synthesized bass without losing any composure at low to moderate volumes, whereas the smaller 607 S2's provided more low-frequency energy than I expected from their compact cabinets, but quickly lost detail and energy below about 50 Hz. I found I was able to easily integrate a pair of SVS SB-2000 Pro subwoofers to extend low frequency extension.
The B&W ASW610 subwoofer took a bit more work to integrate with the 607 S2s in a stereo configuration, but worked well once it was dialed in. Before I moved the speakers out of this room, I tried the 603 S2s with the ASW 610 on this track and found that they too benefitted from the extra extension. If I had not heard the track with the subwoofer, I would not have missed the extra bass energy, but once I heard it, I realized the 603 S2s could not quite reach low enough to reproduce everything on the track.
Billie Eilish - everything i wanted
Before moving to multi-channel music or movies I felt compelled to try at least one stereotypical audiophile recording. I went with "Bird on a Wire" from Jennifer Warnes' album Famous Blue Raincoat (CD, Private Music). I have heard this track on countless systems, and while the vocals and instruments are all well-recorded in their own right, it is the imaging and soundstage that set this recording apart. The 603 S2s did a good job with the lateral portion of the soundstage, but the depth seemed slightly compressed not matter how I adjusted the speaker positioning. It was still quite good, but couldn't match the depth of soundstage I've obtained with other, similarly sized speakers. Jennifer Warnes' voice was rendered with greater detail and more neutrally than on the B&W 683 towers I reviewed a little over a decade ago, though.
Bird on a Wire (Digitally Remastered)
I listened to several multi-channel music discs, one of them being 'The Eagles' Hell Freezes Over (DVD, Image). The multi-channel soundstage was much larger than what I was able to achieve with the stereo version of this album and the individual instruments were placed in the proper position. The drums from "Hotel California" were produced with speed and palpable impact. The subwoofer did a good job reproducing the different drum notes without any bloat or blurring.
I tried a couple other multi-channel music discs and found that bass heavy tracks from Crystal Method's Legion of Boom (DVD-Audio, DTS) were too much for the single ASW 610. This disc has a lot of synthesized bass elements that, when played with larger Paradigm or SVS subwoofers, pressurize the room. A single ASW 610 could not pressurize my 12- by 17-foot room with notes under 30 Hz. If you are seeking to pressurize a mid- to large-sized room with powerful, low-frequency bass, you'll either want a second ASW 610 or a more powerful sub such as the ASW 610 XP.
I could not complete a review of a 5.1 theatre (British speakers so British spelling) system without at least one movie. In anticipation of Top Gun: Maverick, my son and I watched Top Gun, (UHD, Paramount) again (my wife refused to join us). I think this may be the second or third time we've watched it during the pandemic. The HTM6 S2 kept up with the 603 S2s when it came to vocal clarity, maintaining its composure and timbre until I was way off to the side, well beyond 45 degrees off-center. I suspect the relatively close positioning of the midrange drivers allowed for this MTM-style speaker to maintain its performance across a wide range of listening positions.
The Dolby Atmos soundtrack is well done, with both lots of detail and lots of low frequency energy to give the B&W 600 Series Anniversary Edition Theatre system a good workout. I was not surprised to hear lots of detail in all channels. The dialogue was always rendered clearly, as were the sonic cues providing differing positioning details.
Even though the movie is filled with action scenes, there are several dialogue-heavy scenes where the characters' positions move laterally across the screen. This tests the system's ability to remain consistent as the vocals are passed from the center channel to the main front speakers. The B&W 600 Series Anniversary Edition did well with this. The towers have more lower midrange weight which was only noticeable if listening very closely on deeper voices. I would be surprised if any listeners noticed this unless they were listening very closely just for timbre mismatching.
I was able to play the movie at reference levels and with the front left and right speakers running full range without any obvious signs of the speakers' reaching their limits. That said, if you are looking to play your action movies above reference levels, I would suggest running the towers as "small" and having a capable subwoofer (or two) handling the low bass in order to provide even more dynamic range.
Top Gun (1986) Official Trailer - Tom Cruise Movie
The Downside
The 600 Series Anniversary Edition does a lot right, but there were a few things I would like to see improved upon. The aesthetics are a bit plain, but I think the clean lines work well with the white or black finishes. The magnetic grill of one of the sample speakers fell off every few days, but since it was only one of five speakers to perform this spontaneous striptease, it might be an anomaly. As the 600 Anniversary Series Theatre is relatively compact, some owners might be inclined to place them in tighter quarters. The rear port design could be problematic in tight spaces, though.
The ASW subwoofer series is lacking some features commonly found in many competitors that help with ease of setup. The ASW series lacks any sort of auto-EQ or room correction, which will not be an issue for those who are also using a modern receiver or preamp with room correction, but could be a problem for those using it in a two-channel system. I have become spoiled by subwoofers with app-controlled setup, which makes subwoofer setup much easier and faster.
How Does the Bowers & Wilkins 600 Series Anniversary Edition Theatre Compare to the Competition?
There are several competing speaker lineups that provide similar options: Focal's Chora line, SVS Sound's Prime Pinnacle line, and the Paradigm Premier line. I have only heard the Focal Chora (the stand-mounted 806) and it would probably be comparable to the B&W 606 S2 in performance. While I have not heard the SVS or Paradigm speakers, I have heard good things about them from my colleagues. All have multiple speaker options that would allow for a similarly configured and priced 5.1 system.
I note that the Focal Chora subwoofer is more similar to the B&W ASW line, in that it is a sealed suspension design with manual back-panel controls. The Paradigm subwoofers are ported and the SVS Subwoofers can be had in either ported or sealed configurations. SVS Sound and Paradigm subwoofers both come with app control and Paradigm has Anthem Room Correction built in.
Final Thoughts
The B&W 600 Series Anniversary Edition Theatre system provides a lot of performance for its relatively modest price. I was pleasantly surprised by the increase in performance from the last 600 series speaker system I reviewed. Normally "new and improved" is a small incremental change, here it was readily apparent. There was less coloration than the B&W 683's I reviewed in the past, more resolution in lower levels, and more dynamic range.
The 603 S2s provide solid performance on their own or as part of a larger system. The 607 S2s would be good for a small bedroom or office, but even then, I would want to have a subwoofer handle the lower frequencies, as that would both increase the dynamic range and provide better definition below about 50 Hz.
The combination of the components made for a system that was capable and satisfying with both music and movies alike. When listening to familiar music through the system, it just sounded right. There was good balance from top to bottom without any undue coloration calling attention to itself. For those who need more resolution or dynamic range, there is always the B&W 700 Series, but the 600 Series provides good performance at a fair price, making it easy to recommend for audition.