The search for the perfect speaker is a never-ending quest, given that perfection is unattainable. But sometimes an experience offers a slice of the sublime and you get a taste of perfection. For example, the Bowers & Wilkins 805 D4. It is a stand-mount speaker that offers the epicurean perfectionist audiophile an outlet for their aural adventures. Its sculpted form is deliberate and logical, yet sleek and sexy; it is a speaker with sound quality and looks that communicate its place as the top bookshelf-style model in the company's product hierarchy.

My interest in reviewing the 805 D4 stems from more than just a desire to hear a pair of excellent speakers. During my time as Editor of AVS Forum, I had a chance to visit Bowers & Wilkins factory, where its 800 Series speakers are made. It gave me an appreciation for what a hands-on and intensive process it is to create one of these speakers. And on that same trip, I got to tour Abbey Road Studios, which uses Bowers & Wilkins speakers throughout its facility. If you want to get as close as possible to hearing what the artists and recording engineers heard, a great starting point is to use the same speakers.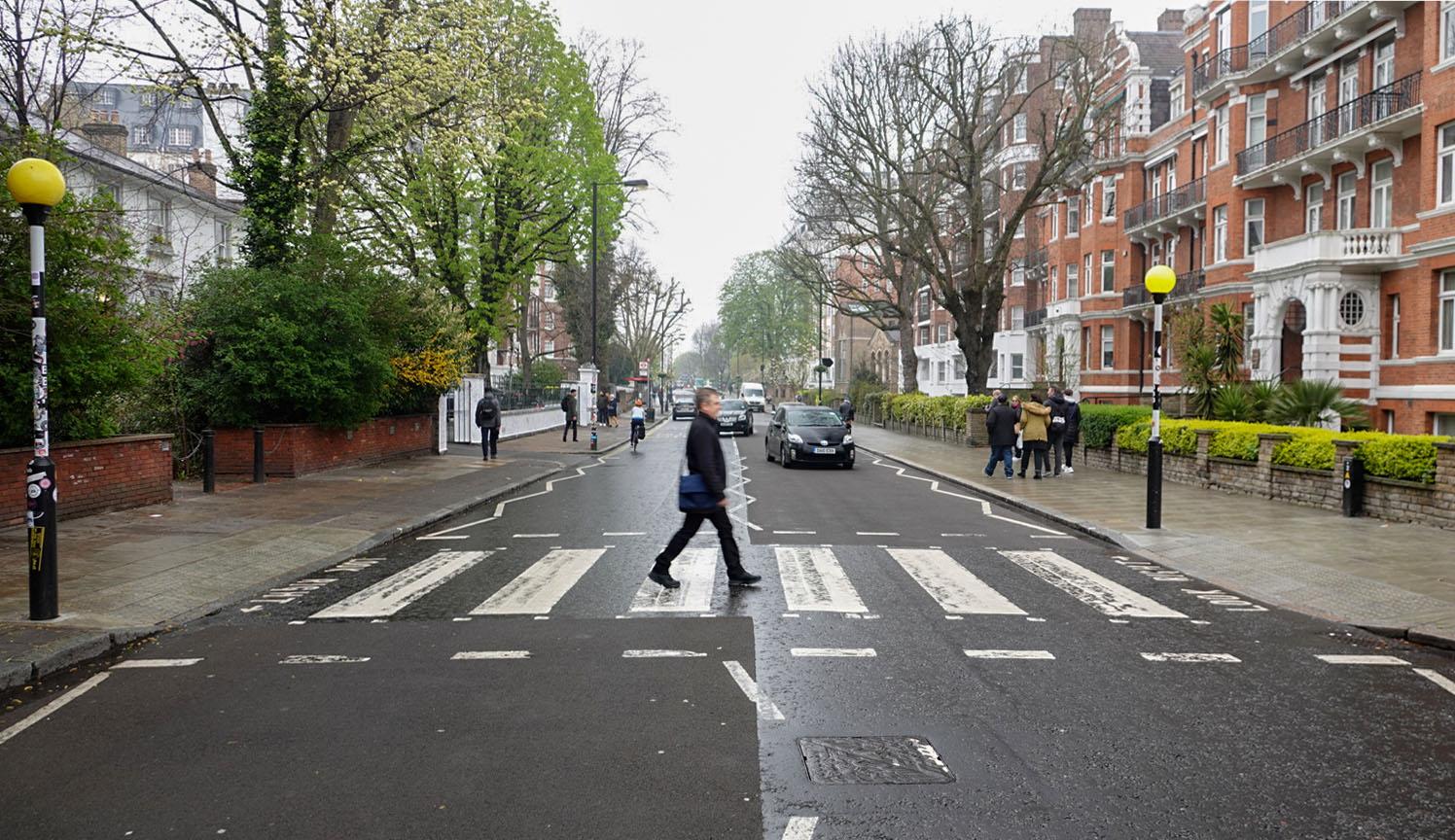 When the 805 D4 was released in 2021, I jumped at the opportunity to review a pair. And in a situation that is unique to these speakers, I had the opportunity to live with them in two different spaces because I moved from a condo-style apartment to a loft in a converted industrial building. These two different spaces allowed me to appreciate what these speakers deliver in two distinct acoustic environments.
---
Features & Specifications
The 805 D4 ($8500/pair) is a stand-mount 2-way speaker consisting of a diamond dome tweeter and a 6.5-inch bass/midrange cone driver made from the company's proprietary Continuum material, which replaced the aramid fiber cones the company had used for years. Continuum was introduced in 2015 with the debut of the 800 D3 series, the predecessors to the D4 series to which this speaker belongs.

The tweeter is signature Bowers & Wilkins, a diamond dome separated from the speaker's main body, what it calls "Solid body Tweeter-on-Top". The company also refers to it as a studio-grade tweeter.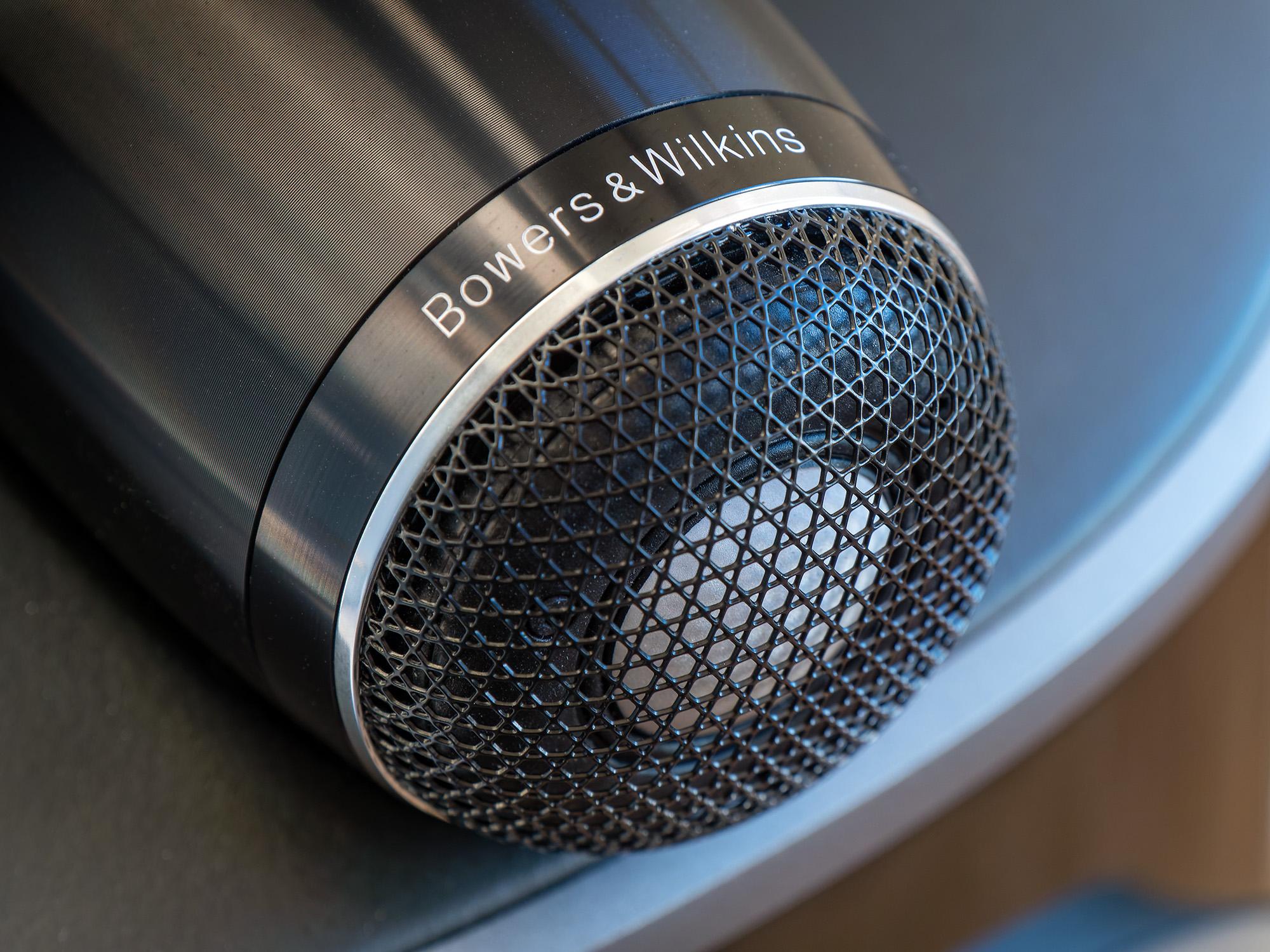 Anechoic frequency response is rated at 42 Hz to 28 kHz, +/-3 dB measured on-axis. The company says this translates to a more loosely defined frequency "range" of 34 Hz to 35 kHz. The published sensitivity is 88 decibels, again on-axis and anechoic using 2.83Vrms at 1m. And the rated impedance is 8 ohms nominal, with a minimum of 4.6 ohms. Aside from a little bit lower sensitivity, these are numbers you would normally associate with a quality tower speaker, not a bookshelf style or stand-mount speaker.
Bowers & Wilkins additionally publish harmonic distortion specifications, these are for second and third harmonics measured at 90 decibels output, one meter away, on-axis. The company states that distortion remains under 1% from 90 Hz up to 20 kHz and that it remains under 0.3% when you measure from 120 Hz on up to 20 kHz. Recommended amplification is between 50 watts and 120 watts.
One of the interesting features of this speaker is that the crossover is located on the back, and has its own heat sink. Typically, a crossover will be located inside the cabinet and with no accommodation for heat dissipation. This is but one aspect of the sophisticated cabinet design of this speaker. This is not just some MDF cabinet, it is made from multi-layered high-quality plywood that is pressed into shape in the company's factory. I've seen the whole process in person and it is an undeniable fact that with its 800 Series speakers, Bowers & Wilkins has total control over the design and manufacturing process allowing it to maintain extremely high standards and tolerances.

On the rear of the cabinet, you'll find the ribbed aluminum heat sink that runs top to bottom, as well as four terminals for speaker cables, thus allowing for bi-amplification.

You can purchase dedicated stands for these speakers—the FS-805 D4—and Bowers and Wilkins sell them for $1250/pair in silver or black finish. They are a perfect match for the speaker, in size and shape, and appearance, and incorporate cable management for a clean look. The company suggests their use for "the best possible performance." But, since I already had some heavy-duty stands, I used those instead.
---
Setup and Listening
I listened to the speakers in several contexts. Not only in two different apartments but also in two different system configurations. Part of the review involved using a Classé Delta Stereo amplifier to drive these speakers, which is a potent combination that ensures the speakers get all the clean and distortion-free power they need to fully express themselves, even when pushed to their performance limits.
But I only kept the Delta Stereo for part of the review, and when I published a review of the amp, I sent it back and proceeded to use the 805 D4s with my AVR-X8500h. The 805 D4s are actually quite easy to drive, with the impedance never dropping below 4 ohms.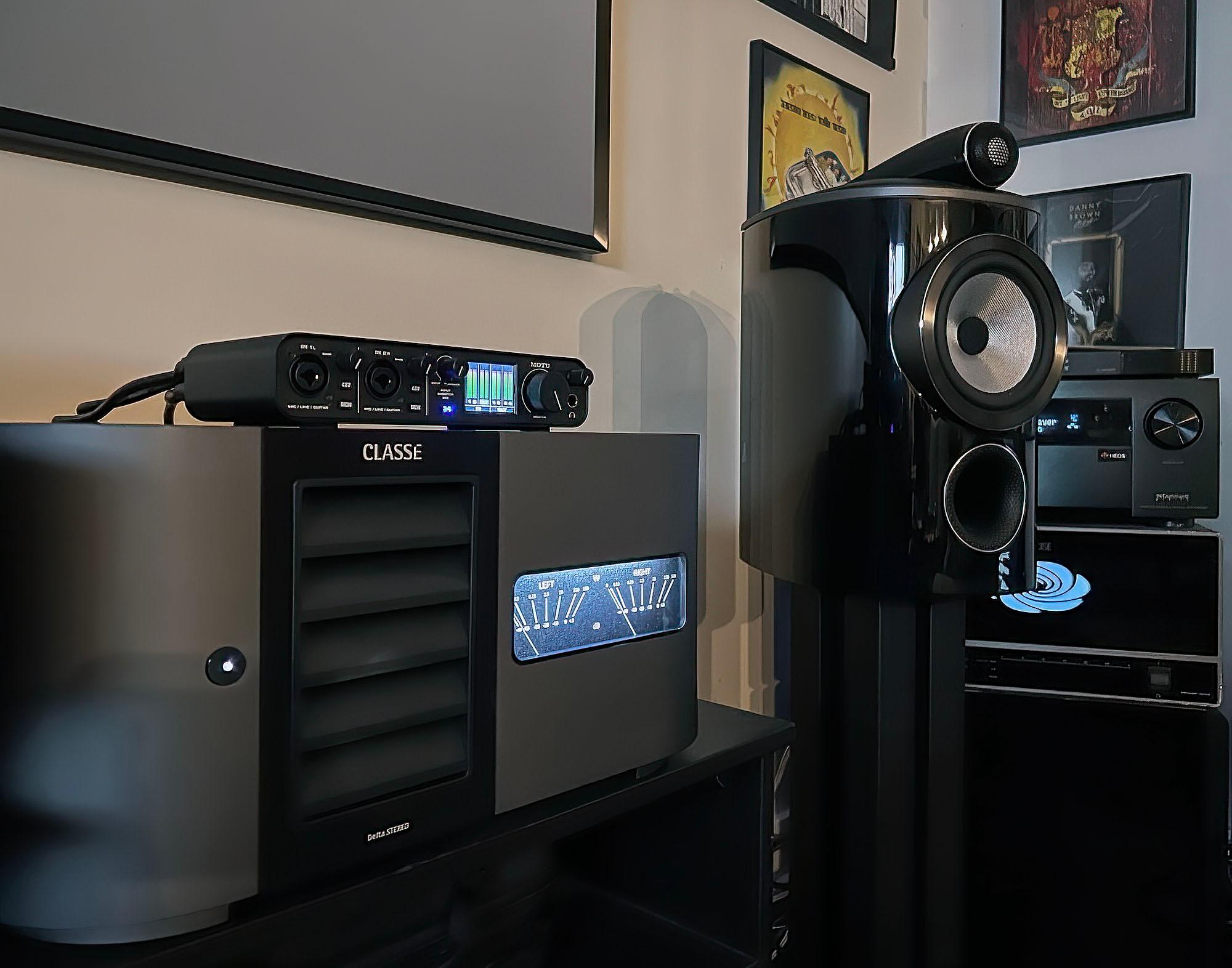 While I listened to a vast variety of music through these speakers (it's easily over 1000 hours' worth, since I work from home and listen to music all day) there are a few specific tracks that I regularly use as a reference. One of them is "A Day In The Life" by The Beatles, because it is my ultimate subjective point of reference. I heard the famous piano chord from the end of the track—the one with the endless sustain after the big build-up—in person, played on that piano. A piano that is in the same spot, in the same room at Abbey Road as when The Beatles used it.

So with that in mind, I'll typically give the track its due when I have a decent system in for review. And all I ask of a great system is that it reminds me of that in-person experience. When that happens, when what I hear is realistic enough, I get the affirmation of goosebumps. This chain of events occurred like clockwork with the 805 D4s, and even offered the bonus of triggering photographic memory flashbacks to my visit to the studio. There's nothing like refreshing a memory with a strong stimulus!

With "A Day In The Life" I was able to trigger goosebumps twice, once in my old apartment and again in the new loft. What I found fascinating is that the system does sound different in the two rooms, which you would expect when contrasting a 17' x 26' x 10' space with a 20' x 35' x 13' space, the loft has better overall acoustics but does require more power to achieve the same effect since the listening position is further away from the speakers.

When driving the 805 D4s as full-range speakers in a 2.0 configuration, their performance is a source of wonder because, within their performance envelope, the bass response is so tight and well-articulated, it takes on a lucid and sublime quality. With a recording of real instruments, the effect is transportive, you can imagine yourself in a jazz club or a concert hall. While I'm decidedly not a jazz fan, I've toured numerous high-end audio shows and tested several review systems with the Duke Ellington album, Duke's Big Four. And in particular, I like to focus on the track The Hawk Talks, which is mostly about drumming (the part of jazz I enjoy most).

The key point is the size of your listening room is not a limiting factor when a recording is done right and you listen to it with care. You can feel the intimate nature of a jazz venue as contrasted to a choir in a cathedral, like in the ultra-tough speaker test that is Rutter's Requiem: Pie Jesu, as performed by the Turtle Creek Chorale and Women's Chorus of Dallas. Impressively, the change in venue scope is to scale, so it comes across with an invigorating authenticity. All I can say is that when exploring genres one might not be naturally inclined to listen to, if you have speakers that perform at the rarified level achieved by these 805 D4s, you'll find surprises and likely enjoy it, thus broadening your horizons.

I'm a fan of electronic music and love finding albums that have distinct sonic profiles and interesting production. I'm not a stickler for realism, but I do want my listening experience to bear some resemblance to what the artist was thinking when they created the mix. One of my favorite artists for chilling out and enjoying a cool soundfield is The Orb, and I'm a particular fan of their collaboration with Pink Floyd guitarist David Gilmour on an album called Metallic Spheres, which I happen to own on vinyl as well as on CD. It's three very long tracks that are mostly ambient with a bit of a beat and Gilmour's guitar plus occasional voice. And with these speakers, the effect of the music is uncanny, it simply exists in the same space I'm in, as if it was something more tangible than mere soundwaves. Truly hard to believe the source of the sound is the speakers, even though I'm staring right at them, such is their "invisibility" in the context of the system.

With electronica and also studio concoctions that use real instruments, if the artist who created the mix knows their stuff, they can play with sound and make it appear to come from just about anywhere, no need for any fancy formats but what you do need is speakers that can image incredibly well, and render sound objects in free space with precision, and at the right size and apparent distance. All of which is possible to hear and experience when you use these speakers.

You never know when you'll run into music mixed in three-dimensional stereo, but you'll know it when you do hear it because even though you'll only be listening to two speakers, you'll perceive it as totally seamless surround sound.

As nice as it sounds to run the 805 D4s full range, it is also a limiting factor. Namely an excursion-limited factor. You can only ask so much of the 6.5" driver and the deeper you try to dig, the sooner you run into limitations dictated by the laws of physics.

But, if you use the 805 D4 speakers in a 2.1 system (or in my case the L/R speakers in a 4.1 system) and let a subwoofer take care of the deep stuff, you get a speaker that has zero compunction letting loose and showing you what it's really made of. And this is no huge surprise, after all much of what differentiates a 2-way tower and 2-way bookshelf speaker in the same line is nothing more than how much bass the speaker handles on its own. So, there's a lot to gain (slight pun there) by taking a subwoofer/satellite approach with these floor standers.

Of course, with a surround sound system in the mix, I did not just listen to stereo music. I watched numerous movies over the course of the review. In my old apt I was fielding a 4.1.2 Atmos system, while in my new space I have not found a solution for the height channels yet, so I'm running 4.1. In both cases, as I typically do, I utilized a phantom center and relied on the imaging of the left and right front speakers to create the center channel image, and consequently place dialog in front of the screen.

Using phantom center mode worked perfectly with these speakers, and just speaking subjectively, I found it almost shocking how far off-axis I could sit and still perceive a phantom center channel image floating between the speakers, instead of having the sound stage collapse to whichever speaker I'm closest to. I've heard a lot of speaker makers make claims about a wide sweet spot, and usually it's nonsense, to the point where I became dismissive that it was even technically achievable. But you don't have to measure anything to experience that phantom center channel effect, all you have to do is listen and it was there, regardless of where I sat on my couch.

As for what I watched, it all sounded quite fantastic. Movies included The Batman, Ambulance, Venom, Spider-Man No Way Home, Moonfall, Jackass Forever, No Time to Die, Scream, and Dune. I can say that I did not miss a single word of dialogue, and I always found the sound dynamic, clear, and never fatiguing. It's a virtuoso performance for any speaker, and quite frankly what you'd expect when investing this much into a system.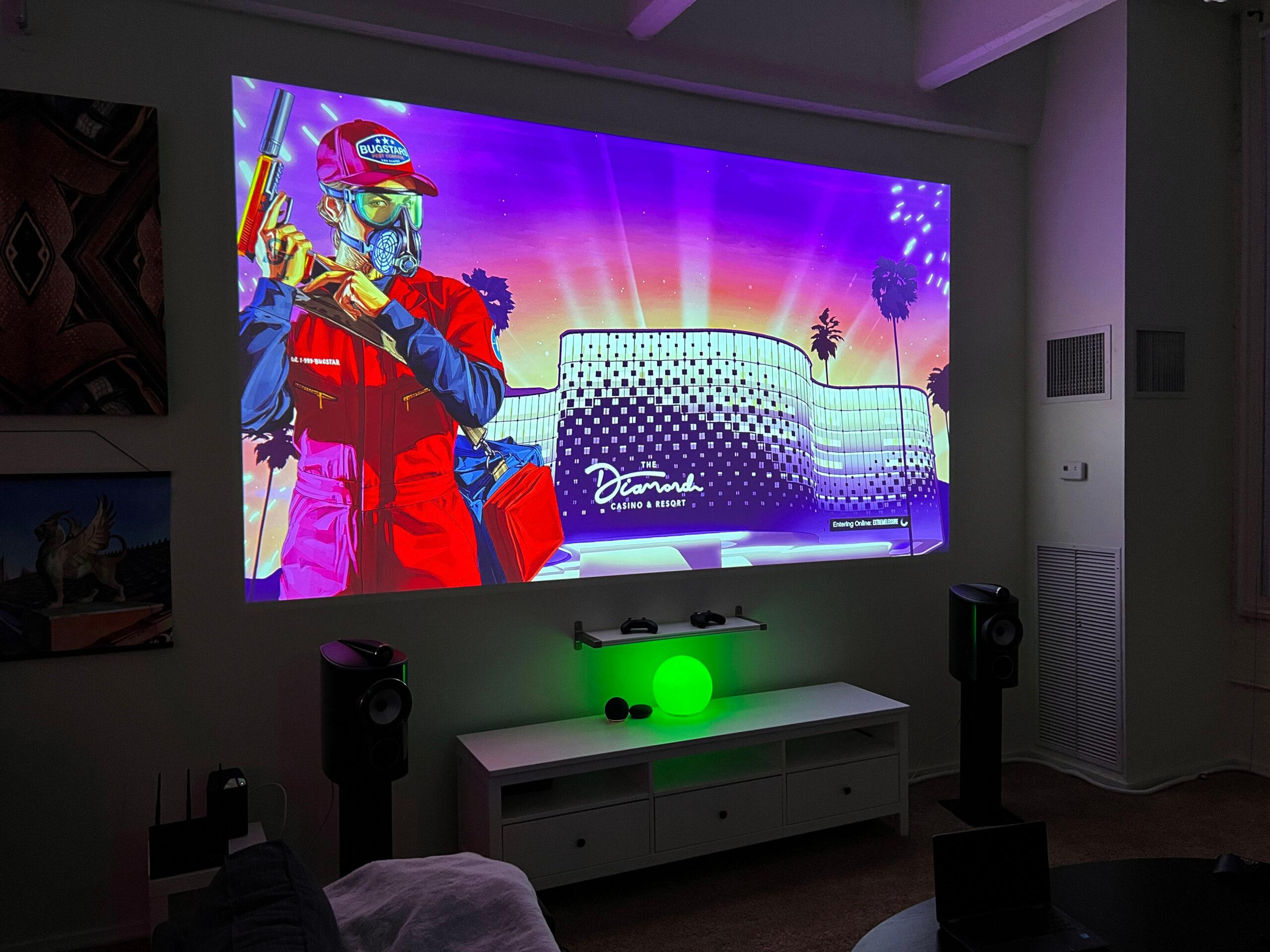 ---
Adventures in Audyssey
The emotional, experiential aspect of a review is fun, but I got a fair bit of insight from the setup. Now, I don't have the luxury of a quiet yard, or a Klippel analyzer, or an anechoic chamber I can borrow. But I do have Audyssey MultEQ XT32 on my Denon AVR-X8500h, and I have added the new MultEQ-X software plus Audyssey calibrated mic to my toolkit, and by looking at the results of clustered measurements (up to 32 measurements are supported) I can start to see how the speakers are behaving in my space, or in this case two different spaces.

The result of the measurements are reassuring, and also rather familiar. The reassurance comes from seeing these speakers produce a smooth response curve while the familiarity comes from the exact shape of that curve in the treble region, which has a small hump up high that I've seen before when calibrating an 800-series system and can be seen in measurements from more technical reviews, for example in Stereophile magazine's review of the 805 D4's predecessor, the 805 D3, as well and its review of the 804 D4 towers.

The magazine's measurements for these models are practically a dead ringer for what I see in the D4 in the treble region, with a mild hump in response that peaks around 10 kHz. And none of this comes as any surprise to those who know the brand, because that's how Bowers & Wilkins tunes its speakers, with a little extra something in the treble, all the better to leverage the qualities of its remarkable diamond-dome tweeter.

So, the long story short on MultEQ-X measurements is in my smaller, older apartment the response was surprisingly flat, almost anechoic in nature, without very little downward tilt in output as the frequency goes up. It's also superbly linear, even at the main listening position it stays within +/-3 dB except in the bass region where room-related effects overtake the measurements. In-room bass extension thanks to room gain results in a -10 dB point of 24 Hz.

Meanwhile in the new loft measured response was even smoother and more linear, but for whatever reason (I suppose mostly good luck) the -10 dB point for bass was found all the way down at 21 Hz and the peaks and nulls above that were less pronounced than in the smaller room—as expected. Mind you, this is not "usable bass" but it is measurable and there's no distortion to make you think you are hearing something that's practically inaudible. The science on bass is clear, the lower the frequency, the higher the audible threshold, but also the harder it is for a speaker to reproduce.

The insight I care about the most from the Audyssey measurements is that the speakers have great bass extension, so they will behave very well when crossed over to a subwoofer. You can choose the crossover frequency that suits you best, anything from 40 Hz on up should work great and the traditional 80Hz has more than enough leeway beneath it to create a smooth and symmetrical transition to the sub, which is what you want for proper integration. Of course, Bowers & Wilkins has high-end subwoofer options to go with the 805 D4.

Also, while I use these Bowers & Wilkins as my main left and right speakers, they are of course deployable as surround speakers and make a perfect match for the larger 800 Series D4 towers.
---
Conclusion
Between their great looks and perfectionist performance, the 805 D4s seduced me. I fell in love with these speakers, like no other bookshelf speakers I have heard. The qualities that produced this reaction were present from day one: An exquisitely detailed, effortless delivery unencumbered by coloration, distortion, or compression at the listening levels I use.

These are speakers that reward the use of high-performance gear, ample amplification, and high-quality source material. And by high-quality, I don't just mean lossless and hi-res sound, I mean masterfully produced works of art.

Whether it's the incredibly deep mix of effects and score found in a major motion picture, or the skilled work of an audio engineer making music in stereo, the Bowers & Wilkins 805 D4 speakers above all offer the escapist pleasures of suspension of disbelief. That's when even with your eyes wide open speakers are completely invisible to the ear, and yet the sounds they create have an authenticity that transports you to another place. Some speakers never achieve this, others only fleetingly. The 805 D4s deliver this experience 100% of the time, making them an Editor's Choice for 2022 for high-end bookshelf speakers.