The Panorama 3 is the first Bowers & Wilkins Dolby Atmos soundbar from the famous British high-performance speaker company. This 3.1.2-channel all-in-one design features an integrated subwoofer and Dolby Atmos technology plus eARC connectivity, making it ideal for pairing with today's premium 4K TVs and projectors.

While I do love a great full-size surround-sound system, I have long since found respect for what soundbars can accomplish. They are far from just miniaturized home theaters in a box, because today's soundbars can leverage sophisticated processing to create holographic imaging and generate surprisingly enveloping 3D immersive audio environments out of a single slender chassis.

Of course, with Bowers & Wilkins, there is an expectation of excellence when it comes to audio reproduction. That's what makes the Panorama 3 ($999) so exciting, it packages high fidelity into a single, simple device that time and again proved it can deliver a home theater-like listening experience in a living room setting.

Thanks to its hassle-free installation, the Panorama 3 soundbar is the perfect way to turn watching a regular TV into an enveloping experience. It is also excellent for playing music. And when paired with a high-quality projector and a high-performance source like a modern gaming console, it offers an affordable way to put together an AV system that qualifies as legit home cinema.

With a suggested retail price of $999 USD, the Panorama 3 is simple to use and constructed for high performance and great sound.
---
Features and Specifications
The Panorama 3 soundbar is a smart solution for anyone looking to easily upgrade their home AV experience to include Dolby Atmos. It's a robust and capable soundbar that's a reflection of Bowers & Wilkins' many decades of strong focus on high fidelity sound reproduction. It is also not an overly complex system, it has the features that count: HDMI eARC and optical inputs, plus Bluetooth and Wi-Fi connectivity.

This model does not come with a separate subwoofer, but it is specified as a 3.1.2 design because it has integrated drivers and amplification dedicated to reproducing bass frequencies. In other words, the subwoofer capability is built into the soundbar itself using a pair of 4" low-profile bass drivers.

Because this is a rather wide soundbar, it has the internal volume needed for creating quality bass. But it's not too tall, which is important, so it does not block the front of TVs when used on a stand. Overall dimensions are 46.6"W x 2.5"H x 5.5"D. and it weighs 14.3 pounds.

This soundbar has a total of 13 drivers, it features three 0.75" titanium dome tweeters, six 2" woven-glass fiber cone bass/midrange drivers, and two 2" Dolby Atmos driver units—also made of woven glass fiber—plus the aforementioned pair of 4" bass drivers.

Bowers & Wilkins equipped the Panorama 3 with a total of 400 W of power to push all those drivers. And it all adds up to a frequency response specification of 43 Hz to 48 kHz.

Panorama 3 features eARC support, allowing for lossless audio direct from compatible TVs or projectors. It also has an optical digital input, so it's broadly compatible with the vast majority of TVs and projectors. It also has an Ethernet connector for wired networking.

This is, of course, also a wireless connected soundbar, equipped with Wi-Fi and able to stream using AirPlay 2, Spotify Connect (Spotify Hi-Fi coming soon), or the Bowers & Wilkins Music app, which also allows it to be part of a multi-room system. It works in concert with other network-connected wireless Bowers & Wilkins speakers.

Of course, it's also Alexa-enabled with voice control over soundbar functions. It also has Spotify Connect which allows you to remotely control playback with devices running the Spotify app.

For easy direct wireless connections, it has Bluetooth 5.0 (class 2) with AptX Adaptive, AAC, and SBC.

One thing you will not find in the box with the soundbar is a remote control. Use an HDMI connection, and HDMI CEC will allow you to use your existing TV remote control to operate the Panorama 3. If you choose the optical-digital solution, Bowers & Wilkins allows for IR remote control learning, so you can program it to recognize the volume buttons on the remote for any of your devices, or a universal remote and use that instead.

---
Setup & Use
This is a unique review because, during the evaluation, I unexpectedly discovered that I had to move! But in doing so, I had an opportunity to choose a new address that's audiophile lifestyle-appropriate: A loft with 13-foot ceilings and a huge wall that I can project upon.

I really performed two setups, one in my old apartment-style living room, where the Panorama 3 was paired with a 65" 8K TV, and one in my new loft-style living area where it's working with a projector to create a living room home theater that's refreshingly affordable and definitely easy to set up.

Connecting the Panorama 3 is the first thing I did after I unpacked clothes and other necessities. The reason is simple: Of the numerous speakers and audio devices that I have on hand, this is the one that I knew could immediately provide the high-fidelity sound I want— without any hassle, just plug-and-play.

Both times that I set up this soundbar, the process was essentially the same. I relied on the Bowers & Wilkins Music app, which serves as a hub for controlling the system. It will find the Soundbar using Bluetooth and then proceed with establishing the Wi-Fi connection, which opens up the possibility of lossless high fidelity music streaming through various services—I used Tidal. The app also lets the Panorama 3 join a multi-room wireless network consisting of other compatible Bowers & Wilkins audio devices like the Zeppelin or various Formation Audio series products.

Although an optical digital connection is an option for connecting a display device, the ideal connection is HDMI eARC, which supports uncompressed surround sound and Atmos. I opted to use eARC since my Samsung TV supports it, and I have an Xbox Series X that has both Dolby Atmos video games and plays Ultra HD Blu-rays. Without eARC, you can't listen to uncompressed Atmos soundtracks.

I also stream using an Apple TV 4K, but currently, the type of Atmos used by streaming apps (Dolby DIgital +) will also work with standard ARC, so if your display does not have eARC, it's likely you'll still get Atmos sound when you stream.

I also found Bluetooth with AptX support super handy, especially when I first moved in and did not have Wi-Fi set up already. I was able to simply connect my iPhone and start streaming high-quality music right away.

Because this is a Dolby Atmos Soundbar that uses up-firing drivers, the relationship between the soundbar's placement, the shape of the room, and the listener's seating position will all impact the amount of immersion. In other words, because of physics, your mileage may vary.

I only bring this up because when I set up any audio gear, I am intuitively conscientious of the various acoustic demands that different systems have. So, when it comes to reflected-sound Atmos, it worked well for me in my apartment, because I have the necessary ingredients: A normal height, flat, non-absorptive ceiling, and a seat that's within the zone where the reflecting sound bounces.

The new loft poses a bit more of a challenge: Because of the 13-foot ceiling height and larger space, the up-firing drivers have a lot more work to do. But, the ceiling is still flat and reflective and the angle of the sound bounce is still within the recommended zone.

The actual use of the soundbar is more streamlined than I'm used to. It's set up for intuitive, fairly automated operation. You don't have to worry about any complex setup routines, there are no audio "modes" where you have to figure out which one sounds best. Once you find the soundbar through the Bowers & Wilkins Music app, you're in control of its functions, which are self-explanatory. I never had to refer to a manual or any instructions as I connected the system using my Android phone (Galaxy S21 Ultra), and my wife Danya had the same experience with the app on her iPhone, the setup was fast and free of glitches, she was streaming from Tidal in no time, having never used the interface before.
---
Listening - Music
With music, you don't have to worry about ARC vs eARC vs optical-digital vs/ streaming. You can do all of these in uncompressed stereo and enjoy true high fidelity sound for this soundbar.
From the moment I started listening to the Panorama 3 I knew that it was something special. It's literally the least amount of effort that I have ever had to put in to achieve true high-fidelity sound. I'm not saying that other soundbar's are easy to set up, but this is the best-sounding all-in-one unit that I've ever heard.

In my old apartment, I queued up Jon Kennedy's most recent album MMxx, and was caught off guard by the throb of the bass, which is easily felt. And how the first appearance of the snare, out in left field, is so detached from the physical soundbar, yet so precisely placed. Then the drum and bass come in, it's fast and thick and legitimately a challenge for a lesser system to handle because it takes power to properly handle such past percussion. That's when I realized that Bowers & Wilkins aimed not just to impress, but to raise the bar on what to expect from music reproduction via soundbar.

One track that asked for more than the Panorama 3 could deliver is Disc Wars from the Tron Legacy soundtrack. I've made hardcore subwoofers beg for mercy with it, and the reality is the constant barrage of tympany and synthesizer bass is too apparently too much and the soundbar simply ignores what it cannot handle. It mutes most of the Orchestral heft that makes this track such a challenge, but also such a gratifying listen when a system accomplishes the task.

But it's worth mentioning, that someone who's less familiar with Disc Wars might not even know what's missing, because one of the qualities of this Soundbar is that it won't succumb to audible distortion, instead it will adapt the output to ensure that it maintains control. Anyhow, Bowers & Wilkins does not promise bass response below 43 Hz, although with room gain it can stretch out a little bit further. But the considerably deeper bass that is common in movies but less common in music can pose a challenge, And it's worth noting that Disc Wars was created as part of a movie soundtrack.
I find listening to the album Binary by Sounds From the Ground so relaxing, it's been my morning music for a couple of years running. But also from the first track to the last, it is a fabulous mix that is not shy about using an expansive soundfield to help immerse you in its slick grooves and melodies. Not only did I enjoy the Panorama 3's take on the tracks, but there were also times when I felt the soundbar's interpretation had a focus to it that made for a novel, and therefore exciting listening session.

There is no one specific element to highlight, just the fact that it allows the entire album to be a pleasant and engaging listen, one of those sessions where if you decide to pay some attention, it will put a smile on your face because you hear those little details that make attentive listening fun.

It's a remarkable feat that what comes out of the Panorama 3 sounds so balanced and sonically correct, without any need for adjustment. I'm well aware of how little setup a typical consumer is willing to go through, so I have always felt that careful tuning and great setting right out of the box are keys to a great lifestyle product. A hobbyist or hardcore enthusiast will of course be willing to join a forum and debate the best settings and come up with their secret recipe. The rest of the world wants a luxury product to have that performance dialed in already, and to look good and be easy to use on top of that.

So, this is a luxury soundbar. No doubt about that.

It didn't take long for me to figure out that this Soundbar actually makes you want to listen to music. I'm particularly impressed with how it handles vocals, there's a presence to how the Panorama 3 renders human voice and singing that you'd only expect from a large and expensive speaker system. This is great news because vocal clarity is one of the main reasons people buy Soundbars to begin with, but usually for TV and movies. Having it translate to gripping vocals in familiar songs is delicious icing on the cake.

So hey, I'm in a new place, a carpeted loft with 13-foot ceilings. I'm gonna blast Michael Jackson's Billie Jean. Why? I do this for a simple reason: I've heard the track played—via a reel-to-reel—from a copy of the studio master on a half-million-dollar system. That experience gave me goosebumps from the beginning to the end—by far the longest that I've ever had goosebumps in my life.
All I'm sayin' is I know how good it can get, and this is a song I've listened to since Thriller. Incidentally, it's the best-selling album of all time, still to this day). Anyhow, the track starts, there are the drums by Leon Chancler, the sound is all good, no bloat, nice and tight, some oomph to the kick. And then, I hear how well the soundbar handles that famous bassline by Louis Johnson as it comes it... wow! I mean, wow for a soundbar. The system keeps handling the building track well, even as I turn up the volume.

Soon enough... boom, MJ is singing and the system gets it right, his voice is front and center and clear and full of energy. The track, of course, continues to build from there and I found the mix as rendered by this soundbar is gratifyingly layered, like that trumpet that comes in on the right, just a few little brief accents. Granted, I did not experience four minutes of continuous goosebumps, but I still felt stimulated by the complexity of the presentation and some of the details that Soundbar was able to suss out of the mix.

I compared the soundbar's rendition of Billie Jean to my Audeze LCD-2 closed-back headphones and found the same elements present in the same proportions, and I can confidently say there's nothing missing from the Panorama 3's take on the track. It's not that you can't present the track in a grander fashion—that's what gave me goosebumps—but the foundation of good sound at the more modest volume levels that we use daily centers around neutrality and detail, both of which are abundantly present.

But hey, truth be told, if I want deeply layered music I'm not going to play Micheal Jackson's album. I prefer the downtempo chill IDM vibes of Boards of Canada. So I queued up my favorite among their albums, Geogaddi, and played the track "1969." With its chill beat and backward masking lyrics and all that, it is a head-trip of a track. Good stuff, as interpreted by the Panorama 3.

Okay, let's discuss the neutral, clear sound of this Soundbar for a moment. There are other soundbars that create a more dramatic sense of total envelopment, but they do it with virtualized surround-sound that often significantly alters the tonality of the source content, with the tendency to raise the pitch and imbue a slightly metallic tinge to the sound, in an attempt to emulate the HRTF (Head Related Transfer Function) which refers to how humans perceive sound as coming from above, despite having only 2 ears on the sides of our heads! HRTF is all about how sound bounces off your head and shoulders.
Many soundbars that claim to have an integrated subwoofer capability can't come close to living up to that promise. Here, at least with most music, the soundbar absolutely plays the full frequency range that you'd expect from quality standalone speakers and is able to surprise the listener with its bass-making abilities. This soundbar's bass output is tight, balanced, dynamic, reasonably deep, impressively impactful, and tonally nuanced.

My guess is the cohesive, clear sound is a consequence of the precise time alignment that is achievable when all of the drivers—as is the case in a soundbar system—are contained within the same chassis, including those responsible for bass. There is a strong advantage to this approach because it means all the sound arrives at each listener at the same time. By contrast, if you had a subwoofer located off to the side, it might be only 6 feet away from one listener, and 12 feet away from another listener. Meanwhile, the soundbar itself is 10 feet away from both listeners.

Now, that's not to say that I don't wish this soundbar somehow accommodated a subwoofer, as an add-on. But I also understand that all the sound produced by this soundbar essentially comes from the same place at the same time, it's already time-aligned for everybody.
It's funny that I even spent as much time as I did on how this Soundbar handles music, but it speaks to the quality of the audio of the Panorama 3—it is good enough I willingly listened to over a hundred hours of music on it during the course of this review, including dozens of my favorite albums. But that's one of the great qualities of this device, it is a genuinely hi-fi music listening experience.
---
Listening - TV, Movies & Games
AV entertainment including TV, movies and video games brought out the best in the Dolby Atmos aspect of the soundbar's performance. But, the surround-sound mixes found in some movies and games also more directly revealed the limitations of the built-in subwoofer, versus systems that have wireless external subwoofers.

Nowhere was this more apparent than when playing Dolby Atmos demo clips using the Dolby Access app on the Xbox (which will tell you if Atmos is functioning or not). I use these clips as a standard reference because I have demoed them since Atmos was first introduced, and they are very explicit in tying the visuals to specific sound effects that are tailor-made to show off the capabilities of a 3D immersive audio system.

The clip called Amaze has everything I need to quickly ascertain what an Atmos system can do. Crystal clear sound is not an issue, it creates a sense of spaciousness and ambiance that is immersive and comes across like there is a hidden multi-speaker surround-sound system in the room.

Near the end of the clip, there is a rain effect that on a dedicated home theater Atmos system does sound like it's coming from directly overhead. The Soundbar was not able to reproduce this effect, but what it did do is make the rain the sound like an ambient effect, sounding somewhat elevated and spread out throughout the room.

It's worth noting, that I've yet to encounter a Soundbar that does anything more than this when it comes to the height channels. So, don't be surprised when a $1000 Soundbar can't quite keep up with how a $10,000 AVR-based system handles Atmos effects.

Now, what's interesting is that how this soundbar performs is movie-dependent. Some movies are mixed using dynamic compression and filter out super deep bass. But other movies go the opposite direction and have crazy amounts of dynamic range far in excess of what you typically find in music—think silence followed by gunshots and explosions and will incorporate super deep bass—sometimes even including infrasonic sound in the mix. There is basically no soundbar that can handle this latter category, but some systems with beefy subwoofers and at least try. Here, it's a good thing that the Panorama 3 reacts to a 20 Hz sound by producing silence.

Ultimately, the Panorama 3 begs for an optional wireless subwoofer, as is available with the Bowers & Wilkins Formation soundbar. From an audiophile perspective, due to the Panorama 3's ability to play deep, were to be paired with a sub, what I see is an opportunity to use a lower crossover point than is typical for a soundbar, with an 80 Hz crossover being the goal.

The key point I'm trying to make is that this soundbar does an excellent job with bass, within the limits of its capability. And whatever exceeds that capability is politely ignored.

I spend a lot of time in the world of Grand Theft Auto Online, so that's my standard reference in gaming sound (non-Atmos). I'm completely pleased with how the soundbar spreads out the effects and gives you a good idea where offscreen sounds come from, all the while playing music from the game's wide selection of Los Santos "radio stations" which gives me an opportunity to hear genres I might not play in other contexts, for example, pop music. It's funny how the music you wouldn't listen to otherwise can go perfectly with a Grand Theft Auto session.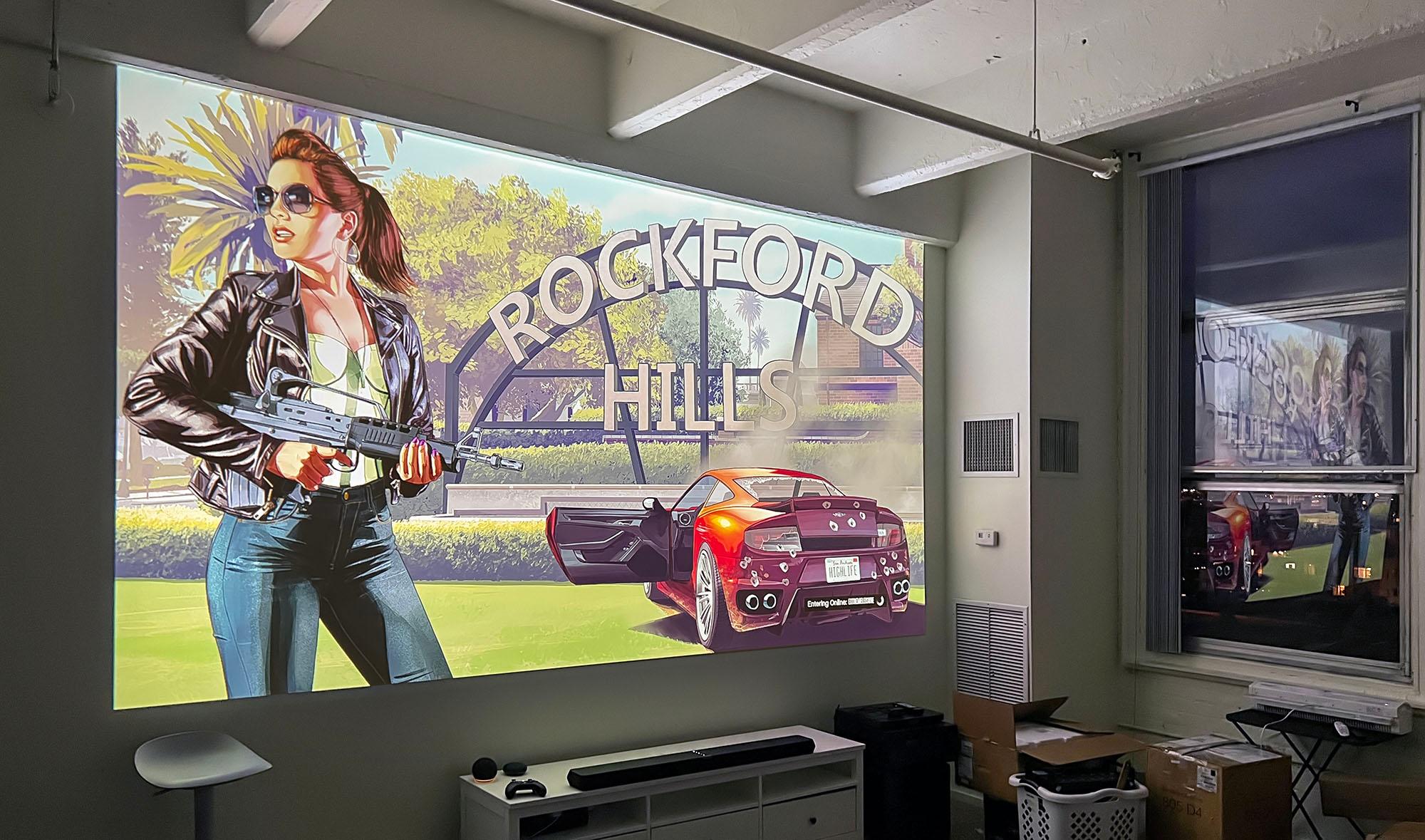 I own a couple of games with Atmos sound and the one I play regularly is Forza Horizon. This game is sort of the poster child for gaming Atmos because its engine actually retraces the sounds, which is to say it uses the same processing that it applies for lighting and reflected light to audio. So the sound effects you hear are affected by the simulated environment that you're in. It's basically true 3D immersive environmental audio! The sound created by the Panorama 3 is quite immersive, but it does not fully wrap around you like a system with discrete side and rear channel speakers and four height channels. This, again, it's no surprise, because this is a single soundbar! The immersion it offers is excellent in soundbar terms.
A Panorama 2 is probably overkill for regular TV viewing, but I know that a common reason why consumers upgrade to a Soundbar is for vocal clarity, and it does an excellent job to make sure that speech is clearly comprehensible. I used it to watch a few episodes of It's Always Sunny in Philadelphia, as well as numerous Philadelphia 76ers playoff games, and the intelligibility of dialog is a definite strong suit of this soundbar's performance.
---
Things I Loved & Things I Missed

Loved
• Excellent sound quality with a neutral tonal balance
• Works for high-fidelity music listening, not just games, movies, and TV
• Powerful, does not easily run out of steam
• Good quality bass for a soundbar that does not feature an external subwoofer
• Bowers & Wilkins Music app is intuitive and fast
• eARC supports uncompressed Dolby Atmos
• Easy setup, did not need a manual

Missed
• The system would be even better if an optional wireless subwoofer were available
• I would prefer if a dedicated Bluetooth remote with power, input selection, volume control, and mute were included
---
Conclusion
The Bowers & Wilkins Panorama 3 is a tremendous soundbar that combines high fidelity, ease-of-use, attractive aesthetics, and a palatable price into a singular package that is a cinch to install and a piece of cake to use.

Fortunately, Bowers & Wilkins consistently designs products that focus on high fidelity, regardless of whether the application is a high-performance but ultimately lifestyle-friendly Dolby Atmos soundbar or the company's awesome speakers that you'll find used at Abbey Road studios and are often used in mixing and mastering sound for major motion pictures as well as top-selling music tracks.

The Panorama 3 possesses the power, fidelity, and modern connectivity needed to serve as a primary sound system for TV, movies, and also music. It is a plug-and-play way to bring turnkey 3D immersive sound into your living room, family room, or any room where you want great sound but not a huge and expensive sound system, especially when paired with an eARC-equipped display. It is an Editor's Choice for how easily it can upgrade a TV or projector into a home theater-like AV experience.