When I was a little kid, The Beatles were my first musical heroes, and I always dreamed of getting one of those spiffy Beatle-branded record players found in magazines. Of course by the time I was able to actually buy something like that, those players were already rare collectors items that sell at auctions for thousands of dollars in good condition.
Now the good folks at Pro-Ject have crafted the next-best thing: a series of fab turntables celebrating The Beatles. The company even has a model dedicated to George Harrison, who was born 78 years ago today. (Harrison died in 2001.) First released in 2017, this nifty turntable may be a fun way to get back into enjoying vinyl records (as many are doing these days) or simply to upgrade your current system.
If you are an established vinyl enthusiast, you may well have something equivalent to this or higher already in your system. But if you were a Beatle fan back in the day — or if you are like me, a lifelong fan — getting one of these sweet players might be just the thing for your media room.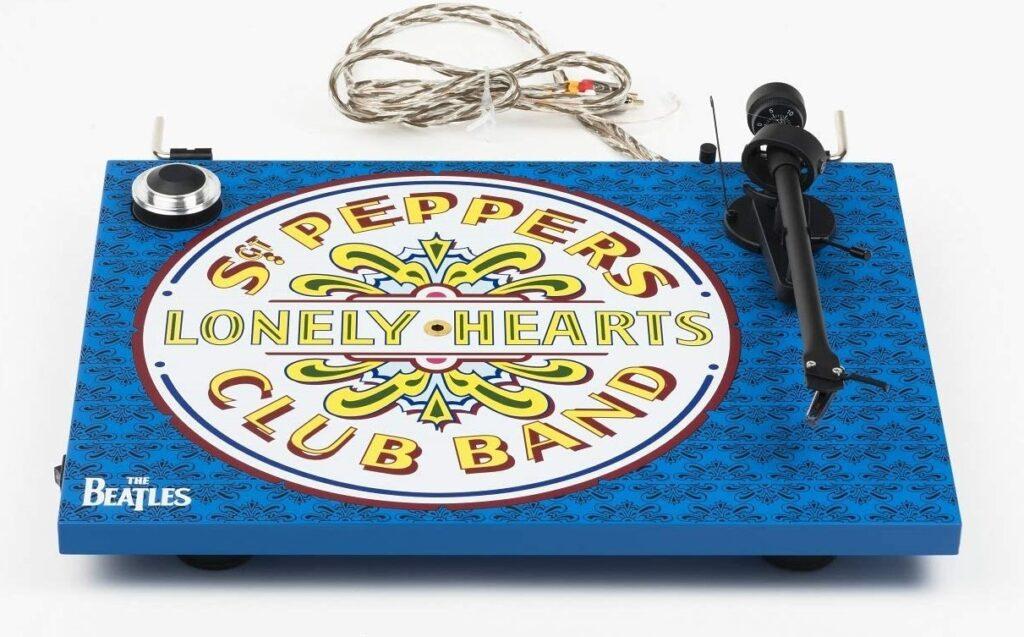 The George Harrison belt-driven turntable — only 2,500 created, each handmade in Europe — features a pre-installed Ortofon OM10 moving magnet phono cartridge, acrylic platter and redesigned precision synchronous motor. The plinth is made of resonance-absorbing MDF material, and it features an aluminum tonearm. For more details on the "specs" click here.
The turntable plays 33 1/3 and 45 RPM records, so you'll be able to spin LPs as well as singles. At under $500, this is a good deal costing just a bit more than Pro-Ject's standard models in the entry level "Essential" line. It looks quite classy and includes a dust cover.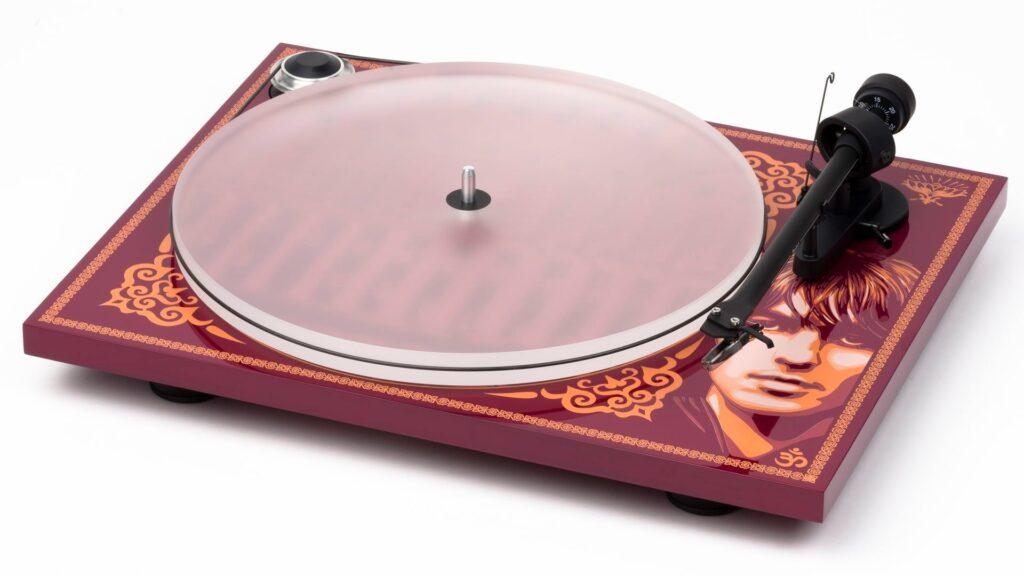 Most importantly, you'll be able to enjoy the fun of having — finally — a real Beatle record player! And if you want to get some of George's music on vinyl but are not sure where to start, please read my reviews on the HomeTheaterReview.com sister publication, Audiophile Review, including (click the titles): All Things Must Pass, Extra Texture and Thirty Three & 1/3, Brainwashed, Live In Japan and the wonderful tribute Concert For George.
You can find the George Harrison model on Amazon (with free shipping if you have Prime, click here). If having a George player isn't enough, you can still get Ringo's Peace & Love model (click here). The Sgt. Pepper model is available on Amazon (click here) – the 1964-styled model (click here) adds a nice Ortofon Red cartridge. There is also a model in Pro-Ject's "Debut" series celebrating the Fab Four's singles collections (click here) with an "S-shaped" tonearm. I'm fond of the novel Yellow Submarine model (click here). Someday I may get one when I have more room to set it up.
Whether you get George, Ringo or the full band, these turntables will get you up and spinning vinyl almost as fast as you can say "Yeah! Yeah! Yeah!"