It is essential to have sufficient audio when watching TV or listening to a home entertainment system. A soundbar is a type of speaker that was created to produce great sound for you to enjoy when doing both. This is a speaker that typically is narrow and long, and is usually placed above or below the TV. Some common features built within a soundbar are amplifiers and multiple speakers also. These are excellent to use because it gives a boost to the audio quality that is offered by the speakers inside of a TV. This can result in increased clarity in audio, deeper bass, and an overall immersive audio experience. Beyond that, a soundbar has the benefit of being a cheaper alternative to a standard sound system and is easier to set up as well.
An awesome soundbar deal that we currently found is on the LG S65Q. This amazing soundbar ensures that audiophiles have the greatest quality audio tailored to their liking when using it. Right now, it is on sale for $246.99, which is $150 off its original price of $396.99! This is a special that you have to check out!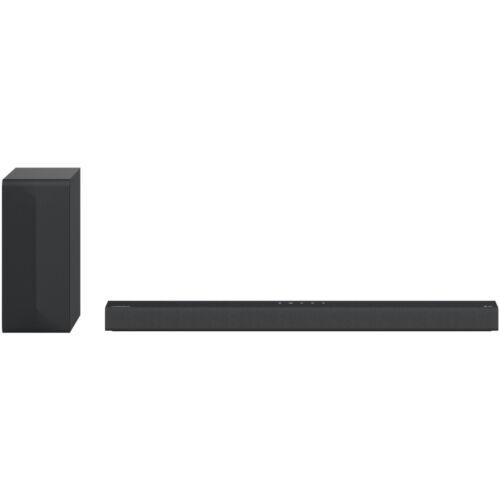 If you're looking for the ideal companion for your LG S65Q TV or another television you may have, you don't have to look any further. The LG S65Q soundbar was crafted to provide high-quality audio that elevates how you experience sound in your home theater. Connect wirelessly to devices with efficiency and ease using Bluetooth technology. With a modern and attractive design, the 3.1-channel S65Q delivers clear, accurate sound with rich bass, almost guaranteeing that you'll never miss a beat. The bar's five speakers are driven by a 200-watt amplifier. It also can replicate surround sound, as it has DTS Virtual:X™. When paired with the powered subwoofer included, you can appreciate its expanded soundstage for outstanding impact. LG's S65Q soundbar is definitely a fantastic way to take your sound to the next level.
Take a look at these other great deals on soundbars that will elevate how you enjoy your entertainment!
Give yourself a premium sound in a compact size with the Definitive Technology Studio 3D Mini Soundbar. Featuring a 2.1-channel system with a coordinating wireless subwoofer, there is much to look forward to when listening. This setup is compatible with Apple Airplay®2 and Bluetooth, so you can stream content from your Apple device or other types of smartphones and electronics. It also has Dolby Atmos and DTS:X so you can feel the intensity when hearing different sound effects. To control it, you can use it with the included remote. You also opt for using the buttons on top of the soundbar or a voice control assistant, like Siri, Amazon Alexa, and Google Assistant. Enjoy savings of $450 by getting this soundbar today at its discounted price of $449.00, instead of its retail price of $899.00! The Studio 3D Mini doesn't come up short of possessing big, bold audio in a small package.
Samsung being the household name that it is has committed itself to consistently delivering powerful, captivating sound for an extraordinary entertainment experience. Add quality equipment and effortless style to your home theater setup with the Samsung HW-B650 Soundbar. This 3.1-channel soundbar utilizes a 250-watt amplifier that powers 6 drivers and a center channel for better understanding when listening to dialogue. Its partnered 6" subwoofer is an added bonus for its increased bass production and amplifier of 180 watts. Connectivity to each other and TVs, tablets, and smartphones is made simple through HDMI and Bluetooth. What's cool is that you can pair two devices up to the soundbar at the same time, giving everyone a chance to play music at your next get-together. At a steal price of $277.99, you can get this speaker! This speaker is originally priced at $397.99, which is $120 off! This is the soundbar you didn't know you needed.
When listening to audio in your home theater, it is essential to ensure that you have the right equipment to have the sound you desire. With so many different options on the market from speakers to soundbars, you may not know which one to choose. Read this article written by one of our featured experts here at Home Theater Review to make an informed decision.