Definitive Technology (DT) is a brand known for big, immersive sonic impact across its entire product portfolio of full-range speakers and subwoofers. Its new Descend series subwoofers go above and beyond – due to the introduction of 3XR architecture; the "special sauce" built around twin radiators the same size as the active woofer, effectively tripling the air movement without any port noise distortion.
Traditionally, a speaker enclosure is either sealed or ported. The use of bass radiators adds a third type of enclosure to the list. It reaches deep like a ported box but with less distortion and without the need for the placement considerations of a sealed enclosure.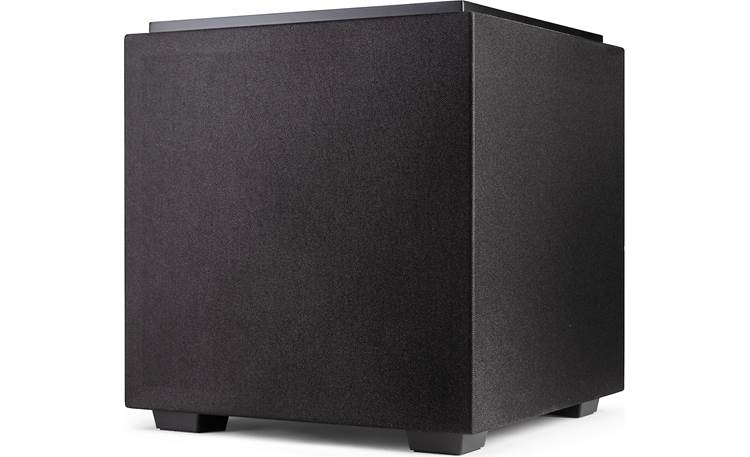 The Descend Series includes:
All subwoofers come with the same-sized dual bass radiators.
Why make the shift from Class D to Class H amplifier with the larger subs? What other differences are there with the DN12 and DN15? Read on to find out more in this in-depth review of the Descend Series.
What is the difference between Class D and Class H amplifiers?
I'll spare you the technical depths of amplification topography and focus on the advantages and disadvantages of Class D and Class H.
Class D amplifiers are highly efficient (greater than 90%), allowing for cooler operation, smaller physical size, and lower power draw than Class H amplifiers.
Class H amplifiers are a variation of standard AB amplifiers that use two power rails operating on an overlapping portion of each input cycle to achieve very low distortion. However, they sacrifice efficiency by requiring more power and heat sinks to run cool. They also draw more energy to get to the same level of loudness as a Class D amplifier.
The Class H amplifiers use multiple power rails, which kick in when output-signal peaks would otherwise exceed the maximum voltage available from the Class AB amplifiers voltage rails. The result is even greater linearity (smoother, more natural sound reproduction) with extremely low distortion.
The Class H amplifiers have larger size requirements and draw more power than Class D, which is why they are used for the larger 12-inch (DN12) and 15-inch (DN15) subwoofers in the Descend Series. If your objective is to fill a large room with deep bass for low-frequency effects on movies and tight bottom-end music enjoyment - where size is not a constraint - then the Class H models produce excellent sound quality.
The Class D amps in the smaller subs are just as fast and make a proper LFE impact when watching movies. Your only limit with these is the size of the room you will be pressurizing.
Simply put, Definitive Technology has made an intelligent choice using Class D for its smaller subs while switching to Class H in the larger woofers - creating a better music listening experience and filling a large room with LFE impact during movies.
Descend Series Specs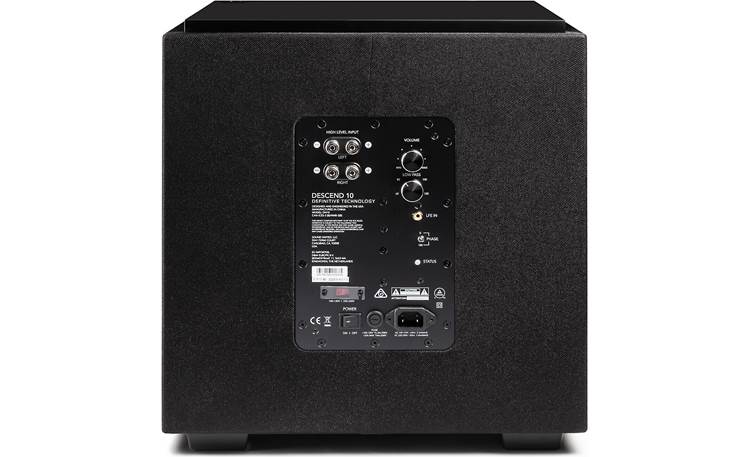 Class D - DN8 and DN10
The DN8 and DN10 are driven by 500 watts of Class D power. The DN8 measures 12.8 x 12 x 13.1 inches and boasts a frequency response of 35 Hz to 200 Hz. The DN10 measures 16.8 x 16 x 17.1 inches and reaches an even lower frequency, starting at 30 Hz through to 200 Hz.
Both the Class D models feature built-in controls for variable volume, low pass filter (60 Hz – 120 Hz), phase (0/180 degrees) for optimum bass levels, and the ability to smoothly blend the low frequencies with the rest of your speaker system.
The inputs are a single RCA jack for LFE and dual Left and Right speaker connections via 5-way binding posts. Main power is engaged with an auto on/off switch and status RGB LED indicator.
Class H - DN12 and DN15
The DN12 and DN15 are driven by 1500 watts of Class H power. The DN12 measures 18.72 x 18.04 x 19.09 inches and delivers a frequency response of 25 Hz to 150 Hz. The DN15 measures 24.14 x 23.44 x 24.91 inches and not surprisingly reaches the deepest frequency of the Descend Series, starting at 20 Hz through to 150 Hz.
Both Class H models allow for custom installer options like IR and have a 12-volt trigger on/off capability. They also have a simple on/off switch on the rear panel, where you will find controls for variable volume, mute, a low pass filter (40 Hz – 120 Hz), and phase (zero to 180 degrees in 45-degree increments) adjustment. These adjustments, like the DN8 and DN10, allow for optimum bass levels and the ability to smoothly blend subwoofer low-frequency output with the rest of your speaker system.
The DN12 and DN15 have a physical remote and dedicated app control, which provides access to additional phase and crossover functionalities. The inputs are a single RCA jack for LFE and dual Left and Right speaker connections via 5-way binding posts.
The DN8 and DN10 are available in Glacier White or Midnight Black, while the DN12 and DN15 are only available in Midnight Black.
Setting up the Descend Series Subs

Setup is straightforward and intuitive. If you are feeding the subs from an AVR, a single RCA cable to the dedicated LFE input is all you need. If you are coming out of a pre-amp or stereo amplifier, you'll use the 5-way binding post speaker level inputs.
There is no Definitive Technology provision for a wireless connection; however, third-party wireless kits are available from various sources that can get the job done.
To optimize the placement of your subwoofer(s), I stick to the tried-and-true method of placing the sub in your sweet spot (where you like to sit). Play a few movies, and music tracks while you walk around the room, then stop at various spots you could place the sub to see which one sounds best. Check with your significant other to make sure that location is aesthetically as well as sonically sound, and that's your winner!
Remember, the dual bass radiators, which remove the need for ports, allow more placement options. You won't be constrained by distance to a hard surface which is a nice additional attribute of Definitive Technology's 3XR design.
How do the Descend Series subs perform?
Switching out my decade-old M&K 12-inch 250-Watt sub for these brand-new woofers in my 5.1.4 Dolby Atmos home theater was as easy as swapping the RCA cable and power cords, then sliding each into the same position.
I left the crossover point at 80 Hz after trying points both lower and higher - this proved to be the smoothest for blending all four subs with the in-wall and in-ceiling DI Series (also from Definitive Technology) that I have in my Dolby Atmos home theater.
My listening sessions started with Diggin' on James Brown by Tower of Power from their Souled Out album:
The bass and drums are all way-down-low occupying the bass registers with the textured growl of the baritone sax - a signature of Tower of Power and never more front and center than on this cut.
The smaller DN8 and DN10 handled this track nicely, reproducing a tight and focused bottom while rendering the vocals and high brass with equal dynamism. The DN12 and DN15 manage all that while adding the additional dimension of chest-caving impact reflective of the larger air these bigger drivers move. Yes, bass that is felt as well as heard but in a musically controlled manner.
Each model does precisely what it should do, which is why I chose this track to talk about first. The reason there are four models in this series makes perfect sense when auditioning a track like this - and the other four reference tracks:
Why Didn't You Call Me? by Macy Gray from her On How Life Is album, Victim of a Foolish Heart by Joss Stone from her Soul Sessions album, Burning Down the House by Talking Heads from their Speaking in Tongues album, and I Will Rise Up / Ain't No More Cane by Lyle Lovett and His Large Band from the It's Not Big, It's Large album.
The last of these tracks gave me chills when I cranked up the volume and closed my eyes. Beautiful on the smaller subs and tearful on the big ones! These music selections tell me Definitive Technology absolutely nailed the use-case and feature/benefit set for each of the four subs in the Descend Series.
I then watched (and listened) to a handful of movies. One new release, in particular, shook the chandelier and threw bullets and cars around my house impressively: Kate – a Netflix original about an assassin that was slipped a fatal poison seeking revenge.
While each of the Descend Series subwoofers performed exceptionally well to task, the larger two make their presence felt and heard in any size room, while the smaller models are better suited to small to mid-size rooms.
With the Descend Series, Definitive Technology presents a subwoofer option suited to your room size, your budget, and your choice of how deep and how much you want to feel.
The Downside
All four of these subs do their job exceedingly well. The Descend Series hits four price points and has sizes suitable for any room.
Each woofer does just what you expect, and the DN12 and DN15 also have custom installer options you would expect from a higher price point. In fact, you'd typically pay much more for such performance - representing great value.
It would be nice to have a remote and/or app control on the DN8 and DN10 models so you could adjust settings from your listening position. But once set, there isn't much tweaking required. Some apps include a frequency sweep that can help you identify and correct troublesome items and room resonance or even fine-tune your placement as an alternative.
There are subs at these price points with a wireless option so that you can place them across the room from your AVR or component system a lot easier. Naturally, wireless would be a welcome addition to the Descend Series, but DT has struck a balance between cost and features that is hard to argue with. You can always add a frequency sweep app on your smartphone and a third-party wireless kit if you desire.
How do the Definitive Technology Descend Series Subwoofers compare to the competition?
The sealed enclosure SVS SB-1000 Pro is the DN8's ported sibling at the same price point. The PB-1000 Pro, also by SVS, is slightly more expensive than the DN8, but cheaper than the DN10 model.
Both SVS models (reviewed here) sport 12-inch woofers and are worthy subs, but you get more punch for size with the DN8 and DN10, thanks to the bass radiators.
The DN8 plays like a 10" sub and the DN10 like a 12". The smooth coverage of those bass radiators makes the difference, so to my ears, the value equation swings in favor of the Definitive Technology entrants.
Both the SVS and DT models are available in white and black, but if you order the SB-1000 Pro in Gloss White, the price goes up.
SVS's competitor to the DN12 is the sealed enclosure SB-3000 (see our review here) with a 13-inch woofer, and 800 Watts RMS packed into a svelte 15-inch cube. It's available in Black Ash or Piano Black.
In terms of the DN15, the SVS sealed SB-4000 (see our review here) and ported PB-4000 (see our review here) are the closest in price and performance. But SVS makes you choose between the sealed and ported versions, while Definitive Technology simplifies things with its unique 3XR architecture.
Using the Descend Series throughout my extended audition sessions, I can hear definitive advantages. SVS makes great speakers, and its subs are among my favorites, but if the price and aesthetic of the Descend Series work for you, I have to recommend these over all competitors. They are now my favorite subs, hands down. You just need to match your room size and aspirations – enough to fill your room or more than enough to cave your chest in?
Final thoughts
I highly recommend every one of the four Descend Series subwoofers. They upstage all competitors on the market in terms of performance and value.
But which Descend Series sub is right for you? It comes down to personal taste and how well they match the rest of your system.
Looking for subwoofers for less than a thousand dollars? See our buyer's guide.