The current Denon Home wireless speaker lineup replaces the second generation HEOS speakers in the Denon lineup. The name "Denon Home" is a break from the previous HEOS brand, but the HEOS technology platform remains in place despite the rebranding. The incorporation of the HEOS platform enables all the new speakers, older HEOS speakers, and HEOS-enabled receivers to work together in a multi-room system regardless of generation.
The new lineup currently consists of three mid-sized wireless speakers – the Denon Home 150 ($249), Home 250 ($499), and Home 350 ($699) – as well as a Soundbar 550 ($599), and with support other HEOS products, such as the DSW-1 subwoofer.
When I first saw the new lineup, my first assumption was that a fresh coat of paint had been applied to the second generation HEOS speakers we reviewed a few years ago. Once I had my hands on the speakers, though, it quickly became apparent that they were new products from the ground up. In a discussion with Denon's Paul Belanger, Category Director for Denon Home, he walked me through the feature set of the current lineup. All of the new speakers benefit from a much more powerful DSP. The prior HEOS speakers all used a fourth-generation processor, but the current Denon Home 150, 250, and 350 employ a sixth-generation chip – the same used in more complex soundbar products – which provides higher-level decoding and processing than previously available.
The Denon Home 350 also has newly designed drivers, more power, and increased cabinet volume compared to the speaker it effectively replaces, the HEOS 7. Similar upgrades can be found across the lineup.
All of the new speakers support AirPlay® 2, Bluetooth, and dual-band Wi-Fi connectivity and are high-resolution audio capable, with the ability to play MP3, WMA, ALAC, WAV, FLAC, and AAC files up to 192 kHz/24-bit resolution as well as DSD 2.8 and 5.6 MHz files. Support for AIFF was previously reported as being "on the way," but that was quite a while ago. Finally, HEOS integrates with most major streaming services, including Tidal, Spotify, Pandora, Tidal, iHeartRadio, Amazon Music HD, TuneIn, and more. And if wireless connectivity doesn't meet all your needs, there are also USB, 3.5mm analog, and Ethernet connections. Music from the physical inputs can be played on any HEOS-enabled device on the network.
My review system is comprised of a pair of Home 250 speakers and a single Home 350. I compared the Home 350 to the HEOS 7, as they are both the biggest speakers in their respective lineups, and the first thing I noticed was the more conservative styling of the 350. The futuristic, untraditional shapes of the original HEOS series have been replaced with a clean and modern aesthetic that is also more timeless. The Denon Home lineup comes in a black or white with coordinated light or dark cloth grilles. The rectangular speakers have rounded vertical edges at the transition to the side panels, and there is a small status light on the bottom center of the front panel and a connection panel at the bottom of the back side.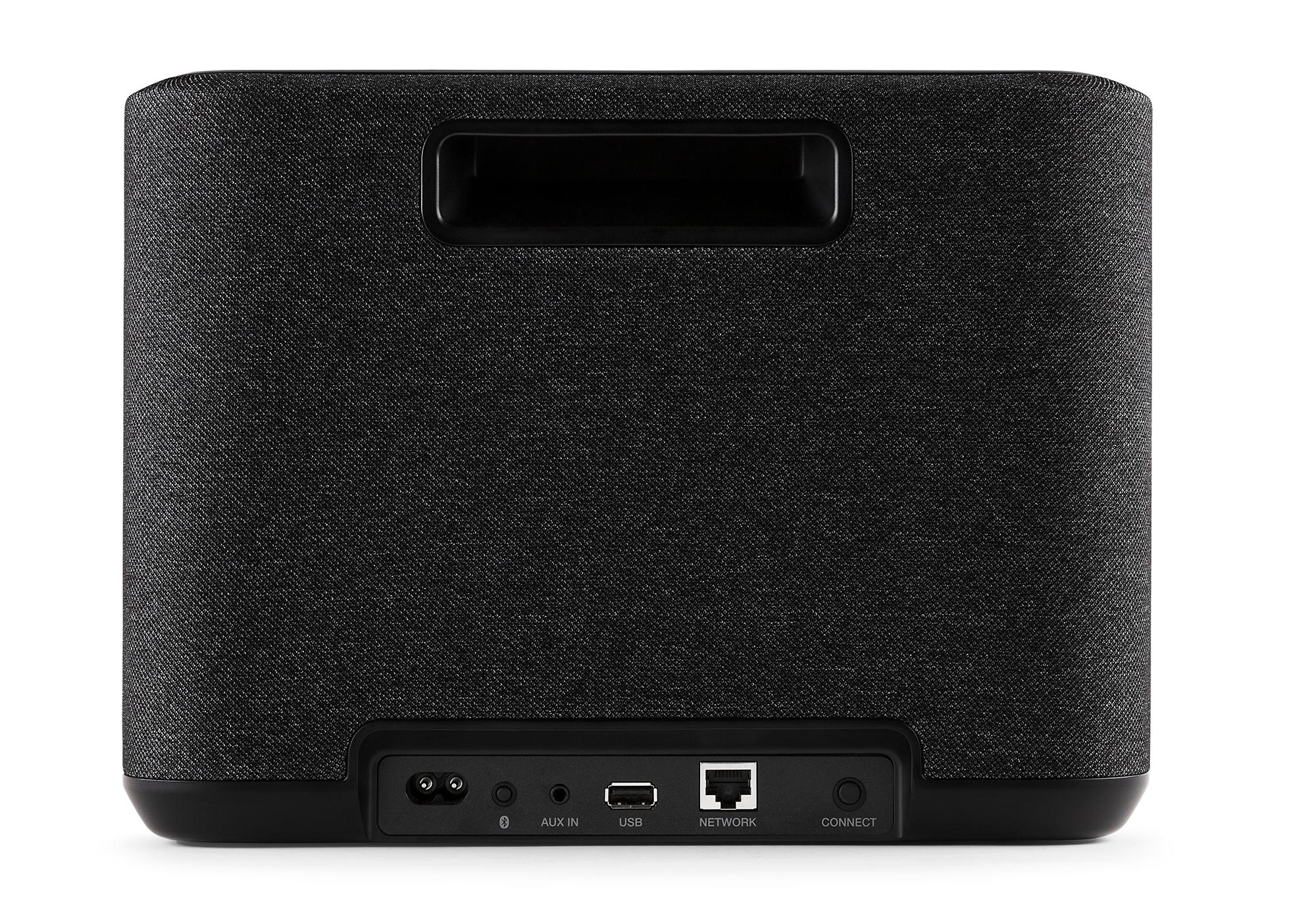 Something I really liked is the touch panel on the top, which features a proximity sensor that lights up when your hand approaches. It's not only easy on the eyes, but also provides access to basic controls and quick-select buttons. The latter are new to the current generation and provide instant access to user-selectable favorites.
The Home 350 lost the HEOS 7's headphone jack, but the entire lineup also lost the power bricks and wall warts in favor of simple power cords, so that's a feature tradeoff I was happy to accept. The Home 350 has six drivers, each with its own Class-D amplifier. The smaller Home 250 has four drivers powered by Class-D amps, as well as a passive radiator.
Amazon Alexa should be enabled via a firmware update by the time you read this article, with Google Assistant potentially coming in the future. I personally do not want active microphones all over my house, but thankfully, the active microphone is opt-in rather than opt-out, something Amazon could learn from.
Setting Up the Denon Home Speakers
The speakers arrived securely packed in full-color retail boxes with easy-to-follow instructions tucked inside. I had the speakers unpacked and plugged in about to the time it took me to type this sentence. I used the HEOS app on my iPhone to get all the speakers connected to my pre-existing HEOS account in just a few minutes. A few more minutes for updates to download and install and I was ready to go.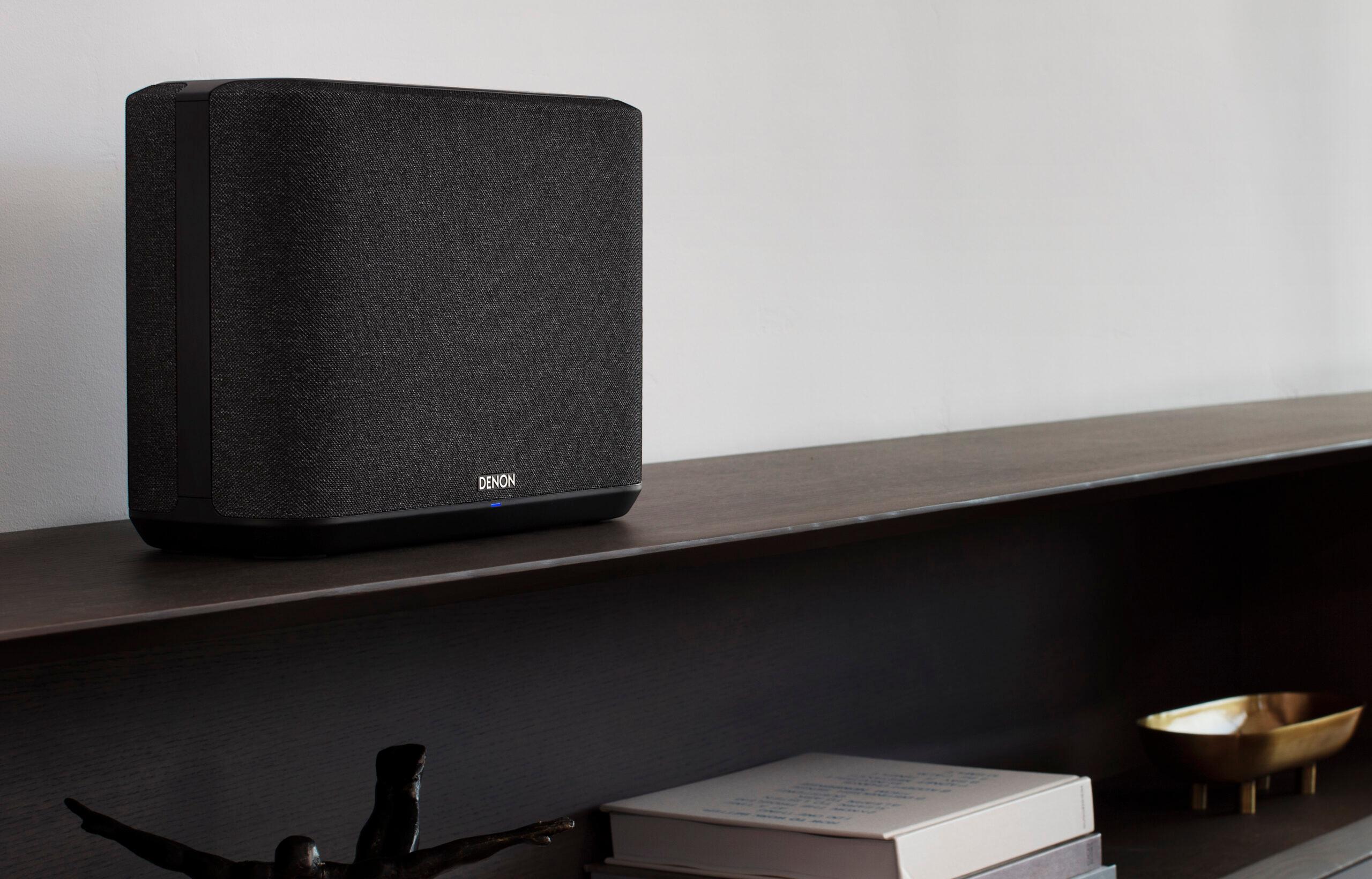 If you don't already have a HEOS account, it only takes a few minutes to set up, and it's free. The account saves your settings, preferences, music service logins, favorites, and playlists. One new feature that impacts setup is a "Speaker Placement" setting that allows for one of three equalization options to be selected: open space, next to one wall or shelf, or next to two walls. For those of you who are not familiar with room acoustics, speaker placement relative to walls can impact tonal balance. Typically, placing a speaker near a wall can reinforce bass, and corner placement can further emphasize bass response. It is a bit more complex than this, but Denon's equalization settings help to optimize the sound in any location. While sticking with the Denon equalization options will provide more consistent sound regardless of placement, I would encourage you to try the different equalization options to find the sound profile you prefer.
How Do the New Denon Home Speakers Sound?
I started my critical listening as simply as possible: with a single Home 250 on a countertop, away from any walls, and with the open-space EQ setting. The Home 250 is in between the HEOS 3 and 7 speakers I already owned, but similar in size to an early generation Sonos Play:3. The Home 250 can play louder than any of them except for the HEOS 7 speaker, but what impressed me more was the quality of the sound. It's more detailed and better balanced than either of the prior generation HEOS speakers or the admittedly much-older Sonos unit.
Listening to Chris Stapleton's "What Are You Listening To?" (Tidal, Mercury Nashville) the vocals and guitar were well balanced, with enough detail to pick up the layering of the main and backup vocals. When I connected a second Denon Home 250, the soundstage evolved from a vaguely defined amorphous area to one with better defined boundaries and with more specific positioning of the individual sound elements within.
These improvements were all the more apparent when I played one of my favorite tracks for evaluating soundstage: "Bird on a Wire" by Jennifer Warnes from her album Famous Blue Raincoat (Tidal, Cypress Records). This well-recorded track will render a very precise soundstage, with each instrument in its own spot when played back on a good stereo system. The single Denon Home 250 provided a general idea of where the artists were arranged from left to right, but adding the second unit provided not only increased lateral definition, but also depth.
I replayed these same tracks through the Denon Home 350, which provided more bass, which translated into more weight and impact in the drums and bass guitar. The midrange area also sounded better-defined, especially on guitar and vocals. Warnes' voice had more body, and I could make out slightly more detail than with even a pair of 250s. That said, if you are into electronic dance music or other bass heavy material, you will likely want to add the optional subwoofer to any of the Denon Home speakers. Whether it is the drums from the Eagles' "Hotel California" or the synthesized bass line from one of Billie Eilish's tracks, the Denon Home speakers did a good job conveying what was happening and even provided some mid-bass impact in a moderately sized (twelve by 17 foot) room, but could not reproduce the deeper, foundational bass notes.
There was no surprise that the larger and more powerful 350 could play significantly louder and deeper than the 250 before the compression circuitry kicked in. The DSP controlling the compression circuitry did a good job protecting the speakers without being too obtrusive, in that it gently increased compression as the volume was increased. This prevented the harsh distortion of an overdriven driver or amplifier, while also minimizing the intrusion on the music.
The Downside
I would like to see the platform support more file formats (AIFF) and services (such as Qobuz and Roon) that are favored in the audiophile community. As of now, Qobuz and Roon are supported only via AirPlay.
Lastly, I encountered some connectivity problems in which the app said it could not connect to my device and recommended closing all the other apps running on my device. This happened infrequently, and was relatively easy to clear, but was annoying nonetheless. I am hoping the next app update will address this.
How Does Denon Home Compare to the Competition?
The are several competing wireless speaker ecosystems that provide similar options, the most obvious being Sonos. Sonos offers a wider variety of speaker options including a battery-powered portable model.
Where Denon Home pulls ahead is with its integration with current Denon and Marantz receivers and the multi-zone Link source and amplification units, providing unmatched scalability options within its own ecosystem.
Bowers & Wilkins' Formation is another wireless system that, like Sonos and Denon Home, features powered speakers and source unit options. My limited experience with the B&W Formation system left me impressed with both the audio performance and build quality. While the B&W units are not directly comparable to the others, expect to spend more for a similarly scaled B&W system.
Final Thoughts
The Denon Home 250 and 350 are extremely easy to use and provide sound quality that is noticeably improved from prior generations. The quick select buttons addressed one of my pet peeves, not just with previous HEOS speakers, but with the entire category. With most wireless speakers, you need your phone (or another device) to play music, but with the quick select buttons you can immediately access one of your favorite sources.
The scalability of the HEOS ecosystem means you can use a single speaker, a pair of speakers for better imaging, or integrate with speakers and components throughout your home or office. While the number of Denon Home speaker options is relatively limited, the HEOS ecosystem provides numerous options to listen to music from your library, a favorite streaming service, or off of a guest's phone.
Would I replace my two-channel rig with a Denon Home speaker (or a pair of them)? No, but I don't expect a sub-$1,000 speaker to compete with a system in the mid-five-figure range. That said, I have spent more time listening to the Denon Home speakers than my reference rig, since they're simple and easy to move, while providing ready access to just about anything I want to listen to, where and when I want listen.