Whether you enjoy watching your favorite shows after a long day of work or you're an avid gamer, everyone can appreciate a TV that caters to their entertainment experience. Smart TVs are the perfect choice for those that would like access to music, movies, shows, and more without having to use an antenna or cable service. They also provide high-quality visuals and sound that are up-to-date with the latest technology.
This Cyber Week, there are tons of awesome deals on Smart TVs that you can take advantage of to upgrade your current setup. A great special that caught our eye is the LG 43" NanoCell 75 TV. It is on sale for $346.99, and its original price was $446.99, giving you $100 in savings! This is only available while supplies last, so be sure to check this out quickly!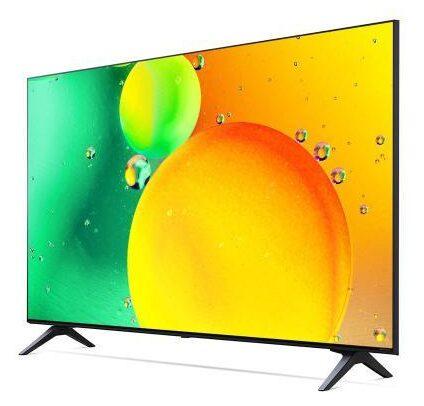 LG is a reliable brand for quality electronics and this 43'' Smart TV lives up to that! Providing you with 4K picture quality and HDR enhancement for rich colors and details, the visuals this TV has are outstanding. It also has a feature called Game Optimizer, that elevates the gaming experience by tailoring the TV's graphics to make the most of the game you are playing. Some additional pros to getting this TV are that it can be connected to your smartphone, Google Assistant, or Amazon's Alexa, integrating it with your other devices seamlessly! This may be your last chance to get it, so don't miss the opportunity!
Here are some other special deals on Smart TVs that you can check out!
You don't have to compromise on supreme picture and your budget with this Smart TV from Sony. The 4K screen quality allows you to enjoy all of your favorite shows and its innovative features make it an excellent choice. Going from $698.00 to $648.00, this television currently has a $50 off special you have to see!
Samsung is one of the most coveted brands, especially for its TVs. This one in particular is a great find for its price point and would find good use in a bedroom or kitchen. The UN43AU8000 features voice control as well as access to view many of the streaming services you enjoy. A budget-friendly option, this TV is on sale for $347.99 after being originally priced $377.99! You don't want to miss this!
Do you want to upgrade your TV but are not sure which is right for you? Here our experts break down different TVs that would be best for what you would like to use yours for. We can help you find the perfect choice for viewing pleasure!