In a bold move that has raised eyebrows within the gaming community, Dough, formerly known as Eve, has announced the upcoming release of what they claim will be the industry's inaugural 32-inch 240Hz 4K OLED gaming monitor. The unveiling of the Spectrum Black series marks Dough's foray into the realm of cutting-edge display technology, yet their history of delays and unfulfilled pledges raises skepticism about the feasibility of their ambitious promise.
The Spectrum Black OLED monitor is touted as a milestone, boasting a native 4K resolution with a blistering 240Hz refresh rate and a lightning-fast 0.03ms response time. While this technological marvel promises to deliver an immersive and fluid gaming experience, critics are quick to point out Dough's track record of missed deadlines, notably their recent postponement of a 27-inch OLED monitor from July to October.
With established players like Asus, Acer, Corsair, and LG already having ventured into the OLED territory, questions arise about whether Dough can indeed be the first to market with a 32-inch version.
The Spectrum Black's proposed features are undeniably intriguing. The monitor offers a gamut of connectivity options, including HDMI 2.1 ports, a DisplayPort, a 3.5mm audio jack, and a generous assortment of USB ports, accompanied by USB-C connectivity capable of delivering 100W charging for laptops.
The display's 98.5 percent DCI-P3 color coverage and 48-240Hz variable refresh rate (VRR) hint at a potential visual spectacle, while the inclusion of industry-first black frame insertion, split-screen, and picture-in-picture modes, and individual factory calibration could appeal to gamers seeking enhanced customization and performance.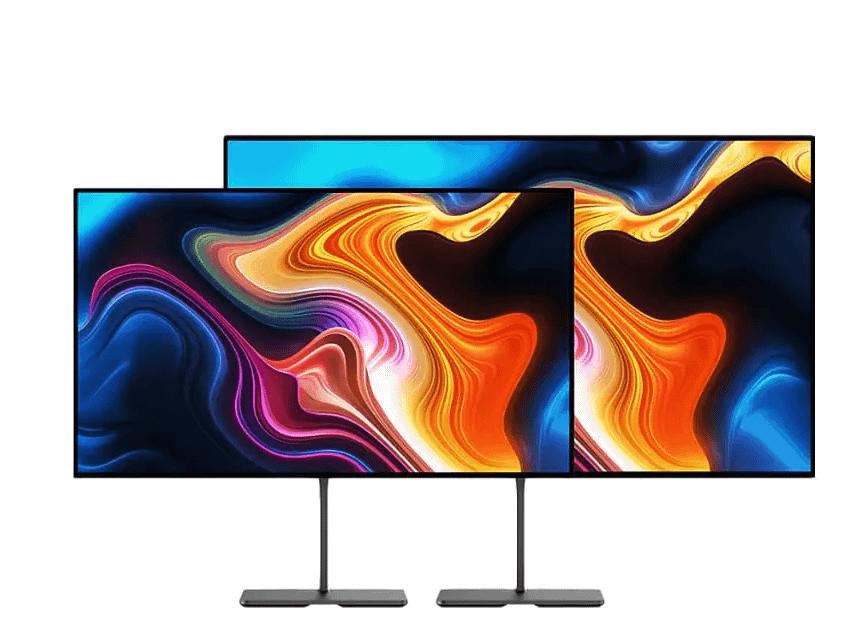 However, the very elements that pique interest also raise concerns. Dough's decision to integrate a motherboard developed for their 27-inch model into the 32-inch variant prompts speculation about the display's optimization for its larger dimensions.
Moreover, skepticism surrounds the ambitious launch timeline, with the company aiming for an April 2024 release. This projection seems optimistic, given reports suggesting that the necessary OLED panels might not be available until Q3 of the same year.
Dough's pricing strategy further fuels the discussion. The Spectrum Black will debut with a range of price points, starting at $699 for the matte finish variant and $799 for the Corning Gorilla Glass DXC edition. However, these figures are not set in stone, as early pre-order discounts and potential future price fluctuations complicate the final retail cost, currently pegged at $1099 and $1299.
It's important to note that Dough's Spectrum Black isn't alone in the quest for a 32-inch 4K OLED gaming monitor. Competitors are poised to enter the arena, with LG Display's panel technology expected to pave the way for additional offerings. The dynamics of the market raise questions about whether Dough can truly lay claim to being the first to deliver this innovation.
As gaming enthusiasts eagerly anticipate advancements in display technology, Dough's announcement brings both excitement and skepticism. While the Spectrum Black's proposed specifications hold the potential to redefine the gaming experience, Dough's history of delays and missed targets leaves room for doubt.
As the gaming community looks to the future of monitors, it remains to be seen whether Dough can deliver on its ambitious promise and reshape the landscape of gaming displays.