In an effort to make the most out of your home entertainment system, a soundbar should be a part of your collection. Soundbars are designed to maximize the power of your sound when watching anything you like. They are speakers within a bar that is rectangular and elongated, typically placed below or beside your TV. It is an upgrade from using your standard TV speakers, providing listeners with an immersive audio experience. Depending on the soundbar you have an interest in using, they offer a wide range of features from Bluetooth connectivity to multi-directional sound. A soundbar is a great option for those to elevate their television's sound system while being budget-friendly.
A soundbar we found that is available for a steal of a price is the Polk Audio MagniFi Mini Soundbar System. Right now, it is $100 off, going from $299.00 to $199.00! This is an offer you can't beat if you are looking for a soundbar that is affordable, yet high quality. Here are the details of this superb system.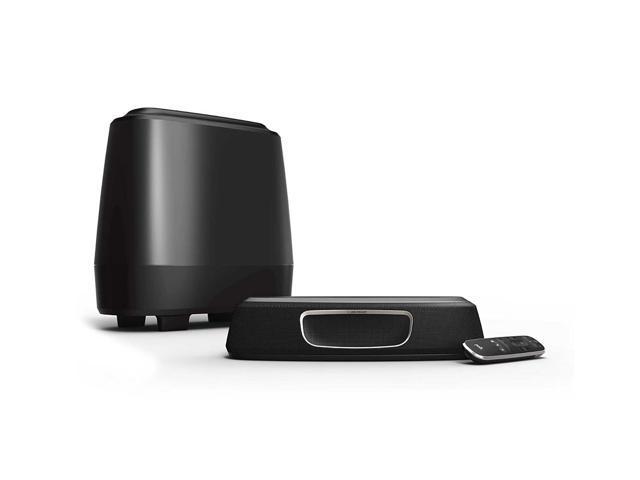 This soundbar system by Polk Audio is comprised of an ultra-compact soundbar with six built-in speakers and a separate wireless subwoofer that definitely enhances the home theater experience. It features a 2.1-channel system. Connect to your favorite streaming services with no issue, as the soundbar supports Wi-Fi, Bluetooth, Dolby Atmos, DTS:X, AirPlay 2, and Chromecast. If you're looking for a soundbar that will give you impressive audio, this is definitely something you should consider. Don't miss this while you can still get it!
Here are some other soundbars on sale you may be interested in!
Klipsch is a top-notch brand specializing in great sound quality when enjoying audio. The Cinema 600 is an easy-to-use soundbar and subwoofer that can make any TV entertainment system sound incredible. Watch sports, movies, and TV shows or listen to music with ease, as this 3.1 soundbar is a simple plug-and-play solution. While the subwoofer built within it provides deep, rich bass, you can also pair this system with the Klipsch Surround 3 speakers (sold separately) to upgrade to a 5.1 system for elevated listening. With $82.00 slashed off of its original price, this product went from $549.00 to $467.00! Check this soundbar out here!
LG's S65Q model is a powerful soundbar system that was created to give you audio you never thought you needed. With 420W of total system power, this soundbar can easily fill your room with incredible sound. LG Sound Sync allows for an effortless connection to your TV. It also features Meridian Audio Technology for detailed sound reproduction and DTS Virtual:X for a wide-ranging soundstage. On sale for $246.99, this speaker was discounted by $150, as its suggested retail price is $396.99. For those looking for a system offering a variety of features, you should give this a more in-depth review!
Samsung never fails to miss the mark, always delivering premium products that give you everything you need and more. This HW-Q800B system is jam-packed with features that are elite in providing sound immersion. Boasting 10 built-in speakers, as well as Dolby Atmos and DTS:X decoding, the quality of audio playing from this device is one of the most advanced on the market. Chopping off $200 from its suggested retail price, this system went from $997.99 to $797.99! This is a system you have to get if you want the ultimate home theater!
Want to set up your home entertainment system but not sure what speakers to use? This process can be a hassle but luckily for you, Home Theater Review has you covered. Check out this article written by our experts to help you find what you're looking for!