If you're looking to switch things up for family movie night then a projector might just be what you're looking for. One of the biggest perks of a projector is that you can project images up to 100 inches and it's portable. They are easy to use, affordable, and can be set up in a matter of minutes. They are very useful for home theaters because it allows you to enjoy various forms of entertainment on the big screen. It also has many other features like HDMI connectivity, 3D projection, and more. Even if you don't have the space for a projector screen, you can just project it on another wall in your house or outside on the side of your house or garage.
Right now, there is a sale on a projector that you will want to add to your living space as soon as possible. It is the Epson EF-100 Projector, a great choice for leveling up how you enjoy your viewing experience! A cost-efficient multimedia projector with great image quality and stunning brightness, ideal for business presentations and entertainment at home. Originally, its price was $999.99 but it is currently $799.99, which is a savings of $200! Check out this awesome deal here, it won't last long!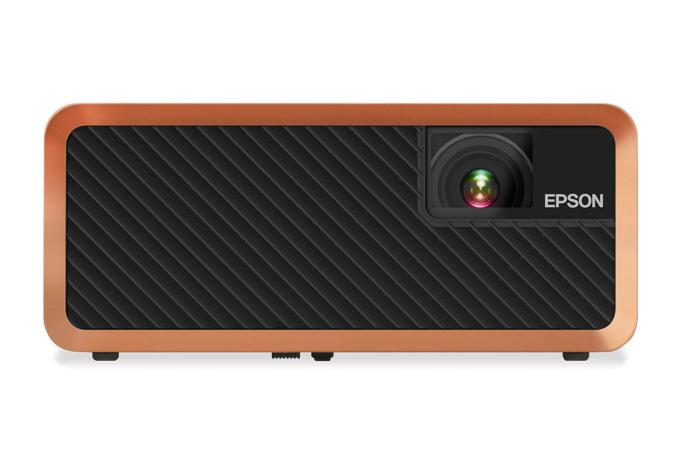 The Epson EF-100 is a perfect fit for you and your family. Get your kids away from tablets and cell phones & onto a big-screen TV with this light, bright, and colorful projector. It can lie flat on any smooth surface to create a shared viewing experience in any room. Watch movies, play games, or enjoy family time with friends & relatives over a video-chat call. It has Wi-Fi capabilities built within it, and you can access popular streaming services like Netflix, Hulu, and YouTube. Whether you use it for business or personal use, you'll be able to use it anywhere, however you choose!
Are you looking for a high-quality home theater projector that does it all? This is it! Optoma HZ39HDR has a 4000-lumen brightness, a 30,000-hour lifespan, and 4K/HDR compatibility. Whether you're gaming on a PS5 or watching the latest 4K HDR movie, this projector will exceed your expectations. This is perfect for any room of your home - even if it's not designed as a dedicated home theater. There is a sale now on this projector, chopping off $100 from $1,299.00 bringing the price to $1,199.00!
Hisense 120L5G-CINE120A Projector and 120" Screen
Hisense understands the value of convenience, and has taken the stress out of assembling a high-performance home theater system by giving you everything you need in one box. They have bundled together a 4K laser projector and 120" screen, bringing you a clear, big picture and a true theater experience right at home. It has an integrated audio system for great sound and can easily stream broadcasts, movies, shows, and much more. Don't miss out on this incredible deal that is going for $2,999.99 after being originally priced at $4,499.99, which is $1,500 off!
Seeking to take your movie nights to the next level but need some direction? Here, we can help you find the projector you need for your home theater. Read this article for some info you should know about projectors.