SMSL HO200 Headphone amplifier
SMSL. That's an abbreviation of Foshan ShuangMuSanLin Technology Co., Ltd. which, according to its website, was founded in 2009 and has 10 middle and senior engineers on staff. Located in Shenzhen, China, SMSL specializes in DACs, stereo headphone amplifiers, and power amplifiers. Here, we will look at SMSL's latest desktop headphone amplifier, the HO200 ($399US MSRP), which includes both balanced and unbalanced input and headphone output options.

Main Features
The SMSL HO200 utilizes a fully balanced design coupled with an extremely low-noise power supply and circuitry, which combine to offer a published signal-to-noise ratio of 140 dB! Although it is analog-only, in addition to being a headphone amplifier, the HO200 offers preamplifier functionality. You could even hook up the HO200 so one of its two stereo outputs could drive your main speakers while the second is connected to a subwoofer.
Main Features
The SMSL HO200 offers three different gain levels to accommodate a wide range of headphones. On the low gain setting the SMSL HO200 can accommodate the most sensitive in-ears with no hiss, hum, or background noise of any kind. How quiet is the SMSL HO200? With Empire Ears Zeus CIEMs (115dB sensitivity) I could hear some his only if I used the high-gain setting and turned the volume up to maximum. With both the low and middle gain levels the Zeus was completely noise-free regardless of the gain or volume.
Using my two least sensitive headphones, the Beyer Dynamic DT-900 600 Ohm version and the Abyss Diana Phi, via the single-ended output, the HO200 had so much gain that the middle gain setting delivered more than adequate volume levels. With the high-gain setting, I was barely able to turn the knob before the volume was excessive. I seriously doubt you will find any headphones that the HO200 can't partner with successfully.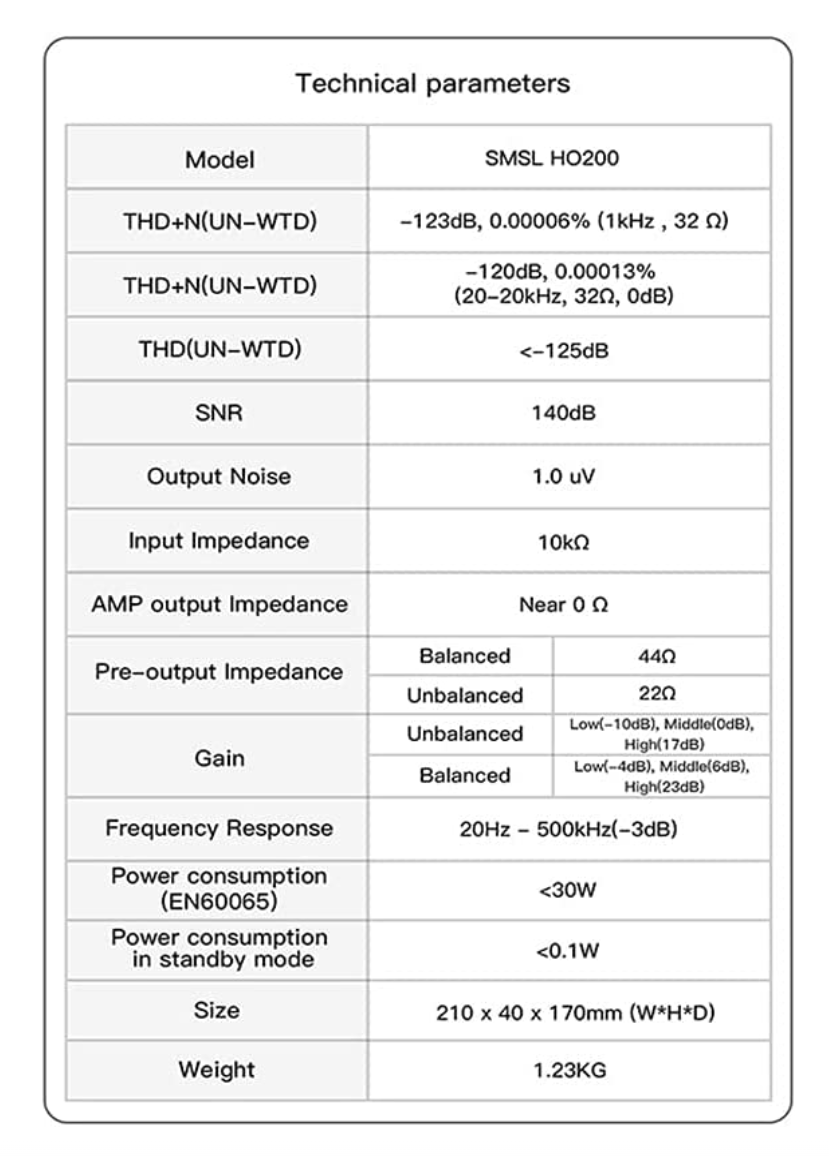 Chassis and Front Panel Design
The SMSL HO200 features a black anodized all-aluminum alloy chassis that is slightly wider and deeper than the SMSL SU-9 DAC. In addition to its three headphone outputs, the front panel has an input selector toggle for XLR/RCA, a three-way gain toggle, pre/headphone output toggle, an on/off power toggle, and a centrally located volume knob. The knob lacks clicks or detents and turns with even the slightest touch.
Five Output Options
The SMSL HO200 offers five different ways to connect. For headphones you have XLR Balanced, 6.35mm unbalanced, and 4.4mm balanced outputs. For line-level, for use as an analog preamplifier that will support two analog inputs the SMSL HO200 offers both balanced and unbalanced output options.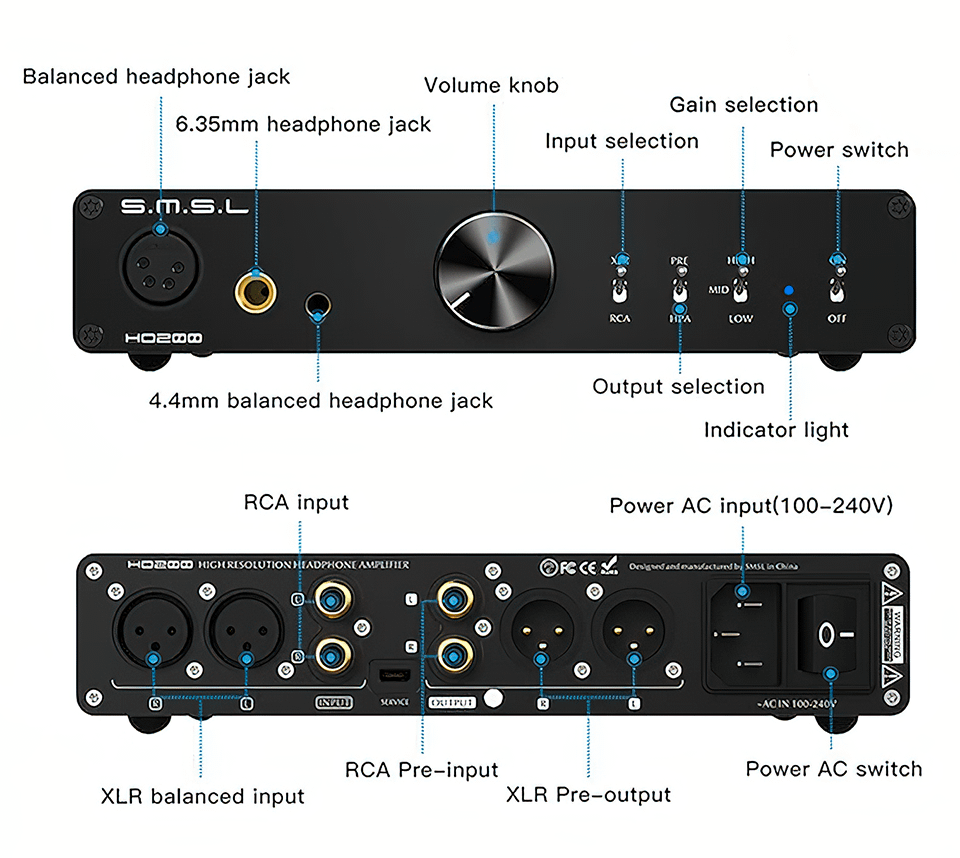 What's in the box
The HO200 comes with a power cord. And instruction manual. It does not have a remote control, which will limit its applicability for a "remote" set-up where the volume control is out of hand's reach.
How Does the SMSL HO200 Sound with Music?
Because this is a headphone amplifier that requires a pair of headphones on one side and an analog source on the other, the SMSL HO200 is very likely adding the least amount of coloration and non-linearity to the overall sound. Sure, there are headphone amplifiers that can and often do sound "warmer" with additional
lower midrange and upper bass emphasis. There are also some amplifiers with a softer, sweeter, less extended top end, but even these colorations usually pale in comparison to what a pair of headphones can do to alter the overall sonics. If an "uncolored" headphone amplifier sound is your goal, the HO200 will deliver that in abundance.

YouTube or Qobuz playlist
1. Acoustic / Quiet music performance
"Crazy" – Heather Masse and Jed Wilson from Hold On
This duet recording features just vocals and piano. The sound is as refined as the performances, which feature Ms. Masse's heavenly voice combined with Jed Wilson's impeccable piano. Listen all the way through for a delightful laugh at the end of the track.

2. Rock / loud fast music performance
Butter - BTS
Yes, this is more pop than rock, but it's such a great test track for dynamics and overall sonic control. This track is busy, busy, busy, with multiple layers. Through top-tier headphones, such as the ZMF Vérité Closed, I heard the SMSL HO200 deliver all the detail and harmonic complexity buried in the track.

3. Bass Heavy / pop music performance
"The 90's" - Finneas on Optimist
With its deep bass fundamentals, Nasty synth settings, precise imaging, and big soundstage, this selection will tell you a lot about a headphone's amplifier's dynamic capabilities. The SMSL HO200 comes through with flying colors.

4. Dealer's Choice / Reviewer's fav music performance
"Love and Regret" – Billy Strings on Renewal
This studio recording has a natural ambiance despite its studio roots. Billy Strings' voice is relaxed and located dead center with the fiddle and guitar on the left, banjo on the right. Unlike most cuts on this album, this one demonstrates Billy's mellow side.


High Points:
· Extremely flexible outputs for a wide range of headphone sensitivities.
· Both balanced and single-ended input and output options.
· Extremely quiet, high-resolution sonics.
Low Points:
· The HO200 has only analog circuits with no digital decoding features so it must be mated with a DAC to access digital sources.
· The 4.4mm balanced output connection fit can be tight.
· The volume control has no clicks or level display to match levels or duplicate output levels.

SMSL HO200 is not for you, if...
If you want a component that has both digital and analog input capabilities in one box. The SMSL is meant to be mated with an outboard DAC. Since the SMSL is an OP-amp-based analog circuit, it will sound different than a tube-based or discrete-parts class-A design.
Finally -The SMSL HO200 is for you, if...
If you already have a good DAC and desire a headphone amplifier that can handle a wide range of headphones. Also depending on your DAC's capabilities, the HO200 may be a better preamplifier for a system than the DAC's own volume control.
SPECIFICATIONS – SMSL HO200
Frequency Response - 10Hz – 50kHz (+ or- 3 dB)
Signal to Noise - HD+N(un-weighted): -123dB, 0.00006% (1kHz, 32Ω, 0 dB)
Output Power: 6W @ 16Ω, 3W @ 32Ω
Gain (Unbalanced): Low(-10dB), Mid(0dB), High(17dB).
Gain (Balanced): Low(-4dB), Mid(6dB), High(23dB)
Input Impedance: 10kΩ
Size 210 x 40 x 170mm
Weight 1.23 KG