Here we are in late 2022 and the Ultra Short Throw (UST) projector market is still delivering us new and exciting products. Unlike the standard throw projector market, USTs are evolving at a breakneck pace. Epson is throwing its hat into the ring to continue that evolutionary pace with the EpiqVision Ultra LS800 priced at a relatively reasonable $3,499. Epson is promising big things from this projector, pun intended.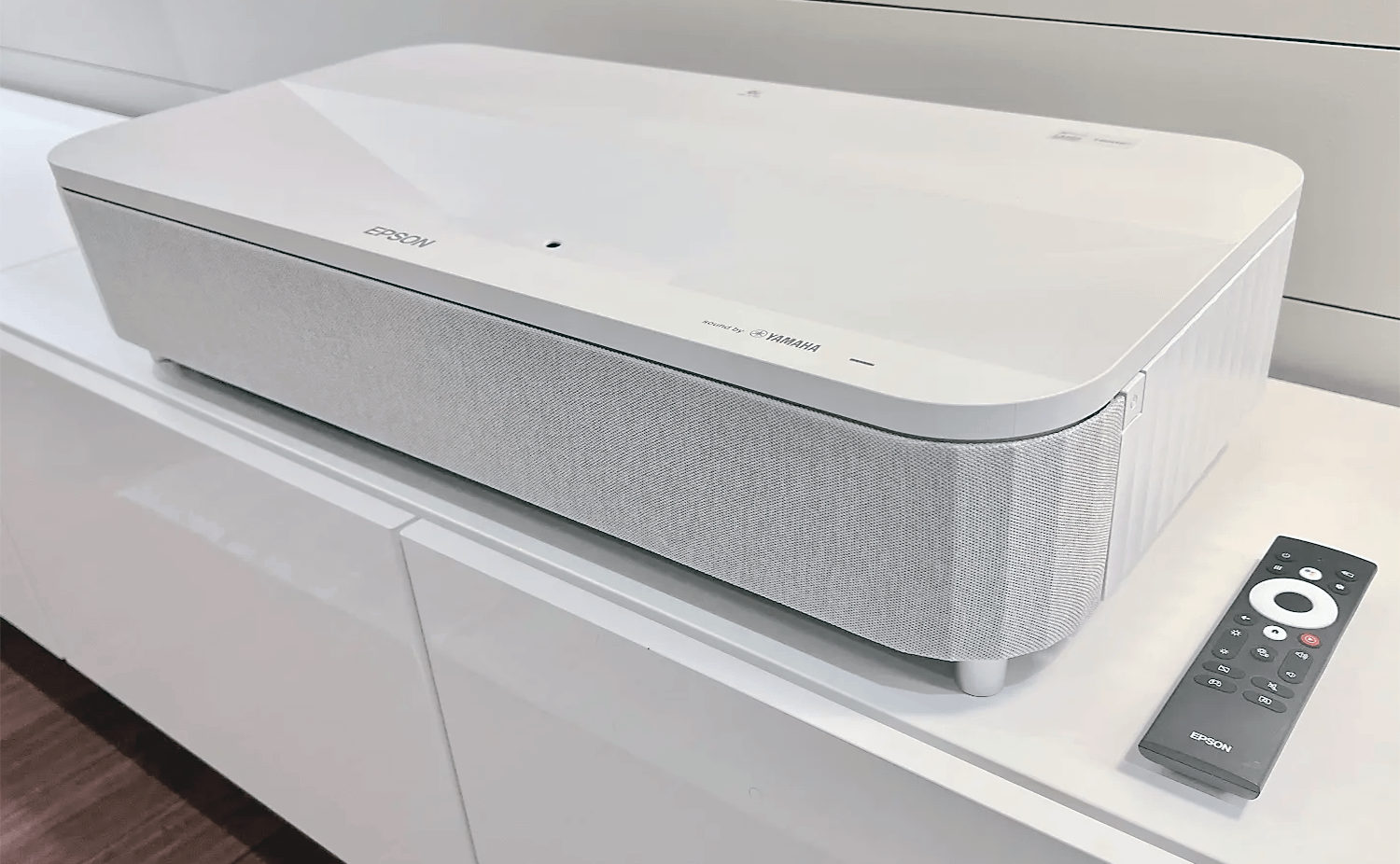 Summary
Epson has done a few special things with the EpiqVision Ultra LS800. This projector delivers among one of, if not the shortest throw ratios available, a very bright and usable picture mode in Dynamic, an accurate out-of-the-box Cinema mode, and no rainbow effect. The projector offers built-in Android TV, great dynamic contrast, a good speaker system designed by Yamaha, and a gaming input for ultra-low input lag.
For these reasons we decided to give it an Editor's Choice award for those looking for a big bright image in their living room that will handle almost anything you throw at it. The Epson LS800 is the complete package for living room viewing - pair it with a good lenticular ALR screen and it is sure to impress. HDR handling could be a bit better, it's not the sharpest UST out there, and we'd look elsewhere for a dedicated theater space with light control due to its average native contrast, but it sure is fun to get an image this bright and usable with all the lights on at any time of day.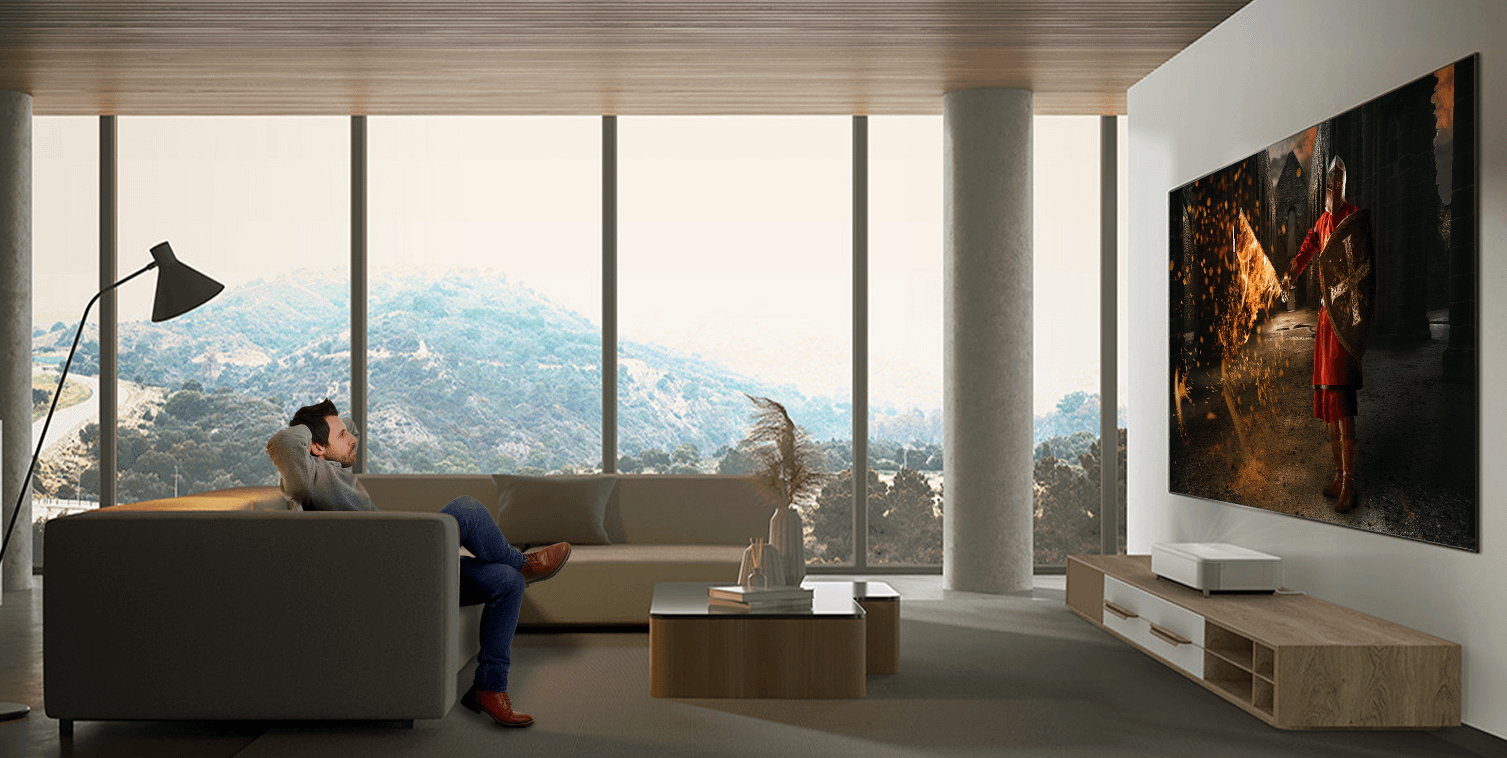 Features
The LS800 picks up where the LS500 left off with a rated 4000 lumens coming from a 20,000 hour rated blue laser+phosphor pushed through Epson's proprietary 4K PRO-UHD 3LCD pixel shifting system to bring near 4K resolution onto screen. Even though they share the same branding, this system is unlike the new quad-pixel shifting in Epson's standard throw LS11000 and LS12000 projectors. This is a dual shifting mechanism just like the previous Epson 5050UB, a very well liked projector.
The 3-chip LCD design from Epson delivers a lot of usable brightness, more than you typically get in a single-chip DLP projector. Epson really takes advantage of these lumens in the LS800 by enabling screens up to 150" from very short throw distances, even for an ultra short throw projector. Measuring from screen to the front of the projector you can have a 100" screen at 17.3", a 120" screen at 20.2" and a whopping 150" screen from 24.2". A lot of USTs need 25" just to throw a 100" image. This truly is an ultra short throw projector and for 120" screens it can fit on a lot of media consoles. Well done, Epson.
Assembly and Design
I was pleased to see that Epson offers this projector in both black and white casings to match room aesthetics. Overall, it's an attractive design and much cleaner and an improvement from the LS500. It's a large projector weighing in at 27.6 lbs and stretching 27.4" wide, 13.4" deep and 6.2". The front of the projector is dominated by a large removable cloth cover hiding the surprisingly decent Yamaha custom designed 2.1 AudioEngine speaker system. On the right side you'll find a removable cover that hides the LS800's array of ports and its manual focus slider. The cavity behind the cover is quite large and allows ample room for hiding your cabling or even a streaming stick if you don't care to use the built in Android TV OS.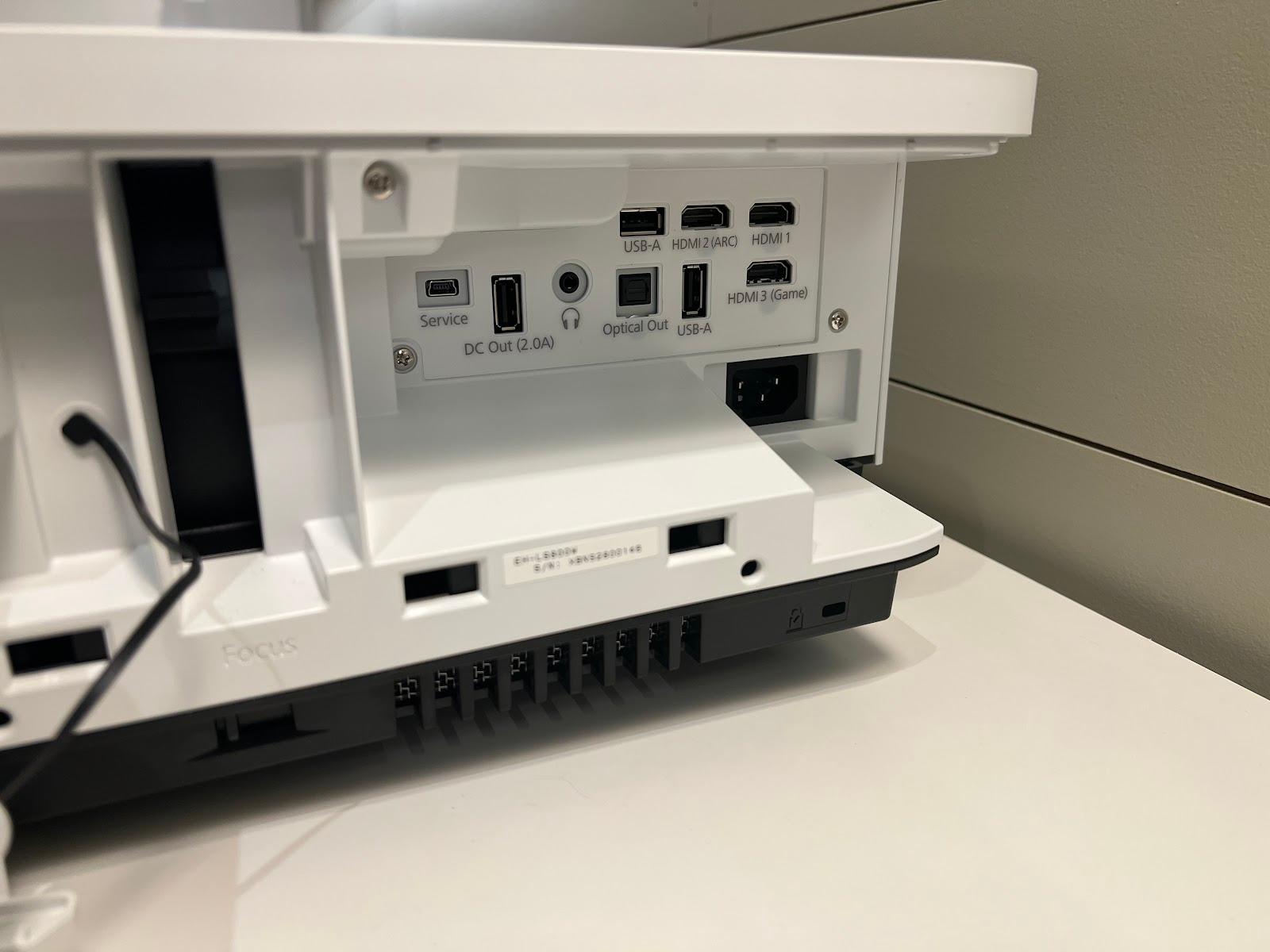 The LS800 sits on three feet, two in front and one in the rear. The front right and rear feet are manually adjustable to assist with aligning the projector.
The included remote is well laid out with buttons logically placed. I was quickly able to learn the layout for my most used buttons and didn't need to look down to use it. My only complaints are it feels a bit basic and I'd like a more premium feel for something that accompanies a $3500 display.
Setup and Screen
Epson had also sent me the 120" version of their SilverFlex lenticular ALR screen. It is claimed to be able to reject up to 90% of ambient light and offer viewing angles all the way to 180 degrees. In a little under two hours I had the screen assembled, the LS800 unboxed and splashing its 4000 lumens on screen. All three feet are adjustable which makes alignment as easy as it gets for and UST projector - a little tedious, but not too bad with a bit of patience.
Epson does include many options to digitally alter the image to fit your screen if you can't get perfect alignment. These features are best to go unused if possible. As with any projector the use of keystone or digital zoom will result in wasted light output and reduced resolution. That being said, the options are nice to have if you just can't get the projector aligned perfectly. I do wish that Epson had included some amount of digital masking for the bit of slightly visible overfill I had on the satin border of the SilverFlex screen.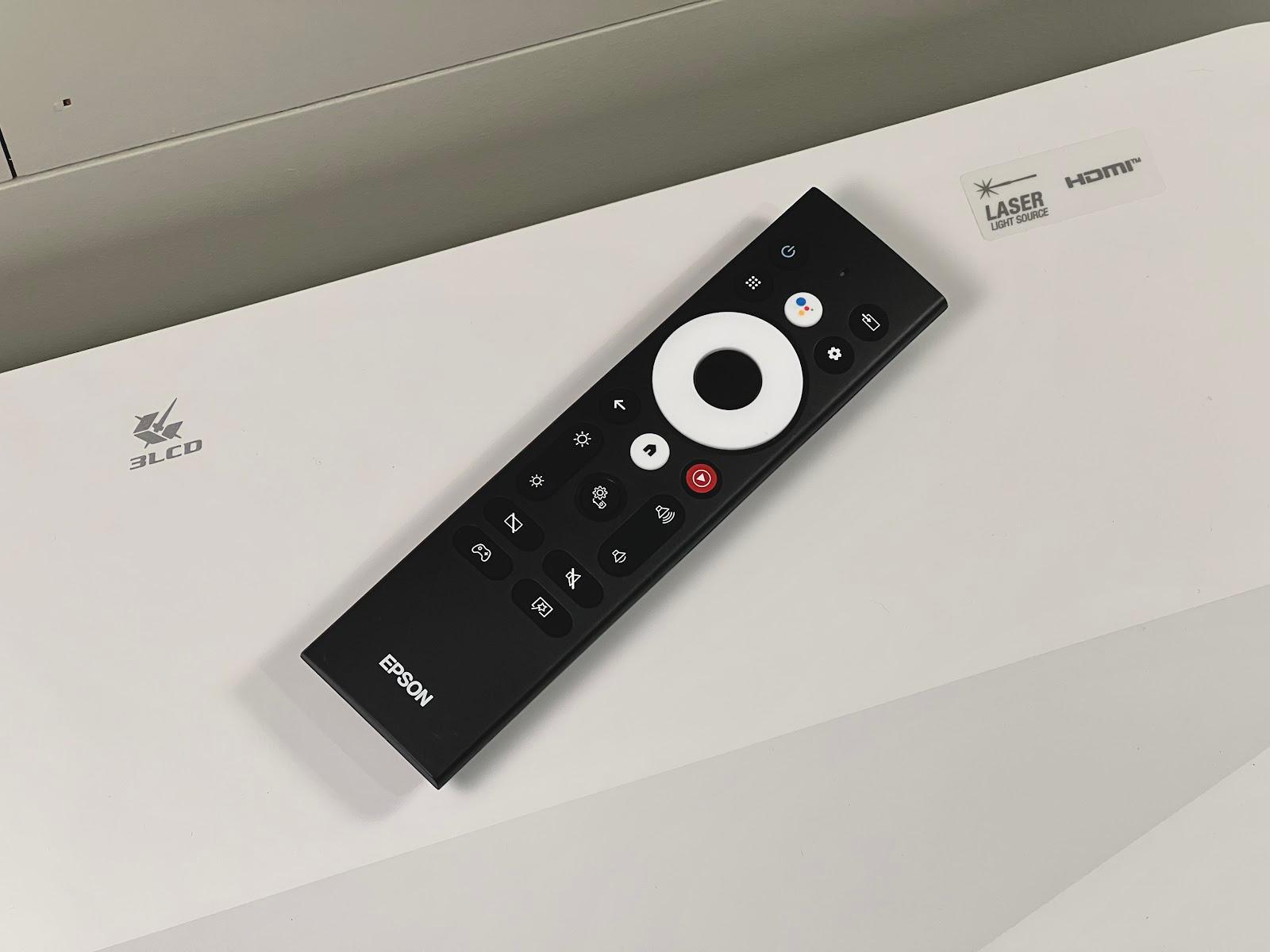 Android TV and Settings
Along with many ultra short throw projectors being made today, this Epson comes with Android TV built in, no dongle required. Just like a lot of other Android TV-based UST competitors this projector lacks Netflix but does have just about any other app you could wish for.
While having Android TV be the base operating system makes ease of use, well…easy, it has come with some drawbacks. Epson has long had projectors featuring lots of tunability and customization with full CMS controls, multi-point grayscale settings, custom gamma options and much more. Most of that is gone on this Epson LS800 and instead they provide the user with only a color temperature and saturation slider. Unfortunately, these limited controls made getting a fully calibrated image near impossible.
Audio
As someone that has a dedicated audio system hooked up to every TV in my house I clearly don't expect much out of a display's speakers. Well, I turned on this LS800 and was immediately impressed with the kind of audio it put out. It's not going to replace a dedicated surround system but some may find the Yamaha designed 2.1 speaker system adequate enough to not go hunting for a soundbar to fit between their new UST and projector screen.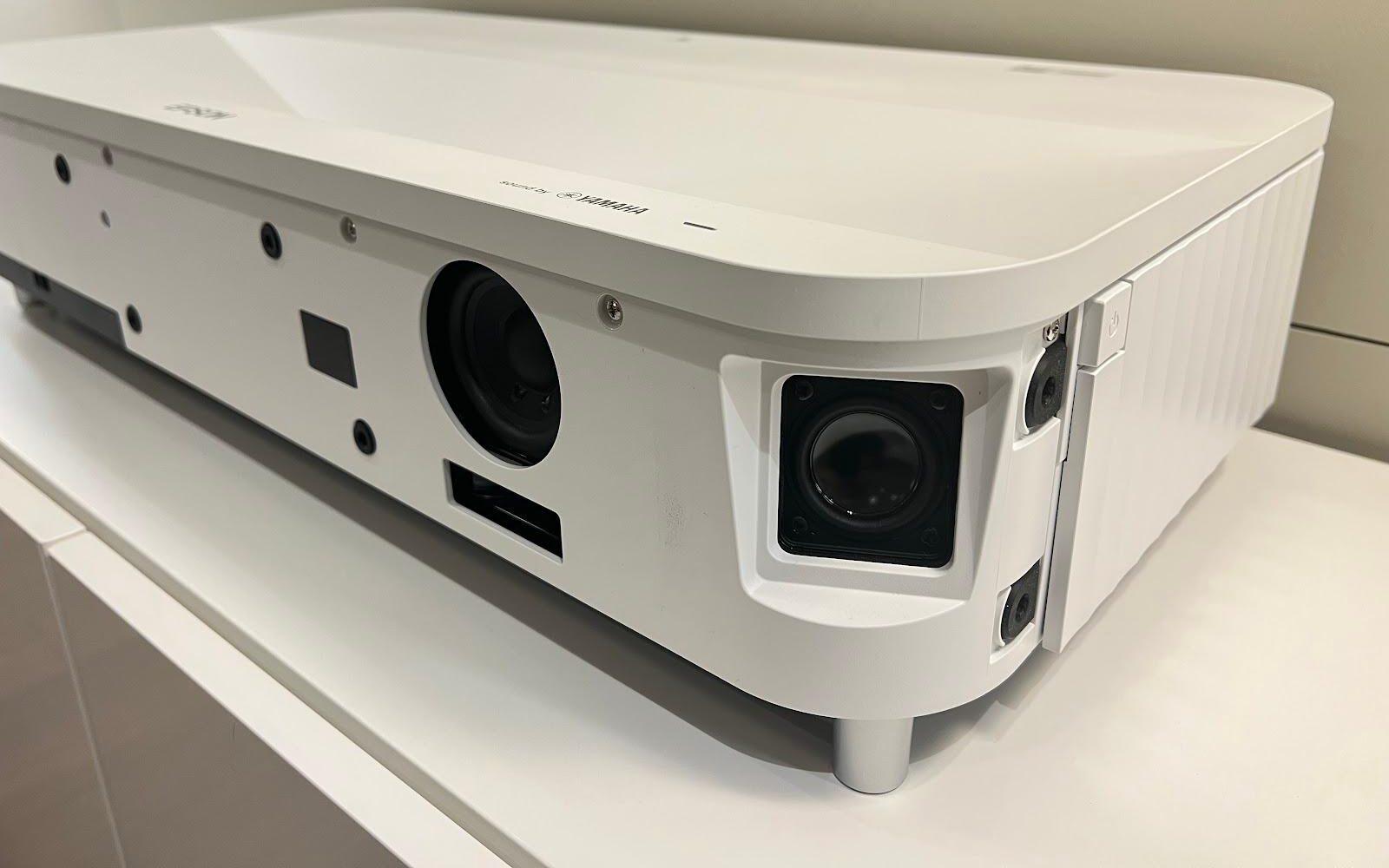 The LS800 was able to fill the couple rooms I tested in with easy to hear dialogue and an almost convincing surround sound effect. The soundstage easily felt larger than the width of the projector. I found that the only time the audio performance felt lackluster was with some intense moments in movies with loud effects or a lot of bass. In these situations it sounded like the little speakers were being overwhelmed and any dialogue got a little lost. Overall, I was impressed by the audio performance but a 100" or larger screen is really asking for a full surround sound system.
Performance
Whenever I get to a new projector to play with I like to pull up some YouTube 4K demo videos just to get a feel for the basics of the projector. This gives me a chance to play with the menus and usually see some nice eye candy as an initial impression. Wow! This thing is bright. I had the projector set to Dynamic Color mode which delivers the most light output and I kept finding myself in awe as the LS800 lit up the 120" SilverFlex screen in my bright office. The picture was clearly a bit oversaturated and a cooler temperature than desired but I was impressed nonetheless. Off to figure out what else this lil' guy can do.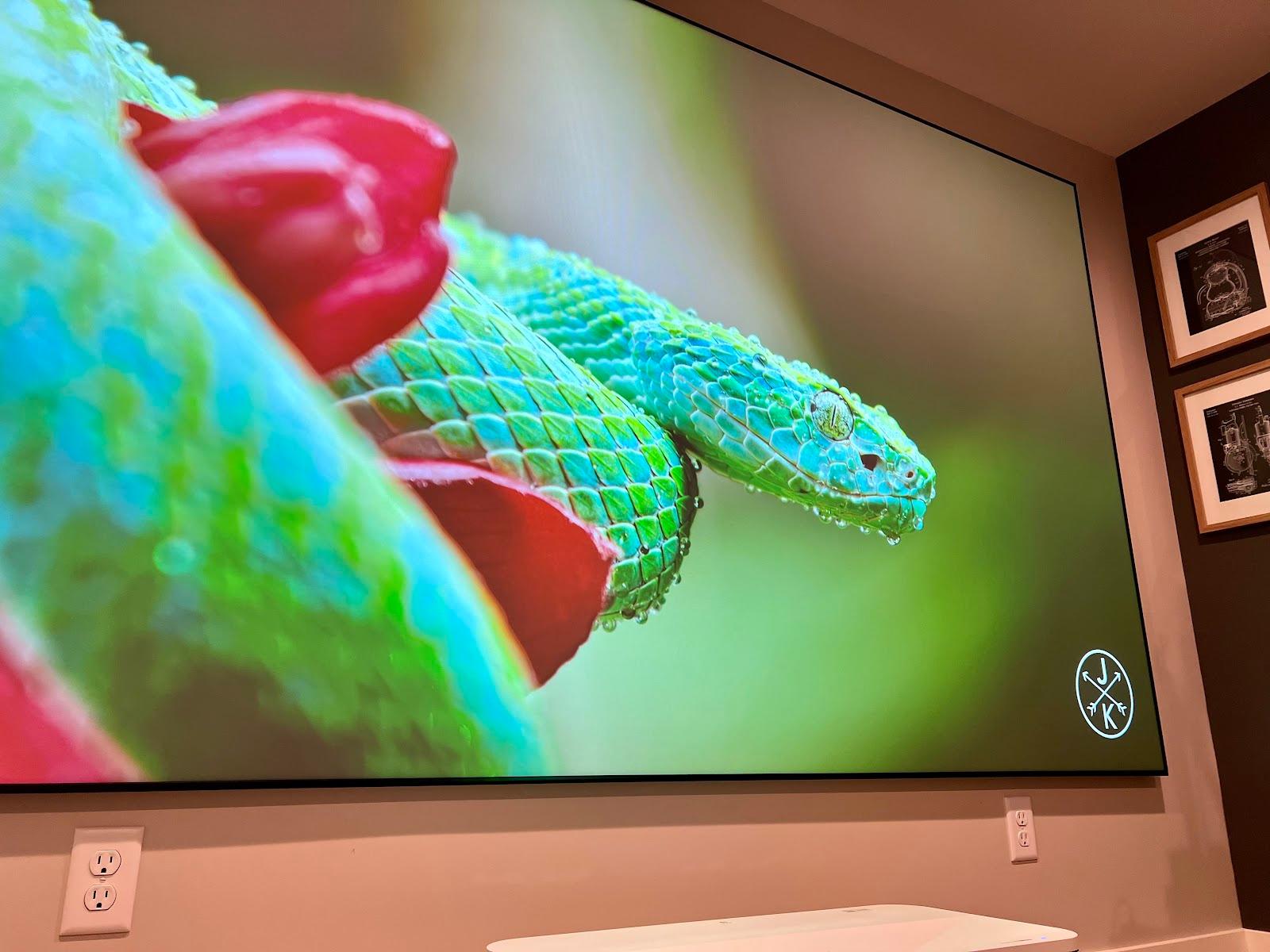 SDR Calibration
Having used multiple Epson's in the past I went right for the LS800's Natural color mode for what I thought would be more accurate viewing. At first, this appeared to be the right choice after breaking out my X-rite i1 Display Pro colorimeter and Portrait Displays' Calman calibration software and measuring its color temperature at 6600K and color gamut that appeared designed for Rec709. The problem I had with Natural was greyscale balance wasn't nearly as good as I hoped with there being a blue shift and errors averaging around 4-5 DeltaE. Using the Color Temperature slider to try to fix the errors resulted in too big of swings resulting in the default setting being the best.
Flipping over to Cinema and the greyscale balance was much better. Greyscale errors were actually spectacular for out of the box performance, an average DeltaE of 1.6 and a max of only 2.4. Color temperature came in at 6600K as well, just like Natural. A quick color gamut sweep showed the primaries measuring outside Rec 709 making it apparent that Epson optimized this mode a bit for HDR. I deduced to proceed with this being my SDR picture mode nonetheless due to the greyscale performance. After reducing saturation to 45 Calman's SDR ColorChecker measured an average DeltaE of only 2.9 and a max of 9.8 with really only the 100% primaries and secondaries being of concern. Gamma without Dynamic Contrast set to high is linear but quite low at an average of 2.1. At first I was quite concerned by this but found that setting Dynamic Contrast to High Speed gave a gamma that tracked fairly linearly to 2.2 using a 10% window. Setting brightness and contrast was a non-issue as they both appeared well set from the factory. Native contrast was measured at 1100:1. Overall, I was pleased with the results given the incredibly limited controls.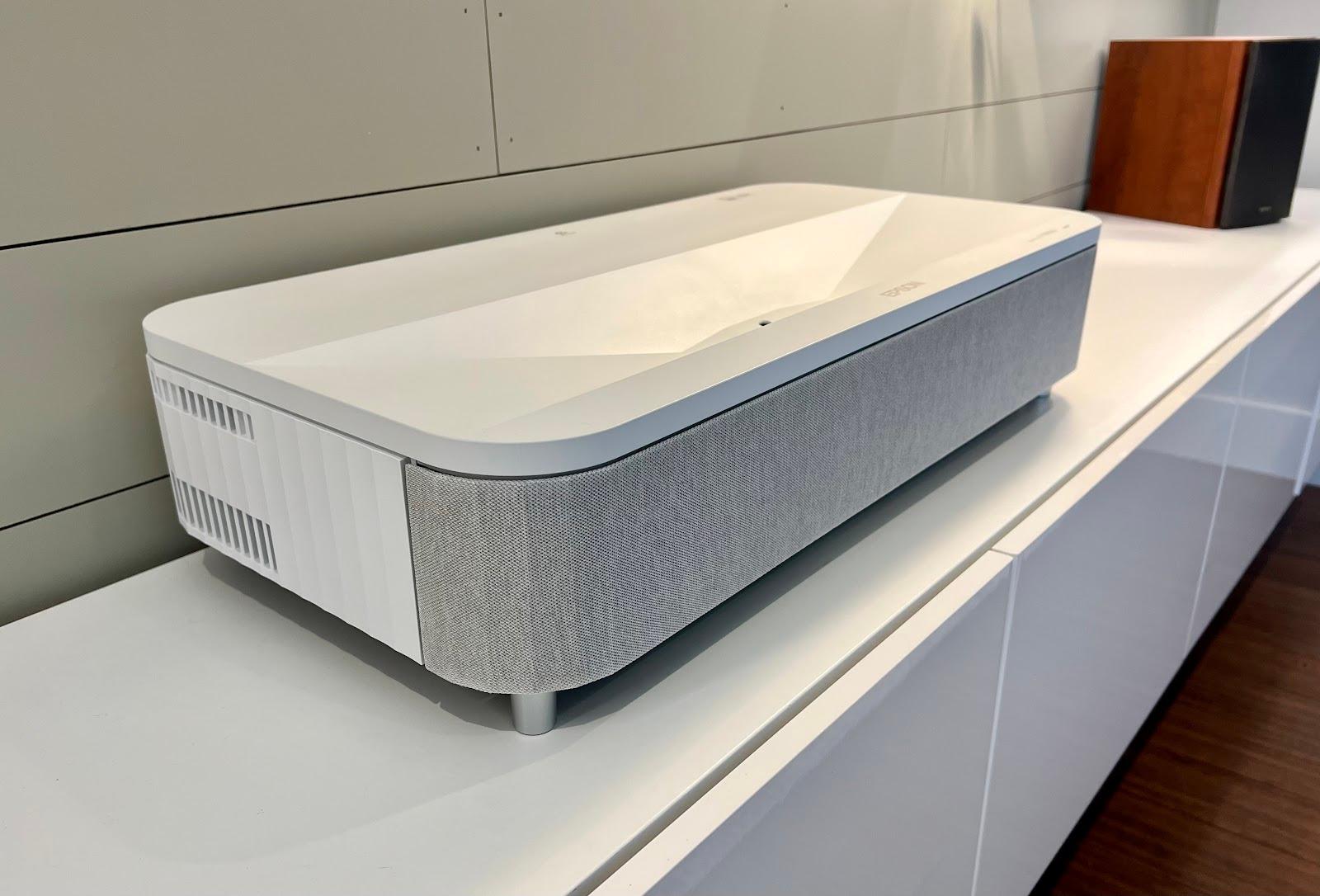 Given my initial positive reaction to Dynamic Color mode out of the box I decided to see how this mode measured and tried to optimize it the best I could. I knew it wouldn't be perfect just as every bright picture mode on any other projector. To my un-surprise, Dynamic was quite short on red and high on blue/green measuring at an average of 7500K. Again I tried to use the White Balance slider to warm things up a bit but I found I lost quite a bit of light and things didn't perceptively get better to me. I quickly realized that I'd instead just use what this mode had to offer and that was a cool yet very bright picture. Gamut tracking is a bit of a mess here and things are anything but linear. I later decided to use this mode for HDR as well so I balanced the one gamut controI had the best I could and set Saturation to 45. Gamma without Dynamic Contrast measured incredibly low at 1.9. But, with Dynamic Contrast set to High Speed and on a 10% window I got an average of 2.3. DeltaE errors in the ColorChecker averaged at 8.8 with a max of 17…yeah, not the best. On the positive side I measured native contrast at almost double Cinema and Natural at 1900:1. With Dynamic Contrast set to High Speed you get a more aggressive laser dimming algorithm that includes a full fade to black. Dynamic Contrast is pretty much required in any picture mode on this projector.
SDR Viewing
I have two rooms that I am able to test projectors in. One is my dedicated theater that is fully treated with black flock, dark furnishings and a white screen. It is a room that can eek out every last drop of performance from a projector. The other room is my office with light colored walls, a couple of south facing windows, overhead lighting and multiple desk lamps. This room has the Epson SilverFlex lenticular screen and it needs it.
Most of my SDR viewing consisted of sports and streaming TV, or if you're old school, cable TV. With this content and the environment I and others would most likely view it, Dynamic Color Mode did a fantastic job. On the SilverFlex screen from Epson I was able to watch pretty much any TV program with the lights on and during the day. Watching football during the day in this setup really did feel like I was watching a giant flat panel. With over 250 nits on the 120" screen it really isn't a surprise. The cooler white that a 7500K picture mode gives you really does look good with sports. Jerseys pop, helmets shine and on-screen graphics are bright and clear. I expected to see something offensive in this mode. Colors to look off, highlights to be clipped or something like that. But, Epson did a good job with this mode. Colors were a tad flat but the brightness made up for it.
I did spend a decent amount of time watching the same casual content with Cinema mode and while I found it to be more accurate and colors to have more depth, it just wasn't as appreciated as the brightness Dynamic offered for daytime viewing. If you're going to be watching a game at night with the lights off then this mode works really well to add a richness to the picture at the expense of some light.
Switching over to some movie content I immediately went for the balanced Cinema mode to watch. I also started this content in my dedicated theater where I wouldn't need the shear brightness Dynamic offers. I went right for the movie Gravity, one of my favorites, to not just test black levels but also how well a projector can balance those blacks next to bright objects. The beginning scene is great for this. As astronauts Stone and Kowalksi are working on the satellite in their bright space suits, the sunlit satellite and big blue ball known as Earth light up the screen while deep black space fills everything in-between. The LS800 did a great job of showing everything bright but missed some of the depth that this scene can offer. Shadows of their suits felt a bit washed out and deep black space felt a tad more like a deep-ish gray. I experimented with turning the laser brightness down using the convenient buttons on the remote but then I lost the brightness of the scene that I liked and the bit of flatness stuck around. This scene is just too bright for dynamic contrast to kick in to darken the blacks. Toward the end of the beginning scene, Stone is flung off into space and there's just her floating with only the black of space around her. A great scene to test black levels. Here the Epson saw that Stone was bright white and wouldn't let the laser dim, unfortunately, this left deep space to be again a bit too gray. This was a running theme with a lot of content I tested in my theater. The native contrast was just too low to shine in this environment.
I decided to move the projector back to the office as I felt this was the best place to view it…and I was right. Now that my eyes weren't anchored to dark walls and instead to the lighter decor, the blacks of space and shadows became more realistic. Now I started to have some fun. I flipped back to Gravity and those same scenes felt much more realistic. I wasn't bothered by the black levels any longer because I had a bright giant screen in my office with a very balanced image in Cinema.
Once again I gave Dynamic a try and found it to be better than expected with movie content. The built in gamma in this mode seems to bring a bit more out in shadows than the other modes. In The Dark Knight I was able to see more shadow detail in this very well done dramatically shot Batman film. I'm starting to get a sense of what this projector is really designed for.
HDR Calibration
After spending a decent amount of time with the projector I knew that HDR calibration would be pretty basic as there aren't many controls to manipulate. I started off by seeing how Epson decided to approach tone mapping on this LS800. Given that there's no dynamic tone mapping here I set the HDR slider to 1 and tested how it tracked the PQ EOTF. At this setting and in pretty much every color mode it tracks right along PQ until it hits the peak white level and then hard clips everything above circa 65%. I was hoping for a bit of a roll off to preserve highlight detail. Let's see what a setting of 4 does…not what I had hoped. Every notch higher on the slider and the LS800 reduces brightness throughout the image, tracking below PQ and clipping less highlight detail. You can have less clipping and a dimmer image, or clipping and a brighter image. And, without the custom gamma or grayscale options seen on other Epson's it is not possible to add in that softer roll off either. I'm a bit bummed by Epson's tone mapping here since it will undoubtedly result in a dimmer image than needed as I attempt to preserve some highlight detail. Adjusting the targets in Calman I found that a slider level of 8 would allow for essentially no clipping on HDR content mastered at 1000 nits but, PQ tracking was so far off lower at lower stimulus levels that it would clearly be too dark to be enjoyable. Subjectively it appears that a setting of 2-4 would be the best balance of clipping and brightness for 1000 nit content. This type of content is the most common so many users will find this to be a good place to start.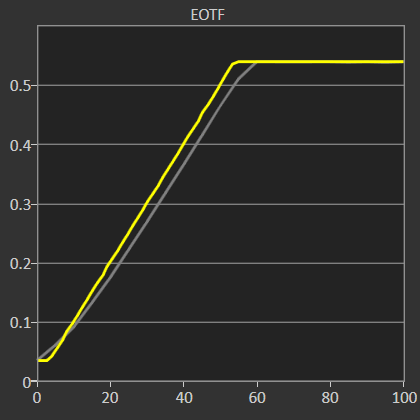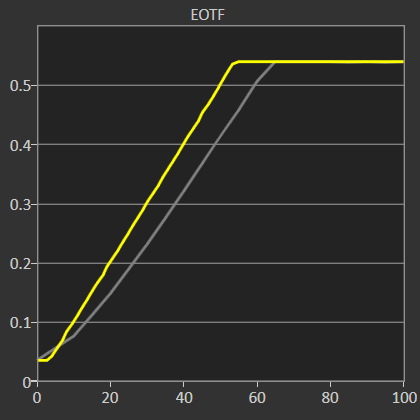 Picking the right color mode to use for HDR became a similar story to SDR. A more balanced image with Cinema or to go for the brightness that HDR desires and choose Dynamic. In the end, I used both and was able to utilize the same picture settings as SDR. A large part of that is because I had to, Epson doesn't give SDR or HDR specific color modes.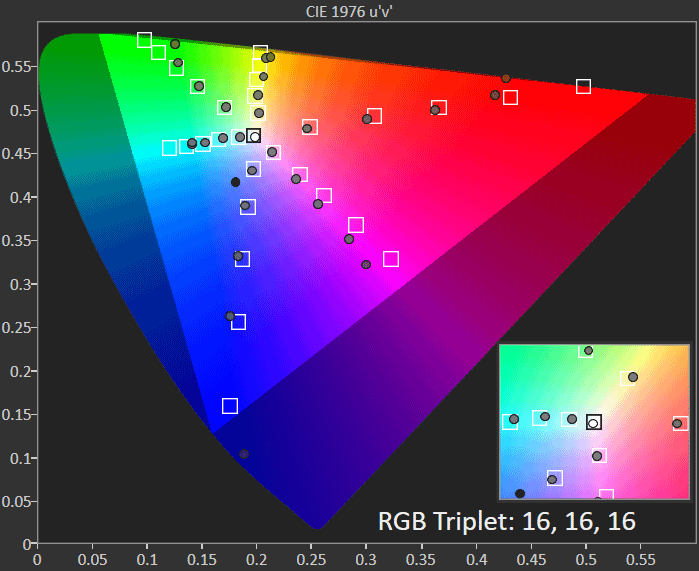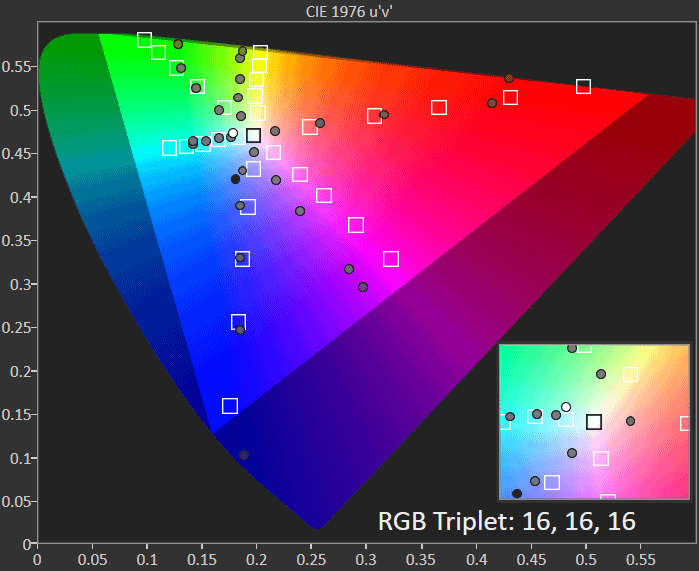 HDR Viewing
I started off my 4K HDR viewing with the fantastic 1917 directed by Sam Mendes. This movie has a steller scene for testing black levels, intra-scene contrast, tone mapping, dynamic range, and even color. Halfway through the movie Lance Corporal Schofield gets knocked out and there's a decently long fade to black with him waking in the dark of night. He then crawls up a stairwell to look out the window and sees bright flares bursting in the air against the night sky. The cinematography is just fantastic. The LS800 handles this scene just OK in Cinema mode. The fade to black is somewhat convincing but shadow detail as Schofield wakes up and climbs the stairs are lost.
Black levels also appear more of a gray, even with Dynamic Contrast set to High Speed. Adjusting the HDR slider lower helped some but in brighter scenes there was just way too much clipping. In Cinema, I found a level of 2 or 3 to be the best balance. Once again I tried out Dynamic Color Mode to see how it faired in this scene. Wow, what a difference! Dynamic Contrast had a much larger impact with fade to black actually going completely black. When Schofield wakes up and there's subtle highlights on screen the black levels stay much deeper and shadow details are intact. I can tell that the Epson is using some heavier gamma manipulation in this mode which really helps with scenes like this. Dynamic did a great job of tricking me into believing I was watching a much higher contrast projector.
When well done, this scene always pulls me in. I usually forget that I'm analyzing a projector and just enjoy the show. The LS800 was no different here. Yeah, contrast could have been better at times but it was impressively bright again and the dynamic contrast worked effectively enough to trick me into enjoying one of my favorite movies again. At one point I was actually writing this review and had it going in the background. Schofield came to the point with the church roaring in flames and I couldn't help but to look up and be wowed at the 250 nits this Epson was putting out into my dedicated theater.
I then switched over to Aquaman to test how well it handles wider color gamut and bright highlights. For this movie I had to bump up the HDR slider to not overly clip these highlights. I found that between 7 or 9 worked best to balance brightness with a bit of clipping. This was exactly what I was afraid of during my calibration. The picture got dimmer than it really needed to if Epson had designed its tone mapping to roll off a bit before clipping. This movie is fairly bright though, so the picture was still pleasing and I enjoyed the presentation. Being that the LS800 is only rated for Rec 709 gamut coverage, the colors in Aquaman didn't have quite the depth and richness as some competing USTs on the market with triple lasers. If you haven't seen a wide gamut producing display then it would be easy to be satisfied with Epson's color reproduction here.
Sharpness
This is an area that I wish the LS800 would have done a bit better. My unit had some focusing issues where I wasn't able to achieve uniform pixel focus across the image. I had to balance a few sections of the screen which resulted in a bit of a soft appearance. Considering that this is just a dual-shifting 1080p based projector, I was yearning for some more detail with high quality content. Don't get me wrong, the LS800 did deliver better than 1080p detail, but as we go into 2023 I did expect a little better.
Gaming
The LS800 is a bit odd in that it has a dedicated game HDMI input that disables any UI overlay to optimize solely for reduced input lag. This worked quite well as I wasn't able to detect a lag in my reaction times while playing. This came with compromises though. The gaming input uses the picture mode and settings that are set on the Android TV OS home screen and apps. Meaning you can't change picture settings in the middle of gaming or while using that input. If you are using a console to game and watch movies but want to use different picture modes for each content type you'll need to go back to the home screen, change the picture mode, and then back to the gaming input. One of the biggest downsides to this is the inability to quickly adjust the HDR slider, or even see how it is impacting the image. This design works to reduce input lag, but it is a bit clunky for usability.
I'm not the biggest gamer but the games I do play require twitchy reactions. Halo and Rocket League are my favorites and I've gotten decent at them over the years. For this test I decided to get my car soccer on. I haven't had a projector in my room that could play at 120hz so I was excited to test this mode on the LS800. I set my PC to 1080p at 120hz and booted up the game. In this setting, I detected no input lag and the only reason I lost was because my team didn't rotate on defense. (Rocket League players will understand.)
I tried one of the other HDMI inputs to see how the input lag felt with the full processing of the projector enabled. As I suspected the lag was too high for any sort of game that requires fast reaction times but it could be passable for some more casual games.
Conclusion
Overall, I enjoyed my time with the LS800 even if it didn't match what I typically look for in a great dedicated theater room projector. This Epson delivers great brightness in its Dynamic color mode and is what I believe is its best feature. For a dedicated theater room I would look elsewhere but I can easily recommend this projector for anyone looking for a big bright image in their living room. The very short throw allows it to reach sizes other projectors can't and the light output will actually fill those screens.
Pros
Brightness
Out of the box calibration in Cinema
Very short throw
No rainbow effect
Dynamic contrast
Speakers
Cons
Low native contrast
Only Rec 709 gamut coverage
Soft image
Lack of calibration controls
No dynamic tone mapping or Dolby Vision support
Measurements
Lumens
At just over 70% on the laser brightness slider, estimated since there are no numbers, the fan noise gets measurably louder. I decided to measure lumens just below this audible increase and also with the slider at its lowest level.
| | | | | |
| --- | --- | --- | --- | --- |
| Laser Level | Dynamic | Vivid | Cinema | Natural |
| 100% | 3947 | 2675 | 2426 | 2387 |
| 70% | 2937 | 1980 | 1796 | 1783 |
| 0% | 1154 | 774 | 695 | 682 |
Noise
These measurements are taken in my theater where the noise floor is 32dB. The LS800 has three fan levels which by my estimation fall at 0-30%, 31-70% and 71-100%. At full tilt the fan noise is a bit louder than I'd personally like but I still found it acceptable.
| | | | | |
| --- | --- | --- | --- | --- |
| Laser Level | Left | Front | Right | Top |
| 100% | 37 | 36 | 37 | 35 |
| 50% | 34 | 33 | 34 | 33 |
| 0% | 32 | 33 | 33 | 32 |
Contrast
Native Contrast
| | | |
| --- | --- | --- |
| Percent ADL | Cinema | Dynamic |
| 0% | 1166 | 1896 |
| 1/4% | 1130 | 1783 |
| 1/2% | 1097 | 1703 |
| 1% | 1034 | 1558 |
| 2% | 999 | 1475 |
| 3% | 874 | 1238 |
| 4% | 899 | 1274 |
| 5% | 814 | 1121 |
| 10% | 753 | 1015 |
| 15% | 690 | 898 |
| 20% | 582 | 731 |
| 25% | 590 | 744 |
| 30% | 507 | 621 |
Dynamic Contrast
Dynamic contrast was a bit tricky to measure because of how the laser modulates over time. In Normal and in High Speed on color modes other than Dynamic the laser dims quickly to a point and then gradually keeps fading. I tried my best to time my reading to that first dim level since this is the darkest it would probably get during real usage.
| | | | | |
| --- | --- | --- | --- | --- |
| | Dynamic | Vivid | Cinema | Natural |
| Normal | 13951:1 | 3046:1 | 2920:1 | 1713:1 |
| High Speed | Infinite | 6021:1 | 5064:1 | 5505:1 |
Gamut Coverage
P3 Coverage
| | | |
| --- | --- | --- |
| | xy | uv |
| Cinema | 79.61% | 81.81% |
| Dynamic | 76.91% | 80.33% |
BT.2020 Coverage
| | | |
| --- | --- | --- |
| | xy | uv |
| Cinema | 57.8% | 61.83% |
| Dynamic | 55.98% | 60.81% |