We'd like to thank ProjectorScreen.com for their assistance with our projector evaluations and testing. Their yearly shoot-out, extensive selection and helpful attitude makes our life easier when we need to dig in a little more.
While Epson might be marketing its new Home Cinema 3800 as an evolutionary jump in performance over the HC3700 it replaces, this new projector simply feels like so much more. That's because Epson has given the HC3800 several really important performance and functionality upgrades that I think make it an incredible value for its $1,699 asking price.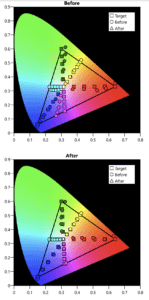 One of the most important new features is the company's proprietary 4K PRO-UHD pixel shifting technology. 4K PRO-UHD supplements the projector's native 1080p image to increase perceived resolution to near-4K. The HC3700 was limited to native 1080p, and while pixel-shifting can't quite match the single pixel performance of true native 4K panels, in my experience, it gets you most of the way there.
The other huge upgrade the HC3800 gets is compatibility with Ultra HD video sources with support for both HDR10 and HLG high dynamic range. To make this happen, Epson has overhauled the electronics and video processing of the projector. In fact, as far as I can tell, you're now getting essentially the same video processing solution found in the 5050UB (reviewed here). And, as you'd expect from any 4K HDR-compliant display, Epson has upgraded the HDMI ports to be 18Gbps HDMI 2.0 compliant.
Like the previous model, Epson is still specifying 3,000 lumens of light output. However, it appears there have been some changes made to the projector's light engine. Epson now claims up to 100,000:1 dynamic contrast, which is a more than 40 percent increase over the previous generation.
Most of the other specifications remain the same. Notable features include continued support for all major 3D formats, an all-glass lens with both horizontal and vertical lens shift, a stereo pair of 10-watt speakers, aptX Bluetooth connectivity, a 250-watt UHP lamp rated for up to 5,000 hours of use, and a two-year limited warranty.
If you're considering this projector, you might also be considering a single-chip DLP projector. Both technologies have their pros and cons, but I think the pros are what makes the HC3800 such a great value. The first strength is its 3LCD light engine, which makes the projector immune to visible color breakup artifacts (more commonly referred to as rainbows) from which most single-chip DLP projectors suffer. This artifact presents itself as fleeting flashes of color in your peripheral vision when mixed bright and dark elements appear on screen at the same time. They can be a bit distracting when you're trying to watch a movie, so the Epson's lack thereof is a big deal for people especially susceptible to this artifact.
What's worse, visible color breakup artifacts are even more problematic for single-chip DLP projectors in the era of HDR. As manufacturers continue to increase light output to better display this high-brightness format, the color breakup artifacts associated with sequential-color DLP projectors become exponentially easier to see. So if you're even the slightest bit sensitive to rainbows (most people are), going with a single-chip DLP projector that's as bright as the HC3800 is probably not the best idea. Choosing a projector that uses a 3-chip light engine is a much safer choice in this regard.
Another huge advantage of this projector is its color performance, especially in comparison to many of the brighter single-chip DLP projector options in this price class. In order for brighter DLP projectors to put out a competitive level of light, they often sacrifice color saturation performance to get there, with many not even able to fully cover the REC709 color gamut (1080p Blu-ray color reproduction), let alone color saturation past this to better handle the deeper gamut encoded into most of the 4K HDR10 video content available today. The HC3800 has a picture mode that allows for both high brightness and relatively strong color saturation performance that's important to more faithfully render Hollywood films and shows.
The HC3800 also has a significant edge in on/off contrast performance. Most Hollywood films and shows these days are fairly dark overall, so choosing a projector with an inherent strength in contrast performance should be near the top of your list of things to consider when shopping for a home theater projector, especially if movies dominate your viewing habits. Unfortunately for DLP, the technology has actually gone backwards in potential contrast performance over the last ten years, with Texas Instruments now focusing more on how much resolution hits your screen over some of these other, more important, aspects of image quality.
Setting Up the Epson HC3800
The HC3800 is a relatively small and light projector, which made installation and setup quite easy compared to most of the other home theater projectors that have come through here recently. I chose to shelf-mount the projector in the back of my theater, but the HC3800 can just as easily accommodate a ceiling mount installation. For those shelf mounting, Epson includes a pair of adjustable feet to help achieve proper image geometry on screen.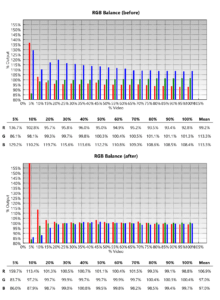 Unlike most projectors at or around its price, the HC3800 offers a wide throw range of 1.32 to 2.15 and a generous amount of lens shift, specified as ±60 percent vertical and ±24 percent horizontal. This gives you a ton of flexibility as to where the projector can be placed in relation to the screen. For trickier setup scenarios, the projector includes keystone correction software that allows for ±30 degrees in both vertical and horizontal planes. If you can avoid it, though, I highly suggest setting the projector up in a location that does not require the use of this software, as keystone correction reduces image resolution and apparent sharpness.
All lens controls are manual, as one would expect from a projector at this price. But other than dialing in the focus adjustment, this doesn't really pose any major issues during the setup process. With that said, I'd recommend taking your time dialing in the focus on this particular projector. On my review sample, I found the focus sweet-spot to be quite small. Like a fussy shower faucet, dialing it even just a hair off of that spot resulted in obviously soft focus (though, thankfully, I was never frozen or scalded in my experimentation)
Lens quality is decent for a projector at this price, with no obvious signs of onscreen chromatic aberrations. Panel convergence was also spot on with my review sample. Should your HC3800 need some help in this area, you can take advantage of the convergence correction software found in the menu.
For connections, the HC3800 comes equipped with the aforementioned pair of HDMI 2.0 ports, but also a pair of USB ports to power connected devices, a 3.5mm analog audio output to feed external speakers, a single 12-volt trigger port, an RS-232 port for system control, and a Kensington lock for installations where extra security is needed.
While the HC3800 supports 3D, be aware that the projector doesn't have a 3-pin DIN port to allow use of 3rd party emitters and glasses. Instead, the 3D emitter is built into the projector, with Epson specifying the company's V12H548006 3D glasses as the only ones compatible with the projector. Glasses aren't included in the box, so you may want to order some with the projector if you plan on watching 3D.
If you've used an Epson home theater projector in the past decade or so, you should feel right at home inside the menu system of the HC3800. You'll will find four preset picture modes to choose from, although if you care about image accuracy, you'll want to select Cinema mode. It's the only picture mode that fully covers the REC709 color gamut (and then some). However, this mode offers the least amount of light output. So if you're installing the projector in a setting where you need to fight some ambient light, like in a living room or office, you may want to consider using Natural mode instead. It won't offer reference image performance, but it's still reasonably accurate and provides an additional 25 percent in light output over Cinema mode.
The picture controls and optional video processing features on the HC3800 are essentially identical to Epson's more expensive home theater models. If you're the kind of person who likes to dial in the image or have a full calibration done, the projector offers extensive white balance, gamma, and color control options that make achieving a reference image easy. In fact, for its price, the amount of control you have over the image is class-leading. In particular, the gamma control options are better than some of projectors costing tens of thousands of dollars more.
Other useful settings in the menu system include three separate lamp modes to dial in your desired image brightness, two contrast-boosting dynamic iris modes, manual color space and dynamic range controls, dedicated scaling modes for use with an anamorphic lens, IP system control options via WiFi, 12-volt trigger modes, and settings to enable the projector's smooth motion frame interpolation software. The latter is only available when a 1080p resolution image (or lower) is sent to the projector, though.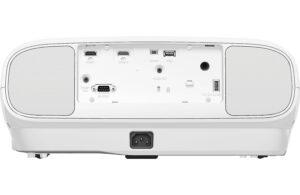 Just like the 5050UB I reviewed last year, the HC3800 also includes a suite of image enhancing software options meant to complement its 4K PRO-UHD technology. Most of these settings are designed to remove artifacts or help extract more detail out of the high-resolution video being sent to the projector. Epson includes five preset modes with increasing strength that can be further customized and saved to memory. I'd advise going light on these settings, though. When set too high, they often have a net-negative impact on image quality, resulting in a hard, overly processed picture.
How Does the Epson Home Cinema 3800 Look?
For all of the reasons detailed above, I selected the Cinema picture mode as a starting point for calibration. Prior to calibration, the projector's white balance had too much blue. Using the projector's 2-point white balance controls fixed the excess in blue, with delta errors averaging 2.9 after calibration, which is just below the detectable threshold for visible errors.
For color performance, I measured Cinema mode to cover 114 percent of the REC709 color gamut. This can be toned down if you find colors a bit too saturated. There was a bit of shift with shades of orange that I wasn't able to calibrate out, as you can see in this color checker test found within Chromapure. Despite this, delta errors still averaged 2.7 after calibration, with the projector nailing most of the other color points.
For light output, Cinema mode offered a maximum of 1,615 lumens in High lamp mode, 1,422 lumens in Medium, and 1,196 lumens in Eco after calibration. For any reasonably sized projection screen in a light controlled environment, Eco mode should offer enough light to fill a screen for SDR video content. The added benefit of using Eco mode is that fan noise from the projector is drastically reduced to a near-whisper level. Most similarly priced projectors I've tested recently are considerably louder when calibrated to output this much light. So, if your seats are close to where your projector is placed inside your room and you're looking for a really quiet projector, the HC3800 is a great option based solely on this aspect.
For HDR10 video content, the HC3800 offers a REC2020 compatibility mode where the projector's color performance past REC709 can be used to good effect. I measured it to cover 84 percent of the DCI-P3 color gamut within the REC2020 triangle. It doesn't quite reach full DCI-P3 color performance like some DLP projectors near its price, but the color performance is still more than acceptable.
Contrast performance from the HC3800 is class-leading. After calibration, I measured a maximum native on/off contrast ratio of 2,004:1. If you choose to enable the projector's dynamic iris, it substantially boosts on/off contrast performance. You can choose between Fast and Normal modes, each of which alters how quickly the iris moves when it detects a change in the average picture level of the video. Both modes increased contrast performance the same, to 31,259:1. If this sounds too good to be true, you're absolutely right. This high level of contrast is only achievable when the projector detects an all-black image. After I introduced a single, non-black pixel into the image, the amount of dynamic contrast dropped down to about 6,000:1, which is the peak amount of contrast you can expect when actual picture information is on screen. Despite the drop, this is still very good performance for a projector at this price.
For gamers, the HC3800 offers owners a low-lag video processing mode to cut down on the time it takes the projector to process and display an image. With my Leo-Bodnar input lag tester, I measured just under 21 milliseconds of input lag. This is a better-than-average measurement relative to other home theater projectors on the market, making the HC3800 a great choice for non-competitive gamers. Just be aware that certain video processing options within the menu system are unavailable when using this mode, as outlined in the user manual.
Testing the Epson Home Cinema 3800 with My Favorite Demo Material
So, what do all these numbers mean in terms of picture quality with actual video content? In most of my recent projector reviews, I've been using the first twenty minutes or so of Frozen II on Ultra HD Blu-ray for initial subjective impressions. The beginning of this movie has pretty much everything needed to test out a display's performance. Scenes transition between extreme darkness and startling brightness several times. There are also plenty of shots with a kt of fine detail, fast camera movement, long sweeping pans, and vibrant colors that are meant to pop. To display this type of content convincingly, the projected image needs to have solid contrast performance, a decent level of image brightness, and provide deep, saturated colors. And, as we already know, the HC3800 excels in all three of these areas.
Despite this, I was still a little worried about some of the darker scenes, especially coming from my (much pricier) reference JVC DLA-NX9, with its far more impressive contrast performance. But those worries were soon put to rest. Even in the really dark sequences, like you see as King Agnarr begins to recount his tale, the HC3800 held its own. Coming from my JVC projector, yes, I could tell the level of black was raised in some of these darker scenes, but not in the obnoxious way you see with many projectors near this price. I found it took some fairly challenging video content to make the difference in contrast performance obvious. You'd be hard pressed to find another projector close to the HC3800's price point with more apparent dynamic range in the image.
Motion and color performance also looked excellent. After the title sequence, there's a long panning shot over water that ends on a close up of Elsa staring out from a balcony. The pan was smooth, with excellent motion resolution. Skin tones on Elsa's face looked convincing as well, while the red and green accent colors painted on the balcony looked satisfyingly saturated.
When the movie transitions to one of its brighter sequences, like where we meet up with Olaf and Anna, subjective performance moves from good to great. The image in this sequence has excellent apparent dynamic range and looks positively three-dimensional. This is one of those image-quality traits you get when you have strong brightness and contrast performance at the same time.
In particular, ANSI contrast performance is important for brighter video content like this. I didn't get a chance to measure for this, unfortunately, but when I pulled up the test pattern, it was obvious that this projector excels in this area as well. This is a performance trait normally reserved for DLP projectors. Because of this, the image had an impressive looking-through-the-window quality that's very rare for a projector at this price. As an example of what I mean, as Olaf turns his head to talk to Anna, you're almost tricked into thinking his carrot nose protrudes from the screen into your room. Some shots also felt as if I was literally peering into the scene on screen. With imagery this three-dimensional, who needs 3D glasses?
Frozen II was not the exception to the rule. I had similar experiences watching titles like Star Wars: Episode IX, Midsommar, and Mortal Engines on Ultra HD Blu-ray. All looked remarkably good for a projector anywhere near this price.
The Downside
With all that said, there is a bit of a caveat to all of this. I suspect many of you plan on watching a lot of HDR10 video material through the HC3800. To get the most from the projector, I'd actually advise you to steer clear of the built-in HDR static tonemapping solution. Very few home theater projectors offer excellent tonemapping performance, and the ones that do are considerably more expensive. For those unfamiliar, tonemapping is how a display reduces the huge amount of dynamic range encoded into the HDR video to a range that relatively low-brightness displays (like home theater projectors) can actually display on screen. Having a solid tonemapping solution is pivotal if you want to achieve good HDR image quality through a projector.
What I'd recommend instead would be to use Panasonic's $249 DP-UB420 Ultra HD Blu-ray player. It has the same excellent HDR Optimizer smart tonemapping solution found on the flagship UB9000 (reviewed here). Epson's tonemapping isn't bad at all for a projector at this price, but Panasonic's tonemapping looks much better overall. The image is brighter, colors pop more, and there's more apparent dynamic range. Consider this a must-have purchase if you plan on watching a lot of Ultra HD Blu-ray content through the HC3800. Play around with some of the tonemap settings on the player until you find a combination that looks best to you.
For a brief period of time, I also tested out the 10-watt stereo speakers built into the projector. As you can imagine, sound quality is lacking. To be fair, these speakers weren't designed to replace a set of full-range speakers, so keep your expectations in check. Dialogue, however, was nice and clear and they can get pretty loud without obvious signs of distortion. Predictably, though, bass performance was lacking. With that said, I'm sure many will find the speakers handy in a pinch for an impromptu outdoor movie night or something similar.
A more significant caveat is that Epson needs to work on the programming for their dynamic iris. Even with Fast mode selected, I don't think it reacts quickly or smoothly enough when needed. This is especially evident when there are quick fades to black. The iris simply takes too long to close down and, as such, you can see a bit of pumping when it closes down and again when it opens back up as picture information returns. Thankfully, the iris isn't programmed too aggressively when normal picture information is on screen, so it doesn't intrude in on the experience of watching a movie very often, at least not to the degree I've seen from many of the DLP projectors at this level. Though, to be fair, those need more aggressive dynamic contrast solutions to help with their limited native contrast. Either way, the iris can be a bit clunky in its operation and I'd like to see Epson program it to work a bit smarter, if possible.
The only other thing I wish the projector included is a color filter to boost color saturation. I'd like to see at least full coverage of the DCI-P3 color gamut. Most Hollywood films in HDR10 are color graded to offer deeper shades of color that reach out to DCI-P3 saturation within the REC2020 gamut the content is mastered for.
How Does the Epson Home Cinema 3800 Compare with the Competition?
If you're looking to stick to 3LCD, I'd take a look at Epson's very own Home Cinema 3200. This is considered the step-down model to the HC3800 and shares the vast majority of hardware and software employs in the HC3800. The main differences between the two are in contrast and light output. The HC3200 is rated for half as much contrast and a little less light output. This may remove the strong contrast advantage the HC3800 offers over most of the DLP projectors near its price, but if you're planning on using a projector in an environment without adequate light control, you might not benefit from the extra contrast the HC3800 offers anyways, so the HC3200 may be the more logical choice. If you're viewing in a more light-controlled environment, I'd say the increase in contrast offered is well worth the extra money if you can afford it.
If you're also considering a single-chip DLP projector, I'd look into the Optoma UHD60. Yes, I know it's three years old, but this model is still selling quite well and for good reason. At its $1,799 asking price, it's one of only a few DLP options that seriously competes with the HC3800 in overall image quality and features. The fact is, most of the newer DLP projectors using the .45-inch XPR DMD are severely limited in contrast performance, which I think is extremely important for any projector claiming to be designed for home theater use. With the UHD60's larger .67-inch DMD and its more optimized light engine, it's going to offer owners a lot more native and dynamic contrast compared to most of the newer DLP competition.
Final Thoughts
I think it's pretty obvious that Epson's Home Cinema 3800 impressed me. In particular, the balance this projector strikes between contrast, light output, on-screen resolution, and color performance give it a substantial leg up on most of its competitors. I'm actually a little jealous of the people looking to get into the home theater hobby this year. It's the kind of projector I wish were available 15 years ago when I first got into this hobby. If the HC3800 fits into your budget, place it on your short list of projectors to consider. I think you'll be impressed with what you see.