I've been excited to test out the Epson LS500 ultra-short throw (UST) Projection TV since I first laid eyes on it back at CEDIA 2019. Then, the unit was still technically a prototype. But even still, it did what most other projectors on the bright show floor could not – look extremely bright, color-rich, and have a good sense of dynamic range and contrast to the image. This is the type of performance any projector claiming to be a TV replacement needs to have, especially in a world where OLED is quickly becoming ubiquitous.
After speaking with the Epson at its booth, they told me that part of the magic I was witnessing was due to the SilverFlex Ultra ambient-light rejecting (ALR) screen - designed specifically for this projector. It significantly enhances image quality in any environment with ambient light. Epson's SilverFlex Ultra screen is an optional accessory, available in either a 100 or 120-inch version that you can bundle with your purchase. I highly suggest you do so if you're looking to get the best performance from this projector.
Epson sent over the 100-inch version of the screen for this review, making the total in-home cost $4,999. If you opt for the 120-inch version, the MSRP jumps to $5,999.
Specs and Setup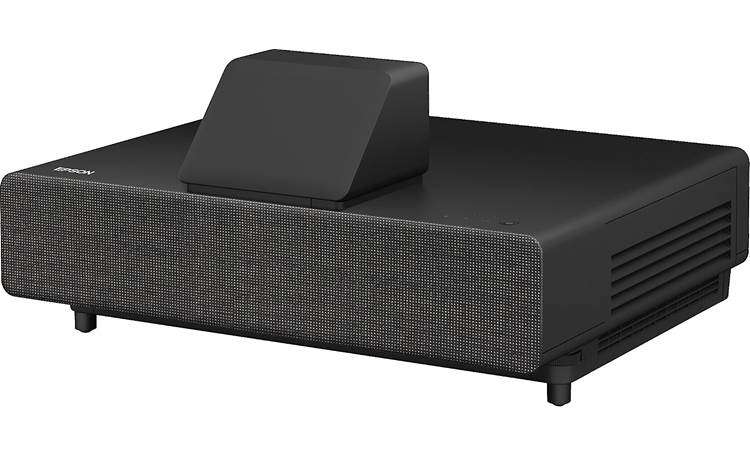 At its heart, the LS500 is a 3LCD-based projector featuring the company's 1080p-native LCD panels. 4K support is possible thanks to the inclusion of Epson's proprietary 4K PRO-UHD optical pixel-shifting system that boosts on-screen resolution to near-4K.
Overall, Epson's pixel-shifting system does an excellent job at providing a high-resolution image on-screen that genuinely approaches the subjective image resolution most other native 4K projectors provide. It takes a well-trained eye to spot the difference. Like previous Epson models I've tested, I still think pixel-shifting is a great stop-gap technology until Epson can find ways to bring native 4K resolution down to a more affordable price point.
The LS500 uses a 20,000-hour rated blue laser-pumped phosphor wheel for illumination, which Epson claims can output up to 4,000 lumens of light. It can achieve a 2,000,000:1 on/off contrast ratio with a laser-dimming dynamic contrast system. The maximum color saturation performance is only specified to reach out to REC709, which isn't quite up to the standards some other UST DLP options near this price point achieve. But this level of color reproduction is still enough to provide you with a high-quality, color-rich image.
Assembly
The projector is available in either a matte black or white finish option, helping the LS500 fit into a broader range of installation scenarios. Physically, as far as UST projectors go, the LS500 isn't very large. Dimensions come in at 18" by 9" by 14.7", with a weight of just 20.9 pounds. I had no issues unboxing and setting up the projector on my own. The same went for the screen. Following the simple instructions for assembly found on Epson's YouTube channel, I had the screen assembled and mounted in about an hour and a half.
The projector's throw ratio is a bit farther than some of the UST competition out there. You'll need at least 17 or 32-inches of distance from the 100 or 120-inch screen options, respectively, to fill it with an image. The projector has four adjustable feet on the bottom that you can use to help level the image and get the correct geometry on-screen.
On the Front
You will find a removable cloth grille cover hiding the pair of 10-watt speakers built into the projector. However, Epson expects you to pair this projector with external speakers. The 10-watt speakers work fine in a pinch, but don't expect impressive sound quality from them. You'll also find a recessed cubby in the front, where you can install the included AndroidTV streaming stick, the focus adjustment knob, and a set of physical buttons to control the projector if you lose your remote control.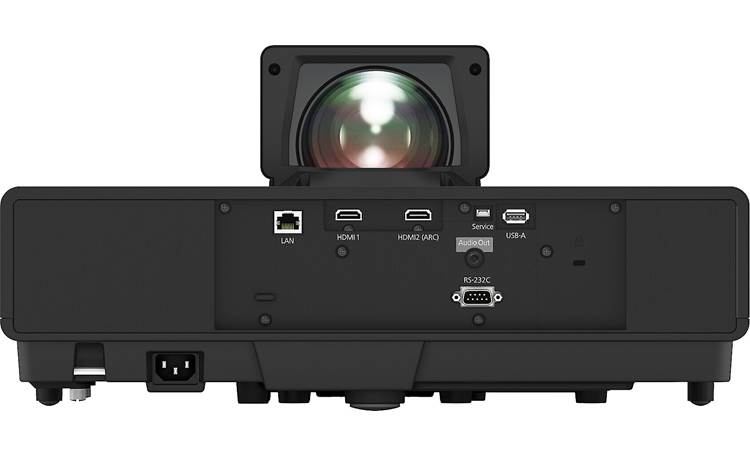 Connections
The LS500 has the following connections:
Three full-bandwidth HDMI 2.0 ports (one is ARC compliant)
A 3.5-millimeter audio output
An RJ-45 Ethernet port for IP control
An RS-232C port for system control
Two USB Type-A ports (one is power only, and the other is for an optional wireless LAN dongle)
A USB Mini Type-B port for service and firmware updates.
AndroidTV
Seeing that the LS500 is designed to replace a TV in a living room, Epson integrated an AndroidTV operating system with the projector. This functionality means you'll have access to the entire Google Play Store, with options to install streaming apps such as Netflix, HBO, Showtime, YouTube, Hulu, and ESPN, among others. You'll also find various smart-home features commonly integrated into Google-branded hardware, such as Chromecast and the remote-controlled, voice-activated Google Assistant to search and control the projector. Alternatively, you can use your smartphone to replace the remote by casting content from it to the projector.
Overall, the user interface is good-looking, snappy, and worth using if you don't already have a source component in mind for streaming. I'm pleased to see that Epson went with AndroidTV instead of using in-house software because Google has done an amazing job refining the streaming user interface experience.
Under the Hood
You'll find Epson's tried and true, real-time 12-bit analog-to-digital video processing engine. This engine allows for a full-color management system, extensive white balance and gamma controls, support for current HDR10 and HLG HDR formats, as well as continued support for all major 3D formats. An RF 3D emitter is built into the projector, but glasses aren't included in the box, so be sure to order some if you plan to watch 3D video when you purchase the projector.
Performance
Image Quality
My time spent with Epson's LS500 felt like déjà vu. The fond memories of image performance I witnessed at CEDIA on the show floor were still present on the production unit sent to me for review. Even with the overhead fluorescent lights in my basement media room, the projected image always felt bright, punchy, and color accurate, no matter if the content was sourced from streaming or Blu-ray. If we take a look at the measured performance, it's easy to see why this is.
Even after calibration, the LS500 offers class-leading image brightness. I measured just under 2,400 lumens in Cinema mode and just over that amount in Bright Cinema mode with the laser light source set to maximum output. I suspect these will be the picture modes the vast majority of owners will opt to use, as they both offer good out-of-the-box image accuracy. If you're after perfection, you can opt to use the built-in white balance, gamma, and color management controls to gain a reference viewing experience as I did.
If you're still struggling with image brightness, maybe because you're using your own, larger ALR screen, check out the LS500's Dynamic picture mode. I measured my test unit to exceed Epson's 4,000-lumen rating by about 200 lumens. Just know that the white balance and color accuracy in this mode does take a hit, where you might notice things like skin tones not looking quite as natural as you'll find in the other modes. So if you value an image that closely resembles what Hollywood directors want you to see, you'll want to stick with either the Cinema or Bright Cinema picture modes.
Contrast
The measured on/off contrast performance wasn't quite up to Epson's high standards with its similarly priced 5050UB that I recently reviewed. Epson has placed image brightness as a top priority instead of contrast performance, which is the right move considering this projector was designed for living room installs. The projector and screen will need to fight with ambient light. The best native on/off contrast measurement I obtained was 525:1, which really isn't all that impressive. However, Epson gives you the option to enable a dynamic contrast system, which boosts the dynamic on/off contrast ratio to 3,550:1. This feature dramatically helped deepen the level of black in the image and gave the impression that it had a lot more dynamic range.
These numbers don't tell the whole story. When you factor in the high brightness, this projector is capable of and the fact that this level of contrast is obtainable with the lights on in your room, I was continually impressed with the sheer amount of subjective dynamic range present in the image.
Viewing Performance - The Revenant
When playing back a few tough, high-contrast scenes from The Revenant on Ultra HD Blu-ray, the LS500 didn't disappoint. When Leonardo DiCaprio's character is saved by a traveling Native American, he warms himself up by a giant bonfire at night. The flames looked intensely bright against the black of night, with the LS500 showing excellent shadow detail in the mid-ground of the shot where the actors are lying. This gave the image a true HDR appearance, something I've seen very few UST projectors achieve with this scene.
Getting this level of image quality with HDR video content does take some playing around with the menu settings, though. Epson simplifies this process by offering owners an HDR Brightness slider tool, and extensive gamma controls to fine-tune the image. You can control how bright HDR video looks or target specific regions of the image if you feel it appears too dark or too bright. I suggest playing around with these settings until you strike a nice balance of brightness and contrast within the image.
Gaming Performance - Super Smash Bros
As impressive as the LS500 is with bright-room movie and TV-show viewing, it's equally as special to game on. With my Leo-Bodnar input lag tester, I measured just 21 milliseconds of input lag in this projector's Game mode - a class-leading performance among UST projectors.
While I had the product, I had some friends over for a Super Smash Bros battle - the ultimate gaming tournament. We all agreed that the low input lag performance and being able to sit just a few feet away from the massive 100-inch screen made it so much easier to play this game competitively - especially compared to most flat-panel TVs that look tiny by comparison. I think those looking for a projector to play competitive online games will find that the LS500 is more than capable of delivering a great experience.
What's the Downside of the Epson LS500?
While bright-room viewing through the LS500 offers class-leading image quality, dark-room isn't quite as impressive as some of its competition. As I mentioned before, Epson has emphasized image brightness over contrast performance, which bodes well for viewing in a bright environment. But with the lights off, all that brightness isn't needed, and the limitation with this projector's contrast and black level can be seen relative to a few other UST projector options near this price point. If you're viewing with the lights off, you may notice that the level of black with high-contrast video material appears to be more reminiscent of a shade of grey rather than black. So if you intend to use this projector with the lights off, you may want to look elsewhere.
You'll also want to make sure the LS500's throw ratio works with your setup, as it needs a little more room to throw its image on screen than some of the competition out there. If you opt for the 120-inch screen, you'll need at least 32-inches of space between the screen and projector to fill the entire screen with an image. If you're using your own, even larger ALR projection screen, that distance becomes greater. You'll need a fairly deep entertainment stand or build something to mount the projector as you go up in screen size, which for some, might make this projector impossible to use.
How Does the Epson LS500 Compare to the Competition?
Near the LS500's price point, Optoma's CinemaX P2 UST projector comes to mind. The P2 is currently priced at $2,999, but it doesn't come bundled with a screen. So once you factor in that additional cost, both of these projectors are similar in price.
The P2 is based around a single-chip DLP light engine versus the LS500's 3LCD. Most users will notice the DLP image suffers from rainbow effect and reduced color brightness, but has better native motion handling, less added blur to the moving image, and slightly higher image sharpness and apparent resolution. While both projectors feature a long-lasting laser light source, the one found in the LS500 puts out a lot more light, making it a far better option if you plan to use it in a bright viewing environment.
The difference in gaming performance between these two projectors is worth considering, too. The P2's much higher 66 milliseconds of input lag makes it difficult to recommend this projector to serious gamers.
Final Thoughts
The Epson LS500 is a well-engineered product that ultimately delivers on the performance that's promised. When paired with Epson's SilverFlex Ultra UST screen, the LS500 throws a surprisingly bright image, even in a well-lit room, with excellent subjective contrast, shadow detail, color performance, and image resolution.
When you factor in its other strengths, like video processing, a well-implemented AndroidTV operating system, and input lag performance necessary for competitive gaming, Epson has created an exceptionally well-rounded product that I think will appeal to a broad audience.