By Dylan Seeger
Editor's Note: as of 9/19, this projector is still not available to directly order.
We've seen the product pages come online for both. We will update this list when we see more.
Epson's new Pro Cinema LS12000 is one of the most exciting home theater projectors to come from the company in years. Viewed by many in the industry as the true successor to the value-packed 5050UB we reviewed a few years ago, the LS12000 shares a few key elements with the 5050UB while gaining several upgrades and additional software features that help justify a new, higher $4,999 suggested retail price.
---
What's New with the LS12000
The biggest of the upgrades is a newly designed laser-array 3LCD light engine. It replaces the older bulb-based one from UB-series projectors. On top of lasting far longer than a bulb—the laser is specified for at least 20,000 hours—Epson says this new laser/phosphor light source helps the LS12000 achieve greater light output (up to 2,700 lumens).

Upgraders also enjoy higher on/off contrast performance (up to 2,500,000:1), better color fidelity, and a projector that should require fewer calibrations over its lifetime (to maintain an accurate image), all thanks to this far more stable type of light source.
The LS12000 is using the same 0.74-inch native 1080p 3LCD panels as with previous-generation models. However, Epson has improved the on-screen resolution with a newly designed, 4-axis pixel-shifting technique. It helps quadruple the native 1080p resolution all the way up to 4K on-screen pixels.

By combining this pixel-shifting technique with this projector's newly designed—and less audible 'coil' optical actuator—which Epson uses to optically shift the image ever so slightly in four directions per video frame, the company says the LS12000 more accurately maps and displays native 4K imagery on-screen than ever before.
Epson has a new, 12-bit "ZX" picture processing solution for the LS12000. It helps the projector better adapt source material to display with this more accurate, higher resolution pixel-shifted 4K image. Combined with an HDMI 2.1 capable input board, this new video processor handles complex tasks and adds features like smooth-motion creative frame interpolation at 4K resolution, and support for up to 4K120p input and display. That's all with low input lag, better upscaling and image refinement options, as well as better HDR image handling! This projector supports HDR10+ and has Epson's new Scene Adaptive Gamma video processing.
Scene Adaptive Gamma was purposefully designed to help compliment the LS12000's handling of both SDR and HDR video sources. It works similar to Sony's Dynamic HDR Enhancer by digitally enhancing contrast on a frame-by-frame basis, in an effort to give the image more depth and appear higher in contrast.
Overall, I'm happy to see the upgrades Epson has implemented this generation. The laser light source and HDMI 2.1 functionality, specifically, make the LS12000 a far more future-proof purchase and add a lot of value at its $4,999 asking price. Keep all this in mind when shopping around for your new projector: You'll find that there still aren't many options at the moment, at any price point, that offers both of these features.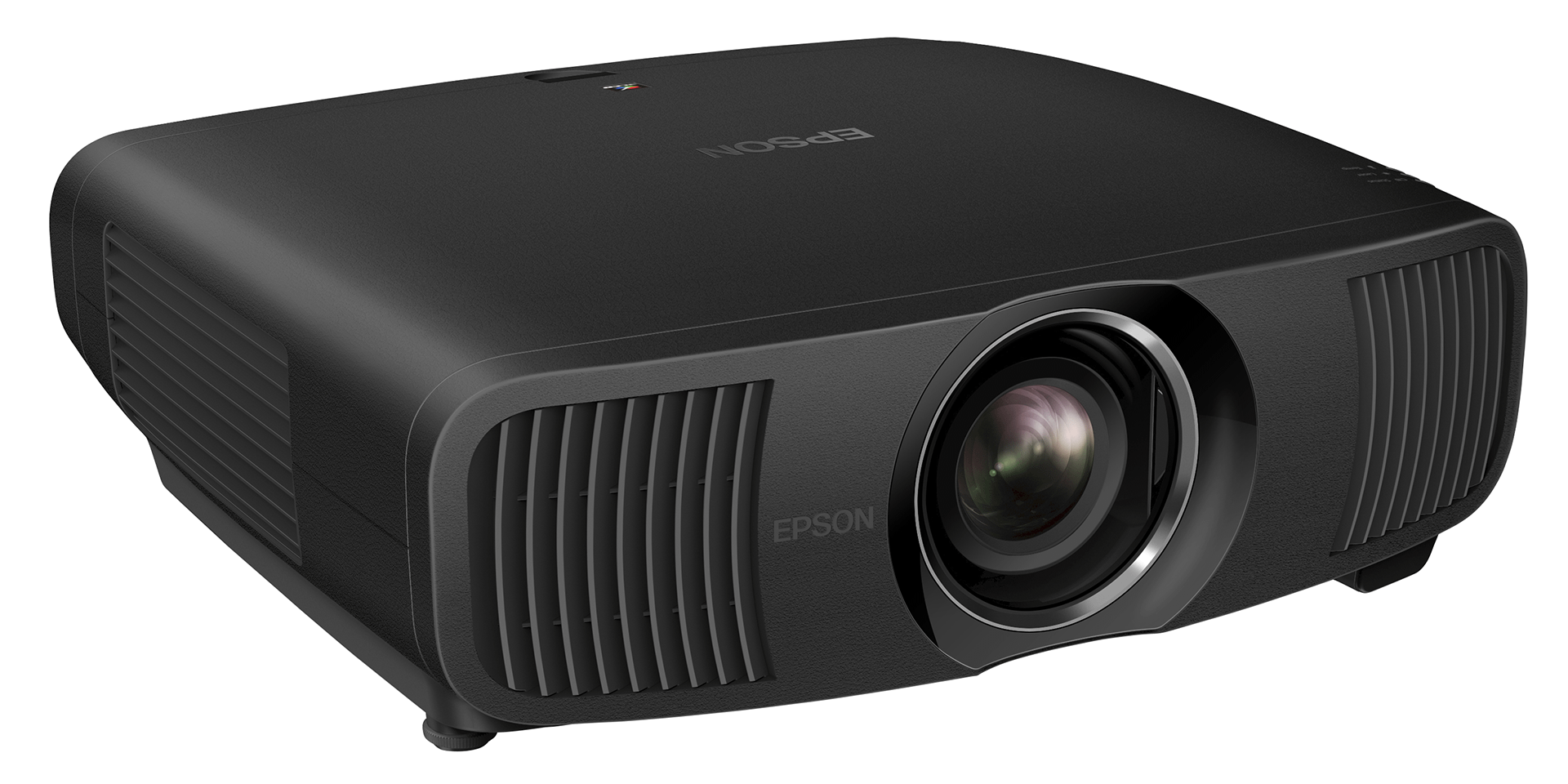 ---
Setup & Features
One of the first things I noticed after unboxing the LS12000 was how the chassis seems to follow the same design aesthetic as the company's older 5050UB. The main differentiator? A different, textured matte black finish. The projector is fairly large overall and seems to use quality materials throughout.

Despite its size, I was happy to see that Epson kept the weight down to a manageable 28 pounds. I had no issues with a solo projector setup, unlike some other far heavier models that have come through here recently.
Another similarity to the 5050UB? The LS12000's lens. Epson has carried over the same high-performance, fully motorized all-glass lens—which is great. It has a wide 1.35 to 2.84 to 1 throw ratio and allows for an impressive amount of lens shift. Epson specified it as +/-47 percent horizontal and +/-96 percent vertical.

This lens grants the LS12000 a lot of flexibility for installation—the physical position in relation to screens of various sizes—with enough adjustment range to completely fill the screen with an image.
Better yet, the lens is fully motorized, making the initial setup process quick and painless. Standing up at my screen, it took me all of two minutes to dial in image size, position, and focus—something that takes longer with most projectors using manual lens controls. I was also happy to see excellent convergence on my review sample, as well as impressive focusing abilities with pixels being cleanly delineated across the entire image.

All-in-all, this lens is one of this projector's biggest strengths, delivering class-leading image clarity, sharpness, and setup capabilities.

For connections, owners will find a pair of HDMI 2.1 (HDCP 2.3 compliant) ports, with one supporting eARC functionality. The LS12000 sports a single 300mA USB Type-A port to use with optical HDMI cables, a 2.0A USB Type-A port for firmware updates or to power connected devices like streaming sticks, an RJ45 LAN port for IP functionality, an RS-232c port for system control, and a single 12-volt trigger port to enable things like motorized screens or anamorphic lenses.
The only connection that's notably missing, as compared to the 5050UB, is a 3D emitter sync port. Epson has decided to stop supporting 3D with this model, which I know will be somewhat of a letdown for those who still enjoy watching 3D Blu-rays.
Powering up the projector for the first time, I was impressed to see how quickly it put an image up on the screen, only 35 seconds. Thanks to the new laser light source, the image is at full brightness right away, with no more lengthy warmup periods bulb-based models need to reach their full light output.
Those familiar with Epson projectors will notice the LS12000 features a brand new menu system and layout structure, which is no doubt thanks to the new video processing solution. All submenus are now set up for vertical scrolling, instead of side-by-side horizontally. It is an ergonomic improvement, it makes the system feel like one continuous menu. You can now more quickly and efficiently find and adjust the options within.
Despite the new menu layout, almost all options found on older UB-series models have been carried over. You'll still find basic image adjustment options, as well as more advanced ones like parametric gamma control, a full-featured color management system, extensive white balance, manual color gamut selection, software convergence correction, and anamorphic stretch models useful for those planning on pairing the projector with an anamorphic lens.

There's also Fine and Fast image processing modes to switch between, with Fast offering lower input lag for those who plan on gaming with the projector.
The LS12000 has six image modes to choose from. Dynamic, Vivid, and Bright Cinema focus on maximizing light output, which might come in handy if you were planning on installing this projector in an environment where light control isn't possible.

The problem with many high-brightness modes is they are not very accurate in terms of white balance and color. This can sometimes make things like skin tones look cartoonish in appearance and should be avoided—especially if you were hoping to recreate an authentic movie-viewing experience, something that's close to how the filmmakers intended.
The remaining picture modes are far more accurate, they offer a far better choice for dedicated viewing environments with controlled lighting.

After comparing, I found that Natural mode offered the best out-of-the-box image accuracy, as well as the best balance in terms of light output and color saturation. It is the mode I used most during my time with the projector.
Dig through the menu system and you'll encounter a plethora of smart-sharpening options: Five preset modes to choose from. If you end up using them, I'd suggest keeping these settings set low, as the resolution and quality of the lens are already good enough on their own. This Epson gives an impressive sense of image sharpness and clarity on its own.

Set sharpening too high using these options and you risk giving the image an over-processed look. Based on subjective preference and observation, I chose to use Preset 2 with most of the videos I watched.
Within the menu, you'll find two laser dimming dynamic contrast modes to choose between, Normal and High Speed. While High-Speed mode does give you a darker level of black during a fade-to-black moment in a movie, I found it distracting and visible in its operation. Normal mode offers less contrast enhancement, but its operation is pretty much invisible and therefore is the mode I'd recommend people to use.
The LS12000 offers a good deal of flexibility in how it can display HDR (high dynamic range) video formats, thanks to a 16-point tonemap slider adjustment tool, also found in the menu system. Because Epson still uses a static tonemap approach to displaying HDR, you'll need to manually adjust this slider in order to optimize the image. With most of the HDR video content I watched, I found the best setting was usually somewhere between 5 and 11 to achieve subjectively pleasing results in my system.
Owners can also play around with the parametric gamma controls to fine-tune the HDR image appearance, and the adventurous might even enable the new Scene Adaptive Gamma software, which can give the image an even greater sense of contrast.

I chose to leave it set to 7 and found that SAG gave the image a pleasing uptick in apparent contrast—with most of the video content I threw at it. Set it any higher though, and the real-time adaptation of the image started causing noticeable jumps in brightness.
---
Performance
After powering up the LS12000 for the first time, I immediately noticed the impressive resolution and detail produced by the Epson LS12000. Compared to the 5050UB, it was easy to see a clear improvement in resolution, which I later confirmed to be a real step up in detail rendition, by using 4K single-pixel test patterns. It also does an outstanding job with small text from a PC.

Epson's new 4-way pixel-shifting technique (4K PRO-UHD) adds an overall sense of detail and refinement to its image missing from previous-generation models. The amount of detail now present in the image is right in line with what I'm seeing from Sony and JVC native 4K projectors. That's seriously impressive when you remember that the LS12000 is using 1080p-native LCD panels.
Still, I don't think this new pixel-shifting technique accounted for all of what I was seeing. Optics matter and some native 4K projectors do not achieve their full potential due to the quality of the lens.

The all-glass lens Epson pairs with this projector is excellent, it gives the image a level of clarity and sharpness across its whole image few projectors near this price point can match.

Those worried about the LS12000 not being native 4K shouldn't. The resolution and fine detail in the image are now so good, that I don't think people will be able to tell the difference.
What was also immediately apparent to me, was just how impressively bright the projector was. I measured Dynamic mode at 2,690 lumens, matching Epson's marketing claims. But, as I previously mentioned, I opted to use Natural mode for most of my viewing. It seemed to offer the best balance of light output and image accuracy right out of the box.

In Natural mode, with the light output at 100%, I was happy when I measured a maximum of 1,980 lumens—after calibration and with 85% DCI/P3 coverage. This is an extremely competitive amount of calibrated light output for a home theater projector at this price point!

With this much light, the LS12000 should be able to drive moderate to semi-large-sized projections with ease and still offer a good level of image brightness. Thanks to the laser light source, you can expect to keep this level of image brightness for many thousands of hours.

Cinema mode in its default settings offered the least amount of light output at 980 lumens but had better color gamut (saturation) performance than Natural mode. The catch is the projector runs the light source at 50% power. You can turn it up to 100% power and get 1860 lumens out of Cinema mode but at a cost to color gamut coverage. I measured 92 percent DCI/P3 coverage at 50% power and 87 percent at 100% power.
With the extra light output and accurate color, it's easy to see why Natural mode is the right choice for most people who plan on watching HDR. With Cinema mode in its default settings, you are sacrificing a lot of light output for what I felt were marginal gains in color performance, and making that mode brighter negated that gain in gamut. Subjectively, I thought Natural mode already offered an excellent sense of range to its color, so things like blue skies, green foliage, and animated titles are displayed in a satisfying way.
Having a good level of contrast is another—and extremely important—facet of a great-looking HDR image. It is something any projector claiming to be designed for home theater needs to do well.

After spending plenty of time with the LS12000, I can confidently say it qualifies as a proper high-contrast home theater projector. It offers a similar contrast performance to the 5050UB I previously reviewed. However, when you enable the new Scene Adaptive Gamma software, that helps give an even greater sense of depth to the image, making the LS12000 appear higher in contrast, versus its predecessor.
In terms of measured performance, I found the review unit achieved anywhere from about 4,000 to 6,000:1 native on/off contrast—depending on how the projector was set up with its laser light source and lens. At this price point, this is excellent performance, easily beating all of the DLP competition at or below it in price.

With the LS12000's laser dimming dynamic contrast system engaged (set to High Speed), I found the highest achievable dynamic contrast ratio to be a little over 32,000:1, which helped to noticeably deepen the level of black within most of the video content I watched.
Lately, I've been using the first few chapters of Denis Villeneuve's adaptation of Dune to test out the subjective dynamic range and contrast performance from projectors. This film has it all: Brightly lit shots of the sand world Arrakis, naturally-lit indoor rooms and corridors, as well as extremely dark shots of space.

Overall, I was happy with how the LS12000 handled these first few scenes. It was only with some of the toughest shots, like when we first meet the main character Paul, who's awoken in his pitch-black bedroom before dawn, where I could notice that the level of black should probably appear a little darker, with it looking more like a dark shade of gray instead.
But outside of difficult shots like these, I found the LS12000's image always had an impressive sense of contrast and dynamic range, easily competing with some far more expensive Sony and JVC projectors I've recently reviewed. With that said, these step-up models do provide a noticeably more satisfying level of black with dark movie scenes. Keep that in mind if black level and contrast performance is high up on your list of things wanted in a projector and you can stretch your budget a little further.
---
As a Gaming Projector
Gaming on the LS12000 is fantastic, especially if you have access to a newer console or a PC that supports HDMI 2.1 with its 120hz output. I played with my custom-built PC—featuring a Gigabyte RTX 3070Ti—to get 4K/120p output and was really impressed with what I saw. Input lag in this mode is just under 20 milliseconds, which is class-leading performance, and the native motion handling of Epson's 3LCD panels is excellent.
Compared to gaming on the JVC DLA-NZ9 I recently reviewed, with the same type of signal being sent, it was clear to see that the LS12000's moving image had less blur in it, making it easier to make things out while the image was in motion. This gave me a better advantage in fast-paced first-person shooter games, like Call of Duty: Vanguard, where I found it even easier to aim and hit targets, and avoid enemy fire at a better rate. I think those eyeing the LS12000 as a gaming projector will really enjoy the experience.

I really like the image that comes out of the LS12000's lens! What's nice is that you don't have to choose between prioritizing light output or contrast performance, as you do with pretty much all of the DLP competition at or below the LS12000's price. This Epson offers both at the same time, while still being able to provide decent color as well. Having all three of these qualities at once goes a long way to ensure that HDR video looks impressive.

HDR performance is an area where I feel most lower-cost projectors struggle, due to a lack of performance in one or more of the aforementioned areas. So if you plan on watching a lot of HDR, I think the LS12000 is a great choice and people are going to really like what they see.
---
The Downside
Candidly speaking, I was expecting to see better on/off contrast performance from the LS12000. Especially considering that the older, more affordable 5050UB can output nearly the same amount of light, and offers approximately the same level of contrast.

Entry-level Sony and JVC models retail for not too much higher—relatively speaking—and offer much higher native and dynamic on/off contrast ratios. This goes a long way in making dark movie scenes look more convincing, because of better shadow detail and a deeper level of black that this higher level of contrast provides. So again, keep this in mind if you plan on watching a lot of Hollywood-style movies and TV shows, as they tend to be very dark overall.
I'd like to see Epson implement a better laser dimming dynamic contrast mode that could further enhance the depth of black levels. While I do recommend that people use Normal mode, it doesn't offer a lot of contrast enhancement most of the time, which means that you're going to notice that black does not look black with darker movie content, as I noted earlier.

JVC has a pretty seamless dynamic contrast system on its entry-level model, a function that most viewers will be okay with leaving on at all times, and it greatly enhances the subjective dynamic range of the image. So again, it would be nice to see Epson counter with something similar. I think such a feature would help all but solidify the LS12000's value proposition at $4,999.
More candor… I'm also not a fan of how this projector handles HDR10+. Thankfully, this kind of HDR video is not widely available, so for most people, it won't be an issue (unless this HDR format becomes more popular).

Part of what's so enticing about HDR10+ is that it's essentially the same thing as Dolby Vision, which means that it can help dynamically adapt the image on a scene-by-scene basis, to better display this high brightness video format on low-brightness displays, like projectors, and still achieve subjectively pleasing results.

The issue with the LS12000's implementation is that the projector does not know how bright the image is on the screen. Without this information, you can't effectively tonemap the image, which is one of the reasons why Epson is still making owners manually adjust the tonemap slider with HDR10+ content in the menu system to get the best results.
The solution, in my opinion, is something similar to JVC's Theater Optimizer submenu, where you can tell the projector about the screen you're using so it can estimate image brightness. With that info, any projector can more effectively tonemap both HDR10 and HDR10+ video. But without this information, you can't get that seamless Dolby Vision-like experience, which is what I think a lot of people assume they're getting with HDR10+ through this projector.

Don't get me wrong, the image can still look great, but just be aware you're still going to need to play around with some settings on occasion to get there.
---
Comparisons and Competition
At or below the LS12000's $4,999 price point, I don't think there's much competition in terms of image quality and features, which I think goes to show you how much of a value the LS12000 is at its asking price. You have to look at projectors costing more before you start seeing truly competitive image quality and features.

If your budget can accommodate up to the LS12000 in price, it should be high up on your list of projectors to consider.

If your budget stretches further, you will want to also take a look at Sony's VPL-VW325ES and JVC's DLA-NP5. Priced at $5,499 and $6,999 respectively, these native 4K projectors offer similar performance in many areas including lens quality, calibrated light output, and color performance.

These competitors will offer a more satisfying level of black. In a dedicated home theater where you have total control over ambient light, that's important if your goal is to get Hollywood-style movies and cinematically shot TV shows looking their best in every scene.
The NP5 offers a far more advanced HDR video processing solution. It not only gives more pleasing results overall, but it's also essentially a set-it-and-forget-it solution, one that takes all of the guesswork out of getting a great-looking image. With the LS12000 by comparison, you still need to manually adjust settings in order to get the best-looking image possible. So keep that in mind if HDR video dominates your viewing habits.
With that said, both entry-level Sony and JVC models are bulb-based, versus the laser-based light engine found in the LS12000. They also do not achieve as high peak brightness, with the JVC rated at 1900 ANSI lumens and the Sony specified at 1500 ANSI lumens. That means a calibrated LS12000 is brighter than either the Sony or the JVC at their brightest.
Clearly, there are a lot of factors that come into play in deciding on a projector. Your job is to figure out which features and performance areas matter the most—to you—when making your final decision.
---
Conclusion
Epson's Cinema Pro LS12000 receives a number of important upgrades and improvements over the older UB-series models. Upgraded video processing, laser-based illumination, and HDMI 2.1 functionality make this projector feel more state-of-the-art in 2022.

These used to be features reserved for projectors costing quite a bit more, so I'm pleased to see Epson has lowered the price of entry for these features to $4,999. With this move, IMO Epson puts significant pressure on the other major projector manufacturers to offer these features going forward—if they want to remain competitive. Which is awesome for consumers!

The experience of watching the LS12000 over the past couple of months has been great. At or below this price point, I haven't seen anything that comes close in overall image quality and features.

If it's within your budget, the LS12000 should definitely be on your shortlist of projectors to consider. It goes without saying, I think Epson has a real winner on their hands with this projector, making it a Home Theater Review Editor's Choice.
---