Fluance is a Canadian audio manufacturer with a 20-year history of making great sounding gear at accessible prices. Their Ai41 Powered Bookshelf Speakers ($249 for the pair at Amazon) are a new example of their heritage, showcasing impressive sound reproduction with Bluetooth 5, RCA and optical inputs and good value. Updating the outgoing Ai40 bookshelves, these speakers improve the electronics with the latest Bluetooth spec, increase amplifier power from 70 watts to 90 watts, and feature impressive sound in a small form factor. Even without a dedicated subwoofer, they are able to generate usable bass response down to a listed 35Hz on their own, and include a subwoofer output that when connected, automatically cuts off frequencies below 80Hz to the bookshelf speakers and passes the low frequencies to the sub.
The Class D, 90-watt RMS (2 x 45 watts) amplifier is built into the right speaker and will give you plenty of volume to fill small to mid-size spaces. One eight-foot, 18-gauge speaker wire is included as is a remote control and power cable (and thankfully no external brick power adapter as was the case with the predecessor Ai40).
The Ai41 tweeters are one-inch, silk soft dome with neodymium magnets and a ferrofluid cooled design, and the five-inch woofer cones are made from a glass-fiber composite with butyl rubber surrounds. These components combined with Fluance-engineered enclosure bracing, tuned rear ports, on-board amplifier and carefully integrated crossover result in a frequency response of 35Hz to 20KHz. Even without a sub, these small-sized bookshelf speakers deliver solid bass and impressive balanced sound that will fill all small to midsized rooms.
How do the Fluance Ai41 speakers perform?
These are not just good sounding powered bookshelf speakers – they are GREAT sounding powered bookshelf speakers and at only $249, make the case for great value. Remember, you don't need a separate amplifier - so not only are you saving your hard earned cash, you are saving space and getting stellar performance from a tuned system. Much like most current powered monitors and soundbars, DSP works with the amplifier to match the capabilities of the drivers, cross-over (2800Hz Phase Coherent 12dB/Oct), and rear-firing bass port. They sound terrific as a 2.0 system and adding a subwoofer – which is easily done via the RCA subwoofer out on the rear of the right speaker, will extend your bass reach even deeper. I decided to conduct my listening sessions without a sub, but note you will undoubtedly get a more immersive feeling by adding the sub of your choice. I switched back and forth between Bluetooth and line-level inputs without any noticeable difference.
The first of my two 'ah-ha' moments were musical selections. I wanted to be sure the mid-range would retain clarity and spaciousness while still getting the detail in the high frequencies and a solid anchor on the bottom. My new go-to reference track for this listening is Doja Cat's Say So from the 2020 album Hot Pink.
Her vocals occupy the mid-high region requiring the sound system to resolve the mids and highs accurately to get this track right. The Fluance Ai41 were up to the task remaining clean and present with no harsh after-taste. Another test track for checking the mid-range performance is Circles by Post Malone.
The acoustic guitar is right in the middle of the mid-range and never loses detail when the drums drop in, nor does the track lose its definition when the backing vocals wash over everything. Moving off-axis, the Ai41s remain forgiving and true, keeping the sound field free of coloration. Finally, I switched to the optical input coming from my Roku-powered HDTV streaming Stranger Things, which has great sound effects coming from every direction and a lot of whispered dialogue. The speakers again delivered, letting me enjoy and engrossing me in this well mixed episode.
If you will be using these as a desktop system, either for gaming, streaming, or music from your computer, I wager you will be very pleased with these as your playback system. With rear firing ports, Fluance recommends placing these on the front of shelves to give the speakers little breathing room.
Fluance will also offer a slightly larger version called the Ai61 ($299.99) which, for fifty dollars more offers 120-watts and a 6.5-inch woofer with the same tweeter, same connectivity, and same finishes. Frequency response reaches slightly lower down to 32Hz. So, with such minimal differences, why would Fluance offer this option? I can only guess with the Ai41 they are appealing to placement constraints where the smaller footprint is preferred, and with an added subwoofer the smaller size speaker may not sound considerably different. If you have the space and an extra fifty dollars, the Ai61s make a lot of sense if you plan to skip adding on a dedicated sub.
If you wish to add a sub while staying in the Fluance line, they offer a 10" / 45-watt, ported front-firing option (the DB10 at $199.99) or a 12" / 240-watt, ported front-firing option (the DB12W at $299.99). Frequency response is 35Hz – 180Hz for the DB10 and 34Hz – 180Hz for the DB12. The Klipsch R-12SW ($249) is also a 12" front-firing, rear ported sub with 29Hz to 120Hz frequency response packing 200 watts RMS of on-board power. For bass you can feel as well as hear, I prefer subs that extend at least down to 20Hz and there are more than a few at these price points that reach even lower. My personal favorite is the RSL Speedwoofer 10S, which is a bit more expensive at $399, but delivers the goods with 350 watts and substantial output at 20Hz. The SVS SB-1000 Subwoofer and Paradigm Defiance V8 are excellent options for more refinement at a slightly higher price point.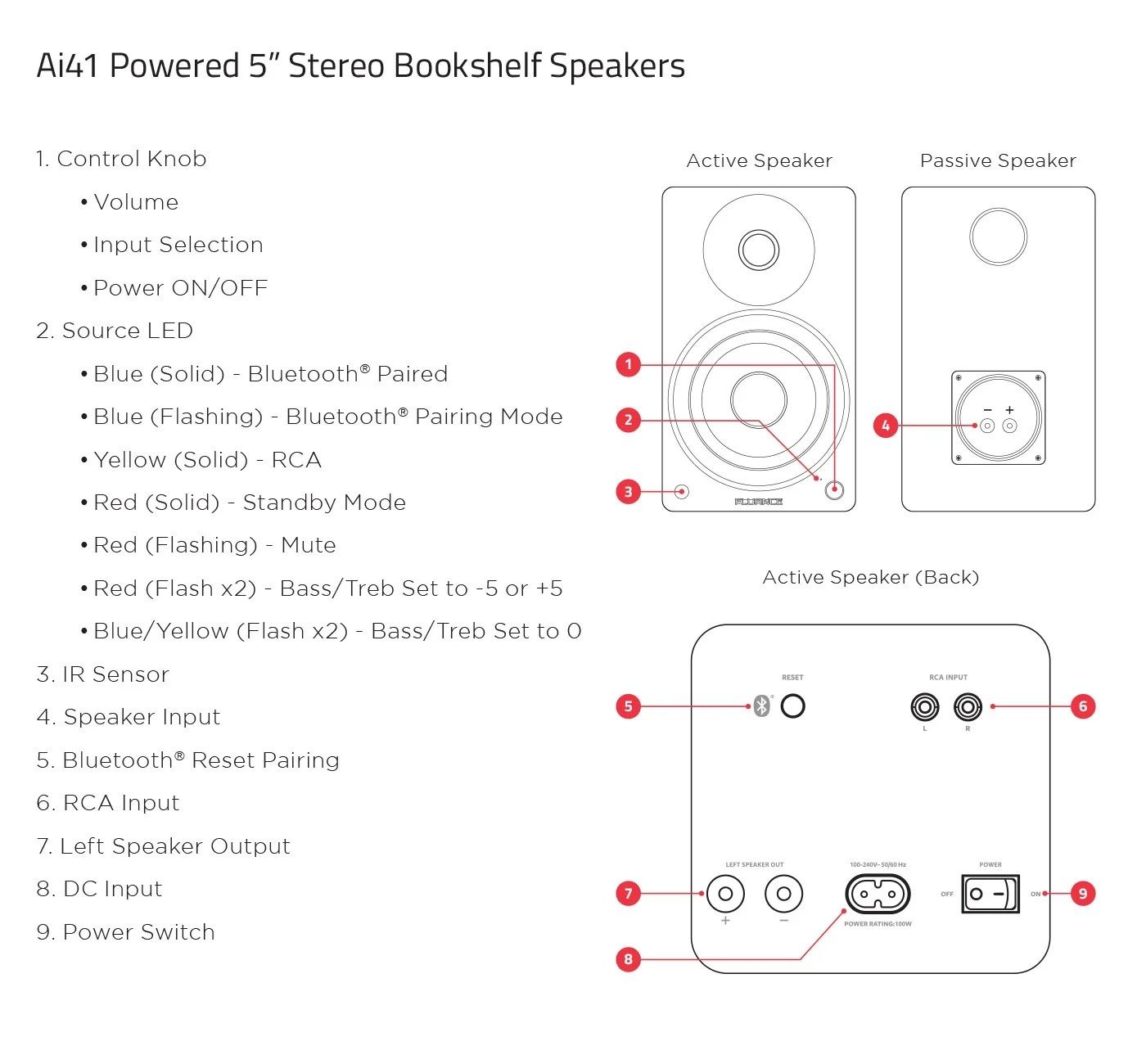 Connections and Controls
Set-up is easy including Bluetooth pairing and selecting between sources (Bluetooth, RCA or Optical inputs) which can be handled from the included remote or via pushing the volume control knob on the front of the right speaker. There are color-coded confirmations of your selection and LED brightness can be dimmed via the remote control. The back panel is minimal on the passive speaker, while the active speaker includes all of the inputs, a Bluetooth reset button, and a power toggle and cord connection. Fluance recommends the active speaker on the right and also includes a simple EQ adjustment via the remote controls Bass/Treble buttons.
The Look
There are four available finishes: Black Ash with Black front, Dark Brown Wood with Black front, White with Black front and Natural Light Wood with White front. All look clean and fit most décors provided you don't mind the visible drivers.
High Points
Simple usage and a range of inputs should support most listener's sources
Subwoofer output with automatic cutoff at 80Hz
Exceptional overall sonic capability in a small bookshelf form factor
Low Points
No grill – some interior design aesthetics might lean towards a more finished look and you will be in trouble if your cat likes to play 'poke the tweeter'
No Phono pre-amp
Swapping the controls to the left side is not supported
Comparisons and Competition
The Klipsch R-15PM ($249 / pair) are exactly the same price and similar in size at 12.5" x 7" x 8.1", have similar size drivers but add a Phono pre-amp on board along with Bluetooth, RCA line level and optical inputs. The Klipsch are slightly (10-watts) more powerful with 100-watts RMS on tap versus the Fluance which sports a 90-watt amplifier. If you are not adding a sub, the Fluance Ai41 reach a little deeper down to 35Hz whereas the Klipsch start dropping off at 62Hz.
The Edifier R2000DN (249.99 / pair) are also the same price but are even more powerful with 120-watts on board. There is no subwoofer output which may make these a non-starter for those that want to extend the bass response of their system. Bluetooth is version 4.0, which is not the version 5 found on both the Fluance and Klipsch options. Bluetooth 5 brings greater range and less latency to the wireless party, making these Edifiers less appealing. Still, the sound quality is there so if you only care about music listening and don't plan on adding a dedicated sub, these should be on your list.
Final Thoughts
Fluance has a winner with their Ai41 powered bookshelf speakers as their performance and connectivity make for an affordable high-quality sound system that is very easy to set up and live with. If you will be hooking up a turntable and/or prefer wired USB computer playback, the Klipsch Reference R-15PM present a compelling option. If you don't plan on adding a sub and will only be listening to music, the Edifier R2000DN deserves consideration as well. I recommend the Fluance Ai41 system particularly for their musical tonality and detailed mid-range, as well as the dedicated subwoofer output and overall value.