I never thought I would be writing an article about headphones in which I describe 'under $1,000' as moderately priced but the headphone market has changed dramatically over the past few years. There has been a proliferation of some extremely good headphones in the $2,000 to $4,000 range. Some of these have been awkward and uncomfortable but a technological tour de force with great sound, others put luxury appeal first. Focal has found success with their Utopia and Elegia headphones and so we were excited to see if that recipe was preserved with the relatively new Celestee ($990) we are reviewing today.
Celestee have a modern, luxurious look and feel. Much like Focal's other full-size headphones, there's plenty of leather and a detailed circumaural earcup that surrounds the copper color Focal logo—which also serves to hide the vent to the backside of the driver. The dark Navy Blue color is the clue that these are not another Focal headphone model. Focal utilizes its "M" shaped forty-millimeter aluminum/magnesium dome driver, a proven performer. There's no need to reinvent the wheel when you have a driver that works this well already.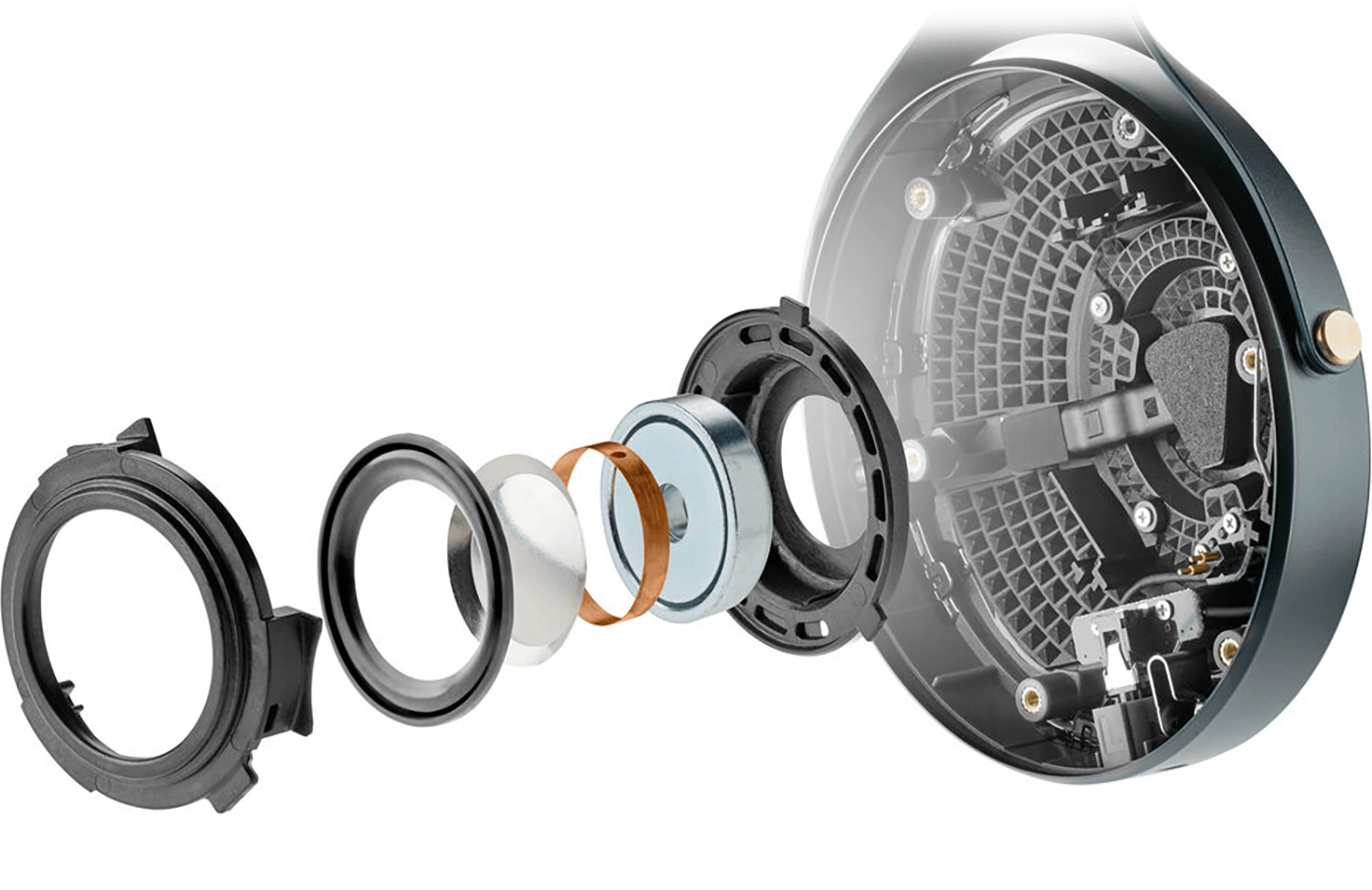 ---
Features and Specifications

| | |
| --- | --- |
| Sensitivity More information | 105dB SPL / 1 mW @ 1 kHz |
| Total Harmonic Distortion (THD) More information | 0,1 % @ 1 kHz / 100 dB SPL |
| Frequency Response More information | 5Hz – 23kHz |
| Driver Type | Electrodynamic full-range |
| Driver Materials & Size | 40mm Aluminium/Magnesium 'M'-shaped dome |
| Headphone Weight | 430 grams |
| Warranty More information | 3 years manufacturer's warranty |
---
Hands-On Listening

I listened to a lot of music through the Celestees, using portable players and laptop computers, as well as "proper" high-fidelity source components. While the Celestee's most definitely take advantage of a higher quality source, they performed well with every source, and their overall sonic profile remained unchanged.
I have been enjoying a lot of Latin-inspired music lately including "Senorita" by Shawn Mendes and Camilla Cabello (Tidal, Island). I had previously burned out on it, but it has been working its way back on to my listening lists. The tonal balance was slightly thinner in the midrange.

Soundstage through the Celestee was well defined but slightly smaller and less distinct than the Sennheiser HD800S or Audeze LCD-XC headphones. The Sennheiser had a more prominent bass profile, but the Focal's had more definition.
---
Complements
• Focal continues to earn its reputation for making high-quality components. The Celestee's build quality, fit and finish are very good.
• The Celestee sound profile was well balanced, without any peaks or suck outs that detract from the music.
• The Celestee's come in a nice travel case covered in a fashionable tweed fabric while offering plenty of protection for travel.
• Easy to drive with portable devices yet they take advantage of high quality sources and amplification.
Quibbles
· The Celestee's were a bit tight on my larger than average head, clamping a bit too tight for lengthy listening sessions with no way to adjust them. I may have been able to adjust them by bending the headband, but I was not about to do that with a review sample.
· The four-foot-long cable is on the short side and could be limiting if you are not connected to, or firmly planted in front of your source.
· The slightly softer highs are not detrimental to the overall balance but slightly reduce the Celestee's resolving and imaging capabilities.
---
Competition and Comparison
The Mr. Speakers Aeon Flow closed-back ($799) have many similarities but I found the Aeon's a bit more comfortable on my wide head as to clamping but the Focal's ear cups were more comfortable. The Audeze LCD-XC ($1,799) is noticeably brighter with more detail but is much heavier. The Sennheiser HD-800S ($1,699) is one of the most comfortable headphones I have worn. The Sennheiser has stronger bass, possibly at the cost of some detail and more forward highs which help provide sharper imaging.
---
Conclusion
The Focal Celestee headphones provide a well-balanced presentation with more detail than their processor which is easy to hear due to their good passive isolation. The Focal Celestee's provide a well-built headphones with luxury touches at what has become a competitive price point in the world of high-end headphones. If I was not using the Celestee's with a source I was carrying with me, I would probably replace the cable. Happily, that is easy to do.

All in all, the Focal Celestee is a notable improvement upon an already very good predecessor. These premium headphones are easy to recommend for an audition to anyone seeking quality over-ear, closed-back headphones in this price range.