Focal has long been known for its high-end Utopia and Sopra series speakers, which feature beautiful, impeccably built cabinets and some serious audio engineering chops. A few years back, I attended a Focal event at one of the trade shows and was intrigued by the then-new Kanta series of speakers. Fast forward a couple of years, and my colleague Greg Handy had the opportunity to review the Kanta No. 2 and really enjoyed them.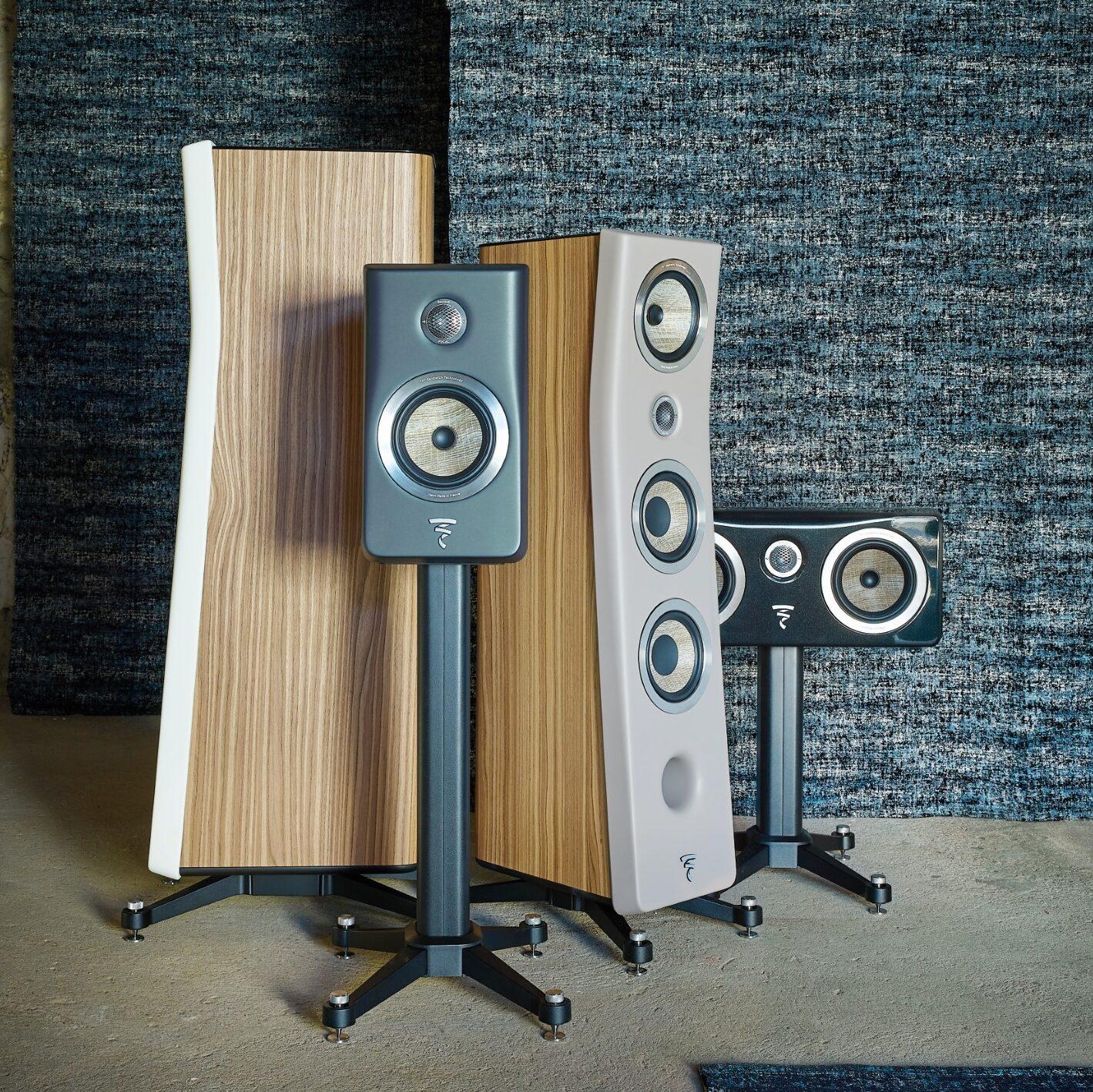 Focal was kind enough to send me a pair of the slightly larger Kanta No. 3 ($6,995 each) and the matching Kanta Center ($3,495 each). As we have already discussed the Kanta No. 2 in-depth, I will limit my discussion to a summary of the key differences.
How is the Kanta No. 3 Different from the Kanta No. 2?
The No. 3 is slightly larger than the No. 2, at approximately 50 inches high, 15 inches wide, and 20 inches deep. It is half a foot taller, three inches wider, and a couple of inches deeper. It also weighs in at a solid 24 pounds heavier at 101.6 pounds. This additional size only gains another two (-3dB down point) to three (-6 dB down point) Hz of low-frequency extension but also provides significantly more dynamic headroom.
What does the Kanta Center look like?
The Kanta Center matches the rest of the Kanta line with its two-tone cabinet design. My review samples came with Solar Yellow front panels and high gloss black lacquer cabinets, which at the time of publication have been discontinued. This eye-catching combination worked well in my living room, but if yellow is not your thing, there are plenty of other color combinations still currently available:
Custom Black Edition
Black Lacquer
Carrara White
Walnut High Gloss – Black Lacquer front panel
Walnut Veneer Dark Grey Matte front panel
The fit and finish were excellent, and Focal also offers an optional dedicated stand. The speaker itself is a two-way, bass-reflex design with six-inch Flax bass-midrange drivers flanking a one-inch, pure Beryllium tweeter – mounted slightly above the center point of the other drivers. There are magnetically attached grilles for the bass-midrange drivers, with the tweeter having a non-removable, metal grille.
The cabinet measures approximately 22 inches wide, 9 inches high, 15 inches deep, and weighs a solid 39 pounds. The back panel has a centrally mounted port above a single pair of speaker cable terminals. The specifications are 55Hz to 40kHz (+/- 3dB) with a nominal impedance of 8 Ohms. Focal is one of the few manufacturers to provide a minimum impedance, which is 3.5 Ohms. The sensitivity rating is 91dB, which is slightly more sensitive than the towers.
I placed the center and speakers in my main theater room with a Marantz AV8805 in the middle and a Krell Theater Amplifier Standard providing power. I then set the Kanta No. 3's to full range and the Center to small with an 80Hz crossover point. All speaker connections were made with Wireworld's Eclipse 8 Speaker Cables.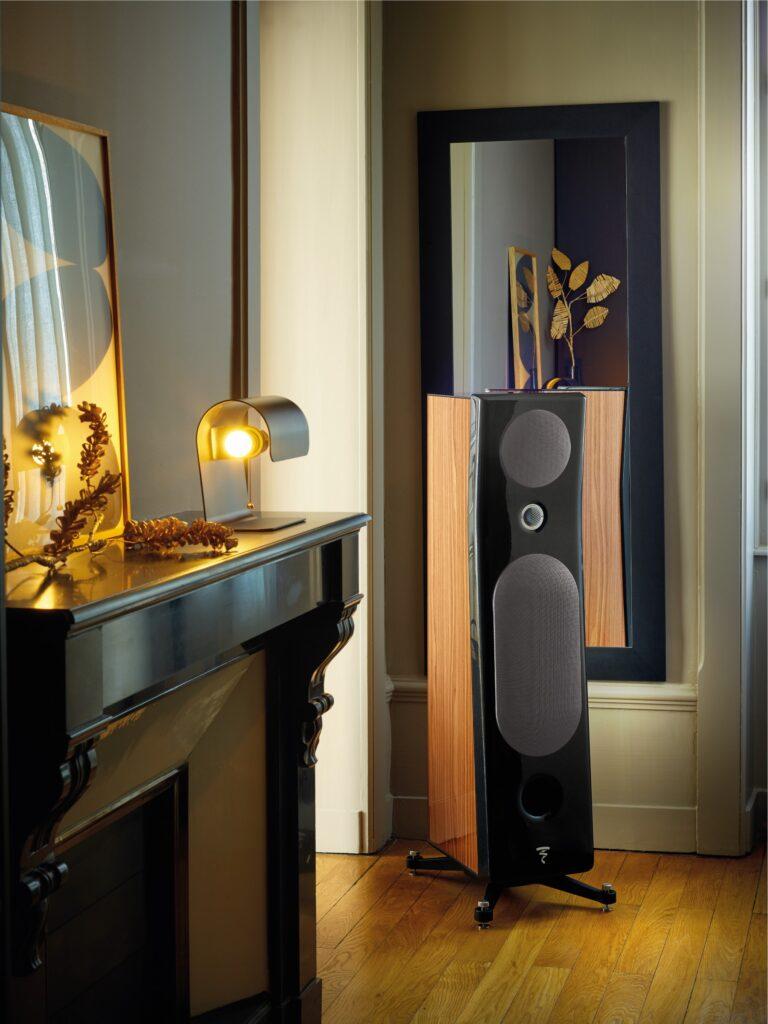 How do the Kanta No. 3 and Center sound?
But how does it sound? Really good.
Not surprisingly, the Kanta Center and No. 3's were a sonic match, making for seamless transitions. I watched Queen: Rock Montreal & Live Aid (Blu-ray, Eagle Rock Entertainment) which provided plenty of opportunity to listen to Freddie Mercury's vocals and instruments pan across the soundstage with excellent continuity. There was a slight change in tonal balance when I moved my listening position from the middle seat to the outside, but it was much smaller than I have detected in other M-T-M center channel designs, possibly due to the offset tweeter.
While I watched several movies with the Kanta system, one that stood out was "Greyhound" (AppleTV+), a World War II naval action film starring Tom Hanks. The Kanta Center channel remained detailed and articulate even in the frenetic and dynamic battle scenes. There were no signs of distortion or dynamic compression even at louder volumes, in excess of 90 dB. The dialog-heavy scenes were not left behind; voices were clearly reproduced and remained consistent as they moved across the front soundstage.
Before moving on, I want to discuss the setup, specifically the Zamac base. As a reviewer, I have the opportunity to set up many speakers, and the Zamac base is one of the best thought out and executed designs I have had the pleasure to work with. The beefy outrigger design is both attractive and very stable. The spikes completely retract into the base so that you can slide the speaker across a hardwood floor without damage and easily adjust the spikes to get a solid footing. You may think this is too much discussion for a feature most owners will only use once during the initial setup. But it indicates the attention to detail in both design and construction that went into the entire speaker. If it is not clear from all that I have written above, I am thoroughly impressed by the build quality of the Kanta speakers.
Lastly, while this review focuses on the Kanta Center channel, I would be remiss not to discuss listening to the Kanta No. 3's in stereo as well. The design and build quality don't convey listening impressions, so let me get to that now. I tried the Kanta No. 3 speakers in a two-channel system with a variety of amplifiers.
Lower-powered Class D amplifiers didn't let the Kanta No. 3's show off their capabilities. When I used the D'Agostino Progression Preamplifier and Amplifier the Kanta No. 3's demonstrated tight, detailed bass up through detailed treble. I also tried using my Halcro DM-38 amplifier with similar results. Both setups resulted in a precise, wide, and solid soundstage. However, I found the upper midrange / lower treble to be slightly forward. This was never to the point of being harsh, but if you prefer a more laid-back presentation, it may not be to your tastes.
I then tried substituting my McIntosh C-500 tubed preamplifier - it had slightly less detail than the D'Agostino model but brought some welcome warmth to the upper midrange. I could (and did) listen to this combination for many hours, getting lost in the music.
High Points
The build quality fit and finish on the Kanta speakers is commensurate with a luxury product.
The aesthetics of the Kanta's make them a worthy focal point in a public room.
The Kanta Center has an excellent dynamic range and weight enabling it to keep a coherent front soundstage with the capable and much larger Kanta No. 3's.
Low Points
The rear-mounted port and attractive but light-reflecting top panel may limit placement options. I was able to take care of the top panel by putting a dark cloth on it whenever I fired up the projector.
How do the Kanta No. 3 and Center compare to the competition?
The recently reviewed Revel F228Be ($10,000), Revel F328Be ($16,000), and Magico A3 ($12,800) speakers are all worthy competitors. While they have numerous similarities to the Kanta No. 3, there are some important differences, which you can check out in the above reviews. The Magico ACC Center Channel is also worth checking out.
Want something more premium? The relatively new B&W 803 D3's ($16,999) is a ported three-way with an exotic tweeter material, diamond!
For more speaker-related information and reviews, check out HomeTheaterReview's bookshelf speaker page and floorstanding speaker page.
Final Thoughts
I know many astute audiophiles may be concerned about the M-T-M configuration of the Kanta Center as it can lead to inconsistent sound as you move horizontally. But the Focal engineers have done a good job minimizing any differences using careful driver positioning and crossover design. If you own any of the Kanta speakers, even the largest Kanta No. 3's, the Kanta Center makes a seamless sonic match that will not compromise itself when faced with dynamic scenes at high volume.