Made in France, Focal products are the embodiment of elegance, both visually and sonically. If you're looking for tremendous value—or if you're new to the world of high performance—Focal's new Theva line makes it easy to build a home entertainment system for movies, music and gaming. The team at Focal gave HomeTheaterReview an exclusive preview of Theva products, which had their debut at AXPONA in Schaumburg, Illinois, on April 14–16.
Theva (pronounced tee-va, because the "h" is silent) products offered some of the strongest price-to-performance profiles of all the products we saw at AXPONA this year.
The lineup consists of the Theva N°1 (bookshelf loudspeaker); Theva N°2 (a new 3-way floorstanding speaker with 5-inch drivers); Theva N°3 (a slim 3-way floorstanding speaker); Theva N°3-D (a speaker that incorporates a driver to facilitate Dolby Atmos sound); Theva Center (a sturdy 2-way center-channel center speaker for delivering pristine film dialogue); and the Theva Surround (a speaker for spatialized audio).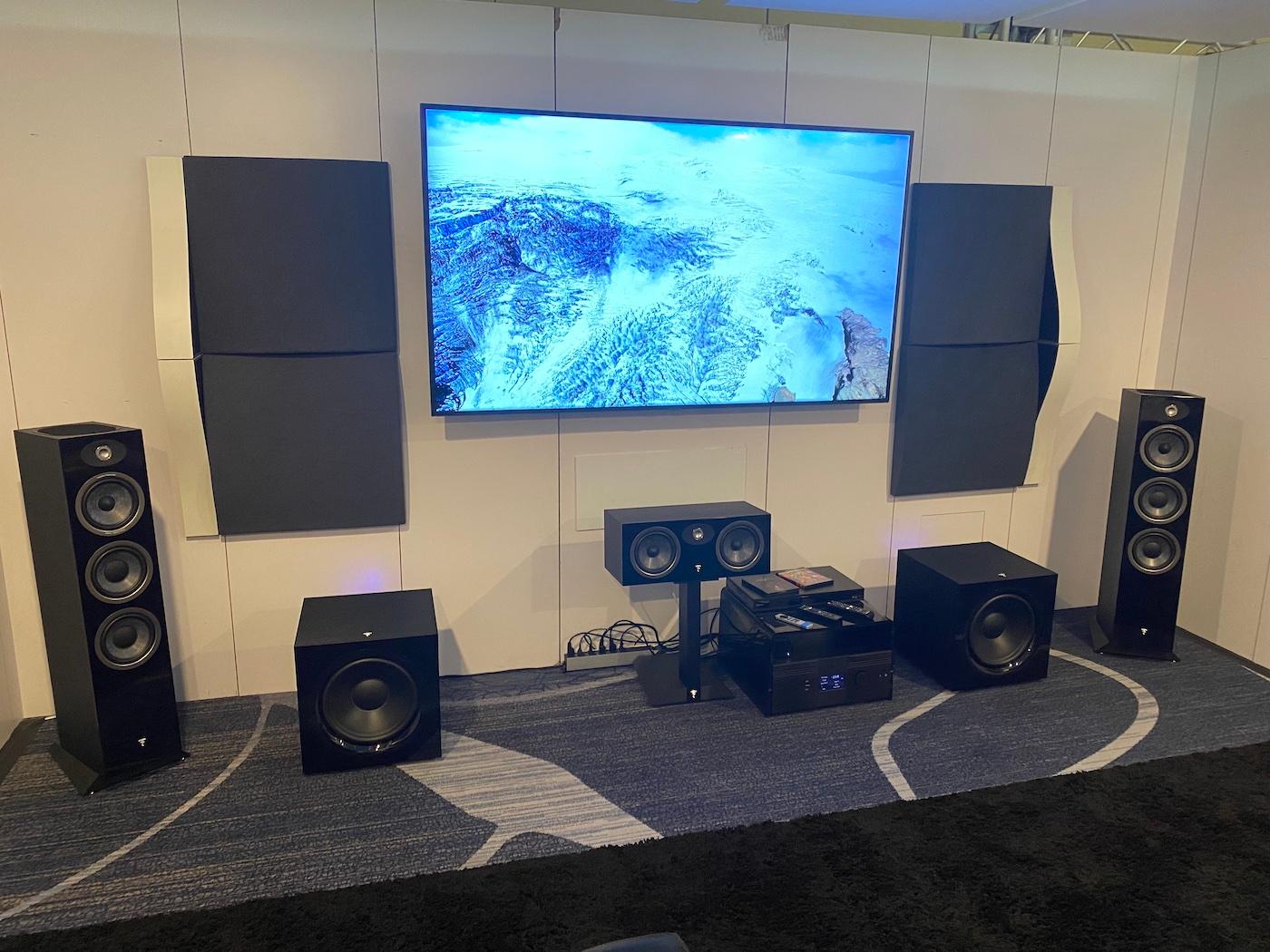 Accessible & Immersive
"The Theva line replaces our previous Chora line, and a lot of consumer feedback [influenced its design]," said Chris Shaw, a Focal products specialist.
Referring to the N°3-D speakers—part of a potent 7.2.4 setup that Focal presented at AXPONA—Shaw said, "What makes these wonderful is that not only do we have the three, 6-and-a-half-inch drivers on the front, but we also have the patented Dolby Atmos enabled technology. This is the augmented speaker directivity technology. And this makes it extremely efficient for [relatively] small spaces to get that full Dolby Atmos effect."
The engineering of the N°3-D incorporates a speaker driver with directional baffle, positioned on top of the speaker, to reflect sound waves onto the ceiling and reproduce 3D Dolby Atmos sound effects. The result? That soaring helicopter in your favorite Hollywood action flick truly sounds like it is flying above your head.
Glorious Gateway
"Theva was designed to be a gateway to the Focal high-fidelity world," Shaw explained. "We wanted something that was very modern-looking, and that gave great value. And that's why we do the Dolby Atmos enabled speakers: You don't have to cut holes in the ceiling of a home or an apartment, and you still get that full Dolby Atmos effect."
Another product in the line, Theva N°3, is a floorstanding speaker that can fill a room with realistic, dynamic sound. It is equipped with an aluminum/magnesium TNF tweeter and three Slatefiber cone speaker drivers. The tilt of the speaker's stand enables it to deliver a wide, exceptional soundstage, focused on the listener, for authentic sound.
Hi-Tech Meets High Fashion
Slatefiber technology, which is exclusive to Focal, is renowned for reproducing detailed, dynamic sonics. (Slatefiber technology currently is in use in numerous recording studios.) The TNF tweeter, another Focal proprietary technology, ensures that treble tones are clear and lifelike.
The speakers are offered in three gorgeous finishes: Black, Dark Wood and Light Wood. The Dark or Light Wood effects are available for the side panels too, for added visual appeal. Focal has carefully chosen metallic, screen-printed rings to frame the speaker drivers, the vent has been positioned to the rear for aesthetic appeal and sonic performance, and the bases and grilles work in harmony within each model.
Precision Tweeter
One Focal's hallmarks, the inverted dome tweeter, has continually evolved ever since it was created. One of its key design advantages is its use of a coil of small diameter (hence it is very light and better accelerating), directly fixed to the rigid dome.
The inverted dome's spatial characteristics allow it to offer performance that is superior to conventional domes used by some of Focal's competitors. To further improve the performance, Focal engineers developed a waveguide. The tweeter is, of course, crucial for the presentation of a wide, dynamic yet stable soundstage, which makes the listening position much less critical.
Pricing & Availability
These products are available at authorized Focal retailers, including Audio Advice: Theva N°1 ($499 each / $998 pair); Theva N°2 ($899 each / $1,798 pair); Theva N°3 ($1,199 each / $2,398 pair); Theva N°3-D ($1,499 each / $2,998 pair); Theva Center ($649 each); and Theva Surround ($649 each).
For fans who want a single dedicated entertainment area for movies, music and gaming, the Theva line is definitely worth considering. Vive la France!