In 2011 Naim and Focal announced the intention to join forces and tackle premium audio as a collaborative effort between the English high-end electronics maker and French acoustics company that's famous for its speakers and more recently, headphones. The 10th anniversary of this merger is upon us and it is marked by the introduction of a singular system of perfectly matched components, both visually and in terms of capability: The Focal Naim 10th Anniversary Edition System.

Sopra N°2 ushered in a new era for the "Premium High End," introducing new performance standards. It is a speaker that pushes the boundaries of sound reproduction in terms of resolution, and so a natural fit for a system powered by Naim's highly resolving, transparent yet musical electronics.
This harmonious pairing of Naim electronics and Focal speakers contains Sopra N°2 loudspeakers and Naim's NDX 2 music-streaming, NAC 282/NAP 250 DR pre-power amplifiers, and matching NAPSC plus HiCap DR power supplies. Cables and interconnects are part of the package—this truly is a complete system and even includes a pair of Naim Super Lumina speaker cables.
Of course, high performance is key to the appeal of this system but style matters, too. Aesthetic synergy is achieved thanks to a bespoke look that is unique to this system. The side panels of the Sopra N°2 pair are a "concrete" finish with "tin" front baffles, it is an undeniably stylish departure from your typical speaker cabinet's wood or painted finish.


The price of such splendor is $48,000, with anticipated availability in May of 2022.
---
Features & Specifications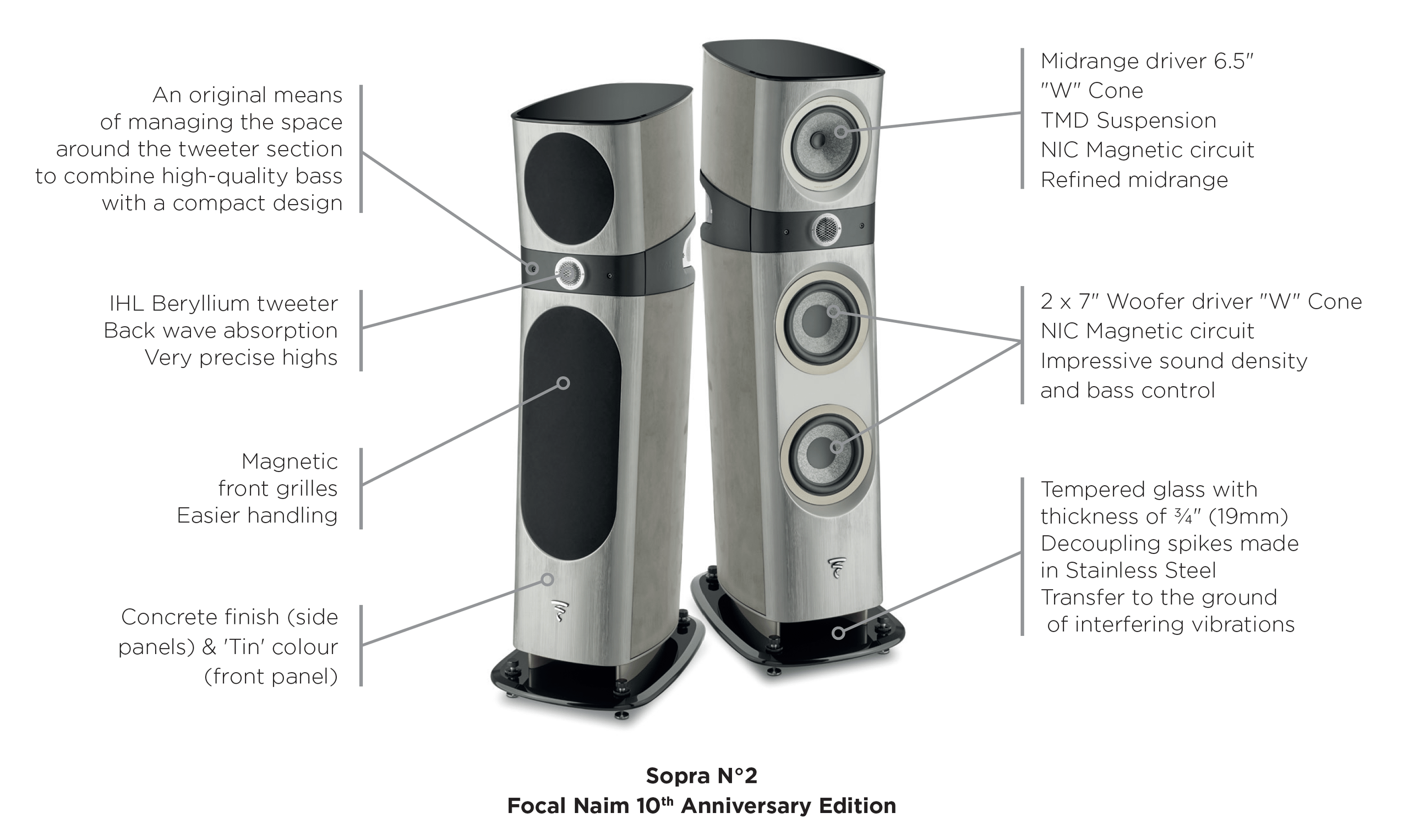 • Type: Three-way bass-reflex floorstanding loudspeaker
• Drivers: Two 7" (18cm) "W" woofer 6.5" (16.5cm) "W" midrange with TMD suspension, NIC motor, 11/16" (27mm) IHL Beryllium inverted dome tweeter
• Frequency response: (+/-3dB) 34Hz - 40kHz
• Low-frequency point: -6dB 28Hz
• Sensivity: (2.83V / 1m) 91dB
• Nom. impedance: 8 Ohms
• Minimum impedance: 3.1 Ohms
• Crossover frequency: 250Hz / 2,200Hz
• Recommended amplifier power: 40 - 300W
• Dimensions: 1190 x 358 x 540mm
• Net weight: 122lbs (55kg)
---
Image Gallery