Focal's new On Wall 300 series speakers are high-performance and luxurious speakers made in France using techniques and technologies refined by the company. It is a highly adaptable speaker design that can be used horizontally or vertically, wall-mounted or freestanding.

The series currently has two models, the 301 and the 302, with the main difference being that the 302 is larger and has four mic/mass drivers, rather than the two that come with the 301.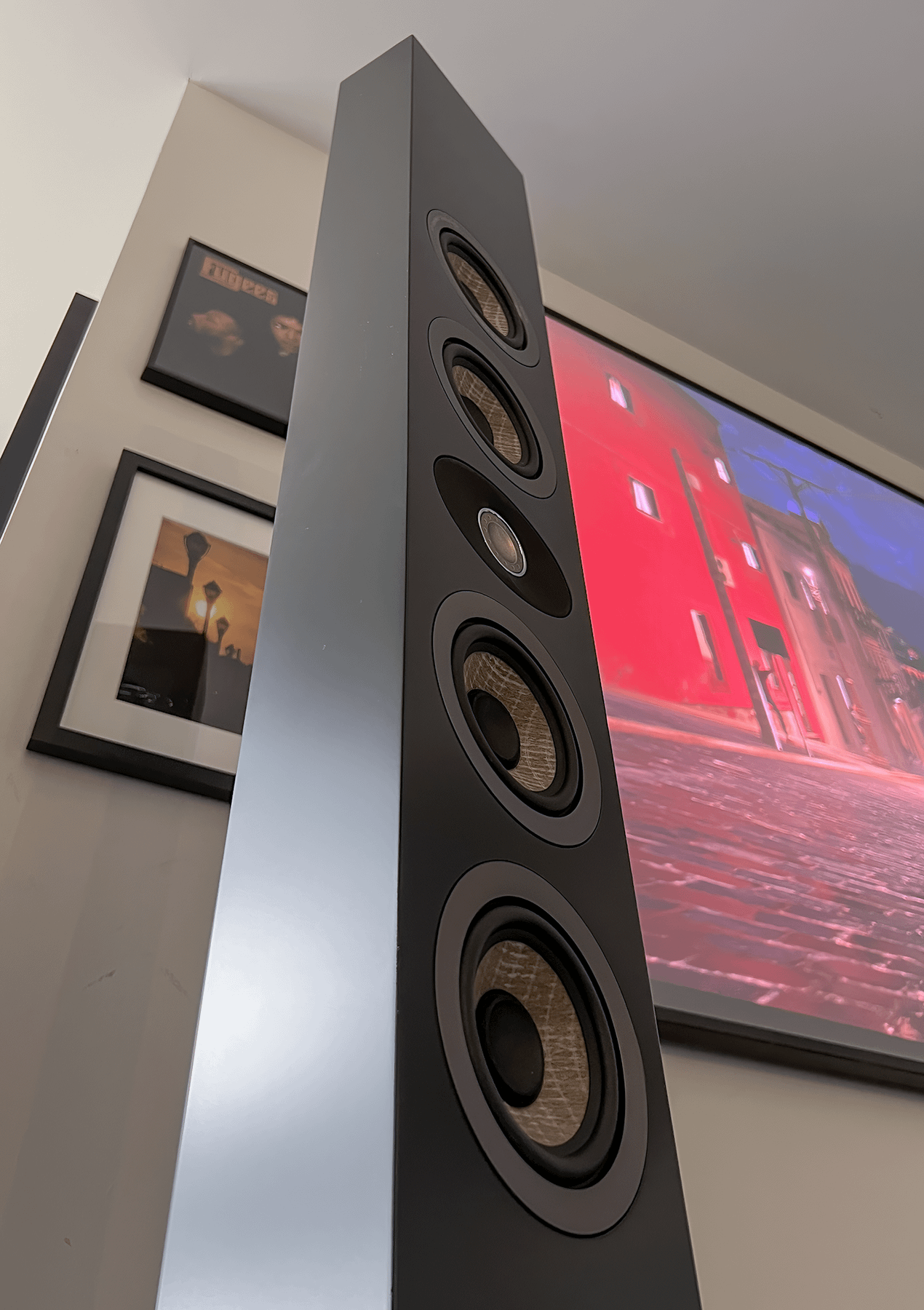 These are slender speakers with a modern, decor-friendly look, but they also have impressive specifications and are clearly designed to offer a high-fidelity listening experience. And these Focal are designed to work seamlessly with Focal's "built-in" 300 Series, the Flax Dome range, and the Aria range of speakers, which creates a wide array of options for building out a custom sound system.

For this review, I tackled a pair of On Wall 302 (MSRP $1499 each, but now on sale for $1199.20 each) mounted on the optional stands ($499/pair).
---
Features and Specifications
Featuring four 4" flax mid/bass drivers and a 1" aluminum/magnesium inverted-dome tweeter, the On Wall 302 is an impressive new addition to Focal's lineup. The main thing to know is when you are watching your favorite movie or listening to your favorite album, Focal On Wall 302 speakers provide superior sound that will enhance your experience.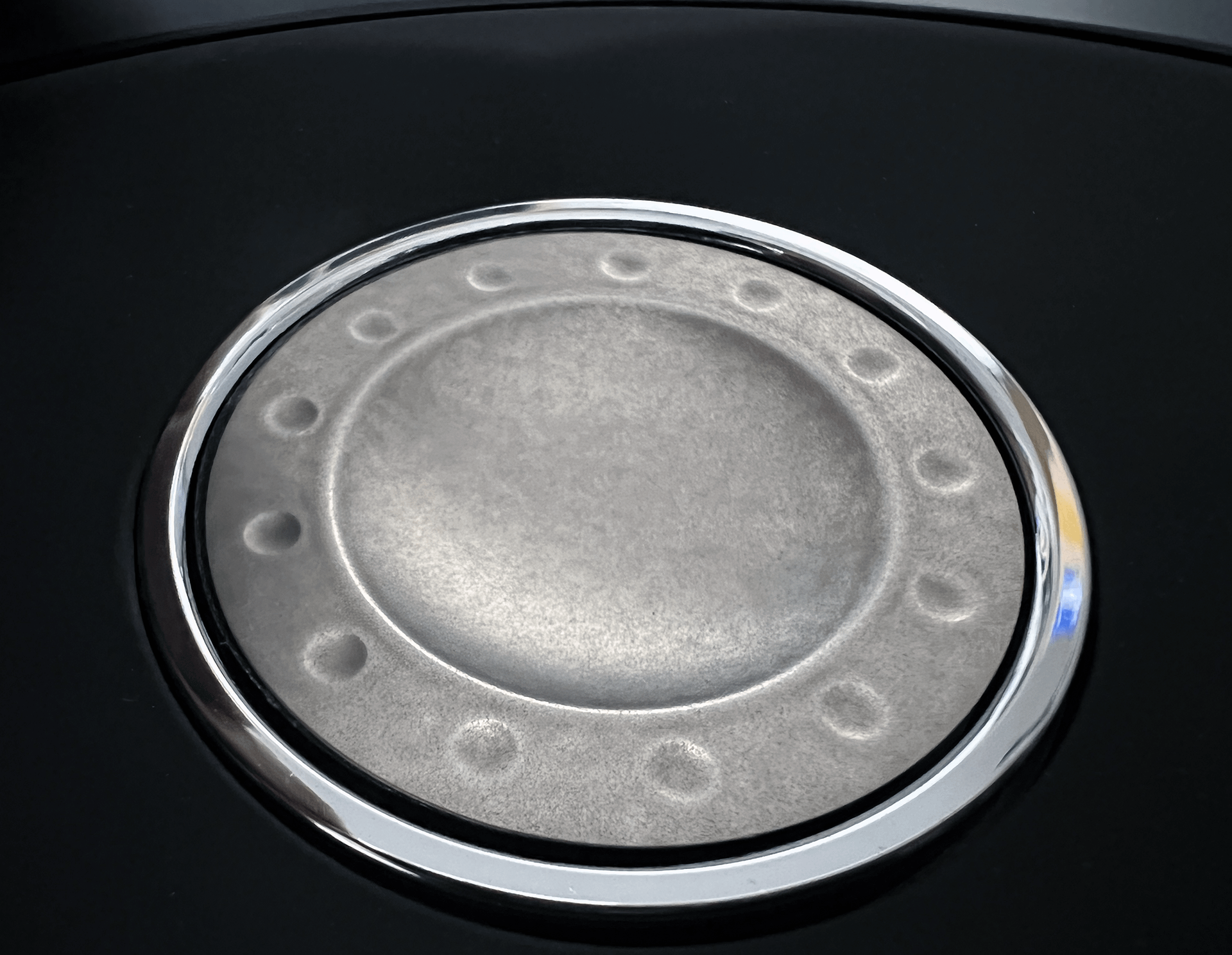 This latest speaker from Focal is an architectural, on-wall model that also makes for a striking freestanding speaker, thanks to an optional stand. Installation is a breeze, assembling the stands and placing the speakers upon them took no more than 5 minutes. An on-wall installation would be more work, but the speaker is comparatively light (20.72 pounds) and easy to hang.

For me, wall mounting is not an option since I rent and am not keeping the speakers. Fortunately, the stands are awesome, easy to assemble and even include the two Allen wrenches you need for assembly, which is a one-person job, so you can start enjoying your new speakers right away.

With their slim profile, the Focal On Wall 302 speakers fit perfectly into just about any space. They turned out to be a perfect fit in my living room system—aesthetically as well and physically—and look stunning, especially in conjunction with my UST projector system and 100" screen. You can install the On Wall 302 vertically or horizontally, so it can serve as a center channel in a multi-channel surround system and the Focal logo on the front baffle even rotates to match the orientation.

Although the speakers have a very sleek profile, they do not skimp on performance. The created response is 50 Hz to 28 kHz, +/-3 dB with a 40 Hz -6 dB point. Add a little room gain and you get nice extension out of these speakers that allow for significant flexibility when dialing in a subwoofer.

Focal recommends between 40 and 180 watts to power each On Wall 302, and the speaker has an 8-ohm impedance rating, digging down to 5 ohms. That makes these AVR-friendly but also able to leverage the extra oomph afforded by more powerful amplification.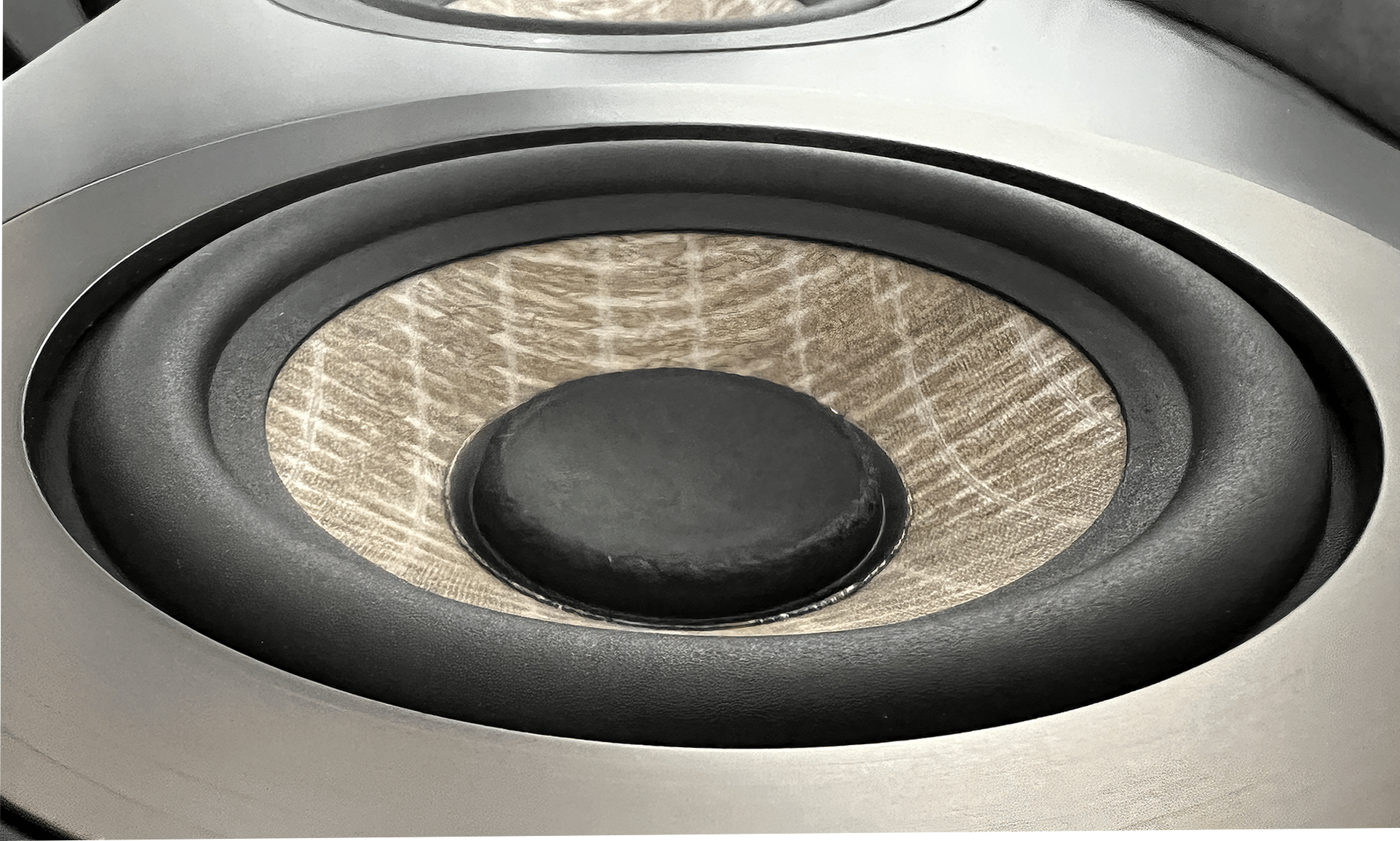 Focal states sensitivity as 91 dB (2.83V/1m), which is a little on the low side but more than understandable, given the small size of the drivers and the surprising bass extension these speakers offer.

These are tall speakers. Even without the stands, they measure 49 3/16 (h) x 6 1/8 (w) x 3 9/16" (d). With the stands, they are epic looking, the top of the speaker is 64.25" from the floor, and the tweeter is at perfect ear height. Focal provides magnetically attaching grills for each speaker.
---
Setup, Performance & Listening
These Focal speakers genuinely surprised me. And I don't mean in a subjective "oh wow" sense. Shortly before I got into this review, I obtained the new Audyssey MultEQ-EX software and the calibrated mic. The initial measurements wowed me well before I got into critical listening.

While I have a miniDSP UMIK-2 and REW software with which I can manually measure a system, the new Audyssey solution gives me the same graphs and accuracy. Still, when I finish, I can choose the measurements I want to use, see the resulting correction, create an Audyssey profile, and use it with the Denon AVR-X8500h that takes care of processing in my system.

These measurements quickly revealed Focal's new speakers to be excellent performers. They exceed the stated frequency response in-room, but they are also highly linear, with little deviation in the response curve (it's smooth, not a roller coaster). I can see these speakers measure well in my living room (sorry, I do not have an anechoic chamber or a Klippel analyzer).

What matters is the result, yes? And what I can tell you is that these speakers measured well without room correction in the mix, which makes it easier for room correction to perform those final tweaks and get things where they should be, nice and EQ'd with levels and timing set.

One thing that impressed me tremendously is that in-room, from a measured distance of 11 feet from each speaker, the left and right channels were within 0.24 dB of each other, uncorrected. This is fantastic, and you can legit listen to a pair of these, used as tower speakers on their stands, and get a true audiophile experience.

Add a sub and the optional stands, and you'll get a true full-range audiophile experience, one that is fully worthy of the cost of entry: $3000 for a pair of On Wall 302 and $500 for the stands. For bass, if you stay in the Focal family, a Sub 1000 F ($2099) takes care of business easily. Notably, the On Wall 300 Series is also on sale on launch, so the cost of entry is lower than mentioned above for a seriously excellent 2.1 system.

It so happens that I'm also reviewing a Focal Aria speaker system. Therefore I decided to take Focal's advice and use a pair of Aria K2 906 speakers as my surrounds in a 5.1 configuration. Still, with the phantom center, I also have an Aria K2 center but will save that for the Aria K2 5.1 system review.

A quick aside to explain the subwoofer situation: I am happy with the performance of my subwoofer, which is a prototype dual-opposed 12-inch model that the designer never released, but how that came to be is a story for another day. My sub does the trick, digs down to 20 Hz, and plays clean, so that's what I used in this review and other speaker reviews. Moreover, I have reviewed other subs in my living room and am confident I do not need to swap it out, and it is doing justice to any speakers I review.

My standard practice is to use an 80 Hz crossover, and that's in basically any situation, be it 2.1 or surround sound. And while these speakers do have good bass extension considering their size, there's no escaping that they are essentially set free to shine when a sub offers the foundation truly.

What I care about most is that a speaker has the extension and the output in the bass range so that the 80 Hz crossover is nice and smooth and does not demand a lot of compensation from the room correction, which is verifiably the case when examining the MultEQ-X results.
---
OK, But How Do They Sound?
These Focal On Wall 302 speakers, mounted on the optional stands, sound fantastic! Seriously, these are excellent speakers, on-wall or not. I recently reviewed Aria towers and can see what Focal means; you could certainly mix the Aria with the On Wall 300 Series and get a seamless result; the performance is very much on-par; it's primarily the form factor that is different.

I recently got back into buying CDs, not because I believe they offer higher quality than lossless streaming but rather so I can listen to music that I'm not finding on the streaming services. For example, Aunty Aubrey's Excursions Beyond The Call of Duty Part 2 by The Orb (2001), The Dub Factor by Black Uhuru (1983), The Ambient Collection by Art of Noise (1990), and Le Slow Motion Boogie Woogie by Monsieur Leroc (1999). These albums all have excellent production, featuring creative mixing and nicely tuned bass sounds.

Settling into Le Slow Motion Boogie Woogie, I was shocked to discover the first track, "Monique's Theme," is recorded in... mono. It's been many years since I have heard this album, and here's the thing, you might not even notice a mono mix unless you wear headphones, or with a stereo, if you have a good pair of speakers with no phase issues, that can put the sound right in the center, floating. I know from listening to jazz that some well-played drums coming from a point source can be hypnotizing, so it was here.

The next track, "Le Odensaque," is more mono! Whoa. But also great. These speakers are "invisible" with mono. You do not hear any sound coming from them; the sound is all holographic and "tight," so if you are into mono, I can say these speakers will suit you well!

The rest of my CDs and the music I streamed are not at all mono! The Dub Factor is a wonderland of classic electronic reggae dub sounds, coming out of Channel One in Jamaica and featuring Sly & Robbie. This is the cream of the crop, and the album sounds fresh, dynamic, clean, and frankly as good as it ever has through these Focals. Turn off the sub and run them as a full range pair, and not much is lost because, in the 1980s, subwoofers were sort of rare, and deep bass was still mixed for turntables (i.e., not too loud and not too deep), so these tracks largely fit within the natural range of the speakers.

On the other hand, The Orb is never shy about adding subwoofer-worthy bass to its creations. Nor does The Orb hold back when crafting immersive, three-dimensional mixes that sound amazing in stereo and translate well to surround sound through an upmixer. Auntie Aubrey's Excursions Beyond The Call of Duty Part 2 made these Focal speakers sing, and the deftness with which they handled the soundstage and imaging is a testament to their precision.

What goes for The Orb turns out to also be true for The Art of Noise in The Ambient Collection, which like Aunty Aubrey's, is another ambient dub masterpiece (in my opinion). The emerging theme is that these speakers are implacable, precise, and able to maintain their invisibility even with challenging material. If an instrument is supposed to sound grand, like a synthesizer sweep with reverb, it does.

If tight and intimate is what's wanted, be it for a solo guitar, a bit of isolated permission, or a clearly delivered vocal, you can pick out subtleties and hear quite deep into a mix, which is what makes deep listening so rewarding and sometimes even thrilling!

Fast forward to today, and of course, I'm streaming new music, not playing CDs. I use Tidal with Roon, which, just as an aside, is a wonderful way to manage a music collection. Anyhow, lately, I've been listening to a lot of GRiZ, Blockhead, Bonobo, Nas, The Dining Rooms, Snoop Dogg, and Bassnectar on rotation, sometimes pure background music, and sometimes I take a seat for a track or two and listen intently.

One of the great things about the On Wall 302s is that the sound remains consistent wherever I am in the room, highs keep their clarity, and the imaging does not fall apart if you are not locked in dead center—although the sweet spot is still the sweet spot.

Let's cut to the chase. You get a full audiophile listening experience out of these on-wall speakers. Full stop. And they look awesome. What more do you need to know?
---
Movies & Video Games
Oh yeah, I almost forgot... these speakers are great for home theater! And for AV rooms. They straddle the line between architectural in-walls, which are immovable, and full-size towers that frankly are not as sleek and modern looking as these On Wall 302.

Just because On Wall is in the name, does not discount how amazing these speakers are in a freestanding configuration.

I did not have the time or space to do up a full surround-sound system with the On Wall Series, so I had to extrapolate their performance as left and right speakers. But here's the thing, I don't use a center channel anyhow; I depend on good imaging to float that phantom center where it's supposed to be, and these speakers do this exceptionally well.

Whether watching the new Scream or Spider-Man: No Way Home, what stood out is how these two speakers kept all the audio elements properly sorted. Dialog is right where it's supposed to be, in the center of the screen, and it's crystal clear; not a single word is missed, even in huge action scenes like in Spider-Man.

I'm excited that Grand Theft Auto Online got an update to 4K/60 Hz and next-gen console graphics. When played through my system, with the Focal in the front stage, locating where sounds come from is a piece of cake because of the precision imaging. The sound has an immediacy to it that accentuates crunches and explosions quite nicely. Yes, the sub is doing some work here, especially the rumble, but so are the speakers, which is readily apparent to the listener because they do in fact integrate with the rest of the system 100% seamlessly.

In building out a proper surround-sound system, I can also see how a third 302 could go horizontally under my screen and act as a true center. And I could also see using a pair of 301s instead of the Aria bookshelf speakers, although sonically, the Arias did blend perfectly, as Focal promised.

It is a testament to the quality and flexibility of these speakers that they open up options for a custom configuration based on individual wants and needs instead of creating barriers.
---
Conclusion
I usually shy away from reviewing on-wall speakers because I find them hard to deal with and have been skeptical about their performance potential.

Focal offers a strong argument that the tall and slender form factor of an on-wall design may be leveraged to create an excellent speaker, one that literally stands on its own against towers of similar cost, thanks to the exquisite sound the company teases out of its flax 4" drivers and signature inverted dome tweeter. That's the On Wall 302 experience, and it is a Home Theater Review Editor's Choice for 2022.