If you're after a great pair of bookshelf speakers for around $1,000, you're spoiled for choice these days. But when it comes to coaxing clarity, dynamics, expansive stereo imaging, and sweet lyricism from all your music and movies, you'll have a hard time beating Focal's Vestia No1 ($1,198).
Positioned toward the low end of Focal's sprawling speaker catalog, the new Vestia line is an affordable but still excellent entry point to the storied French audio brand – a Vestivus for the rest of us if you will (sorry, I couldn't help it). Offered in five model sizes, with the No1 at the baseline, the Vestia leverage choice components from other popular Focal speakers, packaged in a striking yet understated design. The result is a potent mix of value, style, and performance.
Highs
Clear and sumptuous detail
Expansive stereo imaging
Balanced yet inviting tonality
Excellent transient response
Stylish design
Lows
Bass response could be better
Piano gloss version gets dirty easily
Getting going
The first pair of Vestia No1 speakers I received came in the piano gloss cabinets, sandwiching polished black panels at the sides with textured vinyl wrapping along the front, back, and bases. It's a good look, but those gloss panels are fingerprint magnets, and I also noticed the packing foam left some markings at the top that required polishing.
Oddly, this pair also came with a dead woofer in one of the speakers. The box was a bit beat up, and given Focal's pedigree, I'll call it a rare fluke. The upshot was I got a chance to try out one of the other two colors, this time the white, matte-paneled version (there's also a walnut brown).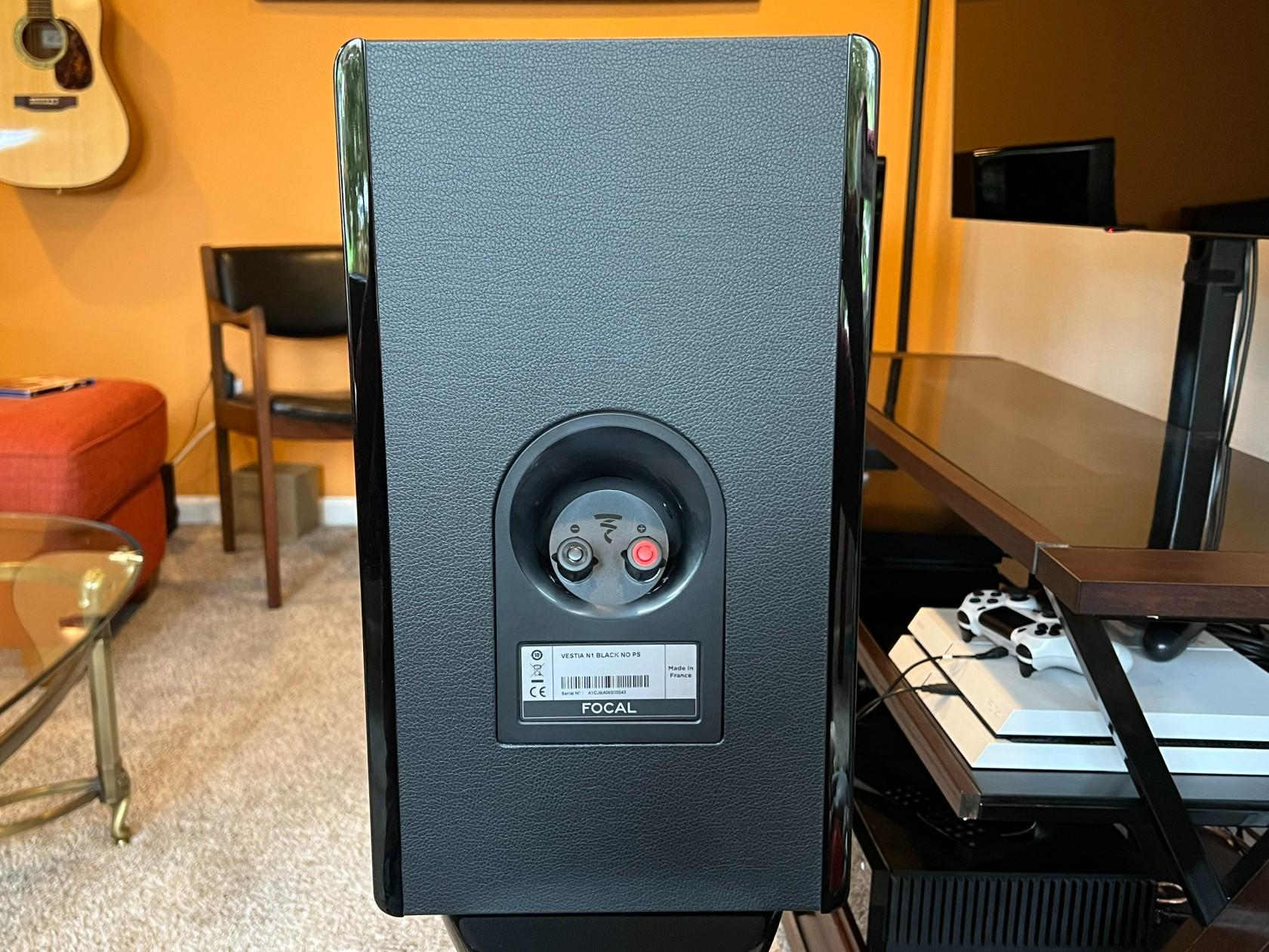 The second pair was in perfect order as expected and while I'm not generally one for white electronics, they look damn good on my black stands, even as they clash with my room's warm decor. While I dig the black, I'd be inclined to go with the Light or Dark Wood models if they work with your listening room.
To power the speakers, I wired the banana plug terminals to my Naim Uniti Atom integrated streaming amplifier which, as luck would have it, happens to be the one Focal recommends as a pairing (Focal and Naim are under the same banner). With an 8 ohm nominal impedance, the speakers should be easy enough to power with any number of amplifiers or receivers, but the fluid clarity of the Uniti Atom's 40 watts per channel provided a particularly apt pairing.
Design and details
Focal calls the Vestia No1 compact in its press materials, but they're pretty large for a bookshelf speaker in this price class, standing at 8 ⅝ x 10 ¼ x 15 ¼ inches (WxDxH). That's due in part to the large 6.5-inch woofer and front-facing bass port below it, designed to offer more "frontal impact." While they may look big in smaller rooms, they're not imposingly so, and the lack of a backside port means you've got free rein to set them back against the wall if desired.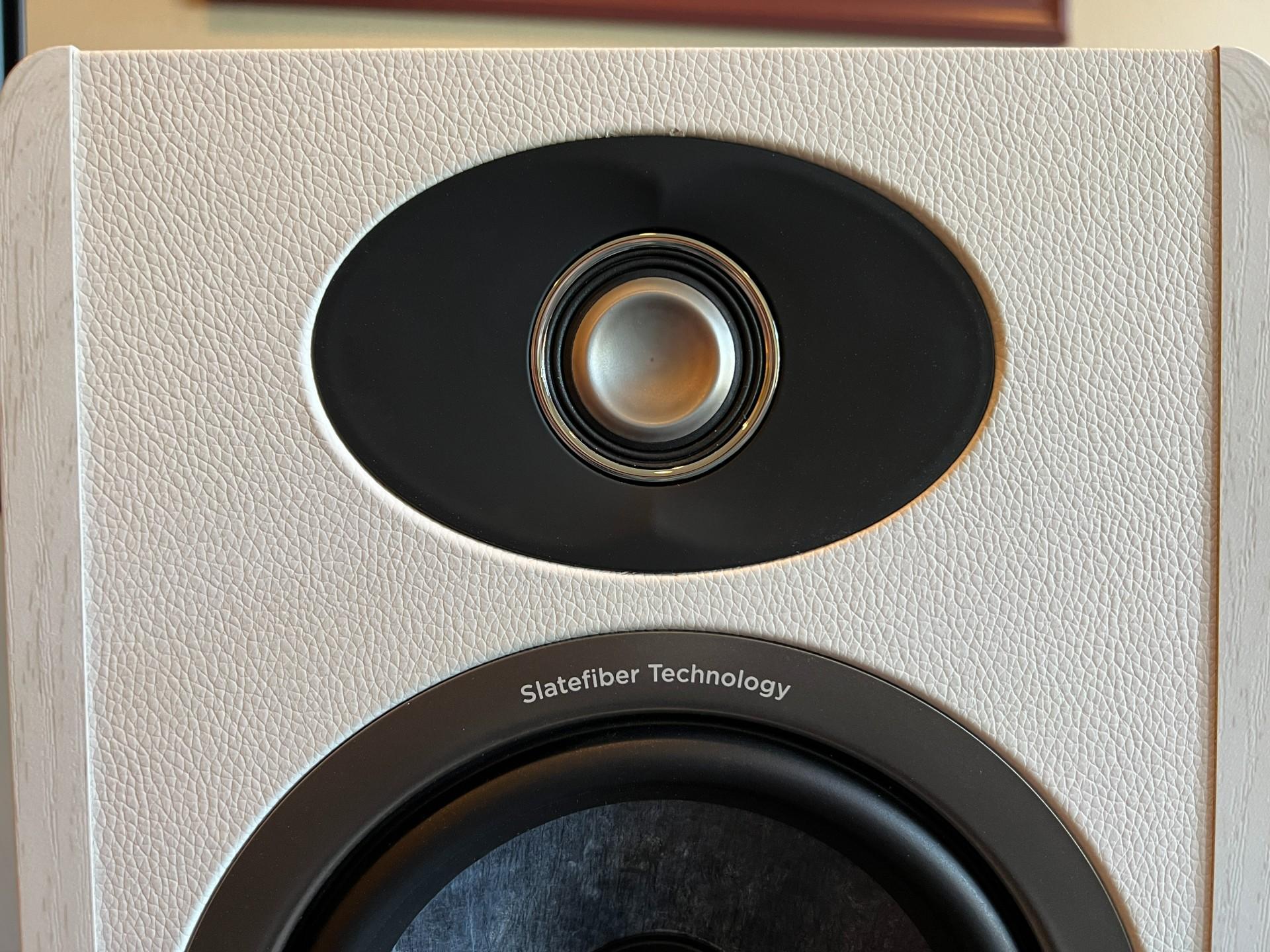 The speakers ship with a pair of magnetic acoustic grilles, but why would you want to cover those pretty faces? The 1-inch aluminum-magnesium TAM tweeter looks particularly inviting, set in a dimpled urethane waveguide within a slick oval at the speaker's top and encircled by a sparkling silver ring. A Focal creation, the inverted tweeter is designed to offer wide frequency diffusion, particularly handy for automotive applications, but as I can attest, it works brilliantly for home theater as well.
The Slatefiber woofer, also made in-house using recycled fabrics, offsets the tweeter nicely. Introduced in Focal's popular Chora speakers in 2019, the cone has made its way into several Focal products since, designed to provide neutral tonality. The crossover point between the two drivers is set at 2.8kHz, with a total claimed frequency response of 56Hz to 30kHz.
Sweet, sumptuous sound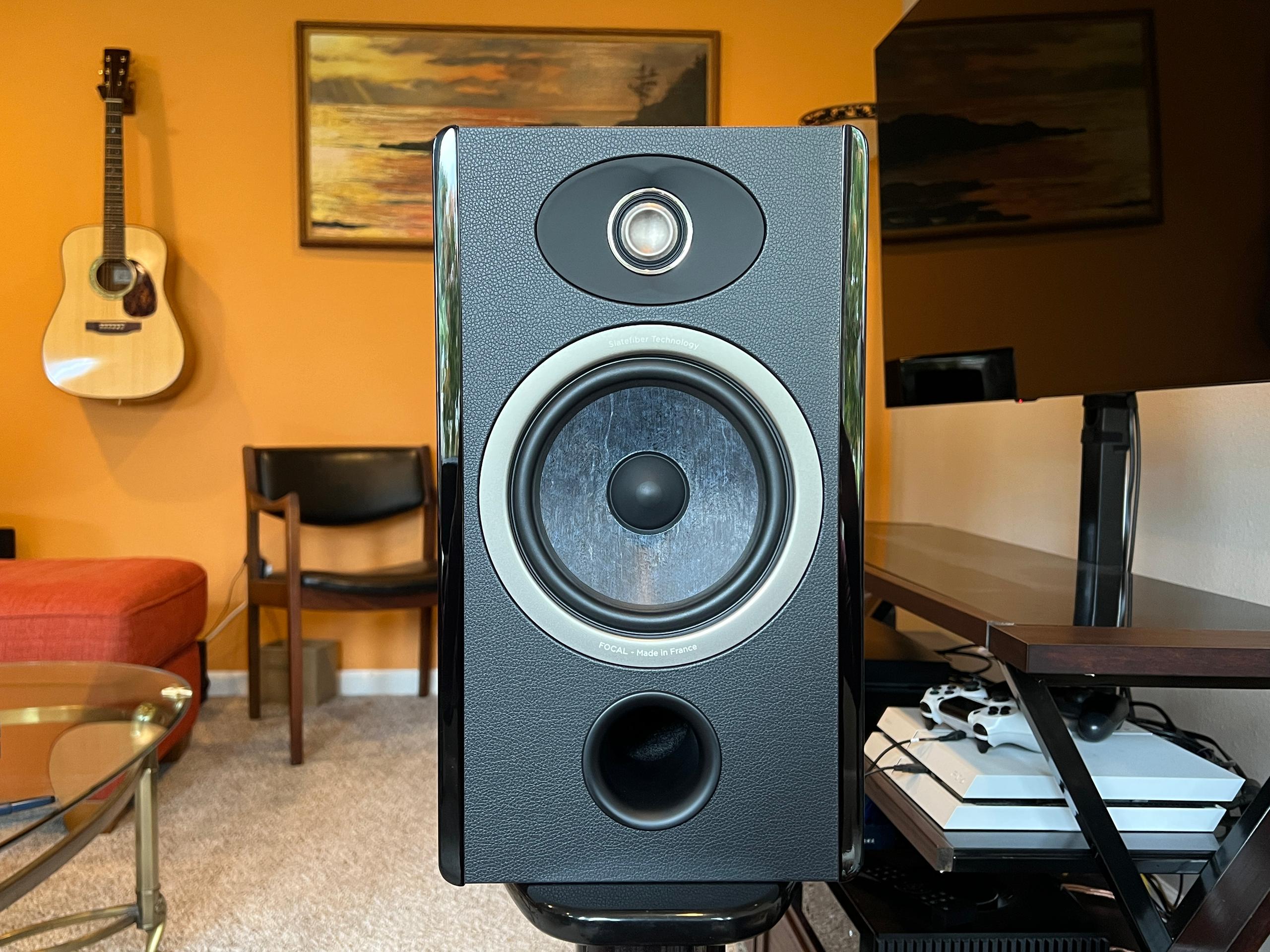 It's hard to decide where to begin with the Vestia No1's inviting sound signature. Should it be their smooth and sweet midrange with a soft touch of cream on top? Their effortless extension in the treble that pulls out the subtlest details in strings, brass, and any number of digital instruments and effects? Or their immersive, near three dimensional stereo imaging that pulls you into the action?
Honestly, it's all my favorite, working together to elevate everything from 30-year-old episodes of Seinfeld (yeah, Seinfeld is over 30) to the organic, near-live hand drums in Snarky Puppy's Jefe.
While you may think of Focal as a music-first audio brand, I started my listening while catching up with Better Call Saul's final season. I swapped in the Vestia for the excellent Polk Legend L100 bookshelf speakers I'd pulled out as a reference pair in anticipation of their arrival. And while I love what Polk has done with the L100, it was frankly an instant upgrade in the details department when I plugged in the Vestia.
Everything came through with astonishing clarity and viscerality; shuffled papers had a delicious crunch, whispered dialogue tickled at my ears, and even the baritone of a barbershop quartet in one of the transition scenes enthralled, as if laying down his dulcet melodies just for me.
Moving on to some of my go-to cinematic test subjects, the speakers continued to impress. The rainbow of effects in Marvel's Ant-Man were all handled with textural definition, from the thick, thwapping wings of the helicopter ants to gunshots, surging electronics, and armies of ant legs rolling across micro landscapes. But what really jumped out at me is how well the speakers engulfed me in the fun, bowing and spreading out the stereo image both vertically and horizontally to send me hurtling through the action.
The Vestia's imaging isn't quite as diamond-hard as Polk's L100, but it's incredibly expansive, while still building a clear and almost palpable center image. The latter effect was especially notable with music playback.
Rolling through plenty of high-resolution audio tracks in Apple Music, as well as compressed tracks on Spotify, the speakers showed a lovely run across registers, spinning instruments through the bass, midrange, and the very tips of the treble frequencies with impressive fluidity. They also showcased great speed, knocking out zippy 64th notes with ease, while offering plenty of dynamic expression to grow and contract with the subject matter.
As noted before, though the speakers sound strikingly accurate, they also paint a layer of smooth velvet into the midrange that is especially enticing, while their extension into the treble for instruments like french horn, strings, and synthesizers is sparkling sweet.
Every so often, I heard a tiny bit of, not harshness, but I'll call it tautness at the top of the midrange where sibilance can rear its head. But such moments were extremely rare, and the sound never turned sharp, even when the music tended that way. The Vestia do tend to expose little mistakes, artifacts, and even poor mixes – the price for precision. For example, the new Fruit Bats album is my favorite of 2023 so far, but the vocal mix is surprisingly low, and the Vestia gave the issue nowhere to hide. It still sounded great, but suddenly my friend's complaint about the mix was all the more obvious.
If I have one real critique to raise about the No1's sound, though, it's the bass response. While it's rich and musical, it's not exactly thunderous. The lowest grooves in songs like The Weeknd's Starboy or Biggie's Hypnotize just don't hit with as much gravitas as you might expect from 6.5-inch woofers.

That said, anyone looking for big, foundational bass should be pairing their bookshelves with a good subwoofer anyway, and the speakers pulsed with enough boom to satisfyingly bring bass grooves, explosions, and other action-packed cinematic moments to life.
Competition and comparisons
As mentioned, there are a lot of great options in this price class, starting with the Polk Legend L100 I referenced above. I think the Vestia offer more sumptuous detail in the midrange, and the Polk pair can be a touch bright in the treble, but they look and sound great, with the highlight being their especially clear and well-defined stereo imaging.
One of my favorite choices in this category, or any category really, are KEF's LS50 speakers, which offer crystalline clarity and plenty of dynamics for anything you play. I haven't heard the latest iteration, the LS50 Meta, but it's safe to assume they sound fantastic as usual. That said, they'll cost you another $400 over the Vestia.
Another good option worth considering is the SVS Ultra speakers, which pack in vividly clear and dynamic sound and solid bass response in a package that looks as good as it sounds.
There's also Focal's new Theva line, which is replacing the brand's more affordable Chora lineup, starting just under $1,000 per pair.
Conclusion
The Vestia No1 bookshelf speakers offer a luscious taste of Focal luxury at an approachable price point. Their sweet, clear, and expansive sound is tough to match for the money, even in this very competitive category. If you're looking to invest in a fantastic pair of mid-level audiophile bookshelf speakers, the Vestia No1 should be high on your list.