An amplifier is a device that electronically increases the power or voltage of a signal. It is most often used for amplifying the sound of audio equipment. People that could make great use of an amplifier are those who are seeking to increase the volume of their audio or strengthen their signals.
Some examples of these individuals can include musicians, sound engineers, DJs, home theater owners, and anyone else who has the desire to boost their audio signals. Amplifiers can also be utilized to improve the sound quality of these signals, with the addition of clarity and definition.
An incredible deal on an amplifier that is currently going on is for the Yamaha RX-V385 AV Receiver! Right now, it is $299.95, which is a $100 discount from it's suggested retail price of $399.95! This is a high-quality amp that will give you the intensity you need.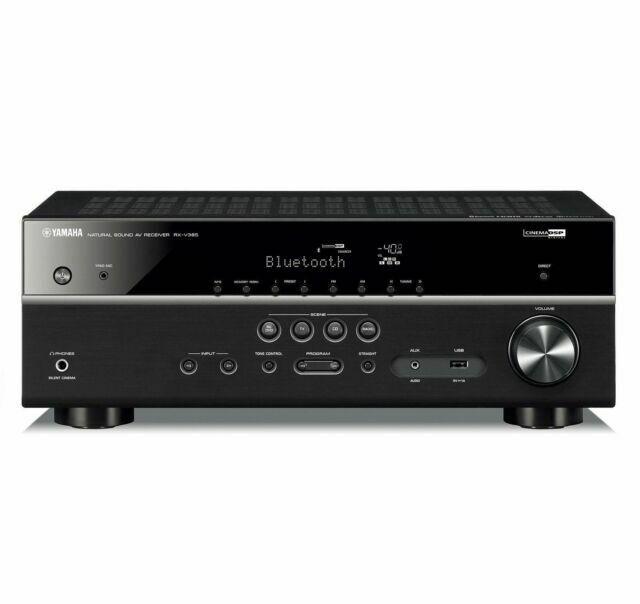 The RX-V385 by Yamaha is a 5.1-channel AV Receiver that has a max of 70 watts of power and advanced features that makes it a great fit for your home theater. It can be connected to your TV via HDMI for 4K Ultra HD support, HDR10, Dolby Vision, and Hybrid Log-Gamma, improving your picture quality. Yamaha's engineers have also built this amp with CINEMA DSP technology to provide listeners with HD Audio (Dolby® TrueHD, DTS-HD Master Audio™, etc.), which allows for impressive sound imaging. Its Bluetooth connectivity ability gives you the option to stream music wirelessly, and there is also a USB input if needed. Another cool aspect of this receiver is YPAO™ auto-calibration technology. This feature adjusts audio parameters for optimal sound by analyzing room acoustics. The Yamaha RX-V385 is an excellent home theater amplifier for an immersive audio experience.
Take a look at these amplifiers that are also on sale right now!
If you're looking for an amplifier that will seamlessly fit into your home theater sound system, Marantz's NR1200 is your best bet. It is a 2-channel slim stereo receiver that is half the size in height of a standard AV receiver. Updated with the latest technology, it has HDMI connectivity with its 5 inputs, each one supporting HDCP 2.3, 4K Ultra HD 60Hz Video, HLG, and HDR10. You can also stream music from your favorite streaming services with ease. With many features making it a top-notch product, the NR1200 is equipped with Bluetooth, Wi-Fi, and Heos capabilities, providing you with the ultimate home audio experience. Discounted by $200, this amplifier went from $799.00 to $599.00! Giving its compact design and powerful performance, the Marantz NR1200 is perfect for any home theater setup.
Bring professional quality audio to the comfort of home with the AudioSource AMP1200VS. This is a 12-channel power amplifier featuring 40 watts per channel at 4 and 8 ohms. With the capabilty of driving up to six pairs of speakers simultaneously, this amp can also be used in multiple rooms. Beyond that, you can play different audio from each room! Get this amplifier for $150 off while its on sale from its original price of $899, which is $749.00! Enjoy high-quality sound in your home with the AudioSource AMP1200VS.
For the bass lovers out there, this is an amplifier you need to get ASAP. The PSB CS 500W is a premium 500-watt digital subwoofer amplifier that delivers substantial power for two subwoofers. A great component of this amp is its digital signal processor (DSP). This feature allows the installer to customize EQ settings, and contain different profiles specifically tailored for PSB subwoofers, in your home theater or hifi applications.
Another great aspect is its built-in limiter circuit that filters incoming information, which helps in preventing the subwoofer from driving past safe operating parameters. The amp can be powered up in multiple ways that include signal sensing and 12 volt trigger. Save $239.80 on this awesome amp today by purchasing it at its sale price of $959.20, instead of its suggested retail price of $1,199.00! PSB's CS 500W smoothly blends the sounds of subwoofers into any musical or theater environment.
Are you interested in creating a space in your home for enjoying entertainment with your family, but aren't sure what you need? Here's an article by our experts that can help you get started with choosing the right equipment.