Music is the heartbeat of every culture around the world. And if you're like most people, you also love taking your music with you wherever you go. So why not combine the two and get a portable Bluetooth speaker? Portable Bluetooth speakers are a great way to enjoy your music any and everywhere. They're lightweight and easy to carry, and they come in a variety of sizes, shapes, and colors. Plus, they're affordable, making them a great option for people on a budget. So if you're looking for a way to keep music always around you, a portable Bluetooth speaker is the way to go.
Also, if you're looking for the perfect gift for the music lover in your life, a portable Bluetooth speaker is an excellent choice. They'll be sure to love it and it's a premium product for an inexpensive price. Right now, there is a sale on one of the best portable Bluetooth speakers, the JBL Xtreme Waterproof Portable Bluetooth speaker. It is marked down by $100, going from $379.95 to $279.95! This is a holiday treat that will make your loved one's day, so check it out!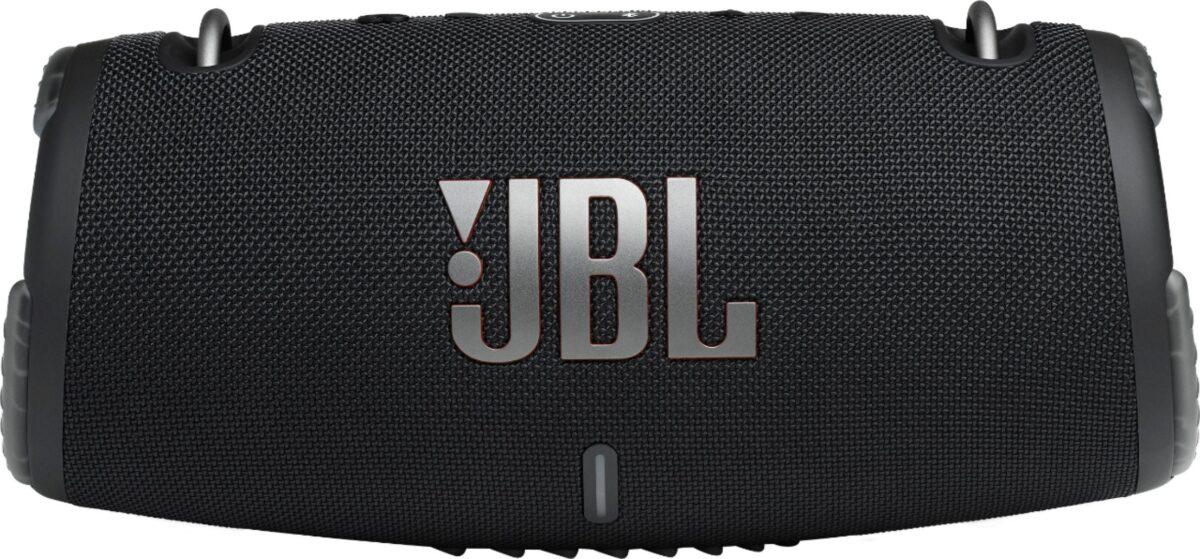 A waterproof speaker that can handle the most rugged and wet environments with you, the JBL Xtreme 3 Waterproof portable Bluetooth speaker delivers big sound and reliable performance. This device is waterproof and dustproof, with a built-in mic for hands-free phone calls. The JBL Xtreme 3 is also equipped with a battery built to last for 15 hours, and the charging cable is included. With its waterproof design, this speaker is ideal for the beach, pool, or shower. This speaker can withstand it all, making the investment worth it.
Introducing the Samsung MX-ST50B Sound Tower, the ultimate party speaker for your next get-together with family and friends. With 240 watts of power, this speaker is sure to fill the air with your favorite tunes, whether you're indoors or out. Plus, with its IPX5 rating, it can take on splashes coming at it from any direction, so you don't have to worry about it being damaged while enjoying the tunes. Whether you're looking for a booming sound to fill your space or just something to play some music while you're hanging out with your loved ones, the Samsung MX-ST50B Sound Tower will boost the vibes. Its current sale price is $497.99 which is $202.00 less than its suggested price of $699.99! So don't wait any longer, order your very own Samsung MX-ST50B Sound Tower today!
The Monster DNA One is the ultimate portable speaker. It's small enough to take with you wherever you go, but it delivers a huge, bold sound. The DNA One has a four-speaker array that creates a 360° omnidirectional sound field. It has a design that is meant to provide balanced, clear sound in a room or area. With this speaker, there are two active drivers and two passive radiators that increase the bass output. A built-in 20-watt amplifier powers the speaker for a full sound. The DNA One also comes with its own Qi wireless charging base. This allows you to charge your phone as you listen to your favorite tunes. Catch this speaker on sale while it is discounted for the holidays at $134.99! That is $35.00 off its retail price of $169.99!
The SoundLink Revolve+ II Bluetooth speaker is top-notch in delivering quality portable sound. It is a dynamic improvement from the first model. It also can seamlessly sync with your Bose Home Speaker 500 or Bose Soundbar 700 to share music. The area coverage of the SoundLink Revolve+ II is impressive, as it can spread 360° directionally across a wide area. A feature that Bose calls an "omnidirectional acoustic deflector" gives the speaker the capability to deliver a spread-out, yet uniform sound field. Two passive radiators heighten low frequencies, maximizing the rich bass in your music. The built-in, rechargeable battery provides up to 17 hours of playback. And the SoundLink Revolve+ II is rugged and durable, so you can take it with you wherever you go. This speaker is going for $229.00, which is $100 less than its original price of $329.00! Get it while this special is available!
The JBL PartyBox Encore Essential is sure to be your go-to party companion. This all-in-one speaker has a built-in music sound system, light display, and karaoke machine that makes it a great purchase in every way. You can wirelessly stream your favorite songs using its Bluetooth technology. Plus, if you have a mic on hand, you can take the party up a notch with some sing-along fun. This speaker features a 5-1/4" woofer and two 1-3/4" tweeters that give it supreme sound. If you want more volume and extra light action, you have the option to wirelessly pair two of these speakers together. This will give you a wider two-channel stereo sound. So whether you're looking to host a small get-together or a full-on bash, the PartyBox Encore Essential has you covered. Right now, this party speaker is priced at $279.95, $20 taken off of their regular price of $299.95 so take advantage while you can!
Take in sweet sounds as you travel and get a new portable Bluetooth speaker today. Not sure which one is the ideal choice for you? Get some insight from reading this review on a portable speaker from one of our experts here to make your decision.