The sweet spot for a midrange TV over the past couple years has been $1,000. At that price, you can get a 65-inch 4K TV with HDR support (maybe Dolby Vision), full-array local dimming (maybe even mini-LEDs), quantum dot technology, a Smart TV interface, voice control, and possibly some gaming features. It's a buyer's market, and the competition has. only gotten stiffer over the past few years with the big names – Sony, LG, Samsung, and Vizio – being joined by TCL and Hisense.
Those last two have really given the established brands a run for their money, as evidenced by Andrew Robinson's positive review of the Hisense 65H8F at the end of 2019. That TV offered an overall enjoyable experience, especially for its price. A generation later (and a product line higher), Hisense aims to continue exceeding expectations with the H9G. The 65-inch version sent to me for review retails for $1,000 and you can pick up the 55-inch variant for $750 or less.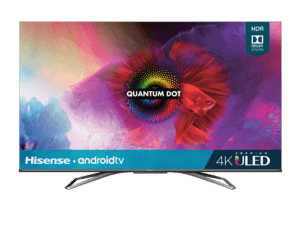 One thing that sets the H9G apart from its forebear is its new stand. Instead of the standard dual-foot design, there's a cool swooping loop for each side. The stand isn't as widely spaced as you'll see on many other displays these days, so the 65-inch model's footprint is only about 36 inches wide. The depth of the stand – 13.6 inches – means that the G series eats up a little more space from front to back, but the stand design offers good stability for the 55-pound set. There's a power button under the badge and a toggle switch to turn the microphone for voice assistant commands on and off (turning this off became a necessity for me after Google Assistant was activated erroneously multiple times).
The back panel is all plastic (a cost-cutting decision, I'm sure). There's a track with some clips that runs the length of the bottom third of the TV for cable management. The main connections – three HDMI 2.0a (one with ARC), two USB, a RF connector, and a headphone output – are side facing around the left side of the screen. The remaining HDMI, optical out, LAN, composite video, and stereo RCA are rear facing. Since all of the HDMI ports are 2.0a, the 4K refresh rate tops out at 60Hz. In the new age of HDMI 2.1 and 4K/120 gaming that's a mild disappointment, but unless you're using one of the new consoles, the lack of HDMI 2.1 will be of no consequence. The display supports HDR10, Dolby Vision, and HDR10+ high dynamic range, although none of its streaming apps seem to support the latter – only its HDMI inputs.
That's not the only way in which the Hisense is a bit of a letdown for dedicated gamers. Even though it has a native 120Hz panel, the H9G does not support high refresh rate gaming even at 1080p. There is a game picture mode that shuts off extra processing and gets the input lag down from 107.9ms to 18.2ms, as measured by my Leo Bodnar lag tester. But there isn't auto low latency mode (ALLM) found on other TVs that automatically turns on gaming features when the display senses a game.
The Hisense H9G runs on the Android TV platform, which allows access to hundreds of apps, including the most popular such as Netflix, Disney+, and Amazon Prime. Android TV is a perfectly fine Smart TV platform, although I find scrolling through menus can be a tad sluggish when compared to Roku. There is in-app support for Dolby Vision and Dolby Atmos if the content offers it. And, since it runs on the Google system, the H9G supports casting and has a built-in Google Assistant. The voice-activated assistant can be accessed through a microphone on the remote or one built in to the TV (although, as mentioned earlier, I had to turn off the TV microphone because it was errantly triggered a few times). When accessed on purpose, Google Assistant runs very well. Alexa is supported as well, if that's your virtual assistant of choice, but it takes some extra setup.
A bit on the long side, the remote has all the buttons you need, and a few that are superfluous (for instance: a Home button and an App button that get you to very similar menus). The length allows for some spacing on all those buttons – including four dedicated app buttons, transport controls, a number pad, and a directional pad with settings access – I found myself having to shift my hand positioning in order to reach everything. For someone with larger hands, I could see it being a beneficial tradeoff. It just feels too big and clunky for me and there is no backlight on the remote.
How does the Hisense H9G perform?
Hisense says the H9G can output up to 1,000 nits of peak brightness. With my X-Rite colorimeter profiled with an X-Rite spectrophotometer, a signal generator and Calman color calibration software from Portrait Displays, I measured just over that at 1,018 nits from a 10% window in the Theater Day SDR picture mode. This is plenty of brightness for watching at any point of the day or night. Theater Day was also the most grayscale and color-accurate setting on my sample, with average Delta E values of 2.1 and 0.9, respectively. (Delta E values indicate how close to perfect a display measures with lower values being better. Anything below 3.0 is very good and 1.0 or below is considered perfect.) Other picture modes weren't quite as acceptable, so best to stick to Theater Day (or Theater Night).
Where the H9G punches above its weight class is with black level and contrast. This is, in part, thanks to the excellent full-array local dimming, with180 dimming zones. With Local Dimming set to High, there was very little bloom and quick light-to-dark (and vice-versa) transitions. Blade Runner 2049 in Dolby Vision features black level that can be difficult for any TV to render properly, but it didn't cause much of an issue with the H9G. The opening text didn't bleed into the black, and there was depth and dimensionality to the shadow detail in shots around the orphanage.
BLADE RUNNER 2049 - Official Trailer
The Millennium Falcon's journey through the Maelstrom in Solo is another favorite of mine to test black detail, bright highlights, and light blooming. In the moments leading up to their confrontation with the Summa-verminoth, the lightning striking in the darkness caused a small amount of light bloom, but for an LCD the performance was very respectable.
Solo: A Star Wars Story Official Trailer
Detail was excellent in both films. There's both noise reduction and digital noise reduction in the menus, but for most content I don't find them necessary except on particularly noisy content. And even then, I wouldn't put it past the low setting. The VA panel of the H9G does have limited viewing angles, with significantly washed out colors when even just 30 degrees off axis, but that's not unexpected.
The two 10W speakers are serviceable, but as with most TV speakers I'd recommend using a separate soundbar or AVR. Any dramatic moments miss some oomph with the built-in speakers.
High Points
The Hisense H9G's black level and contrast ratio are best-in-class and rival some more expensive LCDs.

Color and grayscale accuracy in Theater Day mode is very good straight out of the box.

The display's high light output results in great pops of brightness in dark scenes and explosions, and makes it perfect for use in a room with any ambient light.
Low Points
It's expected from a VA panel, but viewing angles are limited.

There are plenty of buttons on the remote, but maybe too much. The remote can be a literal handful .

The H9G lacks a lot of gaming features that are starting to become standard fare on TVs at this price point.
How does the Hisense H9G compare to the competition?
It seems as though almost every manufacturer offers a 65-inch model at or right around $1,000. Sony has the X800H, which I reviewed a few months ago. It has even more accurate grayscale than the Hisense out of the box, but nowhere near the light output. It's also an edge-lit IPS panel, so it can't compete in any way with the H9G in terms of black level or contrast, and its HDR performance lacks any real pop. The speakers are very good, though, if you have no desire to upgrade to a soundbar or surround system (please, for the love of Tomlinson Holman, upgrade to a better sound system than TV speakers).
The Samsung Q70T (reviewed here) has an MSRP of $1,300 and retails for $1,100. Like the Sony, it is an edge-lit display. While the black level on the Samsung is excellent for what it is, the FALD of the H9G outperforms it. The one leg up that Samsung has over the Hisense is HDMI 2.1 compliance and better support for video features of the newest gaming consoles.
The most direct comparison is the TCL 6-Series for $1,000. While it doesn't have fully HDMI 2.1 compliance, it does support variable refresh rate and auto low latency mode for gaming. I prefer its Roku interface to the Android TV of the Hisense. But the Hisense does have more light output and a better FALD response. It's really comes down to whether you plan to use the display more for gaming or movies, but you really couldn't go wrong with either.
Final thoughts
Hisense continues to impress with their TVs. Contrast ratio has the most effect on our perception of a good image, and the Hisense has that in spades. Its out-of-the-box accuracy is good enough for most people and its brightness adds nice pop to movies in HDR. I do wish the H9G could be a bit more forward-looking with its technology and included at least one HDMI 2.1 input, or variable refresh rate for gaming. But if gaming isn't your bag, the value of the Hisense beats out TVs costing hundreds of dollars more. It's just a great TV.
Additional Resources
• Read our more Hisense TV reviews at Home Theatre Review.
• If you want more in-depth coverage of Hisense products, read our Hisense Announces Roku TV Ready Soundbars review.