We'd like to thank ProjectorScreen.com for their assistance with our projector evaluations and testing. Their yearly shoot-out, extensive selection and helpful attitude makes our life easier when we need to dig in a little more.

I've spent the last year or so focused on the 4K ultra short throw projector category, which I view as the most exciting segment because it's new, competition is fierce, and nothing is settled as far as how far the tech can go.

What I do know is Hisense has been in the 4K UST business for longer than most of its competitors, and no other company has released more models over the years. They say "practice makes perfect," and while there is no such thing as the perfect UST, through reviews and testing, I have found that Hisense is in the top tier in terms of performance. And if you are looking for the best 4K UST projection system Hisense currently offers, there is a strong argument to be made on behalf of the Hisense L9G.

Per my ProjectorCentral review, the L9G is a high-performance triple-laser 4K UST projector that uses DLP technology in a 1080P single chip configuration plus pixel shift technology to deliver a UHD viewing experience. The RGB triple laser light source can reproduce an extremely wide color gamut, one that exceeds the DCI/P3 color space typically used to master UHD HDR. This allows it to reproduce the intense colors found in HDR material.
---
Hands-On: At Home, The Showdown & The Showroom
When I had the L9G at home, in for review, I enjoyed it a great deal. I find it is a tremendous way to watch sports, and last year during NFL playoffs, for the first time, I streamed 4K HDR —via YouTube TV on Fox—and witnessed picture quality that blew my mind. It was as good as a Hollywood movie!

Here's the thing, Hisense is a major TV maker, and when it comes to processing, it knows how to handle broadcast and cable TV, as well as streaming signals. The result is what's on-screen looks good, even if it's a typical highly compressed HD cable feed. And notably, the Laser TV moniker is literal; the L9G has a built-in TV tuner. In other words, it really is a TV. Even though it is a projector instead of a flat panel TV, you can directly hook it up to an antenna or cable/satellite feed.
The L9G's close sibling, the PX1-Pro, recently scored a third-place finish in the inaugural ProjectorCentral.com and ProjectorScreen.com Laser TV Showdown. I have reviewed both the L9G and PX1-Pro and can say they are extraordinarily similar.

I know what you're thinking, "3rd place finish?" but here's the thing. The difference in scoring between the top four of the six triple-laser USTs judged at the event is minuscule: The full spread between #1 and #4 scores is less than 2%, which is arguably within the margin of error. In my experience with events like this showdown, what that sort of result really represents is a statistical tie. Moreover, in that lineup, the Hisense triple-laser scored overall wins for motion handling with broadcast signals (like sports) and being a top scorer in detail/sharpness and color accuracy/skin tones. And all of these observations line up with my subjective experience reviewing both the PX1-Pro and the L9G.

In my experience, the most crucial quality in a UST projector is a menu system and software that offer picture mode settings that let you tune the projector's various picture modes for optimal presentation under different lighting conditions, and with various content. In my view, this is where Hisense shines, its picture modes are well tuned, where Standard mode is bright and offers a picture tuned to look like a TV in a similar mode, which is great for sports.

But then it also has a FilmMaker mode which is quite accurate, so on the lights are out, and you're watching your favorite flicks, what you see is faithful to the film director's intent.

Differences worth noting are that the L9G ships as a complete package with a screen, Hisense gives it a higher peak lumen rating, and it has a fixed focus lens. The PX1-Pro is designed to be paired with the screen of your choice and overall has a stronger focus on home theater applications, while the L9G is presented as a TV substitute for the living room. I wrote up full reviews on both models and recommend either one.
---
The Showroom Experience
OK, so the UST showdown didn't have the Hisense L9G in it, and my in-home review wrapped up some time ago; the projector is long gone. But for the sake of this hands-on, I wanted to add one more experience, and that's to see the L9G in a real showroom, in a store where there are other TVs and where many consumers will be encountering a UST projector for the first time.

So I hopped in a car and headed over to the World Wide Stereo store in Montgomeryville, PA, where they have the L9G on display and hooked up to a Kaleidescape system. Here's what I saw:

• With lights on, the two other TVs in the room were brighter and had better contrast.

• With content like sports, the difference in picture quality was not very large, and you could easily argue that the bigger screen size makes up for it.

• The same is true for nature documentaries shot in broad daylight, that sort of footage is brilliant even when there's ambient light in the room.

• It's only when you start playing movies or shows with dark or nighttime scenes that the poor black levels of the UST operating in a bright room become apparent.
• Dimming the lights turns the tables, the darker the room, the better the UST looks compared to the TVs.
• In a fully darkened room, The L9G's image looked definitively superior to the TVs. Even HDR looked surprisingly similar even though, technically, the TVs have much brighter peak highlights.
• The wide color gamut of the triple-laser design is a difference-maker when it comes to ensuring that HDR content looks vibrant.
• DLP projectors have historically been good at rendering motion, and this Laser TV is no exception; whether its 24p film or 1080/60i sports, in my opinion, the motion rendering looks better than a typical TV.
• The Hisense L9G truly is one of the sharpest 4K UST projectors. It provides a cinematic viewing experience that is full of detail. This may be attributable to the fixed focus lens that is designed as a match to the provided screen.
• One clear and dramatic difference between UST and a TV was apparent in the showroom: The L9G's screen was on an opposite wall to a TV. Even though the TV has an effective anti-reflective coating, you could see the L9G picture reflected in it. However, the UST screen is impervious to reflections, so there was no visible sign there was a TV on the other side of the room. This quality also applies to windows, lamps, etc.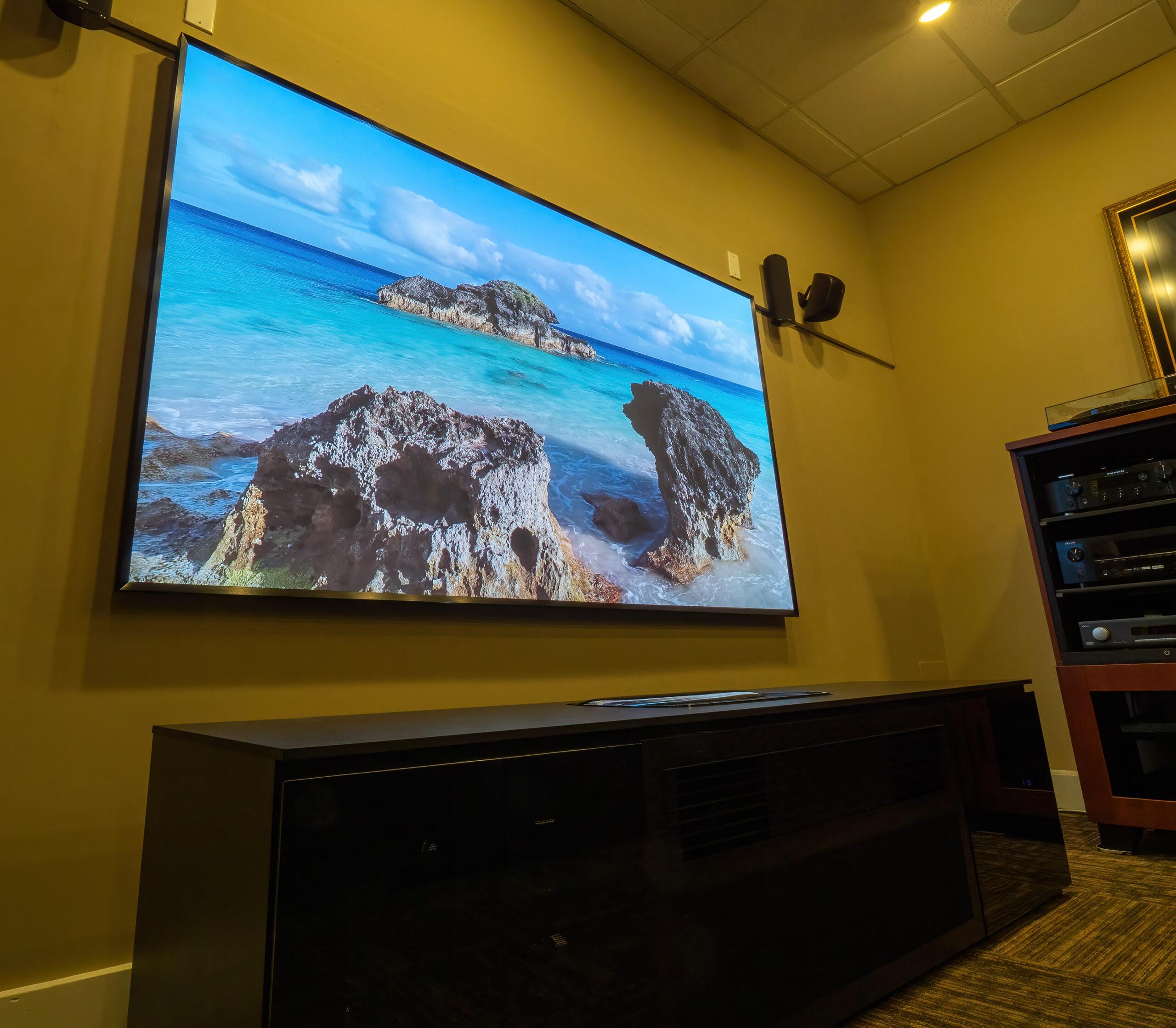 ---
Conclusion
4K UST projectors are not yet a familiar product. But seeing one in action in a showroom is very informative as to both its strengths and its weaknesses. In a nutshell, you got a big picture that would cost much more to achieve with the TV, but you make the compromise that you have to dim the lights to get the most out of it.

The thing is, you can go 100 inches, or even up to 120 inches with a UST, and not have an issue getting the system into your house. Besides, you can't buy a 120" TV, and even if you could, it would cost a fortune.

Here's the deal: A UST is a lot better way to get a projection system in a living room than long-throw solutions. The UST screen is better at rejecting ambient light than other types of ALR screens, and the fact the projector sits under the screen, so it's impossible to block the light by walking in front of it, is a huge plus. It may not be right for everyone, but if you understand the benefits and limitations, you might find it's the right display solution for your needs.

Whether you are a sports fan looking forward to a sports bar-type experience with dim lights and a huge image, or a movie buff who wants to enjoy an "almost home theater level" viewing experience in the living room, the Hisense L9G is a complete system that scores high and has great performance in the most important categories, like color accuracy and sharpness. It's worth a look, and also worth an Editor's Choice award.