Are you looking for a way to make your holiday shopping easier and brighter? Look no further! Smart lighting is on sale now, making it the perfect gift for your loved ones this season. Smart lighting is an ideal choice for those looking for a modern, tech-savvy way to light up their homes. Using these devices you can power your home from your phone and make life more convenient. With features like voice control and energy efficiency, smart lighting is the perfect way to make your home more connected and efficient. Whether you're looking to upgrade your existing light fixtures or start from scratch, now is the perfect time to take advantage of discounted prices on smart lighting products. So don't wait any longer - shop smart lighting today and make your holiday shopping a breeze!
A great smart home lighting product that currently has special pricing is the Philips Hue White A19 Starter Kit! This bundle is an excellent pick for those seeking to try out lighting the rooms in your home through smart technology for the first time. It can be installed with ease and adjusted to be as dim or bright as you desire. Catch this kit now for $39.99, due to the price being cut from $69.99 for $30 in savings!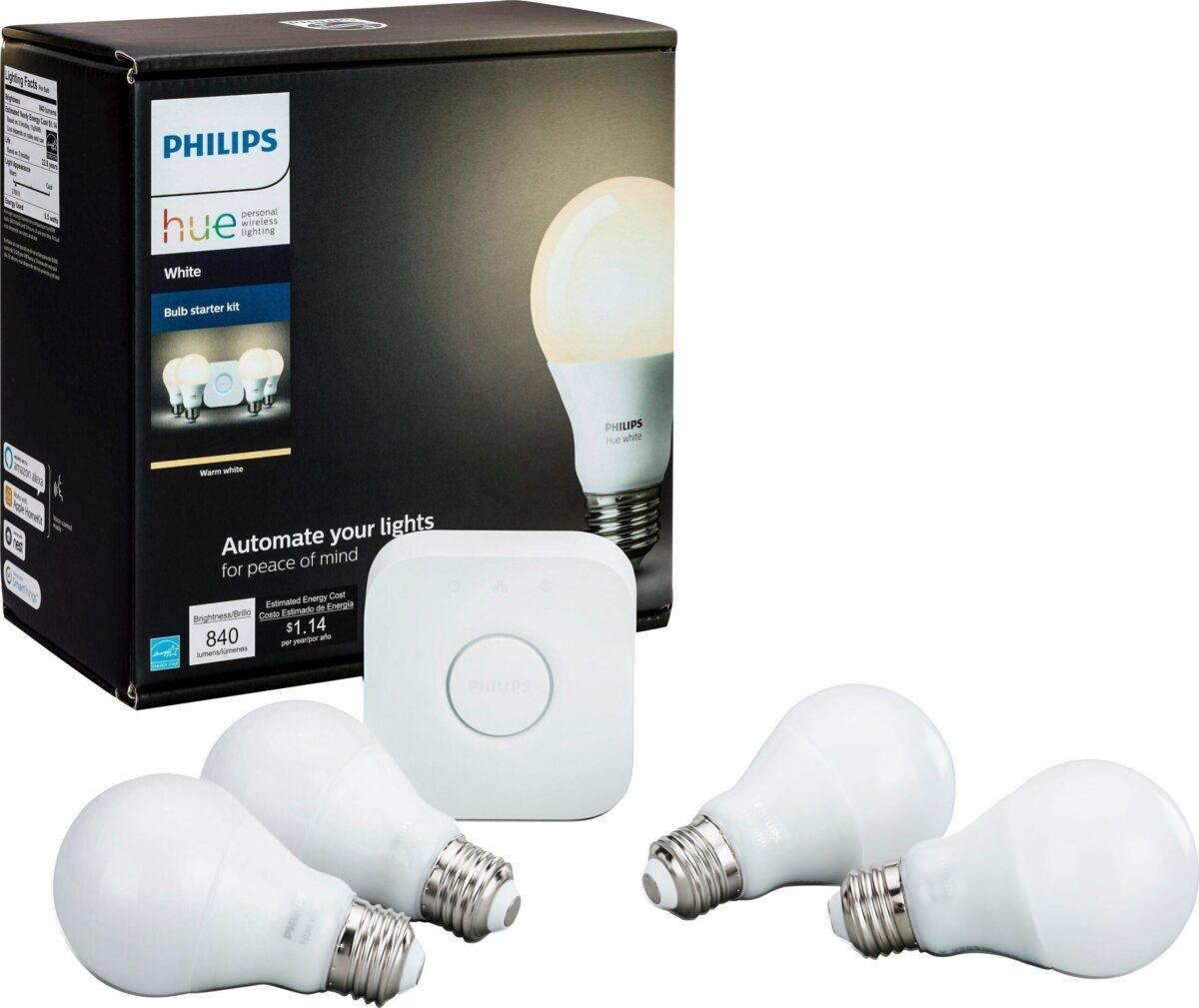 The Philips Hue White A19 Starter Kit is the perfect way to get started with smart home lighting. This kit includes two smart LED light bulbs and a wireless bridge that will give you control over your lighting from your phone or tablet. With up to 50 bulbs able to be synced together or independently controlled, you can create custom scenes and dimming schedules with the free Philips Hue app (Apple®️, Android™️). Setup is also very simple - just connect the bridge to your wireless router and replace your existing bulbs with Hue bulbs and you're all set! Transform your home this holiday season with these cool lights!
Smart homes are becoming increasingly popular and the GE Cync Full Color Direct Connect Light Bulbs make it easy to create a personalized atmosphere at the push of a button. These 4 A19 LED Color Changing Light Bulbs are perfect for changing up the vibe of any space in seconds, with millions of colors to choose from. Whether you want to create a cool kids' room, an intense movie night, or show your support for a team on game day, these bulbs have you covered. In addition, their tunable white spectrum feature is ideal for syncing with your sleep/wake cycle, allowing you to create the perfect scene for winding down or waking up. And with smart home capabilities, you can even schedule your lights to turn on and off so you never come home to a dark house. Plus, you can control your lights away from home with voice control and other added convenience features, so you can enjoy peace of mind while on vacation or when your hands are full. Get yours now on sale for $29.99, which is a $15 discount from $44.99, and enjoy the convenience of smart home lighting.
Philips creates an incredible home lighting experience with this light bundle they have put together here. With this kit, you can add smart home lighting to any room and connect to the included Hue Bridge to unlock endless possibilities. Control your lights via the app, voice commands, or with the included dimmer switch - the options are limitless! Philips Hue boasts 16 million colors to choose from, so you can set the perfect mood for parties, bedtime stories, and much more. Plus, through the partnership between Philips Hue and Spotify, you can bring your music to life with deep lighting and music integration that intertwines sight and sound. Create a relaxing atmosphere with dimmable lights that slowly brighten in the morning or help you unwind for a good night's sleep. The Hue Bridge is the brains of the operation, allowing you to schedule routines and timers to automate your smart home lighting. For a savings of $40, buy this kit today for $129.99 instead of its retail price of $169.99!
Do you want to upgrade your home but looking for an inexpensive way to start? Smart lighting is a cool choice for those seeking to do so with minimal investment. Check out this article from one of our experts on how you can easily integrate smart technology into your home today!