');mask-image:url('data:image/svg+xml;utf8,');mask-mode:alpha;-webkit-mask-repeat:no-repeat;mask-repeat:no-repeat;-webkit-mask-size:contain;mask-size:contain;-webkit-mask-position:center;mask-position:center;border-radius:0}}.wp-block-image figure{margin:0}ol.wp-block-latest-comments{margin-left:0}.wp-block-latest-comments .wp-block-latest-comments{padding-left:0}.wp-block-latest-comments__comment{line-height:1.1;list-style:none;margin-bottom:1em}.has-avatars .wp-block-latest-comments__comment{min-height:2.25em;list-style:none}.has-avatars .wp-block-latest-comments__comment .wp-block-latest-comments__comment-excerpt,.has-avatars .wp-block-latest-comments__comment .wp-block-latest-comments__comment-meta{margin-left:3.25em}.has-dates .wp-block-latest-comments__comment,.has-excerpts .wp-block-latest-comments__comment{line-height:1.5}.wp-block-latest-comments__comment-excerpt p{font-size:.875em;line-height:1.8;margin:.36em 0 1.4em}.wp-block-latest-comments__comment-date{display:block;font-size:.75em}.wp-block-latest-comments .avatar,.wp-block-latest-comments__comment-avatar{border-radius:1.5em;display:block;float:left;height:2.5em;margin-right:.75em;width:2.5em}.wp-block-latest-posts.alignleft{margin-right:2em}.wp-block-latest-posts.alignright{margin-left:2em}.wp-block-latest-posts.wp-block-latest-posts__list{list-style:none;padding-left:0}.wp-block-latest-posts.wp-block-latest-posts__list li{clear:both}.wp-block-latest-posts.is-grid{display:flex;flex-wrap:wrap;padding:0}.wp-block-latest-posts.is-grid li{margin:0 1.25em 1.25em 0;width:100%}@media (min-width:600px){.wp-block-latest-posts.columns-2 li{width:calc(50% - .625em)}.wp-block-latest-posts.columns-2 li:nth-child(2n){margin-right:0}.wp-block-latest-posts.columns-3 li{width:calc(33.33333% - .83333em)}.wp-block-latest-posts.columns-3 li:nth-child(3n){margin-right:0}.wp-block-latest-posts.columns-4 li{width:calc(25% - .9375em)}.wp-block-latest-posts.columns-4 li:nth-child(4n){margin-right:0}.wp-block-latest-posts.columns-5 li{width:calc(20% - 1em)}.wp-block-latest-posts.columns-5 li:nth-child(5n){margin-right:0}.wp-block-latest-posts.columns-6 li{width:calc(16.66667% - 1.04167em)}.wp-block-latest-posts.columns-6 li:nth-child(6n){margin-right:0}}.wp-block-latest-posts__post-author,.wp-block-latest-posts__post-date{display:block;color:#555;font-size:.8125em}.wp-block-latest-posts__post-excerpt{margin-top:.5em;margin-bottom:1em}.wp-block-latest-posts__featured-image a{display:inline-block}.wp-block-latest-posts__featured-image img{height:auto;width:auto;max-width:100%}.wp-block-latest-posts__featured-image.alignleft{margin-right:1em}.wp-block-latest-posts__featured-image.alignright{margin-left:1em}.wp-block-latest-posts__featured-image.aligncenter{margin-bottom:1em;text-align:center}.block-editor-image-alignment-control__row .components-base-control__field{display:flex;justify-content:space-between;align-items:center}.block-editor-image-alignment-control__row .components-base-control__field .components-base-control__label{margin-bottom:0}ol.has-background,ul.has-background{padding:1.25em 2.375em}.wp-block-media-text{ /*!rtl:begin:ignore*/direction:ltr; /*!rtl:end:ignore*/display:grid;grid-template-columns:50% 1fr;grid-template-rows:auto}.wp-block-media-text.has-media-on-the-right{grid-template-columns:1fr 50%}.wp-block-media-text.is-vertically-aligned-top .wp-block-media-text__content,.wp-block-media-text.is-vertically-aligned-top .wp-block-media-text__media{align-self:start}.wp-block-media-text.is-vertically-aligned-center .wp-block-media-text__content,.wp-block-media-text.is-vertically-aligned-center .wp-block-media-text__media,.wp-block-media-text .wp-block-media-text__content,.wp-block-media-text .wp-block-media-text__media{align-self:center}.wp-block-media-text.is-vertically-aligned-bottom .wp-block-media-text__content,.wp-block-media-text.is-vertically-aligned-bottom .wp-block-media-text__media{align-self:end}.wp-block-media-text .wp-block-media-text__media{ /*!rtl:begin:ignore*/grid-column:1;grid-row:1; /*!rtl:end:ignore*/margin:0}.wp-block-media-text .wp-block-media-text__content{direction:ltr; /*!rtl:begin:ignore*/grid-column:2;grid-row:1; /*!rtl:end:ignore*/padding:0 8%;word-break:break-word}.wp-block-media-text.has-media-on-the-right .wp-block-media-text__media{ /*!rtl:begin:ignore*/grid-column:2;grid-row:1 /*!rtl:end:ignore*/}.wp-block-media-text.has-media-on-the-right .wp-block-media-text__content{ /*!rtl:begin:ignore*/grid-column:1;grid-row:1 /*!rtl:end:ignore*/}.wp-block-media-text__media img,.wp-block-media-text__media video{max-width:unset;width:100%;vertical-align:middle}.wp-block-media-text.is-image-fill .wp-block-media-text__media{height:100%;min-height:250px;background-size:cover}.wp-block-media-text.is-image-fill .wp-block-media-text__media>a{display:block;height:100%}.wp-block-media-text.is-image-fill .wp-block-media-text__media img{position:absolute;width:1px;height:1px;padding:0;margin:-1px;overflow:hidden;clip:rect(0,0,0,0);border:0}@media (max-width:600px){.wp-block-media-text.is-stacked-on-mobile{grid-template-columns:100%!important}.wp-block-media-text.is-stacked-on-mobile .wp-block-media-text__media{grid-column:1;grid-row:1}.wp-block-media-text.is-stacked-on-mobile .wp-block-media-text__content{grid-column:1;grid-row:2}}.wp-block-navigation{position:relative}.wp-block-navigation ul,.wp-block-navigation ul li{list-style:none;padding:0}.wp-block-navigation .wp-block-navigation-link,.wp-block-navigation .wp-block-pages-list__item{display:flex;align-items:center;position:relative}.wp-block-navigation .wp-block-navigation-link .wp-block-navigation-link__container:empty,.wp-block-navigation .wp-block-pages-list__item .wp-block-navigation-link__container:empty{display:none}.wp-block-navigation .wp-block-navigation-link__content,.wp-block-navigation .wp-block-pages-list__item__link{color:inherit;display:block}.wp-block-navigation[style*=text-decoration] .wp-block-navigation-link,.wp-block-navigation[style*=text-decoration] .wp-block-navigation-link__container,.wp-block-navigation[style*=text-decoration] .wp-block-navigation-link__content,.wp-block-navigation[style*=text-decoration] .wp-block-navigation-link__content:active,.wp-block-navigation[style*=text-decoration] .wp-block-navigation-link__content:focus,.wp-block-navigation[style*=text-decoration] .wp-block-pages-list__item,.wp-block-navigation[style*=text-decoration] .wp-block-pages-list__item__link,.wp-block-navigation[style*=text-decoration] .wp-block-pages-list__item__link:active,.wp-block-navigation[style*=text-decoration] .wp-block-pages-list__item__link:focus{text-decoration:inherit}.wp-block-navigation:not([style*=text-decoration]) .wp-block-navigation-link__content,.wp-block-navigation:not([style*=text-decoration]) .wp-block-navigation-link__content:active,.wp-block-navigation:not([style*=text-decoration]) .wp-block-navigation-link__content:focus,.wp-block-navigation:not([style*=text-decoration]) .wp-block-pages-list__item__link,.wp-block-navigation:not([style*=text-decoration]) .wp-block-pages-list__item__link:active,.wp-block-navigation:not([style*=text-decoration]) .wp-block-pages-list__item__link:focus{text-decoration:none}.wp-block-navigation .wp-block-navigation-link__submenu-icon,.wp-block-navigation .wp-block-page-list__submenu-icon{height:inherit}.wp-block-navigation .wp-block-navigation-link__submenu-icon svg,.wp-block-navigation .wp-block-page-list__submenu-icon svg{stroke:currentColor}.wp-block-navigation .wp-block-navigation-link .wp-block-navigation-link__content.wp-block-navigation-link__content.wp-block-navigation-link__content,.wp-block-navigation .wp-block-pages-list__item .wp-block-pages-list__item__link{padding:0}.wp-block-navigation .has-child>.wp-block-navigation-link__content,.wp-block-navigation .has-child>.wp-block-pages-list__item__link{margin-right:.5em}.wp-block-navigation .has-child .submenu-container,.wp-block-navigation .has-child .wp-block-navigation-link__container{background-color:inherit;color:inherit;position:absolute;z-index:2;flex-direction:column;align-items:normal;min-width:200px;display:none;opacity:0;transition:opacity .1s linear;visibility:hidden}.wp-block-navigation .has-child .submenu-container>.wp-block-navigation-link>.wp-block-navigation-link__content,.wp-block-navigation .has-child .submenu-container>.wp-block-navigation-link>.wp-block-pages-list__item__link,.wp-block-navigation .has-child .submenu-container>.wp-block-pages-list__item>.wp-block-navigation-link__content,.wp-block-navigation .has-child .submenu-container>.wp-block-pages-list__item>.wp-block-pages-list__item__link,.wp-block-navigation .has-child .wp-block-navigation-link__container>.wp-block-navigation-link>.wp-block-navigation-link__content,.wp-block-navigation .has-child .wp-block-navigation-link__container>.wp-block-navigation-link>.wp-block-pages-list__item__link,.wp-block-navigation .has-child .wp-block-navigation-link__container>.wp-block-pages-list__item>.wp-block-navigation-link__content,.wp-block-navigation .has-child .wp-block-navigation-link__container>.wp-block-pages-list__item>.wp-block-pages-list__item__link{flex-grow:1}.wp-block-navigation .has-child .submenu-container>.wp-block-navigation-link>.wp-block-navigation-link__submenu-icon,.wp-block-navigation .has-child .submenu-container>.wp-block-navigation-link>.wp-block-page-list__submenu-icon,.wp-block-navigation .has-child .submenu-container>.wp-block-pages-list__item>.wp-block-navigation-link__submenu-icon,.wp-block-navigation .has-child .submenu-container>.wp-block-pages-list__item>.wp-block-page-list__submenu-icon,.wp-block-navigation .has-child .wp-block-navigation-link__container>.wp-block-navigation-link>.wp-block-navigation-link__submenu-icon,.wp-block-navigation .has-child .wp-block-navigation-link__container>.wp-block-navigation-link>.wp-block-page-list__submenu-icon,.wp-block-navigation .has-child .wp-block-navigation-link__container>.wp-block-pages-list__item>.wp-block-navigation-link__submenu-icon,.wp-block-navigation .has-child .wp-block-navigation-link__container>.wp-block-pages-list__item>.wp-block-page-list__submenu-icon{padding-right:.5em}@media (min-width:782px){.wp-block-navigation .has-child .submenu-container .submenu-container:before,.wp-block-navigation .has-child .submenu-container .wp-block-navigation-link__container:before,.wp-block-navigation .has-child .wp-block-navigation-link__container .submenu-container:before,.wp-block-navigation .has-child .wp-block-navigation-link__container .wp-block-navigation-link__container:before{content:"";position:absolute;right:100%;height:100%;display:block;width:.5em;background:transparent}.wp-block-navigation .has-child .submenu-container .wp-block-navigation-link__submenu-icon svg,.wp-block-navigation .has-child .submenu-container .wp-block-page-list__submenu-icon svg,.wp-block-navigation .has-child .wp-block-navigation-link__container .wp-block-navigation-link__submenu-icon svg,.wp-block-navigation .has-child .wp-block-navigation-link__container .wp-block-page-list__submenu-icon svg{transform:rotate(-90deg)}}.wp-block-navigation .has-child:hover>.wp-block-navigation-link__container{display:flex;visibility:visible;opacity:1}.wp-block-navigation .has-child:focus-within>.wp-block-navigation-link__container{display:flex;visibility:visible;opacity:1}.wp-block-navigation .has-child:hover{cursor:pointer}.wp-block-navigation .has-child:hover>.submenu-container{display:flex;visibility:visible;opacity:1}.wp-block-navigation .has-child:focus-within{cursor:pointer}.wp-block-navigation .has-child:focus-within>.submenu-container{display:flex;visibility:visible;opacity:1}.wp-block-navigation.wp-block-navigation.items-justified-right>.submenu-container .has-child .submenu-container,.wp-block-navigation.wp-block-navigation.items-justified-right>.submenu-container .has-child .wp-block-navigation-link__container,.wp-block-navigation.wp-block-navigation.items-justified-right>.wp-block-navigation__container .has-child .submenu-container,.wp-block-navigation.wp-block-navigation.items-justified-right>.wp-block-navigation__container .has-child .wp-block-navigation-link__container,.wp-block-navigation.wp-block-navigation.items-justified-space-between>.submenu-container>.has-child:last-child .submenu-container,.wp-block-navigation.wp-block-navigation.items-justified-space-between>.submenu-container>.has-child:last-child .wp-block-navigation-link__container,.wp-block-navigation.wp-block-navigation.items-justified-space-between>.wp-block-navigation__container>.has-child:last-child .submenu-container,.wp-block-navigation.wp-block-navigation.items-justified-space-between>.wp-block-navigation__container>.has-child:last-child .wp-block-navigation-link__container{left:auto;right:0}.wp-block-navigation.wp-block-navigation.items-justified-right>.submenu-container .has-child .submenu-container .submenu-container,.wp-block-navigation.wp-block-navigation.items-justified-right>.submenu-container .has-child .submenu-container .wp-block-navigation-link__container,.wp-block-navigation.wp-block-navigation.items-justified-right>.submenu-container .has-child .wp-block-navigation-link__container .submenu-container,.wp-block-navigation.wp-block-navigation.items-justified-right>.submenu-container .has-child .wp-block-navigation-link__container .wp-block-navigation-link__container,.wp-block-navigation.wp-block-navigation.items-justified-right>.wp-block-navigation__container .has-child .submenu-container .submenu-container,.wp-block-navigation.wp-block-navigation.items-justified-right>.wp-block-navigation__container .has-child .submenu-container .wp-block-navigation-link__container,.wp-block-navigation.wp-block-navigation.items-justified-right>.wp-block-navigation__container .has-child .wp-block-navigation-link__container .submenu-container,.wp-block-navigation.wp-block-navigation.items-justified-right>.wp-block-navigation__container .has-child .wp-block-navigation-link__container .wp-block-navigation-link__container,.wp-block-navigation.wp-block-navigation.items-justified-space-between>.submenu-container>.has-child:last-child .submenu-container .submenu-container,.wp-block-navigation.wp-block-navigation.items-justified-space-between>.submenu-container>.has-child:last-child .submenu-container .wp-block-navigation-link__container,.wp-block-navigation.wp-block-navigation.items-justified-space-between>.submenu-container>.has-child:last-child .wp-block-navigation-link__container .submenu-container,.wp-block-navigation.wp-block-navigation.items-justified-space-between>.submenu-container>.has-child:last-child .wp-block-navigation-link__container .wp-block-navigation-link__container,.wp-block-navigation.wp-block-navigation.items-justified-space-between>.wp-block-navigation__container>.has-child:last-child .submenu-container .submenu-container,.wp-block-navigation.wp-block-navigation.items-justified-space-between>.wp-block-navigation__container>.has-child:last-child .submenu-container .wp-block-navigation-link__container,.wp-block-navigation.wp-block-navigation.items-justified-space-between>.wp-block-navigation__container>.has-child:last-child .wp-block-navigation-link__container .submenu-container,.wp-block-navigation.wp-block-navigation.items-justified-space-between>.wp-block-navigation__container>.has-child:last-child .wp-block-navigation-link__container .wp-block-navigation-link__container{left:auto;right:100%}.wp-block-navigation.wp-block-navigation .wp-block-navigation__container>.wp-block-navigation-link,.wp-block-navigation.wp-block-navigation .wp-block-page-list,.wp-block-navigation.wp-block-navigation .wp-block-page-list>.wp-block-pages-list__item{margin:0 2em 0 0}.wp-block-navigation.wp-block-navigation .wp-block-navigation__container>.wp-block-navigation-link:last-child,.wp-block-navigation.wp-block-navigation .wp-block-page-list:last-child,.wp-block-navigation.wp-block-navigation .wp-block-page-list>.wp-block-pages-list__item:last-child{margin-right:0}.wp-block-navigation.wp-block-navigation.has-background .wp-block-navigation__container>.wp-block-navigation-link,.wp-block-navigation.wp-block-navigation.has-background .wp-block-page-list,.wp-block-navigation.wp-block-navigation.has-background .wp-block-page-list>.wp-block-pages-list__item{margin:0 .5em 0 0}.wp-block-navigation.wp-block-navigation.has-background .wp-block-navigation__container .wp-block-navigation-link__content,.wp-block-navigation.wp-block-navigation.has-background .wp-block-page-list .wp-block-pages-list__item__link{padding:.5em 1em}.wp-block-navigation.wp-block-navigation .has-child .submenu-container,.wp-block-navigation.wp-block-navigation .has-child .wp-block-navigation-link__container{left:-1em;top:100%}.wp-block-navigation.wp-block-navigation .has-child .submenu-container .wp-block-navigation-link,.wp-block-navigation.wp-block-navigation .has-child .submenu-container .wp-block-pages-list__item,.wp-block-navigation.wp-block-navigation .has-child .wp-block-navigation-link__container .wp-block-navigation-link,.wp-block-navigation.wp-block-navigation .has-child .wp-block-navigation-link__container .wp-block-pages-list__item{margin:0}.wp-block-navigation.wp-block-navigation .has-child .submenu-container .wp-block-navigation-link__content,.wp-block-navigation.wp-block-navigation .has-child .submenu-container .wp-block-pages-list__item__link,.wp-block-navigation.wp-block-navigation .has-child .wp-block-navigation-link__container .wp-block-navigation-link__content,.wp-block-navigation.wp-block-navigation .has-child .wp-block-navigation-link__container .wp-block-pages-list__item__link{padding:.5em 1em}.wp-block-navigation.wp-block-navigation .has-child .submenu-container .submenu-container,.wp-block-navigation.wp-block-navigation .has-child .submenu-container .wp-block-navigation-link__container,.wp-block-navigation.wp-block-navigation .has-child .wp-block-navigation-link__container .submenu-container,.wp-block-navigation.wp-block-navigation .has-child .wp-block-navigation-link__container .wp-block-navigation-link__container{left:-1px}@media (min-width:782px){.wp-block-navigation.wp-block-navigation .has-child .submenu-container .submenu-container,.wp-block-navigation.wp-block-navigation .has-child .submenu-container .wp-block-navigation-link__container,.wp-block-navigation.wp-block-navigation .has-child .wp-block-navigation-link__container .submenu-container,.wp-block-navigation.wp-block-navigation .has-child .wp-block-navigation-link__container .wp-block-navigation-link__container{left:100%;top:-1px}}.wp-block-navigation.wp-block-navigation.has-background .has-child .submenu-container,.wp-block-navigation.wp-block-navigation.has-background .has-child .wp-block-navigation-link__container{left:0;top:100%}.wp-block-navigation.wp-block-navigation.has-background .has-child .submenu-container .submenu-container,.wp-block-navigation.wp-block-navigation.has-background .has-child .submenu-container .wp-block-navigation-link__container,.wp-block-navigation.wp-block-navigation.has-background .has-child .wp-block-navigation-link__container .submenu-container,.wp-block-navigation.wp-block-navigation.has-background .has-child .wp-block-navigation-link__container .wp-block-navigation-link__container{left:0}@media (min-width:782px){.wp-block-navigation.wp-block-navigation.has-background .has-child .submenu-container .submenu-container,.wp-block-navigation.wp-block-navigation.has-background .has-child .submenu-container .wp-block-navigation-link__container,.wp-block-navigation.wp-block-navigation.has-background .has-child .wp-block-navigation-link__container .submenu-container,.wp-block-navigation.wp-block-navigation.has-background .has-child .wp-block-navigation-link__container .wp-block-navigation-link__container{left:100%;top:0}}.wp-block-navigation:not(.has-background) .submenu-container,.wp-block-navigation:not(.has-background) .wp-block-navigation__container .wp-block-navigation-link__container{background-color:#fff;color:#000;border:1px solid rgba(0,0,0,.15)}.wp-block-navigation__container{align-items:center;list-style:none;margin:0;padding-left:0}.wp-block-navigation__container .is-responsive{display:none}@media (min-width:600px){.wp-block-navigation__container{display:flex;flex-wrap:wrap}.is-vertical .wp-block-navigation__container{display:block;flex-direction:column;align-items:flex-start}}.items-justified-center .wp-block-navigation__container{justify-content:center}.items-justified-right .wp-block-navigation__container{justify-content:flex-end}.items-justified-space-between .wp-block-navigation__container{justify-content:space-between}.is-vertical.items-justified-center>ul{align-items:center}.is-vertical.items-justified-right>ul{align-items:flex-end}.is-vertical.items-justified-right>ul .wp-block-navigation-link,.is-vertical.items-justified-right>ul .wp-block-pages-list__item{margin-right:0;justify-content:flex-end}.wp-block-navigation__responsive-container{display:none;position:fixed;top:0;left:0;right:0;bottom:0;z-index:1;align-items:flex-start;justify-content:flex-start}.wp-block-navigation__responsive-container.is-menu-open{display:flex;flex-direction:column;overflow:auto;z-index:100000;padding:24px;background-color:inherit}.wp-block-navigation__responsive-container.is-menu-open .wp-block-navigation__container{display:flex;flex-direction:column;margin-left:auto;margin-right:auto;align-items:flex-start;line-height:48px;padding:0}.wp-block-navigation__responsive-container.is-menu-open .wp-block-navigation__container .wp-block-page-list{flex-direction:column}.wp-block-navigation__responsive-container.is-menu-open .wp-block-navigation-link,.wp-block-navigation__responsive-container.is-menu-open .wp-block-navigation-link .wp-block-navigation-link__container,.wp-block-navigation__responsive-container.is-menu-open .wp-block-pages-list__item,.wp-block-navigation__responsive-container.is-menu-open .wp-block-pages-list__item .submenu-container{background:transparent!important}@media (min-width:600px){.wp-block-navigation__responsive-container:not(.is-menu-open){display:flex;flex-direction:row;position:relative;background-color:inherit}.wp-block-navigation__responsive-container:not(.is-menu-open) .wp-block-navigation__responsive-container-close{display:none}.wp-block-navigation__responsive-container.is-menu-open .submenu-container.submenu-container.submenu-container.submenu-container,.wp-block-navigation__responsive-container.is-menu-open .wp-block-navigation-link__container.wp-block-navigation-link__container.wp-block-navigation-link__container.wp-block-navigation-link__container{left:0}}.wp-block-navigation:not(.has-background) .wp-block-navigation__responsive-container.is-menu-open{background-color:#fff;color:#000}.wp-block-navigation__responsive-container-close,.wp-block-navigation__responsive-container-open{vertical-align:middle;cursor:pointer;color:currentColor;background:transparent;border:none;margin:0;padding:0}.wp-block-navigation__responsive-container-close svg,.wp-block-navigation__responsive-container-open svg{fill:currentColor;pointer-events:none;display:block;width:24px;height:24px}.wp-block-navigation__responsive-container-open{display:flex}@media (min-width:600px){.wp-block-navigation__responsive-container-open{display:none}}.items-justified-left .wp-block-navigation__responsive-container-open{margin-left:0;margin-right:auto}.items-justified-center .wp-block-navigation__responsive-container-open{margin-left:auto;margin-right:auto}.items-justified-right .wp-block-navigation__responsive-container-open{margin-left:auto;margin-right:0}.wp-block-navigation__responsive-container-close{position:absolute;top:24px;right:24px;z-index:2}.wp-block-navigation__responsive-close{width:100%}.is-menu-open .wp-block-navigation__responsive-close,.is-menu-open .wp-block-navigation__responsive-container-content,.is-menu-open .wp-block-navigation__responsive-dialog{width:100%;height:100%}.wp-block-navigation .wp-block-navigation__responsive-container.is-menu-open .wp-block-navigation-link__submenu-icon,.wp-block-navigation .wp-block-navigation__responsive-container.is-menu-open .wp-block-page-list__submenu-icon{display:none}.wp-block-navigation .wp-block-navigation__responsive-container.is-menu-open .has-child .submenu-container,.wp-block-navigation .wp-block-navigation__responsive-container.is-menu-open .has-child .wp-block-navigation-link__container{position:relative;opacity:1;visibility:visible;padding:0 0 0 32px;border:none}.wp-block-navigation .wp-block-navigation__responsive-container.is-menu-open .wp-block-navigation-link,.wp-block-navigation .wp-block-navigation__responsive-container.is-menu-open .wp-block-pages-list__item{flex-direction:column;align-items:flex-start}html.has-modal-open{overflow:hidden}.wp-block-navigation .wp-block-navigation-link__label{word-break:normal;overflow-wrap:break-word}.wp-block-navigation .wp-block-home-link__content{color:inherit;display:block;padding:.5em 1em}.wp-block-navigation[style*=text-decoration] .wp-block-home-link,.wp-block-navigation[style*=text-decoration] .wp-block-home-link__content,.wp-block-navigation[style*=text-decoration] .wp-block-home-link__content:active,.wp-block-navigation[style*=text-decoration] .wp-block-home-link__content:focus{text-decoration:inherit}.wp-block-navigation:not([style*=text-decoration]) .wp-block-home-link__content,.wp-block-navigation:not([style*=text-decoration]) .wp-block-home-link__content:active,.wp-block-navigation:not([style*=text-decoration]) .wp-block-home-link__content:focus{text-decoration:none}.wp-block-navigation:not(.has-background) .wp-block-navigation__container .wp-block-home-link__container{background-color:#fff;color:#000;border:1px solid rgba(0,0,0,.15)}.wp-block-navigation:not(.has-background) .wp-block-navigation__container .wp-block-home-link__container .wp-block-home-link__container{top:-1px}.wp-block-navigation .wp-block-page-list{display:flex;flex-wrap:wrap;background-color:inherit}.wp-block-navigation .wp-block-pages-list__item{background-color:inherit}.wp-block-navigation .wp-block-page-list__submenu-icon{display:none}.is-open .wp-block-navigation__container .wp-block-page-list,.is-vertical .wp-block-navigation__container .wp-block-page-list,.wp-block-navigation .show-submenu-icons .wp-block-page-list__submenu-icon{display:block}@media (min-width:480px){.is-open .wp-block-navigation__container .wp-block-page-list{display:flex}}.items-justified-space-between .wp-block-page-list{display:contents}.is-small-text{font-size:.875em}.is-regular-text{font-size:1em}.is-large-text{font-size:2.25em}.is-larger-text{font-size:3em}.has-drop-cap:not(:focus):first-letter{float:left;font-size:8.4em;line-height:.68;font-weight:100;margin:.05em .1em 0 0;text-transform:uppercase;font-style:normal}p.has-drop-cap.has-background{overflow:hidden}p.has-background{padding:1.25em 2.375em}p.has-text-color a{color:inherit}.wp-block-post-author{display:flex;flex-wrap:wrap}.wp-block-post-author__byline{width:100%;margin-top:0;margin-bottom:0;font-size:.5em}.wp-block-post-author__avatar{margin-right:1em}.wp-block-post-author__bio{margin-bottom:.7em;font-size:.7em}.wp-block-post-author__content{flex-grow:1;flex-basis:0}.wp-block-post-author__name{font-weight:700;margin:0}.wp-block-post-comments .commentlist{list-style:none;margin:0;padding:0}.wp-block-post-comments .commentlist .comment{min-height:2.25em;padding-left:3.25em}.wp-block-post-comments .commentlist .comment p{font-size:.875em;line-height:1.8;margin:.36em 0 1.4em}.wp-block-post-comments .commentlist .children{list-style:none;margin:0;padding:0}.wp-block-post-comments .comment-author{line-height:1.5;margin-left:-3.25em}.wp-block-post-comments .comment-author .avatar{border-radius:1.5em;display:block;float:left;height:2.5em;margin-right:.75em;width:2.5em}.wp-block-post-comments .comment-author cite{font-style:normal}.wp-block-post-comments .comment-meta{line-height:1.5;margin-left:-3.25em}.wp-block-post-comments .comment-body .commentmetadata{font-size:.75em}.wp-block-post-comments .comment-form-author label,.wp-block-post-comments .comment-form-comment label,.wp-block-post-comments .comment-form-email label,.wp-block-post-comments .comment-form-url label{display:block}.wp-block-post-comments .comment-form-comment textarea{box-sizing:border-box;width:100%}.wp-block-post-comments .reply{font-size:.75em;margin-bottom:1.4em}.wp-block-post-comments input,.wp-block-post-comments textarea{border:1px solid #949494}.wp-block-post-comments-form input[type=submit]{border:none;box-shadow:none;cursor:pointer;display:inline-block;text-align:center;overflow-wrap:break-word}.wp-block-post-excerpt__more-link,.wp-block-post-title a{display:inline-block}.wp-block-preformatted{white-space:pre-wrap}.wp-block-preformatted.has-background{padding:1.25em 2.375em}.wp-block-pullquote{margin:0 0 1em;padding:3em 0;text-align:center}.wp-block-pullquote.alignleft,.wp-block-pullquote.alignright{max-width:420px}.wp-block-pullquote.alignleft p,.wp-block-pullquote.alignright p{font-size:1.25em}.wp-block-pullquote p{font-size:1.75em;line-height:1.6}.wp-block-pullquote cite,.wp-block-pullquote footer{position:relative}.wp-block-pullquote .has-text-color a{color:inherit}.wp-block-pullquote:not(.is-style-solid-color){background:none}.wp-block-pullquote.is-style-solid-color{border:none}.wp-block-pullquote.is-style-solid-color blockquote{margin-left:auto;margin-right:auto;text-align:left;max-width:60%}.wp-block-pullquote.is-style-solid-color blockquote p{margin-top:0;margin-bottom:0;font-size:2em}.wp-block-pullquote.is-style-solid-color blockquote cite{text-transform:none;font-style:normal}.wp-block-pullquote cite{color:inherit}.wp-block-post-template,.wp-block-query-loop{max-width:100%;list-style:none;padding:0}.wp-block-post-template li,.wp-block-query-loop li{clear:both}.wp-block-post-template.is-flex-container,.wp-block-query-loop.is-flex-container{flex-direction:row;display:flex;flex-wrap:wrap}.wp-block-post-template.is-flex-container li,.wp-block-query-loop.is-flex-container li{margin:0 0 1.25em;width:100%}@media (min-width:600px){.wp-block-post-template.is-flex-container li,.wp-block-query-loop.is-flex-container li{margin-right:1.25em}.wp-block-post-template.is-flex-container.is-flex-container.columns-2>li,.wp-block-query-loop.is-flex-container.is-flex-container.columns-2>li{width:calc(50% - .625em)}.wp-block-post-template.is-flex-container.is-flex-container.columns-2>li:nth-child(2n),.wp-block-query-loop.is-flex-container.is-flex-container.columns-2>li:nth-child(2n){margin-right:0}.wp-block-post-template.is-flex-container.is-flex-container.columns-3>li,.wp-block-query-loop.is-flex-container.is-flex-container.columns-3>li{width:calc(33.33333% - .83333em)}.wp-block-post-template.is-flex-container.is-flex-container.columns-3>li:nth-child(3n),.wp-block-query-loop.is-flex-container.is-flex-container.columns-3>li:nth-child(3n){margin-right:0}.wp-block-post-template.is-flex-container.is-flex-container.columns-4>li,.wp-block-query-loop.is-flex-container.is-flex-container.columns-4>li{width:calc(25% - .9375em)}.wp-block-post-template.is-flex-container.is-flex-container.columns-4>li:nth-child(4n),.wp-block-query-loop.is-flex-container.is-flex-container.columns-4>li:nth-child(4n){margin-right:0}.wp-block-post-template.is-flex-container.is-flex-container.columns-5>li,.wp-block-query-loop.is-flex-container.is-flex-container.columns-5>li{width:calc(20% - 1em)}.wp-block-post-template.is-flex-container.is-flex-container.columns-5>li:nth-child(5n),.wp-block-query-loop.is-flex-container.is-flex-container.columns-5>li:nth-child(5n){margin-right:0}.wp-block-post-template.is-flex-container.is-flex-container.columns-6>li,.wp-block-query-loop.is-flex-container.is-flex-container.columns-6>li{width:calc(16.66667% - 1.04167em)}.wp-block-post-template.is-flex-container.is-flex-container.columns-6>li:nth-child(6n),.wp-block-query-loop.is-flex-container.is-flex-container.columns-6>li:nth-child(6n){margin-right:0}}.wp-block-query-pagination{display:flex;flex-direction:row;flex-wrap:wrap}.wp-block-query-pagination>.wp-block-query-pagination-next,.wp-block-query-pagination>.wp-block-query-pagination-numbers,.wp-block-query-pagination>.wp-block-query-pagination-previous{display:inline-block;margin-right:.5em;margin-bottom:.5em}.wp-block-query-pagination>.wp-block-query-pagination-next:last-child,.wp-block-query-pagination>.wp-block-query-pagination-numbers:last-child,.wp-block-query-pagination>.wp-block-query-pagination-previous:last-child{margin-right:0}.wp-block-quote.is-large,.wp-block-quote.is-style-large{margin-bottom:1em;padding:0 1em}.wp-block-quote.is-large p,.wp-block-quote.is-style-large p{font-size:1.5em;font-style:italic;line-height:1.6}.wp-block-quote.is-large cite,.wp-block-quote.is-large footer,.wp-block-quote.is-style-large cite,.wp-block-quote.is-style-large footer{font-size:1.125em;text-align:right}.wp-block-rss.wp-block-rss{box-sizing:border-box}.wp-block-rss.alignleft{margin-right:2em}.wp-block-rss.alignright{margin-left:2em}.wp-block-rss.is-grid{display:flex;flex-wrap:wrap;padding:0;list-style:none}.wp-block-rss.is-grid li{margin:0 1em 1em 0;width:100%}@media (min-width:600px){.wp-block-rss.columns-2 li{width:calc(50% - 1em)}.wp-block-rss.columns-3 li{width:calc(33.33333% - 1em)}.wp-block-rss.columns-4 li{width:calc(25% - 1em)}.wp-block-rss.columns-5 li{width:calc(20% - 1em)}.wp-block-rss.columns-6 li{width:calc(16.66667% - 1em)}}.wp-block-rss__item-author,.wp-block-rss__item-publish-date{display:block;color:#555;font-size:.8125em}.wp-block-search .wp-block-search__button{background:#f7f7f7;border:1px solid #ccc;padding:.375em .625em;color:#32373c;margin-left:.625em;word-break:normal}.wp-block-search .wp-block-search__button.has-icon{line-height:0}.wp-block-search .wp-block-search__button svg{min-width:1.5em;min-height:1.5em}.wp-block-search .wp-block-search__inside-wrapper{display:flex;flex:auto;flex-wrap:nowrap;max-width:100%}.wp-block-search .wp-block-search__label{width:100%}.wp-block-search .wp-block-search__input{flex-grow:1;min-width:3em;border:1px solid #949494}.wp-block-search.wp-block-search__button-only .wp-block-search__button{margin-left:0}.wp-block-search.wp-block-search__button-inside .wp-block-search__inside-wrapper{padding:4px;border:1px solid #949494}.wp-block-search.wp-block-search__button-inside .wp-block-search__inside-wrapper .wp-block-search__input{border-radius:0;border:none;padding:0 0 0 .25em}.wp-block-search.wp-block-search__button-inside .wp-block-search__inside-wrapper .wp-block-search__input:focus{outline:none}.wp-block-search.wp-block-search__button-inside .wp-block-search__inside-wrapper .wp-block-search__button{padding:.125em .5em}.wp-block-search.aligncenter .wp-block-search__inside-wrapper{margin:auto}.wp-block-separator{border-top:1px solid;border-bottom:1px solid}.wp-block-separator.is-style-wide{border-bottom-width:1px}.wp-block-separator.is-style-dots{background:none!important;border:none;text-align:center;width:none;line-height:1;height:auto}.wp-block-separator.is-style-dots:before{content:"···";color:currentColor;font-size:1.5em;letter-spacing:2em;padding-left:2em;font-family:serif}.wp-block-site-logo{line-height:0}.wp-block-site-logo a{display:inline-block}.wp-block-site-logo.is-default-size img{width:120px;height:auto}.wp-block-site-logo .aligncenter{display:table}.wp-block-site-logo.is-style-rounded img{border-radius:9999px}.wp-block-social-links{display:flex;flex-wrap:wrap;padding-left:0;padding-right:0;text-indent:0;margin-left:0}.wp-block-social-links .wp-social-link a,.wp-block-social-links .wp-social-link a:hover{text-decoration:none;border-bottom:0;box-shadow:none}.wp-block-social-links .wp-social-link.wp-social-link.wp-social-link{margin:4px 8px 4px 0}.wp-block-social-links .wp-social-link a{padding:.25em}.wp-block-social-links .wp-social-link svg{width:1em;height:1em}.wp-block-social-links.has-small-icon-size{font-size:16px}.wp-block-social-links,.wp-block-social-links.has-normal-icon-size{font-size:24px}.wp-block-social-links.has-large-icon-size{font-size:36px}.wp-block-social-links.has-huge-icon-size{font-size:48px}.wp-block-social-links.aligncenter{justify-content:center;display:flex}.wp-block-social-links.alignright{justify-content:flex-end}.wp-block-social-link{display:block;border-radius:9999px;transition:transform .1s ease;height:auto}@media (prefers-reduced-motion:reduce){.wp-block-social-link{transition-duration:0s;transition-delay:0s}}.wp-block-social-link a{display:block;line-height:0;transition:transform .1s ease}.wp-block-social-link:hover{transform:scale(1.1)}.wp-block-social-links .wp-block-social-link .wp-block-social-link-anchor,.wp-block-social-links .wp-block-social-link .wp-block-social-link-anchor:active,.wp-block-social-links .wp-block-social-link .wp-block-social-link-anchor:hover,.wp-block-social-links .wp-block-social-link .wp-block-social-link-anchor:visited,.wp-block-social-links .wp-block-social-link .wp-block-social-link-anchor svg{color:currentColor;fill:currentColor}.wp-block-social-links:not(.is-style-logos-only) .wp-social-link{background-color:#f0f0f0;color:#444}.wp-block-social-links:not(.is-style-logos-only) .wp-social-link-amazon{background-color:#f90;color:#fff}.wp-block-social-links:not(.is-style-logos-only) .wp-social-link-bandcamp{background-color:#1ea0c3;color:#fff}.wp-block-social-links:not(.is-style-logos-only) .wp-social-link-behance{background-color:#0757fe;color:#fff}.wp-block-social-links:not(.is-style-logos-only) .wp-social-link-codepen{background-color:#1e1f26;color:#fff}.wp-block-social-links:not(.is-style-logos-only) .wp-social-link-deviantart{background-color:#02e49b;color:#fff}.wp-block-social-links:not(.is-style-logos-only) .wp-social-link-dribbble{background-color:#e94c89;color:#fff}.wp-block-social-links:not(.is-style-logos-only) .wp-social-link-dropbox{background-color:#4280ff;color:#fff}.wp-block-social-links:not(.is-style-logos-only) .wp-social-link-etsy{background-color:#f45800;color:#fff}.wp-block-social-links:not(.is-style-logos-only) .wp-social-link-facebook{background-color:#1778f2;color:#fff}.wp-block-social-links:not(.is-style-logos-only) .wp-social-link-fivehundredpx{background-color:#000;color:#fff}.wp-block-social-links:not(.is-style-logos-only) .wp-social-link-flickr{background-color:#0461dd;color:#fff}.wp-block-social-links:not(.is-style-logos-only) .wp-social-link-foursquare{background-color:#e65678;color:#fff}.wp-block-social-links:not(.is-style-logos-only) .wp-social-link-github{background-color:#24292d;color:#fff}.wp-block-social-links:not(.is-style-logos-only) .wp-social-link-goodreads{background-color:#eceadd;color:#382110}.wp-block-social-links:not(.is-style-logos-only) .wp-social-link-google{background-color:#ea4434;color:#fff}.wp-block-social-links:not(.is-style-logos-only) .wp-social-link-instagram{background-color:#f00075;color:#fff}.wp-block-social-links:not(.is-style-logos-only) .wp-social-link-lastfm{background-color:#e21b24;color:#fff}.wp-block-social-links:not(.is-style-logos-only) .wp-social-link-linkedin{background-color:#0d66c2;color:#fff}.wp-block-social-links:not(.is-style-logos-only) .wp-social-link-mastodon{background-color:#3288d4;color:#fff}.wp-block-social-links:not(.is-style-logos-only) .wp-social-link-medium{background-color:#02ab6c;color:#fff}.wp-block-social-links:not(.is-style-logos-only) .wp-social-link-meetup{background-color:#f6405f;color:#fff}.wp-block-social-links:not(.is-style-logos-only) .wp-social-link-patreon{background-color:#ff424d;color:#fff}.wp-block-social-links:not(.is-style-logos-only) .wp-social-link-pinterest{background-color:#e60122;color:#fff}.wp-block-social-links:not(.is-style-logos-only) .wp-social-link-pocket{background-color:#ef4155;color:#fff}.wp-block-social-links:not(.is-style-logos-only) .wp-social-link-reddit{background-color:#fe4500;color:#fff}.wp-block-social-links:not(.is-style-logos-only) .wp-social-link-skype{background-color:#0478d7;color:#fff}.wp-block-social-links:not(.is-style-logos-only) .wp-social-link-snapchat{background-color:#fefc00;color:#fff;stroke:#000}.wp-block-social-links:not(.is-style-logos-only) .wp-social-link-soundcloud{background-color:#ff5600;color:#fff}.wp-block-social-links:not(.is-style-logos-only) .wp-social-link-spotify{background-color:#1bd760;color:#fff}.wp-block-social-links:not(.is-style-logos-only) .wp-social-link-telegram{background-color:#2aabee;color:#fff}.wp-block-social-links:not(.is-style-logos-only) .wp-social-link-tiktok{background-color:#000;color:#fff}.wp-block-social-links:not(.is-style-logos-only) .wp-social-link-tumblr{background-color:#011835;color:#fff}.wp-block-social-links:not(.is-style-logos-only) .wp-social-link-twitch{background-color:#6440a4;color:#fff}.wp-block-social-links:not(.is-style-logos-only) .wp-social-link-twitter{background-color:#1da1f2;color:#fff}.wp-block-social-links:not(.is-style-logos-only) .wp-social-link-vimeo{background-color:#1eb7ea;color:#fff}.wp-block-social-links:not(.is-style-logos-only) .wp-social-link-vk{background-color:#4680c2;color:#fff}.wp-block-social-links:not(.is-style-logos-only) .wp-social-link-wordpress{background-color:#3499cd;color:#fff}.wp-block-social-links:not(.is-style-logos-only) .wp-social-link-yelp{background-color:#d32422;color:#fff}.wp-block-social-links:not(.is-style-logos-only) .wp-social-link-youtube{background-color:red;color:#fff}.wp-block-social-links.is-style-logos-only .wp-social-link{background:none;padding:4px}.wp-block-social-links.is-style-logos-only .wp-social-link-amazon{color:#f90}.wp-block-social-links.is-style-logos-only .wp-social-link-bandcamp{color:#1ea0c3}.wp-block-social-links.is-style-logos-only .wp-social-link-behance{color:#0757fe}.wp-block-social-links.is-style-logos-only .wp-social-link-codepen{color:#1e1f26}.wp-block-social-links.is-style-logos-only .wp-social-link-deviantart{color:#02e49b}.wp-block-social-links.is-style-logos-only .wp-social-link-dribbble{color:#e94c89}.wp-block-social-links.is-style-logos-only .wp-social-link-dropbox{color:#4280ff}.wp-block-social-links.is-style-logos-only .wp-social-link-etsy{color:#f45800}.wp-block-social-links.is-style-logos-only .wp-social-link-facebook{color:#1778f2}.wp-block-social-links.is-style-logos-only .wp-social-link-fivehundredpx{color:#000}.wp-block-social-links.is-style-logos-only .wp-social-link-flickr{color:#0461dd}.wp-block-social-links.is-style-logos-only .wp-social-link-foursquare{color:#e65678}.wp-block-social-links.is-style-logos-only .wp-social-link-github{color:#24292d}.wp-block-social-links.is-style-logos-only .wp-social-link-goodreads{color:#382110}.wp-block-social-links.is-style-logos-only .wp-social-link-google{color:#ea4434}.wp-block-social-links.is-style-logos-only .wp-social-link-instagram{color:#f00075}.wp-block-social-links.is-style-logos-only .wp-social-link-lastfm{color:#e21b24}.wp-block-social-links.is-style-logos-only .wp-social-link-linkedin{color:#0d66c2}.wp-block-social-links.is-style-logos-only .wp-social-link-mastodon{color:#3288d4}.wp-block-social-links.is-style-logos-only .wp-social-link-medium{color:#02ab6c}.wp-block-social-links.is-style-logos-only .wp-social-link-meetup{color:#f6405f}.wp-block-social-links.is-style-logos-only .wp-social-link-patreon{color:#ff424d}.wp-block-social-links.is-style-logos-only .wp-social-link-pinterest{color:#e60122}.wp-block-social-links.is-style-logos-only .wp-social-link-pocket{color:#ef4155}.wp-block-social-links.is-style-logos-only .wp-social-link-reddit{color:#fe4500}.wp-block-social-links.is-style-logos-only .wp-social-link-skype{color:#0478d7}.wp-block-social-links.is-style-logos-only .wp-social-link-snapchat{color:#fff;stroke:#000}.wp-block-social-links.is-style-logos-only .wp-social-link-soundcloud{color:#ff5600}.wp-block-social-links.is-style-logos-only .wp-social-link-spotify{color:#1bd760}.wp-block-social-links.is-style-logos-only .wp-social-link-telegram{color:#2aabee}.wp-block-social-links.is-style-logos-only .wp-social-link-tiktok{color:#000}.wp-block-social-links.is-style-logos-only .wp-social-link-tumblr{color:#011835}.wp-block-social-links.is-style-logos-only .wp-social-link-twitch{color:#6440a4}.wp-block-social-links.is-style-logos-only .wp-social-link-twitter{color:#1da1f2}.wp-block-social-links.is-style-logos-only .wp-social-link-vimeo{color:#1eb7ea}.wp-block-social-links.is-style-logos-only .wp-social-link-vk{color:#4680c2}.wp-block-social-links.is-style-logos-only .wp-social-link-wordpress{color:#3499cd}.wp-block-social-links.is-style-logos-only .wp-social-link-yelp{color:#d32422}.wp-block-social-links.is-style-logos-only .wp-social-link-youtube{color:red}.wp-block-social-links.is-style-pill-shape .wp-social-link{width:auto}.wp-block-social-links.is-style-pill-shape .wp-social-link a{padding-left:.66667em;padding-right:.66667em}.wp-block-spacer{clear:both}.wp-block-tag-cloud.aligncenter{text-align:center}.wp-block-tag-cloud.alignfull{padding-left:1em;padding-right:1em}.wp-block-table{margin:0 0 1em;overflow-x:auto}.wp-block-table table{border-collapse:collapse;width:100%}.wp-block-table .has-fixed-layout{table-layout:fixed;width:100%}.wp-block-table .has-fixed-layout td,.wp-block-table .has-fixed-layout th{word-break:break-word}.wp-block-table.aligncenter,.wp-block-table.alignleft,.wp-block-table.alignright{display:table;width:auto}.wp-block-table.aligncenter td,.wp-block-table.aligncenter th,.wp-block-table.alignleft td,.wp-block-table.alignleft th,.wp-block-table.alignright td,.wp-block-table.alignright th{word-break:break-word}.wp-block-table .has-subtle-light-gray-background-color{background-color:#f3f4f5}.wp-block-table .has-subtle-pale-green-background-color{background-color:#e9fbe5}.wp-block-table .has-subtle-pale-blue-background-color{background-color:#e7f5fe}.wp-block-table .has-subtle-pale-pink-background-color{background-color:#fcf0ef}.wp-block-table.is-style-stripes{border-spacing:0;border-collapse:inherit;background-color:transparent;border-bottom:1px solid #f0f0f0}.wp-block-table.is-style-stripes tbody tr:nth-child(odd){background-color:#f0f0f0}.wp-block-table.is-style-stripes.has-subtle-light-gray-background-color tbody tr:nth-child(odd){background-color:#f3f4f5}.wp-block-table.is-style-stripes.has-subtle-pale-green-background-color tbody tr:nth-child(odd){background-color:#e9fbe5}.wp-block-table.is-style-stripes.has-subtle-pale-blue-background-color tbody tr:nth-child(odd){background-color:#e7f5fe}.wp-block-table.is-style-stripes.has-subtle-pale-pink-background-color tbody tr:nth-child(odd){background-color:#fcf0ef}.wp-block-table.is-style-stripes td,.wp-block-table.is-style-stripes th{border-color:transparent}.wp-block-table .has-border-color>*,.wp-block-table .has-border-color td,.wp-block-table .has-border-color th,.wp-block-table .has-border-color tr{border-color:inherit}.wp-block-table table[style*=border-style]>*,.wp-block-table table[style*=border-style] td,.wp-block-table table[style*=border-style] th,.wp-block-table table[style*=border-style] tr{border-style:inherit}.wp-block-table table[style*=border-width]>*,.wp-block-table table[style*=border-width] td,.wp-block-table table[style*=border-width] th,.wp-block-table table[style*=border-width] tr{border-width:inherit}.wp-block-text-columns,.wp-block-text-columns.aligncenter{display:flex}.wp-block-text-columns .wp-block-column{margin:0 1em;padding:0}.wp-block-text-columns .wp-block-column:first-child{margin-left:0}.wp-block-text-columns .wp-block-column:last-child{margin-right:0}.wp-block-text-columns.columns-2 .wp-block-column{width:50%}.wp-block-text-columns.columns-3 .wp-block-column{width:33.33333%}.wp-block-text-columns.columns-4 .wp-block-column{width:25%}pre.wp-block-verse{font-family:inherit;overflow:auto;white-space:pre-wrap}.wp-block-video{margin:0 0 1em}.wp-block-video video{width:100%}@supports (position:sticky){.wp-block-video [poster]{-o-object-fit:cover;object-fit:cover}}.wp-block-video.aligncenter{text-align:center}.wp-block-video figcaption{margin-top:.5em;margin-bottom:1em}.wp-block-post-featured-image{margin-left:0;margin-right:0}.wp-block-post-featured-image a{display:inline-block}.wp-block-post-featured-image img{max-width:100%;height:auto}.wp-block-post-featured-image.alignfull img,.wp-block-post-featured-image.alignwide img{width:100%}:root .has-pale-pink-background-color{background-color:#f78da7}:root .has-vivid-red-background-color{background-color:#cf2e2e}:root .has-luminous-vivid-orange-background-color{background-color:#ff6900}:root .has-luminous-vivid-amber-background-color{background-color:#fcb900}:root .has-light-green-cyan-background-color{background-color:#7bdcb5}:root .has-vivid-green-cyan-background-color{background-color:#00d084}:root .has-pale-cyan-blue-background-color{background-color:#8ed1fc}:root .has-vivid-cyan-blue-background-color{background-color:#0693e3}:root .has-vivid-purple-background-color{background-color:#9b51e0}:root .has-white-background-color{background-color:#fff}:root .has-very-light-gray-background-color{background-color:#eee}:root .has-cyan-bluish-gray-background-color{background-color:#abb8c3}:root .has-very-dark-gray-background-color{background-color:#313131}:root .has-black-background-color{background-color:#000}:root .has-pale-pink-color{color:#f78da7}:root .has-vivid-red-color{color:#cf2e2e}:root .has-luminous-vivid-orange-color{color:#ff6900}:root .has-luminous-vivid-amber-color{color:#fcb900}:root .has-light-green-cyan-color{color:#7bdcb5}:root .has-vivid-green-cyan-color{color:#00d084}:root .has-pale-cyan-blue-color{color:#8ed1fc}:root .has-vivid-cyan-blue-color{color:#0693e3}:root .has-vivid-purple-color{color:#9b51e0}:root .has-white-color{color:#fff}:root .has-very-light-gray-color{color:#eee}:root .has-cyan-bluish-gray-color{color:#abb8c3}:root .has-very-dark-gray-color{color:#313131}:root .has-black-color{color:#000}:root .has-vivid-cyan-blue-to-vivid-purple-gradient-background{background:linear-gradient(135deg,#0693e3,#9b51e0)}:root .has-vivid-green-cyan-to-vivid-cyan-blue-gradient-background{background:linear-gradient(135deg,#00d084,#0693e3)}:root .has-light-green-cyan-to-vivid-green-cyan-gradient-background{background:linear-gradient(135deg,#7adcb4,#00d082)}:root .has-luminous-vivid-amber-to-luminous-vivid-orange-gradient-background{background:linear-gradient(135deg,#fcb900,#ff6900)}:root .has-luminous-vivid-orange-to-vivid-red-gradient-background{background:linear-gradient(135deg,#ff6900,#cf2e2e)}:root .has-very-light-gray-to-cyan-bluish-gray-gradient-background{background:linear-gradient(135deg,#eee,#a9b8c3)}:root .has-cool-to-warm-spectrum-gradient-background{background:linear-gradient(135deg,#4aeadc,#9778d1 20%,#cf2aba 40%,#ee2c82 60%,#fb6962 80%,#fef84c)}:root .has-blush-light-purple-gradient-background{background:linear-gradient(135deg,#ffceec,#9896f0)}:root .has-blush-bordeaux-gradient-background{background:linear-gradient(135deg,#fecda5,#fe2d2d 50%,#6b003e)}:root .has-purple-crush-gradient-background{background:linear-gradient(135deg,#34e2e4,#4721fb 50%,#ab1dfe)}:root .has-luminous-dusk-gradient-background{background:linear-gradient(135deg,#ffcb70,#c751c0 50%,#4158d0)}:root .has-hazy-dawn-gradient-background{background:linear-gradient(135deg,#faaca8,#dad0ec)}:root .has-pale-ocean-gradient-background{background:linear-gradient(135deg,#fff5cb,#b6e3d4 50%,#33a7b5)}:root .has-electric-grass-gradient-background{background:linear-gradient(135deg,#caf880,#71ce7e)}:root .has-subdued-olive-gradient-background{background:linear-gradient(135deg,#fafae1,#67a671)}:root .has-atomic-cream-gradient-background{background:linear-gradient(135deg,#fdd79a,#004a59)}:root .has-nightshade-gradient-background{background:linear-gradient(135deg,#330968,#31cdcf)}:root .has-midnight-gradient-background{background:linear-gradient(135deg,#020381,#2874fc)}.has-small-font-size{font-size:.8125em}.has-normal-font-size,.has-regular-font-size{font-size:1em}.has-medium-font-size{font-size:1.25em}.has-large-font-size{font-size:2.25em}.has-huge-font-size,.has-larger-font-size{font-size:2.625em}.has-text-align-center{text-align:center}.has-text-align-left{text-align:left}.has-text-align-right{text-align:right}#end-resizable-editor-section{display:none}.aligncenter{clear:both}.items-justified-left{justify-content:flex-start}.items-justified-center{justify-content:center}.items-justified-right{justify-content:flex-end}.items-justified-space-between{justify-content:space-between}.screen-reader-text{border:0;clip:rect(1px,1px,1px,1px);-webkit-clip-path:inset(50%);clip-path:inset(50%);height:1px;margin:-1px;overflow:hidden;padding:0;position:absolute;width:1px;word-wrap:normal!important}.screen-reader-text:focus{background-color:#ddd;clip:auto!important;-webkit-clip-path:none;clip-path:none;color:#444;display:block;font-size:1em;height:auto;left:5px;line-height:normal;padding:15px 23px 14px;text-decoration:none;top:5px;width:auto;z-index:100000} .components-custom-select-control{position:relative}.components-custom-select-control__label{display:block;margin-bottom:8px}.components-custom-select-control__button{border:1px solid #757575;border-radius:2px;min-height:30px;min-width:130px;position:relative;text-align:left}.components-custom-select-control__button.components-custom-select-control__button{padding-right:24px}.components-custom-select-control__button:focus:not(:disabled){border-color:var(--wp-admin-theme-color);box-shadow:0 0 0 .5px var(--wp-admin-theme-color)}.components-custom-select-control__button .components-custom-select-control__button-icon{height:100%;padding:0;position:absolute;right:0;top:0}.components-custom-select-control__menu{background-color:#fff;max-height:400px;min-width:100%;overflow:auto;padding:0;position:absolute;z-index:1000000}.components-custom-select-control__menu:focus{border:1px solid #1e1e1e;border-radius:2px;outline:none;transition:none}.components-custom-select-control__item{align-items:center;display:flex;list-style-type:none;padding:10px 5px 10px 25px;cursor:default}.components-custom-select-control__item.is-highlighted{background:#ddd}.components-custom-select-control__item-icon{margin-left:-20px;margin-right:0}.components-spinner{display:inline-block;background-color:#949494;width:18px;height:18px;opacity:.7;margin:5px 11px 0;border-radius:100%;position:relative}.components-spinner:before{content:"";position:absolute;background-color:#fff;top:3px;left:3px;width:4px;height:4px;border-radius:100%;transform-origin:6px 6px;-webkit-animation:components-spinner__animation 1s linear infinite;animation:components-spinner__animation 1s linear infinite}@-webkit-keyframes components-spinner__animation{0%{transform:rotate(0deg)}to{transform:rotate(1turn)}}@keyframes components-spinner__animation{0%{transform:rotate(0deg)}to{transform:rotate(1turn)}}.components-snackbar{font-family:-apple-system,BlinkMacSystemFont,Segoe UI,Roboto,Oxygen-Sans,Ubuntu,Cantarell,Helvetica Neue,sans-serif;font-size:13px;background-color:#1e1e1e;border-radius:2px;box-shadow:0 2px 4px rgba(0,0,0,.3);color:#fff;padding:16px 24px;width:100%;max-width:600px;box-sizing:border-box;cursor:pointer}@media(min-width:600px){.components-snackbar{width:-webkit-fit-content;width:-moz-fit-content;width:fit-content}}.components-snackbar:focus{box-shadow:0 0 0 1px #fff,0 0 0 3px var(--wp-admin-theme-color)}.components-snackbar__action.components-button{margin-left:32px;color:#fff;height:auto;flex-shrink:0;line-height:1.4;padding:0}.components-snackbar__action.components-button:not(:disabled):not([aria-disabled=true]):not(.is-secondary){text-decoration:underline;background-color:transparent}.components-snackbar__action.components-button:not(:disabled):not([aria-disabled=true]):not(.is-secondary):focus{color:#fff;box-shadow:none;outline:1px dotted #fff}.components-snackbar__action.components-button:not(:disabled):not([aria-disabled=true]):not(.is-secondary):hover{color:var(--wp-admin-theme-color)}.components-snackbar__content{display:flex;align-items:baseline;justify-content:space-between;line-height:1.4}.components-snackbar-list{position:absolute;z-index:100000;width:100%;box-sizing:border-box}.components-snackbar-list__notice-container{position:relative;padding-top:8px}.components-combobox-control{width:100%}input.components-combobox-control__input[type=text]{width:100%;border:none;box-shadow:none;padding:2px;margin:0;line-height:inherit;min-height:auto}input.components-combobox-control__input[type=text]:focus{outline:none;box-shadow:none}.components-combobox-control__suggestions-container{font-family:-apple-system,BlinkMacSystemFont,Segoe UI,Roboto,Oxygen-Sans,Ubuntu,Cantarell,Helvetica Neue,sans-serif;box-shadow:0 0 0 transparent;transition:box-shadow .1s linear;border-radius:2px;border:1px solid #757575;font-size:16px;line-height:normal;display:flex;flex-wrap:wrap;align-items:flex-start;width:100%;margin:0 0 8px;padding:4px}@media(prefers-reduced-motion:reduce){.components-combobox-control__suggestions-container{transition-duration:0s}}@media(min-width:600px){.components-combobox-control__suggestions-container{font-size:13px;line-height:normal}}.components-combobox-control__suggestions-container:focus{border-color:var(--wp-admin-theme-color);box-shadow:0 0 0 .5px var(--wp-admin-theme-color);outline:2px solid transparent}.components-combobox-control__suggestions-container::-webkit-input-placeholder{color:rgba(30,30,30,.62)}.components-combobox-control__suggestions-container::-moz-placeholder{opacity:1;color:rgba(30,30,30,.62)}.components-combobox-control__suggestions-container:-ms-input-placeholder{color:rgba(30,30,30,.62)}.is-dark-theme .components-combobox-control__suggestions-container::-webkit-input-placeholder{color:hsla(0,0%,100%,.65)}.is-dark-theme .components-combobox-control__suggestions-container::-moz-placeholder{opacity:1;color:hsla(0,0%,100%,.65)}.is-dark-theme .components-combobox-control__suggestions-container:-ms-input-placeholder{color:hsla(0,0%,100%,.65)}.components-combobox-control__suggestions-container:focus-within{border-color:var(--wp-admin-theme-color);box-shadow:0 0 0 .5px var(--wp-admin-theme-color);outline:2px solid transparent}.components-combobox-control__reset.components-button{display:flex;height:24px;min-width:24px;padding:0} .wc-block-link-button{border:0;border-radius:0;margin:0;padding:0;vertical-align:baseline;color:inherit;font-family:inherit;font-size:inherit;font-style:inherit;font-weight:inherit;letter-spacing:inherit;line-height:inherit;text-decoration:inherit;text-transform:inherit;box-shadow:none;display:inline;text-shadow:none;text-decoration:underline}.wc-block-link-button,.wc-block-link-button:active,.wc-block-link-button:focus,.wc-block-link-button:hover{background:0 0}.wc-block-suspense-placeholder{-webkit-animation:loading-fade 1.2s ease-in-out infinite;animation:loading-fade 1.2s ease-in-out infinite;background-color:var(--global--color-primary,#e0e0e0)!important;color:var(--global--color-primary,#e0e0e0)!important;outline:0!important;border:0!important;box-shadow:none;pointer-events:none;max-width:100%}.wc-block-suspense-placeholder>*{visibility:hidden}@media screen and (prefers-reduced-motion:reduce){.wc-block-suspense-placeholder{-webkit-animation:none;animation:none}}.wc-block-suspense-placeholder:after{content:" "}.wc-block-grid__products .wc-block-grid__product-image{text-decoration:none;display:block;position:relative}.wc-block-grid__products .wc-block-grid__product-image a{text-decoration:none;border:0;outline:0;box-shadow:none}.wc-block-grid__products .wc-block-grid__product-image img{height:auto;width:100%}.wc-block-grid__products .wc-block-grid__product-image img[hidden]{display:none}.edit-post-visual-editor .editor-block-list__block .wc-block-grid__product-title,.editor-styles-wrapper .wc-block-grid__product-title,.wc-block-grid__product-title{font-family:inherit;line-height:1.2em;font-weight:700;padding:0;color:inherit;font-size:inherit;display:block}.wc-block-grid__product-price{display:block}.wc-block-grid__product-price .wc-block-grid__product-price__regular{margin-right:.5em}.wc-block-grid__product-add-to-cart.wp-block-button{word-break:break-word;white-space:normal}.wc-block-grid__product-add-to-cart.wp-block-button .wp-block-button__link{word-break:break-word;white-space:normal;margin:0 auto!important;display:inline-flex;justify-content:center;text-align:center;padding:.5em 1em;font-size:1em}.wc-block-grid__product-add-to-cart.wp-block-button .wp-block-button__link.loading{opacity:.25}.wc-block-grid__product-add-to-cart.wp-block-button .wp-block-button__link.added:after{font-family:WooCommerce;content:"";margin-left:.5em;display:inline-block;width:auto;height:auto}.wc-block-grid__product-add-to-cart.wp-block-button .wp-block-button__link.loading:after{font-family:WooCommerce;content:"";-webkit-animation:spin 2s linear infinite;animation:spin 2s linear infinite;margin-left:.5em;display:inline-block;width:auto;height:auto}.has-5-columns:not(.alignfull) .wc-block-grid__product-add-to-cart.wp-block-button .wp-block-button__link:after,.has-6-columns .wc-block-grid__product-add-to-cart.wp-block-button .wp-block-button__link:after,.has-7-columns .wc-block-grid__product-add-to-cart.wp-block-button .wp-block-button__link:after,.has-8-columns .wc-block-grid__product-add-to-cart.wp-block-button .wp-block-button__link:after,.has-9-columns .wc-block-grid__product-add-to-cart.wp-block-button .wp-block-button__link:after{content:"";margin:0}.wc-block-grid__product-rating{display:block}.wc-block-grid__product-rating .star-rating,.wc-block-grid__product-rating .wc-block-grid__product-rating__stars{overflow:hidden;position:relative;width:5.3em;height:1.618em;line-height:1.618;font-size:1em;font-family:star;font-weight:400;margin:0 auto;text-align:left}.wc-block-grid__product-rating .star-rating:before,.wc-block-grid__product-rating .wc-block-grid__product-rating__stars:before{content:"SSSSS";top:0;left:0;right:0;position:absolute;opacity:.5;color:#aaa;white-space:nowrap}.wc-block-grid__product-rating .star-rating span,.wc-block-grid__product-rating .wc-block-grid__product-rating__stars span{overflow:hidden;top:0;left:0;right:0;position:absolute;padding-top:1.5em}.wc-block-grid__product-rating .star-rating span:before,.wc-block-grid__product-rating .wc-block-grid__product-rating__stars span:before{content:"SSSSS";top:0;left:0;right:0;position:absolute;color:#000;white-space:nowrap}.wc-block-grid__product-onsale{font-size:.875em;padding:.25em .75em;display:inline-block;width:auto;border:1px solid #43454b;border-radius:3px;color:#43454b;background:#fff;text-align:center;text-transform:uppercase;font-weight:600;z-index:9;position:relative}.wc-block-grid__product .wc-block-grid__product-image,.wc-block-grid__product .wc-block-grid__product-title{margin:0 0 12px}.wc-block-grid__product .wc-block-grid__product-add-to-cart,.wc-block-grid__product .wc-block-grid__product-onsale,.wc-block-grid__product .wc-block-grid__product-price,.wc-block-grid__product .wc-block-grid__product-rating{margin:0 auto 12px}.theme-twentysixteen .wc-block-grid .price ins{color:#77a464}.theme-twentynineteen .wc-block-grid__product{font-size:.88889em}.theme-twentynineteen .wc-block-components-product-sale-badge,.theme-twentynineteen .wc-block-components-product-title,.theme-twentynineteen .wc-block-grid__product-onsale,.theme-twentynineteen .wc-block-grid__product-title{font-family:-apple-system,BlinkMacSystemFont,Segoe UI,Roboto,Oxygen,Ubuntu,Cantarell,Fira Sans,Droid Sans,Helvetica Neue,sans-serif}.theme-twentynineteen .wc-block-grid__product-title:before{display:none}.theme-twentynineteen .wc-block-components-product-sale-badge,.theme-twentynineteen .wc-block-grid__product-onsale{line-height:1}.theme-twentynineteen .editor-styles-wrapper .wp-block-button .wp-block-button__link:not(.has-text-color){color:#fff}.theme-twentytwenty .wc-block-grid__product-link{color:#000}.theme-twentytwenty .wc-block-components-product-title,.theme-twentytwenty .wc-block-grid__product-title{font-family:-apple-system,blinkmacsystemfont,Helvetica Neue,helvetica,sans-serif;color:#cd2653;font-size:1em}.theme-twentytwenty .wp-block-columns .wc-block-components-product-title{margin-top:0}.theme-twentytwenty .wc-block-components-product-price .woocommerce-Price-amount,.theme-twentytwenty .wc-block-components-product-price__value,.theme-twentytwenty .wc-block-grid__product-price .woocommerce-Price-amount,.theme-twentytwenty .wc-block-grid__product-price__value{font-family:-apple-system,blinkmacsystemfont,Helvetica Neue,helvetica,sans-serif;font-size:.9em}.theme-twentytwenty .wc-block-components-product-price del,.theme-twentytwenty .wc-block-grid__product-price del{opacity:.5}.theme-twentytwenty .wc-block-components-product-price ins,.theme-twentytwenty .wc-block-grid__product-price ins{text-decoration:none}.theme-twentytwenty .star-rating,.theme-twentytwenty .wc-block-grid__product-rating{font-size:.7em}.theme-twentytwenty .star-rating .wc-block-components-product-rating__stars,.theme-twentytwenty .star-rating .wc-block-grid__product-rating__stars,.theme-twentytwenty .wc-block-grid__product-rating .wc-block-components-product-rating__stars,.theme-twentytwenty .wc-block-grid__product-rating .wc-block-grid__product-rating__stars{line-height:1}.theme-twentytwenty .wc-block-components-product-button>.wp-block-button__link,.theme-twentytwenty .wc-block-grid__product-add-to-cart>.wp-block-button__link{font-family:-apple-system,blinkmacsystemfont,Helvetica Neue,helvetica,sans-serif}.theme-twentytwenty .wc-block-components-product-sale-badge,.theme-twentytwenty .wc-block-grid__products .wc-block-grid__product-onsale{background:#cd2653;color:#fff;font-family:-apple-system,blinkmacsystemfont,Helvetica Neue,helvetica,sans-serif;font-weight:700;letter-spacing:-.02em;line-height:1.2;text-transform:uppercase}.theme-twentytwenty .wc-block-grid__products .wc-block-components-product-sale-badge{position:static}.theme-twentytwenty .wc-block-grid__products .wc-block-grid__product-image .wc-block-components-product-sale-badge{position:absolute}.theme-twentytwenty .wc-block-grid__products .wc-block-grid__product-onsale:not(.wc-block-components-product-sale-badge){position:absolute;right:4px;top:4px;z-index:1}.theme-twentytwenty .wc-block-active-filters__title,.theme-twentytwenty .wc-block-attribute-filter__title,.theme-twentytwenty .wc-block-price-filter__title,.theme-twentytwenty .wc-block-stock-filter__title{font-size:1em}.theme-twentytwenty .wc-block-active-filters .wc-block-active-filters__clear-all{font-size:.75em}.theme-twentytwenty .wc-block-grid__product-add-to-cart.wp-block-button .wp-block-button__link{font-size:.75em;padding:.5em}@media only screen and (min-width:768px){.theme-twentytwenty .wc-block-grid__products .wc-block-grid__product-onsale{font-size:.875em;padding:.5em}}@media only screen and (min-width:1168px){.theme-twentytwenty .wc-block-grid__products .wc-block-grid__product-onsale{font-size:.875em;padding:.5em}}.screen-reader-text{border:0;clip:rect(1px,1px,1px,1px);-webkit-clip-path:inset(50%);clip-path:inset(50%);height:1px;margin:-1px;overflow:hidden;overflow-wrap:normal!important;word-wrap:normal!important;padding:0;position:absolute!important;width:1px}.screen-reader-text:focus{background-color:#fff;border-radius:3px;box-shadow:0 0 2px 2px rgba(0,0,0,.6);clip:auto!important;-webkit-clip-path:none;clip-path:none;color:#2b2d2f;display:block;font-size:.875rem;font-weight:700;height:auto;left:5px;line-height:normal;padding:15px 23px 14px;text-decoration:none;top:5px;width:auto;z-index:100000}.wc-block-components-product-add-to-cart-attribute-picker{margin:0;flex-basis:100%}.wc-block-components-product-add-to-cart-attribute-picker label{display:block;font-size:1em}.wc-block-components-product-add-to-cart-attribute-picker .wc-block-components-product-add-to-cart-attribute-picker__container{position:relative}.wc-block-components-product-add-to-cart-attribute-picker .wc-block-components-product-add-to-cart-attribute-picker__select{margin:0 0 .75em}.wc-block-components-product-add-to-cart-attribute-picker .wc-block-components-product-add-to-cart-attribute-picker__select select{min-width:60%;min-height:1.75em}.wc-block-components-product-add-to-cart-attribute-picker .wc-block-components-product-add-to-cart-attribute-picker__select.has-error{margin-bottom:24px}.wc-block-components-product-add-to-cart-attribute-picker .wc-block-components-product-add-to-cart-attribute-picker__select.has-error select{border-color:#cc1818}.wc-block-components-product-add-to-cart-attribute-picker .wc-block-components-product-add-to-cart-attribute-picker__select.has-error select:focus{outline-color:#cc1818}.wc-block-components-product-add-to-cart{margin:0;display:flex;flex-wrap:wrap}.wc-block-components-product-add-to-cart .wc-block-components-product-add-to-cart-button{margin:0 0 .75em}.wc-block-components-product-add-to-cart .wc-block-components-product-add-to-cart-button .wc-block-components-button__text{display:block}.wc-block-components-product-add-to-cart .wc-block-components-product-add-to-cart-button .wc-block-components-button__text>svg{fill:currentColor;vertical-align:top;width:1.5em;height:1.5em;margin:-.25em 0 -.25em .5em}.wc-block-components-product-add-to-cart .wc-block-components-product-add-to-cart-quantity{margin:0 1em .75em 0;flex-basis:5em;padding:.618em;background:#fff;border:1px solid #ccc;border-radius:2px;color:#43454b;box-shadow:inset 0 1px 1px rgba(0,0,0,.125);text-align:center}.is-loading .wc-block-components-product-add-to-cart .wc-block-components-product-add-to-cart-button,.is-loading .wc-block-components-product-add-to-cart .wc-block-components-product-add-to-cart-quantity,.wc-block-components-product-add-to-cart--placeholder .wc-block-components-product-add-to-cart-button,.wc-block-components-product-add-to-cart--placeholder .wc-block-components-product-add-to-cart-quantity{-webkit-animation:loading-fade 1.2s ease-in-out infinite;animation:loading-fade 1.2s ease-in-out infinite;background-color:var(--global--color-primary,#e0e0e0)!important;color:var(--global--color-primary,#e0e0e0)!important;outline:0!important;border:0!important;box-shadow:none;pointer-events:none;max-width:100%}.is-loading .wc-block-components-product-add-to-cart .wc-block-components-product-add-to-cart-button>*,.is-loading .wc-block-components-product-add-to-cart .wc-block-components-product-add-to-cart-quantity>*,.wc-block-components-product-add-to-cart--placeholder .wc-block-components-product-add-to-cart-button>*,.wc-block-components-product-add-to-cart--placeholder .wc-block-components-product-add-to-cart-quantity>*{visibility:hidden}@media screen and (prefers-reduced-motion:reduce){.is-loading .wc-block-components-product-add-to-cart .wc-block-components-product-add-to-cart-button,.is-loading .wc-block-components-product-add-to-cart .wc-block-components-product-add-to-cart-quantity,.wc-block-components-product-add-to-cart--placeholder .wc-block-components-product-add-to-cart-button,.wc-block-components-product-add-to-cart--placeholder .wc-block-components-product-add-to-cart-quantity{-webkit-animation:none;animation:none}}.wc-block-grid .wc-block-components-product-add-to-cart{justify-content:center}.wc-block-components-product-add-to-cart-notice{margin:0}.wp-block-button.wc-block-components-product-button{word-break:break-word;white-space:normal;margin-top:0;margin-bottom:12px}.wp-block-button.wc-block-components-product-button .wc-block-components-product-button__button{word-break:break-word;white-space:normal;margin:0 auto;display:inline-flex;justify-content:center}.wp-block-button.wc-block-components-product-button .wc-block-components-product-button__button--placeholder{-webkit-animation:loading-fade 1.2s ease-in-out infinite;animation:loading-fade 1.2s ease-in-out infinite;background-color:var(--global--color-primary,#e0e0e0)!important;color:var(--global--color-primary,#e0e0e0)!important;outline:0!important;border:0!important;box-shadow:none;pointer-events:none;max-width:100%;min-width:8em;min-height:3em}.wp-block-button.wc-block-components-product-button .wc-block-components-product-button__button--placeholder>*{visibility:hidden}@media screen and (prefers-reduced-motion:reduce){.wp-block-button.wc-block-components-product-button .wc-block-components-product-button__button--placeholder{-webkit-animation:none;animation:none}}.is-loading .wc-block-components-product-button>.wc-block-components-product-button__button{-webkit-animation:loading-fade 1.2s ease-in-out infinite;animation:loading-fade 1.2s ease-in-out infinite;background-color:var(--global--color-primary,#e0e0e0)!important;color:var(--global--color-primary,#e0e0e0)!important;outline:0!important;border:0!important;box-shadow:none;pointer-events:none;max-width:100%;min-width:8em;min-height:3em}.is-loading .wc-block-components-product-button>.wc-block-components-product-button__button>*{visibility:hidden}@media screen and (prefers-reduced-motion:reduce){.is-loading .wc-block-components-product-button>.wc-block-components-product-button__button{-webkit-animation:none;animation:none}}.theme-twentytwentyone .editor-styles-wrapper .wc-block-components-product-button .wp-block-button__link{background-color:var(--button--color-background);color:var(--button--color-text);border-color:var(--button--color-background)}.wc-block-components-product-category-list{margin-top:0;margin-bottom:.75em}.wc-block-components-product-category-list ul{margin:0;padding:0;display:inline}.wc-block-components-product-category-list ul li{display:inline;list-style:none}.wc-block-components-product-category-list ul li:after{content:", "}.wc-block-components-product-category-list ul li:last-child:after{content:""}.editor-styles-wrapper .wc-block-grid__products .wc-block-grid__product .wc-block-components-product-image,.wc-block-components-product-image{margin-top:0;margin-bottom:12px;text-decoration:none;display:block;position:relative}.editor-styles-wrapper .wc-block-grid__products .wc-block-grid__product .wc-block-components-product-image a,.wc-block-components-product-image a{text-decoration:none;border:0;outline:0;box-shadow:none}.editor-styles-wrapper .wc-block-grid__products .wc-block-grid__product .wc-block-components-product-image img,.wc-block-components-product-image img{vertical-align:middle;width:100%}.editor-styles-wrapper .wc-block-grid__products .wc-block-grid__product .wc-block-components-product-image img[hidden],.wc-block-components-product-image img[hidden]{display:none}.editor-styles-wrapper .wc-block-grid__products .wc-block-grid__product .wc-block-components-product-image .wc-block-components-product-sale-badge--align-left,.wc-block-components-product-image .wc-block-components-product-sale-badge--align-left{position:absolute;left:4px;top:4px;right:auto;margin:0}.editor-styles-wrapper .wc-block-grid__products .wc-block-grid__product .wc-block-components-product-image .wc-block-components-product-sale-badge--align-center,.wc-block-components-product-image .wc-block-components-product-sale-badge--align-center{position:absolute;top:4px;left:50%;right:auto;transform:translateX(-50%);margin:0}.editor-styles-wrapper .wc-block-grid__products .wc-block-grid__product .wc-block-components-product-image .wc-block-components-product-sale-badge--align-right,.wc-block-components-product-image .wc-block-components-product-sale-badge--align-right{position:absolute;right:4px;top:4px;left:auto;margin:0}.is-loading .wc-block-components-product-image{-webkit-animation:loading-fade 1.2s ease-in-out infinite;animation:loading-fade 1.2s ease-in-out infinite;background-color:var(--global--color-primary,#e0e0e0)!important;color:var(--global--color-primary,#e0e0e0)!important;outline:0!important;border:0!important;box-shadow:none;pointer-events:none;max-width:100%}.is-loading .wc-block-components-product-image>*{visibility:hidden}@media screen and (prefers-reduced-motion:reduce){.is-loading .wc-block-components-product-image{-webkit-animation:none;animation:none}}.wc-block-components-product-rating{display:block;margin-top:0;margin-bottom:12px}.wc-block-components-product-rating__stars{overflow:hidden;position:relative;width:5.3em;height:1.618em;line-height:1.618;font-size:1em;font-family:star;font-weight:400;margin:0 auto;text-align:left}.wc-block-components-product-rating__stars:before{content:"SSSSS";top:0;left:0;right:0;position:absolute;opacity:.5;color:#aaa;white-space:nowrap}.wc-block-components-product-rating__stars span{overflow:hidden;top:0;left:0;right:0;position:absolute;padding-top:1.5em}.wc-block-components-product-rating__stars span:before{content:"SSSSS";top:0;left:0;right:0;position:absolute;color:#000;white-space:nowrap}.wc-block-single-product .wc-block-components-product-rating__stars{margin:0}.wc-block-components-product-sale-badge{margin:0 auto 12px;font-size:.875em;padding:.25em .75em;display:inline-block;width:auto;border:1px solid #43454b;border-radius:3px;color:#43454b;background:#fff;text-align:center;text-transform:uppercase;font-weight:600;z-index:9;position:static}.wc-block-components-product-sku{margin-top:0;margin-bottom:12px;display:block;text-transform:uppercase;font-size:.875em}.wc-block-components-product-stock-indicator{margin-top:0;margin-bottom:.75em;display:block;font-size:.875em}.wc-block-components-product-stock-indicator--in-stock{color:#4ab866}.wc-block-components-product-stock-indicator--out-of-stock{color:#cc1818}.wc-block-components-product-stock-indicator--available-on-backorder,.wc-block-components-product-stock-indicator--low-stock{color:#f0b849}.wc-block-components-product-summary{margin-top:0;margin-bottom:12px}.is-loading .wc-block-components-product-summary:before{-webkit-animation:loading-fade 1.2s ease-in-out infinite;animation:loading-fade 1.2s ease-in-out infinite;background-color:var(--global--color-primary,#e0e0e0)!important;color:var(--global--color-primary,#e0e0e0)!important;outline:0!important;border:0!important;box-shadow:none;pointer-events:none;max-width:100%;content:".";display:block;width:100%;height:6em}.is-loading .wc-block-components-product-summary:before>*{visibility:hidden}@media screen and (prefers-reduced-motion:reduce){.is-loading .wc-block-components-product-summary:before{-webkit-animation:none;animation:none}}.wc-block-components-product-tag-list{margin-top:0;margin-bottom:.75em}.wc-block-components-product-tag-list ul{margin:0;padding:0;display:inline}.wc-block-components-product-tag-list ul li{display:inline;list-style:none}.wc-block-components-product-tag-list ul li:after{content:", "}.wc-block-components-product-tag-list ul li:last-child:after{content:""}.wc-block-components-product-title{margin-top:0;margin-bottom:12px}.wc-block-grid .wc-block-components-product-title{line-height:1.5;font-weight:700;padding:0;color:inherit;font-size:inherit;display:block}.is-loading .wc-block-components-product-title:before{-webkit-animation:loading-fade 1.2s ease-in-out infinite;animation:loading-fade 1.2s ease-in-out infinite;background-color:var(--global--color-primary,#e0e0e0)!important;color:var(--global--color-primary,#e0e0e0)!important;outline:0!important;border:0!important;box-shadow:none;pointer-events:none;max-width:100%;content:".";display:inline-block;width:7em}.is-loading .wc-block-components-product-title:before>*{visibility:hidden}@media screen and (prefers-reduced-motion:reduce){.is-loading .wc-block-components-product-title:before{-webkit-animation:none;animation:none}}.is-loading .wc-block-grid .wc-block-components-product-title:before{width:10em}.wc-block-components-product-title--align-left{text-align:left}.wc-block-components-product-title--align-center{text-align:center}.wc-block-components-product-title--align-right{text-align:right}.wc-block-components-error{display:flex;padding:40px 0;margin:40px 0;align-items:center;justify-content:center;flex-direction:column;color:#757575;text-align:center}.wc-block-components-error__header{font-size:2em;margin:0;color:#646970}.wc-block-components-error__image{width:25%;margin:0 0 24px}.wc-block-components-error__text{margin:1em 0 0;color:#8c8f94;font-size:1.25em;max-width:60ch}.wc-block-components-error__message{margin:1em auto 0;font-style:italic;color:#8c8f94;max-width:60ch}.wc-block-error__button{margin:40px 0 0}.wc-block-components-button:not(.is-link){color:inherit;font-family:inherit;font-size:inherit;font-style:inherit;font-weight:inherit;letter-spacing:inherit;line-height:inherit;text-decoration:inherit;text-transform:inherit;align-items:center;background-color:#1e1e1e;color:#fff;display:inline-flex;font-weight:700;min-height:3em;justify-content:center;line-height:1;padding:0 1em;text-align:center;text-decoration:none;text-transform:none;position:relative}.wc-block-components-button:not(.is-link):active,.wc-block-components-button:not(.is-link):disabled,.wc-block-components-button:not(.is-link):focus,.wc-block-components-button:not(.is-link):hover{background-color:#1e1e1e;color:#fff}.wc-block-components-button:not(.is-link) .wc-block-components-button__text{display:block}.wc-block-components-button:not(.is-link) .wc-block-components-button__text>svg{fill:currentColor}.wc-block-components-button:not(.is-link) .wc-block-components-spinner+.wc-block-components-button__text{visibility:hidden}.wc-block-components-form{counter-reset:checkout-step}.wc-block-components-form .wc-block-components-checkout-step{position:relative;border:none;padding:0 0 0 24px;background:0 0;margin:0}.is-mobile .wc-block-components-form .wc-block-components-checkout-step,.is-small .wc-block-components-form .wc-block-components-checkout-step{padding-left:0}.wc-block-components-checkout-step--disabled{opacity:.6}.wc-block-components-checkout-step__container{position:relative}.wc-block-components-checkout-step__content>*{margin-bottom:1em}.wc-block-components-checkout-step--with-step-number .wc-block-components-checkout-step__content>:last-child{margin-bottom:0;padding-bottom:1.5em}.wc-block-components-checkout-step__heading{display:flex;justify-content:space-between;align-content:center;flex-wrap:wrap;margin:.75em 0 1em;position:relative;align-items:center;gap:1em}.wc-block-components-checkout-step:first-child .wc-block-components-checkout-step__heading,.wc-block-components-express-payment-continue-rule+.wc-block-components-checkout-step .wc-block-components-checkout-step__heading{margin-top:0}.wc-block-components-checkout-step__title{margin:0 12px 0 0}.wc-block-components-checkout-step__heading-content{font-size:.75em}.wc-block-components-checkout-step__heading-content a{font-weight:700;color:inherit}.wc-block-components-checkout-step__description{font-size:.875em;line-height:1.25;margin-bottom:16px}.wc-block-components-checkout-step--with-step-number .wc-block-components-checkout-step__title:before{border:0;border-radius:0;margin:0;padding:0;vertical-align:baseline;background:0 0;counter-increment:checkout-step;content:" " counter(checkout-step) ".";content:" " counter(checkout-step) "."/"";position:absolute;width:24px;left:-24px;top:0;text-align:center;transform:translateX(-50%)}.wc-block-components-checkout-step--with-step-number .wc-block-components-checkout-step__container:after{content:"";height:100%;border-left:1px solid;opacity:.3;position:absolute;left:-24px;top:0}.is-mobile .wc-block-components-checkout-step--with-step-number .wc-block-components-checkout-step__title:before,.is-small .wc-block-components-checkout-step--with-step-number .wc-block-components-checkout-step__title:before{position:static;transform:none;left:auto;top:auto;content:counter(checkout-step) ". ";content:counter(checkout-step) ". "/""}.is-mobile .wc-block-components-checkout-step--with-step-number .wc-block-components-checkout-step__container:after,.is-small .wc-block-components-checkout-step--with-step-number .wc-block-components-checkout-step__container:after{content:unset}.editor-styles-wrapper .wp-block h4.wc-block-components-checkout-step__title{font-size:1em;line-height:24px;margin:0 12px 0 0}.wc-block-components-order-summary .wc-block-components-panel__button{padding-top:0;margin-top:0}.wc-block-components-order-summary .wc-block-components-panel__content{margin-bottom:0}.wc-block-components-order-summary__content{display:table;width:100%}.wc-block-components-order-summary-item{position:relative;font-size:.875em;display:flex;padding-bottom:1px;padding-top:16px;width:100%}.wc-block-components-order-summary-item:after{border-style:solid;border-width:0 0 1px;bottom:0;content:"";display:block;left:0;opacity:.3;pointer-events:none;position:absolute;right:0;top:0}.wc-block-components-order-summary-item:first-child{padding-top:0}.wc-block-components-order-summary-item:last-child>div{padding-bottom:0}.wc-block-components-order-summary-item:last-child:after{display:none}.wc-block-components-order-summary-item .wc-block-components-product-metadata{font-size:1em}.wc-block-components-order-summary-item__description,.wc-block-components-order-summary-item__image{display:table-cell;vertical-align:top}.wc-block-components-order-summary-item__image{width:48px;padding-bottom:16px;position:relative}.wc-block-components-order-summary-item__image>img{width:48px;max-width:48px}.wc-block-components-order-summary-item__quantity{align-items:center;background:#fff;border:2px solid;border-radius:1em;box-shadow:0 0 0 2px #fff;color:#000;display:flex;line-height:1;min-height:20px;padding:0 .4em;position:absolute;justify-content:center;min-width:20px;right:0;top:0;transform:translate(50%,-50%);white-space:nowrap;z-index:1}.wc-block-components-order-summary-item__description{padding-left:24px;padding-right:12px;padding-bottom:16px}.wc-block-components-order-summary-item__description .wc-block-components-product-metadata,.wc-block-components-order-summary-item__description p{line-height:1.375;margin-top:4px}.wc-block-components-order-summary-item__total-price{font-weight:700;margin-left:auto;text-align:right}.wc-block-components-order-summary-item__individual-prices{display:block}.wc-block-components-payment-method-icons{margin:0 0 14px;display:flex;flex-direction:row;flex-wrap:wrap;justify-content:center}.wc-block-components-payment-method-icons .wc-block-components-payment-method-icon{display:inline-block;margin:0 4px 2px;padding:0;width:auto;max-width:38px;height:24px;max-height:24px}.wc-block-components-payment-method-icons--align-left{justify-content:flex-start}.wc-block-components-payment-method-icons--align-left .wc-block-components-payment-method-icon{margin-left:0;margin-right:8px}.wc-block-components-payment-method-icons--align-right{justify-content:flex-end}.wc-block-components-payment-method-icons--align-right .wc-block-components-payment-method-icon{margin-right:0;margin-left:8px}.wc-block-components-payment-method-icons:last-child{margin-bottom:0}.is-mobile .wc-block-components-payment-method-icons .wc-block-components-payment-method-icon,.is-small .wc-block-components-payment-method-icons .wc-block-components-payment-method-icon{height:16px}.wc-block-components-payment-method-label--with-icon{display:inline-block;vertical-align:middle}.wc-block-components-payment-method-label--with-icon>img,.wc-block-components-payment-method-label--with-icon>svg{vertical-align:middle;margin:-2px 4px 0 0}.is-mobile .wc-block-components-payment-method-label--with-icon>img,.is-mobile .wc-block-components-payment-method-label--with-icon>svg,.is-small .wc-block-components-payment-method-label--with-icon>img,.is-small .wc-block-components-payment-method-label--with-icon>svg{display:none}.editor-styles-wrapper .wc-block-components-checkout-policies,.wc-block-components-checkout-policies{font-size:.75em;text-align:center;list-style:none outside;line-height:1;margin:24px 0}.wc-block-components-checkout-policies__item{list-style:none outside;display:inline-block;padding:0 .25em;margin:0}.wc-block-components-checkout-policies__item:not(:first-child){border-left:1px solid #ccc}.wc-block-components-checkout-policies__item>a{color:inherit;padding:0 .25em}.wc-block-components-product-badge{font-size:.75em;border-radius:2px;border:1px solid;display:inline-block;font-weight:600;padding:0 .66em;text-transform:uppercase;white-space:nowrap}.wc-block-components-product-details.wc-block-components-product-details{list-style:none;margin:.5em 0;padding:0}.wc-block-components-product-details.wc-block-components-product-details:last-of-type{margin-bottom:0}.wc-block-components-product-details.wc-block-components-product-details li{margin-left:0}.wc-block-components-product-details__name,.wc-block-components-product-details__value{display:inline-block}.is-large:not(.wc-block-checkout) .wc-block-components-product-details__name{font-weight:700}.wc-block-components-product-metadata{font-size:.75em}.wc-block-components-product-metadata .wc-block-components-product-metadata__description>p,.wc-block-components-product-metadata .wc-block-components-product-metadata__variation-data{margin:.25em 0}.wc-block-components-checkout-return-to-cart-button{box-shadow:none;color:inherit;padding-left:calc(24px + .25em);position:relative;text-decoration:none}.wc-block-components-checkout-return-to-cart-button svg{left:0;position:absolute;transform:translateY(-50%);top:50%}.wc-block-components-shipping-calculator-address{margin-bottom:0}.wc-block-components-shipping-calculator-address__button{width:100%;margin-top:1.5em}.wc-block-components-shipping-calculator{padding:.5em 0 .75em}.wc-block-components-shipping-rates-control__package .wc-block-components-panel__button{margin-bottom:0;margin-top:0;padding-bottom:.75em;padding-top:.75em}.wc-block-components-shipping-rates-control__package .wc-block-components-panel__content,.wc-block-components-shipping-rates-control__package .wc-block-components-radio-control,.wc-block-components-shipping-rates-control__package .wc-block-components-radio-control .wc-block-components-radio-control__option-layout,.wc-block-components-shipping-rates-control__package .wc-block-components-radio-control__option-layout{padding-bottom:0}.wc-block-components-shipping-rates-control__package-items{font-size:.875em;display:block;list-style:none;margin:0;padding:0}.wc-block-components-shipping-rates-control__package-item{overflow-wrap:anywhere;word-break:break-word;-ms-word-break:break-all;display:inline-block;margin:0;padding:0}.wc-block-components-shipping-rates-control__package-item:not(:last-child):after{content:", ";white-space:pre}.wc-block-components-totals-coupon .wc-block-components-panel__button{margin-top:0;padding-top:0}.wc-block-components-totals-coupon .wc-block-components-panel__content{padding-bottom:0}.wc-block-components-totals-coupon__form{display:flex;width:100%;margin-bottom:0}.wc-block-components-totals-coupon__form .wc-block-components-totals-coupon__input{margin-bottom:0;margin-top:0;flex-grow:1}.wc-block-components-totals-coupon__form .wc-block-components-totals-coupon__button{height:3em;flex-shrink:0;margin-left:8px;padding-left:24px;padding-right:24px;white-space:nowrap}.wc-block-components-totals-coupon__form .wc-block-components-totals-coupon__button.no-margin{margin:0}.wc-block-components-totals-coupon__content{flex-direction:column;position:relative}.wc-block-components-totals-discount__coupon-list{list-style:none;margin:0;padding:0}.wc-block-components-totals-discount .wc-block-components-totals-item__value{color:#4ab866}.wc-block-components-totals-footer-item .wc-block-components-totals-item__label,.wc-block-components-totals-footer-item .wc-block-components-totals-item__value{font-size:1.25em}.wc-block-components-totals-footer-item .wc-block-components-totals-item__label{font-weight:700}.wc-block-components-totals-footer-item .wc-block-components-totals-footer-item-tax{margin-bottom:0}.wc-block-components-totals-shipping fieldset.wc-block-components-totals-shipping__fieldset{background-color:transparent;margin:0;padding:0;border:0}.wc-block-components-totals-shipping .wc-block-components-totals-shipping__via{margin-bottom:16px}.wc-block-components-totals-shipping .wc-block-components-totals-shipping__options .wc-block-components-radio-control__description,.wc-block-components-totals-shipping .wc-block-components-totals-shipping__options .wc-block-components-radio-control__label,.wc-block-components-totals-shipping .wc-block-components-totals-shipping__options .wc-block-components-radio-control__secondary-description,.wc-block-components-totals-shipping .wc-block-components-totals-shipping__options .wc-block-components-radio-control__secondary-label{flex-basis:100%;text-align:left}.wc-block-components-totals-shipping .wc-block-components-shipping-rates-control__no-results-notice{margin:0 0 .75em}.wc-block-components-totals-shipping .wc-block-components-totals-shipping__change-address-button{border:0;border-radius:0;margin:0;padding:0;vertical-align:baseline;color:inherit;font-family:inherit;font-size:inherit;font-style:inherit;font-weight:inherit;letter-spacing:inherit;line-height:inherit;text-decoration:inherit;text-transform:inherit;background:0 0;box-shadow:none;display:inline;text-shadow:none;text-decoration:underline}.wc-block-components-totals-shipping .wc-block-components-totals-shipping__change-address-button:active,.wc-block-components-totals-shipping .wc-block-components-totals-shipping__change-address-button:focus,.wc-block-components-totals-shipping .wc-block-components-totals-shipping__change-address-button:hover{background:0 0;opacity:.8}.theme-twentytwentyone.theme-twentytwentyone.theme-twentytwentyone .wc-block-components-totals-shipping__change-address-button{border:0;border-radius:0;margin:0;padding:0;vertical-align:baseline;color:inherit;font-family:inherit;font-size:inherit;font-style:inherit;font-weight:inherit;letter-spacing:inherit;line-height:inherit;text-decoration:inherit;text-transform:inherit;background:0 0;box-shadow:none;display:inline;text-shadow:none;text-decoration:underline}.theme-twentytwentyone.theme-twentytwentyone.theme-twentytwentyone .wc-block-components-totals-shipping__change-address-button:active,.theme-twentytwentyone.theme-twentytwentyone.theme-twentytwentyone .wc-block-components-totals-shipping__change-address-button:focus,.theme-twentytwentyone.theme-twentytwentyone.theme-twentytwentyone .wc-block-components-totals-shipping__change-address-button:hover{background:0 0}.wc-block-components-checkbox{color:inherit;font-family:inherit;font-size:inherit;font-style:inherit;font-weight:inherit;letter-spacing:inherit;line-height:inherit;text-decoration:inherit;text-transform:inherit;align-items:flex-start;display:flex;position:relative;margin-top:1.5em}.wc-block-components-checkbox .wc-block-components-checkbox__input[type=checkbox]{font-size:1em;-webkit-appearance:none;-moz-appearance:none;appearance:none;border:2px solid #50575e;border-radius:2px;box-sizing:border-box;height:1.5em;width:1.5em;margin:0;min-height:24px;min-width:24px;overflow:hidden;position:static;vertical-align:middle;background-color:#fff}.wc-block-components-checkbox .wc-block-components-checkbox__input[type=checkbox]:checked{background:#fff;border-color:#50575e}.wc-block-components-checkbox .wc-block-components-checkbox__input[type=checkbox]:focus{outline:2px solid #50575e;outline-offset:2px}.wc-block-components-checkbox .wc-block-components-checkbox__input[type=checkbox]:after,.wc-block-components-checkbox .wc-block-components-checkbox__input[type=checkbox]:before{content:""}.wc-block-components-checkbox .wc-block-components-checkbox__input[type=checkbox]:not(:checked)+.wc-block-components-checkbox__mark{display:none}.has-dark-controls .wc-block-components-checkbox .wc-block-components-checkbox__input[type=checkbox]{border-color:hsla(0,0%,100%,.6);background-color:rgba(0,0,0,.1)}.has-dark-controls .wc-block-components-checkbox .wc-block-components-checkbox__input[type=checkbox]:checked{background:rgba(0,0,0,.1);border-color:hsla(0,0%,100%,.6)}.has-dark-controls .wc-block-components-checkbox .wc-block-components-checkbox__input[type=checkbox]:focus{outline:2px solid hsla(0,0%,100%,.6);outline-offset:2px}.wc-block-components-checkbox.has-error,.wc-block-components-checkbox.has-error a{color:#cc1818}.wc-block-components-checkbox.has-error .wc-block-components-checkbox__input,.wc-block-components-checkbox.has-error .wc-block-components-checkbox__input:active,.wc-block-components-checkbox.has-error .wc-block-components-checkbox__input:focus,.wc-block-components-checkbox.has-error .wc-block-components-checkbox__input:hover{border-color:#cc1818}.wc-block-components-checkbox.has-error .wc-block-components-checkbox__input:focus{outline:2px solid #cc1818;outline-offset:2px}.wc-block-components-checkbox .wc-block-components-checkbox__mark{fill:#000;position:absolute;margin-left:.1875em;margin-top:.0625em;width:1.125em;height:1.125em}.has-dark-controls .wc-block-components-checkbox .wc-block-components-checkbox__mark{fill:#fff}.wc-block-components-checkbox .wc-block-components-checkbox__label,.wc-block-components-checkbox>span{padding-left:16px;vertical-align:middle;line-height:1.5em}@media (-ms-high-contrast:none),screen and (-ms-high-contrast:active){.wc-block-components-checkbox__mark{display:none}}.theme-twentytwentyone .has-dark-controls .wc-block-components-checkbox__input[type=checkbox],.theme-twentytwentyone .wc-block-components-checkbox__input[type=checkbox]{background-color:#fff;border-color:var(--form--border-color);position:relative}.theme-twentytwentyone .has-dark-controls .wc-block-components-checkbox__input[type=checkbox]:checked,.theme-twentytwentyone .wc-block-components-checkbox__input[type=checkbox]:checked{background-color:#fff;border-color:var(--form--border-color)}.theme-twentytwentyone .wc-block-components-checkbox__mark{display:none}.editor-styles-wrapper .wc-block-components-checkbox-list,.wc-block-components-checkbox-list{margin:0;padding:0;list-style:none outside}.editor-styles-wrapper .wc-block-components-checkbox-list li,.wc-block-components-checkbox-list li{margin:0 0 4px;padding:0;list-style:none outside}.editor-styles-wrapper .wc-block-components-checkbox-list li.show-less button,.editor-styles-wrapper .wc-block-components-checkbox-list li.show-more button,.wc-block-components-checkbox-list li.show-less button,.wc-block-components-checkbox-list li.show-more button{background:0 0;border:none;padding:0;text-decoration:underline;cursor:pointer}.editor-styles-wrapper .wc-block-components-checkbox-list.is-loading li,.wc-block-components-checkbox-list.is-loading li{-webkit-animation:loading-fade 1.2s ease-in-out infinite;animation:loading-fade 1.2s ease-in-out infinite;background-color:var(--global--color-primary,#e0e0e0)!important;color:var(--global--color-primary,#e0e0e0)!important;outline:0!important;border:0!important;box-shadow:none;pointer-events:none;max-width:100%}.editor-styles-wrapper .wc-block-components-checkbox-list.is-loading li>*,.wc-block-components-checkbox-list.is-loading li>*{visibility:hidden}@media screen and (prefers-reduced-motion:reduce){.editor-styles-wrapper .wc-block-components-checkbox-list.is-loading li,.wc-block-components-checkbox-list.is-loading li{-webkit-animation:none;animation:none}}.wc-block-components-chip{color:inherit;font-family:inherit;font-size:inherit;font-style:inherit;font-weight:inherit;letter-spacing:inherit;line-height:inherit;text-decoration:inherit;text-transform:inherit;align-items:center;border:0;display:inline-flex;padding:.125em .5em .25em;margin:0 .365em .365em 0;border-radius:0;line-height:1;max-width:100%}.wc-block-components-chip,.wc-block-components-chip:active,.wc-block-components-chip:focus,.wc-block-components-chip:hover{background:#e0e0e0;color:#1e1e1e}.wc-block-components-chip.wc-block-components-chip--radius-small{border-radius:3px}.wc-block-components-chip.wc-block-components-chip--radius-medium{border-radius:.433em}.wc-block-components-chip.wc-block-components-chip--radius-large{border-radius:2em;padding-left:.75em;padding-right:.75em}.wc-block-components-chip .wc-block-components-chip__text{flex-grow:1}.wc-block-components-chip.is-removable{padding-right:.5em}.wc-block-components-chip.is-removable .wc-block-components-chip__text{padding-right:.25em}.wc-block-components-chip .wc-block-components-chip__remove{font-size:.75em;background:0 0;border:0;-webkit-appearance:none;-moz-appearance:none;appearance:none;padding:0}.wc-block-components-chip .wc-block-components-chip__remove-icon{vertical-align:middle}.theme-twentytwentyone .wc-block-components-chip,.theme-twentytwentyone .wc-block-components-chip:active,.theme-twentytwentyone .wc-block-components-chip:focus,.theme-twentytwentyone .wc-block-components-chip:hover{background:#fff}.theme-twentytwentyone .wc-block-components-chip:active button.wc-block-components-chip__remove:not(:hover):not(:active):not(.has-background),.theme-twentytwentyone .wc-block-components-chip:focus button.wc-block-components-chip__remove:not(:hover):not(:active):not(.has-background),.theme-twentytwentyone .wc-block-components-chip:hover button.wc-block-components-chip__remove:not(:hover):not(:active):not(.has-background),.theme-twentytwentyone .wc-block-components-chip button.wc-block-components-chip__remove:not(:hover):not(:active):not(.has-background){background:0 0}.wc-block-components-chip__remove:focus,.wc-block-components-chip__remove:hover,button.wc-block-components-chip:focus>.wc-block-components-chip__remove,button.wc-block-components-chip:hover>.wc-block-components-chip__remove{fill:#cc1818}.wc-block-components-chip__remove:disabled,button.wc-block-components-chip:disabled>.wc-block-components-chip__remove{fill:#949494;cursor:not-allowed}.wc-block-components-combobox .wc-block-components-combobox-control,.wc-block-components-form .wc-block-components-combobox .wc-block-components-combobox-control{color:inherit;font-family:inherit;font-size:inherit;font-style:inherit;font-weight:inherit;letter-spacing:inherit;line-height:inherit;text-decoration:inherit;text-transform:inherit;border:0;border-radius:0;margin:0;padding:0;vertical-align:baseline}.wc-block-components-combobox .wc-block-components-combobox-control .components-base-control__field,.wc-block-components-form .wc-block-components-combobox .wc-block-components-combobox-control .components-base-control__field{border:0;border-radius:0;margin:0;padding:0;vertical-align:baseline}.wc-block-components-combobox .wc-block-components-combobox-control .components-combobox-control__suggestions-container,.wc-block-components-form .wc-block-components-combobox .wc-block-components-combobox-control .components-combobox-control__suggestions-container{color:inherit;font-family:inherit;font-size:inherit;font-style:inherit;font-weight:inherit;letter-spacing:inherit;line-height:inherit;text-decoration:inherit;text-transform:inherit;border:0;border-radius:0;margin:0;padding:0;vertical-align:baseline;position:relative}.wc-block-components-combobox .wc-block-components-combobox-control input.components-combobox-control__input,.wc-block-components-form .wc-block-components-combobox .wc-block-components-combobox-control input.components-combobox-control__input{color:inherit;font-size:inherit;font-style:inherit;font-weight:inherit;line-height:inherit;text-decoration:inherit;text-transform:inherit;font-size:1em;box-sizing:border-box;outline:inherit;border:1px solid #50575e;background:#fff;box-shadow:none;color:#2b2d2f;font-family:inherit;font-weight:400;height:3em;letter-spacing:inherit;line-height:1;padding:1.5em 16px .25em;text-align:left;text-overflow:ellipsis;text-transform:none;white-space:nowrap;width:100%;opacity:1;border-radius:4px}.wc-block-components-combobox .wc-block-components-combobox-control input.components-combobox-control__input:focus,.wc-block-components-combobox .wc-block-components-combobox-control input.components-combobox-control__input[aria-expanded=true],.wc-block-components-form .wc-block-components-combobox .wc-block-components-combobox-control input.components-combobox-control__input:focus,.wc-block-components-form .wc-block-components-combobox .wc-block-components-combobox-control input.components-combobox-control__input[aria-expanded=true]{background-color:#fff;color:#2b2d2f;outline:0;box-shadow:0 0 0 1px #50575e}.wc-block-components-combobox .wc-block-components-combobox-control input.components-combobox-control__input[aria-expanded=true],.wc-block-components-form .wc-block-components-combobox .wc-block-components-combobox-control input.components-combobox-control__input[aria-expanded=true]{border-bottom-right-radius:0;border-bottom-left-radius:0}.has-dark-controls .wc-block-components-combobox .wc-block-components-combobox-control input.components-combobox-control__input,.has-dark-controls .wc-block-components-form .wc-block-components-combobox .wc-block-components-combobox-control input.components-combobox-control__input{background-color:rgba(0,0,0,.1);border-color:hsla(0,0%,100%,.4);color:#fff}.has-dark-controls .wc-block-components-combobox .wc-block-components-combobox-control input.components-combobox-control__input:focus,.has-dark-controls .wc-block-components-form .wc-block-components-combobox .wc-block-components-combobox-control input.components-combobox-control__input:focus{background-color:rgba(0,0,0,.1);color:#fff;box-shadow:0 0 0 1px hsla(0,0%,100%,.4)}.wc-block-components-combobox .wc-block-components-combobox-control .components-form-token-field__suggestions-list,.wc-block-components-form .wc-block-components-combobox .wc-block-components-combobox-control .components-form-token-field__suggestions-list{position:absolute;z-index:10;background-color:#fff;border:1px solid #50575e;border-top:0;margin:3em 0 0;padding:0;max-height:300px;min-width:100%;overflow:auto;color:#2b2d2f}.has-dark-controls .wc-block-components-combobox .wc-block-components-combobox-control .components-form-token-field__suggestions-list,.has-dark-controls .wc-block-components-form .wc-block-components-combobox .wc-block-components-combobox-control .components-form-token-field__suggestions-list{background-color:#1e1e1e;color:#fff}.wc-block-components-combobox .wc-block-components-combobox-control .components-form-token-field__suggestions-list .components-form-token-field__suggestion,.wc-block-components-form .wc-block-components-combobox .wc-block-components-combobox-control .components-form-token-field__suggestions-list .components-form-token-field__suggestion{font-size:1em;color:#757575;cursor:default;list-style:none;margin:0;padding:.25em 16px}.wc-block-components-combobox .wc-block-components-combobox-control .components-form-token-field__suggestions-list .components-form-token-field__suggestion.is-selected,.wc-block-components-form .wc-block-components-combobox .wc-block-components-combobox-control .components-form-token-field__suggestions-list .components-form-token-field__suggestion.is-selected{background-color:#ddd}.has-dark-controls .wc-block-components-combobox .wc-block-components-combobox-control .components-form-token-field__suggestions-list .components-form-token-field__suggestion.is-selected,.has-dark-controls .wc-block-components-form .wc-block-components-combobox .wc-block-components-combobox-control .components-form-token-field__suggestions-list .components-form-token-field__suggestion.is-selected{background-color:rgba(0,0,0,.4)}.wc-block-components-combobox .wc-block-components-combobox-control .components-form-token-field__suggestions-list .components-form-token-field__suggestion.is-highlighted,.wc-block-components-combobox .wc-block-components-combobox-control .components-form-token-field__suggestions-list .components-form-token-field__suggestion:active,.wc-block-components-combobox .wc-block-components-combobox-control .components-form-token-field__suggestions-list .components-form-token-field__suggestion:focus,.wc-block-components-combobox .wc-block-components-combobox-control .components-form-token-field__suggestions-list .components-form-token-field__suggestion:hover,.wc-block-components-form .wc-block-components-combobox .wc-block-components-combobox-control .components-form-token-field__suggestions-list .components-form-token-field__suggestion.is-highlighted,.wc-block-components-form .wc-block-components-combobox .wc-block-components-combobox-control .components-form-token-field__suggestions-list .components-form-token-field__suggestion:active,.wc-block-components-form .wc-block-components-combobox .wc-block-components-combobox-control .components-form-token-field__suggestions-list .components-form-token-field__suggestion:focus,.wc-block-components-form .wc-block-components-combobox .wc-block-components-combobox-control .components-form-token-field__suggestions-list .components-form-token-field__suggestion:hover{background-color:#00669e;color:#fff}.wc-block-components-combobox .wc-block-components-combobox-control label.components-base-control__label,.wc-block-components-form .wc-block-components-combobox .wc-block-components-combobox-control label.components-base-control__label{color:inherit;font-family:inherit;font-size:inherit;font-style:inherit;font-weight:inherit;letter-spacing:inherit;line-height:inherit;text-decoration:inherit;text-transform:inherit;font-size:1em;line-height:1.375;position:absolute;transform:translateY(.75em);transform-origin:top left;transition:all .2s ease;color:#757575;z-index:1;margin:0 0 0 17px;overflow:hidden;text-overflow:ellipsis;max-width:calc(100% - 32px);white-space:nowrap}.has-dark-controls .wc-block-components-combobox .wc-block-components-combobox-control label.components-base-control__label,.has-dark-controls .wc-block-components-form .wc-block-components-combobox .wc-block-components-combobox-control label.components-base-control__label{color:hsla(0,0%,100%,.6)}@media screen and (prefers-reduced-motion:reduce){.wc-block-components-combobox .wc-block-components-combobox-control label.components-base-control__label,.wc-block-components-form .wc-block-components-combobox .wc-block-components-combobox-control label.components-base-control__label{transition:none}}.wc-block-components-combobox.is-active .wc-block-components-combobox-control label.components-base-control__label,.wc-block-components-combobox:focus-within .wc-block-components-combobox-control label.components-base-control__label,.wc-block-components-form .wc-block-components-combobox.is-active .wc-block-components-combobox-control label.components-base-control__label,.wc-block-components-form .wc-block-components-combobox:focus-within .wc-block-components-combobox-control label.components-base-control__label{transform:translateY(4px) scale(.75)}.wc-block-components-combobox.has-error .wc-block-components-combobox-control label.components-base-control__label,.wc-block-components-form .wc-block-components-combobox.has-error .wc-block-components-combobox-control label.components-base-control__label{color:#cc1818}.wc-block-components-combobox.has-error .wc-block-components-combobox-control input.components-combobox-control__input,.wc-block-components-combobox.has-error .wc-block-components-combobox-control input.components-combobox-control__input:active,.wc-block-components-combobox.has-error .wc-block-components-combobox-control input.components-combobox-control__input:focus,.wc-block-components-combobox.has-error .wc-block-components-combobox-control input.components-combobox-control__input:hover,.wc-block-components-form .wc-block-components-combobox.has-error .wc-block-components-combobox-control input.components-combobox-control__input,.wc-block-components-form .wc-block-components-combobox.has-error .wc-block-components-combobox-control input.components-combobox-control__input:active,.wc-block-components-form .wc-block-components-combobox.has-error .wc-block-components-combobox-control input.components-combobox-control__input:focus,.wc-block-components-form .wc-block-components-combobox.has-error .wc-block-components-combobox-control input.components-combobox-control__input:hover{border-color:#cc1818}.wc-block-components-combobox.has-error .wc-block-components-combobox-control input.components-combobox-control__input:focus,.wc-block-components-form .wc-block-components-combobox.has-error .wc-block-components-combobox-control input.components-combobox-control__input:focus{box-shadow:0 0 0 1px #cc1818}.wc-block-components-country-input{margin-top:1.5em}@-webkit-keyframes fadein{0%{opacity:0}to{opacity:1}}@keyframes fadein{0%{opacity:0}to{opacity:1}}@-webkit-keyframes slidein{0%{transform:translateX(0)}to{transform:translateX(-480px)}}@keyframes slidein{0%{transform:translateX(0)}to{transform:translateX(-480px)}}@media only screen and (max-width:480px){@-webkit-keyframes slidein{0%{transform:translateX(0)}to{transform:translateX(-100vw)}}@keyframes slidein{0%{transform:translateX(0)}to{transform:translateX(-100vw)}}}.wc-block-components-drawer__screen-overlay{background-color:rgba(95,95,95,.35);bottom:0;left:0;position:fixed;right:0;top:0;transition:opacity .3s;z-index:999;opacity:1}.wc-block-components-drawer__screen-overlay--with-slide-out{transition:opacity .3s}.wc-block-components-drawer__screen-overlay--with-slide-in{-webkit-animation-duration:.3s;animation-duration:.3s;-webkit-animation-name:fadein;animation-name:fadein}.wc-block-components-drawer__screen-overlay--is-hidden{pointer-events:none;opacity:0}.wc-block-components-drawer{position:relative;background:#fff;display:block;height:100%;left:100%;overflow:auto;position:fixed;right:0;top:0;transform:translateX(-480px);width:480px}.wc-block-components-drawer:after{border-style:solid;border-width:0 0 0 1px;bottom:0;content:"";display:block;left:0;opacity:.3;pointer-events:none;position:absolute;right:0;top:0}@media only screen and (max-width:480px){.wc-block-components-drawer{transform:translateX(-100vw);width:100vw}}.wc-block-components-drawer__screen-overlay--with-slide-out .wc-block-components-drawer{transition:transform .3s}.wc-block-components-drawer__screen-overlay--with-slide-in .wc-block-components-drawer{-webkit-animation-duration:.3s;animation-duration:.3s;-webkit-animation-name:slidein;animation-name:slidein}.wc-block-components-drawer__screen-overlay--is-hidden .wc-block-components-drawer{transform:translateX(0)}@media screen and (prefers-reduced-motion:reduce){.wc-block-components-drawer,.wc-block-components-drawer__screen-overlay{-webkit-animation-name:none!important;animation-name:none!important;transition:none!important}}.wc-block-components-drawer .components-modal__content{padding:40px 16px}.wc-block-components-drawer .components-modal__header{position:relative}.wc-block-components-drawer .components-modal__header .components-button{border:0;border-radius:0;vertical-align:baseline;background:0 0;position:absolute;right:0;top:0;padding:1em;margin:-1em}.wc-block-components-drawer .components-modal__header .components-button>span{border:0;clip:rect(1px,1px,1px,1px);-webkit-clip-path:inset(50%);clip-path:inset(50%);height:1px;margin:-1px;overflow:hidden;overflow-wrap:normal!important;word-wrap:normal!important;padding:0;position:absolute!important;width:1px}.wc-block-components-drawer .components-modal__header-heading{border:0;border-radius:0;margin:0;padding:0;vertical-align:baseline;font-size:1.25rem;word-break:break-word}.wc-block-components-dropdown-selector{max-width:300px;position:relative;width:100%}.wc-block-components-dropdown-selector__input-wrapper{background:#fff;border:1px solid #50575e;color:#2b2d2f;align-items:center;border-radius:4px;cursor:text;display:flex;flex-wrap:wrap;padding:2px 8px}.is-disabled .wc-block-components-dropdown-selector__input-wrapper{background-color:#e0e0e0}.is-multiple.has-checked>.wc-block-components-dropdown-selector__input-wrapper{padding:2px 4px}.is-open>.wc-block-components-dropdown-selector__input-wrapper{border-radius:4px 4px 0 0}.wc-block-components-dropdown-selector__input{font-size:.875em;line-height:1.2857142857;margin:.1875em 0;min-width:0;padding:.1875em 0}.is-single .wc-block-components-dropdown-selector__input{width:100%}.is-single .wc-block-components-dropdown-selector__input:active,.is-single .wc-block-components-dropdown-selector__input:focus,.is-single .wc-block-components-dropdown-selector__input:hover{outline:0}.is-single.has-checked.is-open .wc-block-components-dropdown-selector__input{margin-bottom:1.5px;margin-top:1.5px}.is-single.has-checked:not(.is-open) .wc-block-components-dropdown-selector__input{border:0;clip:rect(1px,1px,1px,1px);-webkit-clip-path:inset(50%);clip-path:inset(50%);height:1px;margin:-1px;overflow:hidden;overflow-wrap:normal!important;word-wrap:normal!important;padding:0;position:absolute!important;width:1px;position:absolute}.is-multiple .wc-block-components-dropdown-selector__input{flex:1;min-width:0}.is-multiple .wc-block-components-dropdown-selector__input,.is-single .wc-block-components-dropdown-selector__input:first-child{background:0 0;border:0}.is-multiple .wc-block-components-dropdown-selector__input:active,.is-multiple .wc-block-components-dropdown-selector__input:focus,.is-multiple .wc-block-components-dropdown-selector__input:hover,.is-single .wc-block-components-dropdown-selector__input:first-child:active,.is-single .wc-block-components-dropdown-selector__input:first-child:focus,.is-single .wc-block-components-dropdown-selector__input:first-child:hover{outline:0}.wc-block-components-dropdown-selector .wc-block-components-dropdown-selector__selected-value__label,.wc-block-components-dropdown-selector .wc-block-components-dropdown-selector__selected-value__remove{background-color:transparent;border:0;color:inherit;font-size:inherit;font-weight:inherit;text-transform:none}.wc-block-components-dropdown-selector .wc-block-components-dropdown-selector__selected-value__label:active,.wc-block-components-dropdown-selector .wc-block-components-dropdown-selector__selected-value__label:focus,.wc-block-components-dropdown-selector .wc-block-components-dropdown-selector__selected-value__label:hover,.wc-block-components-dropdown-selector .wc-block-components-dropdown-selector__selected-value__remove:active,.wc-block-components-dropdown-selector .wc-block-components-dropdown-selector__selected-value__remove:focus,.wc-block-components-dropdown-selector .wc-block-components-dropdown-selector__selected-value__remove:hover{background-color:transparent;text-decoration:none}.wc-block-components-dropdown-selector .wc-block-components-dropdown-selector__selected-value{font-size:.875em;align-items:center;color:#757575;display:inline-flex;margin:.1875em 0;padding:.1875em 0;width:100%}.wc-block-components-dropdown-selector .wc-block-components-dropdown-selector__selected-value__label{flex-grow:1;line-height:1.2857142857;padding:0;text-align:left}.wc-block-components-dropdown-selector .wc-block-components-dropdown-selector__selected-value__remove{background-color:transparent;border:0;display:inline-block;line-height:1;padding:0 0 0 .3em}.wc-block-components-dropdown-selector .wc-block-components-dropdown-selector__selected-value__remove>svg{display:block}.wc-block-components-dropdown-selector .wc-block-components-dropdown-selector__selected-chip{font-size:.875em;margin-top:.1875em;margin-bottom:.1875em;line-height:1.2857142857}.wc-block-components-dropdown-selector__list{background-color:#fff;margin:-1px 0 0;padding:0;position:absolute;left:0;right:0;top:100%;max-height:300px;overflow-y:auto;z-index:1}.wc-block-components-dropdown-selector__list:not(:empty){border:1px solid #9f9f9f}.wc-block-components-dropdown-selector__list-item{font-size:.875em;color:#757575;cursor:default;list-style:none;margin:0;padding:0 4px}.wc-block-components-dropdown-selector__list-item.is-selected{background-color:#ddd}.wc-block-components-dropdown-selector__list-item.is-highlighted,.wc-block-components-dropdown-selector__list-item:active,.wc-block-components-dropdown-selector__list-item:focus,.wc-block-components-dropdown-selector__list-item:hover{background-color:#00669e;color:#fff}.wc-filter-element-label-list-count{opacity:.6}.wc-filter-element-label-list-count:before{content:" ("}.wc-filter-element-label-list-count:after{content:")"}.wc-block-components-filter-submit-button{display:block;margin-left:auto;white-space:nowrap}.wc-block-components-formatted-money-amount{white-space:nowrap}.wc-block-components-load-more{text-align:center;width:100%}.wc-block-components-loading-mask{position:relative;min-height:34px;pointer-events:none}.wc-block-components-loading-mask .components-spinner{position:absolute;margin:0;top:50%;left:50%;transform:translate(-50%,-50%)}.wc-block-components-loading-mask .wc-block-components-loading-mask__children{opacity:.25}.wc-block-components-pagination{margin:0 auto 16px}.wc-block-components-pagination__ellipsis,.wc-block-components-pagination__page{font-size:1em;color:#333;display:inline-block;font-weight:400}.wc-block-components-pagination__page{border-color:transparent;padding:.3em .6em;min-width:2.2em}@media(max-width:782px){.wc-block-components-pagination__page{padding:.1em .2em;min-width:1.6em}}.wc-block-components-pagination__page:not(.toggle){background-color:transparent}.wc-block-components-pagination__ellipsis{padding:.3em}@media(max-width:782px){.wc-block-components-pagination__ellipsis{padding:.1em}}.wc-block-components-pagination__page--active[disabled]{color:#333;font-weight:700;opacity:1!important}.wc-block-components-pagination__page--active[disabled]:focus,.wc-block-components-pagination__page--active[disabled]:hover{background-color:inherit;color:#333;opacity:1!important}html[dir=rtl] .wc-block-components-pagination-page--arrow span{display:inline-block;transform:scaleX(-1)}.wc-block-components-price-slider{margin-bottom:24px}.wc-block-components-price-slider.wc-block-components-price-slider--has-filter-button .wc-block-components-price-slider__controls{justify-content:flex-end}.wc-block-components-price-slider.wc-block-components-price-slider--has-filter-button .wc-block-components-price-slider__controls .wc-block-components-price-slider__amount.wc-block-components-price-slider__amount--max{margin-left:0;margin-right:10px}.wc-block-components-price-slider.is-disabled .wc-block-components-price-slider__amount,.wc-block-components-price-slider.is-disabled .wc-block-components-price-slider__button,.wc-block-components-price-slider.is-disabled .wc-block-components-price-slider__range-input-wrapper,.wc-block-components-price-slider.is-loading .wc-block-components-price-slider__amount,.wc-block-components-price-slider.is-loading .wc-block-components-price-slider__button,.wc-block-components-price-slider.is-loading .wc-block-components-price-slider__range-input-wrapper{-webkit-animation:loading-fade 1.2s ease-in-out infinite;animation:loading-fade 1.2s ease-in-out infinite;background-color:var(--global--color-primary,#e0e0e0)!important;color:var(--global--color-primary,#e0e0e0)!important;outline:0!important;border:0!important;pointer-events:none;max-width:100%;box-shadow:none}.wc-block-components-price-slider.is-disabled .wc-block-components-price-slider__amount>*,.wc-block-components-price-slider.is-disabled .wc-block-components-price-slider__button>*,.wc-block-components-price-slider.is-disabled .wc-block-components-price-slider__range-input-wrapper>*,.wc-block-components-price-slider.is-loading .wc-block-components-price-slider__amount>*,.wc-block-components-price-slider.is-loading .wc-block-components-price-slider__button>*,.wc-block-components-price-slider.is-loading .wc-block-components-price-slider__range-input-wrapper>*{visibility:hidden}@media screen and (prefers-reduced-motion:reduce){.wc-block-components-price-slider.is-disabled .wc-block-components-price-slider__amount,.wc-block-components-price-slider.is-disabled .wc-block-components-price-slider__button,.wc-block-components-price-slider.is-disabled .wc-block-components-price-slider__range-input-wrapper,.wc-block-components-price-slider.is-loading .wc-block-components-price-slider__amount,.wc-block-components-price-slider.is-loading .wc-block-components-price-slider__button,.wc-block-components-price-slider.is-loading .wc-block-components-price-slider__range-input-wrapper{-webkit-animation:none;animation:none}}.wc-block-components-price-slider.is-disabled:not(.is-loading) .wc-block-components-price-slider__amount,.wc-block-components-price-slider.is-disabled:not(.is-loading) .wc-block-components-price-slider__button,.wc-block-components-price-slider.is-disabled:not(.is-loading) .wc-block-components-price-slider__range-input-wrapper{-webkit-animation:none;animation:none}.wc-block-components-price-slider__range-input-wrapper{padding:0;border:0;outline:none;background:0 0;-webkit-appearance:none;-moz-appearance:none;appearance:none;height:9px;clear:both;position:relative;box-shadow:inset 0 0 0 1px rgba(0,0,0,.1);background:#e1e1e1;margin:15px 0}.wc-block-components-price-slider__range-input-progress{height:9px;width:100%;position:absolute;left:0;top:0;--track-background:linear-gradient(90deg,transparent var(--low),var(--range-color) 0,var(--range-color) var(--high),transparent 0) no-repeat 0 100%/100% 100%;--range-color:#af7dd1;background:var(--track-background)}.wc-block-components-price-slider__controls{display:flex}.wc-block-components-price-slider__controls .wc-block-components-price-slider__amount{margin:0;border-radius:4px;width:auto;max-width:100px;min-width:0}.wc-block-components-price-slider__controls .wc-block-components-price-slider__amount.wc-block-components-price-slider__amount--min{margin-right:10px}.wc-block-components-price-slider__controls .wc-block-components-price-slider__amount.wc-block-components-price-slider__amount--max{margin-left:auto}.wc-block-components-price-slider__range-input{margin:0;padding:0;border:0;outline:none;background:0 0;-webkit-appearance:none;-moz-appearance:none;appearance:none;width:100%;height:0;display:block;position:relative;pointer-events:none;outline:none!important;position:absolute;left:0;top:0}.wc-block-components-price-slider__range-input::-webkit-slider-runnable-track{cursor:default;height:1px;outline:0;-webkit-appearance:none;-moz-appearance:none;appearance:none}.wc-block-components-price-slider__range-input::-webkit-slider-thumb{background-color:transparent;background-position:0 0;width:28px;height:23px;border:0;padding:0;vertical-align:top;cursor:pointer;z-index:20;pointer-events:auto;background-image:url("data:image/svg+xml;charset=utf-8,%3Csvg width='56' height='46' fill='none' xmlns='http://www.w3.org/2000/svg'%3E%3Cg clip-path='url(%23clip0)'%3E%3Cpath d='M25.318 9.942L16.9 3.8c-1.706-1.228-3.64-1.899-5.686-1.787H11.1c-4.89.335-8.985 4.356-9.099 9.27C1.888 16.645 6.21 21 11.67 21h.113c1.82 0 3.64-.67 5.118-1.787l8.417-6.255c.91-.893.91-2.234 0-3.016v0z' fill='%23fff' stroke='%23757575'/%3E%3Cpath d='M13 7v9m-3-9v9-9z' stroke='%23B8B8B8'/%3E%3Cpath d='M25.318 9.942L16.9 3.8c-1.706-1.228-3.64-1.899-5.686-1.787H11.1c-4.89.335-8.985 4.356-9.099 9.27C1.888 16.645 6.21 21 11.67 21h.113c1.82 0 3.64-.67 5.118-1.787l8.417-6.255c.91-.893.91-2.234 0-3.016v0z' fill='%23fff' stroke='%23757575'/%3E%3Cpath d='M13 7v9m-3-9v9-9z' stroke='%23B8B8B8'/%3E%3Cpath d='M25.318 32.942L16.9 26.8c-1.706-1.228-3.64-1.899-5.686-1.787H11.1c-4.89.335-8.985 4.356-9.099 9.27C1.888 39.645 6.21 44 11.67 44h.113c1.82 0 3.64-.67 5.118-1.787l8.417-6.255c.91-.893.91-2.234 0-3.016v0z' fill='%23F8F3F7' stroke='%23fff' stroke-opacity='.75' stroke-width='3'/%3E%3Cpath d='M25.318 32.942L16.9 26.8c-1.706-1.228-3.64-1.899-5.686-1.787H11.1c-4.89.335-8.985 4.356-9.099 9.27C1.888 39.645 6.21 44 11.67 44h.113c1.82 0 3.64-.67 5.118-1.787l8.417-6.255c.91-.893.91-2.234 0-3.016v0zM13 30v9m-3-9v9-9z' stroke='%23757575'/%3E%3Cpath d='M30.682 9.942L39.1 3.8c1.706-1.228 3.64-1.899 5.686-1.787h.114c4.89.335 8.985 4.356 9.099 9.27C54.112 16.645 49.79 21 44.33 21h-.113c-1.82 0-3.64-.67-5.118-1.787l-8.417-6.255c-.91-.893-.91-2.234 0-3.016v0z' fill='%23fff' stroke='%23757575'/%3E%3Cpath d='M43 7v9m3-9v9-9z' stroke='%23B8B8B8'/%3E%3Cpath d='M30.682 32.942L39.1 26.8c1.706-1.228 3.64-1.899 5.686-1.787h.114c4.89.335 8.985 4.356 9.099 9.27C54.112 39.645 49.79 44 44.33 44h-.113c-1.82 0-3.64-.67-5.118-1.787l-8.417-6.255c-.91-.893-.91-2.234 0-3.016v0z' fill='%23F8F3F7' stroke='%23fff' stroke-opacity='.75' stroke-width='3'/%3E%3Cpath d='M30.682 32.942L39.1 26.8c1.706-1.228 3.64-1.899 5.686-1.787h.114c4.89.335 8.985 4.356 9.099 9.27C54.112 39.645 49.79 44 44.33 44h-.113c-1.82 0-3.64-.67-5.118-1.787l-8.417-6.255c-.91-.893-.91-2.234 0-3.016v0zM43 30v9m3-9v9-9z' stroke='%23757575'/%3E%3C/g%3E%3Cdefs%3E%3CclipPath id='clip0'%3E%3Cpath fill='%23fff' d='M0 0h56v46H0z'/%3E%3C/clipPath%3E%3C/defs%3E%3C/svg%3E");-webkit-transition:transform .2s ease-in-out;transition:transform .2s ease-in-out;-webkit-appearance:none;-moz-appearance:none;appearance:none;margin:-6px 0 0}.wc-block-components-price-slider__range-input::-webkit-slider-thumb:hover{background-position-y:-23px;transform:scale(1.1)}.wc-block-components-price-slider__range-input::-webkit-slider-progress{margin:0;padding:0;border:0;outline:none;background:0 0;-webkit-appearance:none;-moz-appearance:none;appearance:none}.wc-block-components-price-slider__range-input::-moz-focus-outer{border:0}.wc-block-components-price-slider__range-input::-moz-range-track{cursor:default;height:1px;outline:0;-webkit-appearance:none;-moz-appearance:none;appearance:none}.wc-block-components-price-slider__range-input::-moz-range-progress{margin:0;padding:0;border:0;outline:none;background:0 0;-webkit-appearance:none;-moz-appearance:none;appearance:none}.wc-block-components-price-slider__range-input::-moz-range-thumb{background-color:transparent;background-position:0 0;width:28px;height:23px;border:0;padding:0;margin:0;vertical-align:top;cursor:pointer;z-index:20;pointer-events:auto;background-image:url("data:image/svg+xml;charset=utf-8,%3Csvg width='56' height='46' fill='none' xmlns='http://www.w3.org/2000/svg'%3E%3Cg clip-path='url(%23clip0)'%3E%3Cpath d='M25.318 9.942L16.9 3.8c-1.706-1.228-3.64-1.899-5.686-1.787H11.1c-4.89.335-8.985 4.356-9.099 9.27C1.888 16.645 6.21 21 11.67 21h.113c1.82 0 3.64-.67 5.118-1.787l8.417-6.255c.91-.893.91-2.234 0-3.016v0z' fill='%23fff' stroke='%23757575'/%3E%3Cpath d='M13 7v9m-3-9v9-9z' stroke='%23B8B8B8'/%3E%3Cpath d='M25.318 9.942L16.9 3.8c-1.706-1.228-3.64-1.899-5.686-1.787H11.1c-4.89.335-8.985 4.356-9.099 9.27C1.888 16.645 6.21 21 11.67 21h.113c1.82 0 3.64-.67 5.118-1.787l8.417-6.255c.91-.893.91-2.234 0-3.016v0z' fill='%23fff' stroke='%23757575'/%3E%3Cpath d='M13 7v9m-3-9v9-9z' stroke='%23B8B8B8'/%3E%3Cpath d='M25.318 32.942L16.9 26.8c-1.706-1.228-3.64-1.899-5.686-1.787H11.1c-4.89.335-8.985 4.356-9.099 9.27C1.888 39.645 6.21 44 11.67 44h.113c1.82 0 3.64-.67 5.118-1.787l8.417-6.255c.91-.893.91-2.234 0-3.016v0z' fill='%23F8F3F7' stroke='%23fff' stroke-opacity='.75' stroke-width='3'/%3E%3Cpath d='M25.318 32.942L16.9 26.8c-1.706-1.228-3.64-1.899-5.686-1.787H11.1c-4.89.335-8.985 4.356-9.099 9.27C1.888 39.645 6.21 44 11.67 44h.113c1.82 0 3.64-.67 5.118-1.787l8.417-6.255c.91-.893.91-2.234 0-3.016v0zM13 30v9m-3-9v9-9z' stroke='%23757575'/%3E%3Cpath d='M30.682 9.942L39.1 3.8c1.706-1.228 3.64-1.899 5.686-1.787h.114c4.89.335 8.985 4.356 9.099 9.27C54.112 16.645 49.79 21 44.33 21h-.113c-1.82 0-3.64-.67-5.118-1.787l-8.417-6.255c-.91-.893-.91-2.234 0-3.016v0z' fill='%23fff' stroke='%23757575'/%3E%3Cpath d='M43 7v9m3-9v9-9z' stroke='%23B8B8B8'/%3E%3Cpath d='M30.682 32.942L39.1 26.8c1.706-1.228 3.64-1.899 5.686-1.787h.114c4.89.335 8.985 4.356 9.099 9.27C54.112 39.645 49.79 44 44.33 44h-.113c-1.82 0-3.64-.67-5.118-1.787l-8.417-6.255c-.91-.893-.91-2.234 0-3.016v0z' fill='%23F8F3F7' stroke='%23fff' stroke-opacity='.75' stroke-width='3'/%3E%3Cpath d='M30.682 32.942L39.1 26.8c1.706-1.228 3.64-1.899 5.686-1.787h.114c4.89.335 8.985 4.356 9.099 9.27C54.112 39.645 49.79 44 44.33 44h-.113c-1.82 0-3.64-.67-5.118-1.787l-8.417-6.255c-.91-.893-.91-2.234 0-3.016v0zM43 30v9m3-9v9-9z' stroke='%23757575'/%3E%3C/g%3E%3Cdefs%3E%3CclipPath id='clip0'%3E%3Cpath fill='%23fff' d='M0 0h56v46H0z'/%3E%3C/clipPath%3E%3C/defs%3E%3C/svg%3E");-moz-transition:transform .2s ease-in-out;transition:transform .2s ease-in-out;-webkit-appearance:none;-moz-appearance:none;appearance:none}.wc-block-components-price-slider__range-input::-moz-range-thumb:hover{background-position-y:-23px;transform:scale(1.1)}.wc-block-components-price-slider__range-input::-ms-thumb{background-color:transparent;background-position:0 0;width:28px;height:23px;border:0;padding:0;margin:0;vertical-align:top;cursor:pointer;z-index:20;pointer-events:auto;background-image:url("data:image/svg+xml;charset=utf-8,%3Csvg width='56' height='46' fill='none' xmlns='http://www.w3.org/2000/svg'%3E%3Cg clip-path='url(%23clip0)'%3E%3Cpath d='M25.318 9.942L16.9 3.8c-1.706-1.228-3.64-1.899-5.686-1.787H11.1c-4.89.335-8.985 4.356-9.099 9.27C1.888 16.645 6.21 21 11.67 21h.113c1.82 0 3.64-.67 5.118-1.787l8.417-6.255c.91-.893.91-2.234 0-3.016v0z' fill='%23fff' stroke='%23757575'/%3E%3Cpath d='M13 7v9m-3-9v9-9z' stroke='%23B8B8B8'/%3E%3Cpath d='M25.318 9.942L16.9 3.8c-1.706-1.228-3.64-1.899-5.686-1.787H11.1c-4.89.335-8.985 4.356-9.099 9.27C1.888 16.645 6.21 21 11.67 21h.113c1.82 0 3.64-.67 5.118-1.787l8.417-6.255c.91-.893.91-2.234 0-3.016v0z' fill='%23fff' stroke='%23757575'/%3E%3Cpath d='M13 7v9m-3-9v9-9z' stroke='%23B8B8B8'/%3E%3Cpath d='M25.318 32.942L16.9 26.8c-1.706-1.228-3.64-1.899-5.686-1.787H11.1c-4.89.335-8.985 4.356-9.099 9.27C1.888 39.645 6.21 44 11.67 44h.113c1.82 0 3.64-.67 5.118-1.787l8.417-6.255c.91-.893.91-2.234 0-3.016v0z' fill='%23F8F3F7' stroke='%23fff' stroke-opacity='.75' stroke-width='3'/%3E%3Cpath d='M25.318 32.942L16.9 26.8c-1.706-1.228-3.64-1.899-5.686-1.787H11.1c-4.89.335-8.985 4.356-9.099 9.27C1.888 39.645 6.21 44 11.67 44h.113c1.82 0 3.64-.67 5.118-1.787l8.417-6.255c.91-.893.91-2.234 0-3.016v0zM13 30v9m-3-9v9-9z' stroke='%23757575'/%3E%3Cpath d='M30.682 9.942L39.1 3.8c1.706-1.228 3.64-1.899 5.686-1.787h.114c4.89.335 8.985 4.356 9.099 9.27C54.112 16.645 49.79 21 44.33 21h-.113c-1.82 0-3.64-.67-5.118-1.787l-8.417-6.255c-.91-.893-.91-2.234 0-3.016v0z' fill='%23fff' stroke='%23757575'/%3E%3Cpath d='M43 7v9m3-9v9-9z' stroke='%23B8B8B8'/%3E%3Cpath d='M30.682 32.942L39.1 26.8c1.706-1.228 3.64-1.899 5.686-1.787h.114c4.89.335 8.985 4.356 9.099 9.27C54.112 39.645 49.79 44 44.33 44h-.113c-1.82 0-3.64-.67-5.118-1.787l-8.417-6.255c-.91-.893-.91-2.234 0-3.016v0z' fill='%23F8F3F7' stroke='%23fff' stroke-opacity='.75' stroke-width='3'/%3E%3Cpath d='M30.682 32.942L39.1 26.8c1.706-1.228 3.64-1.899 5.686-1.787h.114c4.89.335 8.985 4.356 9.099 9.27C54.112 39.645 49.79 44 44.33 44h-.113c-1.82 0-3.64-.67-5.118-1.787l-8.417-6.255c-.91-.893-.91-2.234 0-3.016v0zM43 30v9m3-9v9-9z' stroke='%23757575'/%3E%3C/g%3E%3Cdefs%3E%3CclipPath id='clip0'%3E%3Cpath fill='%23fff' d='M0 0h56v46H0z'/%3E%3C/clipPath%3E%3C/defs%3E%3C/svg%3E");-ms-transition:transform .2s ease-in-out;transition:transform .2s ease-in-out;-webkit-appearance:none;-moz-appearance:none;appearance:none}.wc-block-components-price-slider__range-input::-ms-thumb:hover{background-position-y:-23px;transform:scale(1.1)}.wc-block-components-price-slider__range-input:focus::-webkit-slider-thumb{background-position-y:-23px;transform:scale(1.1)}.wc-block-components-price-slider__range-input:focus::-moz-range-thumb{background-position-y:-23px;transform:scale(1.1)}.wc-block-components-price-slider__range-input:focus::-ms-thumb{background-position-y:-23px;transform:scale(1.1)}.wc-block-components-price-slider__range-input.wc-block-components-price-slider__range-input--min{z-index:21}.wc-block-components-price-slider__range-input.wc-block-components-price-slider__range-input--min::-webkit-slider-thumb{margin-left:-2px;background-position-x:left}.wc-block-components-price-slider__range-input.wc-block-components-price-slider__range-input--min::-moz-range-thumb{background-position-x:left;transform:translate(-2px,4px)}.wc-block-components-price-slider__range-input.wc-block-components-price-slider__range-input--min::-ms-thumb{background-position-x:left}.wc-block-components-price-slider__range-input.wc-block-components-price-slider__range-input--max{z-index:20}.wc-block-components-price-slider__range-input.wc-block-components-price-slider__range-input--max::-webkit-slider-thumb{background-position-x:right;margin-left:2px}.wc-block-components-price-slider__range-input.wc-block-components-price-slider__range-input--max::-moz-range-thumb{background-position-x:right;transform:translate(2px,4px)}.wc-block-components-price-slider__range-input.wc-block-components-price-slider__range-input--max::-ms-thumb{background-position-x:right}.rtl .wc-block-components-price-slider__range-input-progress{--track-background:linear-gradient(270deg,transparent var(--low),var(--range-color) 0,var(--range-color) var(--high),transparent 0) no-repeat 0 100%/100% 100%;--range-color:#af7dd1;background:var(--track-background)}@media (-ms-high-contrast:none),screen and (-ms-high-contrast:active){.wc-block-components-price-slider__range-input-wrapper{background:0 0;box-shadow:none;height:24px}.wc-block-components-price-slider__range-input-progress{background:#af7dd1;width:100%;top:7px}.wc-block-components-price-slider__range-input{height:24px;pointer-events:auto}.wc-block-components-price-slider__range-input::-ms-track{background:0 0;border-color:transparent;border-width:7px 0;color:transparent}.wc-block-components-price-slider__range-input::-ms-fill-lower{background:#e1e1e1;box-shadow:inset 0 0 0 1px #b8b8b8}.wc-block-components-price-slider__range-input::-ms-fill-upper{background:0 0}.wc-block-components-price-slider__range-input::-ms-tooltip{display:none}.wc-block-components-price-slider__range-input::-ms-thumb{transform:translate(1px);pointer-events:auto}.wc-block-components-price-slider__range-input--max::-ms-fill-upper{background:#e1e1e1;box-shadow:inset 0 0 0 1px #b8b8b8}.wc-block-components-price-slider__range-input--max::-ms-fill-lower{background:0 0}.wc-block-components-price-slider.is-disabled .wc-block-components-price-slider__range-input-wrapper,.wc-block-components-price-slider.is-loading .wc-block-components-price-slider__range-input-wrapper{-webkit-animation:loading-fade 1.2s ease-in-out infinite;animation:loading-fade 1.2s ease-in-out infinite;background-color:var(--global--color-primary,#e0e0e0)!important;color:var(--global--color-primary,#e0e0e0)!important;outline:0!important;border:0!important;pointer-events:none;max-width:100%;box-shadow:none}.wc-block-components-price-slider.is-disabled .wc-block-components-price-slider__range-input-wrapper>*,.wc-block-components-price-slider.is-loading .wc-block-components-price-slider__range-input-wrapper>*{visibility:hidden}}@media screen and (-ms-high-contrast:active)and (prefers-reduced-motion:reduce),screen and (-ms-high-contrast:none)and (prefers-reduced-motion:reduce){.wc-block-components-price-slider.is-disabled .wc-block-components-price-slider__range-input-wrapper,.wc-block-components-price-slider.is-loading .wc-block-components-price-slider__range-input-wrapper{-webkit-animation:none;animation:none}}@media (-ms-high-contrast:none),screen and (-ms-high-contrast:active){.wc-block-components-price-slider.is-disabled:not(.is-loading) .wc-block-components-price-slider__range-input-wrapper{-webkit-animation:none;animation:none}}@supports(-ms-ime-align:auto){.wc-block-components-price-slider__range-input-wrapper{background:0 0;box-shadow:none;height:24px}.wc-block-components-price-slider__range-input-progress{background:#af7dd1;width:100%;top:7px}.wc-block-components-price-slider__range-input{height:24px;pointer-events:auto}.wc-block-components-price-slider__range-input::-ms-track{background:0 0;border-color:transparent;border-width:7px 0;color:transparent}.wc-block-components-price-slider__range-input::-ms-fill-lower{background:#e1e1e1;box-shadow:inset 0 0 0 1px #b8b8b8}.wc-block-components-price-slider__range-input::-ms-fill-upper{background:0 0}.wc-block-components-price-slider__range-input::-ms-tooltip{display:none}.wc-block-components-price-slider__range-input::-ms-thumb{transform:translate(1px);pointer-events:auto}.wc-block-components-price-slider__range-input--max::-ms-fill-upper{background:#e1e1e1;box-shadow:inset 0 0 0 1px #b8b8b8}.wc-block-components-price-slider__range-input--max::-ms-fill-lower{background:0 0}.wc-block-components-price-slider.is-disabled .wc-block-components-price-slider__range-input-wrapper,.wc-block-components-price-slider.is-loading .wc-block-components-price-slider__range-input-wrapper{-webkit-animation:loading-fade 1.2s ease-in-out infinite;animation:loading-fade 1.2s ease-in-out infinite;background-color:var(--global--color-primary,#e0e0e0)!important;color:var(--global--color-primary,#e0e0e0)!important;outline:0!important;border:0!important;pointer-events:none;max-width:100%;box-shadow:none}.wc-block-components-price-slider.is-disabled .wc-block-components-price-slider__range-input-wrapper>*,.wc-block-components-price-slider.is-loading .wc-block-components-price-slider__range-input-wrapper>*{visibility:hidden}@media screen and (prefers-reduced-motion:reduce){.wc-block-components-price-slider.is-disabled .wc-block-components-price-slider__range-input-wrapper,.wc-block-components-price-slider.is-loading .wc-block-components-price-slider__range-input-wrapper{-webkit-animation:none;animation:none}}.wc-block-components-price-slider.is-disabled:not(.is-loading) .wc-block-components-price-slider__range-input-wrapper{-webkit-animation:none;animation:none}}.theme-twentytwentyone .wc-block-components-price-slider__range-input-wrapper{background:0 0;border:3px solid;box-sizing:border-box}.theme-twentytwentyone .wc-block-components-price-slider__range-input-progress{--range-color:currentColor;margin:-3px}.theme-twentytwentyone .wc-block-price-filter__range-input{background:0 0;margin:-3px;width:calc(100% + 6px)}.theme-twentytwentyone .wc-block-price-filter__range-input:focus::-webkit-slider-thumb,.theme-twentytwentyone .wc-block-price-filter__range-input:hover::-webkit-slider-thumb{filter:none}.theme-twentytwentyone .wc-block-price-filter__range-input:focus::-moz-range-thumb,.theme-twentytwentyone .wc-block-price-filter__range-input:hover::-moz-range-thumb{filter:none}.theme-twentytwentyone .wc-block-price-filter__range-input:focus::-ms-thumb,.theme-twentytwentyone .wc-block-price-filter__range-input:hover::-ms-thumb{filter:none}.theme-twentytwentyone .wc-block-price-filter__range-input::-webkit-slider-thumb{margin-top:-9px}.theme-twentytwentyone .wc-block-price-filter__range-input.wc-block-components-price-slider__range-input--max::-moz-range-thumb{transform:translate(2px,1px)}.theme-twentytwentyone .wc-block-price-filter__range-input.wc-block-components-price-slider__range-input--min::-moz-range-thumb{transform:translate(-2px,1px)}.theme-twentytwentyone .wc-block-price-filter__range-input::-ms-track{border-color:transparent!important}@media (-ms-high-contrast:none),screen and (-ms-high-contrast:active){.theme-twentytwentyone .wc-block-components-price-slider__range-input-wrapper{border:0;height:auto;position:relative;height:50px}.theme-twentytwentyone .wc-block-components-price-slider__range-input-progress{display:none}.theme-twentytwentyone .wc-block-price-filter__range-input{height:100%;margin:0;width:100%}}.wc-block-components-product-sort-select{margin-bottom:24px;text-align:left}@-webkit-keyframes spin{0%{transform:rotate(0deg)}to{transform:rotate(1turn)}}@keyframes spin{0%{transform:rotate(0deg)}to{transform:rotate(1turn)}}.wc-block-grid{text-align:center}.wc-block-grid__no-products{padding:40px;text-align:center;width:100%}.wc-block-grid__no-products .wc-block-grid__no-products-image{max-width:150px;margin:0 auto 1em;display:block;color:inherit}.wc-block-grid__no-products .wc-block-grid__no-products-title{display:block;margin:0;font-weight:700}.wc-block-grid__no-products .wc-block-grid__no-products-description{display:block;margin:.25em 0 1em}.wc-block-grid__products{display:flex;flex-wrap:wrap;padding:0;margin:0 -8px 16px;background-clip:padding-box}.wc-block-grid__product{box-sizing:border-box;padding:0;margin:0;float:none;width:auto;position:relative;text-align:center;border-left:8px solid transparent;border-right:8px solid transparent;border-bottom:16px solid transparent;list-style:none}.wc-block-grid__product.wc-block-grid__product{box-sizing:border-box}.theme-twentytwenty .wc-block-grid.has-aligned-buttons .wc-block-grid__product,.wc-block-grid.has-aligned-buttons .wc-block-grid__product{display:flex;flex-direction:column}.theme-twentytwenty .wc-block-grid.has-aligned-buttons .wc-block-grid__product>:last-child,.wc-block-grid.has-aligned-buttons .wc-block-grid__product>:last-child{margin-top:auto;margin-bottom:0;padding-bottom:12px}.theme-twentytwenty .wc-block-grid.has-1-columns .wc-block-grid__product,.wc-block-grid.has-1-columns .wc-block-grid__product{flex:1 0 100%;max-width:100%}.theme-twentytwenty .wc-block-grid.has-2-columns .wc-block-grid__product,.wc-block-grid.has-2-columns .wc-block-grid__product{flex:1 0 50%;max-width:50%}.theme-twentytwenty .wc-block-grid.has-3-columns .wc-block-grid__product,.wc-block-grid.has-3-columns .wc-block-grid__product{flex:1 0 33.33333%;max-width:33.3333333333%}.theme-twentytwenty .wc-block-grid.has-4-columns .wc-block-grid__product,.wc-block-grid.has-4-columns .wc-block-grid__product{flex:1 0 25%;max-width:25%}.theme-twentytwenty .wc-block-grid.has-5-columns .wc-block-grid__product,.wc-block-grid.has-5-columns .wc-block-grid__product{flex:1 0 20%;max-width:20%}.theme-twentytwenty .wc-block-grid.has-6-columns .wc-block-grid__product,.wc-block-grid.has-6-columns .wc-block-grid__product{flex:1 0 16.66667%;max-width:16.6666666667%}.theme-twentytwenty .wc-block-grid.has-7-columns .wc-block-grid__product,.wc-block-grid.has-7-columns .wc-block-grid__product{flex:1 0 14.28571%;max-width:14.2857142857%}.theme-twentytwenty .wc-block-grid.has-8-columns .wc-block-grid__product,.wc-block-grid.has-8-columns .wc-block-grid__product{flex:1 0 12.5%;max-width:12.5%}.theme-twentytwenty .wc-block-grid.has-6-columns .wc-block-grid__product,.wc-block-grid.has-6-columns .wc-block-grid__product{font-size:.5em}.theme-twentytwenty .wc-block-grid.has-5-columns .wc-block-grid__product,.theme-twentytwenty .wc-block-grid.has-6-columns.alignfull .wc-block-grid__product,.wc-block-grid.has-5-columns .wc-block-grid__product,.wc-block-grid.has-6-columns.alignfull .wc-block-grid__product{font-size:.58em}.theme-twentytwenty .wc-block-grid.has-4-columns:not(.alignwide):not(.alignfull) .wc-block-grid__product,.theme-twentytwenty .wc-block-grid.has-5-columns.alignfull .wc-block-grid__product,.wc-block-grid.has-4-columns:not(.alignwide):not(.alignfull) .wc-block-grid__product,.wc-block-grid.has-5-columns.alignfull .wc-block-grid__product{font-size:.75em}.theme-twentytwenty .wc-block-grid.has-3-columns:not(.alignwide):not(.alignfull),.wc-block-grid.has-3-columns:not(.alignwide):not(.alignfull){font-size:.92em}@media(max-width:480px){.wc-block-grid.has-2-columns .wc-block-grid__products{display:block}.wc-block-grid.has-2-columns .wc-block-grid__product{margin-left:auto;margin-right:auto;flex:1 0 100%;max-width:100%;padding:0}.wc-block-grid.has-3-columns .wc-block-grid__products{display:block}.wc-block-grid.has-3-columns .wc-block-grid__product{margin-left:auto;margin-right:auto;flex:1 0 100%;max-width:100%;padding:0}.wc-block-grid.has-4-columns .wc-block-grid__products{display:block}.wc-block-grid.has-4-columns .wc-block-grid__product{margin-left:auto;margin-right:auto;flex:1 0 100%;max-width:100%;padding:0}.wc-block-grid.has-5-columns .wc-block-grid__products{display:block}.wc-block-grid.has-5-columns .wc-block-grid__product{margin-left:auto;margin-right:auto;flex:1 0 100%;max-width:100%;padding:0}.wc-block-grid.has-6-columns .wc-block-grid__products{display:block}.wc-block-grid.has-6-columns .wc-block-grid__product{margin-left:auto;margin-right:auto;flex:1 0 100%;max-width:100%;padding:0}.wc-block-grid.has-7-columns .wc-block-grid__products{display:block}.wc-block-grid.has-7-columns .wc-block-grid__product{margin-left:auto;margin-right:auto;flex:1 0 100%;max-width:100%;padding:0}.wc-block-grid.has-8-columns .wc-block-grid__products{display:block}.wc-block-grid.has-8-columns .wc-block-grid__product{margin-left:auto;margin-right:auto;flex:1 0 100%;max-width:100%;padding:0}}@media(min-width:481px)and (max-width:600px){.wc-block-grid.has-2-columns .wc-block-grid__product{flex:1 0 50%;max-width:50%;padding:0;margin:0 0 24px}.wc-block-grid.has-2-columns .wc-block-grid__product:nth-child(odd){padding-right:8px}.wc-block-grid.has-2-columns .wc-block-grid__product:nth-child(2n){padding-left:8px}.wc-block-grid.has-2-columns .wc-block-grid__product:nth-child(2n) .wc-block-grid__product-onsale{left:8px}.wc-block-grid.has-3-columns .wc-block-grid__product{flex:1 0 50%;max-width:50%;padding:0;margin:0 0 24px}.wc-block-grid.has-3-columns .wc-block-grid__product:nth-child(odd){padding-right:8px}.wc-block-grid.has-3-columns .wc-block-grid__product:nth-child(2n){padding-left:8px}.wc-block-grid.has-3-columns .wc-block-grid__product:nth-child(2n) .wc-block-grid__product-onsale{left:8px}.wc-block-grid.has-4-columns .wc-block-grid__product{flex:1 0 50%;max-width:50%;padding:0;margin:0 0 24px}.wc-block-grid.has-4-columns .wc-block-grid__product:nth-child(odd){padding-right:8px}.wc-block-grid.has-4-columns .wc-block-grid__product:nth-child(2n){padding-left:8px}.wc-block-grid.has-4-columns .wc-block-grid__product:nth-child(2n) .wc-block-grid__product-onsale{left:8px}.wc-block-grid.has-5-columns .wc-block-grid__product{flex:1 0 50%;max-width:50%;padding:0;margin:0 0 24px}.wc-block-grid.has-5-columns .wc-block-grid__product:nth-child(odd){padding-right:8px}.wc-block-grid.has-5-columns .wc-block-grid__product:nth-child(2n){padding-left:8px}.wc-block-grid.has-5-columns .wc-block-grid__product:nth-child(2n) .wc-block-grid__product-onsale{left:8px}.wc-block-grid.has-6-columns .wc-block-grid__product{flex:1 0 50%;max-width:50%;padding:0;margin:0 0 24px}.wc-block-grid.has-6-columns .wc-block-grid__product:nth-child(odd){padding-right:8px}.wc-block-grid.has-6-columns .wc-block-grid__product:nth-child(2n){padding-left:8px}.wc-block-grid.has-6-columns .wc-block-grid__product:nth-child(2n) .wc-block-grid__product-onsale{left:8px}.wc-block-grid.has-7-columns .wc-block-grid__product{flex:1 0 50%;max-width:50%;padding:0;margin:0 0 24px}.wc-block-grid.has-7-columns .wc-block-grid__product:nth-child(odd){padding-right:8px}.wc-block-grid.has-7-columns .wc-block-grid__product:nth-child(2n){padding-left:8px}.wc-block-grid.has-7-columns .wc-block-grid__product:nth-child(2n) .wc-block-grid__product-onsale{left:8px}.wc-block-grid.has-8-columns .wc-block-grid__product{flex:1 0 50%;max-width:50%;padding:0;margin:0 0 24px}.wc-block-grid.has-8-columns .wc-block-grid__product:nth-child(odd){padding-right:8px}.wc-block-grid.has-8-columns .wc-block-grid__product:nth-child(2n){padding-left:8px}.wc-block-grid.has-8-columns .wc-block-grid__product:nth-child(2n) .wc-block-grid__product-onsale{left:8px}}.wc-block-components-product-name{font-size:1em;overflow-wrap:anywhere;word-break:break-word;-ms-word-break:break-all}.wc-block-components-product-price--align-left{display:block;text-align:left}.wc-block-components-product-price--align-center{display:block;text-align:center}.wc-block-components-product-price--align-right{display:block;text-align:right}.wc-block-components-product-price__value.is-discounted{margin-left:.5em}.is-loading .wc-block-components-product-price:before{-webkit-animation:loading-fade 1.2s ease-in-out infinite;animation:loading-fade 1.2s ease-in-out infinite;background-color:var(--global--color-primary,#e0e0e0)!important;color:var(--global--color-primary,#e0e0e0)!important;outline:0!important;border:0!important;box-shadow:none;pointer-events:none;max-width:100%;content:".";display:inline-block;width:5em}.is-loading .wc-block-components-product-price:before>*{visibility:hidden}@media screen and (prefers-reduced-motion:reduce){.is-loading .wc-block-components-product-price:before{-webkit-animation:none;animation:none}}.wc-block-components-quantity-selector{display:flex;width:107px;border:1px solid #ddd;background:#fff;border-radius:4px;box-sizing:content-box;margin:0 0 .25em}.has-dark-controls .wc-block-components-quantity-selector{background-color:transparent;border-color:hsla(0,0%,100%,.4)}.wc-block-components-quantity-selector input.wc-block-components-quantity-selector__input{font-size:1em;order:2;min-width:40px;flex:1 1 auto;border:0;padding:.4em 0;margin:0;text-align:center;background:0 0;box-shadow:none;color:#000;line-height:1;vertical-align:middle;-moz-appearance:textfield}.wc-block-components-quantity-selector input.wc-block-components-quantity-selector__input:focus{background:#f0f0f0;outline:1px solid #ddd}.wc-block-components-quantity-selector input.wc-block-components-quantity-selector__input:disabled{color:#949494}.has-dark-controls .wc-block-components-quantity-selector input.wc-block-components-quantity-selector__input{color:#fff;background:0 0}.has-dark-controls .wc-block-components-quantity-selector input.wc-block-components-quantity-selector__input:focus{background:0 0}.has-dark-controls .wc-block-components-quantity-selector input.wc-block-components-quantity-selector__input:disabled{color:hsla(0,0%,100%,.3)}.wc-block-components-quantity-selector input::-webkit-inner-spin-button,.wc-block-components-quantity-selector input::-webkit-outer-spin-button{-webkit-appearance:none;margin:0}.wc-block-components-quantity-selector .wc-block-components-quantity-selector__button{border:0;padding:0;margin:0;background:none transparent;box-shadow:none;font-size:1em;min-width:30px;cursor:pointer;color:#1e1e1e;font-style:normal;text-align:center;text-decoration:none}.wc-block-components-quantity-selector .wc-block-components-quantity-selector__button:focus{outline:2px solid #ddd}.wc-block-components-quantity-selector .wc-block-components-quantity-selector__button:focus,.wc-block-components-quantity-selector .wc-block-components-quantity-selector__button:hover{border:0;padding:0;margin:0;background:none transparent;box-shadow:none;color:#1e1e1e}.wc-block-components-quantity-selector .wc-block-components-quantity-selector__button:focus:focus,.wc-block-components-quantity-selector .wc-block-components-quantity-selector__button:hover:focus{outline:2px solid #ddd}.wc-block-components-quantity-selector .wc-block-components-quantity-selector__button:disabled{color:#949494;cursor:default;border:0;padding:0;margin:0;background:none transparent;box-shadow:none}.wc-block-components-quantity-selector .wc-block-components-quantity-selector__button:disabled:focus{outline:2px solid #ddd}.has-dark-controls .wc-block-components-quantity-selector .wc-block-components-quantity-selector__button,.has-dark-controls .wc-block-components-quantity-selector .wc-block-components-quantity-selector__button:focus,.has-dark-controls .wc-block-components-quantity-selector .wc-block-components-quantity-selector__button:hover{color:#fff}.has-dark-controls .wc-block-components-quantity-selector .wc-block-components-quantity-selector__button:disabled{color:hsla(0,0%,100%,.3)}.wc-block-components-quantity-selector>.wc-block-components-quantity-selector__button--minus{order:1}.wc-block-components-quantity-selector>.wc-block-components-quantity-selector__button--plus{order:3}.theme-twentyseventeen .wc-block-components-quantity-selector .wc-block-components-quantity-selector__button:focus,.theme-twentyseventeen .wc-block-components-quantity-selector .wc-block-components-quantity-selector__button:hover{background:none transparent}.wc-block-components-radio-control__option{color:inherit;font-family:inherit;font-size:inherit;font-style:inherit;font-weight:inherit;letter-spacing:inherit;line-height:inherit;text-decoration:inherit;text-transform:inherit;display:block;margin:1em 0;padding:0 0 0 2.5em;position:relative}.wc-block-components-radio-control__option:first-child{margin-top:0}.wc-block-components-radio-control__option:last-child{margin-bottom:0}.wc-block-components-radio-control__option-layout{display:table;width:100%}.wc-block-components-radio-control__option .wc-block-components-radio-control__option-layout:after{display:none}.wc-block-components-radio-control__description-group,.wc-block-components-radio-control__label-group{display:table-row}.wc-block-components-radio-control__description-group>span,.wc-block-components-radio-control__label-group>span{display:table-cell}.wc-block-components-radio-control__description-group .wc-block-components-radio-control__secondary-description,.wc-block-components-radio-control__description-group .wc-block-components-radio-control__secondary-label,.wc-block-components-radio-control__label-group .wc-block-components-radio-control__secondary-description,.wc-block-components-radio-control__label-group .wc-block-components-radio-control__secondary-label{text-align:right;min-width:50%}.wc-block-components-radio-control__label,.wc-block-components-radio-control__secondary-label{line-height:max(1.5rem,24px)}.wc-block-components-radio-control__description,.wc-block-components-radio-control__secondary-description{font-size:.875em;line-height:20px}.wc-block-components-radio-control .wc-block-components-radio-control__input{-webkit-appearance:none;-moz-appearance:none;appearance:none;background:#fff;border:2px solid #50575e;border-radius:50%;display:inline-block;height:1.5em;min-height:24px;min-width:24px;width:1.5em;position:absolute;left:0;top:50%;transform:translateY(-50%)}.wc-block-components-radio-control .wc-block-components-radio-control__input:checked:before{background:#000;border-radius:50%;content:"";display:block;height:.75em;left:50%;margin:0;min-height:12px;min-width:12px;position:absolute;top:50%;transform:translate(-50%,-50%);width:.75em}.has-dark-controls .wc-block-components-radio-control .wc-block-components-radio-control__input{border-color:hsla(0,0%,100%,.6);background-color:rgba(0,0,0,.1)}.has-dark-controls .wc-block-components-radio-control .wc-block-components-radio-control__input:checked:before{background:#fff}.theme-twentytwentyone .wc-block-components-radio-control .wc-block-components-radio-control__input:checked{border-width:2px}.theme-twentytwentyone .wc-block-components-radio-control .wc-block-components-radio-control__input:checked:before{background-color:var(--form--color-text)}.theme-twentytwentyone .wc-block-components-radio-control .wc-block-components-radio-control__input:after{display:none}.is-loading .wc-block-components-review-list-item__text{-webkit-animation:loading-fade 1.2s ease-in-out infinite;animation:loading-fade 1.2s ease-in-out infinite;background-color:var(--global--color-primary,#e0e0e0)!important;color:var(--global--color-primary,#e0e0e0)!important;outline:0!important;border:0!important;box-shadow:none;pointer-events:none;max-width:100%;display:block;width:60%}.is-loading .wc-block-components-review-list-item__text>*{visibility:hidden}@media screen and (prefers-reduced-motion:reduce){.is-loading .wc-block-components-review-list-item__text{-webkit-animation:none;animation:none}}.is-loading .wc-block-components-review-list-item__text:after{content:" "}.is-loading .wc-block-components-review-list-item__info .wc-block-components-review-list-item__image{-webkit-animation:loading-fade 1.2s ease-in-out infinite;animation:loading-fade 1.2s ease-in-out infinite;background-color:var(--global--color-primary,#e0e0e0)!important;color:var(--global--color-primary,#e0e0e0)!important;outline:0!important;border:0!important;box-shadow:none;pointer-events:none;max-width:100%}.is-loading .wc-block-components-review-list-item__info .wc-block-components-review-list-item__image>*{visibility:hidden}@media screen and (prefers-reduced-motion:reduce){.is-loading .wc-block-components-review-list-item__info .wc-block-components-review-list-item__image{-webkit-animation:none;animation:none}}.is-loading .wc-block-components-review-list-item__info .wc-block-components-review-list-item__image:after{content:" "}.is-loading .wc-block-components-review-list-item__info .wc-block-components-review-list-item__meta .wc-block-components-review-list-item__author{-webkit-animation:loading-fade 1.2s ease-in-out infinite;animation:loading-fade 1.2s ease-in-out infinite;background-color:var(--global--color-primary,#e0e0e0)!important;color:var(--global--color-primary,#e0e0e0)!important;outline:0!important;border:0!important;box-shadow:none;pointer-events:none;max-width:100%;font-size:1em;width:80px}.is-loading .wc-block-components-review-list-item__info .wc-block-components-review-list-item__meta .wc-block-components-review-list-item__author>*{visibility:hidden}@media screen and (prefers-reduced-motion:reduce){.is-loading .wc-block-components-review-list-item__info .wc-block-components-review-list-item__meta .wc-block-components-review-list-item__author{-webkit-animation:none;animation:none}}.is-loading .wc-block-components-review-list-item__info .wc-block-components-review-list-item__meta .wc-block-components-review-list-item__author:after{content:" "}.is-loading .wc-block-components-review-list-item__info .wc-block-components-review-list-item__meta .wc-block-components-review-list-item__product,.is-loading .wc-block-components-review-list-item__info .wc-block-components-review-list-item__meta .wc-block-components-review-list-item__rating .wc-block-components-review-list-item__rating__stars>span{display:none}.is-loading .wc-block-components-review-list-item__info .wc-block-components-review-list-item__published-date{-webkit-animation:loading-fade 1.2s ease-in-out infinite;animation:loading-fade 1.2s ease-in-out infinite;background-color:var(--global--color-primary,#e0e0e0)!important;color:var(--global--color-primary,#e0e0e0)!important;outline:0!important;border:0!important;box-shadow:none;pointer-events:none;max-width:100%;height:1em;width:120px}.is-loading .wc-block-components-review-list-item__info .wc-block-components-review-list-item__published-date>*{visibility:hidden}@media screen and (prefers-reduced-motion:reduce){.is-loading .wc-block-components-review-list-item__info .wc-block-components-review-list-item__published-date{-webkit-animation:none;animation:none}}.is-loading .wc-block-components-review-list-item__info .wc-block-components-review-list-item__published-date:after{content:" "}.editor-styles-wrapper .wc-block-components-review-list-item__item,.wc-block-components-review-list-item__item{margin:0 0 48px;list-style:none}.wc-block-components-review-list-item__info{display:-ms-grid;display:grid;-ms-grid-columns:1fr;grid-template-columns:1fr;margin-bottom:24px}.wc-block-components-review-list-item__meta{-ms-grid-column:1;grid-column:1;-ms-grid-row:1;grid-row:1}.wc-block-components-review-list-item__item--has-image .wc-block-components-review-list-item__info{-ms-grid-columns:calc(3em + 16px) 1fr;grid-template-columns:calc(3em + 16px) 1fr}.wc-block-components-review-list-item__item--has-image .wc-block-components-review-list-item__meta{-ms-grid-column:2;grid-column:2}.wc-block-components-review-list-item__image{align-items:center;display:flex;height:3em;-ms-grid-column:1;grid-column:1;-ms-grid-row:1;-ms-grid-row-span:2;grid-row:1/3;justify-content:center;position:relative;width:3em}.wc-block-components-review-list-item__image>img{display:block;max-height:100%;-o-object-fit:contain;object-fit:contain}.wc-block-components-review-list-item__verified{width:21px;height:21px;text-indent:21px;margin:0;line-height:21px;overflow:hidden;position:absolute;right:-7px;bottom:-7px}.wc-block-components-review-list-item__verified:before{width:21px;height:21px;background:transparent url('data:image/svg+xml;utf8,%3Csvg xmlns="http://www.w3.org/2000/svg" width="21" height="21" fill="none"%3E%3Ccircle cx="10.5" cy="10.5" r="10.5" fill="%23fff"/%3E%3Cpath fill="%23008A21" fill-rule="evenodd" d="M2.1667 10.5003c0-4.6 3.7333-8.3333 8.3333-8.3333s8.3334 3.7333 8.3334 8.3333S15.1 18.8337 10.5 18.8337s-8.3333-3.7334-8.3333-8.3334zm2.5 0l4.1666 4.1667 7.5001-7.5-1.175-1.1833-6.325 6.325-2.9917-2.9834-1.175 1.175z" clip-rule="evenodd"/%3E%3Cmask id="a" width="17" height="17" x="2" y="2" maskUnits="userSpaceOnUse"%3E%3Cpath fill="%23fff" fill-rule="evenodd" d="M2.1667 10.5003c0-4.6 3.7333-8.3333 8.3333-8.3333s8.3334 3.7333 8.3334 8.3333S15.1 18.8337 10.5 18.8337s-8.3333-3.7334-8.3333-8.3334zm2.5 0l4.1666 4.1667 7.5001-7.5-1.175-1.1833-6.325 6.325-2.9917-2.9834-1.175 1.175z" clip-rule="evenodd"/%3E%3C/mask%3E%3Cg mask="url(%23a)"%3E%3Cpath fill="%23008A21" d="M.5.5h20v20H.5z"/%3E%3C/g%3E%3C/svg%3E') 50% no-repeat;display:block;content:""}.wc-block-components-review-list-item__meta{display:flex;align-items:center;flex-flow:row wrap}.wc-block-components-review-list-item__meta:after{order:3;content:"";flex-basis:100%}.wc-block-components-review-list-item__author,.wc-block-components-review-list-item__product{display:block;font-weight:700;order:1;margin-right:8px}.wc-block-components-review-list-item__product+.wc-block-components-review-list-item__author{font-weight:400;order:4}.wc-block-components-review-list-item__published-date{order:5}.wc-block-components-review-list-item__product+.wc-block-components-review-list-item__author+.wc-block-components-review-list-item__published-date{padding-left:8px;position:relative}.wc-block-components-review-list-item__product+.wc-block-components-review-list-item__author+.wc-block-components-review-list-item__published-date:before{content:"";display:inline-block;margin-left:-8px;border-right:1px solid;opacity:.5;height:1em;vertical-align:middle;position:absolute;top:calc(50% + .1em);transform:translateY(-50%)}.wc-block-components-review-list-item__author:first-child+.wc-block-components-review-list-item__published-date:before,.wc-block-components-review-list-item__rating+.wc-block-components-review-list-item__author+.wc-block-components-review-list-item__published-date:before{display:none}.wc-block-components-review-list-item__rating{order:2}.wc-block-components-review-list-item__rating>.wc-block-components-review-list-item__rating__stars{font-size:1em;display:block;top:0;overflow:hidden;position:relative;height:1em;line-height:1;width:5.3em;font-family:star;font-weight:400}.wc-block-components-review-list-item__rating>.wc-block-components-review-list-item__rating__stars:before{content:"SSSSS";opacity:.25;float:left;top:0;left:0;position:absolute}.wc-block-components-review-list-item__rating>.wc-block-components-review-list-item__rating__stars span{overflow:hidden;float:left;top:0;left:0;position:absolute;padding-top:1.5em}.wc-block-components-review-list-item__rating>.wc-block-components-review-list-item__rating__stars span:before{content:"SSSSS";top:0;position:absolute;left:0;color:#e6a237}.wc-block-components-review-list-item__text p{font-size:inherit}.wc-block-components-review-list.wc-block-components-review-list{margin:0}.wc-block-components-review-sort-select{text-align:right}.wc-block-components-sidebar-layout{display:flex;flex-wrap:wrap;margin:0 auto 16px;position:relative}.wc-block-components-sidebar-layout .wc-block-components-main{box-sizing:border-box;margin:0;padding-right:3.7735849057%;width:65%}.wc-block-components-sidebar{box-sizing:border-box;margin:0;padding-left:2.2641509434%;width:35%}.wc-block-components-sidebar .wc-block-components-panel>h2{font-size:1em;border:0;border-radius:0;margin:0;padding:0;vertical-align:baseline}.is-medium.wc-block-components-sidebar-layout,.is-mobile.wc-block-components-sidebar-layout,.is-small.wc-block-components-sidebar-layout{flex-direction:column;margin:0 auto 16px}.is-medium.wc-block-components-sidebar-layout .wc-block-components-main,.is-medium.wc-block-components-sidebar-layout .wc-block-components-sidebar,.is-mobile.wc-block-components-sidebar-layout .wc-block-components-main,.is-mobile.wc-block-components-sidebar-layout .wc-block-components-sidebar,.is-small.wc-block-components-sidebar-layout .wc-block-components-main,.is-small.wc-block-components-sidebar-layout .wc-block-components-sidebar{padding:0;width:100%}.is-large .wc-block-components-sidebar .wc-block-components-panel,.is-large .wc-block-components-sidebar .wc-block-components-totals-item{padding-left:16px;padding-right:16px}.is-large .wc-block-components-sidebar .wc-block-components-panel .wc-block-components-totals-item{padding:0}.wc-block-components-sidebar .wc-block-components-panel>h2{color:inherit;font-family:inherit;font-size:inherit;font-style:inherit;font-weight:inherit;letter-spacing:inherit;line-height:inherit;text-decoration:inherit;text-transform:inherit}.wc-block-components-sidebar .wc-block-components-panel>h2 .wc-block-components-panel__button{font-weight:400}.theme-twentytwenty .wc-block-components-sidebar .wc-block-components-panel>h2{font-size:1.25em;border:0;border-radius:0;margin:0;padding:0;vertical-align:baseline}.wc-block-components-sort-select{margin-bottom:12px}.wc-block-components-sort-select__label{margin-right:12px;display:inline-block;font-weight:400}.wc-block-components-sort-select__select{font-size:inherit;width:-webkit-max-content;width:-moz-max-content;width:max-content}.wc-block-components-spinner{position:absolute;width:100%;height:100%;color:inherit;box-sizing:content-box;text-align:center;font-size:1.25em}.wc-block-components-spinner:after{content:" ";position:absolute;top:50%;left:50%;margin:-.5em 0 0 -.5em;width:1em;height:1em;box-sizing:border-box;transform-origin:50% 50%;transform:translateZ(0) scale(.5);-webkit-backface-visibility:hidden;backface-visibility:hidden;border-radius:50%;border:.2em solid;border-left:.2em solid transparent;-webkit-animation:wc-block-components-spinner__animation 1s linear infinite;animation:wc-block-components-spinner__animation 1s linear infinite}@-webkit-keyframes wc-block-components-spinner__animation{0%{-webkit-animation-timing-function:cubic-bezier(.5856,.0703,.4143,.9297);animation-timing-function:cubic-bezier(.5856,.0703,.4143,.9297);transform:rotate(0deg)}to{transform:rotate(1turn)}}@keyframes wc-block-components-spinner__animation{0%{-webkit-animation-timing-function:cubic-bezier(.5856,.0703,.4143,.9297);animation-timing-function:cubic-bezier(.5856,.0703,.4143,.9297);transform:rotate(0deg)}to{transform:rotate(1turn)}}.wc-block-components-state-input{margin-top:1.5em}.wc-block-components-tabs .wc-block-components-tabs__list{display:flex;flex-direction:row;flex-wrap:wrap;width:100%}.wc-block-components-tabs .wc-block-components-tabs__list>.wc-block-components-tabs__item{border:none;flex:auto;background:0 0;padding:12px 16px;color:inherit;outline-offset:-1px;text-align:center;transition:box-shadow .1s linear;box-shadow:inset 0 -1px currentColor;border-radius:0}.wc-block-components-tabs .wc-block-components-tabs__list>.wc-block-components-tabs__item.is-active{box-shadow:inset 0 -3px currentColor;font-weight:600;position:relative}.wc-block-components-tabs .wc-block-components-tabs__list>.wc-block-components-tabs__item:focus{outline-offset:-1px;outline:1px dotted currentColor}.wc-block-components-tabs .wc-block-components-tabs__list>.wc-block-components-tabs__item:active,.wc-block-components-tabs .wc-block-components-tabs__list>.wc-block-components-tabs__item:hover{background:0 0}.wc-block-components-tabs .wc-block-components-tabs__list>.wc-block-components-tabs__item .wc-block-components-tabs__item-content{font-size:1em;line-height:1;width:-webkit-fit-content;width:-moz-fit-content;width:fit-content;display:inline-block;font-weight:700}.wc-block-components-tabs .wc-block-components-tabs__list>.wc-block-components-tabs__item .wc-block-components-tabs__item-content>img,.wc-block-components-tabs .wc-block-components-tabs__list>.wc-block-components-tabs__item .wc-block-components-tabs__item-content>svg{height:1.2em;vertical-align:middle;margin:.2em 0 -.2em}.wc-block-components-tabs .wc-block-components-tabs__list>.wc-block-components-tabs__item .wc-block-components-tabs__item-content .wc-block-components-payment-method-icons{margin:.2em 0 -.2em}.wc-block-components-tabs .wc-block-components-tabs__list>.wc-block-components-tabs__item .wc-block-components-tabs__item-content .wc-block-components-payment-method-icons .wc-block-components-payment-method-icon{height:1.2em;vertical-align:middle}.wc-block-components-tabs .wc-block-components-tabs__content{padding:16px 0;text-transform:none}.wc-block-components-form .wc-block-components-text-input,.wc-block-components-text-input{position:relative;margin-top:1.5em;white-space:nowrap}.wc-block-components-form .wc-block-components-text-input label,.wc-block-components-text-input label{color:inherit;font-family:inherit;font-size:inherit;font-style:inherit;font-weight:inherit;letter-spacing:inherit;line-height:inherit;text-decoration:inherit;text-transform:inherit;font-size:1em;position:absolute;transform:translateY(.75em);left:0;top:0;transform-origin:top left;line-height:1.375;color:#757575;transition:transform .2s ease;margin:0 0 0 17px;overflow:hidden;text-overflow:ellipsis;max-width:calc(100% - 32px);cursor:text}.has-dark-controls .wc-block-components-form .wc-block-components-text-input label,.has-dark-controls .wc-block-components-text-input label{color:hsla(0,0%,100%,.6)}@media screen and (prefers-reduced-motion:reduce){.wc-block-components-form .wc-block-components-text-input label,.wc-block-components-text-input label{transition:none}}.wc-block-components-form .wc-block-components-text-input input:-webkit-autofill+label,.wc-block-components-text-input input:-webkit-autofill+label{transform:translateY(4px) scale(.75)}.wc-block-components-form .wc-block-components-text-input.is-active label,.wc-block-components-text-input.is-active label{transform:translateY(4px) scale(.75)}.wc-block-components-form .wc-block-components-text-input input[type=email],.wc-block-components-form .wc-block-components-text-input input[type=number],.wc-block-components-form .wc-block-components-text-input input[type=tel],.wc-block-components-form .wc-block-components-text-input input[type=text],.wc-block-components-form .wc-block-components-text-input input[type=url],.wc-block-components-text-input input[type=email],.wc-block-components-text-input input[type=number],.wc-block-components-text-input input[type=tel],.wc-block-components-text-input input[type=text],.wc-block-components-text-input input[type=url]{font-size:1em;background-color:#fff;padding:.75em 16px;border-radius:4px;border:1px solid #50575e;width:100%;line-height:1.375;font-family:inherit;margin:0;box-sizing:border-box;height:3em;min-height:0;color:#2b2d2f}.wc-block-components-form .wc-block-components-text-input input[type=email]:focus,.wc-block-components-form .wc-block-components-text-input input[type=number]:focus,.wc-block-components-form .wc-block-components-text-input input[type=tel]:focus,.wc-block-components-form .wc-block-components-text-input input[type=text]:focus,.wc-block-components-form .wc-block-components-text-input input[type=url]:focus,.wc-block-components-text-input input[type=email]:focus,.wc-block-components-text-input input[type=number]:focus,.wc-block-components-text-input input[type=tel]:focus,.wc-block-components-text-input input[type=text]:focus,.wc-block-components-text-input input[type=url]:focus{background-color:#fff;color:#2b2d2f;outline:0;box-shadow:0 0 0 1px #50575e}.has-dark-controls .wc-block-components-form .wc-block-components-text-input input[type=email],.has-dark-controls .wc-block-components-form .wc-block-components-text-input input[type=number],.has-dark-controls .wc-block-components-form .wc-block-components-text-input input[type=tel],.has-dark-controls .wc-block-components-form .wc-block-components-text-input input[type=text],.has-dark-controls .wc-block-components-form .wc-block-components-text-input input[type=url],.has-dark-controls .wc-block-components-text-input input[type=email],.has-dark-controls .wc-block-components-text-input input[type=number],.has-dark-controls .wc-block-components-text-input input[type=tel],.has-dark-controls .wc-block-components-text-input input[type=text],.has-dark-controls .wc-block-components-text-input input[type=url]{background-color:rgba(0,0,0,.1);border-color:hsla(0,0%,100%,.4);color:#fff}.has-dark-controls .wc-block-components-form .wc-block-components-text-input input[type=email]:focus,.has-dark-controls .wc-block-components-form .wc-block-components-text-input input[type=number]:focus,.has-dark-controls .wc-block-components-form .wc-block-components-text-input input[type=tel]:focus,.has-dark-controls .wc-block-components-form .wc-block-components-text-input input[type=text]:focus,.has-dark-controls .wc-block-components-form .wc-block-components-text-input input[type=url]:focus,.has-dark-controls .wc-block-components-text-input input[type=email]:focus,.has-dark-controls .wc-block-components-text-input input[type=number]:focus,.has-dark-controls .wc-block-components-text-input input[type=tel]:focus,.has-dark-controls .wc-block-components-text-input input[type=text]:focus,.has-dark-controls .wc-block-components-text-input input[type=url]:focus{background-color:rgba(0,0,0,.1);color:#fff;box-shadow:0 0 0 1px hsla(0,0%,100%,.4)}.wc-block-components-form .wc-block-components-text-input input[type=number],.wc-block-components-text-input input[type=number]{-moz-appearance:textfield}.wc-block-components-form .wc-block-components-text-input input[type=number]::-webkit-inner-spin-button,.wc-block-components-form .wc-block-components-text-input input[type=number]::-webkit-outer-spin-button,.wc-block-components-text-input input[type=number]::-webkit-inner-spin-button,.wc-block-components-text-input input[type=number]::-webkit-outer-spin-button{-webkit-appearance:none;appearance:none;margin:0}.wc-block-components-form .wc-block-components-text-input.is-active input[type=email],.wc-block-components-form .wc-block-components-text-input.is-active input[type=number],.wc-block-components-form .wc-block-components-text-input.is-active input[type=tel],.wc-block-components-form .wc-block-components-text-input.is-active input[type=text],.wc-block-components-form .wc-block-components-text-input.is-active input[type=url],.wc-block-components-text-input.is-active input[type=email],.wc-block-components-text-input.is-active input[type=number],.wc-block-components-text-input.is-active input[type=tel],.wc-block-components-text-input.is-active input[type=text],.wc-block-components-text-input.is-active input[type=url]{padding:1.5em 0 .25em 16px}.wc-block-components-form .wc-block-components-text-input.has-error input,.wc-block-components-form .wc-block-components-text-input.has-error input:active,.wc-block-components-form .wc-block-components-text-input.has-error input:focus,.wc-block-components-form .wc-block-components-text-input.has-error input:hover,.wc-block-components-text-input.has-error input,.wc-block-components-text-input.has-error input:active,.wc-block-components-text-input.has-error input:focus,.wc-block-components-text-input.has-error input:hover{border-color:#cc1818}.wc-block-components-form .wc-block-components-text-input.has-error input:focus,.wc-block-components-text-input.has-error input:focus{box-shadow:0 0 0 1px #cc1818}.wc-block-components-form .wc-block-components-text-input.has-error label,.wc-block-components-text-input.has-error label{color:#cc1818}.wc-block-components-form .wc-block-components-text-input:only-child,.wc-block-components-text-input:only-child{margin-top:0}.wc-block-components-textarea{font-size:1em;background-color:#fff;border:1px solid #50575e;border-radius:4px;color:#2b2d2f;font-family:inherit;line-height:1.375;margin:0;padding:.75em 16px;width:100%}.has-dark-controls .wc-block-components-textarea{background-color:rgba(0,0,0,.1);border-color:hsla(0,0%,100%,.4);color:#fff}.has-dark-controls .wc-block-components-textarea::-moz-placeholder{color:hsla(0,0%,100%,.6)}.has-dark-controls .wc-block-components-textarea:-ms-input-placeholder{color:hsla(0,0%,100%,.6)}.has-dark-controls .wc-block-components-textarea::placeholder{color:hsla(0,0%,100%,.6)}.theme-twentytwentyone .has-dark-controls .wc-block-components-textarea{background-color:rgba(0,0,0,.1);color:#fff}.theme-twentytwenty .wc-block-components-title.wc-block-components-title,.wc-block-components-title.wc-block-components-title{border:0;border-radius:0;margin:0;padding:0;vertical-align:baseline;font-size:1.25em;word-break:break-word}.wc-block-components-notices{display:block;margin-bottom:2em}.wc-block-components-notices .wc-block-components-notices__notice{margin:0;display:flex;flex-wrap:nowrap}.wc-block-components-notices .wc-block-components-notices__notice .components-notice__dismiss{background:transparent none;padding:0;margin:0 0 0 auto;border:0;outline:0;color:currentColor}.wc-block-components-notices .wc-block-components-notices__notice .components-notice__dismiss svg{fill:currentColor;vertical-align:text-top}.wc-block-components-notices .wc-block-components-notices__notice+.wc-block-components-notices__notice{margin-top:1em}.theme-twentytwenty .wc-block-components-notices__notice,.theme-twentytwentyone .wc-block-components-notices__notice{padding:1.5rem 3rem}.wc-block-components-notices__snackbar{position:fixed;bottom:20px;left:16px;width:auto}@media(max-width:782px){.wc-block-components-notices__snackbar{position:fixed;top:10px;left:0;bottom:auto}}@media(max-width:782px){.wc-block-components-notices__snackbar .components-snackbar-list__notice-container{margin-left:10px;margin-right:10px}}.wc-block-components-validation-error{font-size:.75em;color:#cc1818;max-width:100%;white-space:normal}.wc-block-components-validation-error>p{margin:0;padding:0}.wc-block-components-select+.wc-block-components-validation-error{margin-bottom:24px}.with-scroll-to-top__scroll-point{position:relative;top:-36px}.is-medium .wc-block-cart__sidebar,.is-mobile .wc-block-cart__sidebar,.is-small .wc-block-cart__sidebar{margin-bottom:24px;order:0}.wc-block-cart__submit{position:relative}.wc-block-cart__submit-container{padding-bottom:16px}.wc-block-cart__submit-button{width:100%;margin:0 0 16px}.wc-block-cart__submit-button:last-child{margin-bottom:0}.is-medium .wc-block-cart__submit-container:not(.wc-block-cart__submit-container--sticky),.is-mobile .wc-block-cart__submit-container:not(.wc-block-cart__submit-container--sticky),.is-small .wc-block-cart__submit-container:not(.wc-block-cart__submit-container--sticky){padding-left:0;padding-right:0;padding-top:0}@media(min-width:783px){.wc-block-cart__submit-container--sticky{display:none}}@media(max-width:782px){.wc-block-cart__submit-container--sticky{background:#fff;bottom:0;left:0;padding:16px;position:fixed;width:100%;z-index:9999}.wc-block-cart__submit-container--sticky:before{box-shadow:0 -10px 20px 10px currentColor;color:hsla(0,0%,80%,.5);content:"";height:100%;left:0;position:absolute;right:0;top:0}}.editor-styles-wrapper .wc-block-cart__empty-cart__title,.wc-block-cart__empty-cart__title{font-size:inherit}.wc-block-cart .wc-block-components-shipping-calculator{white-space:nowrap}.wc-block-cart .wc-block-components-address-form .wc-block-components-country-input:first-of-type,.wc-block-cart .wc-block-components-address-form .wc-block-components-state-input:first-of-type,.wc-block-cart .wc-block-components-address-form .wc-block-components-text-input:first-of-type{margin-top:0}table.wc-block-cart-items,table.wc-block-cart-items td,table.wc-block-cart-items th{background:none!important;border:0;margin:0}.editor-styles-wrapper table.wc-block-cart-items,table.wc-block-cart-items{width:100%}.editor-styles-wrapper table.wc-block-cart-items .wc-block-cart-items__header,table.wc-block-cart-items .wc-block-cart-items__header{font-size:.75em;text-transform:uppercase}.editor-styles-wrapper table.wc-block-cart-items .wc-block-cart-items__header .wc-block-cart-items__header-image,table.wc-block-cart-items .wc-block-cart-items__header .wc-block-cart-items__header-image{width:100px}.editor-styles-wrapper table.wc-block-cart-items .wc-block-cart-items__header .wc-block-cart-items__header-product,table.wc-block-cart-items .wc-block-cart-items__header .wc-block-cart-items__header-product{visibility:hidden}.editor-styles-wrapper table.wc-block-cart-items .wc-block-cart-items__header .wc-block-cart-items__header-total,table.wc-block-cart-items .wc-block-cart-items__header .wc-block-cart-items__header-total{width:100px;text-align:right}.editor-styles-wrapper table.wc-block-cart-items .wc-block-cart-items__row .wc-block-cart-item__image img,table.wc-block-cart-items .wc-block-cart-items__row .wc-block-cart-item__image img{width:100%;margin:0}.editor-styles-wrapper table.wc-block-cart-items .wc-block-cart-items__row .wc-block-cart-item__quantity .wc-block-cart-item__remove-link,table.wc-block-cart-items .wc-block-cart-items__row .wc-block-cart-item__quantity .wc-block-cart-item__remove-link{border:0;border-radius:0;margin:0;padding:0;vertical-align:baseline;color:inherit;font-family:inherit;font-size:inherit;font-style:inherit;font-weight:inherit;letter-spacing:inherit;line-height:inherit;text-decoration:inherit;text-transform:inherit;background:0 0;box-shadow:none;display:inline;text-shadow:none;text-decoration:underline;font-size:.75em;text-transform:none;white-space:nowrap}.editor-styles-wrapper table.wc-block-cart-items .wc-block-cart-items__row .wc-block-cart-item__quantity .wc-block-cart-item__remove-link:active,.editor-styles-wrapper table.wc-block-cart-items .wc-block-cart-items__row .wc-block-cart-item__quantity .wc-block-cart-item__remove-link:focus,.editor-styles-wrapper table.wc-block-cart-items .wc-block-cart-items__row .wc-block-cart-item__quantity .wc-block-cart-item__remove-link:hover,table.wc-block-cart-items .wc-block-cart-items__row .wc-block-cart-item__quantity .wc-block-cart-item__remove-link:active,table.wc-block-cart-items .wc-block-cart-items__row .wc-block-cart-item__quantity .wc-block-cart-item__remove-link:focus,table.wc-block-cart-items .wc-block-cart-items__row .wc-block-cart-item__quantity .wc-block-cart-item__remove-link:hover{background:0 0}.editor-styles-wrapper table.wc-block-cart-items .wc-block-cart-items__row .wc-block-components-product-name,table.wc-block-cart-items .wc-block-cart-items__row .wc-block-components-product-name{display:block;max-width:-webkit-max-content;max-width:-moz-max-content;max-width:max-content}.editor-styles-wrapper table.wc-block-cart-items .wc-block-cart-items__row .wc-block-cart-item__total,table.wc-block-cart-items .wc-block-cart-items__row .wc-block-cart-item__total{font-size:1em;text-align:right;line-height:inherit}.editor-styles-wrapper table.wc-block-cart-items .wc-block-cart-items__row .wc-block-components-product-metadata,table.wc-block-cart-items .wc-block-cart-items__row .wc-block-components-product-metadata{margin-bottom:.75em}.editor-styles-wrapper table.wc-block-cart-items .wc-block-cart-items__row.is-disabled,table.wc-block-cart-items .wc-block-cart-items__row.is-disabled{opacity:.5;pointer-events:none;transition:opacity .2s ease}.wc-block-cart .wc-block-components-totals-footer-item,.wc-block-cart .wc-block-components-totals-taxes{margin:0}.wc-block-cart--is-loading h2 span,.wc-block-cart--is-loading th span,.wc-block-mini-cart__drawer.is-loading h2 span,.wc-block-mini-cart__drawer.is-loading th span{-webkit-animation:loading-fade 1.2s ease-in-out infinite;animation:loading-fade 1.2s ease-in-out infinite;background-color:var(--global--color-primary,#e0e0e0)!important;color:var(--global--color-primary,#e0e0e0)!important;outline:0!important;border:0!important;box-shadow:none;pointer-events:none;max-width:100%;min-width:84px;display:inline-block}.wc-block-cart--is-loading h2 span>*,.wc-block-cart--is-loading th span>*,.wc-block-mini-cart__drawer.is-loading h2 span>*,.wc-block-mini-cart__drawer.is-loading th span>*{visibility:hidden}@media screen and (prefers-reduced-motion:reduce){.wc-block-cart--is-loading h2 span,.wc-block-cart--is-loading th span,.wc-block-mini-cart__drawer.is-loading h2 span,.wc-block-mini-cart__drawer.is-loading th span{-webkit-animation:none;animation:none}}.wc-block-cart--is-loading h2 span:after,.wc-block-cart--is-loading th span:after,.wc-block-mini-cart__drawer.is-loading h2 span:after,.wc-block-mini-cart__drawer.is-loading th span:after{content:" "}.wc-block-cart--is-loading h2 span,.wc-block-mini-cart__drawer.is-loading h2 span{min-width:33%}.wc-block-cart--is-loading .wc-block-components-product-metadata,.wc-block-cart--is-loading .wc-block-components-product-price,.wc-block-cart--is-loading .wc-block-components-quantity-selector,.wc-block-mini-cart__drawer.is-loading .wc-block-components-product-metadata,.wc-block-mini-cart__drawer.is-loading .wc-block-components-product-price,.wc-block-mini-cart__drawer.is-loading .wc-block-components-quantity-selector{-webkit-animation:loading-fade 1.2s ease-in-out infinite;animation:loading-fade 1.2s ease-in-out infinite;background-color:var(--global--color-primary,#e0e0e0)!important;color:var(--global--color-primary,#e0e0e0)!important;outline:0!important;border:0!important;box-shadow:none;pointer-events:none;max-width:100%}.wc-block-cart--is-loading .wc-block-components-product-metadata>*,.wc-block-cart--is-loading .wc-block-components-product-price>*,.wc-block-cart--is-loading .wc-block-components-quantity-selector>*,.wc-block-mini-cart__drawer.is-loading .wc-block-components-product-metadata>*,.wc-block-mini-cart__drawer.is-loading .wc-block-components-product-price>*,.wc-block-mini-cart__drawer.is-loading .wc-block-components-quantity-selector>*{visibility:hidden}@media screen and (prefers-reduced-motion:reduce){.wc-block-cart--is-loading .wc-block-components-product-metadata,.wc-block-cart--is-loading .wc-block-components-product-price,.wc-block-cart--is-loading .wc-block-components-quantity-selector,.wc-block-mini-cart__drawer.is-loading .wc-block-components-product-metadata,.wc-block-mini-cart__drawer.is-loading .wc-block-components-product-price,.wc-block-mini-cart__drawer.is-loading .wc-block-components-quantity-selector{-webkit-animation:none;animation:none}}.wc-block-cart--is-loading .wc-block-components-product-name,.wc-block-mini-cart__drawer.is-loading .wc-block-components-product-name{-webkit-animation:loading-fade 1.2s ease-in-out infinite;animation:loading-fade 1.2s ease-in-out infinite;background-color:var(--global--color-primary,#e0e0e0)!important;color:var(--global--color-primary,#e0e0e0)!important;outline:0!important;border:0!important;box-shadow:none;pointer-events:none;max-width:100%;min-width:84px;display:inline-block}.wc-block-cart--is-loading .wc-block-components-product-name>*,.wc-block-mini-cart__drawer.is-loading .wc-block-components-product-name>*{visibility:hidden}@media screen and (prefers-reduced-motion:reduce){.wc-block-cart--is-loading .wc-block-components-product-name,.wc-block-mini-cart__drawer.is-loading .wc-block-components-product-name{-webkit-animation:none;animation:none}}.wc-block-cart--is-loading .wc-block-components-product-name:after,.wc-block-mini-cart__drawer.is-loading .wc-block-components-product-name:after{content:" "}.wc-block-cart--is-loading .wc-block-components-product-metadata,.wc-block-mini-cart__drawer.is-loading .wc-block-components-product-metadata{margin-top:.25em;min-width:8em}.wc-block-cart--is-loading .wc-block-cart-item__remove-link,.wc-block-mini-cart__drawer.is-loading .wc-block-cart-item__remove-link{visibility:hidden}.wc-block-cart--is-loading .wc-block-cart-item__image>a,.wc-block-mini-cart__drawer.is-loading .wc-block-cart-item__image>a{-webkit-animation:loading-fade 1.2s ease-in-out infinite;animation:loading-fade 1.2s ease-in-out infinite;background-color:var(--global--color-primary,#e0e0e0)!important;color:var(--global--color-primary,#e0e0e0)!important;outline:0!important;border:0!important;box-shadow:none;pointer-events:none;max-width:100%;display:block}.wc-block-cart--is-loading .wc-block-cart-item__image>a>*,.wc-block-mini-cart__drawer.is-loading .wc-block-cart-item__image>a>*{visibility:hidden}@media screen and (prefers-reduced-motion:reduce){.wc-block-cart--is-loading .wc-block-cart-item__image>a,.wc-block-mini-cart__drawer.is-loading .wc-block-cart-item__image>a{-webkit-animation:none;animation:none}}.wc-block-cart--is-loading .wc-block-components-product-price,.wc-block-mini-cart__drawer.is-loading .wc-block-components-product-price{max-width:3em;display:block;margin-top:.25em}.wc-block-cart--is-loading .wc-block-components-product-price:after,.wc-block-mini-cart__drawer.is-loading .wc-block-components-product-price:after{content:" "}.wc-block-cart--is-loading .wc-block-cart__sidebar .components-card,.wc-block-mini-cart__drawer.is-loading .wc-block-cart__sidebar .components-card{-webkit-animation:loading-fade 1.2s ease-in-out infinite;animation:loading-fade 1.2s ease-in-out infinite;background-color:var(--global--color-primary,#e0e0e0)!important;color:var(--global--color-primary,#e0e0e0)!important;outline:0!important;border:0!important;box-shadow:none;pointer-events:none;max-width:100%;min-height:460px}.wc-block-cart--is-loading .wc-block-cart__sidebar .components-card>*,.wc-block-mini-cart__drawer.is-loading .wc-block-cart__sidebar .components-card>*{visibility:hidden}@media screen and (prefers-reduced-motion:reduce){.wc-block-cart--is-loading .wc-block-cart__sidebar .components-card,.wc-block-mini-cart__drawer.is-loading .wc-block-cart__sidebar .components-card{-webkit-animation:none;animation:none}}.wc-block-cart--is-loading .wc-block-cart__sidebar .components-card:after,.wc-block-mini-cart__drawer.is-loading .wc-block-cart__sidebar .components-card:after{content:" "}.wc-block-components-sidebar-layout.wc-block-cart--skeleton{display:none}.is-loading+.wc-block-components-sidebar-layout.wc-block-cart--skeleton{display:flex}.wc-block-cart-item__total-price-and-sale-badge-wrapper{display:flex;flex-direction:column;align-items:flex-end}.wc-block-cart-item__total-price-and-sale-badge-wrapper .wc-block-components-sale-badge{margin-top:4px}.is-medium.wc-block-cart .wc-block-components-sidebar .wc-block-cart__totals-title,.is-mobile .wc-block-cart-item__total .wc-block-components-sale-badge,.is-mobile.wc-block-cart .wc-block-components-sidebar .wc-block-cart__totals-title,.is-small .wc-block-cart-item__total .wc-block-components-sale-badge,.is-small.wc-block-cart .wc-block-components-sidebar .wc-block-cart__totals-title{display:none}.is-medium table.wc-block-cart-items td,.is-mobile table.wc-block-cart-items td,.is-small table.wc-block-cart-items td{padding:0}.is-medium table.wc-block-cart-items .wc-block-cart-item__remove-link,.is-medium table.wc-block-cart-items .wc-block-cart-items__header,.is-mobile table.wc-block-cart-items .wc-block-cart-item__remove-link,.is-mobile table.wc-block-cart-items .wc-block-cart-items__header,.is-small table.wc-block-cart-items .wc-block-cart-item__remove-link,.is-small table.wc-block-cart-items .wc-block-cart-items__header{display:none}.is-medium table.wc-block-cart-items .wc-block-cart-items__row,.is-mobile table.wc-block-cart-items .wc-block-cart-items__row,.is-small table.wc-block-cart-items .wc-block-cart-items__row{position:relative;display:-ms-grid;display:grid;-ms-grid-columns:80px 132px;grid-template-columns:80px 132px;padding:16px 0}.is-medium table.wc-block-cart-items .wc-block-cart-items__row:after,.is-mobile table.wc-block-cart-items .wc-block-cart-items__row:after,.is-small table.wc-block-cart-items .wc-block-cart-items__row:after{border-style:solid;border-width:0 0 1px;bottom:0;content:"";display:block;left:0;opacity:.3;pointer-events:none;position:absolute;right:0;top:0}.is-medium table.wc-block-cart-items .wc-block-cart-items__row .wc-block-cart-item__image,.is-mobile table.wc-block-cart-items .wc-block-cart-items__row .wc-block-cart-item__image,.is-small table.wc-block-cart-items .wc-block-cart-items__row .wc-block-cart-item__image{-ms-grid-column:1;grid-column-start:1;-ms-grid-row:1;grid-row-start:1;padding-right:16px}.is-medium table.wc-block-cart-items .wc-block-cart-items__row .wc-block-cart-item__product,.is-mobile table.wc-block-cart-items .wc-block-cart-items__row .wc-block-cart-item__product,.is-small table.wc-block-cart-items .wc-block-cart-items__row .wc-block-cart-item__product{-ms-grid-column:2;grid-column-start:2;-ms-grid-column-span:2;grid-column-end:4;-ms-grid-row:1;grid-row-start:1;-ms-grid-column-align:stretch;justify-self:stretch;padding:0 16px 16px 0}.is-medium table.wc-block-cart-items .wc-block-cart-items__row .wc-block-cart-item__quantity,.is-mobile table.wc-block-cart-items .wc-block-cart-items__row .wc-block-cart-item__quantity,.is-small table.wc-block-cart-items .wc-block-cart-items__row .wc-block-cart-item__quantity{-ms-grid-column:1;grid-column-start:1;-ms-grid-row:2;grid-row-start:2;vertical-align:bottom;padding-right:16px;-ms-grid-row-align:end;align-self:end;padding-top:16px}.is-medium table.wc-block-cart-items .wc-block-cart-items__row .wc-block-cart-item__total,.is-mobile table.wc-block-cart-items .wc-block-cart-items__row .wc-block-cart-item__total,.is-small table.wc-block-cart-items .wc-block-cart-items__row .wc-block-cart-item__total{-ms-grid-row:1;grid-row-start:1}.is-medium table.wc-block-cart-items .wc-block-cart-items__row .wc-block-cart-item__total .wc-block-components-formatted-money-amount,.is-mobile table.wc-block-cart-items .wc-block-cart-items__row .wc-block-cart-item__total .wc-block-components-formatted-money-amount,.is-small table.wc-block-cart-items .wc-block-cart-items__row .wc-block-cart-item__total .wc-block-components-formatted-money-amount{display:inline-block}.is-large.wc-block-cart .wc-block-cart-items{position:relative}.is-large.wc-block-cart .wc-block-cart-items:after{border-style:solid;border-width:0 0 1px;bottom:0;content:"";display:block;left:0;opacity:.3;pointer-events:none;position:absolute;right:0;top:0}.is-large.wc-block-cart .wc-block-cart-items th{padding:.25rem 16px .25rem 0;white-space:nowrap}.is-large.wc-block-cart .wc-block-cart-items td{position:relative;padding:16px 0 16px 16px;vertical-align:top}.is-large.wc-block-cart .wc-block-cart-items td:after{border-style:solid;border-width:1px 0 0;bottom:0;content:"";display:block;left:0;opacity:.3;pointer-events:none;position:absolute;right:0;top:0}.is-large.wc-block-cart .wc-block-cart-items th:last-child{padding-right:0}.is-large.wc-block-cart .wc-block-cart-items td:last-child{padding-right:16px}.is-large.wc-block-cart .wc-block-components-radio-control__input{left:0}.is-large.wc-block-cart .wc-block-cart__totals-title{border:0;border-radius:0;margin:0;vertical-align:baseline;color:inherit;font-family:inherit;font-size:inherit;font-style:inherit;font-weight:inherit;letter-spacing:inherit;line-height:inherit;text-decoration:inherit;text-transform:inherit;box-shadow:none;display:inline;background:0 0;font-size:.75em;display:block;font-weight:600;padding:.25rem 0;text-align:right;text-transform:uppercase}.is-large.wc-block-cart .wc-block-components-sidebar .wc-block-components-shipping-calculator,.is-large.wc-block-cart .wc-block-components-sidebar .wc-block-components-shipping-rates-control__package:not(.wc-block-components-panel){padding-left:16px;padding-right:16px}.is-large.wc-block-cart .wc-block-cart__payment-options{padding:16px}.wp-block-woocommerce-cart.is-loading{display:none}.wp-block-woocommerce-cart{margin-bottom:3em}.wc-block-checkout-error{padding:40px;text-align:center;width:100%}.wc-block-checkout-error .wc-block-checkout-error__image{max-width:150px;margin:0 auto 1em;display:block;color:inherit}.wc-block-checkout-error .wc-block-checkout-error__title{display:block;margin:0;font-weight:700}.wc-block-checkout-error .wc-block-checkout-error__description{display:block;margin:.25em 0 1em}.wc-block-checkout-empty{padding:40px;text-align:center;width:100%}.wc-block-checkout-empty .wc-block-checkout-empty__image{max-width:150px;margin:0 auto 1em;display:block;color:inherit}.wc-block-checkout-empty .wc-block-checkout-empty__title{display:block;margin:0;font-weight:700}.wc-block-checkout-empty .wc-block-checkout-empty__description{display:block;margin:.25em 0 1em}.wc-block-checkout__actions{display:flex;justify-content:space-between;align-items:center}.wc-block-checkout__actions .wc-block-components-checkout-place-order-button{width:50%;padding:1em;height:auto}.wc-block-checkout__actions .wc-block-components-checkout-place-order-button .wc-block-components-button__text{line-height:24px}.wc-block-checkout__actions .wc-block-components-checkout-place-order-button .wc-block-components-button__text>svg{fill:#fff;vertical-align:top}.is-mobile .wc-block-checkout__actions .wc-block-components-checkout-return-to-cart-button{display:none}.is-mobile .wc-block-checkout__actions .wc-block-components-checkout-place-order-button{width:100%}.is-large .wc-block-checkout__actions{position:relative;padding:1.5em 0}.is-large .wc-block-checkout__actions:after{border-style:solid;border-width:1px 0 0;bottom:0;content:"";display:block;left:0;opacity:.3;pointer-events:none;position:absolute;right:0;top:0}.wc-block-checkout__form{margin:0;max-width:100%}.is-medium .wc-block-checkout__main,.is-mobile .wc-block-checkout__main,.is-small .wc-block-checkout__main{order:1}.is-large .wc-block-checkout__billing-fields .wc-block-components-address-form,.is-large .wc-block-checkout__shipping-fields .wc-block-components-address-form,.is-medium .wc-block-checkout__billing-fields .wc-block-components-address-form,.is-medium .wc-block-checkout__shipping-fields .wc-block-components-address-form,.is-small .wc-block-checkout__billing-fields .wc-block-components-address-form,.is-small .wc-block-checkout__shipping-fields .wc-block-components-address-form{margin-left:-6px;margin-right:-6px}.is-large .wc-block-checkout__billing-fields .wc-block-components-address-form:after,.is-large .wc-block-checkout__shipping-fields .wc-block-components-address-form:after,.is-medium .wc-block-checkout__billing-fields .wc-block-components-address-form:after,.is-medium .wc-block-checkout__shipping-fields .wc-block-components-address-form:after,.is-small .wc-block-checkout__billing-fields .wc-block-components-address-form:after,.is-small .wc-block-checkout__shipping-fields .wc-block-components-address-form:after{content:"";clear:both;display:block}.is-large .wc-block-checkout__billing-fields .wc-block-components-address-form .wc-block-components-country-input,.is-large .wc-block-checkout__billing-fields .wc-block-components-address-form .wc-block-components-state-input,.is-large .wc-block-checkout__billing-fields .wc-block-components-address-form .wc-block-components-text-input,.is-large .wc-block-checkout__shipping-fields .wc-block-components-address-form .wc-block-components-country-input,.is-large .wc-block-checkout__shipping-fields .wc-block-components-address-form .wc-block-components-state-input,.is-large .wc-block-checkout__shipping-fields .wc-block-components-address-form .wc-block-components-text-input,.is-medium .wc-block-checkout__billing-fields .wc-block-components-address-form .wc-block-components-country-input,.is-medium .wc-block-checkout__billing-fields .wc-block-components-address-form .wc-block-components-state-input,.is-medium .wc-block-checkout__billing-fields .wc-block-components-address-form .wc-block-components-text-input,.is-medium .wc-block-checkout__shipping-fields .wc-block-components-address-form .wc-block-components-country-input,.is-medium .wc-block-checkout__shipping-fields .wc-block-components-address-form .wc-block-components-state-input,.is-medium .wc-block-checkout__shipping-fields .wc-block-components-address-form .wc-block-components-text-input,.is-small .wc-block-checkout__billing-fields .wc-block-components-address-form .wc-block-components-country-input,.is-small .wc-block-checkout__billing-fields .wc-block-components-address-form .wc-block-components-state-input,.is-small .wc-block-checkout__billing-fields .wc-block-components-address-form .wc-block-components-text-input,.is-small .wc-block-checkout__shipping-fields .wc-block-components-address-form .wc-block-components-country-input,.is-small .wc-block-checkout__shipping-fields .wc-block-components-address-form .wc-block-components-state-input,.is-small .wc-block-checkout__shipping-fields .wc-block-components-address-form .wc-block-components-text-input{float:left;margin-left:6px;margin-right:6px;position:relative;width:calc(50% - 12px)}.is-large .wc-block-checkout__billing-fields .wc-block-components-address-form .wc-block-components-country-input:first-of-type,.is-large .wc-block-checkout__billing-fields .wc-block-components-address-form .wc-block-components-country-input:nth-of-type(2),.is-large .wc-block-checkout__billing-fields .wc-block-components-address-form .wc-block-components-state-input:first-of-type,.is-large .wc-block-checkout__billing-fields .wc-block-components-address-form .wc-block-components-state-input:nth-of-type(2),.is-large .wc-block-checkout__billing-fields .wc-block-components-address-form .wc-block-components-text-input:first-of-type,.is-large .wc-block-checkout__billing-fields .wc-block-components-address-form .wc-block-components-text-input:nth-of-type(2),.is-large .wc-block-checkout__shipping-fields .wc-block-components-address-form .wc-block-components-country-input:first-of-type,.is-large .wc-block-checkout__shipping-fields .wc-block-components-address-form .wc-block-components-country-input:nth-of-type(2),.is-large .wc-block-checkout__shipping-fields .wc-block-components-address-form .wc-block-components-state-input:first-of-type,.is-large .wc-block-checkout__shipping-fields .wc-block-components-address-form .wc-block-components-state-input:nth-of-type(2),.is-large .wc-block-checkout__shipping-fields .wc-block-components-address-form .wc-block-components-text-input:first-of-type,.is-large .wc-block-checkout__shipping-fields .wc-block-components-address-form .wc-block-components-text-input:nth-of-type(2),.is-medium .wc-block-checkout__billing-fields .wc-block-components-address-form .wc-block-components-country-input:first-of-type,.is-medium .wc-block-checkout__billing-fields .wc-block-components-address-form .wc-block-components-country-input:nth-of-type(2),.is-medium .wc-block-checkout__billing-fields .wc-block-components-address-form .wc-block-components-state-input:first-of-type,.is-medium .wc-block-checkout__billing-fields .wc-block-components-address-form .wc-block-components-state-input:nth-of-type(2),.is-medium .wc-block-checkout__billing-fields .wc-block-components-address-form .wc-block-components-text-input:first-of-type,.is-medium .wc-block-checkout__billing-fields .wc-block-components-address-form .wc-block-components-text-input:nth-of-type(2),.is-medium .wc-block-checkout__shipping-fields .wc-block-components-address-form .wc-block-components-country-input:first-of-type,.is-medium .wc-block-checkout__shipping-fields .wc-block-components-address-form .wc-block-components-country-input:nth-of-type(2),.is-medium .wc-block-checkout__shipping-fields .wc-block-components-address-form .wc-block-components-state-input:first-of-type,.is-medium .wc-block-checkout__shipping-fields .wc-block-components-address-form .wc-block-components-state-input:nth-of-type(2),.is-medium .wc-block-checkout__shipping-fields .wc-block-components-address-form .wc-block-components-text-input:first-of-type,.is-medium .wc-block-checkout__shipping-fields .wc-block-components-address-form .wc-block-components-text-input:nth-of-type(2),.is-small .wc-block-checkout__billing-fields .wc-block-components-address-form .wc-block-components-country-input:first-of-type,.is-small .wc-block-checkout__billing-fields .wc-block-components-address-form .wc-block-components-country-input:nth-of-type(2),.is-small .wc-block-checkout__billing-fields .wc-block-components-address-form .wc-block-components-state-input:first-of-type,.is-small .wc-block-checkout__billing-fields .wc-block-components-address-form .wc-block-components-state-input:nth-of-type(2),.is-small .wc-block-checkout__billing-fields .wc-block-components-address-form .wc-block-components-text-input:first-of-type,.is-small .wc-block-checkout__billing-fields .wc-block-components-address-form .wc-block-components-text-input:nth-of-type(2),.is-small .wc-block-checkout__shipping-fields .wc-block-components-address-form .wc-block-components-country-input:first-of-type,.is-small .wc-block-checkout__shipping-fields .wc-block-components-address-form .wc-block-components-country-input:nth-of-type(2),.is-small .wc-block-checkout__shipping-fields .wc-block-components-address-form .wc-block-components-state-input:first-of-type,.is-small .wc-block-checkout__shipping-fields .wc-block-components-address-form .wc-block-components-state-input:nth-of-type(2),.is-small .wc-block-checkout__shipping-fields .wc-block-components-address-form .wc-block-components-text-input:first-of-type,.is-small .wc-block-checkout__shipping-fields .wc-block-components-address-form .wc-block-components-text-input:nth-of-type(2){margin-top:0}.is-large .wc-block-checkout__billing-fields .wc-block-components-address-form .wc-block-components-address-form__address_1,.is-large .wc-block-checkout__billing-fields .wc-block-components-address-form .wc-block-components-address-form__address_2,.is-large .wc-block-checkout__billing-fields .wc-block-components-address-form .wc-block-components-address-form__company,.is-large .wc-block-checkout__shipping-fields .wc-block-components-address-form .wc-block-components-address-form__address_1,.is-large .wc-block-checkout__shipping-fields .wc-block-components-address-form .wc-block-components-address-form__address_2,.is-large .wc-block-checkout__shipping-fields .wc-block-components-address-form .wc-block-components-address-form__company,.is-medium .wc-block-checkout__billing-fields .wc-block-components-address-form .wc-block-components-address-form__address_1,.is-medium .wc-block-checkout__billing-fields .wc-block-components-address-form .wc-block-components-address-form__address_2,.is-medium .wc-block-checkout__billing-fields .wc-block-components-address-form .wc-block-components-address-form__company,.is-medium .wc-block-checkout__shipping-fields .wc-block-components-address-form .wc-block-components-address-form__address_1,.is-medium .wc-block-checkout__shipping-fields .wc-block-components-address-form .wc-block-components-address-form__address_2,.is-medium .wc-block-checkout__shipping-fields .wc-block-components-address-form .wc-block-components-address-form__company,.is-small .wc-block-checkout__billing-fields .wc-block-components-address-form .wc-block-components-address-form__address_1,.is-small .wc-block-checkout__billing-fields .wc-block-components-address-form .wc-block-components-address-form__address_2,.is-small .wc-block-checkout__billing-fields .wc-block-components-address-form .wc-block-components-address-form__company,.is-small .wc-block-checkout__shipping-fields .wc-block-components-address-form .wc-block-components-address-form__address_1,.is-small .wc-block-checkout__shipping-fields .wc-block-components-address-form .wc-block-components-address-form__address_2,.is-small .wc-block-checkout__shipping-fields .wc-block-components-address-form .wc-block-components-address-form__company{width:calc(100% - 12px)}.is-large .wc-block-checkout__billing-fields .wc-block-components-address-form .wc-block-components-checkbox,.is-large .wc-block-checkout__shipping-fields .wc-block-components-address-form .wc-block-components-checkbox,.is-medium .wc-block-checkout__billing-fields .wc-block-components-address-form .wc-block-components-checkbox,.is-medium .wc-block-checkout__shipping-fields .wc-block-components-address-form .wc-block-components-checkbox,.is-small .wc-block-checkout__billing-fields .wc-block-components-address-form .wc-block-components-checkbox,.is-small .wc-block-checkout__shipping-fields .wc-block-components-address-form .wc-block-components-checkbox{clear:both}.components-placeholder.wc-block-checkout__no-shipping-placeholder{margin-bottom:16px}.components-placeholder.wc-block-checkout__no-shipping-placeholder *{pointer-events:all}.components-placeholder.wc-block-checkout__no-shipping-placeholder .components-placeholder__fieldset{display:block}.components-placeholder.wc-block-checkout__no-shipping-placeholder .components-placeholder__fieldset .components-button{background-color:#1e1e1e;color:#fff}.components-placeholder.wc-block-checkout__no-shipping-placeholder .components-placeholder__fieldset .wc-block-checkout__no-shipping-placeholder-description{display:block;margin:.25em 0 1em}.wc-block-checkout__shipping-option .wc-block-components-radio-control__option{position:relative;margin:0;padding:.75em 0 .75em 2.5em}.wc-block-checkout__shipping-option .wc-block-components-radio-control__option:after{border-style:solid;border-width:0 0 1px;bottom:0;content:"";display:block;left:0;opacity:.3;pointer-events:none;position:absolute;right:0;top:0}.wc-block-checkout__shipping-option .wc-block-components-shipping-rates-control__no-results-notice{margin:.75em 0}.wc-block-checkout__terms{margin:1.5em 0;text-align:justify}.wc-block-checkout__terms textarea{top:-5px;position:relative}.wc-block-checkout__terms.wc-block-checkout__terms--disabled{opacity:.6}.wc-block-checkout__sidebar .wc-block-components-product-name{display:block;color:inherit;flex-grow:1;flex-basis:0}.wc-block-checkout__sidebar .wc-block-components-totals-footer-item,.wc-block-checkout__sidebar .wc-block-components-totals-taxes{margin:0;padding:0}.is-medium .wc-block-checkout__sidebar,.is-mobile .wc-block-checkout__sidebar,.is-small .wc-block-checkout__sidebar{margin-bottom:24px;order:0}.wc-block-checkout__add-note{margin:1.5em 0}.is-medium .wc-block-checkout__add-note,.is-mobile .wc-block-checkout__add-note,.is-small .wc-block-checkout__add-note{position:relative;margin-bottom:1em;margin-top:1em;padding:1em 0}.is-medium .wc-block-checkout__add-note:after,.is-mobile .wc-block-checkout__add-note:after,.is-small .wc-block-checkout__add-note:after{border-style:solid;border-width:1px 0;bottom:0;content:"";display:block;left:0;opacity:.3;pointer-events:none;position:absolute;right:0;top:0}.wc-block-checkout__add-note .wc-block-components-textarea{margin-top:16px}.wc-block-checkout__order-notes.wc-block-components-checkout-step{padding-left:0}.wp-block-woocommerce-checkout{margin:0}.wp-block-woocommerce-checkout .with-scroll-to-top__scroll-point{top:-96px}.wp-block-woocommerce-checkout.is-loading{display:flex;flex-wrap:wrap;margin:0 auto 16px;position:relative}.wp-block-woocommerce-checkout.is-loading .wp-block-woocommerce-checkout-totals-block{width:35%;padding-left:2.2641509434%}.wp-block-woocommerce-checkout.is-loading .wp-block-woocommerce-checkout-fields-block{width:65%;padding-right:3.7735849057%}.wp-block-woocommerce-checkout.is-loading .wp-block-woocommerce-checkout-fields-block,.wp-block-woocommerce-checkout.is-loading .wp-block-woocommerce-checkout-totals-block{box-sizing:border-box;margin:0}.wp-block-woocommerce-checkout.is-loading .wp-block-woocommerce-checkout-fields-block>div,.wp-block-woocommerce-checkout.is-loading .wp-block-woocommerce-checkout-totals-block>div{-webkit-animation:loading-fade 1.2s ease-in-out infinite;animation:loading-fade 1.2s ease-in-out infinite;background-color:var(--global--color-primary,#e0e0e0)!important;color:var(--global--color-primary,#e0e0e0)!important;outline:0!important;border:0!important;box-shadow:none;pointer-events:none;max-width:100%;margin:0 0 1.5em;display:none}.wp-block-woocommerce-checkout.is-loading .wp-block-woocommerce-checkout-fields-block>div>*,.wp-block-woocommerce-checkout.is-loading .wp-block-woocommerce-checkout-totals-block>div>*{visibility:hidden}@media screen and (prefers-reduced-motion:reduce){.wp-block-woocommerce-checkout.is-loading .wp-block-woocommerce-checkout-fields-block>div,.wp-block-woocommerce-checkout.is-loading .wp-block-woocommerce-checkout-totals-block>div{-webkit-animation:none;animation:none}}.wp-block-woocommerce-checkout.is-loading .wp-block-woocommerce-checkout-fields-block .wp-block-woocommerce-checkout-contact-information-block,.wp-block-woocommerce-checkout.is-loading .wp-block-woocommerce-checkout-fields-block .wp-block-woocommerce-checkout-payment-block,.wp-block-woocommerce-checkout.is-loading .wp-block-woocommerce-checkout-totals-block .wp-block-woocommerce-checkout-contact-information-block,.wp-block-woocommerce-checkout.is-loading .wp-block-woocommerce-checkout-totals-block .wp-block-woocommerce-checkout-payment-block{min-height:10em;display:block}.wp-block-woocommerce-checkout.is-loading .wp-block-woocommerce-checkout-fields-block .wp-block-woocommerce-checkout-shipping-address-block,.wp-block-woocommerce-checkout.is-loading .wp-block-woocommerce-checkout-totals-block .wp-block-woocommerce-checkout-shipping-address-block{min-height:24em;display:block}.wp-block-woocommerce-checkout.is-loading .wp-block-woocommerce-checkout-fields-block .wp-block-woocommerce-checkout-actions-block,.wp-block-woocommerce-checkout.is-loading .wp-block-woocommerce-checkout-totals-block .wp-block-woocommerce-checkout-actions-block{width:50%;min-height:4em;margin-left:50%;display:block}.wp-block-woocommerce-checkout.is-loading .wp-block-woocommerce-checkout-fields-block .wp-block-woocommerce-checkout-order-summary-block,.wp-block-woocommerce-checkout.is-loading .wp-block-woocommerce-checkout-totals-block .wp-block-woocommerce-checkout-order-summary-block{min-height:47em;display:block}.wp-block-woocommerce-checkout.is-loading .wp-block-woocommerce-checkout-fields-block .wc-block-components-panel>h2,.wp-block-woocommerce-checkout.is-loading .wp-block-woocommerce-checkout-totals-block .wc-block-components-panel>h2{font-size:1em;border:0;border-radius:0;margin:0;padding:0;vertical-align:baseline;color:inherit;font-family:inherit;font-size:inherit;font-style:inherit;font-weight:inherit;letter-spacing:inherit;line-height:inherit;text-decoration:inherit;text-transform:inherit}.wp-block-woocommerce-checkout.is-loading .wp-block-woocommerce-checkout-fields-block .wc-block-components-panel>h2 .wc-block-components-panel__button,.wp-block-woocommerce-checkout.is-loading .wp-block-woocommerce-checkout-totals-block .wc-block-components-panel>h2 .wc-block-components-panel__button{font-weight:400}.wp-block-woocommerce-checkout.is-loading .wp-block-woocommerce-checkout-fields-block .wc-block-components-panel,.wp-block-woocommerce-checkout.is-loading .wp-block-woocommerce-checkout-fields-block .wc-block-components-totals-item,.wp-block-woocommerce-checkout.is-loading .wp-block-woocommerce-checkout-totals-block .wc-block-components-panel,.wp-block-woocommerce-checkout.is-loading .wp-block-woocommerce-checkout-totals-block .wc-block-components-totals-item{padding-left:16px;padding-right:16px}@media only screen and (max-width:700px){.wp-block-woocommerce-checkout.is-loading{flex-direction:column;margin:0 auto 16px}.wp-block-woocommerce-checkout.is-loading .wp-block-woocommerce-checkout-fields-block,.wp-block-woocommerce-checkout.is-loading .wp-block-woocommerce-checkout-totals-block{padding:0;width:100%}.wp-block-woocommerce-checkout.is-loading .wp-block-woocommerce-checkout-totals-block .wc-block-components-panel,.wp-block-woocommerce-checkout.is-loading .wp-block-woocommerce-checkout-totals-block .wc-block-components-totals-item{padding-left:0;padding-right:0}}.theme-twentytwenty .wp-block-woocommerce-checkout.is-loading .wp-block-woocommerce-checkout-totals-block .wc-block-components-panel>h2{font-size:1.25em;border:0;border-radius:0;margin:0;padding:0;vertical-align:baseline}.modal-open .wc-block-mini-cart__button{pointer-events:none}.wc-block-mini-cart__drawer{font-size:1rem}.wc-block-components-express-payment{margin:auto;position:relative}.wc-block-components-express-payment .wc-block-components-express-payment__event-buttons{list-style:none;display:flex;flex-direction:row;flex-wrap:wrap;width:100%;padding:0;margin:0;overflow:hidden;text-align:center}.wc-block-components-express-payment .wc-block-components-express-payment__event-buttons>li{margin:0}.wc-block-components-express-payment .wc-block-components-express-payment__event-buttons>li>img{width:100%;height:48px}.wc-block-components-express-payment--checkout{margin-top:5px}.wc-block-components-express-payment--checkout .wc-block-components-express-payment__title-container{display:flex;flex-direction:row;left:0;position:absolute;right:0;top:-5px;vertical-align:middle}.wc-block-components-express-payment--checkout .wc-block-components-express-payment__title-container:before{border-left:1px solid;border-top:1px solid;border-radius:5px 0 0;content:"";display:block;height:4px;margin-right:12px;opacity:.3;pointer-events:none;width:10px}.wc-block-components-express-payment--checkout .wc-block-components-express-payment__title-container:after{border-right:1px solid;border-top:1px solid;border-radius:0 5px 0 0;content:"";display:block;height:4px;margin-left:12px;opacity:.3;pointer-events:none;flex-grow:1}.wc-block-components-express-payment--checkout .wc-block-components-express-payment__title{flex-grow:0;transform:translateY(-50%)}.wc-block-components-express-payment--checkout .wc-block-components-express-payment__content{position:relative;padding:1.5em 23px}.wc-block-components-express-payment--checkout .wc-block-components-express-payment__content:after{border-style:solid;border-width:0 1px 1px;bottom:0;content:"";display:block;left:0;opacity:.3;pointer-events:none;position:absolute;right:0;top:0;border-radius:0 0 5px 5px}.wc-block-components-express-payment--checkout .wc-block-components-express-payment__content>p{margin-bottom:1em}.wc-block-components-express-payment--checkout .wc-block-components-express-payment__event-buttons>li{display:inline-block;width:50%}.wc-block-components-express-payment--checkout .wc-block-components-express-payment__event-buttons>li:nth-child(2n){padding-left:8px}.wc-block-components-express-payment--checkout .wc-block-components-express-payment__event-buttons>li:nth-child(odd){padding-right:8px}.wc-block-components-express-payment--cart .wc-block-components-express-payment__event-buttons>li{padding-bottom:16px;text-align:center;width:100%}.wc-block-components-express-payment--cart .wc-block-components-express-payment__event-buttons>li:last-child{padding-bottom:0}.wc-block-components-express-payment-continue-rule{display:flex;align-items:center;text-align:center;padding:0 24px;margin:24px 0}.wc-block-components-express-payment-continue-rule:before{margin-right:10px}.wc-block-components-express-payment-continue-rule:after{margin-left:10px}.wc-block-components-express-payment-continue-rule:after,.wc-block-components-express-payment-continue-rule:before{content:" ";flex:1;border-bottom:1px solid;opacity:.3}.wc-block-components-express-payment-continue-rule--cart{margin:16px 0;text-transform:uppercase}.theme-twentynineteen .wc-block-components-express-payment__title:before{display:none}.theme-twentytwenty .wc-block-components-express-payment .wc-block-components-express-payment__title{padding-left:12px;padding-right:12px}.components-placeholder.wc-block-checkout__no-payment-methods-placeholder{margin-bottom:16px}.components-placeholder.wc-block-checkout__no-payment-methods-placeholder *{pointer-events:all}.components-placeholder.wc-block-checkout__no-payment-methods-placeholder .components-placeholder__fieldset{display:block}.components-placeholder.wc-block-checkout__no-payment-methods-placeholder .components-placeholder__fieldset .components-button{background-color:#1e1e1e;color:#fff}.components-placeholder.wc-block-checkout__no-payment-methods-placeholder .components-placeholder__fieldset .wc-block-checkout__no-payment-methods-placeholder-description{display:block;margin:.25em 0 1em}.components-notice.wc-block-checkout__no-payment-methods-notice{margin-bottom:16px}.wc-block-card-elements{display:flex;width:100%}.wc-block-card-elements .wc-block-components-validation-error{position:static}.wc-block-gateway-container{position:relative;margin-bottom:1.5em;white-space:nowrap}.wc-block-gateway-container.wc-card-number-element{flex-basis:15em;flex-grow:1;min-width:min(15em,60%)}.wc-block-gateway-container.wc-card-expiry-element{flex-basis:7em;margin-left:12px;min-width:min(7em,calc(24% - 12px))}.wc-block-gateway-container.wc-card-cvc-element{flex-basis:7em;margin-left:12px;min-width:min(5em,calc(16% - 12px))}.wc-block-gateway-container .wc-block-gateway-input{font-size:1em;line-height:1.375;background-color:#fff;padding:.75em 0 .75em 16px;border-radius:4px;border:1px solid #50575e;width:100%;font-family:inherit;margin:0;box-sizing:border-box;height:3em;color:#2b2d2f;cursor:text}.wc-block-gateway-container .wc-block-gateway-input:focus,.wc-block-gateway-container:focus{background-color:#fff}.wc-block-gateway-container label{color:inherit;font-family:inherit;font-size:inherit;font-style:inherit;font-weight:inherit;letter-spacing:inherit;line-height:inherit;text-decoration:inherit;text-transform:inherit;font-size:1em;line-height:1.375;position:absolute;transform:translateY(.75em);left:0;top:0;transform-origin:top left;color:#757575;transition:transform .2s ease;margin:0 0 0 17px;overflow:hidden;text-overflow:ellipsis;max-width:calc(100% - 24px);cursor:text}@media screen and (prefers-reduced-motion:reduce){.wc-block-gateway-container label{transition:none}}.wc-block-gateway-container.wc-inline-card-element label{margin-left:calc(24px + 1.5em)}.wc-block-gateway-container.wc-inline-card-element .wc-block-gateway-input.focused.empty+label,.wc-block-gateway-container.wc-inline-card-element .wc-block-gateway-input:not(.empty)+label{margin-left:16px;transform:translateY(4px) scale(.75)}.wc-block-gateway-container.wc-inline-card-element+.wc-block-components-validation-error{position:static;margin-top:-24px}.wc-block-gateway-container .wc-block-gateway-input.focused.empty,.wc-block-gateway-container .wc-block-gateway-input:not(.empty){padding:1.5em 0 .25em 16px}.wc-block-gateway-container .wc-block-gateway-input.focused.empty+label,.wc-block-gateway-container .wc-block-gateway-input:not(.empty)+label{transform:translateY(4px) scale(.75)}.wc-block-gateway-container .wc-block-gateway-input.has-error{border-color:#cc1818}.wc-block-gateway-container .wc-block-gateway-input.has-error:focus{outline-color:#cc1818}.wc-block-gateway-container .wc-block-gateway-input.has-error+label{color:#cc1818}.is-large .wc-card-cvc-element .wc-block-components-validation-error>p,.is-large .wc-card-expiry-element .wc-block-components-validation-error>p,.is-medium .wc-card-cvc-element .wc-block-components-validation-error>p,.is-medium .wc-card-expiry-element .wc-block-components-validation-error>p{line-height:16px;padding-top:4px}.is-mobile .wc-card-cvc-element .wc-block-components-validation-error>p,.is-mobile .wc-card-expiry-element .wc-block-components-validation-error>p,.is-small .wc-card-cvc-element .wc-block-components-validation-error>p,.is-small .wc-card-expiry-element .wc-block-components-validation-error>p{min-height:28px}.wc-block-components-checkout-payment-methods *{pointer-events:all}.is-mobile .wc-block-card-elements,.is-small .wc-block-card-elements{flex-wrap:wrap}.is-mobile .wc-block-gateway-container.wc-card-number-element,.is-small .wc-block-gateway-container.wc-card-number-element{flex-basis:100%}.is-mobile .wc-block-gateway-container.wc-card-expiry-element,.is-small .wc-block-gateway-container.wc-card-expiry-element{flex-basis:calc(50% - 8px);margin-left:0;margin-right:8px}.is-mobile .wc-block-gateway-container.wc-card-cvc-element,.is-small .wc-block-gateway-container.wc-card-cvc-element{flex-basis:calc(50% - 8px);margin-left:8px}.wc-block-checkout__payment-method .wc-block-components-radio-control__option{padding-left:56px}.wc-block-checkout__payment-method .wc-block-components-radio-control__option:after{content:none}.wc-block-checkout__payment-method .wc-block-components-radio-control__option .wc-block-components-radio-control__input{left:16px}.wc-block-checkout__payment-method .wc-block-components-radio-control__option,.wc-block-checkout__payment-method .wc-block-components-radio-control__option:first-child,.wc-block-checkout__payment-method .wc-block-components-radio-control__option:last-child{margin:0;padding-bottom:1em;padding-top:1em}.wc-block-checkout__payment-method .wc-block-components-radio-control__option-checked{font-weight:700}.wc-block-checkout__payment-method .wc-block-components-radio-control-accordion-option,.wc-block-checkout__payment-method .wc-block-components-radio-control__option{position:relative}.wc-block-checkout__payment-method .wc-block-components-radio-control-accordion-option:after,.wc-block-checkout__payment-method .wc-block-components-radio-control__option:after{border-style:solid;border-width:1px 1px 0;bottom:0;content:"";display:block;left:0;opacity:.3;pointer-events:none;position:absolute;right:0;top:0}.wc-block-checkout__payment-method .wc-block-components-radio-control-accordion-option:last-child:after,.wc-block-checkout__payment-method .wc-block-components-radio-control__option:last-child:after{border-width:1px}.wc-block-checkout__payment-method .wc-block-components-radio-control-accordion-option .wc-block-components-radio-control__option:after{border-width:0}.wc-block-checkout__payment-method .wc-block-components-radio-control-accordion-option .wc-block-components-radio-control__label{display:flex;align-items:center;justify-content:flex-start}.wc-block-checkout__payment-method .wc-block-components-radio-control-accordion-option .wc-block-components-radio-control__label img{height:24px;max-height:24px;-o-object-fit:contain;object-fit:contain;-o-object-position:left;object-position:left}.wc-block-checkout__payment-method .wc-block-components-radio-control.disable-radio-control .wc-block-components-radio-control__option{padding-left:16px}.wc-block-checkout__payment-method .wc-block-components-radio-control.disable-radio-control .wc-block-components-radio-control__input{display:none}.wc-block-checkout__payment-method .wc-block-components-checkout-step__description-payments-aligned{padding-top:14px;height:28px}.wc-block-components-radio-control-accordion-content{padding:0 16px 1em}.wc-block-components-radio-control-accordion-content:empty{display:none}.wc-block-checkout__order-notes .wc-block-components-checkout-step__content{padding-bottom:0}.wc-block-components-panel.has-border{position:relative}.wc-block-components-panel.has-border:after{border-style:solid;border-width:1px 0;bottom:0;content:"";display:block;left:0;opacity:.3;pointer-events:none;position:absolute;right:0;top:0}.wc-block-components-panel.has-border+.wc-block-components-panel.has-border:after{border-top-width:0}.wc-block-components-panel.has-border.no-top-border{position:relative}.wc-block-components-panel.has-border.no-top-border:after{border-style:solid;bottom:0;content:"";display:block;left:0;opacity:.3;pointer-events:none;position:absolute;right:0;top:0;border-width:0 0 1px}.wc-block-components-panel__button{border:0;border-radius:0;vertical-align:baseline;height:auto;line-height:1;margin:.375em 0 0;padding:.375em 32px 0 0;position:relative;text-align:left;width:100%;word-break:break-word}.wc-block-components-panel__button[aria-expanded=true]{padding-bottom:.375em;margin-bottom:.375em}.wc-block-components-panel__button,.wc-block-components-panel__button:active,.wc-block-components-panel__button:focus,.wc-block-components-panel__button:hover{color:inherit;font-family:inherit;font-size:inherit;font-style:inherit;font-weight:inherit;letter-spacing:inherit;line-height:inherit;text-decoration:inherit;text-transform:inherit;background:0 0;box-shadow:none}.wc-block-components-panel__button>.wc-block-components-panel__button-icon{fill:currentColor;position:absolute;right:0;top:50%;transform:translateY(-50%);width:auto}.wc-block-components-panel__content{padding-bottom:1em}.wc-block-components-panel__content[hidden]{display:none}.theme-twentytwentyone.theme-twentytwentyone.theme-twentytwentyone .wc-block-components-panel__button{background-color:inherit;color:inherit}.theme-twentyseventeen .wc-block-components-panel__button,.theme-twentytwenty .wc-block-components-panel__button{background:none transparent;color:inherit}.theme-twentyseventeen .wc-block-components-panel__button.wc-block-components-panel__button:focus,.theme-twentyseventeen .wc-block-components-panel__button.wc-block-components-panel__button:hover,.theme-twentytwenty .wc-block-components-panel__button.wc-block-components-panel__button:focus,.theme-twentytwenty .wc-block-components-panel__button.wc-block-components-panel__button:hover{background:none transparent}.wc-block-components-totals-item{display:flex;flex-wrap:wrap;margin:.75em 0 0;width:100%}.wc-block-components-totals-item:first-child{margin-top:0}.wc-block-components-totals-item__label{flex-grow:1}.wc-block-components-totals-item__value{font-weight:700;white-space:nowrap}.wc-block-components-totals-item__description{font-size:.875em;width:100%}.wc-block-components-totals-item.wc-block-components-totals-taxes__grouped-rate{margin:4px 0}.wc-block-components-totals-item.wc-block-components-totals-taxes__grouped-rate:first-child{margin-top:0}.wc-block-components-totals-item.wc-block-components-totals-taxes__grouped-rate:last-child{margin-bottom:0}.wc-block-components-totals-wrapper{position:relative;padding:16px 0}.wc-block-components-totals-wrapper:after{border-style:solid;border-width:1px 0 0;bottom:0;content:"";display:block;left:0;opacity:.3;pointer-events:none;position:absolute;right:0;top:0}.wc-block-components-totals-wrapper.has-bottom-border:after{border-bottom-width:1px}.wc-block-components-totals-wrapper.slot-wrapper{padding:0}.wc-block-components-totals-wrapper.slot-wrapper>*>*{position:relative;padding:16px 0}.wc-block-components-totals-wrapper.slot-wrapper>*>:after{border-style:solid;border-width:0 0 1px;bottom:0;content:"";display:block;left:0;opacity:.3;pointer-events:none;position:absolute;right:0;top:0}.wc-block-components-totals-wrapper.slot-wrapper>*>:last-child:after{border-bottom-width:0}.wc-block-components-discounts-meta .wc-block-components-totals-wrapper:first-child{position:relative}.wc-block-components-discounts-meta .wc-block-components-totals-wrapper:first-child:after{border-style:solid;border-width:1px 0 0;bottom:0;content:"";display:block;left:0;opacity:.3;pointer-events:none;position:absolute;right:0;top:0}.wc-block-product-categories{margin-bottom:1em}.wc-block-product-categories.is-dropdown{display:flex}.wc-block-product-categories select{margin-right:.5em}.wc-block-product-categories-list--has-images{list-style:none outside}.wc-block-product-categories-list--has-images .wc-block-product-categories-list-item{margin:4px 0 4px 60px;list-style:none outside;clear:both}.wc-block-product-categories-list--has-images .wc-block-product-categories-list-item ul{margin:4px 0 0}.wc-block-product-categories-list--has-images .wc-block-product-categories-list-item__image{max-width:50px;display:inline-block;padding:0;margin:0 .5em 0 -60px;position:relative;vertical-align:middle;border:1px solid #eee}.wc-block-product-categories-list--has-images .wc-block-product-categories-list-item__image img{display:block;height:auto;margin:0;max-width:100%;padding:0}.wc-block-product-categories-list-item-count:before{content:" ("}.wc-block-product-categories-list-item-count:after{content:")"}.wp-block-woocommerce-product-categories.is-loading .wc-block-product-categories__placeholder{display:inline-block;height:1em;width:50%;min-width:200px;background:currentColor;opacity:.2}.wc-block-product-categories__button{display:flex;align-items:center;margin:0;padding:0 .5em;position:relative;overflow:hidden}.wc-block-product-categories__button svg{fill:currentColor;outline:none}.rtl .wc-block-product-categories__button svg{transform:rotate(180deg)}.wc-block-product-categories__button:active{color:currentColor}.wc-block-product-categories__button:disabled,.wc-block-product-categories__button[aria-disabled=true]{cursor:default;opacity:.3}.wc-block-product-categories__button:disabled:focus,.wc-block-product-categories__button[aria-disabled=true]:focus{box-shadow:none}.wc-block-featured-product{position:relative;background-color:#1e1e1e;background-size:cover;background-position:50%;width:100%;margin:0 0 1.5em}.wc-block-featured-product,.wc-block-featured-product .wc-block-featured-product__wrapper{display:flex;justify-content:center;align-items:center;flex-wrap:wrap;align-content:center}.wc-block-featured-product .wc-block-featured-product__wrapper{overflow:hidden;height:100%}.wc-block-featured-product.has-left-content{justify-content:flex-start}.wc-block-featured-product.has-left-content .wc-block-featured-product__description,.wc-block-featured-product.has-left-content .wc-block-featured-product__price,.wc-block-featured-product.has-left-content .wc-block-featured-product__title,.wc-block-featured-product.has-left-content .wc-block-featured-product__variation{margin-left:0;text-align:left}.wc-block-featured-product.has-right-content{justify-content:flex-end}.wc-block-featured-product.has-right-content .wc-block-featured-product__description,.wc-block-featured-product.has-right-content .wc-block-featured-product__price,.wc-block-featured-product.has-right-content .wc-block-featured-product__title,.wc-block-featured-product.has-right-content .wc-block-featured-product__variation{margin-right:0;text-align:right}.wc-block-featured-product .wc-block-featured-product__description,.wc-block-featured-product .wc-block-featured-product__price,.wc-block-featured-product .wc-block-featured-product__title,.wc-block-featured-product .wc-block-featured-product__variation{color:#fff;line-height:1.25;margin-bottom:0;text-align:center}.wc-block-featured-product .wc-block-featured-product__description a,.wc-block-featured-product .wc-block-featured-product__description a:active,.wc-block-featured-product .wc-block-featured-product__description a:focus,.wc-block-featured-product .wc-block-featured-product__description a:hover,.wc-block-featured-product .wc-block-featured-product__price a,.wc-block-featured-product .wc-block-featured-product__price a:active,.wc-block-featured-product .wc-block-featured-product__price a:focus,.wc-block-featured-product .wc-block-featured-product__price a:hover,.wc-block-featured-product .wc-block-featured-product__title a,.wc-block-featured-product .wc-block-featured-product__title a:active,.wc-block-featured-product .wc-block-featured-product__title a:focus,.wc-block-featured-product .wc-block-featured-product__title a:hover,.wc-block-featured-product .wc-block-featured-product__variation a,.wc-block-featured-product .wc-block-featured-product__variation a:active,.wc-block-featured-product .wc-block-featured-product__variation a:focus,.wc-block-featured-product .wc-block-featured-product__variation a:hover{color:#fff}.wc-block-featured-product .wc-block-featured-product__description,.wc-block-featured-product .wc-block-featured-product__link,.wc-block-featured-product .wc-block-featured-product__price,.wc-block-featured-product .wc-block-featured-product__title,.wc-block-featured-product .wc-block-featured-product__variation{width:100%;padding:16px 48px 0;z-index:1}.wc-block-featured-product .wc-block-featured-product__title,.wc-block-featured-product .wc-block-featured-product__variation{margin-top:0;border:0}.wc-block-featured-product .wc-block-featured-product__title:before,.wc-block-featured-product .wc-block-featured-product__variation:before{display:none}.wc-block-featured-product .wc-block-featured-product__variation{font-style:italic;padding-top:0}.wc-block-featured-product .wc-block-featured-product__description p{margin:0;line-height:1.5em}.wc-block-featured-product .wp-block-button.aligncenter{text-align:center}.wc-block-featured-product.has-background-dim:before{content:"";position:absolute;top:0;left:0;bottom:0;right:0;background-color:inherit;opacity:.5;z-index:1}.wc-block-featured-product.has-background-dim.has-background-dim-10:before{opacity:.1}.wc-block-featured-product.has-background-dim.has-background-dim-20:before{opacity:.2}.wc-block-featured-product.has-background-dim.has-background-dim-30:before{opacity:.3}.wc-block-featured-product.has-background-dim.has-background-dim-40:before{opacity:.4}.wc-block-featured-product.has-background-dim.has-background-dim-50:before{opacity:.5}.wc-block-featured-product.has-background-dim.has-background-dim-60:before{opacity:.6}.wc-block-featured-product.has-background-dim.has-background-dim-70:before{opacity:.7}.wc-block-featured-product.has-background-dim.has-background-dim-80:before{opacity:.8}.wc-block-featured-product.has-background-dim.has-background-dim-90:before{opacity:.9}.wc-block-featured-product.has-background-dim.has-background-dim-100:before{opacity:1}.wc-block-featured-product.alignleft,.wc-block-featured-product.alignright{max-width:290px;width:100%}.wc-block-featured-product:after{display:block;content:"";font-size:0;min-height:inherit}@supports((position:-webkit-sticky) or (position:sticky)){.wc-block-featured-product:after{content:none}}.wc-block-featured-product.aligncenter,.wc-block-featured-product.alignleft,.wc-block-featured-product.alignright,.wc-block-product-search .wc-block-product-search__fields{display:flex}.wc-block-product-search .wc-block-product-search__field{padding:6px 8px;line-height:1.8;flex-grow:1}.wc-block-product-search .wc-block-product-search__button{display:flex;align-items:center;margin:0 0 0 6px;cursor:pointer;padding:0 .5em;position:relative;overflow:hidden}.wc-block-product-search .wc-block-product-search__button svg{fill:currentColor;outline:none}.rtl .wc-block-product-search .wc-block-product-search__button svg{transform:rotate(180deg)}.wc-block-product-search .wc-block-product-search__button:active{color:currentColor}.wc-block-product-search .wc-block-product-search__button:disabled,.wc-block-product-search .wc-block-product-search__button[aria-disabled=true]{cursor:default;opacity:.3}.wc-block-product-search .wc-block-product-search__button:disabled:focus,.wc-block-product-search .wc-block-product-search__button[aria-disabled=true]:focus{box-shadow:none}.wc-block-featured-category{position:relative;background-color:#1e1e1e;background-size:cover;background-position:50%;width:100%;margin:0 0 1.5em;display:flex;justify-content:center;align-items:center;flex-wrap:wrap;align-content:center}.wc-block-featured-category .wc-block-featured-category__wrapper{overflow:hidden;height:100%;display:flex;justify-content:center;align-items:center;flex-wrap:wrap;align-content:center}.wc-block-featured-category.has-left-content{justify-content:flex-start}.wc-block-featured-category.has-left-content .wc-block-featured-category__description,.wc-block-featured-category.has-left-content .wc-block-featured-category__price,.wc-block-featured-category.has-left-content .wc-block-featured-category__title{margin-left:0;text-align:left}.wc-block-featured-category.has-right-content{justify-content:flex-end}.wc-block-featured-category.has-right-content .wc-block-featured-category__description,.wc-block-featured-category.has-right-content .wc-block-featured-category__price,.wc-block-featured-category.has-right-content .wc-block-featured-category__title{margin-right:0;text-align:right}.wc-block-featured-category .wc-block-featured-category__description,.wc-block-featured-category .wc-block-featured-category__price,.wc-block-featured-category .wc-block-featured-category__title{color:#fff;line-height:1.25;margin-bottom:0;text-align:center}.wc-block-featured-category .wc-block-featured-category__description a,.wc-block-featured-category .wc-block-featured-category__description a:active,.wc-block-featured-category .wc-block-featured-category__description a:focus,.wc-block-featured-category .wc-block-featured-category__description a:hover,.wc-block-featured-category .wc-block-featured-category__price a,.wc-block-featured-category .wc-block-featured-category__price a:active,.wc-block-featured-category .wc-block-featured-category__price a:focus,.wc-block-featured-category .wc-block-featured-category__price a:hover,.wc-block-featured-category .wc-block-featured-category__title a,.wc-block-featured-category .wc-block-featured-category__title a:active,.wc-block-featured-category .wc-block-featured-category__title a:focus,.wc-block-featured-category .wc-block-featured-category__title a:hover{color:#fff}.wc-block-featured-category .wc-block-featured-category__description,.wc-block-featured-category .wc-block-featured-category__link,.wc-block-featured-category .wc-block-featured-category__price,.wc-block-featured-category .wc-block-featured-category__title{width:100%;padding:0 48px 16px;z-index:1}.wc-block-featured-category .wc-block-featured-category__title{margin-top:0}.wc-block-featured-category .wc-block-featured-category__title:before{display:none}.wc-block-featured-category .wc-block-featured-category__description p{margin:0}.wc-block-featured-category .wp-block-button.aligncenter{text-align:center}.wc-block-featured-category.has-background-dim:before{content:"";position:absolute;top:0;left:0;bottom:0;right:0;background-color:inherit;opacity:.5;z-index:1}.wc-block-featured-category.has-background-dim.has-background-dim-10:before{opacity:.1}.wc-block-featured-category.has-background-dim.has-background-dim-20:before{opacity:.2}.wc-block-featured-category.has-background-dim.has-background-dim-30:before{opacity:.3}.wc-block-featured-category.has-background-dim.has-background-dim-40:before{opacity:.4}.wc-block-featured-category.has-background-dim.has-background-dim-50:before{opacity:.5}.wc-block-featured-category.has-background-dim.has-background-dim-60:before{opacity:.6}.wc-block-featured-category.has-background-dim.has-background-dim-70:before{opacity:.7}.wc-block-featured-category.has-background-dim.has-background-dim-80:before{opacity:.8}.wc-block-featured-category.has-background-dim.has-background-dim-90:before{opacity:.9}.wc-block-featured-category.has-background-dim.has-background-dim-100:before{opacity:1}.wc-block-featured-category.alignleft,.wc-block-featured-category.alignright{max-width:290px;width:100%}.wc-block-featured-category:after{display:block;content:"";font-size:0;min-height:inherit}@supports((position:-webkit-sticky) or (position:sticky)){.wc-block-featured-category:after{content:none}}.wc-block-featured-category.aligncenter,.wc-block-featured-category.alignleft,.wc-block-featured-category.alignright{display:flex}.wc-block-attribute-filter{margin-bottom:24px}.wc-block-attribute-filter.style-dropdown{display:flex;gap:16px}.wc-block-attribute-filter .wc-block-attribute-filter-list{margin:0;width:100%}.wc-block-attribute-filter .wc-block-attribute-filter-list li{text-decoration:underline}.wc-block-attribute-filter .wc-block-attribute-filter-list li label{cursor:pointer}.wc-block-attribute-filter .wc-block-attribute-filter-list li input{cursor:pointer;display:inline-block}.wc-block-attribute-filter .wc-block-attribute-filter-dropdown{flex-grow:1;max-width:unset;width:0}.wc-block-attribute-filter .is-single .wc-block-attribute-filter-list-count,.wc-block-attribute-filter .wc-block-dropdown-selector .wc-block-dropdown-selector__list .wc-block-attribute-filter-list-count{opacity:.6}.wc-block-attribute-filter .wc-block-components-dropdown-selector__input-wrapper{height:100%}.wc-block-stock-filter{margin-bottom:24px}.wc-block-stock-filter .wc-block-stock-filter-list{margin:0}.wc-block-stock-filter .wc-block-stock-filter-list li{text-decoration:underline}.wc-block-stock-filter .wc-block-stock-filter-list li label{cursor:pointer}.wc-block-stock-filter .wc-block-stock-filter-list li input{cursor:pointer;display:inline-block}.wc-block-stock-filter .is-single,.wc-block-stock-filter .wc-block-dropdown-selector .wc-block-dropdown-selector__list{opacity:.6}.wc-block-stock-filter .wc-block-stock-filter__button{margin-top:8px}@-webkit-keyframes loading-fade{0%{opacity:.7}50%{opacity:1}to{opacity:.7}}@keyframes loading-fade{0%{opacity:.7}50%{opacity:1}to{opacity:.7}}.wc-block-active-filters{margin-bottom:24px;overflow:hidden}.wc-block-active-filters .wc-block-active-filters__clear-all{font-size:1em;float:right;border:none;padding:0;text-decoration:underline;cursor:pointer}.wc-block-active-filters .wc-block-active-filters__clear-all,.wc-block-active-filters .wc-block-active-filters__clear-all:active,.wc-block-active-filters .wc-block-active-filters__clear-all:focus,.wc-block-active-filters .wc-block-active-filters__clear-all:hover{background:0 0;color:inherit}.wc-block-active-filters .wc-block-active-filters__list{margin:0 0 4px;padding:0;list-style:none outside;clear:both}.wc-block-active-filters .wc-block-active-filters__list li{margin:0;padding:0;list-style:none outside;clear:both}.wc-block-active-filters .wc-block-active-filters__list li ul{margin:0;padding:0;list-style:none outside}.wc-block-active-filters .wc-block-active-filters__list li:first-child .wc-block-active-filters__list-item-type{margin:0}.wc-block-active-filters .wc-block-active-filters__list-item-type{font-size:.75em;text-transform:uppercase;letter-spacing:.1em;margin:16px 0 0;display:block}.wc-block-active-filters .wc-block-active-filters__list-item-operator{font-weight:400;font-style:italic}.wc-block-active-filters .wc-block-active-filters__list-item-name{font-weight:700;display:block;position:relative;padding:0 16px 0 0}.wc-block-active-filters .wc-block-active-filters__list-item-remove{background:0 0;border:0;-webkit-appearance:none;-moz-appearance:none;appearance:none;height:16px;width:16px;padding:0;position:absolute;right:0;top:50%;margin:-8px 0 0;color:currentColor}.wc-block-active-filters .wc-block-active-filters__list--chips li,.wc-block-active-filters .wc-block-active-filters__list--chips ul{display:inline}.wc-block-active-filters .wc-block-active-filters__list--chips .wc-block-active-filters__list-item-type{display:none}.wc-block-active-filters .wc-block-active-filters__list--chips .wc-block-components-chip{font-size:.875em;margin-top:.1875em;margin-bottom:.1875em} #widgets-editor .advgb-child-select,#widgets-editor .advgb-child-toggle,#editor .advgb-child-select,#editor .advgb-child-toggle{margin-left:47px}#widgets-editor .advgb-child-select,#editor .advgb-child-select{max-width:200px}#widgets-editor .advgb-custom-styles-wrapper,#editor .advgb-custom-styles-wrapper{padding-top:16px;border-top:1px solid #e0e0e0}#widgets-editor .advgb-custom-styles-wrapper .components-flex,#widgets-editor .advgb-custom-styles-wrapper .components-base-control__help,#editor .advgb-custom-styles-wrapper .components-flex,#editor .advgb-custom-styles-wrapper .components-base-control__help{padding:0 16px}#widgets-editor .advgb-tab-body-wrapper .block-editor-inner-blocks .block-list-appender,#editor .advgb-tab-body-wrapper .block-editor-inner-blocks .block-list-appender{display:none !important}body:not(.advgb-editor-width-default) #editor div.block-editor-writing-flow,body:not(.advgb-editor-width-default) #editor .edit-post-visual-editor__post-title-wrapper .editor-post-title{max-width:100%;width:100%;margin:0}body:not(.advgb-editor-width-default) #editor .edit-post-visual-editor__post-title-wrapper .editor-post-title{margin-bottom:20px !important}body.advgb-editor-width-large:not(.advgb-editor-width-default) #editor .edit-post-visual-editor__post-title-wrapper>.wp-block,body.advgb-editor-width-large:not(.advgb-editor-width-default) #editor .block-editor-writing-flow>.block-editor-block-list__layout>.wp-block{max-width:75%;width:75%;margin-left:auto;margin-right:auto}body.advgb-editor-width-full:not(.advgb-editor-width-default) #editor .edit-post-visual-editor__post-title-wrapper>.wp-block,body.advgb-editor-width-full:not(.advgb-editor-width-default) #editor .block-editor-writing-flow>.block-editor-block-list__layout>.wp-block{max-width:95%;width:95%;margin-left:auto;margin-right:auto}.advgb-editor-col-guide-disable .advgb-columns>.block-editor-inner-blocks>.block-editor-block-list__layout>.wp-block:not(.is-selected)>.advgb-column{border-style:none;border-color:transparent}.advgb-editor-col-guide-enable .advgb-columns>.block-editor-inner-blocks>.block-editor-block-list__layout>.wp-block:not(.is-selected)>.advgb-column{border:1px dashed #999}.advgb-editor-sidebar-content .advgb-editor-sidebar-note{font-size:13px;font-style:italic;margin:10px}.customize-control-sidebar_block_editor .block-editor-writing-flow .advgb-lores-form-wrapper,.customize-control-sidebar_block_editor .block-editor-writing-flow .advgb-search-bar-inner{width:100% !important} .alm-btn-wrap{display:block;text-align:center;padding:10px 0;margin:0 0 15px;position:relative}.alm-btn-wrap:after{display:table;clear:both;height:0;content:''}.alm-btn-wrap .alm-load-more-btn{font-size:15px;font-weight:500;width:auto;height:43px;line-height:1;background:#ed7070;-webkit-box-shadow:0 1px 1px rgba(0,0,0,.04);box-shadow:0 1px 1px rgba(0,0,0,.04);color:#fff;border:none;border-radius:4px;margin:0;padding:0 20px;display:inline-block;position:relative;-webkit-transition:all .3s ease;transition:all .3s ease;text-align:center;text-decoration:none;-webkit-appearance:none;-moz-appearance:none;appearance:none;-webkit-user-select:none;-moz-user-select:none;-ms-user-select:none;user-select:none;cursor:pointer}.alm-btn-wrap .alm-load-more-btn.loading,.alm-btn-wrap .alm-load-more-btn:hover{background-color:#e06161;-webkit-box-shadow:0 1px 3px rgba(0,0,0,.09);box-shadow:0 1px 3px rgba(0,0,0,.09);color:#fff;text-decoration:none}.alm-btn-wrap .alm-load-more-btn:active{-webkit-box-shadow:none;box-shadow:none;text-decoration:none}.alm-btn-wrap .alm-load-more-btn.loading{cursor:wait;outline:0;padding-left:44px}.alm-btn-wrap .alm-load-more-btn.done{cursor:default;opacity:.15;background-color:#ed7070;outline:0!important;-webkit-box-shadow:none!important;box-shadow:none!important}.alm-btn-wrap .alm-load-more-btn.done:before,.alm-btn-wrap .alm-load-more-btn:before{background:0 0;width:0}.alm-btn-wrap .alm-load-more-btn.loading:before{background:#fff url(//hometheaterreview.com/wp-content/plugins/ajax-load-more/core/dist/css/../../img/ajax-loader.gif) no-repeat center center;width:30px;height:31px;margin:6px;border-radius:3px;display:inline-block;z-index:0;content:'';position:absolute;left:0;top:0;overflow:hidden;-webkit-transition:width .5s ease-in-out;transition:width .5s ease-in-out}.alm-btn-wrap .alm-elementor-link{display:block;font-size:13px;margin:0 0 15px}@media screen and (min-width:768px){.alm-btn-wrap .alm-elementor-link{position:absolute;left:0;top:50%;-webkit-transform:translateY(-50%);-ms-transform:translateY(-50%);transform:translateY(-50%);margin:0}}.ajax-load-more-wrap.white .alm-load-more-btn{background-color:#fff;color:#787878;border:1px solid #e0e0e0;overflow:hidden;-webkit-transition:none;transition:none;outline:0}.ajax-load-more-wrap.white .alm-load-more-btn.loading,.ajax-load-more-wrap.white .alm-load-more-btn:focus,.ajax-load-more-wrap.white .alm-load-more-btn:hover{background-color:#fff;color:#333;border-color:#aaa}.ajax-load-more-wrap.white .alm-load-more-btn.done{background-color:#fff;color:#444;border-color:#ccc}.ajax-load-more-wrap.white .alm-load-more-btn.loading{color:rgba(255,255,255,0)!important;outline:0!important;background-color:transparent;border-color:transparent!important;-webkit-box-shadow:none!important;box-shadow:none!important;padding-left:20px}.ajax-load-more-wrap.white .alm-load-more-btn.loading:before{margin:0;left:0;top:0;width:100%;height:100%;background-color:transparent;background-image:url(//hometheaterreview.com/wp-content/plugins/ajax-load-more/core/dist/css/../../img/ajax-loader-lg.gif);background-size:25px 25px;background-position:center center}.ajax-load-more-wrap.light-grey .alm-load-more-btn{background-color:#efefef;color:#787878;border:1px solid #e0e0e0;overflow:hidden;-webkit-transition:all 75ms ease;transition:all 75ms ease;outline:0}.ajax-load-more-wrap.light-grey .alm-load-more-btn.done,.ajax-load-more-wrap.light-grey .alm-load-more-btn.loading,.ajax-load-more-wrap.light-grey .alm-load-more-btn:focus,.ajax-load-more-wrap.light-grey .alm-load-more-btn:hover{background-color:#f1f1f1;color:#222;border-color:#aaa}.ajax-load-more-wrap.light-grey .alm-load-more-btn.loading{color:rgba(255,255,255,0)!important;outline:0!important;background-color:transparent;border-color:transparent!important;-webkit-box-shadow:none!important;box-shadow:none!important;padding-left:20px}.ajax-load-more-wrap.light-grey .alm-load-more-btn.loading:before{margin:0;left:0;top:0;width:100%;height:100%;background-color:transparent;background-image:url(//hometheaterreview.com/wp-content/plugins/ajax-load-more/core/dist/css/../../img/ajax-loader-lg.gif);background-size:25px 25px;background-position:center center}.ajax-load-more-wrap.blue .alm-load-more-btn{background-color:#1b91ca}.ajax-load-more-wrap.blue .alm-load-more-btn.done,.ajax-load-more-wrap.blue .alm-load-more-btn.loading,.ajax-load-more-wrap.blue .alm-load-more-btn:hover{background-color:#1b84b7}.ajax-load-more-wrap.green .alm-load-more-btn{background-color:#80ca7a}.ajax-load-more-wrap.green .alm-load-more-btn.done,.ajax-load-more-wrap.green .alm-load-more-btn.loading,.ajax-load-more-wrap.green .alm-load-more-btn:hover{background-color:#81c17b}.ajax-load-more-wrap.purple .alm-load-more-btn{background-color:#b97eca}.ajax-load-more-wrap.purple .alm-load-more-btn.done,.ajax-load-more-wrap.purple .alm-load-more-btn.loading,.ajax-load-more-wrap.purple .alm-load-more-btn:hover{background-color:#a477b1}.ajax-load-more-wrap.grey .alm-load-more-btn{background-color:#a09e9e}.ajax-load-more-wrap.grey .alm-load-more-btn.done,.ajax-load-more-wrap.grey .alm-load-more-btn.loading,.ajax-load-more-wrap.grey .alm-load-more-btn:hover{background-color:#888}.ajax-load-more-wrap.infinite>.alm-btn-wrap .alm-load-more-btn{width:100%;background-color:transparent!important;background-position:center center;background-repeat:no-repeat;background-image:url(//hometheaterreview.com/wp-content/plugins/ajax-load-more/core/dist/css/../../img/spinner.gif);border:none!important;opacity:0;-webkit-transition:opacity .2s ease;transition:opacity .2s ease;-webkit-box-shadow:none!important;box-shadow:none!important;overflow:hidden;text-indent:-9999px;cursor:default!important;outline:0!important}.ajax-load-more-wrap.infinite>.alm-btn-wrap .alm-load-more-btn:before{display:none!important}.ajax-load-more-wrap.infinite>.alm-btn-wrap .alm-load-more-btn:active,.ajax-load-more-wrap.infinite>.alm-btn-wrap .alm-load-more-btn:focus{outline:0}.ajax-load-more-wrap.infinite>.alm-btn-wrap .alm-load-more-btn.done{opacity:0}.ajax-load-more-wrap.infinite>.alm-btn-wrap .alm-load-more-btn.loading{opacity:1}.ajax-load-more-wrap.infinite.skype>.alm-btn-wrap .alm-load-more-btn{background-image:url(//hometheaterreview.com/wp-content/plugins/ajax-load-more/core/dist/css/../../img/spinner-skype.gif)}.ajax-load-more-wrap.infinite.ring>.alm-btn-wrap .alm-load-more-btn{background-image:url(//hometheaterreview.com/wp-content/plugins/ajax-load-more/core/dist/css/../../img/spinner-ring.gif)}.ajax-load-more-wrap.infinite.fading-blocks>.alm-btn-wrap .alm-load-more-btn{background-image:url(//hometheaterreview.com/wp-content/plugins/ajax-load-more/core/dist/css/../../img/loader-fading-blocks.gif)}.ajax-load-more-wrap.infinite.fading-circles>.alm-btn-wrap .alm-load-more-btn{background-image:url(//hometheaterreview.com/wp-content/plugins/ajax-load-more/core/dist/css/../../img/loader-fading-circles.gif)}.ajax-load-more-wrap.infinite.chasing-arrows>.alm-btn-wrap .alm-load-more-btn{background-image:url(//hometheaterreview.com/wp-content/plugins/ajax-load-more/core/dist/css/../../img/spinner-chasing-arrows.gif)}.ajax-load-more-wrap.alm-horizontal .alm-btn-wrap{display:-webkit-box;display:-ms-flexbox;display:flex;-webkit-box-align:center;-ms-flex-align:center;align-items:center;padding:0;margin:0}.ajax-load-more-wrap.alm-horizontal .alm-btn-wrap button{margin:0}.ajax-load-more-wrap.alm-horizontal .alm-btn-wrap button.done{display:none}.alm-btn-wrap--prev{display:-webkit-box;display:-ms-flexbox;display:flex;width:100%;-webkit-box-pack:center;-ms-flex-pack:center;justify-content:center;clear:both;padding:0;margin:0}.alm-btn-wrap--prev:after{display:table;clear:both;height:0;content:''}.alm-btn-wrap--prev a.alm-load-more-btn--prev{line-height:1;font-size:14px;font-weight:500;padding:5px;display:inline-block;position:relative;margin:0 0 15px;text-decoration:none}.alm-btn-wrap--prev a.alm-load-more-btn--prev:focus,.alm-btn-wrap--prev a.alm-load-more-btn--prev:hover{text-decoration:underline}.alm-btn-wrap--prev a.alm-load-more-btn--prev.loading,.alm-btn-wrap--prev a.alm-load-more-btn--prev.loading:focus{cursor:wait;text-decoration:none}.alm-btn-wrap--prev a.alm-load-more-btn--prev.loading:before,.alm-btn-wrap--prev a.alm-load-more-btn--prev.loading:focus:before{content:'';display:block;position:absolute;left:-18px;top:50%;-webkit-transform:translateY(-50%);-ms-transform:translateY(-50%);transform:translateY(-50%);width:16px;height:16px;background:url(//hometheaterreview.com/wp-content/plugins/ajax-load-more/core/dist/css/../../img/ajax-loader-lg.gif) no-repeat left center;background-size:16px 16px}.alm-btn-wrap--prev a.alm-load-more-btn--prev.skype.loading:before{background-image:url(//hometheaterreview.com/wp-content/plugins/ajax-load-more/core/dist/css/../../img/spinner-skype.gif)}.alm-btn-wrap--prev a.alm-load-more-btn--prev.ring.loading:before{background-image:url(//hometheaterreview.com/wp-content/plugins/ajax-load-more/core/dist/css/../../img/spinner-ring.gif)}.alm-btn-wrap--prev a.alm-load-more-btn--prev.fading-blocks.loading:before{background-image:url(//hometheaterreview.com/wp-content/plugins/ajax-load-more/core/dist/css/../../img/spinner-fading-blocks.gif)}.alm-btn-wrap--prev a.alm-load-more-btn--prev.circles.loading:before{background-image:url(//hometheaterreview.com/wp-content/plugins/ajax-load-more/core/dist/css/../../img/spinner-circles.gif)}.alm-btn-wrap--prev a.alm-load-more-btn--prev.chasing-arrows.loading:before{background-image:url(//hometheaterreview.com/wp-content/plugins/ajax-load-more/core/dist/css/../../img/spinner-chasing-arrows.gif)}.alm-btn-wrap--prev a.alm-load-more-btn--prev button:not([disabled]),.alm-btn-wrap--prev a.alm-load-more-btn--prev:not(.disabled){cursor:pointer}.alm-btn-wrap--prev a.alm-load-more-btn--prev.done{display:none!important}.alm-listing .alm-reveal{outline:0}.alm-listing .alm-reveal:after{display:table;clear:both;height:0;content:''}.alm-listing{margin:0;padding:0}.alm-listing .alm-paging-content>li,.alm-listing .alm-reveal>li,.alm-listing>li{position:relative}.alm-listing .alm-paging-content>li.alm-item,.alm-listing .alm-reveal>li.alm-item,.alm-listing>li.alm-item{background:0 0;margin:0 0 30px;padding:0 0 0 80px;position:relative;list-style:none}@media screen and (min-width:480px){.alm-listing .alm-paging-content>li.alm-item,.alm-listing .alm-reveal>li.alm-item,.alm-listing>li.alm-item{padding:0 0 0 100px}}@media screen and (min-width:768px){.alm-listing .alm-paging-content>li.alm-item,.alm-listing .alm-reveal>li.alm-item,.alm-listing>li.alm-item{padding:0 0 0 135px}}@media screen and (min-width:1024px){.alm-listing .alm-paging-content>li.alm-item,.alm-listing .alm-reveal>li.alm-item,.alm-listing>li.alm-item{padding:0 0 0 160px}}.alm-listing .alm-paging-content>li.alm-item h3,.alm-listing .alm-reveal>li.alm-item h3,.alm-listing>li.alm-item h3{margin:0}.alm-listing .alm-paging-content>li.alm-item p,.alm-listing .alm-reveal>li.alm-item p,.alm-listing>li.alm-item p{margin:10px 0 0}.alm-listing .alm-paging-content>li.alm-item p.entry-meta,.alm-listing .alm-reveal>li.alm-item p.entry-meta,.alm-listing>li.alm-item p.entry-meta{opacity:.75}.alm-listing .alm-paging-content>li.alm-item img,.alm-listing .alm-reveal>li.alm-item img,.alm-listing>li.alm-item img{position:absolute;left:0;top:0;border-radius:2px;max-width:65px}@media screen and (min-width:480px){.alm-listing .alm-paging-content>li.alm-item img,.alm-listing .alm-reveal>li.alm-item img,.alm-listing>li.alm-item img{max-width:85px}}@media screen and (min-width:768px){.alm-listing .alm-paging-content>li.alm-item img,.alm-listing .alm-reveal>li.alm-item img,.alm-listing>li.alm-item img{max-width:115px}}@media screen and (min-width:1024px){.alm-listing .alm-paging-content>li.alm-item img,.alm-listing .alm-reveal>li.alm-item img,.alm-listing>li.alm-item img{max-width:140px}}.alm-listing .alm-paging-content>li.no-img,.alm-listing .alm-reveal>li.no-img,.alm-listing>li.no-img{padding:0}.alm-listing.products li.product{padding-left:inherit}.alm-listing.products li.product img{position:static;border-radius:inherit}.alm-listing.stylefree .alm-paging-content>li,.alm-listing.stylefree .alm-reveal>li,.alm-listing.stylefree>li{padding:inherit;margin:inherit}.alm-listing.stylefree .alm-paging-content>li img,.alm-listing.stylefree .alm-reveal>li img,.alm-listing.stylefree>li img{padding:inherit;margin:inherit;position:static;border-radius:inherit}.alm-listing.rtl .alm-paging-content>li,.alm-listing.rtl .alm-reveal>li{padding:0 170px 0 0;text-align:right}.alm-listing.rtl .alm-paging-content>li img,.alm-listing.rtl .alm-reveal>li img{left:auto;right:0}.alm-listing.rtl.products li.product{padding-right:inherit}.alm-masonry{display:block;overflow:hidden;clear:both}.alm-placeholder{opacity:0;-webkit-transition:opacity .2s ease;transition:opacity .2s ease;display:none}.ajax-load-more-wrap.alm-horizontal{display:-webkit-box;display:-ms-flexbox;display:flex;-ms-flex-wrap:nowrap;flex-wrap:nowrap;width:100%}.ajax-load-more-wrap.alm-horizontal .alm-listing,.ajax-load-more-wrap.alm-horizontal .alm-listing .alm-reveal{display:-webkit-box;display:-ms-flexbox;display:flex;-ms-flex-wrap:nowrap;flex-wrap:nowrap;-webkit-box-orient:horizontal;-webkit-box-direction:normal;-ms-flex-direction:row;flex-direction:row}.ajax-load-more-wrap.alm-horizontal .alm-listing .alm-reveal>li.alm-item,.ajax-load-more-wrap.alm-horizontal .alm-listing>li.alm-item{padding:0;text-align:center;margin:0 2px;padding:20px 20px 30px;height:auto;background-color:#fff;border:1px solid #efefef;border-radius:4px;width:300px}.ajax-load-more-wrap.alm-horizontal .alm-listing .alm-reveal>li.alm-item img,.ajax-load-more-wrap.alm-horizontal .alm-listing>li.alm-item img{position:static;border-radius:100%;max-width:125px;margin:0 auto 15px;border-radius:4px;-webkit-box-shadow:0 2px 10px rgba(0,0,0,.075);box-shadow:0 2px 10px rgba(0,0,0,.075)}.ajax-load-more-wrap.alm-horizontal .alm-listing .alm-reveal:after{display:none}.alm-toc{display:-webkit-box;display:-ms-flexbox;display:flex;width:auto;padding:10px 0}.alm-toc button{background:#f7f7f7;border-radius:4px;-webkit-transition:all .15s ease;transition:all .15s ease;outline:0;border:1px solid #efefef;-webkit-box-shadow:none;box-shadow:none;color:#454545;cursor:pointer;font-size:14px;font-weight:500;padding:7px 10px;line-height:1;margin:0 5px 0 0;height:auto}.alm-toc button:focus,.alm-toc button:hover{border-color:#ccc;color:#222}.alm-toc button:hover{text-decoration:underline}.alm-toc button:focus{-webkit-box-shadow:0 0 0 3px rgba(0,0,0,.05);box-shadow:0 0 0 3px rgba(0,0,0,.05)} .novashare-buttons{position:relative}.novashare-buttons-wrapper{display:flex;flex-wrap:wrap}.novashare-columns.novashare-has-total-share-count-before .novashare-buttons-wrapper{margin-left:50px}.novashare-columns.novashare-has-total-share-count-after .novashare-buttons-wrapper{margin-right:50px}body a.novashare-button{display:inline-flex;height:40px;line-height:40px;margin:0 10px 10px 0;padding:0;font-size:14px;overflow:hidden;text-decoration:none;border:none}.novashare-button-block{display:inline-flex;align-items:center}.novashare-button-wrapper{display:inline-flex;align-items:center;overflow:hidden;width:100%}.novashare-button:hover .novashare-button-wrapper>span:not(.novashare-inverse){box-shadow:inset 0 0 0 50px rgba(0,0,0,.1)}.novashare-button:hover .novashare-button-wrapper>span.novashare-inverse{filter:brightness(.9)}.novashare-button-icon{background:#333;color:#fff;height:40px;width:40px;min-width:40px;box-sizing:border-box}.novashare-button-icon>*{height:50%;margin:0 auto}.novashare-button-share-count{display:none;font-size:12px;align-items:center}.novashare-button.novashare-share-count:hover svg{display:none}.novashare-button.novashare-share-count:hover .novashare-button-share-count{display:flex}.novashare-button-label{background:#333;color:#fff;height:100%;box-sizing:border-box;flex-grow:1;padding:0 15px 0 0;overflow:hidden}.novashare-button-label-wrapper{white-space:nowrap;overflow:hidden;text-overflow:ellipsis}.novashare-button-icon.novashare-border+.novashare-button-label.novashare-inverse,.novashare-button-icon.novashare-inverse+.novashare-button-label:not(.novashare-inverse),.novashare-button-icon:not(.novashare-inverse)+.novashare-button-label.novashare-inverse{padding-left:10px}.novashare-button.twitter .novashare-button-block{background:#1da1f2}.novashare-button.twitter .novashare-border{border-color:#1da1f2}.novashare-button.twitter .novashare-inverse{color:#1da1f2}.novashare-button.facebook .novashare-button-block{background:#3b5998}.novashare-button.facebook .novashare-border{border-color:#3b5998}.novashare-button.facebook .novashare-inverse{color:#3b5998}.novashare-button.linkedin .novashare-button-block{background:#0077b5}.novashare-button.linkedin .novashare-border{border-color:#0077b5}.novashare-button.linkedin .novashare-inverse{color:#0077b5}.novashare-button.pinterest .novashare-button-block{background:#c92228}.novashare-button.pinterest .novashare-border{border-color:#c92228}.novashare-button.pinterest .novashare-inverse{color:#c92228}.novashare-button.buffer .novashare-button-block{background:#323b43}.novashare-button.buffer .novashare-border{border-color:#323b43}.novashare-button.buffer .novashare-inverse{color:#323b43}.novashare-button.reddit .novashare-button-block{background:#ff4500}.novashare-button.reddit .novashare-border{border-color:#ff4500}.novashare-button.reddit .novashare-inverse{color:#ff4500}.novashare-button.hackernews .novashare-button-block{background:#f0652f}.novashare-button.hackernews .novashare-border{border-color:#f0652f}.novashare-button.hackernews .novashare-inverse{color:#f0652f}.novashare-button.pocket .novashare-button-block{background:#ef4056}.novashare-button.pocket .novashare-border{border-color:#ef4056}.novashare-button.pocket .novashare-inverse{color:#ef4056}.novashare-button.whatsapp .novashare-button-block{background:#25d366}.novashare-button.whatsapp .novashare-border{border-color:#25d366}.novashare-button.whatsapp .novashare-inverse{color:#25d366}.novashare-button.tumblr .novashare-button-block{background:#35465c}.novashare-button.tumblr .novashare-border{border-color:#35465c}.novashare-button.tumblr .novashare-inverse{color:#35465c}.novashare-button.vkontakte .novashare-button-block{background:#45668e}.novashare-button.vkontakte .novashare-border{border-color:#45668e}.novashare-button.vkontakte .novashare-inverse{color:#45668e}.novashare-button.xing .novashare-button-block{background:#026466}.novashare-button.xing .novashare-border{border-color:#026466}.novashare-button.xing .novashare-inverse{color:#026466}.novashare-button.flipboard .novashare-button-block{background:#e12828}.novashare-button.flipboard .novashare-border{border-color:#e12828}.novashare-button.flipboard .novashare-inverse{color:#e12828}.novashare-button.telegram .novashare-button-block{background:#08c}.novashare-button.telegram .novashare-border{border-color:#08c}.novashare-button.telegram .novashare-inverse{color:#08c}.novashare-button.mix .novashare-button-block{background:#fd8235}.novashare-button.mix .novashare-border{border-color:#fd8235}.novashare-button.mix .novashare-inverse{color:#fd8235}.novashare-button.yummly .novashare-button-block{background:#e16120}.novashare-button.yummly .novashare-border{border-color:#e16120}.novashare-button.yummly .novashare-inverse{color:#e16120}.novashare-button.sms .novashare-button-block{background:#218aff}.novashare-button.sms .novashare-border{border-color:#218aff}.novashare-button.sms .novashare-inverse{color:#218aff}.novashare-button.email .novashare-button-block{background:#319324}.novashare-button.email .novashare-border{border-color:#319324}.novashare-button.email .novashare-inverse{color:#319324}.novashare-button.print .novashare-button-block{background:#d34836}.novashare-button.print .novashare-border{border-color:#d34836}.novashare-button.print .novashare-inverse{color:#d34836}.novashare-button.\35 00px .novashare-button-block{background:#0099e5}.novashare-button.\35 00px .novashare-border{border-color:#0099e5}.novashare-button.\35 00px .novashare-inverse{color:#0099e5}.novashare-button.angellist .novashare-button-block{background:#000}.novashare-button.angellist .novashare-border{border-color:#000}.novashare-button.angellist .novashare-inverse{color:#000}.novashare-button.applemusic .novashare-button-block{background:#000}.novashare-button.applemusic .novashare-border{border-color:#000}.novashare-button.applemusic .novashare-inverse{color:#000}.novashare-button.bandcamp .novashare-button-block{background:#408294}.novashare-button.bandcamp .novashare-border{border-color:#408294}.novashare-button.bandcamp .novashare-inverse{color:#408294}.novashare-button.behance .novashare-button-block{background:#1769ff}.novashare-button.behance .novashare-border{border-color:#1769ff}.novashare-button.behance .novashare-inverse{color:#1769ff}.novashare-button.bitbucket .novashare-button-block{background:#0052cc}.novashare-button.bitbucket .novashare-border{border-color:#0052cc}.novashare-button.bitbucket .novashare-inverse{color:#0052cc}.novashare-button.codepen .novashare-button-block{background:#000}.novashare-button.codepen .novashare-border{border-color:#000}.novashare-button.codepen .novashare-inverse{color:#000}.novashare-button.copy .novashare-button-block{background:#816b5b}.novashare-button.copy .novashare-border{border-color:#816b5b}.novashare-button.copy .novashare-inverse{color:#816b5b}.novashare-button.deviantart .novashare-button-block{background:#05cc47}.novashare-button.deviantart .novashare-border{border-color:#05cc47}.novashare-button.deviantart .novashare-inverse{color:#05cc47}.novashare-button.digg .novashare-button-block{background:#000}.novashare-button.digg .novashare-border{border-color:#000}.novashare-button.digg .novashare-inverse{color:#000}.novashare-button.discord .novashare-button-block{background:#7289da}.novashare-button.discord .novashare-border{border-color:#7289da}.novashare-button.discord .novashare-inverse{color:#7289da}.novashare-button.dribbble .novashare-button-block{background:#ea4c89}.novashare-button.dribbble .novashare-border{border-color:#ea4c89}.novashare-button.dribbble .novashare-inverse{color:#ea4c89}.novashare-button.dropbox .novashare-button-block{background:#0061ff}.novashare-button.dropbox .novashare-border{border-color:#0061ff}.novashare-button.dropbox .novashare-inverse{color:#0061ff}.novashare-button.flickr .novashare-button-block{background:#0063dc}.novashare-button.flickr .novashare-border{border-color:#0063dc}.novashare-button.flickr .novashare-inverse{color:#0063dc}.novashare-button.foursquare .novashare-button-block{background:#f94877}.novashare-button.foursquare .novashare-border{border-color:#f94877}.novashare-button.foursquare .novashare-inverse{color:#f94877}.novashare-button.github .novashare-button-block{background:#181717}.novashare-button.github .novashare-border{border-color:#181717}.novashare-button.github .novashare-inverse{color:#181717}.novashare-button.goodreads .novashare-button-block{background:#553b08}.novashare-button.goodreads .novashare-border{border-color:#553b08}.novashare-button.goodreads .novashare-inverse{color:#553b08}.novashare-button.houzz .novashare-button-block{background:#4dbc15}.novashare-button.houzz .novashare-border{border-color:#4dbc15}.novashare-button.houzz .novashare-inverse{color:#4dbc15}.novashare-button.instagram .novashare-button-block{background:#e4405f}.novashare-button.instagram .novashare-border{border-color:#e4405f}.novashare-button.instagram .novashare-inverse{color:#e4405f}.novashare-button.jsfiddle .novashare-button-block{background:#0084ff}.novashare-button.jsfiddle .novashare-border{border-color:#0084ff}.novashare-button.jsfiddle .novashare-inverse{color:#0084ff}.novashare-button.lastfm .novashare-button-block{background:#d51007}.novashare-button.lastfm .novashare-border{border-color:#d51007}.novashare-button.lastfm .novashare-inverse{color:#d51007}.novashare-button.line .novashare-button-block{background:#00b900}.novashare-button.line .novashare-border{border-color:#00b900}.novashare-button.line .novashare-inverse{color:#00b900}.novashare-button.messenger .novashare-button-block{background:#0078ff}.novashare-button.messenger .novashare-border{border-color:#0078ff}.novashare-button.messenger .novashare-inverse{color:#0078ff}.novashare-button.mixcloud .novashare-button-block{background:#314359}.novashare-button.mixcloud .novashare-border{border-color:#314359}.novashare-button.mixcloud .novashare-inverse{color:#314359}.novashare-button.phone .novashare-button-block{background:#512da8}.novashare-button.phone .novashare-border{border-color:#512da8}.novashare-button.phone .novashare-inverse{color:#512da8}.novashare-button.rss .novashare-button-block{background:orange}.novashare-button.rss .novashare-border{border-color:orange}.novashare-button.rss .novashare-inverse{color:orange}.novashare-button.share .novashare-button-block{background:#2a2a2c}.novashare-button.share .novashare-border{border-color:#2a2a2c}.novashare-button.share .novashare-inverse{color:#2a2a2c}.novashare-button.skype .novashare-button-block{background:#00aff0}.novashare-button.skype .novashare-border{border-color:#00aff0}.novashare-button.skype .novashare-inverse{color:#00aff0}.novashare-button.snapchat .novashare-button-block{background:#fffc00}.novashare-button.snapchat .novashare-border{border-color:#fffc00}.novashare-button.snapchat .novashare-inverse{color:#fffc00}.novashare-button.soundcloud .novashare-button-block{background:#f30}.novashare-button.soundcloud .novashare-border{border-color:#f30}.novashare-button.soundcloud .novashare-inverse{color:#f30}.novashare-button.spotify .novashare-button-block{background:#1ed760}.novashare-button.spotify .novashare-border{border-color:#1ed760}.novashare-button.spotify .novashare-inverse{color:#1ed760}.novashare-button.stackoverflow .novashare-button-block{background:#fe7a16}.novashare-button.stackoverflow .novashare-border{border-color:#fe7a16}.novashare-button.stackoverflow .novashare-inverse{color:#fe7a16}.novashare-button.steam .novashare-button-block{background:#000}.novashare-button.steam .novashare-border{border-color:#000}.novashare-button.steam .novashare-inverse{color:#000}.novashare-button.telegram .novashare-button-block{background:#2ca5e0}.novashare-button.telegram .novashare-border{border-color:#2ca5e0}.novashare-button.telegram .novashare-inverse{color:#2ca5e0}.novashare-button.tiktok .novashare-button-block{background:#000}.novashare-button.tiktok .novashare-border{border-color:#000}.novashare-button.tiktok .novashare-inverse{color:#000}.novashare-button.tripadvisor .novashare-button-block{background:#34e0a1}.novashare-button.tripadvisor .novashare-border{border-color:#34e0a1}.novashare-button.tripadvisor .novashare-inverse{color:#34e0a1}.novashare-button.vimeo .novashare-button-block{background:#1ab7ea}.novashare-button.vimeo .novashare-border{border-color:#1ab7ea}.novashare-button.vimeo .novashare-inverse{color:#1ab7ea}.novashare-button.wordpress .novashare-button-block{background:#21759b}.novashare-button.wordpress .novashare-border{border-color:#21759b}.novashare-button.wordpress .novashare-inverse{color:#21759b}.novashare-button.yelp .novashare-button-block{background:#d32323}.novashare-button.yelp .novashare-border{border-color:#d32323}.novashare-button.yelp .novashare-inverse{color:#d32323}.novashare-button.youtube .novashare-button-block{background:red}.novashare-button.youtube .novashare-border{border-color:red}.novashare-button.youtube .novashare-inverse{color:red}.novashare-border{border-width:2px;border-style:solid}body .novashare-button .novashare-button-block.novashare-inverse,body .novashare-button:hover .novashare-button-block.novashare-inverse{background:0 0}.novashare-1-col .novashare-buttons-wrapper>a{flex-basis:100%;margin-right:0}.novashare-2-col .novashare-buttons-wrapper>a{flex-basis:calc(50% - 5px)}.novashare-2-col .novashare-buttons-wrapper>a:nth-of-type(2n){margin-right:0}.novashare-3-col .novashare-buttons-wrapper>a{flex-basis:calc(33.333333% - 6.666666px)}.novashare-3-col .novashare-buttons-wrapper>a:nth-of-type(3n){margin-right:0}.novashare-4-col .novashare-buttons-wrapper>a{flex-basis:calc(25% - 7.5px)}.novashare-4-col .novashare-buttons-wrapper>a:nth-of-type(4n){margin-right:0}.novashare-5-col .novashare-buttons-wrapper>a{flex-basis:calc(20% - 8px)}.novashare-5-col .novashare-buttons-wrapper>a:nth-of-type(5n){margin-right:0}.novashare-6-col .novashare-buttons-wrapper>a{flex-basis:calc(16.666666% - 8.333333px)}.novashare-6-col .novashare-buttons-wrapper>a:nth-of-type(6n){margin-right:0}.novashare-columns.small.novashare-has-total-share-count-before .novashare-buttons-wrapper{margin-left:40px}.novashare-columns.small.novashare-has-total-share-count-after .novashare-buttons-wrapper{margin-right:40px}.novashare-columns.large.novashare-has-total-share-count-before .novashare-buttons-wrapper{margin-left:60px}.novashare-columns.large.novashare-has-total-share-count-after .novashare-buttons-wrapper{margin-right:60px}.novashare-buttons.small .novashare-button{height:30px;line-height:30px;font-size:12px}.novashare-buttons.small .novashare-button-icon{height:30px;width:30px;min-width:30px}.novashare-buttons.small .novashare-button-share-count{font-size:10px}.novashare-buttons.large .novashare-button{height:50px;line-height:50px;font-size:18px}.novashare-buttons.large .novashare-button-icon{height:50px;width:50px;min-width:50px}.novashare-buttons.large .novashare-button-share-count{font-size:16px}.novashare-rounded{border-radius:5px;-webkit-border-radius:5px;-moz-border-radius:5px}.novashare-rounded .novashare-button-label{border-radius:0 5px 5px 0;-webkit-border-radius:0 5px 5px 0;-moz-border-radius:0 5px 5px 0}.novashare-circular{border-radius:30px;-webkit-border-radius:30px;-moz-border-radius:30px}.novashare-circular .novashare-button-label{border-radius:0 30px 30px 0;-webkit-border-radius:0 30px 30px 0;-moz-border-radius:0 30px 30px 0}.novashare-align-right{justify-content:flex-end}.novashare-align-right .novashare-button{margin:0 0 10px 10px}.novashare-align-center{justify-content:center}.novashare-align-center .novashare-button{margin-left:5px;margin-right:5px}.novashare-total-share-count{font-size:15px;line-height:normal;text-align:center;display:inline-table;height:40px;width:40px;margin:0 0 10px 0}.novashare-total-share-count-wrapper{display:table-cell;vertical-align:middle}.novashare-total-share-count-amount{font-weight:700}.novashare-total-share-count-text{font-size:8px;line-height:11px}.novashare-columns .novashare-total-share-count{position:absolute;right:0;margin:0!important}.novashare-columns.novashare-has-total-share-count-before .novashare-total-share-count{right:unset;left:0}.novashare-buttons.small .novashare-total-share-count{height:30px;width:30px;font-size:13px}.novashare-buttons.small .novashare-total-share-count-text{font-size:7px;line-height:10px}.novashare-buttons.large .novashare-total-share-count{height:50px;width:50px;font-size:19px}.novashare-buttons.large .novashare-total-share-count-text{font-size:9px;line-height:12px}.novashare-inline{margin-bottom:10px}.novashare-inline-below{margin-top:20px}.novashare-inline-cta{margin-bottom:10px;font-size:20px}.novashare-floating{position:fixed;top:25%;left:5px;z-index:999;height:75%}.novashare-floating .novashare-buttons-wrapper{flex-direction:column;height:100%}.novashare-hide{display:none}@media print{.novashare-no-print,.novashare-no-print *{display:none!important}} /*! normalize.css v7.0.0 | MIT License | github.com/necolas/normalize.css */ button,hr,input{overflow:visible}audio,canvas,progress,video{display:inline-block}progress,sub,sup{vertical-align:baseline}[type=checkbox],[type=radio],legend{box-sizing:border-box;padding:0}html{line-height:1.15;-ms-text-size-adjust:100%;-webkit-text-size-adjust:100%}body,h1,h2,h3,h4,h5,h6{margin:0}article,aside,details,figcaption,figure,footer,header,main,menu,nav,section{display:block}figure{margin:1em 40px}hr{box-sizing:content-box;height:0}code,kbd,pre,samp{font-family:monospace,monospace;font-size:1em}a{background-color:transparent;-webkit-text-decoration-skip:objects}abbr[title]{border-bottom:none;text-decoration:underline;text-decoration:underline dotted}b,strong{font-weight:bolder}dfn{font-style:italic}mark{background-color:#ff0;color:#000}small{font-size:80%}sub,sup{font-size:75%;line-height:0;position:relative}sub{bottom:-.25em}sup{top:-.5em}audio:not([controls]){display:none;height:0}img{border-style:none}svg:not(:root){overflow:hidden}button,input,optgroup,select,textarea{font-size:100%;line-height:1.15;margin:0}button,select{text-transform:none}[type=reset],[type=submit],button,html [type=button]{-webkit-appearance:button}[type=button]::-moz-focus-inner,[type=reset]::-moz-focus-inner,[type=submit]::-moz-focus-inner,button::-moz-focus-inner{border-style:none;padding:0}[type=button]:-moz-focusring,[type=reset]:-moz-focusring,[type=submit]:-moz-focusring,button:-moz-focusring{outline:ButtonText dotted 1px}fieldset{padding:.35em .75em .625em}legend{color:inherit;display:table;max-width:100%;white-space:normal}textarea{overflow:auto}[type=number]::-webkit-inner-spin-button,[type=number]::-webkit-outer-spin-button{height:auto}[type=search]{-webkit-appearance:textfield;outline-offset:-2px}[type=search]::-webkit-search-cancel-button,[type=search]::-webkit-search-decoration{-webkit-appearance:none}::-webkit-file-upload-button{-webkit-appearance:button;font:inherit}summary{display:list-item}[hidden],template{display:none}html{box-sizing:border-box}body{font-size:16px;color:rgba(64,64,64,1)}body.oxygen-aos-enabled{overflow-x:hidden}*,:after,:before{box-sizing:inherit}.ct-section-inner-wrap{margin-left:auto;margin-right:auto;height:100%}div.ct-svg-icon>svg,svg.ct-svg-icon{height:1em !important;fill:currentColor}.ct-columns-inner-wrap{display:-webkit-flex !important;display:-ms-flexbox !important;display:flex !important}.ct-column{float:left !important;word-break:break-word}svg.ct-svg-icon{display:inline-block;width:1em !important}div.ct-svg-icon{display:inline-block;box-sizing:content-box;border-radius:50%;width:auto}div.ct-svg-icon>svg{width:1em !important;display:block}div.ct-fancy-icon{display:inline-flex;border-radius:50%}.ct-fancy-icon>svg{fill:currentColor}.ct-columns-inner-wrap>.ct-column:first-child{margin-left:0 !important}.ct-columns-inner-wrap>.ct-column:last-child{margin-right:0 !important}.ct-video{width:100%}.ct-video>.oxygen-vsb-responsive-video-wrapper{position:relative}.ct-video>.oxygen-vsb-responsive-video-wrapper>iframe{position:absolute;top:0;left:0;width:100%;height:100%}.oxy-nav-menu-list{display:flex;padding:0;margin:0}.oxy-nav-menu .oxy-nav-menu-list li.menu-item{list-style-type:none;display:flex;flex-direction:column}.oxy-nav-menu .oxy-nav-menu-list li.menu-item a{text-decoration:none;border-style:solid;border-width:0;transition-timing-function:ease-in-out;transition-property:background-color,color,border-color;border-color:transparent}.oxy-nav-menu .oxy-nav-menu-list li.current-menu-item>a,.oxy-nav-menu .oxy-nav-menu-list li.menu-item:hover>a{border-color:currentColor}.oxy-nav-menu .menu-item,.oxy-nav-menu .sub-menu{position:relative}.oxy-nav-menu .menu-item .sub-menu{padding:0;flex-direction:column;white-space:nowrap;transition-timing-function:ease-in-out;transition-property:visibility,opacity;visibility:hidden;opacity:0;display:flex;position:absolute;top:100%}.oxy-nav-menu .sub-menu .sub-menu,.oxy-nav-menu.oxy-nav-menu-vertical .sub-menu{left:100%;top:0}.oxy-nav-menu .menu-item:hover>.sub-menu{visibility:visible;opacity:1}.oxy-nav-menu .sub-menu li.menu-item{flex-direction:column}@keyframes oxy_sticky_header_fadein{0%{opacity:0}100%{opacity:1}}.oxy-sticky-header-fade-in{animation-name:oxy_sticky_header_fadein;animation-duration:.5s;animation-iteration-count:1}.oxy-header-wrapper{position:relative}.oxy-header-row{width:100%;display:block}.oxy-header-container{height:100%;margin-left:auto;margin-right:auto;display:flex;flex-wrap:nowrap;justify-content:flex-start;align-items:stretch}.oxy-header-center,.oxy-header-left,.oxy-header-right{display:flex;align-items:center}.oxy-header .oxygen-only-show-in-overlay,.oxy-video-container{display:none}.oxy-header-left{justify-content:flex-start}.oxy-header-center{flex-grow:1;justify-content:center}.oxy-header-right{justify-content:flex-end}.admin-bar .oxy-sticky-header-active{top:32px !important}@media screen and (max-width:782px){.admin-bar .oxy-sticky-header-active{top:46px !important}}@media screen and (max-width:600px){.admin-bar .oxy-sticky-header-active{top:0 !important}}.oxy-video-background{position:relative;z-index:1}.oxy-video-background .oxy-video-container{display:block;position:absolute;top:0;left:0;right:0;bottom:0;overflow:hidden;z-index:-1}.oxy-video-background .oxy-video-container video{min-width:100%;min-height:100%;width:auto;height:auto;top:50%;left:50%;position:absolute;transform:translate(-50%,-50%)}.oxy-video-overlay{position:absolute;top:0;bottom:0;left:0;right:0}.oxy-map iframe{width:100%;height:100%;display:block}.unslider .unslider-fade ul li.unslider-active{position:relative}.oxy-menu-toggle{cursor:pointer;display:none}.oxy-nav-menu.oxy-nav-menu-open{width:100%;position:fixed;top:0;right:0;left:0;bottom:0;display:flex;align-items:center;justify-content:center;flex-direction:column;overflow:auto;z-index:2147483642 !important;background-color:#fff}.oxy-nav-menu.oxy-nav-menu-open>div:last-child{max-height:100%;overflow:auto;padding-top:2em;padding-bottom:2em;width:100%}.oxy-nav-menu-prevent-overflow{overflow:hidden;height:100%}.oxy-nav-menu.oxy-nav-menu-open .oxy-menu-toggle{display:initial}.oxy-nav-menu.oxy-nav-menu-open .oxy-nav-menu-list{flex-direction:column !important;width:100%}.oxy-nav-menu.oxy-nav-menu-open .oxy-nav-menu-list .menu-item a{text-align:center;border:0 !important;background-color:transparent !important;justify-content:center}.oxy-nav-menu.oxy-nav-menu-open .oxy-nav-menu-hamburger-wrap{position:absolute;top:20px;right:20px;z-index:1}.oxy-nav-menu:not(.oxy-nav-menu-open) .sub-menu{background-color:#fff;z-index:2147483641}.oxy-nav-menu.oxy-nav-menu-open .menu-item .sub-menu,.oxy-nav-menu.oxy-nav-menu-open .menu-item-has-children>a:after{display:none}.oxy-nav-menu.oxy-nav-menu-open.oxy-nav-menu-responsive-dropdowns .menu-item .sub-menu{display:flex;position:static;animation-name:none;visibility:visible;opacity:1;transition-duration:0s !important}.oxy-nav-menu.oxy-nav-menu-open a:not([href]){display:none}.oxy-nav-menu-hamburger-wrap{display:flex;align-items:center;justify-content:center}.oxy-nav-menu-hamburger{display:flex;justify-content:space-between;flex-direction:column}.oxy-nav-menu-hamburger-line{border-radius:2px}.oxy-nav-menu-open .oxy-nav-menu-hamburger{transform:rotate(45deg)}.oxy-nav-menu-open .oxy-nav-menu-hamburger .oxy-nav-menu-hamburger-line{display:none}.oxy-nav-menu-open .oxy-nav-menu-hamburger .oxy-nav-menu-hamburger-line:first-child{display:initial;position:relative}.oxy-nav-menu-open .oxy-nav-menu-hamburger .oxy-nav-menu-hamburger-line:last-child{display:initial;position:relative;transform:rotate(90deg)}.oxy-nav-menu .menu-item a{display:flex;align-items:center}.oxy-nav-menu.oxy-nav-menu-vertical .menu-item a{flex-direction:row}.oxy-nav-menu-dropdowns.oxy-nav-menu-dropdown-arrow .menu-item-has-children>a:after{width:.35em;height:.35em;margin-left:.5em;border-right:.1em solid;border-top:.1em solid;transform:rotate(135deg);content:""}.oxy-nav-menu-dropdowns.oxy-nav-menu-dropdown-arrow .sub-menu .menu-item-has-children>a:after,.oxy-nav-menu-dropdowns.oxy-nav-menu-dropdown-arrow.oxy-nav-menu-vertical .menu-item-has-children>a:after{transform:rotate(45deg)}.oxy-social-icons{display:flex;flex-wrap:wrap;align-items:flex-start;justify-content:flex-start}.oxy-social-icons a{line-height:1;width:1em;height:1em;display:flex;align-items:center;justify-content:center;text-decoration:none}.oxy-social-icons a svg{stroke-width:0;stroke:currentColor;fill:currentColor}.oxy-soundcloud{min-width:300px;min-height:120px}.oxy-soundcloud iframe{width:100%;height:100%}.comment-body .alignleft,.oxy-stock-content-styles .alignleft{margin-right:1em;float:left}.comment-body .alignright,.oxy-stock-content-styles .alignright{margin-left:1em;float:right}.comment-body .aligncenter,.oxy-stock-content-styles .aligncenter{margin-left:auto;margin-right:auto}.comment-body img,.oxy-stock-content-styles img{max-width:100%}.oxy-comment-form .comment-reply-title{margin-bottom:.5em}.oxy-comment-form .logged-in-as{margin-bottom:1em;font-size:.75em}.oxy-comment-form #submit{padding:1em 2em;background-color:#000;color:#fff;cursor:pointer;margin-top:.5em;border:none;font-weight:700}.oxy-comment-form input,.oxy-comment-form textarea{padding:.5em;border-radius:0;border:1px solid #000;color:gray;width:100%}.oxy-comment-form label{font-weight:700}.oxy-comment-form .comment-form>p{margin-top:0;margin-bottom:1em}.oxy-comments h3.comments-title{margin-bottom:1em}.oxy-comments ol.children,.oxy-comments ol.comments-list{list-style:none;margin:0;padding:0}.oxy-comments ol.children{margin-left:50px}.oxy-comments li.comment .comment-body{margin-left:0;margin-right:0;margin-bottom:50px}.oxy-comments li.comment .comment-body .comment-content{margin-bottom:1em}.oxy-comments .comment-meta .comment-author{display:flex;flex-direction:row;align-items:center}.oxy-comments .comment-meta .comment-author .avatar{max-width:64px;max-height:64px;margin-right:.5em}.oxy-comments .comment-meta .comment-author span.says:before{content:" ";white-space:pre}.oxy-progress-bar-overlay-percent,.oxy-progress-bar-overlay-text{line-height:1;white-space:nowrap;color:#fff}.oxy-comments .comment-meta .comment-metadata{font-size:.75em;margin-top:.75em}.oxy-comments .comment-meta .edit-link{margin-left:.5em}.oxy-comments .reply{display:flex}.oxy-comments .reply .comment-reply-link{font-size:.75em}.oxy-comments .comment-meta{flex-wrap:wrap}.oxy-comments .comment-awaiting-moderation{flex-basis:100%}.oxy-login-form p{display:flex;flex-direction:column}.oxy-login-form input{padding:.5em;border-radius:0;border:1px solid #000}.oxy-login-form input[type=submit]{padding:1em 2em;background-color:#000;color:#fff;cursor:pointer;border:none;font-weight:700}.oxy-search-form input{padding:.5em;border-radius:0;border:1px solid #000}.oxy-search-form input[type=submit]{padding:calc(.5em + 1px) 1em;background-color:#000;color:#fff;cursor:pointer;border:none}.oxy-search-form label.screen-reader-text{display:none}.oxy-icon-box-icon{display:flex;flex-shrink:0;flex-grow:0}.oxy-icon-box-content{flex-grow:1;width:100%}.oxy-icon-box-heading,.oxy-icon-box-text{margin:0}.oxy-icon-box{display:flex;align-items:flex-start}.oxy-pricing-box{display:flex;flex-direction:column;position:relative;overflow:hidden}.oxy-pricing-box .oxy-pricing-box-section.oxy-pricing-box-graphic{order:10;display:flex;flex-direction:row}.oxy-pricing-box-graphic>img{max-width:100%;display:block}.oxy-pricing-box .oxy-pricing-box-section.oxy-pricing-box-title{order:20}.oxy-pricing-box .oxy-pricing-box-section.oxy-pricing-box-price{order:30;display:flex;flex-wrap:wrap;flex-direction:row;align-items:baseline;justify-content:center}.oxy-pricing-box-amount{display:flex;align-items:baseline;flex-direction:row}.oxy-pricing-box-currency{align-self:flex-start}.oxy-pricing-box-amount-decimal{align-self:baseline}.oxy-pricing-box-term{margin-left:.4em}.oxy-pricing-box-sale-price{width:100%;flex-grow:0;flex-shrink:0}.oxy-pricing-box .oxy-pricing-box-section.oxy-pricing-box-content{order:40}.oxy-pricing-box .oxy-pricing-box-section.oxy-pricing-box-cta{order:60}@keyframes oxy_progress_bar_width{0%{width:0}100%{width:100%}}@keyframes oxy_progress_bar_stripes{from{background-position:44px 0}to{background-position:0 0}}.oxy-progress-bar-background,.oxy-progress-bar-progress{background-position:top left;background-attachment:fixed;background-size:44px 44px}.oxy-progress-bar{display:flex;flex-direction:column;align-items:center;width:100%}.oxy-progress-bar-background{background-color:#d3d3d3;width:100%}.oxy-progress-bar-progress{padding:20px;display:flex;background-color:#a9a9a9;align-items:center}.oxy-progress-bar-overlay-percent{margin-left:auto;padding-left:1em;font-size:.8em}.oxy-tab,.oxy-tab-content{padding:20px}.oxy-progress-bar-overlay-percent:empty{display:none}.oxy-superbox{display:inline-flex}.oxy-superbox-primary,.oxy-superbox-secondary,.oxy-tabs-wrapper{display:flex}.oxy-superbox-wrap{position:relative;overflow:hidden;display:flex;width:100%}.oxy-superbox-primary{position:relative;top:0;left:0;width:100%}.oxy-superbox-secondary{position:absolute;top:0;left:0;width:100%;height:100%}.oxy-tab{cursor:pointer}.oxy-tabs-contents-content-hidden{display:none !important}.oxy-testimonial{display:flex;width:100%}.oxy-testimonial .oxy-testimonial-photo-wrap{display:flex;flex-direction:column}.oxy-testimonial .oxy-testimonial-photo{border-radius:50%}.oxy-testimonial .oxy-testimonial-content-wrap{display:flex;flex-direction:column;order:2}.oxy-testimonial .oxy-testimonial-author-wrap{display:flex;flex-direction:column}.oxy-testimonial .oxy-testimonial-author,.oxy-testimonial .oxy-testimonial-author-info{display:flex}.oxy-toggle{display:flex;flex-direction:row;cursor:pointer}.oxy-toggle-content{align-self:stretch;flex-grow:1;display:flex;flex-direction:column;justify-content:center}.oxy-expand-collapse-icon{align-self:center;flex-shrink:0;flex-grow:0;margin-right:.4em;text-align:initial;width:1em;height:1em;position:relative;display:inline-block}.oxy-expand-collapse-icon:after,.oxy-expand-collapse-icon:before{content:"";background-color:#000;position:absolute;width:1em;height:.16em;top:calc((1em/2) - .08em);transition:.3s ease-in-out all;border-radius:.03em}.oxy-expand-collapse-icon:after{transform:rotate(-90deg) scale(0)}.oxy-eci-collapsed.oxy-expand-collapse-icon:after{transform:rotate(-180deg)}.oxy-eci-collapsed.oxy-expand-collapse-icon:before{transform:rotate(-90deg)}[data-aos][data-aos=""]{transition-duration:0s !important}.oxy-modal-backdrop{display:flex;align-items:center;justify-content:center}body:not(.oxygen-builder-body) .oxy-modal-backdrop{display:none}body.oxygen-builder-body .oxy-modal-backdrop{height:100vh}.oxy-modal-backdrop.live{position:fixed;top:0;left:0;width:100%;height:100%;z-index:1400}.oxy-modal-backdrop.hidden{display:none}.oxy-modal-backdrop.left{flex-direction:column;align-items:flex-start}.oxy-modal-backdrop.right{flex-direction:column;align-items:flex-end}.oxy-modal-backdrop.top{flex-direction:row;align-items:flex-start}.oxy-modal-backdrop.bottom{flex-direction:row;align-items:flex-end}.oxy-modal-backdrop.upper_left{flex-direction:row;align-items:flex-start;justify-content:flex-start}.oxy-modal-backdrop.upper_right{flex-direction:row;align-items:flex-start;justify-content:flex-end}.oxy-modal-backdrop.bottom_left{flex-direction:row;align-items:flex-end;justify-content:flex-start}.oxy-modal-backdrop.bottom_right{flex-direction:row;align-items:flex-end;justify-content:flex-end}.oxy-modal-backdrop .ct-modal{background-color:#fff;max-height:100vh;overflow-y:auto}div.oxy-dynamic-list div.oxy-product-images.oxy-woo-element{align-self:stretch}div.oxy-repeater-pages,div.oxy-repeater-pages-wrap{display:flex}.oxy-rich-text p:first-child{margin-block-start:0}.oxy-rich-text p:last-child{margin-block-end:0}:-webkit-any(li,div._important),:is(li,div._important){display:list-item}:-webkit-any(table,div._important),:is(table,div._important){display:table}:is(thead,div._important),:-webkit-any(thead,div._important){display:table-header-group}:is(tr,div._important),:-webkit-any(tr,div._important){display:table-row}:is(tbody,div._important),:-webkit-any(tbody,div._important){display:table-row-group}:is(th,td,div._important),:-webkit-any(th,td,div._important){display:table-cell}:is(caption,div._important),:-webkit-any(caption,div._important){display:table-caption}:is(colgroup,div._important),:-webkit-any(colgroup,div._important){display:table-column-group}:is(col,div._important),:-webkit-any(col,div._important){display:table-column}:is(tfoot,div._important),:-webkit-any(tfoot,div._important){display:table-footer-group} body .c-owl-xs:not(.ct-section)>*+*,body .ct-section.c-owl-xs .ct-section-inner-wrap>*+*{margin-top:var(--xs-space-fallback)}body .c-padding-xs:not(.ct-section),body .ct-section.c-padding-xs .ct-section-inner-wrap{padding:var(--xs-space-fallback)}body .c-padding-left-xs:not(.ct-section),body .ct-section.c-padding-left-xs .ct-section-inner-wrap{padding-left:var(--xs-space-fallback)}body .c-padding-right-xs:not(.ct-section),body .ct-section.c-padding-right-xs .ct-section-inner-wrap{padding-right:var(--xs-space-fallback)}body .c-padding-top-xs:not(.ct-section),body .ct-section.c-padding-top-xs .ct-section-inner-wrap{padding-top:var(--xs-space-fallback)}body .c-padding-bottom-xs:not(.ct-section),body .ct-section.c-padding-bottom-xs .ct-section-inner-wrap{padding-bottom:var(--xs-space-fallback)}body .c-margin-xs:not(.ct-section),body .ct-section.c-margin-xs .ct-section-inner-wrap{margin:var(--xs-space-fallback)}body .c-margin-left-xs:not(.ct-section),body .ct-section.c-margin-left-xs .ct-section-inner-wrap{margin-left:var(--xs-space-fallback)}body .c-margin-right-xs:not(.ct-section),body .ct-section.c-margin-right-xs .ct-section-inner-wrap{margin-right:var(--xs-space-fallback)}body .c-margin-top-xs:not(.ct-section),body .ct-section.c-margin-top-xs .ct-section-inner-wrap{margin-top:var(--xs-space-fallback)}body .ct-section.c-margin-bottom-xs .ct-section-inner-wrap,body c-margin-bottom-xs:not(.ct-section){margin-bottom:var(--xs-space-fallback)}body .c-columns-gap-xs:not(.ct-section),body .ct-section.c-columns-gap-xs .ct-section-inner-wrap{grid-gap:var(--xs-space-fallback)}body .c-owl-s:not(.ct-section)>*+*,body .ct-section.c-owl-s .ct-section-inner-wrap>*+*{margin-top:var(--s-space-fallback)}body .c-padding-s:not(.ct-section),body .ct-section.c-padding-s .ct-section-inner-wrap{padding:var(--s-space-fallback)}body .c-padding-left-s:not(.ct-section),body .ct-section.c-padding-left-s .ct-section-inner-wrap{padding-left:var(--s-space-fallback)}body .c-padding-right-s:not(.ct-section),body .ct-section.c-padding-right-s .ct-section-inner-wrap{padding-right:var(--s-space-fallback)}body .c-padding-top-s:not(.ct-section),body .ct-section.c-padding-top-s .ct-section-inner-wrap{padding-top:var(--s-space-fallback)}body .c-padding-bottom-s:not(.ct-section),body .ct-section.c-padding-bottom-s .ct-section-inner-wrap{padding-bottom:var(--s-space-fallback)}body .c-margin-s:not(.ct-section),body .ct-section.c-margin-s .ct-section-inner-wrap{margin:var(--s-space-fallback)}body .c-margin-left-s:not(.ct-section),body .ct-section.c-margin-left-s .ct-section-inner-wrap{margin-left:var(--s-space-fallback)}body .c-margin-right-s:not(.ct-section),body .ct-section.c-margin-right-s .ct-section-inner-wrap{margin-right:var(--s-space-fallback)}body .c-margin-top-s:not(.ct-section),body .ct-section.c-margin-top-s .ct-section-inner-wrap{margin-top:var(--s-space-fallback)}body .c-margin-bottom-s:not(.ct-section),body .ct-section.c-margin-bottom-s .ct-section-inner-wrap{margin-bottom:var(--s-space-fallback)}body .c-columns-gap-s:not(.ct-section),body .ct-section.c-columns-gap-s .ct-section-inner-wrap{grid-gap:var(--s-space-fallback)}body .c-owl-m:not(.ct-section)>*+*,body .ct-section.c-owl-m .ct-section-inner-wrap>*+*{margin-top:var(--m-space-fallback)}body .c-padding-m:not(.ct-section),body .ct-section.c-padding-m .ct-section-inner-wrap{padding:var(--m-space-fallback)}body .c-padding-left-m:not(.ct-section),body .ct-section.c-padding-left-m .ct-section-inner-wrap{padding-left:var(--m-space-fallback)}body .c-padding-right-m:not(.ct-section),body .ct-section.c-padding-right-m .ct-section-inner-wrap{padding-right:var(--m-space-fallback)}body .c-padding-top-m:not(.ct-section),body .ct-section.c-padding-top-m .ct-section-inner-wrap{padding-top:var(--m-space-fallback)}body .c-padding-bottom-m:not(.ct-section),body .ct-section.c-padding-bottom-m .ct-section-inner-wrap{padding-bottom:var(--m-space-fallback)}body .c-margin-m:not(.ct-section),body .ct-section.c-margin-m .ct-section-inner-wrap{margin:var(--m-space-fallback)}body .c-margin-left-m:not(.ct-section),body .ct-section.c-margin-left-m .ct-section-inner-wrap{margin-left:var(--m-space-fallback)}body .c-margin-right-m:not(.ct-section),body .ct-section.c-margin-right-m .ct-section-inner-wrap{margin-right:var(--m-space-fallback)}body .c-margin-top-m:not(.ct-section),body .ct-section.c-margin-top-m .ct-section-inner-wrap{margin-top:var(--m-space-fallback)}body .c-margin-bottom-m:not(.ct-section),body .ct-section.c-margin-bottom-m .ct-section-inner-wrap{margin-bottom:var(--m-space-fallback)}body .c-columns-gap-m:not(.ct-section),body .ct-section.c-columns-gap-m .ct-section-inner-wrap{grid-gap:var(--m-space-fallback)}body .c-owl-l:not(.ct-section)>*+*,body .ct-section.c-owl-l .ct-section-inner-wrap>*+*{margin-top:var(--l-space-fallback)}body .c-padding-l:not(.ct-section),body .ct-section.c-padding-l .ct-section-inner-wrap{padding:var(--l-space-fallback)}body .c-padding-left-l:not(.ct-section),body .ct-section.c-padding-left-l .ct-section-inner-wrap{padding-left:var(--l-space-fallback)}body .c-padding-right-l:not(.ct-section),body .ct-section.c-padding-right-l .ct-section-inner-wrap{padding-right:var(--l-space-fallback)}body .c-padding-top-l:not(.ct-section),body .ct-section.c-padding-top-l .ct-section-inner-wrap{padding-top:var(--l-space-fallback)}body .c-padding-bottom-l:not(.ct-section),body .ct-section.c-padding-bottom-l .ct-section-inner-wrap{padding-bottom:var(--l-space-fallback)}body .c-margin-l:not(.ct-section),body .ct-section.c-margin-l .ct-section-inner-wrap{margin:var(--l-space-fallback)}body .c-margin-left-l:not(.ct-section),body .ct-section.c-margin-left-l .ct-section-inner-wrap{margin-left:var(--l-space-fallback)}body .c-margin-right-l:not(.ct-section),body .ct-section.c-margin-right-l .ct-section-inner-wrap{margin-right:var(--l-space-fallback)}body .c-margin-top-l:not(.ct-section),body .ct-section.c-margin-top-l .ct-section-inner-wrap{margin-top:var(--l-space-fallback)}body .c-margin-bottom-l:not(.ct-section),body .ct-section.c-margin-bottom-l .ct-section-inner-wrap{margin-bottom:var(--l-space-fallback)}body .c-columns-gap-l:not(.ct-section),body .ct-section.c-columns-gap-l .ct-section-inner-wrap{grid-gap:var(--l-space-fallback)}body .c-owl-xl:not(.ct-section)>*+*,body .ct-section.c-owl-xl .ct-section-inner-wrap>*+*{margin-top:var(--xl-space-fallback)}body .c-padding-xl:not(.ct-section),body .ct-section.c-padding-xl .ct-section-inner-wrap{padding:var(--xl-space-fallback)}body .c-padding-left-xl:not(.ct-section),body .ct-section.c-padding-left-xl .ct-section-inner-wrap{padding-left:var(--xl-space-fallback)}body .c-padding-right-xl:not(.ct-section),body .ct-section.c-padding-right-xl .ct-section-inner-wrap{padding-right:var(--xl-space-fallback)}body .c-padding-top-xl:not(.ct-section),body .ct-section.c-padding-top-xl .ct-section-inner-wrap{padding-top:var(--xl-space-fallback)}body .c-padding-bottom-xl:not(.ct-section),body .ct-section.c-padding-bottom-xl .ct-section-inner-wrap{padding-bottom:var(--xl-space-fallback)}body .c-margin-xl:not(.ct-section),body .ct-section.c-margin-xl .ct-section-inner-wrap{margin:var(--xl-space-fallback)}body .c-margin-left-xl:not(.ct-section),body .ct-section.c-margin-left-xl .ct-section-inner-wrap{margin-left:var(--xl-space-fallback)}body .c-margin-right-xl:not(.ct-section),body .ct-section.c-margin-right-xl .ct-section-inner-wrap{margin-right:var(--xl-space-fallback)}body .c-margin-top-xl:not(.ct-section),body .ct-section.c-margin-top-xl .ct-section-inner-wrap{margin-top:var(--xl-space-fallback)}body .c-margin-bottom-xl:not(.ct-section),body .ct-section.c-margin-bottom-xl .ct-section-inner-wrap{margin-bottom:var(--xl-space-fallback)}body .c-columns-gap-xl:not(.ct-section),body .ct-section.c-columns-gap-xl .ct-section-inner-wrap{grid-gap:var(--xl-space-fallback)}body .c-owl-xxl:not(.ct-section)>*+*,body .ct-section.c-owl-xxl .ct-section-inner-wrap>*+*{margin-top:var(--xxl-space-fallback);margin-top:var(--xxl-space)}body .c-padding-xxl:not(.ct-section),body .ct-section.c-padding-xxl .ct-section-inner-wrap{padding:var(--xxl-space-fallback)}body .c-padding-left-xxl:not(.ct-section),body .ct-section.c-padding-left-xxl .ct-section-inner-wrap{padding-left:var(--xxl-space-fallback)}body .c-padding-right-xxl:not(.ct-section),body .ct-section.c-padding-right-xxl .ct-section-inner-wrap{padding-right:var(--xxl-space-fallback)}body .c-padding-top-xxl:not(.ct-section),body .ct-section.c-padding-top-xxl .ct-section-inner-wrap{padding-top:var(--xxl-space-fallback)}body .c-padding-bottom-xxl:not(.ct-section),body .ct-section.c-padding-bottom-xxl .ct-section-inner-wrap{padding-bottom:var(--xxl-space-fallback)}body .c-margin-xxl:not(.ct-section),body .ct-section.c-margin-xxl .ct-section-inner-wrap{margin:var(--xxl-space-fallback)}body .c-margin-left-xxl:not(.ct-section),body .ct-section.c-margin-left-xxl .ct-section-inner-wrap{margin-left:var(--xxl-space-fallback)}body .c-margin-right-xxl:not(.ct-section),body .ct-section.c-margin-right-xxl .ct-section-inner-wrap{margin-right:var(--xxl-space-fallback)}body .c-margin-top-xxl:not(.ct-section),body .ct-section.c-margin-top-xxl .ct-section-inner-wrap{margin-top:var(--xxl-space-fallback)}body .c-margin-bottom-xxl:not(.ct-section),body .ct-section.c-margin-bottom-xxl .ct-section-inner-wrap{margin-bottom:var(--xxl-space-fallback)}body .c-columns-gap-xxl:not(.ct-section),body .ct-section.c-columns-gap-xxl .ct-section-inner-wrap{grid-gap:var(--xxl-space-fallback)}@supports (font-size:clamp(1px,2px,3px)){body .c-owl-xs:not(.ct-section)>*+*,body .ct-section.c-owl-xs .ct-section-inner-wrap>*+*{margin-top:var(--xs-space)}body .c-padding-xs:not(.ct-section),body .ct-section.c-padding-xs .ct-section-inner-wrap{padding:var(--xs-space)}body .c-padding-left-xs:not(.ct-section),body .ct-section.c-padding-left-xs .ct-section-inner-wrap{padding-left:var(--xs-space)}body .c-padding-right-xs:not(.ct-section),body .ct-section.c-padding-right-xs .ct-section-inner-wrap{padding-right:var(--xs-space)}body .c-padding-top-xs:not(.ct-section),body .ct-section.c-padding-top-xs .ct-section-inner-wrap{padding-top:var(--xs-space)}body .c-padding-bottom-xs:not(.ct-section),body .ct-section.c-padding-bottom-xs .ct-section-inner-wrap{padding-bottom:var(--xs-space)}body .c-margin-xs:not(.ct-section),body .ct-section.c-margin-xs .ct-section-inner-wrap{margin:var(--xs-space)}body .c-margin-left-xs:not(.ct-section),body .ct-section.c-margin-left-xs .ct-section-inner-wrap{margin-left:var(--xs-space)}body .c-margin-right-xs:not(.ct-section),body .ct-section.c-margin-right-xs .ct-section-inner-wrap{margin-right:var(--xs-space)}body .c-margin-top-xs:not(.ct-section),body .ct-section.c-margin-top-xs .ct-section-inner-wrap{margin-top:var(--xs-space)}body .c-margin-bottom-xs:not(.ct-section),body .ct-section.c-margin-bottom-xs .ct-section-inner-wrap{margin-bottom:var(--xs-space)}body .c-columns-gap-xs:not(.ct-section),body .ct-section.c-columns-gap-xs .ct-section-inner-wrap{grid-gap:var(--xs-space)}body .c-owl-s:not(.ct-section)>*+*,body .ct-section.c-owl-s .ct-section-inner-wrap>*+*{margin-top:var(--s-space)}body .c-padding-s:not(.ct-section),body .ct-section.c-padding-s .ct-section-inner-wrap{padding:var(--s-space)}body .c-padding-left-s:not(.ct-section),body .ct-section.c-padding-left-s .ct-section-inner-wrap{padding-left:var(--s-space)}body .c-padding-right-s:not(.ct-section),body .ct-section.c-padding-right-s .ct-section-inner-wrap{padding-right:var(--s-space)}body .c-padding-top-s:not(.ct-section),body .ct-section.c-padding-top-s .ct-section-inner-wrap{padding-top:var(--s-space)}body .c-padding-bottom-s:not(.ct-section),body .ct-section.c-padding-bottom-s .ct-section-inner-wrap{padding-bottom:var(--s-space)}body .c-margin-s:not(.ct-section),body .ct-section.c-margin-s .ct-section-inner-wrap{margin:var(--s-space)}body .c-margin-left-s:not(.ct-section),body .ct-section.c-margin-left-s .ct-section-inner-wrap{margin-left:var(--s-space)}body .c-margin-right-s:not(.ct-section),body .ct-section.c-margin-right-s .ct-section-inner-wrap{margin-right:var(--s-space)}body .c-margin-top-s:not(.ct-section),body .ct-section.c-margin-top-s .ct-section-inner-wrap{margin-top:var(--s-space)}body .c-margin-bottom-s:not(.ct-section),body .ct-section.c-margin-bottom-s .ct-section-inner-wrap{margin-bottom:var(--s-space)}body .c-columns-gap-s:not(.ct-section),body .ct-section.c-columns-gap-s .ct-section-inner-wrap{grid-gap:var(--s-space)}body .c-owl-m:not(.ct-section)>*+*,body .ct-section.c-owl-m .ct-section-inner-wrap>*+*{margin-top:var(--m-space)}body .c-padding-m:not(.ct-section),body .ct-section.c-padding-m .ct-section-inner-wrap{padding:var(--m-space)}body .c-padding-left-m:not(.ct-section),body .ct-section.c-padding-left-m .ct-section-inner-wrap{padding-left:var(--m-space)}body .c-padding-right-m:not(.ct-section),body .ct-section.c-padding-right-m .ct-section-inner-wrap{padding-right:var(--m-space)}body .c-padding-top-m:not(.ct-section),body .ct-section.c-padding-top-m .ct-section-inner-wrap{padding-top:var(--m-space)}body .c-padding-bottom-m:not(.ct-section),body .ct-section.c-padding-bottom-m .ct-section-inner-wrap{padding-bottom:var(--m-space)}body .c-margin-m:not(.ct-section),body .ct-section.c-margin-m .ct-section-inner-wrap{margin:var(--m-space)}body .c-margin-left-m:not(.ct-section),body .ct-section.c-margin-left-m .ct-section-inner-wrap{margin-left:var(--m-space)}body .c-margin-right-m:not(.ct-section),body .ct-section.c-margin-right-m .ct-section-inner-wrap{margin-right:var(--m-space)}body .c-margin-top-m:not(.ct-section),body .ct-section.c-margin-top-m .ct-section-inner-wrap{margin-top:var(--m-space)}body .c-margin-bottom-m:not(.ct-section),body .ct-section.c-margin-bottom-m .ct-section-inner-wrap{margin-bottom:var(--m-space)}body .c-columns-gap-m:not(.ct-section),body .ct-section.c-columns-gap-m .ct-section-inner-wrap{grid-gap:var(--m-space)}body .c-owl-l:not(.ct-section)>*+*,body .ct-section.c-owl-l .ct-section-inner-wrap>*+*{margin-top:var(--l-space)}body .c-padding-l:not(.ct-section),body .ct-section.c-padding-l .ct-section-inner-wrap{padding:var(--l-space)}body .c-padding-left-l:not(.ct-section),body .ct-section.c-padding-left-l .ct-section-inner-wrap{padding-left:var(--l-space)}body .c-padding-right-l:not(.ct-section),body .ct-section.c-padding-right-l .ct-section-inner-wrap{padding-right:var(--l-space)}body .c-padding-top-l:not(.ct-section),body .ct-section.c-padding-top-l .ct-section-inner-wrap{padding-top:var(--l-space)}body .c-padding-bottom-l:not(.ct-section),body .ct-section.c-padding-bottom-l .ct-section-inner-wrap{padding-bottom:var(--l-space)}body .c-margin-l:not(.ct-section),body .ct-section.c-margin-l .ct-section-inner-wrap{margin:var(--l-space)}body .c-margin-left-l:not(.ct-section),body .ct-section.c-margin-left-l .ct-section-inner-wrap{margin-left:var(--l-space)}body .c-margin-right-l:not(.ct-section),body .ct-section.c-margin-right-l .ct-section-inner-wrap{margin-right:var(--l-space)}body .c-margin-top-l:not(.ct-section),body .ct-section.c-margin-top-l .ct-section-inner-wrap{margin-top:var(--l-space)}body .c-margin-bottom-l:not(.ct-section),body .ct-section.c-margin-bottom-l .ct-section-inner-wrap{margin-bottom:var(--l-space)}body .c-columns-gap-l:not(.ct-section),body .ct-section.c-columns-gap-l .ct-section-inner-wrap{grid-gap:var(--l-space)}body .c-owl-xl:not(.ct-section)>*+*,body .ct-section.c-owl-xl .ct-section-inner-wrap>*+*{margin-top:var(--xl-space)}body .c-padding-xl:not(.ct-section),body .ct-section.c-padding-xl .ct-section-inner-wrap{padding:var(--xl-space)}body .c-padding-left-xl:not(.ct-section),body .ct-section.c-padding-left-xl .ct-section-inner-wrap{padding-left:var(--xl-space)}body .c-padding-right-xl:not(.ct-section),body .ct-section.c-padding-right-xl .ct-section-inner-wrap{padding-right:var(--xl-space)}body .c-padding-top-xl:not(.ct-section),body .ct-section.c-padding-top-xl .ct-section-inner-wrap{padding-top:var(--xl-space)}body .c-padding-bottom-xl:not(.ct-section),body .ct-section.c-padding-bottom-xl .ct-section-inner-wrap{padding-bottom:var(--xl-space)}body .c-margin-xl:not(.ct-section),body .ct-section.c-margin-xl .ct-section-inner-wrap{margin:var(--xl-space)}body .c-margin-left-xl:not(.ct-section),body .ct-section.c-margin-left-xl .ct-section-inner-wrap{margin-left:var(--xl-space)}body .c-margin-right-xl:not(.ct-section),body .ct-section.c-margin-right-xl .ct-section-inner-wrap{margin-right:var(--xl-space)}body .c-margin-top-xl:not(.ct-section),body .ct-section.c-margin-top-xl .ct-section-inner-wrap{margin-top:var(--xl-space)}body .c-margin-bottom-xl:not(.ct-section),body .ct-section.c-margin-bottom-xl .ct-section-inner-wrap{margin-bottom:var(--xl-space)}body .c-columns-gap-xl:not(.ct-section),body .ct-section.c-columns-gap-xl .ct-section-inner-wrap{grid-gap:var(--xl-space)}body .c-owl-xxl:not(.ct-section)>*+*,body .ct-section.c-owl-xxl .ct-section-inner-wrap>*+*{margin-top:var(--xxl-space)}body .c-padding-xxl:not(.ct-section),body .ct-section.c-padding-xxl .ct-section-inner-wrap{padding:var(--xxl-space)}body .c-padding-left-xxl:not(.ct-section),body .ct-section.c-padding-left-xxl .ct-section-inner-wrap{padding-left:var(--xxl-space)}body .c-padding-right-xxl:not(.ct-section),body .ct-section.c-padding-right-xxl .ct-section-inner-wrap{padding-right:var(--xxl-space)}body .c-padding-top-xxl:not(.ct-section),body .ct-section.c-padding-top-xxl .ct-section-inner-wrap{padding-top:var(--xxl-space)}body .c-padding-bottom-xxl:not(.ct-section),body .ct-section.c-padding-bottom-xxl .ct-section-inner-wrap{padding-bottom:var(--xxl-space)}body .c-margin-xxl:not(.ct-section),body .ct-section.c-margin-xxl .ct-section-inner-wrap{margin:var(--xxl-space)}body .c-margin-left-xxl:not(.ct-section),body .ct-section.c-margin-left-xxl .ct-section-inner-wrap{margin-left:var(--xxl-space)}body .c-margin-right-xxl:not(.ct-section),body .ct-section.c-margin-right-xxl .ct-section-inner-wrap{margin-right:var(--xxl-space)}body .c-margin-top-xxl:not(.ct-section),body .ct-section.c-margin-top-xxl .ct-section-inner-wrap{margin-top:var(--xxl-space)}body .c-margin-bottom-xxl:not(.ct-section),body .ct-section.c-margin-bottom-xxl .ct-section-inner-wrap{margin-bottom:var(--xxl-space)}body .c-columns-gap-xxl:not(.ct-section),body .ct-section.c-columns-gap-xxl .ct-section-inner-wrap{grid-gap:var(--xxl-space)}} body .c-h1{font-size:var(--h1-fallback)}body .c-h2{font-size:var(--h2-fallback)}body .c-h3{font-size:var(--h3-fallback)}body .c-h4{font-size:var(--h4-fallback)}body .c-h5{font-size:var(--h5-fallback)}body .c-h6{font-size:var(--h6-fallback)}body .c-text-s{font-size:var(--s-text-fallback)}body .c-text-m{font-size:var(--m-text-fallback)}body .c-text-l{font-size:var(--l-text-fallback)}body .c-text-xl{font-size:var(--xl-text-fallback)}@supports (font-size:clamp(1px,2px,3px)){body .c-h1{font-size:var(--h1)}body .c-h2{font-size:var(--h2)}body .c-h3{font-size:var(--h3)}body .c-h4{font-size:var(--h4)}body .c-h5{font-size:var(--h5)}body .c-h6{font-size:var(--h6)}body .c-text-s{font-size:var(--s-text)}body .c-text-m{font-size:var(--m-text)}body .c-text-l{font-size:var(--l-text)}body .c-text-xl{font-size:var(--xl-text)}} :root{--pmk-c-black:#000;--pmk-c-white:#fff;--pmk-c-grey-darker:#111;--pmk-c-sapphire:#041133;--pmk-c-ghost-white:#f8f9ff;--pmk-c-light-salmon:#fc9e7f;--pmk-c-light-slate-blue:#6785ff;--pmk-c-pattens-blue:#ebf0f7;--pmk-c-comet:#626679;--pmk-box-shadow:0 2px 31px rgba(0,0,0,.0968368);--pmk-border-radius:.625rem;--pmk-font-weight-thin:100;--pmk-font-weight-extra-light:200;--pmk-font-weight-light:300;--pmk-font-weight-normal:400;--pmk-font-weight-medium:500;--pmk-font-weight-semi-bold:600;--pmk-font-weight-bold:700;--pmk-font-weight-extra-bold:800;--pmk-font-weight-black:900;--pmk-xxs-font-size:.875rem;--pmk-xxs-line-height:1rem;--pmk-xs-font-size:1rem;--pmk-xs-line-height:1.625rem;--pmk-s-font-size:1.25rem;--pmk-s-line-height:1.5rem;--pmk-sm-font-size:1.375rem;--pmk-sm-line-height:2rem;--pmk-m-font-size:1.5rem;--pmk-m-line-height:1.75rem;--pmk-l-font-size:2.1875rem;--pmk-l-line-height:2.5625rem;--pmk-xl-font-size:3.125rem;--pmk-xl-line-height:3.625rem;--pmk-spacing-1:.0625rem;--pmk-spacing-4:.25rem;--pmk-spacing-6:.375rem;--pmk-spacing-8:.5rem;--pmk-spacing-10:.625rem;--pmk-spacing-12:.75rem;--pmk-spacing-16:1rem;--pmk-spacing-20:1.25rem;--pmk-spacing-24:1.5rem;--pmk-spacing-28:1.75rem;--pmk-spacing-30:1.875rem;--pmk-spacing-36:2.25rem;--pmk-spacing-40:2.5rem;--pmk-spacing-54:3.375rem;--pmk-spacing-56:3.5rem;--pmk-spacing-60:3.75rem;--pmk-spacing-65:4.0625rem;--pmk-spacing-70:4.375rem;--pmk-spacing-80:5rem;--pmk-spacing-100:6.25rem;--pmk-max-width:78.75rem}.editor-styles-wrapper,:root{--pmk-global-color-primary:var(--global--color-primary,var(--pmk-c-grey-darker));--pmk-global-color-secondary:var(--global--color-secondary,var(--pmk-c-comet));--pmk-global-color-accent:var(--global--color-gray,var(--pmk-c-light-slate-blue));--pmk-global-color-accent-secondary:var(--global--color-gray,var(--pmk-c-light-salmon));--pmk-global-color-background:var(--global--color-background,var(--pmk-c-white));--pmk-global-color-background-focus:var(--global--color-secondary,var(--pmk-c-ghost-white));--pmk-global-color-border:var(--global--color-border,var(--pmk-c-pattens-blue));--pmk-global-color-text-on-background:var(--global--color-white,var(--pmk-c-sapphire));--pmk-global-color-text-on-background-secondary:var(--global--color-light-gray,var(--pmk-global-color-secondary));--pmk-alignwide-width:var(--responsive--alignwide-width,100%);--pmk-color-button-primary-background:var(--pmk-c-light-slate-blue);--pmk-color-button-primary-text:var(--pmk-c-white);--pmk-color-button-primary-background-hover:var(--pmk-c-sapphire);--pmk-color-button-primary-text-hover:var(--pmk-c-white);--pmk-global-max-width:var(--responsive--alignwide-width,var(--pmk-max-width));--pmk-spacing-components:var(--pmk-spacing-70);--pmk-spacing-related:var(--pmk-spacing-30);--pmk-spacing-internal-xsmall:var(--pmk-spacing-8);--pmk-spacing-internal-small:var(--pmk-spacing-12);--pmk-spacing-internal-medium:var(--pmk-spacing-20);--pmk-spacing-internal-large:var(--pmk-spacing-30);--pmk-spacing-internal-xlarge:var(--pmk-spacing-56);--pmk-heading-1-font-size:var(--pmk-xl-font-size);--pmk-heading-1-line-height:var(--pmk-xl-line-height);--pmk-heading-2-font-size:var(--pmk-l-font-size);--pmk-heading-2-line-height:var(--pmk-l-line-height);--pmk-heading-3-font-size:var(--pmk-m-font-size);--pmk-heading-3-line-height:var(--pmk-m-line-height);--pmk-heading-4-font-size:var(--pmk-sm-font-size);--pmk-heading-4-line-height:var(--pmk-sm-line-height);--pmk-heading-5-font-size:var(--pmk-s-font-size);--pmk-heading-5-line-height:var(--pmk-s-line-height);--pmk-heading-6-font-size:var(--pmk-xs-font-size);--pmk-heading-6-line-height:var(--pmk-xs-line-height);--pmk-text-smaller-font-size:var(--pmk-xxs-font-size);--pmk-text-smaller-line-height:var(--pmk-xxs-line-height);--pmk-text-small-font-size:var(--pmk-xs-font-size);--pmk-text-small-line-height:var(--pmk-xs-line-height);--pmk-text-base-font-size:var(--pmk-sm-font-size);--pmk-text-base-line-height:var(--pmk-sm-line-height);--pmk-text-large-font-size:var(--pmk-m-font-size);--pmk-text-large-line-height:var(--pmk-m-line-height)}div.wp-block-group.pmk-audience-profiles{margin-bottom:var(--pmk-spacing-components);margin-top:0}div.wp-block-group.pmk-audience-profiles h2{border-bottom:1px solid var(--pmk-global-color-border);font-size:var(--pmk-heading-2-font-size);font-weight:400;font-weight:var(--pmk-font-weight-normal);line-height:var(--pmk-heading-2-line-height);margin-bottom:var(--pmk-spacing-internal-xlarge);padding-bottom:var(--pmk-spacing-internal-xsmall)}div.wp-block-group.pmk-audience-profiles .wp-block-image{align-items:center;background-color:var(--pmk-global-color-background-focus);border-radius:50%;display:flex;height:14.6875rem;justify-content:center;margin:0 auto;padding:var(--pmk-spacing-internal-medium);width:14.6875rem}div.wp-block-group.pmk-audience-profiles p{font-size:var(--pmk-text-base-font-size);line-height:var(--pmk-text-base-line-height);margin-top:var(--pmk-spacing-related)}div.wp-block-group.pmk-audience-profiles figure{max-height:8.5625rem;max-width:8.5625rem}@media (max-width:782px){div.wp-block-group.pmk-audience-profiles .wp-block-column{margin-bottom:var(--pmk-spacing-internal-medium)}}.wp-block-buttons .pmk-button .wp-block-button__link{background-color:var(--pmk-color-button-primary-background);color:var(--pmk-color-button-primary-text)}.wp-block-buttons .pmk-button .wp-block-button__link:focus,.wp-block-buttons .pmk-button .wp-block-button__link:hover{background-color:var(--pmk-color-button-primary-background-hover);color:var(--pmk-color-button-primary-text-hover)}div.wp-block-cover.pmk-cover{margin-bottom:var(--pmk-spacing-components)}div.wp-block-cover.pmk-cover h1{font-size:var(--pmk-heading-1-font-size);font-weight:400;font-weight:var(--pmk-font-weight-normal);line-height:var(--pmk-heading-1-font-size)}div.wp-block-cover.pmk-cover p{font-size:var(--pmk-text-small-font-size);line-height:var(--pmk-text-small-line-height);margin-bottom:var(--pmk-spacing-internal-medium)}div.wp-block-group.pmk-packages{color:var(--pmk-global-color-primary);margin-bottom:var(--pmk-spacing-components)}div.wp-block-group.pmk-packages .wp-block-group__inner-container{position:relative}div.wp-block-group.pmk-packages .wp-block-group__inner-container>*{position:relative;z-index:1}div.wp-block-group.pmk-packages .wp-block-group__inner-container:before{background-color:var(--pmk-global-color-background-focus);content:"";height:100%;left:50%;margin-left:-50vw;position:absolute;top:0;width:99.6vw;z-index:0}div.wp-block-group.pmk-packages .wp-block-group__inner-container{padding:var(--pmk-spacing-internal-medium) 0 var(--pmk-spacing-internal-xlarge)}div.wp-block-group.pmk-packages h2{color:var(--pmk-global-color-text-on-background);font-size:var(--pmk-heading-2-font-size);font-weight:400;font-weight:var(--pmk-font-weight-normal);line-height:var(--pmk-heading-2-line-height)}div.wp-block-group.pmk-packages p{color:var(--pmk-global-color-text-on-background-secondary);font-size:var(--pmk-text-small-font-size);line-height:var(--pmk-text-small-line-height);margin:0 auto var(--pmk-spacing-internal-medium);max-width:80%}div.wp-block-group.pmk-packages .wp-block-columns{flex-wrap:wrap}div.wp-block-group.pmk-packages .wp-block-column{display:flex;flex-direction:column;font-size:var(--pmk-text-small-font-size);line-height:var(--pmk-text-small-line-height);margin:var(--pmk-spacing-internal-small);min-width:300px;background-color:var(--pmk-global-color-background);border-radius:.625rem;border-radius:var(--pmk-border-radius);box-shadow:0 2px 31px rgba(0,0,0,.0968368);box-shadow:var(--pmk-box-shadow);color:var(--pmk-global-color-primary);padding:var(--pmk-spacing-internal-xlarge) var(--pmk-spacing-internal-medium);padding:var(--pmk-spacing-internal-large) var(--pmk-spacing-internal-medium) var(--pmk-spacing-internal-xlarge)}div.wp-block-group.pmk-packages .wp-block-column h3{font-size:var(--pmk-heading-4-font-size);line-height:var(--pmk-heading-4-line-height);margin-bottom:var(--pmk-spacing-internal-medium)}div.wp-block-group.pmk-packages .wp-block-column p{color:var(--pmk-global-color-secondary);max-width:unset}div.wp-block-group.pmk-packages .wp-block-column ul{color:var(--pmk-global-color-secondary);flex-grow:1;font-size:var(--pmk-text-smaller-font-size);line-height:var(--pmk-text-smaller-line-height);list-style-type:none;margin:0 0 var(--pmk-spacing-internal-large);padding:0}div.wp-block-group.pmk-packages .wp-block-column li{align-items:center;display:flex;margin-bottom:var(--pmk-spacing-internal-medium)}div.wp-block-group.pmk-packages .wp-block-column li:last-of-type{margin-bottom:0}div.wp-block-group.pmk-packages .wp-block-column li:before{background-color:var(--pmk-global-color-accent-secondary);content:"";display:block;height:15px;margin-right:var(--pmk-spacing-internal-xsmall);-webkit-mask-image:url(//hometheaterreview.com/wp-content/plugins/publisher-media-kit/dist/css/../images/svg/ico-tick.svg);mask-image:url(//hometheaterreview.com/wp-content/plugins/publisher-media-kit/dist/css/../images/svg/ico-tick.svg);-webkit-mask-size:20px 15px;mask-size:20px 15px;position:relative;width:20px}div.wp-block-group.pmk-packages .wp-block-column li strong{margin-right:3px}div.wp-block-group.pmk-packages .pmk-big-font{border-top:1px solid var(--pmk-global-color-border);color:var(--pmk-global-color-secondary);font-size:var(--pmk-text-large-font-size);line-height:var(--pmk-text-large-line-height);margin:0 auto;padding-top:var(--pmk-spacing-internal-medium)}div.wp-block-group.pmk-question-block{background-color:var(--pmk-global-color-background-focus);color:var(--pmk-global-color-text-on-background)}@media (min-width:48em){div.wp-block-group.pmk-question-block{align-items:center;display:flex;justify-content:center}}div.wp-block-group.pmk-question-block .wp-block-columns{align-items:center;display:flex;flex-direction:column;justify-content:center;padding:var(--pmk-spacing-internal-large)}@media (min-width:48em){div.wp-block-group.pmk-question-block .wp-block-columns{flex-direction:row}}div.wp-block-group.pmk-question-block .wp-block-column{margin:0}@media (min-width:48em){div.wp-block-group.pmk-question-block .wp-block-columns,div.wp-block-group.pmk-question-block .wp-block-group__inner-container{flex-grow:1}}div.wp-block-group.pmk-question-block .pmk-question-left{align-items:center;display:flex;font-weight:400;font-weight:var(--pmk-font-weight-normal);margin-bottom:var(--pmk-spacing-internal-large);text-align:center}@media (min-width:48em){div.wp-block-group.pmk-question-block .pmk-question-left{flex-grow:2;justify-content:flex-end;margin-bottom:0;margin-right:var(--pmk-spacing-internal-large);text-align:left}}@media (min-width:48em){div.wp-block-group.pmk-question-block .pmk-question-right{flex-grow:1}}div.wp-block-group.pmk-question-block h2{font-weight:400;font-weight:var(--pmk-font-weight-normal)}div.wp-block-group.pmk-question-block .wp-block-button{margin-bottom:0}div.wp-block-group.pmk-stats{margin-bottom:0;margin-top:0;position:relative}div.wp-block-group.pmk-stats .wp-block-group__inner-container{position:relative}div.wp-block-group.pmk-stats .wp-block-group__inner-container>*{position:relative;z-index:1}div.wp-block-group.pmk-stats .wp-block-group__inner-container:before{background-color:var(--pmk-global-color-background-focus);content:"";height:100%;left:50%;margin-left:-50vw;position:absolute;top:0;width:99.6vw;z-index:0}div.wp-block-group.pmk-stats .wp-block-group__inner-container:after,div.wp-block-group.pmk-stats .wp-block-group__inner-container:before{bottom:calc(var(--pmk-spacing-components)*-1);height:calc(50% + var(--pmk-spacing-components));top:unset}div.wp-block-group.pmk-stats .wp-block-columns{flex-wrap:wrap}@media (max-width:782px){div.wp-block-group.pmk-stats .wp-block-columns{justify-content:center}}div.wp-block-group.pmk-stats .wp-block-column{margin:var(--pmk-spacing-internal-small);min-width:200px;z-index:1;background-color:var(--pmk-global-color-background);border-radius:.625rem;border-radius:var(--pmk-border-radius);box-shadow:0 2px 31px rgba(0,0,0,.0968368);box-shadow:var(--pmk-box-shadow);color:var(--pmk-global-color-primary);padding:var(--pmk-spacing-internal-xlarge) var(--pmk-spacing-internal-medium)}div.wp-block-group.pmk-stats h3{font-size:var(--pmk-heading-2-font-size);font-weight:var(--font-weight-normal);line-height:var(--pmk-heading-2-line-height);margin-bottom:var(--pmk-spacing-internal-xsmall)}@media (min-width:64em){div.wp-block-group.pmk-stats h3{font-size:var(--pmk-heading-1-font-size);line-height:var(--pmk-heading-1-line-height)}}div.wp-block-group.pmk-stats p{color:var(--pmk-global-color-secondary);font-size:var(--pmk-text-small-font-size);line-height:var(--pmk-text-small-line-height);margin-top:0}div.wp-block-group.pmk-tabs-table{margin-bottom:var(--pmk-spacing-components)}div.wp-block-group.pmk-tabs-table.alignwide .tabs{margin-left:auto!important;margin-right:auto!important;max-width:var(--pmk-alignwide-width)!important;width:var(--pmk-alignwide-width)!important}div.wp-block-group.pmk-tabs-table .tab-title{font-size:var(--pmk-heading-2-font-size);font-weight:400;font-weight:var(--pmk-font-weight-normal);line-height:var(--pmk-heading-2-line-height);margin:0 calc(var(--pmk-spacing-internal-medium)*2) 0 0;position:relative}div.wp-block-group.pmk-tabs-table .tab-title:after{background-color:var(--pmk-global-color-border);content:"";display:block;height:20px;position:absolute;right:calc(var(--pmk-spacing-internal-medium)*-1);top:50%;transform:translateY(-50%);width:1px}div.wp-block-group.pmk-tabs-table .tabs-header{border-bottom:1px solid var(--pmk-global-color-border);display:flex;margin-bottom:var(--pmk-spacing-internal-xlarge);position:relative}div.wp-block-group.pmk-tabs-table .tab-list{align-items:center;display:flex}div.wp-block-group.pmk-tabs-table .tab-item{border:0;height:100%}div.wp-block-group.pmk-tabs-table .tab-item.is-active [role=tab],div.wp-block-group.pmk-tabs-table .is-active [role=tab]{background:0 0;position:relative}div.wp-block-group.pmk-tabs-table .tab-item.is-active [role=tab]:after,div.wp-block-group.pmk-tabs-table .is-active [role=tab]:after{background-color:var(--pmk-global-color-accent);bottom:0;content:"";display:block;height:4px;left:0;position:absolute;width:100%}div.wp-block-group.pmk-tabs-table .tab-item>[role=tab],div.wp-block-group.pmk-tabs-table>[role=tab]{align-items:center;border:0;display:flex;font-size:var(--pmk-text-small-font-size);font-weight:700;font-weight:var(--pmk-font-weight-bold);height:100%;line-height:var(--pmk-text-small-line-height);margin-right:var(--pmk-spacing-internal-large);padding:0}div.wp-block-group.pmk-tabs-table .tab-item>[role=tab]:first-of-type,div.wp-block-group.pmk-tabs-table>[role=tab]:first-of-type{padding-left:0}div.wp-block-group.pmk-tabs-table .tab-item>[role=tab]:focus,div.wp-block-group.pmk-tabs-table .tab-item>[role=tab]:hover,div.wp-block-group.pmk-tabs-table>[role=tab]:focus,div.wp-block-group.pmk-tabs-table>[role=tab]:hover{background:0 0}div.wp-block-group.pmk-tabs-table .tab-group{border:0}div.wp-block-group.pmk-tabs-table .tab-content{padding:0}div.wp-block-group.pmk-tabs-table .tab-content .wp-block-table{margin:0}div.wp-block-group.pmk-tabs-table .tab-content table{border:0;border-bottom:4px solid var(--pmk-global-color-accent-secondary)}div.wp-block-group.pmk-tabs-table .tab-content thead{border:0}div.wp-block-group.pmk-tabs-table .tab-content td,div.wp-block-group.pmk-tabs-table .tab-content th{border:0;padding:var(--pmk-spacing-internal-medium) var(--pmk-spacing-internal-large);text-align:left}div.wp-block-group.pmk-tabs-table .tab-content tbody tr:nth-child(odd){background-color:var(--pmk-global-color-background-focus);color:var(--pmk-global-color-text-on-background)}div.wp-block-group.pmk-tabs-table .tab-content tbody td{border-right:1px solid var(--pmk-global-color-border)}div.wp-block-group.pmk-tabs-table .tab-content tbody td:last-of-type{border:0}div.wp-block-group.pmk-why-digital{background-color:var(--pmk-global-color-background-focus);color:var(--pmk-global-color-text-on-background);margin-bottom:var(--pmk-spacing-components);margin-top:0}div.wp-block-group.pmk-why-digital .wp-block-group__inner-container{position:relative}div.wp-block-group.pmk-why-digital .wp-block-group__inner-container>*{position:relative;z-index:1}div.wp-block-group.pmk-why-digital .wp-block-group__inner-container:before{background-color:var(--pmk-global-color-background-focus);content:"";height:100%;left:50%;margin-left:-50vw;position:absolute;top:0;width:99.6vw;z-index:0}div.wp-block-group.pmk-why-digital .wp-block-group__inner-container{padding:var(--pmk-spacing-components) 0 var(--pmk-spacing-internal-xlarge)}div.wp-block-group.pmk-why-digital h2{font-size:var(--pmk-heading-2-font-size);font-weight:400;font-weight:var(--pmk-font-weight-normal);line-height:var(--pmk-heading-2-line-height);margin-bottom:var(--pmk-spacing-internal-xlarge)}div.wp-block-group.pmk-why-digital h3{font-size:var(--pmk-heading-5-font-size);font-weight:400;font-weight:var(--pmk-font-weight-normal);line-height:var(--pmk-heading-5-line-height);margin-bottom:var(--pmk-spacing-internal-small)}div.wp-block-group.pmk-why-digital p{color:var(--pmk-global-color-text-on-background-secondary);font-size:var(--pmk-text-small-font-size);line-height:var(--pmk-text-small-line-height);margin-top:0}div.wp-block-group.pmk-why-digital .wp-block-columns{margin-bottom:var(--pmk-spacing-internal-xlarge)}@media (max-width:782px){div.wp-block-group.pmk-why-digital .wp-block-columns{padding:var(--pmk-spacing-internal-large)}}@media (max-width:782px){div.wp-block-group.pmk-why-digital .wp-block-column{margin-bottom:var(--pmk-spacing-internal-medium)}}div.wp-block-group.pmk-why-digital .wp-block-image{text-align:left}div.wp-block-group.pmk-why-digital .wp-block-image.alignleft{display:block;float:none;text-align:left}div.wp-block-group.pmk-why-digital .wp-block-image.alignright{display:block;float:none;text-align:right} #rank-math-faq .rank-math-list-item{border:1px solid #d1dfee;margin-bottom:20px;background-color:#fdfeff}#rank-math-faq .rank-math-question{font-size:14px;font-weight:700;margin:0;padding:17px 56px 17px 12px;line-height:1.4;cursor:pointer;position:relative;-webkit-touch-callout:none;-webkit-user-select:none;-khtml-user-select:none;-moz-user-select:none;-ms-user-select:none;user-select:none;display:block}#rank-math-faq .rank-math-question.faq-q-open{border-bottom:1px solid #d1dfee}#rank-math-faq .rank-math-question:after{content:"+";position:absolute;top:50%;right:0;width:56px;text-align:center;-webkit-transform:translateY(-50%);-moz-transform:translateY(-50%);-ms-transform:translateY(-50%);transform:translateY(-50%);font-weight:700;color:#000;font-size:20px}#rank-math-faq .rank-math-question.faq-q-open:after{content:"-"}#rank-math-faq .rank-math-answer{margin:0;padding:12px;background-color:#fff;font-size:16px!important;line-height:1.4!important;border-bottom:1px solid #dedee0;display:none}#rank-math-faq .RMFA-quesion-button{all:unset!important} /*! * Quill Editor v1.3.6 * https://quilljs.com/ * Copyright (c) 2014, Jason Chen * Copyright (c) 2013, salesforce.com */ .ql-container{box-sizing:border-box;font-family:Helvetica,Arial,sans-serif;font-size:13px;height:100%;margin:0;position:relative}.ql-container.ql-disabled .ql-tooltip{visibility:hidden}.ql-container.ql-disabled .ql-editor ul[data-checked]>li:before{pointer-events:none}.ql-clipboard{left:-100000px;height:1px;overflow-y:hidden;position:absolute;top:50%}.ql-clipboard p{margin:0;padding:0}.ql-editor{box-sizing:border-box;line-height:1.42;height:100%;outline:none;overflow-y:auto;padding:12px 15px;tab-size:4;-moz-tab-size:4;text-align:left;white-space:pre-wrap;word-wrap:break-word}.ql-editor>*{cursor:text}.ql-editor p,.ql-editor ol,.ql-editor ul,.ql-editor pre,.ql-editor blockquote,.ql-editor h1,.ql-editor h2,.ql-editor h3,.ql-editor h4,.ql-editor h5,.ql-editor h6{margin:0;padding:0;counter-reset:list-1 list-2 list-3 list-4 list-5 list-6 list-7 list-8 list-9}.ql-editor ol,.ql-editor ul{padding-left:1.5em}.ql-editor ol>li,.ql-editor ul>li{list-style-type:none}.ql-editor ul>li:before{content:'\2022'}.ql-editor ul[data-checked=true],.ql-editor ul[data-checked=false]{pointer-events:none}.ql-editor ul[data-checked=true]>li *,.ql-editor ul[data-checked=false]>li *{pointer-events:all}.ql-editor ul[data-checked=true]>li:before,.ql-editor ul[data-checked=false]>li:before{color:#777;cursor:pointer;pointer-events:all}.ql-editor ul[data-checked=true]>li:before{content:'\2611'}.ql-editor ul[data-checked=false]>li:before{content:'\2610'}.ql-editor li:before{display:inline-block;white-space:nowrap;width:1.2em}.ql-editor li:not(.ql-direction-rtl):before{margin-left:-1.5em;margin-right:.3em;text-align:right}.ql-editor li.ql-direction-rtl:before{margin-left:.3em;margin-right:-1.5em}.ql-editor ol li:not(.ql-direction-rtl),.ql-editor ul li:not(.ql-direction-rtl){padding-left:1.5em}.ql-editor ol li.ql-direction-rtl,.ql-editor ul li.ql-direction-rtl{padding-right:1.5em}.ql-editor ol li{counter-reset:list-1 list-2 list-3 list-4 list-5 list-6 list-7 list-8 list-9;counter-increment:list-0}.ql-editor ol li:before{content:counter(list-0,decimal) '. '}.ql-editor ol li.ql-indent-1{counter-increment:list-1}.ql-editor ol li.ql-indent-1:before{content:counter(list-1,lower-alpha) '. '}.ql-editor ol li.ql-indent-1{counter-reset:list-2 list-3 list-4 list-5 list-6 list-7 list-8 list-9}.ql-editor ol li.ql-indent-2{counter-increment:list-2}.ql-editor ol li.ql-indent-2:before{content:counter(list-2,lower-roman) '. '}.ql-editor ol li.ql-indent-2{counter-reset:list-3 list-4 list-5 list-6 list-7 list-8 list-9}.ql-editor ol li.ql-indent-3{counter-increment:list-3}.ql-editor ol li.ql-indent-3:before{content:counter(list-3,decimal) '. '}.ql-editor ol li.ql-indent-3{counter-reset:list-4 list-5 list-6 list-7 list-8 list-9}.ql-editor ol li.ql-indent-4{counter-increment:list-4}.ql-editor ol li.ql-indent-4:before{content:counter(list-4,lower-alpha) '. '}.ql-editor ol li.ql-indent-4{counter-reset:list-5 list-6 list-7 list-8 list-9}.ql-editor ol li.ql-indent-5{counter-increment:list-5}.ql-editor ol li.ql-indent-5:before{content:counter(list-5,lower-roman) '. '}.ql-editor ol li.ql-indent-5{counter-reset:list-6 list-7 list-8 list-9}.ql-editor ol li.ql-indent-6{counter-increment:list-6}.ql-editor ol li.ql-indent-6:before{content:counter(list-6,decimal) '. '}.ql-editor ol li.ql-indent-6{counter-reset:list-7 list-8 list-9}.ql-editor ol li.ql-indent-7{counter-increment:list-7}.ql-editor ol li.ql-indent-7:before{content:counter(list-7,lower-alpha) '. '}.ql-editor ol li.ql-indent-7{counter-reset:list-8 list-9}.ql-editor ol li.ql-indent-8{counter-increment:list-8}.ql-editor ol li.ql-indent-8:before{content:counter(list-8,lower-roman) '. '}.ql-editor ol li.ql-indent-8{counter-reset:list-9}.ql-editor ol li.ql-indent-9{counter-increment:list-9}.ql-editor ol li.ql-indent-9:before{content:counter(list-9,decimal) '. '}.ql-editor .ql-indent-1:not(.ql-direction-rtl){padding-left:3em}.ql-editor li.ql-indent-1:not(.ql-direction-rtl){padding-left:4.5em}.ql-editor .ql-indent-1.ql-direction-rtl.ql-align-right{padding-right:3em}.ql-editor li.ql-indent-1.ql-direction-rtl.ql-align-right{padding-right:4.5em}.ql-editor .ql-indent-2:not(.ql-direction-rtl){padding-left:6em}.ql-editor li.ql-indent-2:not(.ql-direction-rtl){padding-left:7.5em}.ql-editor .ql-indent-2.ql-direction-rtl.ql-align-right{padding-right:6em}.ql-editor li.ql-indent-2.ql-direction-rtl.ql-align-right{padding-right:7.5em}.ql-editor .ql-indent-3:not(.ql-direction-rtl){padding-left:9em}.ql-editor li.ql-indent-3:not(.ql-direction-rtl){padding-left:10.5em}.ql-editor .ql-indent-3.ql-direction-rtl.ql-align-right{padding-right:9em}.ql-editor li.ql-indent-3.ql-direction-rtl.ql-align-right{padding-right:10.5em}.ql-editor .ql-indent-4:not(.ql-direction-rtl){padding-left:12em}.ql-editor li.ql-indent-4:not(.ql-direction-rtl){padding-left:13.5em}.ql-editor .ql-indent-4.ql-direction-rtl.ql-align-right{padding-right:12em}.ql-editor li.ql-indent-4.ql-direction-rtl.ql-align-right{padding-right:13.5em}.ql-editor .ql-indent-5:not(.ql-direction-rtl){padding-left:15em}.ql-editor li.ql-indent-5:not(.ql-direction-rtl){padding-left:16.5em}.ql-editor .ql-indent-5.ql-direction-rtl.ql-align-right{padding-right:15em}.ql-editor li.ql-indent-5.ql-direction-rtl.ql-align-right{padding-right:16.5em}.ql-editor .ql-indent-6:not(.ql-direction-rtl){padding-left:18em}.ql-editor li.ql-indent-6:not(.ql-direction-rtl){padding-left:19.5em}.ql-editor .ql-indent-6.ql-direction-rtl.ql-align-right{padding-right:18em}.ql-editor li.ql-indent-6.ql-direction-rtl.ql-align-right{padding-right:19.5em}.ql-editor .ql-indent-7:not(.ql-direction-rtl){padding-left:21em}.ql-editor li.ql-indent-7:not(.ql-direction-rtl){padding-left:22.5em}.ql-editor .ql-indent-7.ql-direction-rtl.ql-align-right{padding-right:21em}.ql-editor li.ql-indent-7.ql-direction-rtl.ql-align-right{padding-right:22.5em}.ql-editor .ql-indent-8:not(.ql-direction-rtl){padding-left:24em}.ql-editor li.ql-indent-8:not(.ql-direction-rtl){padding-left:25.5em}.ql-editor .ql-indent-8.ql-direction-rtl.ql-align-right{padding-right:24em}.ql-editor li.ql-indent-8.ql-direction-rtl.ql-align-right{padding-right:25.5em}.ql-editor .ql-indent-9:not(.ql-direction-rtl){padding-left:27em}.ql-editor li.ql-indent-9:not(.ql-direction-rtl){padding-left:28.5em}.ql-editor .ql-indent-9.ql-direction-rtl.ql-align-right{padding-right:27em}.ql-editor li.ql-indent-9.ql-direction-rtl.ql-align-right{padding-right:28.5em}.ql-editor .ql-video{display:block;max-width:100%}.ql-editor .ql-video.ql-align-center{margin:0 auto}.ql-editor .ql-video.ql-align-right{margin:0 0 0 auto}.ql-editor .ql-bg-black{background-color:#000}.ql-editor .ql-bg-red{background-color:#e60000}.ql-editor .ql-bg-orange{background-color:#f90}.ql-editor .ql-bg-yellow{background-color:#ff0}.ql-editor .ql-bg-green{background-color:#008a00}.ql-editor .ql-bg-blue{background-color:#06c}.ql-editor .ql-bg-purple{background-color:#93f}.ql-editor .ql-color-white{color:#fff}.ql-editor .ql-color-red{color:#e60000}.ql-editor .ql-color-orange{color:#f90}.ql-editor .ql-color-yellow{color:#ff0}.ql-editor .ql-color-green{color:#008a00}.ql-editor .ql-color-blue{color:#06c}.ql-editor .ql-color-purple{color:#93f}.ql-editor .ql-font-serif{font-family:Georgia,Times New Roman,serif}.ql-editor .ql-font-monospace{font-family:Monaco,Courier New,monospace}.ql-editor .ql-size-small{font-size:.75em}.ql-editor .ql-size-large{font-size:1.5em}.ql-editor .ql-size-huge{font-size:2.5em}.ql-editor .ql-direction-rtl{direction:rtl;text-align:inherit}.ql-editor .ql-align-center{text-align:center}.ql-editor .ql-align-justify{text-align:justify}.ql-editor .ql-align-right{text-align:right}.ql-editor.ql-blank:before{color:rgba(0,0,0,.6);content:attr(data-placeholder);font-style:italic;left:15px;pointer-events:none;position:absolute;right:15px}.ql-snow.ql-toolbar:after,.ql-snow .ql-toolbar:after{clear:both;content:'';display:table}.ql-snow.ql-toolbar button,.ql-snow .ql-toolbar button{background:0 0;border:none;cursor:pointer;display:inline-block;float:left;height:24px;padding:3px 5px;width:28px}.ql-snow.ql-toolbar button svg,.ql-snow .ql-toolbar button svg{float:left;height:100%}.ql-snow.ql-toolbar button:active:hover,.ql-snow .ql-toolbar button:active:hover{outline:none}.ql-snow.ql-toolbar input.ql-image[type=file],.ql-snow .ql-toolbar input.ql-image[type=file]{display:none}.ql-snow.ql-toolbar button:hover,.ql-snow .ql-toolbar button:hover,.ql-snow.ql-toolbar button:focus,.ql-snow .ql-toolbar button:focus,.ql-snow.ql-toolbar button.ql-active,.ql-snow .ql-toolbar button.ql-active,.ql-snow.ql-toolbar .ql-picker-label:hover,.ql-snow .ql-toolbar .ql-picker-label:hover,.ql-snow.ql-toolbar .ql-picker-label.ql-active,.ql-snow .ql-toolbar .ql-picker-label.ql-active,.ql-snow.ql-toolbar .ql-picker-item:hover,.ql-snow .ql-toolbar .ql-picker-item:hover,.ql-snow.ql-toolbar .ql-picker-item.ql-selected,.ql-snow .ql-toolbar .ql-picker-item.ql-selected{color:#06c}.ql-snow.ql-toolbar button:hover .ql-fill,.ql-snow .ql-toolbar button:hover .ql-fill,.ql-snow.ql-toolbar button:focus .ql-fill,.ql-snow .ql-toolbar button:focus .ql-fill,.ql-snow.ql-toolbar button.ql-active .ql-fill,.ql-snow .ql-toolbar button.ql-active .ql-fill,.ql-snow.ql-toolbar .ql-picker-label:hover .ql-fill,.ql-snow .ql-toolbar .ql-picker-label:hover .ql-fill,.ql-snow.ql-toolbar .ql-picker-label.ql-active .ql-fill,.ql-snow .ql-toolbar .ql-picker-label.ql-active .ql-fill,.ql-snow.ql-toolbar .ql-picker-item:hover .ql-fill,.ql-snow .ql-toolbar .ql-picker-item:hover .ql-fill,.ql-snow.ql-toolbar .ql-picker-item.ql-selected .ql-fill,.ql-snow .ql-toolbar .ql-picker-item.ql-selected .ql-fill,.ql-snow.ql-toolbar button:hover .ql-stroke.ql-fill,.ql-snow .ql-toolbar button:hover .ql-stroke.ql-fill,.ql-snow.ql-toolbar button:focus .ql-stroke.ql-fill,.ql-snow .ql-toolbar button:focus .ql-stroke.ql-fill,.ql-snow.ql-toolbar button.ql-active .ql-stroke.ql-fill,.ql-snow .ql-toolbar button.ql-active .ql-stroke.ql-fill,.ql-snow.ql-toolbar .ql-picker-label:hover .ql-stroke.ql-fill,.ql-snow .ql-toolbar .ql-picker-label:hover .ql-stroke.ql-fill,.ql-snow.ql-toolbar .ql-picker-label.ql-active .ql-stroke.ql-fill,.ql-snow .ql-toolbar .ql-picker-label.ql-active .ql-stroke.ql-fill,.ql-snow.ql-toolbar .ql-picker-item:hover .ql-stroke.ql-fill,.ql-snow .ql-toolbar .ql-picker-item:hover .ql-stroke.ql-fill,.ql-snow.ql-toolbar .ql-picker-item.ql-selected .ql-stroke.ql-fill,.ql-snow .ql-toolbar .ql-picker-item.ql-selected .ql-stroke.ql-fill{fill:#06c}.ql-snow.ql-toolbar button:hover .ql-stroke,.ql-snow .ql-toolbar button:hover .ql-stroke,.ql-snow.ql-toolbar button:focus .ql-stroke,.ql-snow .ql-toolbar button:focus .ql-stroke,.ql-snow.ql-toolbar button.ql-active .ql-stroke,.ql-snow .ql-toolbar button.ql-active .ql-stroke,.ql-snow.ql-toolbar .ql-picker-label:hover .ql-stroke,.ql-snow .ql-toolbar .ql-picker-label:hover .ql-stroke,.ql-snow.ql-toolbar .ql-picker-label.ql-active .ql-stroke,.ql-snow .ql-toolbar .ql-picker-label.ql-active .ql-stroke,.ql-snow.ql-toolbar .ql-picker-item:hover .ql-stroke,.ql-snow .ql-toolbar .ql-picker-item:hover .ql-stroke,.ql-snow.ql-toolbar .ql-picker-item.ql-selected .ql-stroke,.ql-snow .ql-toolbar .ql-picker-item.ql-selected .ql-stroke,.ql-snow.ql-toolbar button:hover .ql-stroke-miter,.ql-snow .ql-toolbar button:hover .ql-stroke-miter,.ql-snow.ql-toolbar button:focus .ql-stroke-miter,.ql-snow .ql-toolbar button:focus .ql-stroke-miter,.ql-snow.ql-toolbar button.ql-active .ql-stroke-miter,.ql-snow .ql-toolbar button.ql-active .ql-stroke-miter,.ql-snow.ql-toolbar .ql-picker-label:hover .ql-stroke-miter,.ql-snow .ql-toolbar .ql-picker-label:hover .ql-stroke-miter,.ql-snow.ql-toolbar .ql-picker-label.ql-active .ql-stroke-miter,.ql-snow .ql-toolbar .ql-picker-label.ql-active .ql-stroke-miter,.ql-snow.ql-toolbar .ql-picker-item:hover .ql-stroke-miter,.ql-snow .ql-toolbar .ql-picker-item:hover .ql-stroke-miter,.ql-snow.ql-toolbar .ql-picker-item.ql-selected .ql-stroke-miter,.ql-snow .ql-toolbar .ql-picker-item.ql-selected .ql-stroke-miter{stroke:#06c}@media (pointer:coarse){.ql-snow.ql-toolbar button:hover:not(.ql-active),.ql-snow .ql-toolbar button:hover:not(.ql-active){color:#444}.ql-snow.ql-toolbar button:hover:not(.ql-active) .ql-fill,.ql-snow .ql-toolbar button:hover:not(.ql-active) .ql-fill,.ql-snow.ql-toolbar button:hover:not(.ql-active) .ql-stroke.ql-fill,.ql-snow .ql-toolbar button:hover:not(.ql-active) .ql-stroke.ql-fill{fill:#444}.ql-snow.ql-toolbar button:hover:not(.ql-active) .ql-stroke,.ql-snow .ql-toolbar button:hover:not(.ql-active) .ql-stroke,.ql-snow.ql-toolbar button:hover:not(.ql-active) .ql-stroke-miter,.ql-snow .ql-toolbar button:hover:not(.ql-active) .ql-stroke-miter{stroke:#444}}.ql-snow{box-sizing:border-box}.ql-snow *{box-sizing:border-box}.ql-snow .ql-hidden{display:none}.ql-snow .ql-out-bottom,.ql-snow .ql-out-top{visibility:hidden}.ql-snow .ql-tooltip{position:absolute;transform:translateY(10px)}.ql-snow .ql-tooltip a{cursor:pointer;text-decoration:none}.ql-snow .ql-tooltip.ql-flip{transform:translateY(-10px)}.ql-snow .ql-formats{display:inline-block;vertical-align:middle}.ql-snow .ql-formats:after{clear:both;content:'';display:table}.ql-snow .ql-stroke{fill:none;stroke:#444;stroke-linecap:round;stroke-linejoin:round;stroke-width:2}.ql-snow .ql-stroke-miter{fill:none;stroke:#444;stroke-miterlimit:10;stroke-width:2}.ql-snow .ql-fill,.ql-snow .ql-stroke.ql-fill{fill:#444}.ql-snow .ql-empty{fill:none}.ql-snow .ql-even{fill-rule:evenodd}.ql-snow .ql-thin,.ql-snow .ql-stroke.ql-thin{stroke-width:1}.ql-snow .ql-transparent{opacity:.4}.ql-snow .ql-direction svg:last-child{display:none}.ql-snow .ql-direction.ql-active svg:last-child{display:inline}.ql-snow .ql-direction.ql-active svg:first-child{display:none}.ql-snow .ql-editor h1{font-size:2em}.ql-snow .ql-editor h2{font-size:1.5em}.ql-snow .ql-editor h3{font-size:1.17em}.ql-snow .ql-editor h4{font-size:1em}.ql-snow .ql-editor h5{font-size:.83em}.ql-snow .ql-editor h6{font-size:.67em}.ql-snow .ql-editor a{text-decoration:underline}.ql-snow .ql-editor blockquote{border-left:4px solid #ccc;margin-bottom:5px;margin-top:5px;padding-left:16px}.ql-snow .ql-editor code,.ql-snow .ql-editor pre{background-color:#f0f0f0;border-radius:3px}.ql-snow .ql-editor pre{white-space:pre-wrap;margin-bottom:5px;margin-top:5px;padding:5px 10px}.ql-snow .ql-editor code{font-size:85%;padding:2px 4px}.ql-snow .ql-editor pre.ql-syntax{background-color:#23241f;color:#f8f8f2;overflow:visible}.ql-snow .ql-editor img{max-width:100%}.ql-snow .ql-picker{color:#444;display:inline-block;float:left;font-size:14px;font-weight:500;height:24px;position:relative;vertical-align:middle}.ql-snow .ql-picker-label{cursor:pointer;display:inline-block;height:100%;padding-left:8px;padding-right:2px;position:relative;width:100%}.ql-snow .ql-picker-label:before{display:inline-block;line-height:22px}.ql-snow .ql-picker-options{background-color:#fff;display:none;min-width:100%;padding:4px 8px;position:absolute;white-space:nowrap}.ql-snow .ql-picker-options .ql-picker-item{cursor:pointer;display:block;padding-bottom:5px;padding-top:5px}.ql-snow .ql-picker.ql-expanded .ql-picker-label{color:#ccc;z-index:2}.ql-snow .ql-picker.ql-expanded .ql-picker-label .ql-fill{fill:#ccc}.ql-snow .ql-picker.ql-expanded .ql-picker-label .ql-stroke{stroke:#ccc}.ql-snow .ql-picker.ql-expanded .ql-picker-options{display:block;margin-top:-1px;top:100%;z-index:1}.ql-snow .ql-color-picker,.ql-snow .ql-icon-picker{width:28px}.ql-snow .ql-color-picker .ql-picker-label,.ql-snow .ql-icon-picker .ql-picker-label{padding:2px 4px}.ql-snow .ql-color-picker .ql-picker-label svg,.ql-snow .ql-icon-picker .ql-picker-label svg{right:4px}.ql-snow .ql-icon-picker .ql-picker-options{padding:4px 0}.ql-snow .ql-icon-picker .ql-picker-item{height:24px;width:24px;padding:2px 4px}.ql-snow .ql-color-picker .ql-picker-options{padding:3px 5px;width:152px}.ql-snow .ql-color-picker .ql-picker-item{border:1px solid transparent;float:left;height:16px;margin:2px;padding:0;width:16px}.ql-snow .ql-picker:not(.ql-color-picker):not(.ql-icon-picker) svg{position:absolute;margin-top:-9px;right:0;top:50%;width:18px}.ql-snow .ql-picker.ql-header .ql-picker-label[data-label]:not([data-label='']):before,.ql-snow .ql-picker.ql-font .ql-picker-label[data-label]:not([data-label='']):before,.ql-snow .ql-picker.ql-size .ql-picker-label[data-label]:not([data-label='']):before,.ql-snow .ql-picker.ql-header .ql-picker-item[data-label]:not([data-label='']):before,.ql-snow .ql-picker.ql-font .ql-picker-item[data-label]:not([data-label='']):before,.ql-snow .ql-picker.ql-size .ql-picker-item[data-label]:not([data-label='']):before{content:attr(data-label)}.ql-snow .ql-picker.ql-header{width:98px}.ql-snow .ql-picker.ql-header .ql-picker-label:before,.ql-snow .ql-picker.ql-header .ql-picker-item:before{content:'Normal'}.ql-snow .ql-picker.ql-header .ql-picker-label[data-value="1"]:before,.ql-snow .ql-picker.ql-header .ql-picker-item[data-value="1"]:before{content:'Heading 1'}.ql-snow .ql-picker.ql-header .ql-picker-label[data-value="2"]:before,.ql-snow .ql-picker.ql-header .ql-picker-item[data-value="2"]:before{content:'Heading 2'}.ql-snow .ql-picker.ql-header .ql-picker-label[data-value="3"]:before,.ql-snow .ql-picker.ql-header .ql-picker-item[data-value="3"]:before{content:'Heading 3'}.ql-snow .ql-picker.ql-header .ql-picker-label[data-value="4"]:before,.ql-snow .ql-picker.ql-header .ql-picker-item[data-value="4"]:before{content:'Heading 4'}.ql-snow .ql-picker.ql-header .ql-picker-label[data-value="5"]:before,.ql-snow .ql-picker.ql-header .ql-picker-item[data-value="5"]:before{content:'Heading 5'}.ql-snow .ql-picker.ql-header .ql-picker-label[data-value="6"]:before,.ql-snow .ql-picker.ql-header .ql-picker-item[data-value="6"]:before{content:'Heading 6'}.ql-snow .ql-picker.ql-header .ql-picker-item[data-value="1"]:before{font-size:2em}.ql-snow .ql-picker.ql-header .ql-picker-item[data-value="2"]:before{font-size:1.5em}.ql-snow .ql-picker.ql-header .ql-picker-item[data-value="3"]:before{font-size:1.17em}.ql-snow .ql-picker.ql-header .ql-picker-item[data-value="4"]:before{font-size:1em}.ql-snow .ql-picker.ql-header .ql-picker-item[data-value="5"]:before{font-size:.83em}.ql-snow .ql-picker.ql-header .ql-picker-item[data-value="6"]:before{font-size:.67em}.ql-snow .ql-picker.ql-font{width:108px}.ql-snow .ql-picker.ql-font .ql-picker-label:before,.ql-snow .ql-picker.ql-font .ql-picker-item:before{content:'Sans Serif'}.ql-snow .ql-picker.ql-font .ql-picker-label[data-value=serif]:before,.ql-snow .ql-picker.ql-font .ql-picker-item[data-value=serif]:before{content:'Serif'}.ql-snow .ql-picker.ql-font .ql-picker-label[data-value=monospace]:before,.ql-snow .ql-picker.ql-font .ql-picker-item[data-value=monospace]:before{content:'Monospace'}.ql-snow .ql-picker.ql-font .ql-picker-item[data-value=serif]:before{font-family:Georgia,Times New Roman,serif}.ql-snow .ql-picker.ql-font .ql-picker-item[data-value=monospace]:before{font-family:Monaco,Courier New,monospace}.ql-snow .ql-picker.ql-size{width:98px}.ql-snow .ql-picker.ql-size .ql-picker-label:before,.ql-snow .ql-picker.ql-size .ql-picker-item:before{content:'Normal'}.ql-snow .ql-picker.ql-size .ql-picker-label[data-value=small]:before,.ql-snow .ql-picker.ql-size .ql-picker-item[data-value=small]:before{content:'Small'}.ql-snow .ql-picker.ql-size .ql-picker-label[data-value=large]:before,.ql-snow .ql-picker.ql-size .ql-picker-item[data-value=large]:before{content:'Large'}.ql-snow .ql-picker.ql-size .ql-picker-label[data-value=huge]:before,.ql-snow .ql-picker.ql-size .ql-picker-item[data-value=huge]:before{content:'Huge'}.ql-snow .ql-picker.ql-size .ql-picker-item[data-value=small]:before{font-size:10px}.ql-snow .ql-picker.ql-size .ql-picker-item[data-value=large]:before{font-size:18px}.ql-snow .ql-picker.ql-size .ql-picker-item[data-value=huge]:before{font-size:32px}.ql-snow .ql-color-picker.ql-background .ql-picker-item{background-color:#fff}.ql-snow .ql-color-picker.ql-color .ql-picker-item{background-color:#000}.ql-toolbar.ql-snow{border:1px solid #ccc;box-sizing:border-box;font-family:'Helvetica Neue','Helvetica','Arial',sans-serif;padding:8px}.ql-toolbar.ql-snow .ql-formats{margin-right:15px}.ql-toolbar.ql-snow .ql-picker-label{border:1px solid transparent}.ql-toolbar.ql-snow .ql-picker-options{border:1px solid transparent;box-shadow:rgba(0,0,0,.2) 0 2px 8px}.ql-toolbar.ql-snow .ql-picker.ql-expanded .ql-picker-label{border-color:#ccc}.ql-toolbar.ql-snow .ql-picker.ql-expanded .ql-picker-options{border-color:#ccc}.ql-toolbar.ql-snow .ql-color-picker .ql-picker-item.ql-selected,.ql-toolbar.ql-snow .ql-color-picker .ql-picker-item:hover{border-color:#000}.ql-toolbar.ql-snow+.ql-container.ql-snow{border-top:0}.ql-snow .ql-tooltip{background-color:#fff;border:1px solid #ccc;box-shadow:0px 0px 5px #ddd;color:#444;padding:5px 12px;white-space:nowrap}.ql-snow .ql-tooltip:before{content:"Visit URL:";line-height:26px;margin-right:8px}.ql-snow .ql-tooltip input[type=text]{display:none;border:1px solid #ccc;font-size:13px;height:26px;margin:0;padding:3px 5px;width:170px}.ql-snow .ql-tooltip a.ql-preview{display:inline-block;max-width:200px;overflow-x:hidden;text-overflow:ellipsis;vertical-align:top}.ql-snow .ql-tooltip a.ql-action:after{border-right:1px solid #ccc;content:'Edit';margin-left:16px;padding-right:8px}.ql-snow .ql-tooltip a.ql-remove:before{content:'Remove';margin-left:8px}.ql-snow .ql-tooltip a{line-height:26px}.ql-snow .ql-tooltip.ql-editing a.ql-preview,.ql-snow .ql-tooltip.ql-editing a.ql-remove{display:none}.ql-snow .ql-tooltip.ql-editing input[type=text]{display:inline-block}.ql-snow .ql-tooltip.ql-editing a.ql-action:after{border-right:0;content:'Save';padding-right:0}.ql-snow .ql-tooltip[data-mode=link]:before{content:"Enter link:"}.ql-snow .ql-tooltip[data-mode=formula]:before{content:"Enter formula:"}.ql-snow .ql-tooltip[data-mode=video]:before{content:"Enter video:"}.ql-snow a{color:#06c}.ql-container.ql-snow{border:1px solid #ccc}.ql-editor.ql-blank:focus:before{content:''} #colorbox,#cboxOverlay,#cboxWrapper{position:absolute;top:0;left:0;z-index:9999;overflow:hidden;-webkit-transform:translate3d(0,0,0)}#cboxWrapper{max-width:none}#cboxOverlay{position:fixed;width:100%;height:100%}#cboxMiddleLeft,#cboxBottomLeft{clear:left}#cboxContent{position:relative}#cboxLoadedContent{overflow:auto;-webkit-overflow-scrolling:touch}#cboxTitle{margin:0}#cboxLoadingOverlay,#cboxLoadingGraphic{position:absolute;top:0;left:0;width:100%;height:100%}#cboxPrevious,#cboxNext,#cboxClose,#cboxSlideshow{cursor:pointer}.cboxPhoto{float:left;margin:auto;border:0;display:block;max-width:none;-ms-interpolation-mode:bicubic}.cboxIframe{width:100%;height:100%;display:block;border:0;padding:0;margin:0}#colorbox,#cboxContent,#cboxLoadedContent{box-sizing:content-box;-moz-box-sizing:content-box;-webkit-box-sizing:content-box}#cboxOverlay{background:url(//hometheaterreview.com/wp-content/plugins/wpdiscuz/assets/third-party/colorbox/images/overlay.png) repeat 0 0;opacity:.9;filter:alpha(opacity=90)}#colorbox{outline:0}#cboxTopLeft{width:21px;height:21px;background:url(//hometheaterreview.com/wp-content/plugins/wpdiscuz/assets/third-party/colorbox/images/controls.png) no-repeat -101px 0}#cboxTopRight{width:21px;height:21px;background:url(//hometheaterreview.com/wp-content/plugins/wpdiscuz/assets/third-party/colorbox/images/controls.png) no-repeat -130px 0}#cboxBottomLeft{width:21px;height:21px;background:url(//hometheaterreview.com/wp-content/plugins/wpdiscuz/assets/third-party/colorbox/images/controls.png) no-repeat -101px -29px}#cboxBottomRight{width:21px;height:21px;background:url(//hometheaterreview.com/wp-content/plugins/wpdiscuz/assets/third-party/colorbox/images/controls.png) no-repeat -130px -29px}#cboxMiddleLeft{width:21px;background:url(//hometheaterreview.com/wp-content/plugins/wpdiscuz/assets/third-party/colorbox/images/controls.png) left top repeat-y}#cboxMiddleRight{width:21px;background:url(//hometheaterreview.com/wp-content/plugins/wpdiscuz/assets/third-party/colorbox/images/controls.png) right top repeat-y}#cboxTopCenter{height:21px;background:url(//hometheaterreview.com/wp-content/plugins/wpdiscuz/assets/third-party/colorbox/images/border.png) 0 0 repeat-x}#cboxBottomCenter{height:21px;background:url(//hometheaterreview.com/wp-content/plugins/wpdiscuz/assets/third-party/colorbox/images/border.png) 0 -29px repeat-x}#cboxContent{background:#fff;overflow:hidden}.cboxIframe{background:#fff}#cboxError{padding:50px;border:1px solid #ccc}#cboxLoadedContent{margin-bottom:28px}#cboxTitle{position:absolute;bottom:4px;left:0;text-align:center;width:100%;color:#949494}#cboxCurrent{position:absolute;bottom:4px;left:58px;color:#949494}#cboxLoadingOverlay{background:url(//hometheaterreview.com/wp-content/plugins/wpdiscuz/assets/third-party/colorbox/images/loading_background.png) no-repeat center center}#cboxLoadingGraphic{background:url(//hometheaterreview.com/wp-content/plugins/wpdiscuz/assets/third-party/colorbox/images/loading.gif) no-repeat center center}#cboxPrevious,#cboxNext,#cboxSlideshow,#cboxClose{border:0;padding:0;margin:0;overflow:visible;width:auto;background:0 0}#cboxPrevious:active,#cboxNext:active,#cboxSlideshow:active,#cboxClose:active{outline:0}#cboxSlideshow{position:absolute;bottom:4px;right:30px;color:#0092ef}#cboxPrevious{position:absolute;bottom:0;left:0;background:url(//hometheaterreview.com/wp-content/plugins/wpdiscuz/assets/third-party/colorbox/images/controls.png) no-repeat -75px 0;width:25px;height:25px;text-indent:-9999px}#cboxPrevious:hover{background-position:-75px -25px}#cboxNext{position:absolute;bottom:0;left:27px;background:url(//hometheaterreview.com/wp-content/plugins/wpdiscuz/assets/third-party/colorbox/images/controls.png) no-repeat -50px 0;width:25px;height:25px;text-indent:-9999px}#cboxNext:hover{background-position:-50px -25px}#cboxClose{position:absolute;bottom:0;right:0;background:url(//hometheaterreview.com/wp-content/plugins/wpdiscuz/assets/third-party/colorbox/images/controls.png) no-repeat -25px 0;width:25px;height:25px;text-indent:-9999px}#cboxClose:hover{background-position:-25px -25px}.cboxIE #cboxTopLeft,.cboxIE #cboxTopCenter,.cboxIE #cboxTopRight,.cboxIE #cboxBottomLeft,.cboxIE #cboxBottomCenter,.cboxIE #cboxBottomRight,.cboxIE #cboxMiddleLeft,.cboxIE #cboxMiddleRight{filter:progid:DXImageTransform.Microsoft.gradient(startColorstr=#00FFFFFF,endColorstr=#00FFFFFF)} #cboxCurrent{bottom:0;font-size:15px}#wpdcom{height:auto;padding:5px 1px}#wpdcom .wmu-hide{display:none!important}#wpdcom .wmu-show{display:inline-block!important}#wpdcom .wmu-add{cursor:pointer;margin:0 2px;color:#aaa;cursor:pointer;display:inline}#wpdcom .wmu-add i{color:#444}#wpdcom .wmu-add input[type=file]{visibility:hidden;display:none}#wpdcom .wmu-tabs{width:100%;padding:8px 0 17px;margin:1px 0 0;border-top:1px dotted #ddd;text-align:left}#wpdcom .wmu-tabs .wmu-preview-images .wmu-preview-remove .wmu-file-name{display:none}#wpdcom .wmu-tabs .wmu-preview-remove{position:relative}#wpdcom .wmu-tabs .wmu-preview-remove img{max-height:45px}#wpdcom .wmu-tabs .wmu-preview-remove .wmu-delete{line-height:45px;position:absolute;display:none;top:0;left:0;width:100%;z-index:100;background:url(//hometheaterreview.com/wp-content/plugins/wpdiscuz/assets/css/../img/delete.png) center no-repeat #eee;opacity:.8}#wpdcom .wmu-tabs .wmu-preview-remove:hover .wmu-delete{display:block;z-index:100}#wpdcom .wmu-preview{margin:0 3px;cursor:pointer;display:inline-block}#wpdcom .wmu-attachment img{vertical-align:bottom}#wpdcom .wmu-attachment audio{vertical-align:bottom}#wpdcom .wmu-attachment-delete,.wpd-content .wmu-attachment-delete{cursor:pointer;border-top:1px solid #fff;visibility:hidden;font-size:5px;line-height:12px;text-align:center;padding:2px 0 1px;margin:0;z-index:100;background:url(//hometheaterreview.com/wp-content/plugins/wpdiscuz/assets/css/../img/file-icons/delete.png) center no-repeat;border-bottom:#fff 1px solid}#wpdcom .wmu-attachment:hover>.wmu-attachment-delete,.wpd-content .wmu-attachment:hover>.wmu-attachment-delete{visibility:visible}#wpdcom .wmu-attachment-delete:hover,.wpd-content .wmu-attachment-delete:hover{visibility:visible;background-color:#ffefef;border-bottom:#ffd6d6 1px solid}#wpdcom .wmu-attached-images{border-bottom:1px dotted #dfdfdf;display:flex;margin-bottom:5px}#wpdcom .wmu-attached-images .wmu-attachment{margin:10px 2px 1px}#wpdcom .wmu-attached-images .wmu-attached-image,#wpdcom .wmu-attached-images .attachment-thumbnail{border:3px solid #f1f1f1}#wpdcom .wmu-attached-image-link{display:inline-block}#wpdcom .wmu-attached-images .wmu-separator{padding:4px 0;display:block}#wpdcom .wmu-action-wrap{width:100%;margin:0;padding:0;text-align:left}#wpdcom .wmu-action-wrap img{display:inline-block;vertical-align:bottom}#wpdcom .wmu-top-title{padding:5px 20px 5px 3px;font-size:10px;color:#888;text-align:left;margin-top:-27px;margin-bottom:7px;line-height:14px;white-space:nowrap;display:table;text-transform:uppercase}#wpdcom .wmuPhraseNotAllowedFile,#wpdcom .wmuPhraseMaxFileCount,#wpdcom .wmuPhraseMaxFileSize,#wpdcom .wmuPhrasePostMaxSize,#wpdcom .msgEmptyFile,#wpdcom .msgUploadingNotAllowed,#wpdcom .msgPermissionDenied{background-color:#fce8e8!important;font-size:14px;text-align:center;color:#ce4a66;border:#f2d3d2 1px solid;padding:5px 10px;width:100%;box-sizing:border-box;margin:5px 0;border-radius:3px}@media screen and (max-width:655px){#wpdcom .wmu-preview-remove .wmu-file-name{font-size:11px}#wpdcom .wmu-preview-remove .wmu-file-name{font-size:11px}#wpdcom .wmu-attached-images .wmu-attached-image{height:auto!important}}@media screen and (max-width:500px){#wpdcom .wc-comment-text iframe{width:98%}}@media screen and (max-width:420px){#wpdcom .wmu-top-title{display:none}}.wpd-wrapper #wpd-content-item-4 .wpd-item-left{float:left;width:88%;border-right:1px dotted #ccc;margin-top:5px}.wpd-wrapper #wpd-content-item-4 .wpd-item-right{margin-left:92%;text-align:center;vertical-align:middle;padding-top:24px;color:#666}.wpd-wrapper #wpd-content-item-4 .wpd-item-right i{display:inline-block;vertical-align:middle;font-size:20px;line-height:20px;color:#e8484a} .lity{z-index:9990;position:fixed;top:0;right:0;bottom:0;left:0;white-space:nowrap;background:#0b0b0b;background:rgba(0,0,0,.3);outline:none !important;opacity:0;-webkit-transition:opacity .3s ease;-o-transition:opacity .3s ease;transition:opacity .3s ease}.lity.lity-opened{opacity:1}.lity.lity-closed{opacity:0}.lity *{-webkit-box-sizing:border-box;-moz-box-sizing:border-box;box-sizing:border-box}.lity-wrap{z-index:9990;position:fixed;top:34px;right:0;bottom:0;left:0;text-align:center;outline:none !important}.lity-wrap:before{content:'';display:inline-block;height:100%;vertical-align:middle;margin-right:-.25em}.lity-loader{z-index:9991;color:#fff;position:absolute;top:50%;margin-top:-.8em;width:100%;text-align:center;font-size:14px;font-family:Arial,Helvetica,sans-serif;opacity:0;-webkit-transition:opacity .3s ease;-o-transition:opacity .3s ease;transition:opacity .3s ease}.lity-loading .lity-loader{opacity:1}.lity-container{z-index:9992;position:relative;text-align:left;vertical-align:middle;display:inline-block;white-space:normal;max-width:100%;max-height:100%;outline:none !important}.lity-content{z-index:9993;width:100%;-webkit-transform:scale(1);-ms-transform:scale(1);-o-transform:scale(1);transform:scale(1);-webkit-transition:-webkit-transform .3s ease;transition:-webkit-transform .3s ease;-o-transition:-o-transform .3s ease;transition:transform .3s ease;transition:transform .3s ease,-webkit-transform .3s ease,-o-transform .3s ease}.lity-loading .lity-content,.lity-closed .lity-content{-webkit-transform:scale(.8);-ms-transform:scale(.8);-o-transform:scale(.8);transform:scale(.8)}.lity-content:after{content:'';position:absolute;left:0;top:0;bottom:0;display:block;right:0;width:auto;height:auto;z-index:-1;-webkit-box-shadow:0 0 8px rgba(0,0,0,.6);box-shadow:0 0 8px rgba(0,0,0,.6)}.lity-close{z-index:9994;width:35px;height:35px;position:fixed;right:0;top:0;-webkit-appearance:none;cursor:pointer;text-decoration:none;text-align:center;padding:0;color:#fff;font-style:normal;font-size:35px;font-family:Arial,Baskerville,monospace;line-height:35px;text-shadow:0 1px 2px rgba(0,0,0,.6);border:0;background:0 0;outline:none;-webkit-box-shadow:none;box-shadow:none}.lity-close::-moz-focus-inner{border:0;padding:0}.lity-close:hover,.lity-close:focus,.lity-close:active,.lity-close:visited{text-decoration:none;text-align:center;padding:0;color:#fff;font-style:normal;font-size:35px;font-family:Arial,Baskerville,monospace;line-height:35px;text-shadow:0 1px 2px rgba(0,0,0,.6);border:0;background:0 0;outline:none;-webkit-box-shadow:none;box-shadow:none}.lity-close:active{top:1px}.lity-image img{max-width:100%;display:block;line-height:0;border:0}.lity-iframe .lity-container,.lity-youtube .lity-container,.lity-vimeo .lity-container,.lity-facebookvideo .lity-container,.lity-googlemaps .lity-container{width:100%;max-width:964px}.lity-iframe-container{width:100%;height:0;padding-top:56.25%;overflow:auto;pointer-events:auto;-webkit-transform:translateZ(0);transform:translateZ(0);-webkit-overflow-scrolling:touch}.lity-iframe-container iframe{position:absolute;display:block;top:0;left:0;width:100%;height:100%;-webkit-box-shadow:0 0 8px rgba(0,0,0,.6);box-shadow:0 0 8px rgba(0,0,0,.6);background:#000}.lity-hide{display:none}.wpd-wrapper *,.wpd-wrapper *:before,.wpd-wrapper *:after{margin:0;padding:0;box-sizing:border-box}.wpd-wrapper{width:100%;padding:10px;margin:0 auto;background:0 0}.wpd-wrapper .wpd-list{display:flex;border-right:1px solid #ddd}.wpd-wrapper .wpd-list,.wpd-wrapper .wpd-list-item{list-style:none;list-style-type:none;font-size:14px}.wpd-wrapper .wpd-list-item{border-top:1px solid #ddd;border-left:1px solid #ddd;border-bottom:1px solid #ddd;display:inline-block;padding:10px;color:#999;cursor:pointer;flex-grow:1;text-align:center}.wpd-wrapper .wpd-list-item:hover{color:#444}.wpd-wrapper .wpd-list-item.wpd-active{border-bottom:none;color:#444}.wpd-wrapper .wpd-list-item span{margin-left:5px}.wpd-wrapper .wpd-content-item{border-left:1px solid #ddd;border-right:1px solid #ddd;border-bottom:1px solid #ddd;padding:20px}.wpd-wrapper .wpd-content-item:not(.wpd-active){display:none}.wpd-wrapper .wpd-item{border-bottom:1px solid #ddd;font-size:13px;line-height:19px;padding-bottom:7px}.wpd-wrapper .wpd-item:last-child{border-bottom:none}.wpd-wrapper .wpd-item-link.wpd-comment-meta{font-size:12px;color:#555;padding-bottom:0}.wpd-wrapper .wpd-item-link{padding:5px 10px;text-overflow:ellipsis;white-space:nowrap;overflow:hidden}.wpd-wrapper .wpd-post-link{margin-left:3px}.wpd-wrapper .wpd-post-item-link{font-size:12px;font-style:italic;color:#666}.wpd-wrapper .wpd-pagination{display:inline-block;margin:10px 0}.wpd-wrapper .wpd-page-link{color:#000;float:left;padding:3px 10px;text-decoration:none;transition:background-color .3s;border-top:1px solid #ddd;border-left:1px solid #ddd;border-bottom:1px solid #ddd;transition:background-color .3s;cursor:pointer;outline:none}.wpd-wrapper .wpd-page-link:hover:not(.wpd-current-page){background:#ddd}.wpd-wrapper .wpd-page-link:last-of-type{border-right:1px solid #ddd}.wpd-wrapper .wpd-current-page{color:#fff;border:none;cursor:initial}.wpd-wrapper .wpd-item.wpd-follow-item .fa-user{font-size:15px;color:#777}.wpd-wrapper .wpd-item.wpd-follow-item .wpd-fl-name{font-size:16px;color:#777}.wpd-wrapper #wpd-content-item-1 .wpd-item-left{float:left;width:88%;border-right:1px dotted #ccc;margin-top:5px}.wpd-wrapper #wpd-content-item-1 .wpd-item-right{margin-left:92%;text-align:center;vertical-align:middle;padding-top:24px;color:#666}.wpd-wrapper #wpd-content-item-2 .wpd-item-left{float:left;width:88%;border-right:1px dotted #ccc;margin-top:5px}.wpd-wrapper #wpd-content-item-3 .wpd-item-left{float:left;width:88%;border-right:1px dotted #ccc;margin-top:5px}.wpd-wrapper #wpd-content-item-2 .wpd-item-right{margin-left:92%;text-align:center;vertical-align:middle;padding-top:24px;color:#666}.wpd-wrapper #wpd-content-item-3 .wpd-item-right{margin-left:92%;text-align:center;vertical-align:middle;padding:15px 0;color:#666}.wpd-wrapper .wpd-item-right *,.wpd-wrapper .wpd-user-email-delete-links-wrap{outline:none!important}.wpd-wrapper #wpd-content-item-1 .wpd-item-right i,.wpd-wrapper #wpd-content-item-2 .wpd-item-right i{display:inline-block;vertical-align:middle;font-size:30px;line-height:30px;color:#e8484a}.wpd-wrapper #wpd-content-item-3 .wpd-item-right i{display:inline-block;vertical-align:middle;font-size:20px;line-height:20px;color:#e8484a}.wpd-wrapper .wpd-user-email-delete-links-wrap{text-align:center;padding:8px}.wpd-wrapper .wpd-user-email-delete-links{font-size:15px}.wpd-wrapper .wpd-user-email-delete-links span{margin-left:5px}.wpd-wrapper.wpd-guest-settings{text-align:center}.wpd-wrapper.wpd-guest-settings .wpd-user-settings-button-wrap{width:70%;min-width:280px;line-height:1.5;border:1px solid #ddd;padding:5px;background:#eee;font-size:14px;margin:15px auto}.wpd-wrapper.wpd-guest-settings .wpd-user-settings-button-wrap:hover{background:#f8f8f8}.wpd-wrapper.wpd-guest-settings .wpd-user-settings-button{cursor:pointer}.wpd-wrapper.wpd-guest-settings .wpd-guest-action-error{color:#fa5454}.wpd-wrapper.wpd-guest-settings .wpd-guest-action-success{color:#00b38f}.wpd-wrapper.wpd-guest-settings{padding:2%}.wpd-clear{clear:both}.wpd-loading{margin-left:5px}.wpd-hide{display:none}.wpd-show{display:inline-block}.wpd-bulk-desc{font-size:12px;color:#666;font-style:italic}@media screen and (max-width:1024px){.wpd-wrapper .wpd-list-item span{display:none}} #alm-selected-filters{padding:0 0 15px;margin:0}#alm-selected-filters li{display:inline-block;margin:0 5px 5px 0;padding:0;list-style:none;background:0 0}#alm-selected-filters li div{display:block;padding:5px 10px;-webkit-border-radius:2px;border-radius:2px;background:#efefef;border:1px solid #e7e7e7;color:#666;font-size:13px;text-decoration:none;line-height:1.1;cursor:pointer;outline:none}#alm-selected-filters li div,#alm-selected-filters li div:before{-webkit-transition:all .15s ease;-o-transition:all .15s ease;transition:all .15s ease}#alm-selected-filters li div:before{content:"\D7";display:inline-block;vertical-align:top;margin:0 4px 0 0;opacity:.3;color:#222;position:relative;left:-2px;text-shadow:0 1px 1px hsla(0,0%,100%,.5)}#alm-selected-filters li div:focus,#alm-selected-filters li div:hover{background-color:#efefef;border-color:#ccc;color:#222;-webkit-box-shadow:0 0 0 3px rgba(0,0,0,.075);box-shadow:0 0 0 3px rgba(0,0,0,.075)}#alm-selected-filters li div:focus:before,#alm-selected-filters li div:hover:before{opacity:1}.alm-filters.filters-blue .alm-filter li div.alm-filter--link.active.field-checkbox:before,.alm-filters.filters-blue .alm-filter li div.alm-filter--link.active.field-radio:before{background-color:#4587d8;border-color:#4587d8}.alm-filters.filters-blue button[type=button]{background-color:#4587d8}.alm-filters.filters-blue button[type=button]:focus,.alm-filters.filters-blue button[type=button]:hover{background-color:#427cc3}.alm-filters.filters-blue button[type=button].alm-range-reset{color:#4587d8}.alm-filters.filters-blue button[type=button].alm-range-reset:focus,.alm-filters.filters-blue button[type=button].alm-range-reset:hover{color:#427cc3}.alm-filters.filters-blue .noUi-connect{background-color:#4587d8}.alm-filters.filters-red .alm-filter li div.alm-filter--link.active.field-checkbox:before,.alm-filters.filters-red .alm-filter li div.alm-filter--link.active.field-radio:before{background-color:#ed7070;border-color:#ed7070}.alm-filters.filters-red button[type=button]{background-color:#ed7070}.alm-filters.filters-red button[type=button]:focus,.alm-filters.filters-red button[type=button]:hover{background-color:#e06161}.alm-filters.filters-red button[type=button].alm-range-reset{color:#ed7070}.alm-filters.filters-red button[type=button].alm-range-reset:focus,.alm-filters.filters-red button[type=button].alm-range-reset:hover{color:#e06161}.alm-filters.filters-red .noUi-connect{background-color:#ed7070}.alm-filters.filters-green .alm-filter li div.alm-filter--link.active.field-checkbox:before,.alm-filters.filters-green .alm-filter li div.alm-filter--link.active.field-radio:before{background-color:#80ca7a;border-color:#80ca7a}.alm-filters.filters-green button[type=button]{background-color:#80ca7a}.alm-filters.filters-green button[type=button]:focus,.alm-filters.filters-green button[type=button]:hover{background-color:#81c17b}.alm-filters.filters-green button[type=button].alm-range-reset{color:#80ca7a}.alm-filters.filters-green button[type=button].alm-range-reset:focus,.alm-filters.filters-green button[type=button].alm-range-reset:hover{color:#81c17b}.alm-filters.filters-green .noUi-connect{background-color:#80ca7a}.alm-range-slider--wrap{display:-webkit-box;display:-ms-flexbox;display:flex;-webkit-box-pack:justify;-ms-flex-pack:justify;justify-content:space-between;-webkit-box-align:center;-ms-flex-align:center;align-items:center;width:100%;padding:8px 0 0}.alm-range-slider--label,.alm-range-slider--reset{font-size:14px;padding:5px 0;line-height:1}.alm-range-slider--reset{display:inline-block;-ms-flex-item-align:end;align-self:flex-end}.alm-range-slider .noUi-connect{background-color:#898989}.alm-range-slider .noUi-handle{cursor:pointer}.alm-range-slider .noUi-vertical{height:200px}.alm-range-slider .noUi-marker-horizontal.noUi-marker{height:2px;width:1px}.alm-range-slider .noUi-marker-horizontal.noUi-marker-large{height:5px}.alm-range-slider .noUi-pips{color:#666;font-size:13px}.alm-reveal.alm-filters:after{content:"";display:table;clear:both}.alm-filters-container{margin:0;padding:0;position:relative;-webkit-transition:opacity .25s ease;-o-transition:opacity .25s ease;transition:opacity .25s ease;margin-bottom:20px}.alm-filters-container *,.alm-filters-container :after,.alm-filters-container :before{-webkit-box-sizing:border-box;box-sizing:border-box}.alm-filters-container .alm-filter{display:block}.alm-filters-container .alm-filter.hidden{display:none}.alm-filters-container .alm-filter--inner{padding:0 0 20px}.alm-filters-container .alm-filter--submit{display:block;margin:0 0 15px}.alm-filters-container .alm-filter label{font-weight:600;font-size:15px;display:block;margin:0 0 10px;padding:0;cursor:pointer}.alm-filters-container .alm-filter[data-fieldtype=range_slider] label,.alm-filters-container .alm-filter[data-fieldtype=text] label{display:block}.alm-filters-container .alm-filter ul{padding:0;margin:0}.alm-filters-container .alm-filter ul ul{padding-top:4px;padding-left:10px}.alm-filters-container .alm-filter ul.alm-filter--align-items{display:-webkit-box;display:-ms-flexbox;display:flex;-ms-flex-wrap:wrap;flex-wrap:wrap;-webkit-box-align:center;-ms-flex-align:center;align-items:center;width:100%}.alm-filters-container .alm-filter ul.alm-filter--align-items li{margin-bottom:0}.alm-filters-container .alm-filter li{padding:0;margin:0 0 5px;list-style:none;content:"";line-height:1;display:block;clear:both;position:relative}.alm-filters-container .alm-filter li.has_parent{padding-left:10px}.alm-filters-container .alm-filter li div.alm-filter--link{display:block;padding:0 10px 0 28px;min-height:24px;line-height:1.45;font-size:15px;position:relative;text-decoration:none;color:#666;cursor:pointer}.alm-filters-container .alm-filter li div.alm-filter--link:before{position:absolute;left:0;top:0;width:20px;height:20px;background:#fff;border:1px solid #ccc;display:block;content:"";-webkit-transition:all .15s ease;-o-transition:all .15s ease;transition:all .15s ease;-webkit-box-shadow:0 0 0 1px transparent;box-shadow:0 0 0 1px transparent}.alm-filters-container .alm-filter li div.alm-filter--link:after{position:absolute;display:block;content:"";z-index:1;opacity:0;visibility:hidden}.alm-filters-container .alm-filter li div.alm-filter--link:focus,.alm-filters-container .alm-filter li div.alm-filter--link:hover{color:#222;outline:none}.alm-filters-container .alm-filter li div.alm-filter--link:focus:before,.alm-filters-container .alm-filter li div.alm-filter--link:hover:before{border-color:#898989;-webkit-box-shadow:0 0 0 3px rgba(0,0,0,.075);box-shadow:0 0 0 3px rgba(0,0,0,.075)}.alm-filters-container .alm-filter li div.alm-filter--link .alm-filter-count{display:inline-block;padding:1px 5px;-webkit-border-radius:3px;border-radius:3px;background-color:#f7f7f7;font-size:13px;margin:0 0 0 5px}.alm-filters-container .alm-filter li div.alm-filter--link.field-starrating{padding:0;min-height:0;line-height:1;padding:3px 0;border:1px solid transparent;-webkit-border-radius:2px;border-radius:2px}.alm-filters-container .alm-filter li div.alm-filter--link.field-starrating>div{position:relative;display:block}.alm-filters-container .alm-filter li div.alm-filter--link.field-starrating.active .alm-star,.alm-filters-container .alm-filter li div.alm-filter--link.field-starrating.active .alm-star:after,.alm-filters-container .alm-filter li div.alm-filter--link.field-starrating.active .alm-star:before,.alm-filters-container .alm-filter li div.alm-filter--link.field-starrating.highlight .alm-star,.alm-filters-container .alm-filter li div.alm-filter--link.field-starrating.highlight .alm-star:after,.alm-filters-container .alm-filter li div.alm-filter--link.field-starrating.highlight .alm-star:before{border-bottom-color:#f5e341}.alm-filters-container .alm-filter li div.alm-filter--link.field-starrating:focus .alm-star,.alm-filters-container .alm-filter li div.alm-filter--link.field-starrating:focus .alm-star:after,.alm-filters-container .alm-filter li div.alm-filter--link.field-starrating:focus .alm-star:before,.alm-filters-container .alm-filter li div.alm-filter--link.field-starrating:hover .alm-star,.alm-filters-container .alm-filter li div.alm-filter--link.field-starrating:hover .alm-star:after,.alm-filters-container .alm-filter li div.alm-filter--link.field-starrating:hover .alm-star:before{border-bottom-color:#898989}.alm-filters-container .alm-filter li div.alm-filter--link.field-starrating:focus{border-color:#efefef}.alm-filters-container .alm-filter li div.alm-filter--link.field-starrating.hover .alm-star,.alm-filters-container .alm-filter li div.alm-filter--link.field-starrating.hover .alm-star:after,.alm-filters-container .alm-filter li div.alm-filter--link.field-starrating.hover .alm-star:before,.alm-filters-container .alm-filter li div.alm-filter--link.field-starrating:focus .alm-star,.alm-filters-container .alm-filter li div.alm-filter--link.field-starrating:focus .alm-star:after,.alm-filters-container .alm-filter li div.alm-filter--link.field-starrating:focus .alm-star:before{border-bottom-color:#f5e341}.alm-filters-container .alm-filter li div.alm-filter--link.field-starrating.none .alm-star,.alm-filters-container .alm-filter li div.alm-filter--link.field-starrating.none .alm-star:after,.alm-filters-container .alm-filter li div.alm-filter--link.field-starrating.none .alm-star:before{border-bottom-color:#ccc}.alm-filters-container .alm-filter li div.alm-filter--link.field-checkbox:before{-webkit-border-radius:2px;border-radius:2px}.alm-filters-container .alm-filter li div.alm-filter--link.field-checkbox:after{left:7px;top:3px;width:6px;height:11px;border:solid #fff;border-width:0 3px 3px 0;-ms-transform:rotate(45deg);-webkit-transform:rotate(45deg);transform:rotate(45deg)}.alm-filters-container .alm-filter li div.alm-filter--link.field-radio:after,.alm-filters-container .alm-filter li div.alm-filter--link.field-radio:before{-webkit-border-radius:100%;border-radius:100%}.alm-filters-container .alm-filter li div.alm-filter--link.field-radio:after{width:8px;height:8px;left:6px;top:6px;background-color:#fff}.alm-filters-container .alm-filter li div.alm-filter--link.field-radio.field-starrating:after,.alm-filters-container .alm-filter li div.alm-filter--link.field-radio.field-starrating:before{display:none}.alm-filters-container .alm-filter li div.alm-filter--link.active{color:#222}.alm-filters-container .alm-filter li div.alm-filter--link.active.field-checkbox:before,.alm-filters-container .alm-filter li div.alm-filter--link.active.field-radio:before{border-color:#898989;background-color:#898989}.alm-filters-container .alm-filter li div.alm-filter--link.active.field-checkbox:after,.alm-filters-container .alm-filter li div.alm-filter--link.active.field-radio:after{visibility:visible;opacity:1}.alm-filters-container .alm-filter li div.alm-filter--link .offscreen{position:absolute!important;height:1px;width:1px;overflow:hidden;clip:rect(1px 1px 1px 1px);clip:rect(1px,1px,1px,1px);white-space:nowrap}.alm-filters-container .alm-filter--select select{margin:0;width:100%;max-width:100%;position:relative;background-color:#fff;cursor:pointer;font-size:15px;color:#333}.alm-filters-container .alm-filter--select select[multiple]{padding:5px}.alm-filters-container .alm-filter--text-wrap{position:relative}.alm-filters-container .alm-filter--text-wrap input[type=number],.alm-filters-container .alm-filter--text-wrap input[type=text]{background:#fff;border:1px solid #ccc;color:#666;padding:0 10px;-webkit-border-radius:3px;border-radius:3px;max-width:100%;width:100%;height:40px;line-height:40px;outline:none;-webkit-transition:border-color .15s ease;-o-transition:border-color .15s ease;transition:border-color .15s ease;font-size:15px;color:#333;min-width:100px}.alm-filters-container .alm-filter--text-wrap input[type=number]:active,.alm-filters-container .alm-filter--text-wrap input[type=number]:focus,.alm-filters-container .alm-filter--text-wrap input[type=text]:active,.alm-filters-container .alm-filter--text-wrap input[type=text]:focus{border-color:#898989;background:#fff}.alm-filters-container .alm-filter--text-wrap button[type=button]{-webkit-border-radius:0 3px 3px 0;border-radius:0 3px 3px 0;width:auto;height:auto;line-height:1}.alm-filters-container .alm-filter--text-wrap.has-button{display:-webkit-box;display:-ms-flexbox;display:flex;-webkit-box-pack:center;-ms-flex-pack:center;justify-content:center}.alm-filters-container .alm-filter--text-wrap.has-button input[type=text]{-webkit-border-radius:2px 0 0 2px;border-radius:2px 0 0 2px;-webkit-box-flex:1;-ms-flex:1;flex:1}.alm-filters-container .alm-filter--text-wrap.has-button button{-webkit-box-shadow:-3px 0 5px rgba(0,0,0,.1);box-shadow:-3px 0 5px rgba(0,0,0,.1)}.alm-filters-container .alm-filter--text ::-webkit-input-placeholder{color:#ccc;font-size:15px}.alm-filters-container .alm-filter--text ::-moz-placeholder{color:#ccc;font-size:15px}.alm-filters-container .alm-filter--text :-ms-input-placeholder{color:#ccc;font-size:15px}.alm-filters-container .alm-filter--text :-moz-placeholder{color:#ccc;font-size:15px}.alm-filters-container .alm-filter--preselected li.alm-filter--radio a.active{cursor:default}.alm-filters-container .alm-filter--title h3{font-size:18px;font-weight:600;margin:0 0 20px;padding:0;line-height:1.15}.alm-filters-container .alm-filter--title .alm-filter--toggle{position:relative;padding:10px 20px 10px 0;margin:0 0 10px;cursor:pointer;-webkit-user-select:none;-moz-user-select:none;-ms-user-select:none;user-select:none}.alm-filters-container .alm-filter--title .alm-filter--toggle:after{top:calc(50% - 3px);-webkit-transform:translateY(-50%);-ms-transform:translateY(-50%);transform:translateY(-50%);right:10px;border:solid transparent;content:"";height:0;width:0;position:absolute;pointer-events:none;border-color:rgba(136,183,213,0);border-bottom-color:#898989;border-width:6px;margin-left:-6px}.alm-filters-container .alm-filter--title .alm-filter--toggle:hover:after{border-bottom-color:#565656}.alm-filters-container .alm-filter--title .alm-filter--toggle[aria-expanded=false]:after{border:solid transparent;border-top-color:#898989;border-width:6px;top:calc(50% + 3px)}.alm-filters-container .alm-filter--title .alm-filter--toggle[aria-expanded=false]:hover:after{border-top-color:#565656}.alm-filters-container .alm-filter--title+.alm-filter--description{margin-top:-10px}.alm-filters-container .alm-filter--description p{font-size:15px;margin:0 0 15px}.alm-filters-container .alm-star{position:relative;display:inline-block;vertical-align:top;margin-left:.9em;margin-right:.9em;margin-bottom:1.2em;border-right:.3em solid transparent;border-left:.3em solid transparent;font-size:11px}.alm-filters-container .alm-star,.alm-filters-container .alm-star:after,.alm-filters-container .alm-star:before{width:0;height:0;border-bottom:.7em solid #ccc;-webkit-transition:all .15s ease;-o-transition:all .15s ease;transition:all .15s ease}.alm-filters-container .alm-star:after,.alm-filters-container .alm-star:before{content:"";display:block;position:absolute;top:.6em;left:-1em;border-right:1em solid transparent;border-left:1em solid transparent;-webkit-transform:rotate(-35deg);-ms-transform:rotate(-35deg);transform:rotate(-35deg)}.alm-filters-container .alm-star:after{-webkit-transform:rotate(35deg);-ms-transform:rotate(35deg);transform:rotate(35deg)}.alm-filters-container .alm-star--feedback{font-size:14px;padding:4px 6px 2px;font-style:italic;font-weight:600}.alm-filters-container button[type=button],.alm-filters-container button[type=reset]{font-size:15px;-webkit-border-radius:3px;border-radius:3px;border:none;text-transform:none;font-weight:600;cursor:pointer;max-width:100%;width:auto;height:40px;line-height:40px;padding:0 15px;margin:0}.alm-filters-container button[type=button]{color:#fff;background-color:#898989}.alm-filters-container button[type=button]:focus,.alm-filters-container button[type=button]:hover{color:#fff;background-color:#565656}.alm-filters-container button[type=button].alm-range-reset{font-size:12px;height:auto;line-height:1;padding:5px;font-weight:400;background-color:transparent;color:#898989;text-decoration:underline}.alm-filters-container button[type=button].alm-range-reset:focus,.alm-filters-container button[type=button].alm-range-reset:hover{color:#565656;background-color:transparent;text-decoration:none}.alm-filters-container button[type=reset]{font-size:13px;font-weight:400;height:30px;line-height:30px;color:#898989;background-color:transparent;padding:0 3px}.alm-filters-container button[type=reset]:focus,.alm-filters-container button[type=reset]:hover{color:#565656;background-color:transparent}.alm-filters-container button[type=reset].hidden{display:none}.alm-filters-container.filtering{opacity:.6}.alm-filters-container.filtering .alm-filters--loading{display:block;cursor:default!important}.alm-filters-container .alm-filters--controls{display:-webkit-box;display:-ms-flexbox;display:flex;-webkit-box-pack:justify;-ms-flex-pack:justify;justify-content:space-between;-webkit-box-align:center;-ms-flex-align:center;align-items:center;width:100%;margin:0 0 15px}.alm-filters-container .alm-filters--reset{-webkit-box-ordinal-group:3;-ms-flex-order:2;order:2}.alm-filters-container .alm-filters--submit{margin:0 15px 0 0}.alm-filters-container .alm-filters--loading{position:absolute;left:0;top:0;width:100%;height:100%;z-index:1000;display:none}.alm-filters-container .alm-filters-edit{position:absolute;z-index:1;right:0;top:-22px;opacity:0;visibility:hidden;font-size:13px;padding:0 10px;display:inline-block;color:#333;background-color:#efefef;-webkit-border-radius:3px;border-radius:3px;line-height:28px;height:26px;text-decoration:none;font-size:12px;-webkit-box-shadow:0 1px 2px rgba(0,0,0,.15);box-shadow:0 1px 2px rgba(0,0,0,.15);-webkit-transition:all .2s ease;-o-transition:all .2s ease;transition:all .2s ease}.alm-filters-container .alm-filters-edit:hover{background-color:#e1e1e1}.alm-filters-container:hover .alm-filters-edit{visibility:visible;opacity:1} .alm-layouts .alm-listing{margin:0;padding:0}.alm-layouts .alm-listing .alm-layout{width:100%;display:block;clear:both;padding:0;margin:0 0 4%;overflow:visible}.alm-layouts .alm-listing .alm-layout,.alm-layouts .alm-listing .alm-layout *{-webkit-box-sizing:border-box;box-sizing:border-box}.alm-layouts .alm-listing .alm-layout a,.alm-layouts .alm-listing .alm-layout img{-webkit-box-shadow:none;box-shadow:none;border:none}.alm-layouts .alm-listing .alm-layout img{position:static;max-width:100%;height:auto;clear:both;margin:0;-webkit-border-radius:0;border-radius:0;display:block}.alm-layouts .alm-listing .alm-layout h3{font-size:22px;line-height:1.15;font-weight:600;margin:0 0 10px;padding:0}.alm-layouts .alm-listing .alm-layout h3 a{text-decoration:none}.alm-layouts .alm-listing .alm-layout h3 a:focus,.alm-layouts .alm-listing .alm-layout h3 a:hover{text-decoration:underline}.alm-layouts .alm-listing .alm-layout p.entry-meta{font-size:15px;opacity:.7;margin:0 0 10px}.alm-layouts .alm-listing .alm-layout p{font-size:15px;line-height:1.5;margin:0 0 1em}.alm-layouts .alm-listing .alm-layout.alm-2-col,.alm-layouts .alm-listing .alm-layout.alm-3-col,.alm-layouts .alm-listing .alm-layout.alm-4-col{width:48%;display:inline-block;vertical-align:top;clear:none}.alm-layouts .alm-listing .alm-2-col.odd{margin-right:4%}.alm-layouts .alm-listing .alm-layout.alm-2-col.alm-gallery{width:50%;margin:0}.alm-layouts .alm-listing .alm-layout.alm-3-col,.alm-layouts .alm-listing .alm-layout.alm-4-col{width:30.6333%;margin-right:4%}.alm-layouts .alm-listing .alm-layout.alm-3-col.last,.alm-layouts .alm-listing .alm-layout.alm-4-col.last{margin-right:0}.alm-layouts .alm-listing .alm-layout.alm-4-col{width:21.9333%}.alm-layouts .alm-listing .alm-layout.alm-3-col.alm-gallery,.alm-layouts .alm-listing .alm-layout.alm-4-col.alm-gallery{width:33.333%;margin:0}.alm-layouts .alm-listing .alm-layout.alm-4-col.alm-gallery{width:25%}.alm-layouts .alm-listing .alm-default{background:none;list-style:none;padding:0 0 0 170px;-webkit-transition:all .35s ease;-o-transition:all .35s ease;transition:all .35s ease;min-height:150px}.alm-layouts .alm-listing .alm-default img{max-width:100%;clear:both;position:absolute;left:0;top:2px;margin:0;-webkit-border-radius:3px;border-radius:3px}.alm-layouts .alm-listing .alm-default p{text-align:left}.alm-layouts .alm-listing .alm-default.alm-2-col{padding-left:106px;min-height:100px}.alm-layouts .alm-listing .alm-default.alm-2-col img{max-width:85px}.alm-layouts .alm-listing .alm-default.alm-3-col,.alm-layouts .alm-listing .alm-default.alm-4-col{padding-left:80px;min-height:100px}.alm-layouts .alm-listing .alm-default.alm-3-col img,.alm-layouts .alm-listing .alm-default.alm-4-col img{max-width:65px}.alm-layouts .alm-listing .alm-cta{background:none;list-style:none;padding:0;margin-bottom:4%;-webkit-transition:all .35s ease;-o-transition:all .35s ease;transition:all .35s ease}.alm-layouts .alm-listing .alm-cta img{width:100%;clear:both;position:static;margin:0;-webkit-border-radius:0;border-radius:0;-webkit-transition:all .2s ease;-o-transition:all .2s ease;transition:all .2s ease}.alm-layouts .alm-listing .alm-cta a{display:block;color:inherit;text-decoration:none}.alm-layouts .alm-listing .alm-cta a:focus img,.alm-layouts .alm-listing .alm-cta a:hover img{opacity:.7}.alm-layouts .alm-listing .alm-cta a:focus h3,.alm-layouts .alm-listing .alm-cta a:hover h3{text-decoration:underline}.alm-layouts .alm-listing .alm-cta .details{padding:20px;display:block;border-top:none;position:relative}.alm-layouts .alm-listing .alm-cta h3{color:#333;margin:0 0 20px;text-decoration:none}.alm-layouts .alm-listing .alm-cta p{text-align:left}.alm-layouts .alm-listing .alm-card{position:relative}.alm-layouts .alm-listing .alm-card a.card-container{-webkit-perspective:1000px;perspective:1000px;border:1px solid #efefef!important;background:#f7f7f7;display:block;position:relative}.alm-layouts .alm-listing .alm-card a.card-container.hover .card-flip,.alm-layouts .alm-listing .alm-card a.card-container:hover .card-flip{-webkit-transform:rotateY(180deg);transform:rotateY(180deg)}@media (-ms-high-contrast:active),(-ms-high-contrast:none){.alm-layouts .alm-listing .alm-card a.card-container.hover .card-flip,.alm-layouts .alm-listing .alm-card a.card-container:hover .card-flip{-webkit-transform:rotateY(0deg);transform:rotateY(0deg)}}.alm-layouts .alm-listing .alm-card .card-flip{-webkit-transition:.6s;-o-transition:.6s;transition:.6s;-webkit-transform-style:preserve-3d;transform-style:preserve-3d;position:relative}.alm-layouts .alm-listing .alm-card .img-mask{opacity:0;visibility:hidden}.alm-layouts .alm-listing .alm-card .card-back,.alm-layouts .alm-listing .alm-card .card-front{position:absolute;top:0;left:0;width:100%;height:100%;-webkit-backface-visibility:hidden;backface-visibility:hidden;-webkit-transition:.6s;-o-transition:.6s;transition:.6s;-webkit-transform-style:preserve-3d;transform-style:preserve-3d;-webkit-transform:rotateY(0deg);transform:rotateY(0deg)}.alm-layouts .alm-listing .alm-card .card-front{z-index:2;-webkit-transform:rotateY(0deg);transform:rotateY(0deg)}.alm-layouts .alm-listing .alm-card .card-back{-webkit-transform:rotateY(-180deg);transform:rotateY(-180deg)}.alm-layouts .alm-listing .alm-card h3{position:absolute;bottom:0;margin:0;color:#fff;font-size:18px;line-height:20px;padding:14px 20px;background-color:rgba(0,0,0,.6);max-width:90%}.alm-layouts .alm-listing .alm-card h3 span{display:block;opacity:.65;font-weight:400;font-size:14px;color:#fff;padding:4px 0 0}.alm-layouts .alm-listing .alm-card img{height:auto}.alm-layouts .alm-listing .alm-card .text-wrap{width:100%;height:100%;display:block;padding:0 7%;background-color:#222;-webkit-box-shadow:inset 0 0 0 10px #333,inset 0 0 0 11px hsla(0,0%,100%,.1);box-shadow:inset 0 0 0 10px #333,inset 0 0 0 11px hsla(0,0%,100%,.1);text-align:center}.alm-layouts .alm-listing .alm-card .text-wrap,.alm-layouts .alm-listing .alm-card p{position:absolute;top:50%;-webkit-transform:translateY(-50%);-ms-transform:translateY(-50%);transform:translateY(-50%)}.alm-layouts .alm-listing .alm-card p{color:#ccc;padding:0 20px;margin:0 0 10px;font-size:14px;text-align:left;max-height:80%;overflow-y:auto;width:86%}.alm-layouts .alm-listing .alm-card span.more{font-weight:700;color:#fff;padding:8px 0 0;margin:0;display:block;font-size:12px;text-transform:uppercase}.alm-layouts .alm-listing .alm-gallery{padding:1px}.alm-layouts .alm-listing .alm-gallery a{display:block;overflow:hidden;position:relative}.alm-layouts .alm-listing .alm-gallery a:hover img{-webkit-transform:scale(1.2);-ms-transform:scale(1.2);transform:scale(1.2)}.alm-layouts .alm-listing .alm-gallery a:hover .alm-gallery-img-wrap{-webkit-filter:blur(5px);filter:blur(5px)}.alm-layouts .alm-listing .alm-gallery a:hover .overlay-details{opacity:1}.alm-layouts .alm-listing .alm-gallery .overlay-details{opacity:0;position:absolute;left:0;top:0;width:100%;height:100%;-webkit-transition:opacity .5s ease .15s;-o-transition:opacity .5s ease .15s;transition:opacity .5s ease .15s;background:rgba(0,0,0,.4);padding:0 10%;text-align:center;text-shadow:0 0 1px rgba(0,0,0,.1)}.alm-layouts .alm-listing .alm-gallery .overlay-details .vertical-align{position:relative;top:50%;-webkit-transform:translateY(-50%);-ms-transform:translateY(-50%);transform:translateY(-50%)}.alm-layouts .alm-listing .alm-gallery img{position:static;width:100%;height:auto;-webkit-transform:scale(1.05);-ms-transform:scale(1.05);transform:scale(1.05);-webkit-backface-visibility:hidden;backface-visibility:hidden}.alm-layouts .alm-listing .alm-gallery .alm-gallery-img-wrap,.alm-layouts .alm-listing .alm-gallery img{-webkit-transition:all .45s ease-in-out;-o-transition:all .45s ease-in-out;transition:all .45s ease-in-out}.alm-layouts .alm-listing .alm-gallery h3{color:#fff;margin:0 0 15px;font-weight:800}.alm-layouts .alm-listing .alm-gallery p{color:#fff;margin:0;opacity:.85}.alm-layouts .alm-listing .alm-gallery p.entry-date{margin:0 0 5px;opacity:.5;font-weight:300;font-size:12px;text-transform:uppercase}.alm-layouts .alm-listing.flex,.alm-layouts .alm-listing.flex .alm-reveal{display:-webkit-box;display:-webkit-flex;display:-ms-flexbox;display:flex;-webkit-flex-wrap:wrap;-ms-flex-wrap:wrap;flex-wrap:wrap}.alm-layouts .alm-listing .alm-blog-card{background:#efefef;border:1px solid #e7e7e7;-webkit-border-radius:5px;border-radius:5px;padding:25px 25px 110px;width:100%;text-align:center;margin-bottom:50px;margin-top:30px}.alm-layouts .alm-listing .alm-blog-card img.wp-post-image{border:3px solid #fff;-webkit-border-radius:100%;border-radius:100%;-webkit-box-shadow:0 0 3px #ccc;box-shadow:0 0 3px #ccc;width:120px;height:120px;margin:-60px auto 25px}.alm-layouts .alm-listing .alm-blog-card h3,.alm-layouts .alm-listing .alm-blog-card p{margin:0 0 15px;padding:0 5%}.alm-layouts .alm-listing .alm-blog-card p.alm-meta{opacity:.75;margin-bottom:0;font-size:13px}.alm-layouts .alm-listing .alm-post-author{display:block;width:100%;height:60px;overflow:visible;position:absolute;left:0;bottom:0;background:#fff;border-top:1px solid #e7e7e7;padding:0 10px;-webkit-border-radius:0 0 4px 4px;border-radius:0 0 4px 4px;font-size:13px}.alm-layouts .alm-listing .alm-post-author span{display:block;vertical-align:top;padding:15px;line-height:30px;width:100%;white-space:nowrap;overflow:hidden;-o-text-overflow:ellipsis;text-overflow:ellipsis}.alm-layouts .alm-listing .alm-post-author img{max-width:36px;max-height:36px;-webkit-border-radius:100%;border-radius:100%;-webkit-box-shadow:0 0 0 1px #e1e1e1;box-shadow:0 0 0 1px #e1e1e1;position:absolute;left:50%;top:-18px;margin-left:-18px;z-index:2}.alm-layouts .alm-listing .alm-post-author a{text-decoration:none}.alm-layouts .alm-listing .alm-post-author a:focus,.alm-layouts .alm-listing .alm-post-author a:hover{text-decoration:underline}.alm-layouts .alm-listing .alm-blog-card-2{background:#fff;border:1px solid #e7e7e7;-webkit-border-radius:2px;border-radius:2px;padding:0 0 60px;width:100%;text-align:left;margin-bottom:50px}.alm-layouts .alm-listing .alm-blog-card-2 img.wp-post-image{width:100%;margin:0;display:block;-webkit-border-radius:1px 1px 0 0;border-radius:1px 1px 0 0}.alm-layouts .alm-listing .alm-blog-card-2 .alm-card-details{display:block;padding:40px 30px 30px;position:relative}.alm-layouts .alm-listing .alm-blog-card-2 .avatar{width:50px;height:50px;-webkit-border-radius:100%;border-radius:100%;position:absolute;top:-25px;left:30px;z-index:1}.alm-layouts .alm-listing .alm-blog-card-2 h3{margin:0 0 20px}.alm-layouts .alm-listing .alm-blog-card-2 p{margin:0 0 20px;font-size:15px}.alm-layouts .alm-listing .alm-blog-card-2 p.alm-more-link{margin:0;font-weight:600;font-size:13px;text-transform:uppercase}.alm-layouts .alm-listing .alm-blog-card-2 .alm-post-author{background-color:#f7f7f7;-webkit-box-shadow:inset 0 2px 1px rgba(0,0,0,.05);box-shadow:inset 0 2px 1px rgba(0,0,0,.05)}.alm-layouts .alm-listing .alm-blog-card-3{background:#f7f7f7;border:none;-webkit-border-radius:15px;border-radius:15px;padding:0;width:100%;text-align:left;margin-bottom:50px;overflow:hidden;-webkit-box-shadow:0 0 0 1px #efefef;box-shadow:0 0 0 1px #efefef}.alm-layouts .alm-listing .alm-blog-card-3 img.wp-post-image{width:100%;margin:0;display:block;-webkit-border-radius:15px 15px 0 0;border-radius:15px 15px 0 0}.alm-layouts .alm-listing .alm-blog-card-3 .alm-card-details{display:block;padding:30px 30px 70px;position:relative}.alm-layouts .alm-listing .alm-blog-card-3 h3{font-weight:600;font-size:20px;margin:0 0 20px}.alm-layouts .alm-listing .alm-blog-card-3 p{margin:0 0 20px;font-size:15px}.alm-layouts .alm-listing .alm-blog-card-3 .alm-post-author{border-top:none;-webkit-border-radius:0 0 14px 14px;border-radius:0 0 14px 14px;display:-webkit-box;display:-webkit-flex;display:-ms-flexbox;display:flex;-webkit-flex-wrap:nowrap;-ms-flex-wrap:nowrap;flex-wrap:nowrap;-webkit-box-align:center;-webkit-align-items:center;-ms-flex-align:center;align-items:center;padding:20px 30px;border-top:1px solid #efefef}.alm-layouts .alm-listing .alm-blog-card-3 .alm-post-author img,.alm-layouts .alm-listing .alm-blog-card-3 .alm-post-author span{display:inline-block;vertical-align:top}.alm-layouts .alm-listing .alm-blog-card-3 .alm-post-author img{position:static;margin:0 10px 0 0;-webkit-box-shadow:none;box-shadow:none}.alm-layouts .alm-listing .alm-blog-card-3 .alm-post-author span{width:auto;padding:0;-webkit-box-flex:1;-webkit-flex:1;-ms-flex:1;flex:1}@media screen and (max-width:1024px){.alm-layouts .alm-listing .alm-overlay .overlay-details{padding:15px}.alm-layouts .alm-listing .alm-overlay .overlay-details h3{font-size:18px}.alm-layouts .alm-listing .alm-overlay .overlay-details p{font-size:14px}.alm-layouts .alm-listing .alm-layout.alm-3-col.alm-gallery,.alm-layouts .alm-listing .alm-layout.alm-4-col.alm-gallery{width:50%}.alm-layouts .alm-listing .alm-layout.alm-4-col{width:48%;margin-right:4%}.alm-layouts .alm-listing .alm-layout.alm-4-col:nth-child(2n){margin-right:0}}@media screen and (max-width:768px){.alm-layouts .alm-listing.flex,.alm-layouts .alm-listing.flex .alm-reveal{display:block}.alm-layouts .alm-listing .alm-layout.alm-2-col,.alm-layouts .alm-listing .alm-layout.alm-3-col,.alm-layouts .alm-listing .alm-layout.alm-4-col{width:100%;display:block;margin-left:0;margin-right:0}.alm-layouts .alm-listing .alm-layout.alm-2-col.odd,.alm-layouts .alm-listing .alm-layout.alm-3-col.last,.alm-layouts .alm-listing .alm-layout.alm-4-col.last{margin-right:0}.alm-layouts .alm-listing .alm-layout{margin:0 0 6%}.alm-layouts .alm-listing .alm-default,.alm-layouts .alm-listing .alm-default.alm-2-col,.alm-layouts .alm-listing .alm-default.alm-3-col,.alm-layouts .alm-listing .alm-default.alm-4-col{min-height:120px;padding:0 0 0 140px}.alm-layouts .alm-listing .alm-default.alm-2-col img,.alm-layouts .alm-listing .alm-default.alm-3-col img,.alm-layouts .alm-listing .alm-default.alm-4-col img,.alm-layouts .alm-listing .alm-default img{max-width:120px;width:120px;height:auto}.alm-layouts .alm-listing .alm-overlay .overlay-details{padding:12px}.alm-layouts .alm-listing .alm-layout .alm-overlay h3{margin:0;font-size:18px;line-height:1}.alm-layouts .alm-listing .alm-layout .alm-overlay p{display:none}.alm-layouts .alm-listing .alm-layout.alm-2-col.alm-gallery,.alm-layouts .alm-listing .alm-layout.alm-3-col.alm-gallery,.alm-layouts .alm-listing .alm-layout.alm-4-col.alm-gallery,.alm-layouts .alm-listing .alm-layout.alm-gallery{float:none;width:100%}.alm-layouts .alm-listing .alm-gallery .overlay-details{padding:0 15%}alm-layouts .alm-gallery h3{color:#fff;font-size:26px}.alm-layouts .alm-listing .alm-gallery p{font-size:16px}.alm-layouts .alm-listing .alm-card img{width:auto;height:auto}.alm-layouts .alm-listing .alm-blog-card{margin-bottom:60px}.alm-layouts .alm-listing .alm-blog-card img.wp-post-image{border:2px solid #fff;width:100px;height:100px;margin:-50px auto 20px}}@media screen and (max-width:480px){.alm-layouts .alm-listing .alm-default,.alm-layouts .alm-listing .alm-default.alm-2-col,.alm-layouts .alm-listing .alm-default.alm-3-col,.alm-layouts .alm-listing .alm-default.alm-4-col{min-height:80px;padding:0 0 0 96px}.alm-layouts .alm-listing .alm-default.alm-2-col img,.alm-layouts .alm-listing .alm-default.alm-3-col img,.alm-layouts .alm-listing .alm-default.alm-4-col img,.alm-layouts .alm-listing .alm-default img{max-width:80px;width:80px;height:auto}.alm-layouts .alm-listing .alm-gallery .overlay-details{padding:0 10%}.alm-layouts .alm-listing .alm-gallery h3{color:#fff;font-size:22px}.alm-layouts .alm-listing .alm-gallery p{font-size:14px}.alm-layouts .alm-listing .alm-gallery p:not(.entry-date){display:none}} ul.alm-paging{text-align:center;margin:0;padding:15px 0 10px;list-style:none;opacity:0;position:relative;z-index:1}ul.alm-paging.empty{display:none}ul.alm-paging li{background:none;overflow:hidden;position:relative;list-style:none;padding:0;margin:0 1px;line-height:1;display:inline-block;vertical-align:top;font-size:15px}ul.alm-paging li:after,ul.alm-paging li:before{content:none}ul.alm-paging li a{display:block;padding:8px 10px;-webkit-border-radius:2px;border-radius:2px;color:#666;border:1px solid #f1f1f1;background:#f7f7f7;text-decoration:none;-webkit-transition:all .15s ease;-o-transition:all .15s ease;transition:all .15s ease}ul.alm-paging li a:focus,ul.alm-paging li a:hover{color:#222;border-color:#e1e1e1;background-color:#efefef}ul.alm-paging li a:active{background-color:#e1e1e1}ul.alm-paging li.disabled a{-webkit-box-shadow:none;box-shadow:none;cursor:default!important;opacity:.3}ul.alm-paging li.active a{background:#ed7070;border-color:#ed7070;color:#fff;cursor:default;text-decoration:none}.ajax-load-more-wrap.paging-blue ul.alm-paging li.active a{background-color:#6bb1d9;border-color:#6bb1d9}.ajax-load-more-wrap.paging-green ul.alm-paging li.active a{background-color:#98ca68;border-color:#98ca68}.ajax-load-more-wrap.paging-red ul.alm-paging li.active a{background-color:#ca4b4b;border-color:#ca4b4b}.ajax-load-more-wrap.paging-purple ul.alm-paging li.active a{background-color:#b369c8;border-color:#b369c8}.ajax-load-more-wrap.paging-grey ul.alm-paging li.active a{background-color:#666;border-color:#666}.ajax-load-more-wrap.paging-white ul.alm-paging li.active a{background-color:#fff;color:#333;border-color:#fff}.ajax-load-more-wrap .alm-paging-content{-webkit-transition:all .25s ease;-o-transition:all .25s ease;transition:all .25s ease}.ajax-load-more-wrap.alm-loading .alm-paging-content{opacity:.5!important}.ajax-load-more-wrap.alm-paging.alm-is-filtering,.alm-paging-wrap .alm-paging-loading{background-color:hsla(0,0%,100%,.1);background-image:url(//hometheaterreview.com/wp-content/plugins/ajax-load-more-pro/pro/ajax-load-more-paging/core/css/../../img/ajax-loader.gif);background-repeat:no-repeat;background-position:50%}.ajax-load-more-wrap.alm-loading .ajax-load-more-wrap.alm-is-filtering,.ajax-load-more-wrap.alm-loading.alm-paging .alm-paging-wrap{min-height:150px}.ajax-load-more-wrap.alm-is-filtering{background-color:transparent}.alm-paging-wrap .alm-reveal{position:relative}.alm-paging-wrap .alm-paging-loading{display:block;opacity:0;visibility:hidden;position:absolute;top:0;left:0;width:100%;height:100%;z-index:9999;-webkit-transition:all .25s ease;-o-transition:all .25s ease;transition:all .25s ease}.alm-loading .alm-paging-wrap .alm-paging-loading{visibility:visible;opacity:1} .is-screen-reader-text{border:0;clip:rect(1px,1px,1px,1px);-webkit-clip-path:inset(50%);clip-path:inset(50%);height:1px;margin:-1px;overflow:hidden;padding:0;position:absolute!important;width:1px;word-wrap:normal!important;word-break:normal}.is-menu{position:relative}.is-menu a{background:0 0!important;line-height:1;outline:0}.is-menu a::after,.is-menu a::before{display:none!important}.is-menu a:focus,.is-menu a:hover,.is-menu:hover>a{background:0 0!important;outline:0}.is-menu.default form{max-width:310px}.is-menu.is-dropdown form{display:none;min-width:310px;max-width:100%;position:absolute;right:0;top:100%;z-index:9}.is-menu.full-width-menu form,.is-menu.sliding form{min-width:0!important;overflow:hidden;position:absolute;right:0;top:25%;width:0;z-index:9;padding:0;margin:0}.is-menu.full-width-menu form:not(.is-search-form) input[type=search],.is-menu.full-width-menu form:not(.is-search-form) input[type=text],.is-menu.is-dropdown form:not(.is-search-form) input[type=search],.is-menu.is-dropdown form:not(.is-search-form) input[type=text],.is-menu.sliding form:not(.is-search-form) input[type=search],.is-menu.sliding form:not(.is-search-form) input[type=text],.is-popup-search-form form:not(.is-search-form) input[type=search],.is-popup-search-form form:not(.is-search-form) input[type=text]{background:#fff;color:#000}.is-menu.is-first form{right:auto;left:0}.is-menu.full-width-menu:not(.open) form,.is-menu.sliding:not(.open) form{display:block}.is-menu form .screen-reader-text{display:none}.is-menu form label{margin:0;padding:0}.is-menu-wrapper{display:none;position:absolute;right:5px;top:5px;width:auto;z-index:9999}.is-menu-wrapper.is-expanded{width:100%}.admin-bar .is-menu-wrapper{top:51px}.is-menu-wrapper .is-menu{float:right}.is-menu-wrapper .is-menu form{right:0;left:auto}.gsc-cse-search-menu{max-width:310px;float:right}.gsc-cse-search-menu .cse .gsc-control-cse,.gsc-cse-search-menu .gsc-control-cse{padding:0}.is-menu .search-icon-path{fill:#848484}.search-close{cursor:pointer;display:none;height:20px;position:absolute;right:-22px;top:33%;width:20px;z-index:99999}.is-menu.is-first .search-close{right:auto;left:-22px}.is-menu.is-dropdown .search-close{top:calc(100% + 7px)}.popup-search-close{cursor:pointer;height:20px;width:20px;z-index:99999;float:right;position:relative;margin:20px 20px 0 0}#is-popup-wrapper{width:100%;height:100%;position:fixed;top:0;left:0;background:#4c4c4c;background:rgba(4,4,4,.91);z-index:999999}.is-popup-search-form form{width:80%;margin:20% auto 0}.is-popup-search-form form.is-ajax-search{margin:10% auto 0}.popup-search-close:after,.search-close:after{border-left:2px solid #848484;content:'';height:20px;left:9px;position:absolute;-webkit-transform:rotate(45deg);-moz-transform:rotate(45deg);-ms-transform:rotate(45deg);-o-transform:rotate(45deg);transform:rotate(45deg)}.popup-search-close:before,.search-close:before{border-left:2px solid #848484;content:'';height:20px;left:9px;position:absolute;-webkit-transform:rotate(-45deg);-moz-transform:rotate(-45deg);-ms-transform:rotate(-45deg);-o-transform:rotate(-45deg);transform:rotate(-45deg)}.is-menu.full-width-menu.open .search-close,.is-menu.is-dropdown form[style="display: block;"]+.search-close,.is-menu.sliding.open .search-close{display:block}.is-highlight{background-color:#ffffb9;color:#222}@media screen and (max-width:910px){.is-menu form{left:0;min-width:50%;right:auto}.is-menu.default form{max-width:100%}.is-menu.full-width-menu.active-search{position:relative}.is-menu-wrapper{display:block}}.is-link-container{display:none}form .is-link-container{position:relative}form .is-link-container div{position:absolute;width:200px;bottom:-25px;left:5px;z-index:99999;height:auto;line-height:14px;padding:10px 15px}form .is-link-container a{text-decoration:none;font-size:14px;font-weight:100;font-family:arial;box-shadow:none}form .is-link-container a:hover{text-decoration:underline}form .is-link-container a.is-customize-link{margin-left:15px}form:hover+.is-link-container,form:hover>.is-link-container{display:block}.is-form-style label{display:inline-block!important;padding:0;vertical-align:middle;margin:0;width:100%;line-height:1}.is-form-style{line-height:1;position:relative;padding:0!important}.is-form-style.is-form-style-3 label{width:calc(100% - 36px)!important}.is-form-style input.is-search-input{background:#fff;background-image:none!important;color:#333;padding:0 12px;margin:0;outline:0!important;font-size:14px!important;height:36px;min-height:0;line-height:1;border-radius:0;border:solid 1px #ccc!important;font-family:arial;width:100%;-webkit-box-sizing:border-box;-moz-box-sizing:border-box;box-sizing:border-box;-webkit-appearance:none;-webkit-border-radius:0;border-radius:0}.is-form-style input.is-search-input::-ms-clear{display:none;width:0;height:0}.is-form-style input.is-search-input::-ms-reveal{display:none;width:0;height:0}.is-form-style input.is-search-input::-webkit-search-cancel-button,.is-form-style input.is-search-input::-webkit-search-decoration,.is-form-style input.is-search-input::-webkit-search-results-button,.is-form-style input.is-search-input::-webkit-search-results-decoration{display:none}.is-form-style.is-form-style-3 input.is-search-input{border-right:0!important}.is-form-style button.is-search-submit{background:0 0;border:0;box-shadow:none!important;opacity:1;padding:0!important;margin:0;line-height:0;outline:0;vertical-align:middle;width:36px;height:36px}.is-menu.full-width-menu.is-first button.is-search-submit,.is-menu.sliding.is-first button.is-search-submit{display:inline-block!important}.is-menu.full-width-menu.is-first button.is-search-submit:not([style="display: inline-block;"]),.is-menu.sliding.is-first button.is-search-submit:not([style="display: inline-block;"]){visibility:hidden}.is-form-style .is-search-submit path{fill:#555}.is-form-style input.is-search-submit{text-decoration:none;position:absolute;top:0;right:0}.is-form-style input.is-search-submit{padding:0 10px!important;width:auto}.is-search-icon{width:36px;padding-top:6px!important}.is-search-icon svg{width:22px;display:inline}.is-form-style input.is-search-submit,.is-search-icon{display:inline-block!important;color:#666;background:#ededed;box-shadow:none!important;outline:0;margin:0;font-size:14px!important;border:1px solid #ccc;border-radius:0;line-height:1;height:36px;text-transform:capitalize;vertical-align:middle;-webkit-transition:background-color .1s ease-in-out;-moz-transition:background-color .1s ease-in-out;-o-transition:background-color .1s ease-in-out;transition:background-color .1s ease-in-out;-webkit-box-sizing:border-box;-moz-box-sizing:border-box;box-sizing:border-box}.is-search-icon:hover,form.is-form-style input.is-search-submit:hover{background:#dcdcdc}.is-form-style-2 .is-search-submit{display:none} @keyframes splide-loading{0%{transform:rotate(0)}to{transform:rotate(1turn)}}.splide__container{position:relative;box-sizing:border-box}.splide__list{margin:0!important;padding:0!important;width:-webkit-max-content;width:max-content;will-change:transform}.splide.is-active .splide__list{display:flex}.splide__pagination{display:inline-flex;align-items:center;width:95%;flex-wrap:wrap;justify-content:center;margin:0}.splide__pagination li{list-style-type:none;display:inline-block;line-height:1;margin:0}.splide{visibility:hidden}.splide,.splide__slide{position:relative;outline:none}.splide__slide{box-sizing:border-box;list-style-type:none!important;margin:0;flex-shrink:0}.splide__slide img{vertical-align:bottom}.splide__slider{position:relative}.splide__spinner{position:absolute;top:0;left:0;right:0;bottom:0;margin:auto;display:inline-block;width:20px;height:20px;border-radius:50%;border:2px solid #999;border-left-color:transparent;animation:splide-loading 1s linear infinite}.splide__track{position:relative;z-index:0;overflow:hidden}.splide--draggable>.splide__track>.splide__list>.splide__slide{-webkit-user-select:none;user-select:none}.splide--fade>.splide__track>.splide__list{display:block}.splide--fade>.splide__track>.splide__list>.splide__slide{position:absolute;top:0;left:0;z-index:0;opacity:0}.splide--fade>.splide__track>.splide__list>.splide__slide.is-active{position:relative;z-index:1;opacity:1}.splide--rtl{direction:rtl}.splide--ttb>.splide__track>.splide__list{display:block}.splide--ttb>.splide__pagination{width:auto}.splide__arrow{position:absolute;z-index:1;top:50%;transform:translateY(-50%);width:2em;height:2em;border-radius:50%;display:flex;align-items:center;justify-content:center;border:none;padding:0;opacity:.7;background:#ccc}.splide__arrow svg{width:1.2em;height:1.2em}.splide__arrow:hover{cursor:pointer;opacity:.9}.splide__arrow:focus{outline:none}.splide__arrow--prev{left:1em}.splide__arrow--prev svg{transform:scaleX(-1)}.splide__arrow--next{right:1em}.splide__pagination{position:absolute;z-index:1;bottom:.5em;left:50%;transform:translateX(-50%);padding:0}.splide__pagination__page{display:inline-block;width:8px;height:8px;background:#ccc;border-radius:50%;margin:3px;padding:0;transition:transform .2s linear;border:none;opacity:.7}.splide__pagination__page.is-active{transform:scale(1.4);background:#fff}.splide__pagination__page:hover{cursor:pointer;opacity:.9}.splide__pagination__page:focus{outline:none}.splide__progress__bar{width:0;height:3px;background:#ccc}.splide--nav>.splide__track>.splide__list>.splide__slide{border:3px solid transparent}.splide--nav>.splide__track>.splide__list>.splide__slide.is-active{border-color:#000}.splide--nav>.splide__track>.splide__list>.splide__slide:focus{outline:none}.splide--rtl>.splide__arrows .splide__arrow--prev,.splide--rtl>.splide__track>.splide__arrows .splide__arrow--prev{right:1em;left:auto}.splide--rtl>.splide__arrows .splide__arrow--prev svg,.splide--rtl>.splide__track>.splide__arrows .splide__arrow--prev svg{transform:scaleX(1)}.splide--rtl>.splide__arrows .splide__arrow--next,.splide--rtl>.splide__track>.splide__arrows .splide__arrow--next{left:1em;right:auto}.splide--rtl>.splide__arrows .splide__arrow--next svg,.splide--rtl>.splide__track>.splide__arrows .splide__arrow--next svg{transform:scaleX(-1)}.splide--ttb>.splide__arrows .splide__arrow,.splide--ttb>.splide__track>.splide__arrows .splide__arrow{left:50%;transform:translate(-50%)}.splide--ttb>.splide__arrows .splide__arrow--prev,.splide--ttb>.splide__track>.splide__arrows .splide__arrow--prev{top:1em}.splide--ttb>.splide__arrows .splide__arrow--prev svg,.splide--ttb>.splide__track>.splide__arrows .splide__arrow--prev svg{transform:rotate(-90deg)}.splide--ttb>.splide__arrows .splide__arrow--next,.splide--ttb>.splide__track>.splide__arrows .splide__arrow--next{top:auto;bottom:1em}.splide--ttb>.splide__arrows .splide__arrow--next svg,.splide--ttb>.splide__track>.splide__arrows .splide__arrow--next svg{transform:rotate(90deg)}.splide--ttb>.splide__pagination{display:flex;flex-direction:column;bottom:50%;left:auto;right:.5em;transform:translateY(50%)} .ngl-metadata{font-size:12px;padding:20px 0}.ngl-metadata>div{padding:0 2px;display:inline-block;vertical-align:middle}.ngl-metadata .ngl-metadata-sep{text-align:center;width:14px;color:#aaa}.ngl-metadata-map-pin{width:12px!important;display:inline-block!important;margin:0 4px 0 0!important;position:relative!important;top:9px!important;vertical-align:top!important}.ngl-metadata-permalink-arrow{display:none!important;visibility:hidden!important}.ngl-metadata-permalink{text-decoration:underline!important;cursor:pointer}.ngl-metadata-pic{width:36px;height:36px}.ngl-metadata-pic img{width:30px;height:30px;border-radius:999px;margin:0 6px 0 0;position:relative;top:2px}.ngl-author{display:flex;padding:20px 0;line-height:1}.ngl-author-pic{width:50px;min-width:50px;margin:0 12px 0 0}.ngl-author-pic img{margin:0!important;display:block;overflow:hidden;border-radius:999px}.ngl-author-name{font-weight:700;min-width:20px;padding:0 0 4px;font-size:14px;line-height:14px}.ngl-author-bio{margin:0;padding:0 0 4px;font-size:14px;line-height:18px}.ngl-author-btn{color:#fff!important;text-decoration:none!important;padding:4px 8px;display:inline-flex;align-items:center;border:2px solid transparent;font-size:12px;line-height:16px}.ngl-author-btn:hover{color:#fff!important}.ngl-author-btn-text{min-width:20px}.ngl-author-cta img{display:inline-block;width:16px!important;height:16px!important;margin:0 4px 0 0!important}.ngl-author-cta .ngl-author-btn-outlined{background-color:transparent!important;border:2px solid transparent;color:#444!important}.ngl-author-twitter{background-color:#1da1f2}.ngl-author-instagram{background-color:#ed4956}.ngl-author-facebook{background-color:#1877f2}.ngl-author-twitch{background-color:#9047ff}.ngl-author-tiktok{background-color:#fe2c55}.ngl-author-youtube{background-color:red}.ngl-author-linkedin{background-color:#0e76a8}.ngl-author-btn-outlined.ngl-author-twitter{border-color:#1da1f2!important}.ngl-author-btn-outlined.ngl-author-instagram{border-color:#ed4956!important}.ngl-author-btn-outlined.ngl-author-facebook{border-color:#1877f2!important}.ngl-author-btn-outlined.ngl-author-twitch{border-color:#9047ff!important}.ngl-author-btn-outlined.ngl-author-tiktok{border-color:#fe2c55!important}.ngl-author-btn-outlined.ngl-author-youtube{border-color:red!important}.ngl-author-btn-outlined.ngl-author-linkedin{border-color:#0e76a8!important}.wp-block-newsletterglue-callout{padding-top:26px!important;padding-bottom:1px!important;margin-left:auto!important;margin-right:auto!important}.wp-block-newsletterglue-callout h1,.wp-block-newsletterglue-callout h2,.wp-block-newsletterglue-callout h3,.wp-block-newsletterglue-callout h4,.wp-block-newsletterglue-callout h5,.wp-block-newsletterglue-callout h6{margin:0 0 14px!important;padding:0!important}.wp-block-newsletterglue-callout figure,.wp-block-newsletterglue-callout p{margin:0 0 25px!important;padding:0!important}.ngl-form{max-width:400px!important;margin-bottom:30px!important;position:relative}.ngl-form.ngl-portrait{margin-left:auto;margin-right:auto}.ngl-form h2{font-size:24px!important}.ngl-form-input-text,input.ngl-form-input-text{border:1px solid #aaa;padding:5px 14px;border-radius:0;background:#fff;height:40px;width:100%;box-sizing:border-box}.block-editor-writing-flow .ngl-form-input-text{line-height:2;color:#aaa;font-size:14px}.ngl-form-field{text-align:left!important}.ngl-form-label{user-select:none}.ngl-form-button{background:#0088a0;color:#fff;border-radius:0;cursor:pointer;box-shadow:none;border:none;padding:5px 15px;min-height:40px;font-size:16px;text-decoration:none!important;text-transform:none;display:inline-block;box-sizing:border-box!important;outline:0!important}.ngl-form.ngl-portrait{text-align:center}.ngl-form.ngl-portrait .ngl-form-button{width:100%;display:block}.ngl-form.ngl-landscape{max-width:600px!important}.ngl-form.ngl-landscape .ngl-form-container{display:flex;align-items:flex-end;flex-wrap:wrap}.ngl-form.ngl-landscape .ngl-form-field{margin-bottom:0;flex:auto}.ngl-form.ngl-landscape .ngl-form-button{text-align:center;height:40px;min-width:180px}.ngl-form.ngl-landscape .ngl-form-text{flex-basis:100%}.ngl-message-overlay{opacity:0;transition:opacity .25s ease-in-out;pointer-events:none;visibility:hidden;height:0;align-items:center;background:#e7ffe5;border-radius:999px;border:2px solid #309427;padding:8px 14px;display:inline-flex;margin:25px 0 0}.ngl-message-overlay.ngl-show{opacity:1;pointer-events:auto;visibility:visible;height:auto}.ngl-message-overlay-text{font-size:14px;display:inline-block}.ngl-message-svg-wrap{background:#169620;min-width:32px;width:32px;line-height:32px;height:32px;border-radius:999px;display:inline-flex;align-items:center;justify-content:center;margin:0 10px 0 0}.ngl-message-svg-wrap svg{stroke-width:2px!important;fill:transparent!important}.ngl-form-unready{border:0;border-radius:0;background:#f5ebfc;padding:20px 30px;font-size:14px;font-weight:500}.ngl-form-unready a{color:#444}.ngl-form-container p.ngl-form-text{padding:20px 0 0;font-size:14px}p.ngl-form-checkbox{text-align:left;line-height:1!important;margin-top:0!important;margin-bottom:20px}.ngl-form.ngl-landscape p.ngl-form-checkbox{flex-basis:100%;margin:15px 0 0!important}.ngl-form.ngl-portrait p.ngl-form-checkbox,.ngl-form.ngl-portrait p.ngl-form-checkbox label{display:flex;align-items:center;margin:0 0 10px}p.ngl-form-checkbox input[type=checkbox]{margin:0;border-radius:0!important}.ngl-form-checkbox-text{font-weight:400;margin-left:12px}.block-editor-writing-flow .ngl-form-checkbox-text{font-family:"Inter var",-apple-system,BlinkMacSystemFont,"Helvetica Neue",Helvetica,sans-serif}.wp-block-newsletterglue-group{padding:0}.ngl-embed{padding:20px;border-radius:4px;border:1px solid #bbb}.ngl-embed-support{display:flex;justify-content:flex-end;align-items:center;font-size:12px}.ngl-embed-support span{padding:0 4px;color:#888}.ngl-embed-support svg{display:block;width:16px;height:16px;fill:#888}.ngl-embed input[type=text]{border:none!important;box-shadow:none!important;font-size:26px;padding:0!important;width:100%!important;margin:0!important;background:0 0!important}.ngl-embed-frontend{border:none;padding:0}.ngl-embed-error{font-size:14px;color:#772c2c;margin:20px 0 0}.ngl-articles{margin-top:20px;margin-bottom:20px}.ngl-article img{display:block;overflow:hidden}.ngl-article{margin:0 0 30px}.ngl-articles.colored .ngl-article{padding:20px!important}.ngl-article-title{margin:0 0 8px;line-height:1.4;word-wrap:break-word}.ngl-article-title a{font-weight:700;text-decoration:none}.ngl-article-excerpt{line-height:1.4;word-wrap:break-word}.ngl-article-featured{margin:0 0 14px}.ngl-article-featured a{display:block}.ngl-article-featured img{margin:0!important}.ngl-article-date{margin:8px 0 0;font-size:.95em;opacity:.7}.ngl-articles .components-placeholder.components-placeholder{min-height:100px}.ngl-articles input[type=text]{padding:6px 8px;box-shadow:0 0 0 transparent;transition:box-shadow .1s linear;border-radius:2px;border:1px solid #757575;margin:0 8px 0 0;flex:1 1 auto;font-size:13px;line-height:normal}.ngl-article-labels{display:block;margin:0 0 6px;font-size:.95em;opacity:.8}.ngl-articles-add{width:100%}.ngl-articles td,.ngl-articles th{border:none;padding:0}.ngl-articles table{border:none}.ngl-articles-full img{width:100%;height:auto}.ngl-article-left{display:inline-block;width:49.5%;vertical-align:top;box-sizing:border-box!important}.ngl-article-right{display:inline-block;width:49.5%;vertical-align:top;padding-left:20px;box-sizing:border-box!important}.ngl-articles-30_70 .ngl-article-left{display:inline-block;width:30%;vertical-align:top}.ngl-articles-30_70 .ngl-article-right{display:inline-block;width:69%;vertical-align:top}.ngl-articles-70_30 .ngl-article-left{display:inline-block;width:69%;vertical-align:top}.ngl-articles-70_30 .ngl-article-right{display:inline-block;width:30%;vertical-align:top}.ngl-article-right .ngl-article-featured{margin:0}.ngl-article-left .ngl-article-featured{margin:0}.ngl-article-mobile{display:none!important;overflow:hidden;mso-hide:all;margin:0;font-size:0;max-height:0}.ngl-article-mobile *{display:none!important;overflow:hidden;mso-hide:all;max-height:0;font-size:0}@media only screen and (max-width:642px){.ngl-article-mobile,.ngl-article-mobile *{display:block!important;max-height:100%!important;font-size:inherit!important}.ngl-articles-full .ngl-article-mobile,.ngl-articles-full .ngl-article-mobile *{display:none!important;max-height:0;font-size:0}.ngl-article-img-left,.ngl-article-img-right{display:none!important;overflow:hidden;mso-hide:all;margin:0;font-size:0;max-height:0}}.ngl-working{opacity:.7;pointer-events:none;cursor:default}.ngl-form-errors{background:#ffcece;color:#672d2d;padding:8px 14px;text-align:left;margin:0 0 25px;border:1px solid #ec9d9d;font-size:14px;line-height:22px}.wp-block-newsletterglue-share{display:flex;flex-wrap:wrap}.wp-block-newsletter-share-center{justify-content:center}.wp-block-newsletter-share-right{justify-content:flex-end}.wp-block-newsletter-share-center>a{margin:0 8px!important}.wp-block-newsletter-share-right>a{margin:0 0 0 12px!important}.wp-block-newsletterglue-share>a{display:flex;margin:0 12px 0 0}.wp-block-newsletterglue-share img{width:100%;height:100%;display:flex}.ngl-share-description{flex-basis:100%;margin:0 0 8px} .dfrcs_loading{height:72px;width:100%;display:block;background-color:#fafafa;background-image:url(//hometheaterreview.com/wp-content/plugins/datafeedr-comparison-sets/css/../images/loading.gif);background-repeat:no-repeat;background-position:20px center;margin:0 0 30px}.dfrcs_loading:after{content:"Finding the best prices on the web...";padding:0 0 0 72px;margin:0;line-height:72px;font-family:"Roboto",sans-serif;font-size:17px;padding-top:10px;padding-bottom:10px;font-weight:400;color:#999}.dfrcs{margin:0;padding:0;clear:both}.dfrcs h2{margin-bottom:10px}.dfrcs ul.dfrcs_compset{margin:0;padding:0;list-style-type:none;color:#333;border-top:1px solid #efefef}.dfrcs ul.dfrcs_compset li{margin:0;padding:0;border-bottom:1px solid #efefef;background-color:#fff;background-image:none;transition:background-color .5s ease;list-style:none !important}.dfrcs ul.dfrcs_compset li:last-child{border-bottom:1px solid #efefef}.dfrcs ul.dfrcs_compset li:hover+li{border-bottom:1px solid #dcdcdc}.dfrcs ul.dfrcs_compset li:hover{background-color:#fbfbfb;border-color:#dcdcdc}.dfrcs ul.dfrcs_compset li a{padding:8px 0;border:0;box-shadow:none;color:rgba(0,146,203,.6) !important;text-decoration:none}.dfrcs ul.dfrcs_compset li a .item{text-transform:none;text-decoration:none;border:0;color:inherit;height:76px;margin:0;display:-webkit-flex;display:-ms-flexbox;display:flex;-webkit-flex-flow:row nowrap;-ms-flex-flow:row nowrap;flex-flow:row nowrap;-webkit-align-items:center;-ms-flex-align:center;align-items:center;-webkit-justify-content:center;-ms-flex-pack:center;justify-content:center}.dfrcs ul.dfrcs_compset li a .item div{background-color:inherit;margin:0;padding:0}.dfrcs ul.dfrcs_compset li a .item div img{margin:0;padding:0;display:block;box-shadow:none;border:0}.dfrcs ul.dfrcs_compset li a div,.dfrcs ul.dfrcs_compset li a .item div{font-family:"Roboto",sans-serif;font-weight:400;line-height:1.3em;font-size:.95em}.dfrcs ul.dfrcs_compset li a .item div,.dfrcs ul.dfrcs_compset li a .item div img{text-align:center;margin-left:auto;margin-right:auto}.dfrcs ul.dfrcs_compset li a .item div.dfrcs_image,.dfrcs ul.dfrcs_compset li a .item div.dfrcs_logo,.dfrcs ul.dfrcs_compset li a .item div.dfrcs_price,.dfrcs ul.dfrcs_compset li a .item div.dfrcs_link{font-family:"Roboto",sans-serif;font-size:17px}.dfrcs ul.dfrcs_compset li a .item div.dfrcs_image{-webkit-flex:1 1 60px;-ms-flex:1 1 60px;flex:1 1 60px;-webkit-order:0;-ms-flex-order:0;order:0}.dfrcs ul.dfrcs_compset li a .item div.dfrcs_image img{max-width:60px;max-height:60px;border:0}.dfrcs ul.dfrcs_compset li a .item div.dfrcs_logo{-webkit-flex:1 1 160px;-ms-flex:1 1 160px;flex:1 1 160px;-webkit-order:0;-ms-flex-order:0;order:0;text-align:left;font-weight:700;color:#009688}.dfrcs ul.dfrcs_compset li a .item div.dfrcs_logo img{display:inline}.dfrcs ul.dfrcs_compset li a .item div.dfrcs_logo span{display:none}.dfrcs ul.dfrcs_compset li a .item div.dfrcs_logo.dfrcs_missing_logo span{display:inline}.dfrcs ul.dfrcs_compset li a .item div.dfrcs_logo.dfrcs_missing_logo img{display:none}.dfrcs ul.dfrcs_compset li a .item div.dfrcs_logo img{max-width:150px;max-height:40px;float:left}.dfrcs ul.dfrcs_compset li a .item div.dfrcs_price{text-align:left;font-weight:400;color:#009688;-webkit-flex:1 1 100px;-ms-flex:1 1 100px;flex:1 1 100px;-webkit-order:0;-ms-flex-order:0;order:0;text-decoration:none}.dfrcs ul.dfrcs_compset li a .item div.dfrcs_price .usedprice{display:block;font-size:80%}.dfrcs ul.dfrcs_compset li a .item div.dfrcs_price .usedprice .amount{white-space:nowrap}.dfrcs ul.dfrcs_compset li a .item div.dfrcs_price .usedprice_label{color:#666;font-weight:700;text-transform:uppercase}.dfrcs ul.dfrcs_compset li:hover div.dfrcs_price .amount{text-decoration:none}.dfrcs ul.dfrcs_compset li a .item div.dfrcs_price ins,.dfrcs ul.dfrcs_compset li a .item div.dfrcs_price del{background:inherit;text-decoration:none}.dfrcs ul.dfrcs_compset li a .item div.dfrcs_price del{opacity:.5;color:#8f908f;font-weight:400;text-decoration:line-through}.dfrcs ul.dfrcs_compset li a .item div.dfrcs_price ins{font-weight:700;color:#009688}.dfrcs ul.dfrcs_compset li a .item div.dfrcs_link{-webkit-flex:1 1 auto;-ms-flex:1 1 auto;flex:1 1 auto;-webkit-order:0;-ms-flex-order:0;order:0}.dfrcs ul.dfrcs_compset li a .item div.dfrcs_link .dfrcs_action{text-decoration:none;color:#fff;background-color:#009688;text-align:center;letter-spacing:.05em;border:none;border-radius:2px;display:inline-block;height:2.5em;line-height:2.5em;outline:0;padding:0 2rem;text-transform:uppercase;vertical-align:middle;font-size:.8em;font-weight:700;white-space:nowrap}.dfrcs ul.dfrcs_compset li a .dfrcs_promo{text-align:left;color:#909090 !important;font-size:15px;margin:0;padding:8px;background-color:inherit;font-family:"Roboto",sans-serif;font-weight:100}@media screen and (max-width:565px){.dfrcs ul.dfrcs_compset li a .item div.dfrcs_image,.dfrcs ul.dfrcs_compset li a .item div.dfrcs_logo,.dfrcs ul.dfrcs_compset li a .item div.dfrcs_price,.dfrcs ul.dfrcs_compset li a .item div.dfrcs_link{font-family:"Roboto",sans-serif;font-size:15px}.dfrcs ul.dfrcs_compset li a .dfrcs_promo{font-size:13px}}@media screen and (max-width:565px){.dfrcs ul.dfrcs_compset li a .item div.dfrcs_price del,.dfrcs ul.dfrcs_compset li a .item div.dfrcs_price ins{display:block}.dfrcs ul.dfrcs_compset li a .item div.dfrcs_image{display:none}.dfrcs ul.dfrcs_compset li a .item div.dfrcs_logo img{width:100px;height:auto}}@media screen and (max-width:460px){.dfrcs ul.dfrcs_compset li a .item div.dfrcs_image,.dfrcs ul.dfrcs_compset li a .item div.dfrcs_logo,.dfrcs ul.dfrcs_compset li a .item div.dfrcs_price,.dfrcs ul.dfrcs_compset li a .item div.dfrcs_link{font-family:"Roboto",sans-serif;font-size:14px}.dfrcs ul.dfrcs_compset li a .dfrcs_promo{font-size:12px}}@media screen and (max-width:350px){.dfrcs ul.dfrcs_compset li a .item div.dfrcs_link{display:none}}.dfrcs .dfrcs_compset_actions{background-color:#f5f5f5;color:rgba(51,51,51,.5);font-family:"Roboto",sans-serif;font-weight:400;line-height:1.1em;text-decoration:none;padding:6px;border:1px solid #d9d9d9;margin:0 0 20px}.dfrcs .dfrcs_compset_actions strong,.dfrcs .dfrcs_compset_actions a{font-size:13px}.dfrcs .dfrcs_compset_actions a.action{text-decoration:none;border:0;color:rgba(0,146,203,.6) !important;margin-left:8px;box-shadow:none}.dfrcs .dfrcs_compset_actions a.action:hover{color:rgba(0,146,203,1)}.dfrcs_compset_debug{background-color:#f7f7f7;padding:8px;margin:10px 0 0;border:0;box-shadow:none}.dfrcs_compset_debug pre{font-family:Inconsolata,monospace;overflow:auto !important;width:100%;max-height:600px;font-size:12px;word-wrap:normal !important;word-break:normal !important;white-space:pre !important;background-color:#f7f7f7;margin:0 0 0 1%;border:0;box-shadow:none;padding:0 0 14px;line-height:1.3em;background-image:none}.dfrcs_compset_debug pre strong{font-size:12px}.dfrcs_compset_debug pre a{color:rgba(0,146,203,.6)}.dfrcs_last_updated{text-align:right;font-size:11px;font-family:"Roboto",sans-serif;color:rgba(0,0,0,.35);margin-top:3px;margin-bottom:30px}.dfrcs_removed{background-color:#fce8e8 !important;transition:background-color .5s ease;display:none}.dfrcs_product_actions{display:none;padding:2px 10px;margin-bottom:10px;background-color:rgba(0,0,0,.02);font-size:12px;font-family:"Roboto",sans-serif}.dfrcs_product_actions a{color:#0e95ff;text-decoration:none}.dfrcs_product_actions a:hover{color:#0e95ff;text-decoration:underline}.dfrcs .dfrcs_no_results_message{padding-bottom:1em}.dfrcs .dfrcs_amazon_disclaimer{color:#666;font-size:12px !important;margin:10px}.dfrcs .dfrcs_amazon_disclaimer summary>span{text-decoration:underline}.dfrcs .dfrcs_amazon_disclaimer p{margin-top:4px} .aal_general_settings{margin:25px 0}form span.aal_label{width:100px;display:block;float:left}input.aal_big_input{width:80%}.aal_general_settings form span.aal_label{width:200px;display:block;float:left;height:20px}.aal_general_settings input[text],.aal_general_settings select,.aal_general_settings input[file]{width:200px}.aal_general_settings .aal_right_options{float:left;width:-moz-calc(100% - 200px);width:-webkit-calc(100% - 200px);width:-o-calc(100% - 200px);width:calc(100% - 200px)}.aal_clear{clear:both}#aal_extended{display:none}.aal_sugbox{width:180px;float:left}ul.aal_admin_list{list-style-type:disc;margin-left:30px}.aal_link_item{clear:both}.aal_post_link{width:300px;float:left;border-bottom:1px solid #000;border-left:1px solid #000;height:40px;padding:3px}.aal_key_link{width:400px;float:left;border:1px solid #000;border-top:none;height:40px;padding:3px}.aal_exclude_link{width:300px;float:left;border-bottom:1px solid #000;border-right:1px solid #000;height:40px;padding:3px}.aal_excludedcol{float:left;width:100px;border:1px solid #ccc;background-color:#fff;padding:15px;height:15px}.aal_excludedtitle{width:60%}.aal_excludedidcol{width:45px}.aal_excludeditem,.aal_excludeditemheader{width:100%}.aal_biginput{width:80%}.aal_biginput_title{width:180px}.aalcustomlink_item{padding:7px;border:1px solid}span.aalcustomlink_url{margin-right:20px;width:200px}span.aalcustomlink_title{margin-right:20px;width:400px}span.aalcustomlink_merchant{float:right}.aalcustomlinkdeleteall{padding:10px;font-size:14px}.aal_leftadmin{width:70%;font-size:16px}.aal_leftadmin p{font-size:15px}.yellowhighlight{border:2px solid #ff0 !important}table.aalpromodules tr td,table.aalpromodules tr th{font-weight:700}table.aal_table tr th{font-weight:700}.aal_form_advanced_options{display:none}.aal-amazon-widget{width:100%}.aal-amazon-widget ul{list-style-type:none}.aal-amazon-widget li,.aal-amazon-widget ul li{float:left;width:30%;list-style-type:none;text-align:center;margin:0 2% 2% 0;padding:3px}.aal-amazon-widget li img{margin:0 auto}.aal-amazon-widget li a{font-size:11px}span.aal_apt_span{width:300px;display:inline-block}span.aal_error{font-size:15px;color:red}span.aal_confirmation{font-size:15px;color:#0ff}span.aal_urlvalid{color:#0f0;font-weight:700}span.aal_urlbroken{color:red;font-weight:700} .is-ajax-search .is-loader-image{display:none;position:absolute;top:50%;transform:translateY(-50%);height:25px;right:5px;z-index:9999;width:25px;background-repeat:no-repeat;background-size:contain}.is-ajax-search.processing .is-loader-image{display:block}.is-ajax-search label{position:relative}.is-ajax-search-details,.is-ajax-search-details *,.is-ajax-search-result,.is-ajax-search-result *{-webkit-box-sizing:content-box;-moz-box-sizing:content-box;-ms-box-sizing:content-box;-o-box-sizing:content-box;box-sizing:content-box;padding:0;outline:0!important;margin:0;border:0;border-radius:0;text-transform:none;text-shadow:none;box-shadow:none;text-decoration:none;text-align:left;letter-spacing:normal;font-size:13px;line-height:18px;vertical-align:baseline}.is-ajax-search-details a,.is-ajax-search-result a{color:#0073aa}.is-ajax-search-details a:hover,.is-ajax-search-result a:hover{text-decoration:underline}div.is-ajax-search-details,div.is-ajax-search-result{display:none;height:auto;width:500px;max-width:100%;position:absolute;z-index:999999;background:#e2e2e2;color:#313131;padding:5px}.is-ajax-search-items{max-height:400px;overflow-y:auto;overflow-x:hidden}.is-search-sections{position:relative;clear:both;overflow:hidden}.is-search-sections:after{content:"";display:block;clear:both}.is-search-sections .left-section{float:left}.is-show-more-results{border-top:none;margin-top:5px;background:#fff}.is-show-more-results-text{cursor:pointer;padding:4px 0 3px;text-align:center}.is-load-more-image{display:block;margin:0 auto;max-height:25px}.is-ajax-search-no-result{padding:10px;background:#fff;text-align:center}.is-ajax-search-items .post-title{display:inline-block;font-weight:400;font-size:15px;text-transform:capitalize}.is-search-sections .meta{margin:5px 0}.is-search-sections .meta i{font-size:11px}.is-search-sections .meta>div{margin-bottom:5px}.is-search-sections .meta>div>span{margin-left:10px}.is-search-sections .meta>div>span:first-child{margin-left:0}.is-has-badge .is-search-sections .is-title{margin-right:35px}.is-has-badge .is-search-sections .meta>div>span:last-child{margin-right:10px}.is-search-sections .meta>span:not(:last-child):after{margin:0 2px;content:'/';display:inline-block}.is-search-sections .thumbnail{margin-right:10px;width:70px}.is-search-sections .thumbnail img{float:left;max-width:70px;height:auto}.is-ajax-term-label{display:block;font-style:italic;font-size:10px;text-transform:uppercase;color:#7b7b7b;line-height:12px;letter-spacing:2px}.is-ajax-result-description{font-size:14px;margin-top:10px}.is-ajax-search-post,.is-ajax-search-post-details{clear:both;padding:15px;border-bottom:1px solid #eceff1}.is-ajax-search-details .is-ajax-search-items>div,.is-ajax-search-post{background:#fff}.is-ajax-search-categories-details>div:hover,.is-ajax-search-result .is-ajax-search-post:hover,.is-ajax-search-result .is-show-more-results:hover,.is-ajax-search-tags-details>div:hover{background:#e2e2e2}.is-ajax-search-details .is-title a,.is-ajax-search-post .is-title a{text-transform:capitalize;font-size:14px}.is-ajax-search-post-details:last-child,.is-ajax-search-posts .is-ajax-search-post:last-child{border:0}.is-ajax-woocommerce-actions{clear:both;margin-top:10px;display:inline-block}.is-ajax-woocommerce-actions>*{display:inline-block}.is-ajax-woocommerce-actions .qty{width:60px;height:auto;padding:4px 8px;background:#fff;font-size:14px;min-height:0}.is-ajax-woocommerce-actions .add_to_cart_inline{margin:0 0 0 5px}.is-ajax-woocommerce-actions .added_to_cart{font-size:15px;text-transform:capitalize;font-weight:800;padding:4px 8px}.is-ajax-woocommerce-actions .add_to_cart_inline a.button{padding:4px 10px;background:#0073aa;color:#fff;font-weight:800;text-decoration:none}.is-ajax-search-details .is-ajax-woocommerce-actions .add_to_cart_inline a.button.loading{opacity:.4;cursor:wait}.is-ajax-woocommerce-actions .add_to_cart_inline a.button:hover{opacity:.9}.is-ajax-search-items .stock-status{color:#7ad03a}.is-ajax-search-items .is-prices del{text-decoration:line-through}.is-ajax-search-items .is-prices .amount{background:0 0;font-weight:800}.is-ajax-search-items .is-prices del .amount{font-weight:lighter;font-size:90%;opacity:.6}.is-ajax-search-items .is-prices ins{background:0 0}.is-ajax-search-items .stock-status.is-out-of-stock{color:#a44}.is-featured-icon{display:inline-block;width:13px;fill:#ffc107;vertical-align:text-top}.is-ajax-search-items .is-sale-badge{background:#77a464;color:#fff;height:20px;padding-top:2px;position:absolute;right:-24px;text-align:center;top:4px;transform:rotate(45deg);width:77px}.is-ajax-search-post-details .is-ajax-term-label{display:inline-block}.is-ajax-term-name{font-size:16px;text-transform:capitalize}.is-ajax-term-wrap{margin-bottom:10px}div.is-ajax-search-details{width:400px}.is-ajax-search-post-details{display:none}.is-ajax-search-posts-details .is-search-sections .thumbnail{width:150px}.is-ajax-search-posts-details .is-search-sections .thumbnail img{max-width:150px;float:none}@media screen and (max-width:910px){div.is-ajax-search-result{max-width:97%}.is-ajax-search-details{display:none!important}}@media screen and (max-width:510px){.is-ajax-search-result{left:3px!important}}[data-simplebar]{position:relative;flex-direction:column;flex-wrap:wrap;justify-content:flex-start;align-content:flex-start;align-items:flex-start}.simplebar-wrapper{overflow:hidden;width:inherit;height:inherit;max-width:inherit;max-height:inherit}.simplebar-mask{direction:inherit;position:absolute;overflow:hidden;padding:0;margin:0;left:0;top:0;bottom:0;right:0;width:auto!important;height:auto!important;z-index:0}.simplebar-offset{direction:inherit!important;box-sizing:inherit!important;resize:none!important;position:absolute;top:0;left:0;bottom:0;right:0;padding:0;margin:0;-webkit-overflow-scrolling:touch}.simplebar-content-wrapper{direction:inherit;box-sizing:border-box!important;position:relative;display:block;height:100%;width:auto;max-width:100%;max-height:100%;scrollbar-width:none;-ms-overflow-style:none}.simplebar-content-wrapper::-webkit-scrollbar,.simplebar-hide-scrollbar::-webkit-scrollbar{width:0;height:0}.simplebar-content:after,.simplebar-content:before{content:' ';display:table}.simplebar-placeholder{max-height:100%;max-width:100%;width:100%;pointer-events:none}.simplebar-height-auto-observer-wrapper{box-sizing:inherit!important;height:100%;width:100%;max-width:1px;position:relative;float:left;max-height:1px;overflow:hidden;z-index:-1;padding:0;margin:0;pointer-events:none;flex-grow:inherit;flex-shrink:0;flex-basis:0}.simplebar-height-auto-observer{box-sizing:inherit;display:block;opacity:0;position:absolute;top:0;left:0;height:1000%;width:1000%;min-height:1px;min-width:1px;overflow:hidden;pointer-events:none;z-index:-1}.simplebar-track{z-index:1;position:absolute;right:0;bottom:0;pointer-events:none;overflow:hidden}[data-simplebar].simplebar-dragging .simplebar-content{pointer-events:none;user-select:none;-webkit-user-select:none}[data-simplebar].simplebar-dragging .simplebar-track{pointer-events:all}.simplebar-scrollbar{position:absolute;left:0;right:0;min-height:10px}.simplebar-scrollbar:before{position:absolute;content:'';background:#000;border-radius:7px;left:2px;right:2px;opacity:0;transition:opacity .2s linear}.simplebar-scrollbar.simplebar-visible:before{opacity:.5;transition:opacity 0s linear}.simplebar-track.simplebar-vertical{top:0;width:11px}.simplebar-track.simplebar-vertical .simplebar-scrollbar:before{top:2px;bottom:2px}.simplebar-track.simplebar-horizontal{left:0;height:11px}.simplebar-track.simplebar-horizontal .simplebar-scrollbar:before{height:100%;left:2px;right:2px}.simplebar-track.simplebar-horizontal .simplebar-scrollbar{right:auto;left:0;top:2px;height:7px;min-height:0;min-width:10px;width:auto}[data-simplebar-direction=rtl] .simplebar-track.simplebar-vertical{right:auto;left:0}.hs-dummy-scrollbar-size{direction:rtl;position:fixed;opacity:0;visibility:hidden;height:500px;width:500px;overflow-y:hidden;overflow-x:scroll}.simplebar-hide-scrollbar{position:fixed;left:0;visibility:hidden;overflow-y:scroll;scrollbar-width:none;-ms-overflow-style:none} .pp-multiple-authors-layout-simple_list ul,.pp-multiple-authors-layout-boxed ul{padding-left:0;margin-left:0}.pp-multiple-authors-layout-simple_list ul li{list-style:none;position:relative;min-height:35px;line-height:35px;border-bottom:1px solid #999;border-top:1px solid #999;border-bottom:1px solid #999;border-top:1px solid #999;padding:.5em 0;margin:-1px 0 0}.pp-multiple-authors-layout-simple_list .avatar,.pp-multiple-authors-layout-simple_list .photo{float:left;margin-right:10px;width:35px;height:35px;display:block;min-height:35px}.pp-multiple-authors-layout-boxed ul li,.pp-multiple-authors-layout-centered ul li{list-style:none;position:relative;min-height:120px;border:1px solid #999;padding:1.5em;margin-bottom:1em;margin-left:0}.pp-multiple-authors-layout-boxed .avatar,.pp-multiple-authors-layout-boxed .photo,.pp-multiple-authors-layout-centered .avatar,.pp-multiple-authors-layout-centered .photo{width:80px;height:auto;border-radius:50%}.pp-multiple-authors-layout-boxed .multiple-authors-description,.pp-multiple-authors-layout-centered .multiple-authors-description{margin:10px 0 20px}.pp-multiple-authors-layout-boxed .multiple-authors-name,.pp-multiple-authors-layout-centered .multiple-authors-name{margin-bottom:10px}.pp-multiple-authors-layout-boxed .multiple-authors-name a,.pp-multiple-authors-layout-centered .multiple-authors-name a{margin-bottom:10px;font-size:1.2em}.pp-multiple-authors-layout-boxed .multiple-authors-links,.pp-multiple-authors-layout-centered .multiple-authors-links{margin-bottom:0}.pp-multiple-authors-layout-boxed .multiple-authors-links a,.pp-multiple-authors-layout-centered .multiple-authors-links a{border-radius:20px;background:var(--ppa-color-scheme);min-width:30px;height:30px;line-height:30px;color:#fff;margin-bottom:0;margin-right:1px;text-decoration:none;display:inline-block}.pp-multiple-authors-layout-boxed .multiple-authors-links a:hover,.pp-multiple-authors-layout-boxed .multiple-authors-links a:focus,.pp-multiple-authors-layout-boxed .multiple-authors-links a:active,.pp-multiple-authors-layout-centered .multiple-authors-links a:hover,.pp-multiple-authors-layout-centered .multiple-authors-links a:focus,.pp-multiple-authors-layout-centered .multiple-authors-links a:active{background:var(--ppa-color-scheme-active);color:#fff}.pp-multiple-authors-layout-boxed .multiple-authors-links a span,.pp-multiple-authors-layout-centered .multiple-authors-links a span{min-width:30px;height:30px;line-height:30px;font-size:16px}.pp-multiple-authors-layout-boxed .multiple-authors-links a:nth-child(1),.pp-multiple-authors-layout-centered .multiple-authors-links a:nth-child(1){padding:0 14px}.pp-multiple-authors-layout-boxed .multiple-authors-links a:nth-child(1){margin-right:2px}.pp-multiple-authors-layout-centered .multiple-authors-links a:nth-child(1){margin-right:1px;margin-left:1px}.pp-multiple-authors-layout-boxed .multiple-authors-links a:nth-child(1) span,.pp-multiple-authors-layout-centered .multiple-authors-links a:nth-child(1) span{font-size:14px;vertical-align:middle}.pp-multiple-authors-layout-boxed .ppma-links{position:absolute;top:10px;right:10px}.pp-multiple-authors-layout-centered .ppma-links a,.pp-multiple-authors-layout-boxed .ppma-links a{color:#999;text-decoration:none;border-bottom:none;-webkit-box-shadow:none;-moz-box-shadow:none;box-shadow:none}.pp-multiple-authors-layout-centered ul{margin:0;padding:0}.pp-multiple-authors-layout-centered ul li{text-align:center}.pp-multiple-authors-layout-centered img{display:inline-block}.pp-multiple-authors-layout-centered p{margin:5px 0}.pp-multiple-authors-layout-inline .avatar,.pp-multiple-authors-layout-inline .photo{width:30px;height:30px;margin:auto 2px auto auto;vertical-align:middle;display:inline-block}@media (min-width:769px){.pp-multiple-authors-layout-boxed ul li{display:flex;flex-wrap:wrap}.pp-multiple-authors-layout-boxed ul li>div:nth-child(1){flex:0 0 110px}.pp-multiple-authors-layout-boxed ul li>div:nth-child(2){flex:1}} .yarpp-related{margin-bottom:1em;margin-top:1em}.yarpp-related a{font-weight:700;text-decoration:none}.yarpp-related .yarpp-thumbnail-title{font-size:96%;font-weight:700;text-align:left;text-decoration:none}.yarpp-related h3{font-size:125%;font-weight:700;margin:0;padding:0 0 5px;text-transform:capitalize} .yarpp-thumbnail-default,.yarpp-thumbnail-title,.yarpp-thumbnails-horizontal .yarpp-thumbnail{display:inline-block}.yarpp-thumbnails-horizontal .yarpp-thumbnail{border:1px solid hsla(0,0%,50%,.1);vertical-align:top}.yarpp-thumbnails-horizontal .yarpp-thumbnail-default,.yarpp-thumbnails-horizontal .yarpp-thumbnail>img{display:block}.yarpp-thumbnails-horizontal .yarpp-thumbnail-title{font-size:1em;line-height:1.4em;max-height:2.8em;overflow:hidden;text-decoration:inherit}.yarpp-thumbnail-default{overflow:hidden} .fluentform .clearfix:after,.fluentform .clearfix:before,.fluentform .ff-el-group:after,.fluentform .ff-el-group:before,.fluentform .ff-el-repeat .ff-el-input--content:after,.fluentform .ff-el-repeat .ff-el-input--content:before,.fluentform .ff-step-body:after,.fluentform .ff-step-body:before{display:table;content:" "}.fluentform .clearfix:after,.fluentform .ff-el-group:after,.fluentform .ff-el-repeat .ff-el-input--content:after,.fluentform .ff-step-body:after{clear:both}@media (min-width:768px){.frm-fluent-form .ff-t-container{display:table;width:100%;table-layout:fixed;vertical-align:top}.frm-fluent-form .ff-t-container.ff_cond_v{display:table!important}.frm-fluent-form .ff-t-cell{display:table-cell;padding:0 15px;vertical-align:inherit;width:100%}.frm-fluent-form .ff-t-cell:first-of-type{padding-left:0}.frm-fluent-form .ff-t-cell:last-of-type{padding-right:0}}.fluentform .ff-el-group{margin-bottom:20px}.fluentform .ff-el-group.ff-el-form-top .ff-el-input--label{text-align:left;float:none;display:inline-block;margin-bottom:5px}.fluentform .ff-el-group.ff-el-form-top .ff-el-input--content{margin-left:auto;margin-bottom:0}@media (min-width:481px){.fluentform .ff-el-group.ff-el-form-left .ff-el-input--label{text-align:left}}@media (min-width:481px){.fluentform .ff-el-group.ff-el-form-right .ff-el-input--label{text-align:right}}.fluentform .ff-el-input--label{display:inline-block;margin-bottom:5px;position:relative}.fluentform .ff-el-input--label.ff-el-is-required.asterisk-left label:before{content:"* ";color:#f56c6c;margin-right:3px}.fluentform .ff-el-input--label.ff-el-is-required.asterisk-right label:after{content:" *";color:#f56c6c;margin-left:3px}.fluentform .ff-el-input--label label{margin-bottom:0;display:inline-block;font-weight:600;line-height:inherit}.fluentform .ff-el-ratings{--fill-inactive:#d4d4d4;--fill-active:#ffb100;display:inline-block;line-height:40px}.fluentform .ff-el-ratings input[type=radio]{visibility:hidden!important;width:0!important;height:0!important;display:none}.fluentform .ff-el-ratings svg{width:22px;height:22px;fill:var(--fill-inactive);vertical-align:middle;transition:all .3s}.fluentform .ff-el-ratings svg.scale{transition:all .15s}.fluentform .ff-el-ratings label{margin-right:3px;display:inline}.fluentform .ff-el-ratings label.active svg{fill:#ffb100;fill:var(--fill-active)}.fluentform .ff-el-ratings label:hover{cursor:pointer}.fluentform .ff-el-ratings label:hover svg{transform:scale(1.1)}.fluentform .ff-el-ratings label:hover svg.scalling{transform:scale(1.2)}.fluentform .ff-el-repeat .ff-el-form-control{width:100%;margin-bottom:10px}.fluentform .ff-el-repeat .ff-t-cell{padding:0 5px;display:table-cell}.fluentform .ff-el-repeat .ff-t-cell:first-child{padding-left:0}.fluentform .ff-el-repeat .ff-t-cell:last-child{padding-right:0}.fluentform .ff-el-repeat .ff-t-container{float:left;width:90%;display:table;table-layout:fixed}.fluentform .ff-el-repeat-buttons-list span{cursor:pointer}@media (min-width:481px){.fluentform .ff-el-form-left .ff-el-input--label,.fluentform .ff-el-form-right .ff-el-input--label{float:left;width:180px;margin-bottom:0;padding:10px 15px 0 0}.fluentform .ff-el-form-left .ff-el-input--content,.fluentform .ff-el-form-right .ff-el-input--content{margin-left:180px}.fluentform .ff-el-form-left .ff-t-container .ff-el-input--label,.fluentform .ff-el-form-right .ff-t-container .ff-el-input--label{float:none;width:auto;margin-bottom:5px}.fluentform .ff-el-form-left .ff-t-container .ff-el-input--content,.fluentform .ff-el-form-right .ff-t-container .ff-el-input--content{margin-left:auto}}.fluentform .ff-el-form-right .ff-el-input--label{text-align:right}.fluentform .ff-el-is-error .text-danger{font-size:12px;margin-top:4px}.fluentform .ff-el-is-error .ff-el-form-check-label,.fluentform .ff-el-is-error .ff-el-form-check-label a{color:#f56c6c}.fluentform .ff-el-is-error .ff-el-form-control{border-color:#f56c6c}.fluentform .ff-el-tooltip{display:inline-block;position:relative;z-index:2;cursor:pointer;margin-left:2px;vertical-align:middle}.fluentform .ff-el-tooltip:hover{color:#000}.fluentform .ff-el-tooltip svg{fill:#595959}.fluentform .ff-el-help-message{margin-top:5px;font-style:italic;font-size:12px;color:#595959}.fluentform .ff-el-help-message.ff_ahm{margin-bottom:5px;margin-top:-3px}.fluentform .ff-el-progress{height:1.3rem;overflow:hidden;font-size:.75rem;background-color:#e9ecef;border-radius:.25rem;line-height:1.2rem}.fluentform .ff-el-progress-bar{background-color:#007bff;height:inherit;width:0;transition:width .3s;color:#fff;text-align:right}.fluentform .ff-el-progress-bar span{display:inline-block;padding:0 5px 0 0}.fluentform .ff-el-progress-status{font-size:.9rem;margin-bottom:5px}.fluentform .ff-el-progress-title{margin:8px 0 0;list-style-type:none;display:inline-block;padding-left:15px;padding-right:15px;font-weight:600;border-bottom:2px solid #000}.fluentform .ff-el-progress-title li{display:none}.fluentform .ff-hidden{display:none!important}.fluentform .ff-step-container{overflow:hidden}.fluentform .ff-step-header{margin-bottom:20px}.fluentform .ff-step-titles{overflow:hidden;width:100%;padding:0;margin:0 0 20px;text-align:center;position:relative;display:table;table-layout:fixed;counter-reset:step}.fluentform .ff-step-titles li{display:table-cell;position:relative;list-style-type:none;color:#333;font-size:12px;width:auto;padding:0 10px;vertical-align:top}.fluentform .ff-step-titles li.ff_active,.fluentform .ff-step-titles li.ff_completed{color:#007bff}.fluentform .ff-step-titles li.ff_active:before,.fluentform .ff-step-titles li.ff_completed:before{background:#007bff;color:#fff;border:1px solid transparent}.fluentform .ff-step-titles li.ff_active:after,.fluentform .ff-step-titles li.ff_completed:after{background:#007bff}.fluentform .ff-step-titles li.ff_active:after{right:0}.fluentform .ff-step-titles li:before{content:counter(step);counter-increment:step;width:20px;line-height:20px;display:block;font-size:10px;color:#333;background:#fff;border:1px solid;border-radius:3px;margin:0 auto 5px;z-index:10;position:relative;vertical-align:top}.fluentform .ff-step-titles li:after{content:"";width:100%;height:2px;background:#000;position:absolute;left:-50%;top:9px;z-index:1}.fluentform .ff-step-titles li:first-child{padding-left:0}.fluentform .ff-step-titles li:first-child:after{left:50%}.fluentform .ff-step-titles li:last-child{padding-right:0}.fluentform .ff-step-titles li:last-child:after{left:-50%}.fluentform .ff-step-body{margin-bottom:15px;position:relative;left:0;top:0}.fluentform .ff-upload-progress{margin:10px 0}.fluentform .ff-upload-progress-inline{position:relative;height:6px;margin:4px 0;border-radius:3px}.fluentform .ff-upload-preview{margin-top:5px;border:1px solid #ced4da;border-radius:3px}.fluentform .ff-upload-preview:first-child{margin-top:0}.fluentform .ff-upload-preview-img{background-repeat:no-repeat;background-size:cover;width:70px;height:70px;background-position:50%}.fluentform .ff-upload-details,.fluentform .ff-upload-preview{overflow:hidden;zoom:1}.fluentform .ff-upload-details,.fluentform .ff-upload-thumb{display:table-cell;vertical-align:middle}.fluentform .ff-upload-thumb{background-color:#eee}.fluentform .ff-upload-details{width:10000px;padding:0 10px;position:relative;border-left:1px solid #ebeef0}.fluentform .ff-upload-details .ff-inline-block,.fluentform .ff-upload-details .ff-upload-error{font-size:11px}.fluentform .ff-upload-remove{position:absolute;top:3px;right:0;font-size:16px;color:#f56c6c;padding:0 4px;line-height:1;box-shadow:none!important;cursor:pointer}.fluentform .ff-upload-remove:hover{text-shadow:1px 1px 1px #000!important;color:#f56c6c}.fluentform .ff-upload-filename{white-space:nowrap;overflow:hidden;text-overflow:ellipsis}.fluentform .ff-table{margin-bottom:0}.fluentform .ff-checkable-grids{border-collapse:collapse;border:1px solid #f1f1f1}.fluentform .ff-checkable-grids thead>tr>th{border:0;padding:7px 5px;text-align:center;background:#f1f1f1}.fluentform .ff-checkable-grids tbody>tr>td{padding:7px 5px;border:0}.fluentform .ff-checkable-grids tbody>tr>td:not(:first-of-type){text-align:center}.fluentform .ff-checkable-grids tbody>tr:nth-child(2n)>td{background:#f1f1f1}.fluentform .ff-checkable-grids tbody>tr:nth-child(2n - 1)>td{background:#fff}.fluentform .ff-screen-reader-element{position:absolute!important;clip:rect(0,0,0,0)!important;height:1px!important;width:1px!important;border:0!important;margin:0!important;padding:0!important;overflow:hidden!important;word-wrap:normal!important}.fluentform .ff_upload_btn.ff-btn{background:#6f757e;color:#fff;cursor:pointer;padding:6px 20px}.fluentform .ff-el-tc{display:table;width:100%;border-collapse:collapse;border:none}.fluentform .ff-el-tc label.ff_tc_label{display:table-row}.fluentform .ff-el-tc label.ff_tc_label>span{width:20px;padding-top:8px!important}.fluentform .ff-el-tc label.ff_tc_label>div,.fluentform .ff-el-tc label.ff_tc_label>span{display:table-cell}.fluentform .ff_t_c{padding:0 5px 0 0;margin:0}.fluentform .ff_t_c p{margin:0;padding:0}.fluentform .force-hide{height:0;padding:0;margin:0;border:0;display:block;visibility:hidden;opacity:0}.fluentform-step{float:left;height:1px;overflow:hidden;padding:3px}.fluentform-step.active{height:auto}.step-nav .next{float:right}.fluentform .has-conditions{display:none}.ff-message-success{padding:15px;margin-top:10px;position:relative;border:1px solid #ced4da;box-shadow:0 1px 5px rgba(0,0,0,.1)}.ff-errors-in-stack{margin-top:15px;display:none}.ff-errors-in-stack .error{font-size:14px;line-height:1.7}.ff-errors-in-stack .error-clear{margin-left:5px;padding:0 5px;cursor:pointer} .fluentform .ff_submitting{pointer-events:none}.fluentform .ff_btn_style{cursor:pointer;display:inline-block;font-weight:400;text-align:center;white-space:nowrap;vertical-align:middle;-webkit-user-select:none;-moz-user-select:none;-ms-user-select:none;user-select:none;border:1px solid transparent;padding:6px 12px;font-size:16px;line-height:1.5;border-radius:4px;position:relative;transition:background-color .15s ease-in-out,border-color .15s ease-in-out,box-shadow .15s ease-in-out}.fluentform .ff_btn_style:focus,.fluentform .ff_btn_style:hover{outline:0;text-decoration:none;opacity:.8}.fluentform .ff-btn.disabled{opacity:.65}.fluentform .ff-btn-primary{color:#fff;background-color:#007bff;border-color:#007bff}.fluentform .ff-btn-primary:focus,.fluentform .ff-btn-primary:hover{color:#fff;background-color:#0069d9;border-color:#0062cc}.fluentform .ff-btn-secondary{color:#fff;background-color:#868e96;border-color:#868e96}.fluentform .ff-btn-secondary:focus,.fluentform .ff-btn-secondary:hover{color:#fff;background-color:#727b84;border-color:#6c757d}.fluentform .ff-btn-lg{padding:8px 16px;font-size:18px;line-height:1.5;border-radius:6px}.fluentform .ff-btn-sm{padding:4px 8px;font-size:13px;line-height:1.5;border-radius:3px}.fluentform .ff-btn-block{display:block;width:100%}.fluentform .ff-btn-block+.ff-el-btn-block{margin-top:8px}.fluentform .ff-btn.ff-working{position:relative;transition:all .3s ease}.fluentform .ff-btn.ff-working:after{content:"";position:absolute;bottom:0;height:5px;left:0;right:0;background:hsla(0,0%,100%,.4);-webkit-animation:ff-progress-anim 4s 0s infinite;animation:ff-progress-anim 4s 0s infinite}.fluentform .ff-text-left{text-align:left}.fluentform .ff-text-center{text-align:center}.fluentform .ff-text-right{text-align:right}.fluentform .ff-float-right{float:right}.fluentform .ff-inline-block{display:inline-block}.fluentform .ff-inline-block+.ff-inline-block{margin-left:10px}.fluentform .ff-el-form-control{display:block;width:100%;padding:6px 12px;font-size:16px;line-height:1.5;color:#495057;background-image:none;background-clip:padding-box;border:1px solid #ced4da;border-radius:.25rem;transition:border-color .15s ease-in-out,box-shadow .15s ease-in-out;margin-bottom:0;max-width:100%}.fluentform .ff-el-form-control:focus{color:#495057;background-color:#fff;border-color:#80bdff;outline:none}.fluentform .ff-el-form-control:focus~.ff-el-help-message{display:block!important}.fluentform .ff-el-form-control:-ms-input-placeholder{color:#868e96;opacity:1}.fluentform .ff-el-form-control::-moz-placeholder{color:#868e96;opacity:1}.fluentform .ff-el-form-control::placeholder{color:#868e96;opacity:1}.fluentform .ff-el-form-control:disabled,.fluentform .ff-el-form-control[readonly]:not(.flatpickr-input){background-color:#e9ecef;opacity:1}.fluentform .ff-el-form-check label.ff-el-form-check-label{margin-bottom:7px;cursor:pointer}.fluentform .ff-el-form-check label.ff-el-form-check-label>span:after,.fluentform .ff-el-form-check label.ff-el-form-check-label>span:before{content:none}.fluentform .ff-el-form-check:last-child label.ff-el-form-check-label{margin-bottom:0}.fluentform .mce-tinymce.mce-container.mce-panel{border:1px solid #ced4da}select.ff-el-form-control:not([size]):not([multiple]){height:38px}.elementor-editor-active .ff-form-loading .ff-step-container .fluentform-step:first-child{height:auto}.ff-upload-preview.ff_uploading{opacity:.8}@-webkit-keyframes ff_move{0%{background-position:0 0}to{background-position:50px 50px}}@keyframes ff_move{0%{background-position:0 0}to{background-position:50px 50px}}.ff_uploading .ff-el-progress .ff-el-progress-bar{content:"";position:absolute;top:0;left:0;bottom:0;right:0;background-image:linear-gradient(-45deg,hsla(0,0%,100%,.2) 25%,transparent 0,transparent 50%,hsla(0,0%,100%,.2) 0,hsla(0,0%,100%,.2) 75%,transparent 0,transparent);z-index:1;background-size:50px 50px;border-top-right-radius:8px;border-bottom-right-radius:8px;border-top-left-radius:20px;border-bottom-left-radius:20px;overflow:hidden;-webkit-animation:ff_move 2s linear infinite;animation:ff_move 2s linear infinite}.ff-el-section-break .ff-el-section-title{margin-bottom:5px}.ff-el-section-break hr{margin-bottom:10px}table.ff_repeater_table{border:0;padding:0;margin:0 0 5px;border-spacing:0;border-collapse:collapse;table-layout:auto!important;vertical-align:middle;width:100%;background:transparent!important}table.ff_repeater_table th{font-size:90%;text-align:left}table.ff_repeater_table th,table.ff_repeater_table tr{border:0;padding:0;background:transparent!important}table.ff_repeater_table td{padding:0 15px 15px 0;border:0;text-align:left;background:transparent!important}table.ff_repeater_table tbody tr:only-child td .repeat-minus{visibility:hidden}table.ff_repeater_table .ff-el-group{margin:0;padding:0}table.ff_repeater_table .repeat_btn{vertical-align:middle;padding-right:0}table.ff_repeater_table .repeat_btn span.ff-icon{cursor:pointer;margin-right:10px}table.ff_repeater_table .repeat_btn span.ff-icon.icon-minus-circle{margin-right:0}table.ff_repeater_table.repeat-maxed .repeat_btn .repeat-plus{visibility:hidden}@media (max-width:768px){table.ff_flexible_table,table.ff_flexible_table.ff-checkable-grids{border:0}table.ff_flexible_table.ff-checkable-grids tbody tr{padding-top:0!important}table.ff_flexible_table.ff-checkable-grids tbody tr td.ff_grid_header{text-align:center;background-color:#eee!important;margin:0}table.ff_flexible_table.ff-checkable-grids tbody tr td{text-align:left!important}table.ff_flexible_table.ff-checkable-grids tbody tr td:before{content:none!important}table.ff_flexible_table.ff-checkable-grids tbody tr td:after{padding-left:10px;content:attr(data-label);letter-spacing:.5pt;white-space:nowrap;display:inline-block}table.ff_flexible_table.ff-checkable-grids tbody tr:nth-child(2n)>td{background:0 0}table.ff_flexible_table thead{position:absolute;top:-9999px;left:-9999px}table.ff_flexible_table tbody tr{display:block;background:#fff;position:relative;border-bottom:1px solid #ced4da;border-top:1px solid #ced4da;border-color:#ced4da;border-style:solid;border-width:2px 1px 4px;margin:16px 0 10px;padding-top:12px!important}table.ff_flexible_table tbody tr td{display:block;margin-left:8px;margin-right:8px}table.ff_flexible_table tbody tr td:before{content:attr(data-label);font-size:.875em;letter-spacing:.5pt;white-space:nowrap;display:block;clear:both}table.ff_flexible_table tbody tr td.repeat_btn{width:100%!important;padding:10px!important;background-color:#eee;margin-left:0}table.ff_flexible_table tbody tr td.repeat_btn .ff-el-repeat-buttons-list{width:100%;float:none}}span.ff-el-rating-text{line-height:100%;vertical-align:bottom;padding-left:5px}@-webkit-keyframes ff-progress-anim{0%{width:0}5%{width:0}10%{width:15%}30%{width:40%}50%{width:55%}80%{width:100%}95%{width:100%}to{width:0}}@keyframes ff-progress-anim{0%{width:0}5%{width:0}10%{width:15%}30%{width:40%}50%{width:55%}80%{width:100%}95%{width:100%}to{width:0}}.fluentform{font-family:inherit}.fluentform *{box-sizing:border-box}.fluentform input[type=checkbox],.fluentform input[type=radio]{display:inline-block;margin:0}.fluentform .iti{width:100%}.fluentform .iti__selected-flag{background:rgba(0,0,0,.1)}.fluentform label{font-weight:400}.fluentform .text-danger{color:#f56c6c}.fluentform .ff_gdpr_field{margin-right:5px}.fluentform form.ff-form-has-steps .ff-btn-submit{display:none}.fluentform form.ff-form-has-steps .ff_submit_btn_wrapper{text-align:right}.fluentform textarea{max-width:100%}.fluentform .ff-el-form-check-label .ff-el-form-check-input{position:relative;vertical-align:middle;top:-3px}.fluentform .ff_input-group{position:relative;display:flex;flex-wrap:wrap;align-items:stretch;width:100%}.fluentform .ff_input-group>.ff-el-form-control:not(:first-child){border-top-left-radius:0;border-bottom-left-radius:0;display:inline-block;width:auto}.fluentform .ff_input-group>.ff-el-form-control:not(:last-child){border-top-right-radius:0;border-bottom-right-radius:0}.fluentform .ff_input-group .ff-el-form-control{position:relative;flex:1 1 auto;width:1%;margin-bottom:0}.fluentform .ff_input-group-prepend{margin-right:-1px}.fluentform .input-group-append{margin-left:-1px}.fluentform .ff_input-group-append,.fluentform .ff_input-group-prepend{display:flex}.fluentform .ff_input-group>.ff_input-group-prepend>.ff_input-group-text{border-top-right-radius:0;border-bottom-right-radius:0}.fluentform .ff_input-group>.ff_input-group-append>.ff_input-group-text{border-top-left-radius:0;border-bottom-left-radius:0}.fluentform .ff_input-group-text{display:flex;align-items:center;padding:.375rem .75rem;margin-bottom:0;font-size:1rem;font-weight:400;line-height:1.5;color:#495057;text-align:center;white-space:nowrap;background-color:#e9ecef;border-radius:.25rem}.fluentform input[type=checkbox]{-webkit-appearance:checkbox}.fluentform input[type=radio]{-webkit-appearance:radio}.ff_coupon_wrapper .ff_input-group-append{cursor:pointer}.ff_coupon_wrapper .ff_input-group-append:hover .ff_input-group-text{background:#e3e8ed}ul.ff_coupon_responses{margin:0;padding:0;list-style:none}ul.ff_coupon_responses li{padding-top:5px}ul.ff_coupon_responses span.error-clear{font-weight:700;color:#ff5050;margin-right:10px}ul.ff_coupon_responses .ff_error{color:#f56c6c;cursor:pointer}ul.ff_coupon_responses .ff_success{color:#28a745}.fluentform .hidden_field{display:none!important}.fluentform .ff_force_hide{display:none!important;visibility:hidden!important}.fluentform .ff_scrolled_text{height:200px;overflow:scroll;padding:10px 15px;background:#e9ebed}@media only screen and (min-width:641px){.fluentform .ff-el-group.ff_list_3col .ff-el-form-check{width:33.3%;display:-moz-inline-stack;display:inline-block;margin:0 0 2px;padding-right:16px;min-height:28px;vertical-align:top}.fluentform .ff-el-group.ff_list_2col .ff-el-form-check{width:50%;display:-moz-inline-stack;display:inline-block;margin:0;padding-right:16px;min-height:28px;vertical-align:top}.fluentform .ff-el-group.ff_list_4col .ff-el-form-check{width:25%;display:-moz-inline-stack;display:inline-block;margin:0;padding-right:16px;min-height:28px;vertical-align:top}.fluentform .ff-el-group.ff_list_5col .ff-el-form-check{width:20%;display:-moz-inline-stack;display:inline-block;margin:0;padding-right:16px;min-height:28px;vertical-align:top}.fluentform .ff-el-group.ff_list_inline .ff-el-form-check{width:auto!important;float:none!important;margin:0 15px 10px 0;display:-moz-inline-stack;display:inline-block}}.fluentform .ff-el-group.ff_list_buttons .ff-el-form-check{width:auto!important;float:none!important;display:-moz-inline-stack;display:inline-block;position:relative;margin:0 0 10px}.fluentform .ff-el-group.ff_list_buttons .ff-el-form-check label{margin:0}.fluentform .ff-el-group.ff_list_buttons .ff-el-form-check input{opacity:0;outline:none;position:absolute;margin:0;z-index:-1;display:none}.fluentform .ff-el-group.ff_list_buttons .ff-el-form-check label>span{line-height:1;font-weight:500;white-space:nowrap;vertical-align:middle;cursor:pointer;background:#fff;border:1px solid #dcdfe6;border-left:0;color:#606266;-webkit-appearance:none;text-align:center;box-sizing:border-box;outline:none;margin:0;-moz-user-select:none;-webkit-user-select:none;-ms-user-select:none;padding:12px 20px;font-size:14px;border-radius:0;position:relative;display:inline-block}.fluentform .ff-el-group.ff_list_buttons .ff-el-form-check label>span:hover{color:#409eff}.fluentform .ff-el-group.ff_list_buttons .ff-el-form-check.ff-el-image-holder{border:1px solid #dcdfe5;overflow:hidden}.fluentform .ff-el-group.ff_list_buttons .ff-el-form-check.ff-el-image-holder span{width:100%;border:none!important;margin-left:-1px;border-radius:0!important}.fluentform .ff-el-group.ff_list_buttons .ff-el-form-check.ff-el-image-holder.ff_item_selected{border-color:#409eff}.fluentform .ff-el-group.ff_list_buttons .ff-el-form-check:first-child label>span{border-left:1px solid #dcdfe6;border-radius:4px 0 0 4px;box-shadow:none!important}.fluentform .ff-el-group.ff_list_buttons .ff-el-form-check:last-child label>span{border-radius:0 4px 4px 0}.fluentform .ff-el-group.ff_list_buttons .ff-el-form-check.ff_item_selected label>span{color:#fff;background-color:#409eff;border-color:#409eff;box-shadow:-1px 0 0 0 #8cc5ff}.fluentform .ff-el-group.ff_list_buttons .ff-el-form-check.ff_item_selected:first-child label>span{border-left-color:#409eff}@media only screen and (max-width:768px){.fluentform .ff-el-group.ff_list_buttons .ff-el-form-check{width:100%;display:block}.fluentform .ff-el-group.ff_list_buttons .ff-el-form-check label>span{display:block;width:100%;border:1px solid!important;border-radius:4px!important;box-shadow:none!important}}.fluentform div.ff-el-form-hide_label>.ff-el-input--label{display:none;visibility:hidden}.fluentform .ff_file_upload_holder{margin-bottom:0}.fluentform .ff_center{text-align:center}.fluentform .ff_right{text-align:right}.fluentform .ff_left{text-align:left}.fluentform .ff-form-inline .ff-t-container,.fluentform .ff-form-inline>.ff-el-group,.fluentform .ff-form-inline>.ff-name-field-wrapper{display:inline-block;margin-right:10px;vertical-align:top}.fluentform .ff-form-inline .ff-t-container .ff-t-cell .ff-el-input--label,.fluentform .ff-form-inline .ff-t-container>.ff-el-input--label,.fluentform .ff-form-inline>.ff-el-group .ff-t-cell .ff-el-input--label,.fluentform .ff-form-inline>.ff-el-group>.ff-el-input--label,.fluentform .ff-form-inline>.ff-name-field-wrapper .ff-t-cell .ff-el-input--label,.fluentform .ff-form-inline>.ff-name-field-wrapper>.ff-el-input--label{display:none}.fluentform .ff-form-inline .ff-t-container .ff-el-input--content,.fluentform .ff-form-inline>.ff-el-group .ff-el-input--content,.fluentform .ff-form-inline>.ff-name-field-wrapper .ff-el-input--content{margin-left:0}.fluentform .ff-form-inline .ff-t-container:last-child,.fluentform .ff-form-inline>.ff-el-group:last-child,.fluentform .ff-form-inline>.ff-name-field-wrapper:last-child{margin-right:0}.fluentform .ff-t-container .ff-name-title{width:40%}.fluentform .ff_hide_label .ff-el-input--label{display:none}.fluentform .field-value{white-space:pre-line}.fluentform .ff-el-group .ff-read-only{background-color:#e9ecef!important;opacity:1;pointer-events:none}.fluentform label.ff-el-image-input-src{width:200px;height:200px;background-repeat:no-repeat;background-size:cover;background-position:50%;cursor:pointer;display:block}.fluentform .ff-el-image-holder{width:200px;float:left;margin-right:20px;margin-bottom:20px}.fluentform .ff-el-image-holder .ff-el-form-check-label{padding-left:1px}.fluentform .ff_el_checkable_photo_holders{display:block;margin-bottom:-20px;overflow:hidden}.fluentform .select2-container{width:100%!important}.fluentform .select2-container .select2-selection__rendered li{margin:0}.fluentform .select2-container .select2-search--inline>input{margin-top:0;height:calc(2.25rem + 2px);padding:.375rem 1.75rem .375rem .75rem;line-height:1.5}.fluentform .ff-el-form-bottom{display:flex;flex-direction:column-reverse}.fluentform .ff-el-form-bottom .ff-el-input--label{margin-bottom:0;margin-top:5px}.ff_modal_container{max-width:900px;background:#fff;padding:30px;overflow:auto;max-height:90vh!important}@media only screen and (min-width:1000px){.ff_modal_container{width:900px}}@media only screen and (max-width:768px){.lity-container{width:96%}.fluentform .ff-t-container .ff-name-title{width:100%}}.select2-results__option{margin:0}.fluentform span.select2.select2-container:after{content:"";position:absolute;right:10px;top:50%;transform:translateY(-50%);border-top:5px solid #495057;border-left:5px solid transparent;border-right:5px solid transparent}.ff_pointer{cursor:pointer}.ff_net_table{width:100%;line-height:1.4;border-collapse:separate;margin:0;padding:0;table-layout:fixed;border-spacing:0;border:0}.ff_net_table th{font-size:13px;font-weight:400;padding:8px 0;text-align:center;vertical-align:bottom;border:none}.ff_net_table th .ff_not-likely{float:left;text-align:left}.ff_net_table th .ff_extremely-likely{float:right;text-align:right}.ff_net_table tbody tr{background:0 0;border:0}.ff_net_table tbody tr td{background-color:#fff;padding:0;vertical-align:middle;text-align:center;border:1px solid #ddd;border-left:0}.ff_net_table tbody tr td input[type=radio]:checked+label{background-color:#4caf50;color:#fff}.ff_net_table tbody tr td:first-of-type{border-radius:5px 0 0 5px;border-left:1px solid #ddd}.ff_net_table tbody tr td:last-child{border-radius:0 5px 5px 0}.ff_net_table tbody tr td label{display:block;width:100%;height:40px;font-weight:700;font-size:16px;line-height:40px;position:relative;cursor:pointer;color:#444;border:0;margin:0}.ff_net_table tbody tr td label:after{content:"";position:absolute;top:0;left:0;width:100%;height:100%;border:0}.ff_net_table tbody tr td label:hover:after{border:2px solid #4caf50}.ff-el-pop-content{transform-origin:center bottom;z-index:2075;position:absolute;border-radius:3px;background-color:#000;color:#fff;text-align:center;font-size:11px;line-height:1.2;padding:10px;box-shadow:0 5px 10px rgba(0,0,0,.2)} .brave_popup{width:100%;float:left;position:absolute;z-index:999999999;display:block!important;direction:ltr}.brave_popup .brave_popup__step{display:none}.brave_popup .brave_popup__step__overlay{position:fixed;left:0;top:0;width:100%;height:100vh;background:rgba(0,0,0,.5)}.brave_popup .brave_popup__step__overlay img{width:100%;height:100%;-o-object-fit:cover;object-fit:cover;position:relative;pointer-events:none}.brave_popup .brave_popup__step__overlay.brave_popup__step__overlay--hide{visibility:hidden;opacity:0;transition:all .3s linear}.brave_popup .brave_icon{width:16px;display:inline-block;position:relative;top:2px}.brave_popup .brave_popup__step--sidebar .brave_popup__step__content{background-size:cover}.brave_popup .brave_popup__step__inner{transform:translateX(0);position:fixed;z-index:9;display:block}.brave_popup .brave_popup__step__inner .brave_popupSections__wrap{width:100%;height:100%;will-change:transform;position:relative}.brave_popup .brave_popup__step__inner .brave_popupMargin__wrap{width:100%;height:100%;will-change:transform;position:relative;outline:none}.brave_popup .brave_popup__step__inner .brave_popup__step__popup{width:100%;height:100%;box-sizing:border-box;position:relative;overflow:hidden}.brave_popup .brave_popup__step__inner .brave_popup__step__popup .brave_popup__step__content{width:100%;height:100%;float:left;letter-spacing:0;overflow:hidden}.brave_popup .brave_popup__step__inner .brave_popup__step__popup .brave_popup__step__content a,.brave_popup .brave_popup__step__inner .brave_popup__step__popup .brave_popup__step__content div,.brave_popup .brave_popup__step__inner .brave_popup__step__popup .brave_popup__step__content li,.brave_popup .brave_popup__step__inner .brave_popup__step__popup .brave_popup__step__content ol,.brave_popup .brave_popup__step__inner .brave_popup__step__popup .brave_popup__step__content p,.brave_popup .brave_popup__step__inner .brave_popup__step__popup .brave_popup__step__content span,.brave_popup .brave_popup__step__inner .brave_popup__step__popup .brave_popup__step__content ul{font-family:inherit;line-height:inherit;font-weight:inherit;color:inherit}.brave_popup .brave_popup__step__inner .brave_popup__step__popup .brave_popup__step__content .brave_popup__step__content__overlay{background-color:rgba(0,0,0,.52);width:100%;height:100%;position:absolute;top:0;z-index:0}.brave_popup .brave_popup__step__inner .brave_popup__step__popup .brave_popup__step__content .brave_popup__step__elements{position:relative;z-index:1;width:1024px;height:100%;margin:0 auto}.brave_popup .brave_popup__step__inner .brave_popup__step__popup .brave_popup__step__content .brave_popup__elements_wrap--vertical_center{width:100%;position:absolute;transform:translateY(-50%);top:50%}.brave_popup .brave_popup__step__inner .brave_popup__step__popup .brave_popup__step__content .brave_popup__elements_wrap--horizontal_center{height:100%;position:absolute;left:0;right:0;margin:0 auto}.brave_popup .brave_popup__step.has_overlay{position:fixed;width:100%;height:100vh;z-index:9999999;left:0;top:0}.brave_popup .brave_popup__step.position_center .brave_popup__step__inner{top:50%;left:0;right:0;bottom:auto;margin:0;margin-left:auto!important;margin-right:auto!important;outline:none}.brave_popup .brave_popup__step.position_top_left .brave_popup__step__inner{top:0;left:0;right:auto;bottom:auto}.brave_popup .brave_popup__step.position_top_center .brave_popup__step__inner{top:0;left:0;right:0;bottom:auto;margin-left:auto!important;margin-right:auto!important}.brave_popup .brave_popup__step.position_top_right .brave_popup__step__inner{top:0;left:auto;right:0;bottom:auto}.brave_popup .brave_popup__step.position_center_left .brave_popup__step__inner{top:50%;left:0;right:auto;bottom:auto}.brave_popup .brave_popup__step.position_center_right .brave_popup__step__inner{top:50%;left:auto;right:0;bottom:auto}.brave_popup .brave_popup__step.position_bottom_left .brave_popup__step__inner{top:auto;left:0;right:auto;bottom:0}.brave_popup .brave_popup__step.position_bottom_center .brave_popup__step__inner{top:auto;left:0;right:0;bottom:0;margin-left:auto!important;margin-right:auto!important}.brave_popup .brave_popup__step.position_bottom_right .brave_popup__step__inner{top:auto;left:auto;right:0;bottom:0}.brave_popup .brave_popup_fullHeight.position_center .brave_popup__step__inner,.brave_popup .brave_popup_fullHeight.position_center_left .brave_popup__step__inner,.brave_popup .brave_popup_fullHeight.position_center_right .brave_popup__step__inner{top:0}.brave_popup .brave_popup_show_scrollbar{overflow:auto;position:fixed;top:0;width:100vw;height:100vh}.brave_popup .brave_popup_show_scrollbar .brave_popup__step__inner{position:absolute}.brave_popup .brave_popup_show_scrollbar.brave_popup_exceeds_windowHeight.brave_popup__step--boxed.position_center .brave_popup__step__inner{margin-top:0!important;top:10%;padding-bottom:10%;box-sizing:initial}.brave_popup .brave_popup__close{position:absolute;cursor:pointer;padding:3px;z-index:99999;transition:all .14s linear}.brave_popup .brave_popup__close span{transition:all .14s linear;height:auto;width:auto;font-size:inherit}.brave_popup .brave_popup__close.brave_popup__close--icon:hover,.brave_popup .brave_popup__close.brave_popup__close--icon:hover span{transform:scale(1.14)}.brave_popup .brave_popup__close.brave_popup__close--icon{opacity:.5}.brave_popup .brave_popup__close.brave_popup__close--icon:hover{opacity:1}.brave_popup .brave_popup__close.brave_popup__close--text{opacity:.7}.brave_popup .brave_popup__close.brave_popup__close--text span{font-family:sans-serif}.brave_popup .brave_popup__close.brave_popup__close--text:hover{opacity:1}.brave_popup .brave_popup__close.brave_popup__close--above_right,.brave_popup .brave_popup__close.brave_popup__close--below_right{right:0;padding-right:0}.brave_popup .brave_popup__close.brave_popup__close--inside_right{top:5px!important;right:7px}.brave_popup .brave_popup__close.brave_popup__close--above_left,.brave_popup .brave_popup__close.brave_popup__close--below_left{left:0;padding-left:0}.brave_popup .brave_popup__close.brave_popup__close--inside_left{top:5px!important;left:7px}.brave_popup .brave_popup__close.brave_popup__close--above_center,.brave_popup .brave_popup__close.brave_popup__close--below_center{left:50%;transform:translateX(-50%)}.brave_popup .brave_popup__close.brave_popup__close--top_left{left:20px;top:20px!important}.brave_popup .brave_popup__close.brave_popup__close--top_right{right:20px;top:20px!important}.brave_popup .brave_element{position:absolute;will-change:transform}.brave_popup .brave_element .brave_element__wrap{position:relative;min-height:20px;height:100%;width:100%;scrollbar-color:#ddd transparent;scrollbar-width:thin}.brave_popup .brave_element .brave_element__wrap.brave_element__wrap--has-scrollbar{overflow:auto}.brave_popup .brave_element .brave_element__wrap.brave_element__wrap--has-scrollbar::-webkit-scrollbar{width:12px;border-radius:12px;background:transparent;border:0 solid transparent}.brave_popup .brave_element .brave_element__wrap.brave_element__wrap--has-scrollbar::-webkit-scrollbar-thumb{width:10px;border-radius:16px;border:3px solid transparent;box-shadow:inset 0 0 0 3px;color:#ddd}.brave_popup .brave_element .brave_element-cart_icon,.brave_popup .brave_element .brave_element-icon{display:inline-block;position:relative;top:2px;padding-right:5px}.brave_popup .brave_element .brave_element-cart_icon{display:none}.brave_popup .brave_element .brave_element-icon--right{padding-right:0;padding-left:5px}.brave_popup .brave_element .brave_element__inner_link{cursor:pointer;color:inherit;text-decoration:none}.brave_popup .brave_element .brave_element__inner_link.added .brave_element-icon{display:none}.brave_popup .brave_element .brave_element__inner_link.added .brave_element-cart_icon{display:inline-block}.brave_popup .brave_element.brave_element--text .brave_element__styler{font-size:13px;line-height:1.7em;padding:5px;color:#000;font-weight:400;font-style:normal;text-decoration:none;text-align:left;width:100%;height:100%;box-sizing:border-box}.brave_popup .brave_element.brave_element--text .brave_element__text_inner{display:block;white-space:pre-wrap;font-family:inherit}.brave_popup .brave_element.brave_element--text .brave_element__text_inner h1,.brave_popup .brave_element.brave_element--text .brave_element__text_inner h2,.brave_popup .brave_element.brave_element--text .brave_element__text_inner h3,.brave_popup .brave_element.brave_element--text .brave_element__text_inner h4,.brave_popup .brave_element.brave_element--text .brave_element__text_inner h5,.brave_popup .brave_element.brave_element--text .brave_element__text_inner h6{color:inherit;font-family:inherit}.brave_popup .brave_element.brave_element--text .brave_element__text_inner a{text-decoration:underline}.brave_popup .brave_element.brave_element--text .brave_element__text_inner ol,.brave_popup .brave_element.brave_element--text .brave_element__text_inner ul{margin:10px 0;padding-left:20px}.brave_popup .brave_element.brave_element--text .brave_element__text_inner ol li,.brave_popup .brave_element.brave_element--text .brave_element__text_inner ul li{list-style-type:disc;margin-bottom:0}.brave_popup .brave_element.brave_element--text.brave_element--text_dynamic .brave_element__text_inner{white-space:nowrap;overflow:hidden;text-overflow:ellipsis}.brave_popup .brave_element.brave_element--text.brave_element--text_advanced .brave_element__text_inner{white-space:normal}.brave_popup .brave_element.brave_element--button .brave_element__styler{font-size:13px;color:#000;font-weight:400;font-style:normal;text-decoration:none;text-align:center;background:#6d78d8;border-radius:4px;cursor:pointer}.brave_popup .brave_element.brave_element--button .brave_element__styler .brave_element__inner_link{display:block;color:inherit}.brave_popup .brave_element.brave_element--button .brave_element__styler .brave_element__button_text{display:inline-block}.brave_popup .brave_element.brave_element--image .brave_element__inner{width:100%;height:100%}.brave_popup .brave_element.brave_element--image .brave_element__styler{width:100%;height:100%;overflow:hidden;position:relative;box-sizing:border-box}.brave_popup .brave_element.brave_element--image .brave_element__styler .brave_element__image__overlay{position:absolute;width:100%;height:100%;z-index:99}.brave_popup .brave_element.brave_element--image .brave_element__styler img{width:100%;height:100%;position:absolute;-o-object-fit:cover;object-fit:cover;vertical-align:bottom;-o-object-position:top;object-position:top;max-width:unset}.brave_popup .brave_element.brave_element--image .brave_element__styler .brave_element__image--zoomed{width:auto}.brave_popup .brave_element.brave_element--sticker .brave_element__styler{width:100%;height:100%;overflow:hidden;position:relative;box-sizing:border-box}.brave_popup .brave_element.brave_element--sticker .brave_element__styler img{width:100%;height:100%;-o-object-fit:cover;object-fit:cover;vertical-align:bottom}.brave_popup .brave_element.brave_element--list .brave_element__styler{width:100%;height:100%;overflow:hidden;position:relative;box-sizing:border-box}.brave_popup .brave_element.brave_element--list .brave_element__styler ul,.brave_popup .brave_element.brave_element--list .brave_element__styler ul li{margin:0;padding:0}.brave_popup .brave_element.brave_element--list .brave_element__styler ul li .brave_element-icon{padding-right:6px}.brave_popup .brave_element.brave_element--list .brave_element__styler ul li .brave_list__bullet_number{font-size:.85em;margin-right:6px}.brave_popup .brave_element.brave_element--shape .brave_element__inner{line-height:normal}.brave_popup .brave_element.brave_element--shape .brave_element_shape-icon{padding:5px}.brave_popup .brave_element.brave_element--shape .brave_element_shape-icon svg path{transition:all .12s linear}.brave_popup .brave_element.brave_element--social .brave_element__social a{display:inline-block;vertical-align:bottom;margin:8px}.brave_popup .brave_element.brave_element--social .brave_social_link{display:inline-block;box-sizing:border-box;text-align:center;width:100%;height:100%;position:relative;cursor:pointer}.brave_popup .brave_element.brave_element--social .brave_social_link .brave_social_link__background{width:100%;height:100%;transition:all .14s linear}.brave_popup .brave_element.brave_element--social .brave_social_link .brave_social_icon,.brave_popup .brave_element.brave_element--social .brave_social_link span.fab{position:absolute;z-index:1;left:50%;right:auto;top:50%;bottom:auto;color:#fff;font-size:0;transition:all .14s linear;transform:translateX(-50%) translateY(-50%)}.brave_popup .brave_element.brave_element--social .brave_social_link .brave_social_icon svg{fill:#fff;vertical-align:middle}.brave_popup .brave_element.brave_element--social a[href*="facebook.com"] svg,.brave_popup .brave_element.brave_element--social a[href*="fb.com"] svg{fill:#3a559f}.brave_popup .brave_element.brave_element--social a[href*="m.me"] svg,.brave_popup .brave_element.brave_element--social a[href*="messenger.com"] svg{fill:#007fff}.brave_popup .brave_element.brave_element--social a[href*="t.co"] svg,.brave_popup .brave_element.brave_element--social a[href*="twitter.com"] svg{fill:#359bed}.brave_popup .brave_element.brave_element--social a[href*="linked.in"] svg,.brave_popup .brave_element.brave_element--social a[href*="linkedin.com"] svg{fill:#0077b5}.brave_popup .brave_element.brave_element--social a[href*="whatsapp.com"] svg,.brave_popup .brave_element.brave_element--social a[href*="whatsapp:"] svg{fill:#4da735}.brave_popup .brave_element.brave_element--social a[href*="pinterest.com"] svg{fill:#bd081c}.brave_popup .brave_element.brave_element--social a[href*="instagr.am"] svg,.brave_popup .brave_element.brave_element--social a[href*="instagram.com"] svg{fill:#bc3280}.brave_popup .brave_element.brave_element--social a[href*="youtu.be"] svg,.brave_popup .brave_element.brave_element--social a[href*="youtube.com"] svg{fill:#f10606}.brave_popup .brave_element.brave_element--social a[href*="tumblr.com"] svg{fill:#35465d}.brave_popup .brave_element.brave_element--social a[href*="skype.com"] svg,.brave_popup .brave_element.brave_element--social a[href*="skype:"] svg{fill:#17b4ef}.brave_popup .brave_element.brave_element--social a[href*="viber:"] svg{fill:#7b519c}.brave_popup .brave_element.brave_element--social a[href*="reddit.com"] svg{fill:#ff4500}.brave_popup .brave_element.brave_element--social a[href*="quora.com"] svg{fill:#a6250f}.brave_popup .brave_element.brave_element--social a[href*="dribbble.com"] svg{fill:#f16797}.brave_popup .brave_element.brave_element--social a[href*="behance.net"] svg{fill:#0056ff}.brave_popup .brave_element.brave_element--social a[href*="deviantart.com"] svg{fill:#07a839}.brave_popup .brave_element.brave_element--social a[href*="vk.com"] svg,.brave_popup .brave_element.brave_element--social a[href*="vkontakte.ru"] svg{fill:#5181b8}.brave_popup .brave_element.brave_element--social a[href*="twitch.com"] svg,.brave_popup .brave_element.brave_element--social a[href*="twitch.tv"] svg{fill:#6441a4}.brave_popup .brave_element.brave_element--social a[href*="vimeo.com"] svg{fill:#1ab7ea}.brave_popup .brave_element.brave_element--social a[href*="soundcloud.com"] svg{fill:#f75606}.brave_popup .brave_element.brave_element--social a[href*="snapchat.com"] svg{fill:#fffc01}.brave_popup .brave_element.brave_element--social a[href*="t.me"] svg,.brave_popup .brave_element.brave_element--social a[href*="telegram.com"] svg{fill:#64a9dc}.brave_popup .brave_element.brave_element--social a[href*="last.fm"] svg{fill:#d51e07}.brave_popup .brave_element.brave_element--social a[href*="500px.com"] svg{fill:#000}.brave_popup .brave_element.brave_element--social a[href*="airbnb.com"] svg{fill:#ff585f}.brave_popup .brave_element.brave_element--social a[href*="tripadvisor.com"] svg{fill:#589541}.brave_popup .brave_element.brave_element--social a[href*="qq.com"] svg{fill:#000}.brave_popup .brave_element.brave_element--social a[href*="wordpress.com"] svg{fill:#222}.brave_popup .brave_element.brave_element--social a[href*="apple.co"] svg,.brave_popup .brave_element.brave_element--social a[href*="apple.com"] svg,.brave_popup .brave_element.brave_element--social a[href*="medium.com"] svg{fill:#000}.brave_popup .brave_element.brave_element--social a[href*="play.google.com"] svg{fill:#f7f7f7}.brave_popup .brave_element.brave_element--social a[href*="github.com"] svg{fill:#000}.brave_popup .brave_element.brave_element--social a[href*="goodreads.com"] svg{fill:#b9b291}.brave_popup .brave_element.brave_element--social a[href*="houzz.com"] svg{fill:#46ba00}.brave_popup .brave_element.brave_element--social a[href*="kickstarter.com"] svg{fill:#05c875}.brave_popup .brave_element.brave_element--social a[href*="slack.com"] svg{fill:#4a144b}.brave_popup .brave_element.brave_element--social a[href*="spotify.com"] svg{fill:#1dd15d}.brave_popup .brave_element.brave_element--social a[href*="Soundcloud.com"] svg{fill:#f85310}.brave_popup .brave_element.brave_element--social a[href*="discord.com"] svg,.brave_popup .brave_element.brave_element--social a[href*="discordapp.com"] svg{fill:#6f85d4}.brave_popup .brave_element.brave_element--social a[href*="producthunt.com"] svg{fill:#cc4b26}.brave_popup .brave_element.brave_element--social a[href*="yelp.com"] svg{fill:#cd2222}.brave_popup .brave_element.brave_element--social a[href*="4sq.com"] svg,.brave_popup .brave_element.brave_element--social a[href*="foursquare.com"] svg{fill:#f24674}.brave_popup .brave_element.brave_element--social a[href*="etsy.com"] svg{fill:#dc6400}.brave_popup .brave_element.brave_element--social a[href*="stumbleupon.com"] svg{fill:#eb4823}.brave_popup .brave_element.brave_element--social a[href*="digg.com"] svg{fill:#111}.brave_popup .brave_element.brave_element--social a[href*="buffer.com"] svg{fill:#222}.brave_popup .brave_element.brave_element--social a[href*="mailto:"] svg{fill:#ccc}.brave_popup .brave_element.brave_element--social.brave_element--social_hover_shrink .brave_social_link:hover .brave_social_link__background{transform:scale(.9)}.brave_popup .brave_element.brave_element--social.brave_element--social_hover_enlarge .brave_social_link:hover .brave_social_link__background{transform:scale(1.1)}.brave_popup .brave_element.brave_element--social.brave_element--social_hover_riseup .brave_social_link:hover .brave_social_link__background{transform:translateY(-4px)}.brave_popup .brave_element.brave_element--social.brave_element--social_hover_riseup .brave_social_link:hover .brave_social_icon{transform:translateX(-50%) translateY(-70%)}.brave_popup .brave_element.brave_element--social.brave_element--social_nopspacing .brave_element__social a{margin:0}.brave_popup .brave_element.brave_element--code .brave_element__wrap{overflow:auto}.brave_popup .brave_element.brave_element--code .brave_element__wrap::-webkit-scrollbar{width:12px;border-radius:12px;background:transparent;border:0 solid transparent}.brave_popup .brave_element.brave_element--code .brave_element__wrap::-webkit-scrollbar-thumb{width:10px;border-radius:16px;border:3px solid transparent;box-shadow:inset 0 0 0 3px;color:#ddd}.brave_popup .brave_element.brave_element--code .brave_element__wrap .brave_element__code{overflow-x:hidden}.brave_popup .brave_element.brave_element--video .brave_element__styler{width:100%;height:100%;overflow:hidden;position:relative}.brave_popup .brave_element.brave_element--video .brave_element__styler .brave_element__inner,.brave_popup .brave_element.brave_element--video .brave_element__styler .brave_element__inner .brave_video_iframe,.brave_popup .brave_element.brave_element--video .brave_element__styler .brave_element__inner .brave_video_iframe iframe,.brave_popup .brave_element.brave_element--video .brave_element__styler .brave_element__inner video{width:100%;height:100%}.brave_popup .brave_element.brave_element--video .brave_element__styler .brave_element__inner video.brave_video_custom--background{-o-object-fit:cover;object-fit:cover;background:#000}.brave_popup .brave_element.brave_element--video .brave_element__styler .brave_element__inner .brave_video_thumbnail{width:100%;position:absolute;z-index:5;height:100%;background-size:cover;cursor:pointer;transition:all .2s linear}.brave_popup .brave_element.brave_element--video .brave_element__styler .brave_element__inner .brave_video_playBtn{position:absolute;z-index:7;cursor:pointer;top:50%;left:50%;right:auto;bottom:auto;transform:translateX(-50%) translateY(-50%)}.brave_popup .brave_element.brave_element--video.brave_element--video-show .brave_video_thumbnail{visibility:hidden;opacity:0}.brave_popup .brave_element.brave_element--carousel .brave_element__styler{width:100%;height:100%;overflow:hidden;position:relative}.brave_popup .brave_element.brave_element--carousel .brave_element__styler .bravepopup_carousel__slider_wrap{width:100%;height:100%;position:absolute;overflow:hidden}.brave_popup .brave_element.brave_element--carousel .brave_element__styler .bravepopup_carousel__slider_wrap .bravepopup_carousel__slides{width:100%;height:100%;transition:all .14s linear}.brave_popup .brave_element.brave_element--carousel .brave_element__styler .bravepopup_carousel__slider_wrap .brave_carousel__slide{float:left;position:relative;transition:all .14s linear}.brave_popup .brave_element.brave_element--carousel .brave_element__styler .bravepopup_carousel__slider_wrap .brave_carousel__slide .bravepopup_carousel__slide__content{position:absolute;z-index:1;width:70%;box-sizing:border-box;padding:15px 20px 20px;bottom:0;color:#fff}.brave_popup .brave_element.brave_element--carousel .brave_element__styler .bravepopup_carousel__slider_wrap .brave_carousel__slide .bravepopup_carousel__slide__content h4{font-size:14px;margin:10px 0;font-weight:700;font-family:inherit}.brave_popup .brave_element.brave_element--carousel .brave_element__styler .bravepopup_carousel__slider_wrap .brave_carousel__slide .bravepopup_carousel__slide__content .bravepopup_carousel__slide__button{border:none;padding:6px 18px;border-radius:4px;font-size:13px;cursor:pointer;outline:none;background:#000}.brave_popup .brave_element.brave_element--carousel .brave_element__styler .bravepopup_carousel__slider_wrap .brave_carousel__slide .bravepopup_carousel__slide__content .bravepopup_carousel__slide__desc{font-size:13px;line-height:1.5em;margin-top:14px;margin-bottom:20px}.brave_popup .brave_element.brave_element--carousel .brave_element__styler .bravepopup_carousel__slider_wrap .brave_carousel__slide .bravepopup_carousel__slide__content .bravepopup_carousel__slide__desc h1,.brave_popup .brave_element.brave_element--carousel .brave_element__styler .bravepopup_carousel__slider_wrap .brave_carousel__slide .bravepopup_carousel__slide__content .bravepopup_carousel__slide__desc h2,.brave_popup .brave_element.brave_element--carousel .brave_element__styler .bravepopup_carousel__slider_wrap .brave_carousel__slide .bravepopup_carousel__slide__content .bravepopup_carousel__slide__desc h3,.brave_popup .brave_element.brave_element--carousel .brave_element__styler .bravepopup_carousel__slider_wrap .brave_carousel__slide .bravepopup_carousel__slide__content .bravepopup_carousel__slide__desc h4,.brave_popup .brave_element.brave_element--carousel .brave_element__styler .bravepopup_carousel__slider_wrap .brave_carousel__slide .bravepopup_carousel__slide__content .bravepopup_carousel__slide__desc h5,.brave_popup .brave_element.brave_element--carousel .brave_element__styler .bravepopup_carousel__slider_wrap .brave_carousel__slide .bravepopup_carousel__slide__content .bravepopup_carousel__slide__desc h6{color:inherit}.brave_popup .brave_element.brave_element--carousel .brave_element__styler .bravepopup_carousel--slider .brave_carousel__slide{height:100%}.brave_popup .brave_element.brave_element--carousel .brave_element__styler .bravepopup_carousel--slider .brave_carousel__slide .bravepopup_carousel__slide__content{padding-bottom:40px}.brave_popup .brave_element.brave_element--carousel .brave_element__styler .bravepopup_carousel--slider .brave_carousel__slide .bravepopup_carousel__slide__image img{position:absolute;bottom:0;z-index:0;width:100%;height:100%;-o-object-fit:cover;object-fit:cover;vertical-align:bottom}.brave_popup .brave_element.brave_element--carousel .brave_element__styler .bravepopup_carousel--review,.brave_popup .brave_element.brave_element--carousel .brave_element__styler .bravepopup_carousel--testimonial{font-size:inherit}.brave_popup .brave_element.brave_element--carousel .brave_element__styler .bravepopup_carousel--review .brave_carousel__slide,.brave_popup .brave_element.brave_element--carousel .brave_element__styler .bravepopup_carousel--testimonial .brave_carousel__slide{line-height:1.4em}.brave_popup .brave_element.brave_element--carousel .brave_element__styler .bravepopup_carousel--review .brave_carousel__slide .bravepopup_carousel__slide__content,.brave_popup .brave_element.brave_element--carousel .brave_element__styler .bravepopup_carousel--testimonial .brave_carousel__slide .bravepopup_carousel__slide__content{position:relative;top:auto;padding-left:40px;width:100%!important;background:transparent!important}.brave_popup .brave_element.brave_element--carousel .brave_element__styler .bravepopup_carousel--review .brave_carousel__slide .bravepopup_carousel__slide__content .bravepopup_carousel__slide__qoutes,.brave_popup .brave_element.brave_element--carousel .brave_element__styler .bravepopup_carousel--testimonial .brave_carousel__slide .bravepopup_carousel__slide__content .bravepopup_carousel__slide__qoutes{position:absolute;color:#ccc;width:20px;height:20px;font-size:20px;margin-left:-25px;margin-top:10px}.brave_popup .brave_element.brave_element--carousel .brave_element__styler .bravepopup_carousel--review .brave_carousel__slide .bravepopup_carousel__slide__content .bravepopup_carousel__slide__desc,.brave_popup .brave_element.brave_element--carousel .brave_element__styler .bravepopup_carousel--testimonial .brave_carousel__slide .bravepopup_carousel__slide__content .bravepopup_carousel__slide__desc{margin-bottom:5px;line-height:1.6em}.brave_popup .brave_element.brave_element--carousel .brave_element__styler .bravepopup_carousel--review .brave_carousel__slide .bravepopup_carousel__slide__author,.brave_popup .brave_element.brave_element--carousel .brave_element__styler .bravepopup_carousel--testimonial .brave_carousel__slide .bravepopup_carousel__slide__author{position:relative;width:100%;float:left;padding:0 20px 0 40px;box-sizing:border-box}.brave_popup .brave_element.brave_element--carousel .brave_element__styler .bravepopup_carousel--review .brave_carousel__slide .bravepopup_carousel__slide__author .bravepopup_carousel__slide__theAuthor,.brave_popup .brave_element.brave_element--carousel .brave_element__styler .bravepopup_carousel--testimonial .brave_carousel__slide .bravepopup_carousel__slide__author .bravepopup_carousel__slide__theAuthor{float:left}.brave_popup .brave_element.brave_element--carousel .brave_element__styler .bravepopup_carousel--review .brave_carousel__slide .bravepopup_carousel__slide__author .bravepopup_carousel__slide__theAuthor h4,.brave_popup .brave_element.brave_element--carousel .brave_element__styler .bravepopup_carousel--testimonial .brave_carousel__slide .bravepopup_carousel__slide__author .bravepopup_carousel__slide__theAuthor h4{margin-top:0;margin-bottom:.4em}.brave_popup .brave_element.brave_element--carousel .brave_element__styler .bravepopup_carousel--review .brave_carousel__slide .bravepopup_carousel__slide__author .bravepopup_carousel__slide__image,.brave_popup .brave_element.brave_element--carousel .brave_element__styler .bravepopup_carousel--testimonial .brave_carousel__slide .bravepopup_carousel__slide__author .bravepopup_carousel__slide__image{width:50px;height:50px;float:left;margin-right:10px}.brave_popup .brave_element.brave_element--carousel .brave_element__styler .bravepopup_carousel--review .brave_carousel__slide .bravepopup_carousel__slide__author .bravepopup_carousel__slide__image img,.brave_popup .brave_element.brave_element--carousel .brave_element__styler .bravepopup_carousel--testimonial .brave_carousel__slide .bravepopup_carousel__slide__author .bravepopup_carousel__slide__image img{position:relative;width:100%;height:100%;-o-object-fit:cover;object-fit:cover;vertical-align:bottom}.brave_popup .brave_element.brave_element--carousel .brave_element__styler .bravepopup_carousel--review .brave_carousel__slide.brave_carousel__slide--roundedImg .bravepopup_carousel__slide__image,.brave_popup .brave_element.brave_element--carousel .brave_element__styler .bravepopup_carousel--testimonial .brave_carousel__slide.brave_carousel__slide--roundedImg .bravepopup_carousel__slide__image{border-radius:50%;overflow:hidden}.brave_popup .brave_element.brave_element--carousel .brave_element__styler .bravepopup_carousel--testimonial .bravepopup_carousel__slide__navs.bravepopup_carousel__slide__navs--align_left ul{padding-left:40px}.brave_popup .brave_element.brave_element--carousel .brave_element__styler .bravepopup_carousel--review .brave_carousel__slide{position:relative;display:flex;flex-direction:column-reverse;align-items:flex-start;justify-content:flex-end;height:100%}.brave_popup .brave_element.brave_element--carousel .brave_element__styler .bravepopup_carousel--review .brave_carousel__slide .bravepopup_carousel__slide__content{padding-left:20px;padding-top:0;width:100%!important;background:transparent!important}.brave_popup .brave_element.brave_element--carousel .brave_element__styler .bravepopup_carousel--review .brave_carousel__slide .bravepopup_carousel__slide__author{padding-left:20px;margin-top:20px}.brave_popup .brave_element.brave_element--carousel .brave_element__styler .bravepopup_carousel--review .brave_carousel__slide .bravepopup_carousel__slide__author .bravepopup_carousel__slide__image{width:60px;height:60px}.brave_popup .brave_element.brave_element--carousel .brave_element__styler .bravepopup_carousel--review .brave_carousel__slide .bravepopup_carousel__slide__author .bravepopup_carousel__slide__theAuthor h4{margin-bottom:.2em}.brave_popup .brave_element.brave_element--carousel .brave_element__styler .bravepopup_carousel--review .brave_carousel__slide .bravepopup_carousel__slide__author .bravepopup_carousel__slide__reviewRating{width:calc(100% - 100px);float:left;margin-top:5px;margin-left:-2px;color:inherit}.brave_popup .brave_element.brave_element--carousel .brave_element__styler .bravepopup_carousel--review .brave_carousel__slide .bravepopup_carousel__slide__author .bravepopup_carousel__slide__reviewRating svg{display:inline-block}.brave_popup .brave_element.brave_element--carousel .brave_element__styler .bravepopup_carousel--review .brave_carousel__slide .bravepopup_carousel__slide__author .bravepopup_carousel__slide__reviewRating span{font-size:16px;opacity:.4}.brave_popup .brave_element.brave_element--carousel .brave_element__styler .bravepopup_carousel--review .brave_carousel__slide .bravepopup_carousel__slide__author .bravepopup_carousel__slide__reviewRating.bravepopup_carousel__slide__reviewRating--rating_1 span:nth-child(-n+1),.brave_popup .brave_element.brave_element--carousel .brave_element__styler .bravepopup_carousel--review .brave_carousel__slide .bravepopup_carousel__slide__author .bravepopup_carousel__slide__reviewRating.bravepopup_carousel__slide__reviewRating--rating_2 span:nth-child(-n+2),.brave_popup .brave_element.brave_element--carousel .brave_element__styler .bravepopup_carousel--review .brave_carousel__slide .bravepopup_carousel__slide__author .bravepopup_carousel__slide__reviewRating.bravepopup_carousel__slide__reviewRating--rating_3 span:nth-child(-n+3),.brave_popup .brave_element.brave_element--carousel .brave_element__styler .bravepopup_carousel--review .brave_carousel__slide .bravepopup_carousel__slide__author .bravepopup_carousel__slide__reviewRating.bravepopup_carousel__slide__reviewRating--rating_4 span:nth-child(-n+4),.brave_popup .brave_element.brave_element--carousel .brave_element__styler .bravepopup_carousel--review .brave_carousel__slide .bravepopup_carousel__slide__author .bravepopup_carousel__slide__reviewRating.bravepopup_carousel__slide__reviewRating--rating_5 span:nth-child(-n+5){color:#f1ac11;opacity:1}.brave_popup .brave_element.brave_element--carousel .brave_element__styler .bravepopup_carousel--review .brave_carousel__slide .bravepopup_carousel__slide__author.bravepopup_carousel__slide__author__noTitle .bravepopup_carousel__slide__image{width:50px;height:50px}.brave_popup .brave_element.brave_element--carousel .brave_element__styler .bravepopup_carousel--review .brave_carousel__slide .bravepopup_carousel__slide__author.bravepopup_carousel__slide__author__noTitle span{font-size:20px}.brave_popup .brave_element.brave_element--carousel .brave_element__styler .bravepopup_carousel--features .brave_carousel__slide{display:flex;flex-direction:column-reverse;justify-content:flex-start;align-items:flex-start;height:100%}.brave_popup .brave_element.brave_element--carousel .brave_element__styler .bravepopup_carousel--features .brave_carousel__slide .bravepopup_carousel__slide__image{width:100%;float:left;overflow:hidden}.brave_popup .brave_element.brave_element--carousel .brave_element__styler .bravepopup_carousel--features .brave_carousel__slide .bravepopup_carousel__slide__image img{width:100%;height:100%;-o-object-fit:cover;object-fit:cover;-o-object-position:top;object-position:top}.brave_popup .brave_element.brave_element--carousel .brave_element__styler .bravepopup_carousel--features .brave_carousel__slide .bravepopup_carousel__slide__content{position:relative;padding-bottom:40px}.brave_popup .brave_element.brave_element--carousel .brave_element__styler .bravepopup_carousel--features .brave_carousel__slide .bravepopup_carousel__slide__content h4{margin-top:0}.brave_popup .brave_element.brave_element--carousel .brave_element__styler .bravepopup_carousel--features .brave_carousel__slide.bravepopup_carousel__slide--noImg .bravepopup_carousel__slide__content{height:100%}.brave_popup .brave_element.brave_element--carousel .brave_element__styler .bravepopup_carousel--features.bravepopup_carousel__slider--content_right .bravepopup_carousel__slide__content{text-align:right}.brave_popup .brave_element.brave_element--carousel .brave_element__styler .bravepopup_carousel--features.bravepopup_carousel__slider--content_middle .bravepopup_carousel__slide__content{text-align:center}.brave_popup .brave_element.brave_element--carousel .brave_element__styler .bravepopup_carousel--news .brave_carousel__slide .bravepopup_carousel__slide__content_wrap{width:100%;float:left;display:flex;flex-direction:row;background:transparent!important}.brave_popup .brave_element.brave_element--carousel .brave_element__styler .bravepopup_carousel--news .brave_carousel__slide .bravepopup_carousel__slide__content{width:70%!important;background:transparent!important;position:relative;float:left;padding-top:0;padding-left:10px;padding-bottom:10px}.brave_popup .brave_element.brave_element--carousel .brave_element__styler .bravepopup_carousel--news .brave_carousel__slide .bravepopup_carousel__slide__content .bravepopup_carousel__slide__desc{margin-top:8px;margin-bottom:12px}.brave_popup .brave_element.brave_element--carousel .brave_element__styler .bravepopup_carousel--news .brave_carousel__slide .bravepopup_carousel__slide__content h4{margin-bottom:0}.brave_popup .brave_element.brave_element--carousel .brave_element__styler .bravepopup_carousel--news .brave_carousel__slide .bravepopup_carousel__slide__image{width:30%;float:left;overflow:hidden;max-height:120px;box-sizing:border-box;padding:10px 10px 10px 0}.brave_popup .brave_element.brave_element--carousel .brave_element__styler .bravepopup_carousel--news .brave_carousel__slide .bravepopup_carousel__slide__image img{width:100%;height:100%;-o-object-fit:cover;object-fit:cover;-o-object-position:top center;object-position:top center}.brave_popup .brave_element.brave_element--carousel .brave_element__styler .bravepopup_carousel--news .brave_carousel__slide.bravepopup_carousel__slide--noImg .bravepopup_carousel__slide__content{width:100%!important;padding-right:10px}.brave_popup .brave_element.brave_element--carousel .brave_element__styler .bravepopup_carousel--news.bravepopup_carousel__slider--content_right .bravepopup_carousel__slides .bravepopup_carousel__slide__content_wrap{flex-direction:row-reverse}.brave_popup .brave_element.brave_element--carousel .brave_element__styler .bravepopup_carousel--news.bravepopup_carousel__slider--content_right .bravepopup_carousel__slides .bravepopup_carousel__slide__content_wrap .bravepopup_carousel__slide__content{padding-left:20px}.brave_popup .brave_element.brave_element--carousel .brave_element__styler .bravepopup_carousel--news.bravepopup_carousel__slider--content_right .bravepopup_carousel__slides .bravepopup_carousel__slide__content_wrap .bravepopup_carousel__slide__image{padding-right:0;padding-left:10px}.brave_popup .brave_element.brave_element--carousel .brave_element__styler .bravepopup_carousel--toggle .brave_carousel__slide{height:100%;overflow:auto;scrollbar-color:#ccc transparent;scrollbar-width:thin}.brave_popup .brave_element.brave_element--carousel .brave_element__styler .bravepopup_carousel--toggle .brave_carousel__slide::-webkit-scrollbar{width:6px;height:6px;border-radius:0;background:transparent;margin-right:4px;border:0 solid transparent}.brave_popup .brave_element.brave_element--carousel .brave_element__styler .bravepopup_carousel--toggle .brave_carousel__slide::-webkit-scrollbar-thumb{width:6px;height:6px;border-radius:0;color:#ccc;background:#ccc;border:0 solid transparent;box-shadow:none}.brave_popup .brave_element.brave_element--carousel .brave_element__styler .bravepopup_carousel--toggle .brave_carousel__slide .bravepopup_carousel__slide__content_wrap{width:100%;float:left}.brave_popup .brave_element.brave_element--carousel .brave_element__styler .bravepopup_carousel--toggle .brave_carousel__slide .bravepopup_carousel__slide__content{width:100%;position:relative;float:left;padding:0 10px 10px;background:transparent!important}.brave_popup .brave_element.brave_element--carousel .brave_element__styler .bravepopup_carousel--toggle .brave_carousel__slide .bravepopup_carousel__slide__content .bravepopup_carousel__slide__desc{margin-top:12px;margin-bottom:12px;padding-left:12px;display:none}.brave_popup .brave_element.brave_element--carousel .brave_element__styler .bravepopup_carousel--toggle .brave_carousel__slide .bravepopup_carousel__slide__content h4{margin-bottom:0;line-height:1.3em;cursor:pointer}.brave_popup .brave_element.brave_element--carousel .brave_element__styler .bravepopup_carousel--toggle .brave_carousel__slide .bravepopup_carousel__slide__content h4:before{content:"+";display:inline-block;min-width:14px}.brave_popup .brave_element.brave_element--carousel .brave_element__styler .bravepopup_carousel--toggle .brave_carousel__slide .bravepopup_carousel__slide__content.brave__toggle__active h4:before{content:"-"}.brave_popup .brave_element.brave_element--carousel .brave_element__styler .bravepopup_carousel--toggle .brave_carousel__slide .bravepopup_carousel__slide__content.brave__toggle__active .bravepopup_carousel__slide__desc{display:block}.brave_popup .brave_element.brave_element--carousel .brave_element__styler .bravepopup_carousel--toggle.bravepopup_carousel__slider--content_right .bravepopup_carousel__slide__content{text-align:right}.brave_popup .brave_element.brave_element--carousel .brave_element__styler .bravepopup_carousel--toggle.bravepopup_carousel__slider--content_center .bravepopup_carousel__slide__content{text-align:center}.brave_popup .brave_element.brave_element--carousel .brave_element__styler .bravepopup_carousel--toggle.bravepopup_carousel--hasNav .brave_carousel__slide{height:calc(100% - 40px)!important}.brave_popup .brave_element.brave_element--carousel .brave_element__styler .brave_carousel__slide__navs{position:absolute;bottom:0;z-index:2;width:100%}.brave_popup .brave_element.brave_element--carousel .brave_element__styler .brave_carousel__slide__navs ul{text-align:center;margin:5px 0;padding:0 20px;box-sizing:border-box}.brave_popup .brave_element.brave_element--carousel .brave_element__styler .brave_carousel__slide__navs ul li{display:inline-block;padding:4px;margin:0;cursor:pointer}.brave_popup .brave_element.brave_element--carousel .brave_element__styler .brave_carousel__slide__navs ul li span{display:inline-block;text-indent:99999px;border-radius:50%;width:10px;height:10px;background:#ddd;opacity:.6;border:2px solid}.brave_popup .brave_element.brave_element--carousel .brave_element__styler .brave_carousel__slide__navs ul li.slide__nav__active span{background:#fff;opacity:1}.brave_popup .brave_element.brave_element--carousel .brave_element__styler .brave_carousel__slide__navs.brave_carousel__slide__navs--align_left ul{text-align:left}.brave_popup .brave_element.brave_element--carousel .brave_element__styler .brave_carousel__slide__navs.brave_carousel__slide__navs--align_right ul{text-align:right}.brave_popup .brave_element.brave_element--carousel .brave_element__styler .brave_carousel__slide__navs.brave_carousel__slide__navs--style_dots span{border:none}.brave_popup .brave_element.brave_element--carousel .brave_element__styler .brave_carousel__slide__navs.brave_carousel__slide__navs--style_bars ul li span{border-radius:0;height:4px;width:18px;position:relative;top:6px;border:none}.brave_popup .brave_element.brave_element--carousel .brave_element__styler .brave_carousel__slider--content_right .brave_carousel__slide__content{left:auto;right:0}.brave_popup .brave_element.brave_element--carousel .brave_element__styler .brave_carousel__slider--content_center .brave_carousel__slide__content{left:0;right:0;bottom:0;margin:0 auto;text-align:center}.brave_popup .brave_element.brave_element--carousel .brave_element__styler .brave_carousel__slider--content_middle .brave_carousel__slide__content{left:0;right:0;margin:0 auto;text-align:center;top:50%;bottom:auto!important;transform:translateY(-50%)}.brave_popup .brave_element.brave_element--countdown{width:100%;height:100%}.brave_popup .brave_element.brave_element--countdown .brave_element__styler{width:100%;height:100%;overflow:hidden;position:relative}.brave_popup .brave_element.brave_element--countdown .brave_countdown_wrap{width:100%;height:100%;float:left;margin-top:5px}.brave_popup .brave_element.brave_element--countdown .brave_countdown_wrap .brave_countdown_time{float:left;text-align:center;width:25%;position:relative}.brave_popup .brave_element.brave_element--countdown .brave_countdown_wrap .brave_countdown_time span{font-weight:700;display:block;width:70%;padding:5px 0;margin:0 auto;box-sizing:border-box;border-radius:4px}.brave_popup .brave_element.brave_element--countdown .brave_countdown_wrap .brave_countdown_time .brave_countdown__label{width:auto;display:inline-block;padding:3px 10px;border-radius:3px;vertical-align:top;margin:2px auto 0;font-family:sans-serif}.brave_popup .brave_element.brave_element--countdown .brave_countdown_wrap.brave_countdown_wrap--over .brave_countdown__label{position:absolute;left:0;transform:translateY(-50%);right:0;margin:0 auto;top:calc(50% - 5px);font-family:sans-serif}.brave_popup .brave_element.brave_element--countdown .brave_countdown_wrap.brave_countdown_wrap--right .brave_countdown_time{width:auto}.brave_popup .brave_element.brave_element--countdown .brave_countdown_wrap.brave_countdown_wrap--right .brave_countdown_time span{width:auto;display:inline-block;padding-left:4px;padding-right:4px}.brave_popup .brave_element.brave_element--countdown .brave_countdown_wrap.brave_countdown_wrap--right .brave_countdown__label{padding:3px!important;margin-right:4px!important;font-family:sans-serif}.brave_popup .brave_element.brave_element--countdown .brave_countdown_wrap.brave_countdown_wrap--hideDays .brave_countdown_time{width:33.333%}.brave_popup .brave_element.brave_element--countdown .brave_countdown_wrap.brave_countdown_wrap--hideDays .brave_countdown_time--days{display:none}.brave_popup .brave_element.brave_element--search{width:100%;height:100%}.brave_popup .brave_element.brave_element--search .brave_element__styler{width:100%;height:100%;overflow:hidden;position:relative;border-radius:3px}.brave_popup .brave_element.brave_element--search .brave_wpSearch__wrap{width:100%;height:100%;position:absolute}.brave_popup .brave_element.brave_element--search .brave_wpSearch__wrap button{padding:7px 6%;background:#000;border:none;outline:none;cursor:pointer;text-align:center;height:100%;position:absolute;right:0}.brave_popup .brave_element.brave_element--search .brave_wpSearch__wrap button svg{display:inline-block}.brave_popup .brave_element.brave_element--search .brave_wpSearch__wrap input{margin:0;padding:7px 6%;height:100%;position:absolute;box-shadow:none;border:1px solid;width:calc(100% - 100px)}.brave_popup .brave_element.brave_element--wpSingle{width:100%;height:100%}.brave_popup .brave_element.brave_element--wpSingle .brave_element__styler{width:100%;height:100%;overflow:hidden;position:relative}.brave_popup .brave_element.brave_element--wpSingle .brave_wpSingle{width:100%;height:100%}.brave_popup .brave_element.brave_element--wpSingle .brave_wpSingle__wrap{width:100%;height:100%;float:left;padding:15px;font-size:14px;box-sizing:border-box;overflow:auto}.brave_popup .brave_element.brave_element--wpSingle .brave_wpSingle__wrap h2{line-height:1.4em;font-size:18px}.brave_popup .brave_element.brave_element--wpSingle .brave_wpSingle__wrap .brave_post__meta{width:100%;float:left;margin-bottom:20px}.brave_popup .brave_element.brave_element--wpSingle .brave_wpSingle__wrap .brave_post__meta>div{display:inline-block;font-size:.9em;margin-right:12px}.brave_popup .brave_element.brave_element--wpSingle .brave_wpSingle__wrap .brave_post__meta .brave_post__content__category{margin-right:0}.brave_popup .brave_element.brave_element--wpSingle .brave_wpSingle__wrap .brave_post__meta .brave_post__content__category a{color:inherit}.brave_popup .brave_element.brave_element--wpSingle .brave_wpSingle__wrap .brave_post__content__content{line-height:1.8em}.brave_popup .brave_element.brave_element--wpSingle .brave_wpSingle__wrap .brave_post__content__content p{font-size:1em;line-height:1.8em}.brave_popup .brave_element.brave_element--wpSingle .brave_wpSingle__wrap::-webkit-scrollbar{width:12px;border-radius:12px;background:transparent;border:0 solid transparent}.brave_popup .brave_element.brave_element--wpSingle .brave_wpSingle__wrap::-webkit-scrollbar-thumb{width:10px;border-radius:16px;border:3px solid transparent;box-shadow:inset 0 0 0 3px;color:#ddd}.brave_popup .brave_element.brave_element--wpSingleProduct,.brave_popup .brave_element.brave_element--wpSingleProduct .brave_element__inner,.brave_popup .brave_element.brave_element--wpSingleProduct .brave_element__styler,.brave_popup .brave_element.brave_element--wpSingleProduct .brave_wpSingleProduct{width:100%;height:100%}.brave_popup .brave_element.brave_element--wpSingleProduct .brave_wpSingleProduct__wrap{width:100%;height:100%;float:left;box-sizing:border-box}.brave_popup .brave_element.brave_element--wpSingleProduct .brave_wpSingleProduct__wrap .brave_product_wrap{width:100%;height:100%;overflow:hidden}.brave_popup .brave_element.brave_element--wpSingleProduct .brave_wpSingleProduct__wrap h2{line-height:1.4em;margin-bottom:10px}.brave_popup .brave_element.brave_element--wpSingleProduct .brave_wpSingleProduct__wrap h2 a{color:inherit;font-size:inherit}.brave_popup .brave_element.brave_element--wpSingleProduct .brave_wpSingleProduct__wrap .brave_product__image_wrap{width:50%;float:left;overflow:hidden;position:relative;height:100%}.brave_popup .brave_element.brave_element--wpSingleProduct .brave_wpSingleProduct__wrap .brave_product__image_wrap img{width:100%;height:100%;-o-object-fit:cover;object-fit:cover;-o-object-position:top;object-position:top}.brave_popup .brave_element.brave_element--wpSingleProduct .brave_wpSingleProduct__wrap .brave_product_sale_ribon{position:absolute;z-index:1;left:0}.brave_popup .brave_element.brave_element--wpSingleProduct .brave_wpSingleProduct__wrap .brave_product_sale_ribon span{position:absolute;font-size:12px;transform:rotate(-45deg);color:#fff;padding-top:8px}.brave_popup .brave_element.brave_element--wpSingleProduct .brave_wpSingleProduct__wrap .brave_product_sale_ribon svg{width:50px;height:50px}.brave_popup .brave_element.brave_element--wpSingleProduct .brave_wpSingleProduct__wrap .brave_product__readMore{width:100%;float:left}.brave_popup .brave_element.brave_element--wpSingleProduct .brave_wpSingleProduct__wrap .brave_product__readMore p{margin:0}.brave_popup .brave_element.brave_element--wpSingleProduct .brave_wpSingleProduct__wrap .brave_product__readMore a{border:none;padding:8px 20px;border-radius:4px;margin-top:20px;font-size:.9em}.brave_popup .brave_element.brave_element--wpSingleProduct .brave_wpSingleProduct__wrap .brave_product__content_wrap{width:50%;float:left;box-sizing:border-box;padding:10px 25px 0;height:100%;overflow-y:auto}.brave_popup .brave_element.brave_element--wpSingleProduct .brave_wpSingleProduct__wrap .brave_product__content_wrap::-webkit-scrollbar{width:12px;border-radius:12px;background:transparent;border:0 solid transparent}.brave_popup .brave_element.brave_element--wpSingleProduct .brave_wpSingleProduct__wrap .brave_product__content_wrap::-webkit-scrollbar-thumb{width:10px;border-radius:16px;border:3px solid transparent;box-shadow:inset 0 0 0 3px;color:#ddd}.brave_popup .brave_element.brave_element--wpSingleProduct .brave_wpSingleProduct__wrap .brave_post__meta{width:100%;float:left;margin-bottom:20px}.brave_popup .brave_element.brave_element--wpSingleProduct .brave_wpSingleProduct__wrap .brave_post__meta>div{display:inline-block;font-size:.9em;margin-right:12px}.brave_popup .brave_element.brave_element--wpSingleProduct .brave_wpSingleProduct__wrap .brave_product__price{width:100%;float:left;font-weight:700}.brave_popup .brave_element.brave_element--wpSingleProduct .brave_wpSingleProduct__wrap .brave_product__price del{font-size:.8em;color:#6b6b6b;margin-right:5px}.brave_popup .brave_element.brave_element--wpSingleProduct .brave_wpSingleProduct__wrap .brave_post__content__content{line-height:1.8em;margin:15px 0;width:100%;float:left}.brave_popup .brave_element.brave_element--wpSingleProduct .brave_wpSingleProduct__wrap .brave_post__content__content p{font-size:1em;line-height:1.8em}.brave_popup .brave_element.brave_element--form{width:100%;height:100%}.brave_popup .brave_element.brave_element--form .brave_element__form_inner,.brave_popup .brave_element.brave_element--form .brave_element__inner,.brave_popup .brave_element.brave_element--form .brave_element__styler,.brave_popup .brave_element.brave_element--form .brave_element__wrap{height:100%;width:100%;box-sizing:border-box}.brave_popup .brave_element.brave_element--form .brave_element__styler{line-height:normal}.brave_popup .brave_element.brave_element--form .brave_element-icon{top:2px;padding-right:0}.brave_popup .brave_element.brave_element--form .brave_element__form_inner{padding:15px;position:relative;overflow:hidden}.brave_popup .brave_element.brave_element--form .brave_element__form_inner form{width:100%;height:100%;position:relative;padding:0!important;margin:0!important;transition:all .12s linear}.brave_popup .brave_element.brave_element--form .brave_element__form_inner form .brave_form_overlay{display:none;width:100%;height:100%;position:absolute;z-index:99}.brave_popup .brave_element.brave_element--form .brave_element__form_inner form.brave_form_form--loading,.brave_popup .brave_element.brave_element--form .brave_element__form_inner form.brave_form_form--loading .brave_form_overlay{display:block}.brave_popup .brave_element.brave_element--form .brave_element__form_inner form.brave_form_form--loading .brave_form_field{opacity:.6}.brave_popup .brave_element.brave_element--form .brave_element__form_inner.brave_element__form_inner--hide{display:none}.brave_popup .brave_element.brave_element--form .bravepopupform_socialOptin{position:relative}.brave_popup .brave_element.brave_element--form .bravepopupform_socialOptin .bravepopupform_socialOptin_loader{width:100%;height:100%;position:absolute;z-index:999;display:none}.brave_popup .brave_element.brave_element--form .bravepopupform_socialOptin .bravepopupform_socialOptin_loader .bravepopupform_socialOptin_icon{width:30px;height:30px;top:50%;transform:translateY(-50%);position:absolute;background:rgba(0,0,0,.2);border-radius:4px;padding:5px;left:0;right:0;margin:0 auto}.brave_popup .brave_element.brave_element--form .bravepopupform_socialOptin .bravepopupform_socialOptin_loader .bravepopupform_socialOptin_icon svg{animation-name:bravespin;animation-duration:1.5s;animation-iteration-count:infinite;animation-timing-function:linear}.brave_popup .brave_element.brave_element--form .bravepopupform_socialOptin .bravepopupform_socialOptin_loader .bravepopupform_socialOptin_icon svg path{fill:#fff}.brave_popup .brave_element.brave_element--form .bravepopupform_socialOptin .bravepopupform_socialOptin_inner{padding:5px}.brave_popup .brave_element.brave_element--form .bravepopupform_socialOptin .bravepopupform_socialOptin_inner .bravepopform_socialOptin_button{display:block;background:#ddd;height:40px;margin:10px;border-radius:4px;text-align:center;position:relative;cursor:pointer;transition:all .14s linear}.brave_popup .brave_element.brave_element--form .bravepopupform_socialOptin .bravepopupform_socialOptin_inner .bravepopform_socialOptin_button span{display:inline-block;position:relative;top:4px}.brave_popup .brave_element.brave_element--form .bravepopupform_socialOptin .bravepopupform_socialOptin_inner .bravepopform_socialOptin_button:hover{filter:brightness(1.2)}.brave_popup .brave_element.brave_element--form .bravepopupform_socialOptin .bravepopupform_socialOptin_inner .bravepopform_socialOptin_button.bravepopform_socialOptin_button--facebook{background:#365fb9;color:#fff}.brave_popup .brave_element.brave_element--form .bravepopupform_socialOptin .bravepopupform_socialOptin_inner .bravepopform_socialOptin_button.bravepopform_socialOptin_button--google{background:#c74f2b;color:#fff}.brave_popup .brave_element.brave_element--form .bravepopupform_socialOptin .bravepopupform_socialOptin_inner .bravepopform_socialOptin_button.bravepopform_socialOptin_button--linkedin{background:#069;color:#fff}.brave_popup .brave_element.brave_element--form .bravepopupform_socialOptin .bravepopupform_socialOptin_inner .bravepopform_socialOptin_button.bravepopform_socialOptin_button--email{background:#111;color:#fff}.brave_popup .brave_element.brave_element--form .bravepopupform_socialOptin.bravepopupform_socialOptin--hide{display:none}.brave_popup .brave_element.brave_element--form .bravepopupform_socialOptin.bravepopupform_socialOptin--loading .bravepopupform_socialOptin_inner{opacity:.4}.brave_popup .brave_element.brave_element--form .bravepopupform_socialOptin.bravepopupform_socialOptin--loading .bravepopupform_socialOptin_loader{display:block}.brave_popup .brave_element.brave_element--form .bravepopupform_socialOptin .bravepopupform_socialOptin_consent{margin-left:10px}.brave_popup .brave_element.brave_element--form .bravepopupform_socialOptin .bravepopupform_socialOptin_consent .brave_form_field{margin:0!important}.brave_popup .brave_element.brave_element--form .brave_social_optin_stepBack{background:rgba(0,0,0,.3)!important;border-radius:4px}.brave_popup .brave_element.brave_element--form .bravepopupform_theProgressbar{font-size:12px;font-family:sans-serif!important;font-weight:600!important;margin-bottom:5px;color:rgba(0,0,0,.5)!important;margin-top:5px;position:relative}.brave_popup .brave_element.brave_element--form .bravepopupform_theProgressbar .bravepopupform_theProgressbar_steps{position:absolute;padding:2px 7px;top:-16px;right:0;border-radius:3px;line-height:normal}.brave_popup .brave_element.brave_element--form .bravepopupform_theProgressbar .bravepopupform_theProgressbar_progress{position:absolute;left:4px;top:-14px;color:#6d78d8}.brave_popup .brave_element.brave_element--form .bravepopupform_theProgressbar .bravepopupform_theProgressbar__barWrap{width:100%;background:rgba(0,0,0,.12);height:7px;margin-top:0;border-radius:3px;overflow:hidden;line-height:normal}.brave_popup .brave_element.brave_element--form .bravepopupform_theProgressbar .bravepopupform_theProgressbar__barWrap .bravepopupform_theProgressbar__bar{height:100%;background:#6d78d8;position:relative;z-index:8;min-width:20px;transition:all .14s linear}.brave_popup .brave_element.brave_element--form .bravepopupform_theProgressbar .bravepopupform_theProgressbar__bolts{position:absolute;width:100%;top:-5px;z-index:9}.brave_popup .brave_element.brave_element--form .bravepopupform_theProgressbar .bravepopupform_theProgressbar__bolts i{width:12px;height:12px;display:inline-block;border:2px solid rgba(0,0,0,.14);border-radius:50%;background:#fff;margin-right:calc(50% - 24px);box-sizing:initial}.brave_popup .brave_element.brave_element--form .bravepopupform_theProgressbar .bravepopupform_theProgressbar__bolts i:last-child{margin-right:0!important}.brave_popup .brave_element.brave_element--form .bravepopupform_theProgressbar.bravepopupform_theProgressbar--style2{margin-bottom:15px}.brave_popup .brave_element.brave_element--form .brave_form_custom_content{text-align:center;position:absolute;width:calc(100% - 40px);transform:translateX(-50%) translateY(-50%) scale(1.2);left:50%;top:50%;padding:0 20px;box-sizing:border-box;line-height:1.6em!important}.brave_popup .brave_element.brave_element--form .brave_form_custom_content .bravepop_quizScore{padding:.3em;font-weight:700!important;display:inline-block}.brave_popup .brave_element.brave_element--form .brave_form_fields_step{width:100%;visibility:hidden;transition:all .2s linear;margin-left:100px;opacity:0;transition-delay:.1s;position:absolute;top:0;z-index:9}.brave_popup .brave_element.brave_element--form .brave_form_fields_step.brave_form_fields_step--show{visibility:visible;margin-left:0;opacity:1}.brave_popup .brave_element.brave_element--form .brave_form_field{width:100%;float:left;position:relative;box-sizing:border-box;margin:10px 0}.brave_popup .brave_element.brave_element--form .brave_form_field .formfield__inner__firstname,.brave_popup .brave_element.brave_element--form .brave_form_field .formfield__inner__lastname{width:48%;float:left;position:relative}.brave_popup .brave_element.brave_element--form .brave_form_field .formfield__inner__firstname{margin-right:4%}.brave_popup .brave_element.brave_element--form .brave_form_field label{margin-bottom:5px;display:block;color:inherit;font-weight:400}.brave_popup .brave_element.brave_element--form .brave_form_field .braveform_label{line-height:1.7em}.brave_popup .brave_element.brave_element--form .brave_form_field input[type=email],.brave_popup .brave_element.brave_element--form .brave_form_field input[type=text]{width:100%;padding:10px;box-sizing:border-box;font-weight:400;margin:0;line-height:normal;height:auto}.brave_popup .brave_element.brave_element--form .brave_form_field input[type=email]:-ms-input-placeholder,.brave_popup .brave_element.brave_element--form .brave_form_field input[type=text]:-ms-input-placeholder{color:inherit;opacity:.5}.brave_popup .brave_element.brave_element--form .brave_form_field input[type=email]::placeholder,.brave_popup .brave_element.brave_element--form .brave_form_field input[type=text]::placeholder{color:inherit;opacity:.5}.brave_popup .brave_element.brave_element--form .brave_form_field textarea{width:100%;padding:15px;box-sizing:border-box;line-height:normal}.brave_popup .brave_element.brave_element--form .brave_form_field textarea:-ms-input-placeholder{color:inherit;opacity:.5}.brave_popup .brave_element.brave_element--form .brave_form_field textarea::placeholder{color:inherit;opacity:.5}.brave_popup .brave_element.brave_element--form .brave_form_field select{width:100%;padding:8px;height:auto;box-sizing:border-box;overflow:auto;line-height:normal}.brave_popup .brave_element.brave_element--form .brave_form_field select[multiple]{height:auto;padding:0!important}.brave_popup .brave_element.brave_element--form .brave_form_field select[multiple] option{padding:5px 10px;cursor:pointer}.brave_popup .brave_element.brave_element--form .brave_form_field input[type=checkbox],.brave_popup .brave_element.brave_element--form .brave_form_field input[type=radio]{margin-right:6px}.brave_popup .brave_element.brave_element--form .brave_form_field .formfield__inner__checkbox,.brave_popup .brave_element.brave_element--form .brave_form_field .formfield__inner__radio{margin:8px 0}.brave_popup .brave_element.brave_element--form .brave_form_field .formfield__inner__checkbox label,.brave_popup .brave_element.brave_element--form .brave_form_field .formfield__inner__radio label{cursor:pointer}.brave_popup .brave_element.brave_element--form .brave_form_field input[type=checkbox],.brave_popup .brave_element.brave_element--form .brave_form_field input[type=radio]{background:#fff;color:#555;clear:none;cursor:pointer;display:inline-block;line-height:0;height:16px;margin:-4px 8px 0 0!important;padding:0!important;border:1px solid #b4b9be!important;text-align:center;vertical-align:middle;width:16px;min-width:16px;-webkit-appearance:none;box-shadow:inset 0 1px 2px rgba(0,0,0,.1);transition:border-color .05s ease-in-out}.brave_popup .brave_element.brave_element--form .brave_form_field input[type=radio]:checked+label:before{color:#82878c}.brave_popup .brave_element.brave_element--form .brave_form_field input[type=checkbox]{margin-top:-4px;border-radius:0!important}.brave_popup .brave_element.brave_element--form .brave_form_field input[type=radio]{margin-top:-2px;border-radius:50%!important;margin-right:4px;line-height:10px}.brave_popup .brave_element.brave_element--form .brave_form_field input[type=checkbox]:checked:before,.brave_popup .brave_element.brave_element--form .brave_form_field input[type=radio]:checked:before{display:inline-block;vertical-align:middle;width:16px}.brave_popup .brave_element.brave_element--form .brave_form_field input[type=checkbox]:checked:before{content:"\2713";margin:2px 0 0 -1px;color:#1e8cbe;font-weight:700;font-size:12px;line-height:12px}.brave_popup .brave_element.brave_element--form .brave_form_field input[type=radio]:checked:before{content:"\25CF";font-family:sans-serif;line-height:11px;color:#1e8cbe;margin:0 0 0 -1px;font-size:21px;height:16px}.brave_popup .brave_element.brave_element--form .brave_form_field .brave_form_dropdown_dates select{width:32.6%;float:left;margin-right:1%}.brave_popup .brave_element.brave_element--form .brave_form_field .brave_form_dropdown_dates select:nth-child(3){margin-right:0}.brave_popup .brave_element.brave_element--form .brave_form_field .brave_form_dropdown_dates--noYear select{width:48%;margin-right:4%}.brave_popup .brave_element.brave_element--form .brave_form_field .brave_form_dropdown_dates--noYear select:nth-child(2){margin-right:0}.brave_popup .brave_element.brave_element--form .brave_form_field .brave_form_field__imgWrap{display:flex;justify-content:space-between;flex-flow:row wrap}.brave_popup .brave_element.brave_element--form .brave_form_field .formfield__inner__image{width:47%;float:left;margin-right:3%;text-align:center;margin-top:5px;position:relative;cursor:pointer}.brave_popup .brave_element.brave_element--form .brave_form_field .formfield__inner__image input{display:none}.brave_popup .brave_element.brave_element--form .brave_form_field .formfield__inner__image img{max-width:100%;height:auto;border:3px solid transparent;box-sizing:border-box;cursor:pointer}.brave_popup .brave_element.brave_element--form .brave_form_field .formfield__inner__image .formfield__inner__image__selection{display:none;position:absolute;left:0;top:0;width:0;height:0;border-color:transparent;border-style:solid;border-width:25px 25px 0 0}.brave_popup .brave_element.brave_element--form .brave_form_field .formfield__inner__image .formfield__inner__image__selection svg{position:absolute;top:-23px;font-size:10px;left:3px;width:10px;height:10px}.brave_popup .brave_element.brave_element--form .brave_form_field .formfield__inner__image.formfield__inner__image--selected .formfield__inner__image__selection{display:block}.brave_popup .brave_element.brave_element--form .brave_form_field .formfield__inner__image_fake{width:100%;float:left;background:#dddee8;min-height:75px;padding:20px;font-size:22px;color:#aaabb9;border:3px solid transparent;box-sizing:border-box}.brave_popup .brave_element.brave_element--form .brave_form_field .brave_form_ratings_wrap{width:100%;float:left}.brave_popup .brave_element.brave_element--form .brave_form_field .brave_form_ratings_wrap label{cursor:pointer;margin-bottom:0}.brave_popup .brave_element.brave_element--form .brave_form_field .brave_form_ratings_wrap input{display:none}.brave_popup .brave_element.brave_element--form .brave_form_field .brave_form_ratings_wrap svg{display:inline-block}.brave_popup .brave_element.brave_element--form .brave_form_field .brave_form_ratings_wrap .formfield__inner__ratings_star{display:inline-block;margin-right:5px;font-size:18px;opacity:.5;width:20px;height:20px;cursor:pointer}.brave_popup .brave_element.brave_element--form .brave_form_field .brave_form_ratings_wrap .formfield__inner__ratings_star.formfield__inner__ratings--hovered{opacity:.8}.brave_popup .brave_element.brave_element--form .brave_form_field .brave_form_ratings_wrap .formfield__inner__ratings_star.formfield__inner__ratings--selected{opacity:1}.brave_popup .brave_element.brave_element--form .brave_form_field .brave_form_ratings_wrap .formfield__inner__ratings_star:last-child{margin-right:0}.brave_popup .brave_element.brave_element--form .brave_form_field .brave_form_ratings_wrap .formfield__inner__ratings_number{font-size:18px;padding:8px 12px;display:inline-block;text-align:center;background:#000;opacity:.6;margin-right:5px;margin-bottom:5px;border-radius:3px;color:#fff;cursor:pointer}.brave_popup .brave_element.brave_element--form .brave_form_field .brave_form_ratings_wrap .formfield__inner__ratings_number label{color:inherit!important}.brave_popup .brave_element.brave_element--form .brave_form_field .brave_form_ratings_wrap .formfield__inner__ratings_number.formfield__inner__ratings_number--small{padding:4px 8px}.brave_popup .brave_element.brave_element--form .brave_form_field .brave_form_ratings_wrap .formfield__inner__ratings_number.formfield__inner__ratings_number--large{padding:12px;margin-right:8px}.brave_popup .brave_element.brave_element--form .brave_form_field .brave_form_ratings_wrap .formfield__inner__ratings_number.formfield__inner__ratings--hovered{opacity:.8}.brave_popup .brave_element.brave_element--form .brave_form_field .brave_form_ratings_wrap .formfield__inner__ratings_number.formfield__inner__ratings--selected{opacity:1}.brave_popup .brave_element.brave_element--form .brave_form_field .brave_form_ratings_wrap .formfield__inner__ratings_smiley{display:inline-block;margin-right:6px;opacity:.6;cursor:pointer;width:20px;height:20px}.brave_popup .brave_element.brave_element--form .brave_form_field .brave_form_ratings_wrap .formfield__inner__ratings_smiley.formfield__inner__ratings--selected,.brave_popup .brave_element.brave_element--form .brave_form_field .brave_form_ratings_wrap .formfield__inner__ratings_smiley:hover{opacity:1}.brave_popup .brave_element.brave_element--form .brave_form_field .brave_form_ratings_wrap .formfield__inner__ratings_smiley.formfield__inner__ratings--selected svg circle{stroke-width:10px}.brave_popup .brave_element.brave_element--form .brave_form_field .brave_form_field__buttonGroup{text-align:center;margin:10px 0;font-weight:700!important;cursor:pointer;transition:all .12s linear}.brave_popup .brave_element.brave_element--form .brave_form_field .brave_form_field__buttonGroup.formfield__inner__image--selected,.brave_popup .brave_element.brave_element--form .brave_form_field .brave_form_field__buttonGroup:hover{filter:brightness(.8)}.brave_popup .brave_element.brave_element--form .brave_form_field .brave_form_field__buttonGroup input{display:none}.brave_popup .brave_element.brave_element--form .brave_form_field .brave_form_field_error{display:none;position:absolute;margin-top:-18px;right:0;background:#ec5a5a;color:#fff;font-size:12px;line-height:15px;font-family:sans-serif;padding:3px 10px;border-radius:3px 3px 0 0}.brave_popup .brave_element.brave_element--form .brave_form_field.brave_form_field--hasError input[type=email],.brave_popup .brave_element.brave_element--form .brave_form_field.brave_form_field--hasError input[type=text],.brave_popup .brave_element.brave_element--form .brave_form_field.brave_form_field--hasError select,.brave_popup .brave_element.brave_element--form .brave_form_field.brave_form_field--hasError textarea{box-shadow:inset 0 0 0 2px #ff6f6f;border-color:#ff6f6f!important}.brave_popup .brave_element.brave_element--form .brave_form_field.brave_form_field--hasError .brave_form_field_error{display:block}.brave_popup .brave_element.brave_element--form .brave_form_field.brave_form_field--hasError-firstname .formfield__inner__firstname input{box-shadow:inset 0 0 0 2px #ff6f6f;border-color:#ff6f6f!important}.brave_popup .brave_element.brave_element--form .brave_form_field.brave_form_field--hasError-firstname .brave_form_field_error--firstname{display:block}.brave_popup .brave_element.brave_element--form .brave_form_field.brave_form_field--hasError-lastname .formfield__inner__lastname input{box-shadow:inset 0 0 0 2px #ff6f6f;border-color:#ff6f6f!important}.brave_popup .brave_element.brave_element--form .brave_form_field.brave_form_field--hasError-lastname .brave_form_field_error--lastname{display:block}.brave_popup .brave_element.brave_element--form .brave_form_field.brave_form_field--checkbox .brave_form_field_error,.brave_popup .brave_element.brave_element--form .brave_form_field.brave_form_field--radio .brave_form_field_error{margin-top:0;border-radius:3px}.brave_popup .brave_element.brave_element--form .brave_form_field.brave_form_field--checkbox_inline .formfield__inner__checkbox{display:inline-block;margin-right:20px}.brave_popup .brave_element.brave_element--form .brave_form_field.brave_form_field--checkbox_borderd .formfield__inner__checkbox{margin:0}.brave_popup .brave_element.brave_element--form .brave_form_field.brave_form_field--checkbox_borderd .formfield__inner__checkbox label{margin:0;padding:12px;border:1px solid;border-bottom:0;font-weight:400}.brave_popup .brave_element.brave_element--form .brave_form_field.brave_form_field--checkbox_borderd .formfield__inner__checkbox label:hover{background:rgba(0,0,0,.03)}.brave_popup .brave_element.brave_element--form .brave_form_field.brave_form_field--checkbox_borderd .formfield__inner__checkbox:last-child label{border-bottom:1px solid}.brave_popup .brave_element.brave_element--form .brave_form_field.brave_form_field--checkbox_inline.brave_form_field--checkbox_borderd .formfield__inner__checkbox label{min-width:70px;border-bottom:1px solid;border-right:0}.brave_popup .brave_element.brave_element--form .brave_form_field.brave_form_field--checkbox_inline.brave_form_field--checkbox_borderd .formfield__inner__checkbox:last-child label{border-right:1px solid}.brave_popup .brave_element.brave_element--form .brave_form_field.brave_form_field--hasSuggestion .brave_form_field_error{display:block;background:rgba(0,0,0,.8);margin-top:-60px;border-radius:4px;padding:8px;min-width:220px;position:fixed;margin-right:15px}.brave_popup .brave_element.brave_element--form .brave_form_field.brave_form_field--hasSuggestion .brave_form_field_error .brave_form_field_suggestion_actions{display:block;margin-left:8px;text-align:right;margin-top:5px}.brave_popup .brave_element.brave_element--form .brave_form_field.brave_form_field--hasSuggestion .brave_form_field_error .brave_form_field_suggestion_actions span{display:inline-block;padding:0 2px;cursor:pointer;margin:0 4px;text-decoration:underline}.brave_popup .brave_element.brave_element--form .brave_form_field.brave_form_field--hasSuggestion .brave_form_field_error:after{content:"";width:0;height:0;border-color:rgba(0,0,0,.8) transparent transparent;border-style:solid;border-width:7px 6px 0;margin-top:8px;position:absolute;right:10px}.brave_popup .brave_element.brave_element--form .brave_form_field.brave_form_field--hasCondition,.brave_popup .brave_element.brave_element--form .brave_form_field.brave_form_field--hidden,.brave_popup .brave_element.brave_element--form .brave_form_field.brave_form_field--input_hidden{display:none}.brave_popup .brave_element.brave_element--form .brave_form_form--underline input[type=email],.brave_popup .brave_element.brave_element--form .brave_form_form--underline input[type=text],.brave_popup .brave_element.brave_element--form .brave_form_form--underline textarea{padding-left:0!important;border-left:0!important;border-right:0!important;border-top:0!important;border-radius:0!important;outline:none}.brave_popup .brave_element.brave_element--form .brave_form_field--step{margin-top:12px!important;width:100%;float:left}.brave_popup .brave_element.brave_element--form .brave_form_field--step .brave_form_stepNext{width:auto;height:40px;font-weight:700;box-sizing:border-box;padding:0 35px;display:inline-block;cursor:pointer;border:none;text-align:center;text-decoration:none}.brave_popup .brave_element.brave_element--form .brave_form_field--step .brave_form_stepNext span{margin-right:4px}.brave_popup .brave_element.brave_element--form .brave_form_stepBack{position:absolute;bottom:0;left:0;padding:12px;background:transparent;border:none;outline:none;color:#fff;cursor:pointer;width:14px;height:16px;opacity:.5;box-sizing:initial}.brave_popup .brave_element.brave_element--form .brave_form_stepBack.brave_form_stepBack--right{left:auto;right:0}.brave_popup .brave_element.brave_element--form .brave_form_stepBack.brave_form_stepBack--hide{display:none}.brave_popup .brave_element.brave_element--form .brave_form_stepBack:hover{opacity:1}.brave_popup .brave_element.brave_element--form .brave_form_button{margin-top:10px;width:100%;float:left;position:relative}.brave_popup .brave_element.brave_element--form .brave_form_button button{width:auto;height:40px;box-sizing:border-box;padding:0 28px;display:inline-block;cursor:pointer;border-style:solid;font-weight:inherit}.brave_popup .brave_element.brave_element--form .brave_form_button button span{margin-right:4px}.brave_popup .brave_element.brave_element--form .brave_form_button .brave_form_loading{position:absolute;width:20px;height:20px;margin-left:-20px;margin-top:-2px;visibility:hidden;animation-name:bravespin;animation-duration:1.5s;animation-iteration-count:infinite;animation-timing-function:linear}.brave_popup .brave_element.brave_element--form .brave_form_button .brave_form_loading.brave_form_loading--show{visibility:visible}.brave_popup .brave_element.brave_element--form .brave_form_button.brave_form_button--full{width:100%}.brave_popup .brave_element.brave_element--form .brave_form_button.brave_form_button--hide{display:none}.brave_popup .brave_element.brave_element--form .brave_form_form--inline .brave_form_fields{width:calc(100% - 120px)}.brave_popup .brave_element.brave_element--form .brave_form_form--inline .brave_form_field{padding-right:12px}.brave_popup .brave_element.brave_element--form .brave_form_form--inline .brave_form_button{width:120px;margin:29px 0 0}.brave_popup .brave_element.brave_element--form .brave_form_form--noLabel.brave_form_form--inline .brave_form_field{margin:0!important}.brave_popup .brave_element.brave_element--form .brave_form_form--noLabel.brave_form_form--inline .brave_form_button{margin:0}.brave_popup .brave_element.brave_element--form .brave_form_form--hide{visibility:hidden;opacity:0}.brave_popup .brave_element.brave_element--form .brave_form_field--media img{max-width:100%}.brave_popup .brave_element.brave_element--button .added_to_cart,.brave_popup .brave_element.brave_element--image .added_to_cart,.brave_popup .brave_element.brave_element--sticker .added_to_cart,.brave_popup .brave_element.brave_element--text .added_to_cart{display:none}.brave_popup .brave_element .element_hover_animation{position:relative;transition:all .14s linear}.brave_popup .brave_element .element_hover_animation.element_hover_animation--opacity:hover{opacity:.7}.brave_popup .brave_element .element_hover_animation.element_hover_animation-enlarge:hover{transform:scale(1.05)}.brave_popup .brave_element .element_hover_animation.element_hover_animation-shrink:hover{transform:scale(.95)}.brave_popup .brave_element .element_hover_animation.element_hover_animation-brighten:hover{filter:brightness(1.5)}.brave_popup .brave_element .element_hover_animation.element_hover_animation-darken:hover{filter:brightness(.6)}.brave_popup .brave_element .element_hover_animation.element_hover_animation-riseup:hover{transition:all .24s linear}.brave_popup .brave_element .element_hover_animation.element_hover_animation-riseup:hover:after{content:"";width:90%;position:absolute;background:rgba(0,0,0,.3);height:5px;left:5%;bottom:-10px;filter:blur(4px);opacity:0;transition:all .24s linear}.brave_popup .brave_element .element_hover_animation.element_hover_animation-riseup:hover:hover{transform:translateY(-3px)}.brave_popup .brave_element .element_hover_animation.element_hover_animation-riseup:hover:hover:after{opacity:1}.brave_popup .brave_popup__step.brave_popup_fullHeight .brave_popup__step__popup .brave_popup__step__content{overflow-x:hidden;overflow-y:auto;scrollbar-color:#ddd transparent;scrollbar-width:thin}.brave_popup .brave_popup__step.brave_popup_fullHeight .brave_popup__step__popup .brave_popup__step__content::-webkit-scrollbar{width:12px;border-radius:12px;background:transparent;border:0 solid transparent}.brave_popup .brave_popup__step.brave_popup_fullHeight .brave_popup__step__popup .brave_popup__step__content::-webkit-scrollbar-thumb{width:10px;border-radius:16px;border:3px solid transparent;box-shadow:inset 0 0 0 3px;color:#ddd}.bravepop_landing_page{overflow:hidden}.brave_popup__step_wrap--hide{opacity:0;visibility:hidden;transition:all .3s linear}.brave_element--button--hover_color .brave_element__styler,.brave_element--hasHoverAnim{transition:all .14s linear}.brave_element--button--hover_opacity:hover,.brave_element--image--hover_opacity:hover{opacity:.7}.brave_element--button--hover_enlarge:hover,.brave_element--image--hover_enlarge:hover{transform:scale(1.05)}.brave_element--button--hover_shrink:hover,.brave_element--image--hover_shrink:hover{transform:scale(.95)}.brave_element--button--hover_brighten:hover,.brave_element--image--hover_brighten:hover{filter:brightness(1.25)}.brave_element--button--hover_darken:hover,.brave_element--image--hover_darken:hover{filter:brightness(.8)}.brave_element--button--hover_riseup,.brave_element--image--hover_riseup{transition:all .24s linear}.brave_element--button--hover_riseup:after,.brave_element--image--hover_riseup:after{content:"";width:90%;position:absolute;background:rgba(0,0,0,.3);height:5px;left:5%;bottom:-10px;filter:blur(4px);opacity:0;transition:all .24s linear}.brave_element--button--hover_riseup:hover,.brave_element--image--hover_riseup:hover{transform:translateY(-3px)}.brave_element--button--hover_riseup:hover:after,.brave_element--image--hover_riseup:hover:after{opacity:1}#bravepop_element_tooltip{max-width:300px;background-color:rgba(0,0,0,.85);color:#fff;text-align:center;border-radius:3px;position:fixed;z-index:999999999;font-family:sans-serif;font-size:11px;font-weight:600;width:auto;padding:5px 12px}#bravepop_element_tooltip:empty{display:none}#bravepop_element_tooltip:after{content:"";position:absolute;border:5px solid transparent;border-top-color:rgba(0,0,0,.85);left:auto;right:-10px;top:calc(50% - 5px)}#bravepop_element_tooltip.bravepop_element_tooltip-left:after{border-color:transparent transparent transparent rgba(0,0,0,.85)}#bravepop_element_tooltip.bravepop_element_tooltip-right:after{border-color:transparent rgba(0,0,0,.85) transparent transparent;right:auto;left:-10px;top:calc(50% - 5px)}#bravepop_element_tooltip.bravepop_element_tooltip-bottom:after{border-color:transparent transparent rgba(0,0,0,.85);top:-10px;right:50%}#bravepop_element_tooltip.bravepop_element_tooltip-top:after{border-color:rgba(0,0,0,.85) transparent transparent;top:100%;left:50%;right:auto}#bravepop_element_lightbox{position:fixed;top:0;left:0;z-index:999999999999999;width:100vw;height:100vh;display:none;transition:all .14s linear}#bravepop_element_lightbox_content{width:auto;text-align:center;position:absolute;transform:translateY(-50%);left:0;right:0;top:50%;margin:70px auto 0;visibility:hidden;opacity:0;transition:all .14s linear}#bravepop_element_lightbox_content img{max-height:80vh;max-width:100%;width:auto}#bravepop_element_lightbox_close{position:fixed;right:0;padding:40px;cursor:pointer;opacity:.5;font-size:24px;font-family:sans-serif;color:#fff;transition:all .14s linear}#bravepop_element_lightbox_close:after{content:"\274C"}#bravepop_element_lightbox_close:hover{opacity:.8}#bravepop_element_lightbox.bravepop_element_lightbox--open{display:block;background:rgba(0,0,0,.7)}#bravepop_element_lightbox.bravepop_element_lightbox--open #bravepop_element_lightbox_content{margin-top:0;visibility:visible;opacity:1}@keyframes bravespin{0%{transform:rotate(0deg)}to{transform:rotate(1turn)}}@keyframes bravefadeIn{0%{opacity:0}to{opacity:1}}@keyframes bravefadeInLeft{0%{opacity:0;transform:translateX(50px)}to{opacity:1;transform:translateX(0)}}@keyframes bravefadeInRight{0%{opacity:0;transform:translateX(-50px)}to{opacity:1;transform:translateX(0)}}@keyframes bravefadeInTop{0%{opacity:0;transform:translateY(-50px)}to{opacity:1;transform:translateX(0)}}@keyframes bravefadeInBottom{0%{opacity:0;transform:translateY(50px)}to{opacity:1;transform:translateX(0)}}@keyframes bravefadeInLeftBig{0%{opacity:0;transform:translateX(200px)}to{opacity:1;transform:translateX(0)}}@keyframes bravefadeInRightBig{0%{opacity:0;transform:translateX(-200px)}to{opacity:1;transform:translateX(0)}}@keyframes bravefadeInTopBig{0%{opacity:0;transform:translateY(-200px)}to{opacity:1;transform:translateX(0)}}@keyframes bravefadeInBottomBig{0%{opacity:0;transform:translateY(200px)}to{opacity:1;transform:translateX(0)}}@keyframes bravezoomIn{0%{opacity:0;transform:scale(.7)}to{opacity:1;transform:scale(1)}}@keyframes bravezoomInLeft{0%{opacity:0;transform:scale(.7) translateX(-100px)}to{opacity:1;transform:scale(1) translateX(0)}}@keyframes bravezoomInRight{0%{opacity:0;transform:scale(.7) translateX(100px)}to{opacity:1;transform:scale(1) translateX(0)}}@keyframes bravezoomInTop{0%{opacity:0;transform:scale(.7) translateY(-100px)}to{opacity:1;transform:scale(1) translateX(0)}}@keyframes bravezoomInBottom{0%{opacity:0;transform:scale(.7) translateY(100px)}to{opacity:1;transform:scale(1) translateX(0)}}@keyframes braverotateInTop{0%{opacity:0;transform:rotate(-6deg) translateY(-100px)}to{opacity:1;transform:rotate(0deg) translateX(0)}}@keyframes braverotateInBottom{0%{opacity:0;transform:rotate(6deg) translateY(100px)}to{opacity:1;transform:rotate(0deg) translateX(0)}}@keyframes bravewobble{0%{transform:translateZ(0)}15%{transform:translate3d(-25px,0,0) rotate(-4deg)}30%{transform:translate3d(20px,0,0) rotate(2deg)}45%{transform:translate3d(-15px,0,0) rotate(-2deg)}60%{transform:translate3d(10px,0,0) rotate(1deg)}75%{transform:translate3d(-5px,0,0) rotate(-1deg)}to{transform:translateZ(0)}}@keyframes braveshake{0%{transform:translate(0)}15%{transform:translate(-8px)}30%{transform:translate(0)}45%{transform:translate(8px)}60%{transform:translate(0)}75%{transform:translate(-8px)}to{transform:translate(0)}}@keyframes braverotate{0%{transform:rotate(0deg)}to{transform:rotate(1turn)}}@keyframes bravezoom{0%{transform:scale(1)}85%{transform:scale(1.13)}to{transform:scale(1)}}@keyframes braveblink{0%{opacity:1}25%{opacity:.5}50%{opacity:0}75%{opacity:.5}to{opacity:1}}@keyframes bravefloat{0%{transform:translate(0)}50%{transform:translateY(10px)}75%{transform:translateY(5px)}to{transform:translate(0)}}@keyframes bravebounce{0%,20%,53%,80%,to{animation-timing-function:cubic-bezier(.215,.61,.355,1);transform:translateZ(0)}40%,43%{animation-timing-function:cubic-bezier(.755,.05,.855,.06);transform:translate3d(0,-15px,0)}70%{animation-timing-function:cubic-bezier(.755,.05,.855,.06);transform:translate3d(0,-10px,0)}90%{transform:translate3d(0,-4px,0)}}.brave_popup--embedded{position:relative;z-index:auto!important;float:none}.brave_popup .brave_popup__step.brave_popup__step--embedded{position:relative!important;z-index:auto!important;max-width:100%;height:auto;left:auto;top:auto;margin-top:30px;margin-bottom:30px}.brave_popup .brave_popup__step.brave_popup__step--embedded .brave_popup__step__inner{margin-top:0!important;top:auto;left:auto;right:auto;bottom:auto;transform:none;position:relative}.brave_popup .brave_popup__step.brave_popup__step--embedded .brave_popup__step__overlay{display:none}.brave_popup .brave_popup__step.brave_popup__step--embedded .brave_popup__step__popup{overflow:initial}.brave_popup .brave_popup__step.brave_popup__step--embedded .brave_popup__step__content{border-radius:inherit}.brave_popup .brave_popup__step.brave_popup__step--embedded .brave_popupMargin__wrap{top:0!important}.brave_popup .brave_popup__step.brave_popup__step--embedded.has_overlay .brave_popup__step__overlay{display:block;position:absolute;height:100%}.brave_popup .brave_popup__step.brave_popup__step--embedded.brave_popup__step__inner--scaled{margin-top:0;margin-bottom:0;overflow:hidden}.brave_popup .brave_popup__step.brave_popup__step--embedded.brave_popup_show_scrollbar{overflow:hidden}.brave_embed_loading{position:absolute;width:20px;height:20px;margin:90px auto 0;left:0;right:0}.brave_embed_loading svg{display:block;animation-name:bravespin;animation-duration:1.5s;animation-iteration-count:infinite;animation-timing-function:linear}.bravepopup_embedded--inserted .brave_embed_loading--hide{display:none}.bravepopup_embedded--left .brave_popup .brave_popup__step.brave_popup__step--embedded .brave_popup__step__inner{margin-left:0!important;margin-right:0!important}.bravepopup_embedded--right .brave_popup .brave_popup__step.brave_popup__step--embedded .brave_popup__step__inner{margin-left:0!important;margin-right:0!important;float:right}.bravepop_embedded_sibling{visibility:hidden;display:none}.bravepopup_embedded__locker{width:100%;position:relative;height:300px;display:block!important}.bravepopup_embedded__locker svg{width:40px;height:40px;position:absolute;margin:0 auto;left:0;right:0;top:90px}.bravepopup_embedded__locker span{width:100%;display:inline-block;height:7px;background:#ddd}.bravepopup_embedded__locker span:nth-child(10){width:60%}.bravepopup_embedded__locker--hide{display:none!important}.bravepopup_embedded__floatclear{clear:both}.bravepopup_embedded__contentBG{position:fixed!important;width:100%!important;height:100%!important;max-width:unset!important;left:0;top:0;z-index:1;visibility:hidden;opacity:0;transition:all .2s linear}.bravepopup_embedded__bg--active{visibility:visible;opacity:1;background:rgba(0,0,0,.8)}.bravepopup_embedded__highlight--active .brave_popup--embedded{z-index:2!important}@media not all and (min-resolution:0.001dpcm){@supports(-webkit-appearance:none){.brave_popup .brave_popup__step__inner .brave_popup__step__popup{transform:translateZ(0)}}}@media screen and (min-width:760px){.brave_popup__step_wrap--show .brave_popup__step__desktop{display:block}.brave_popup__step_wrap--show .brave_popup__step__mobile{display:none}}@media screen and (max-width:761px){.brave_popup .brave_element.brave_element--form .brave_form_field input[type=radio]{-webkit-appearance:radio!important}.brave_popup .brave_element.brave_element--form .brave_form_field input[type=radio]:before{display:none!important}.brave_popup__step_wrap--show .brave_popup__step__desktop{display:none}.brave_popup__step--mobile-noContent.brave_popup__step_wrap--show .brave_popup__step__desktop,.brave_popup__step_wrap--show .brave_popup__step__mobile{display:block}.brave_popup__step--mobile-noContent.brave_popup__step_wrap--show .brave_popup__step__mobile{display:none}.brave_popup__step__elements{width:360px!important;margin:0!important}.brave_popup__step__mobile.brave_popup__step--float .brave_popup__step__elements,.brave_popup__step__mobile.position_bottom_center .brave_popup__step__elements,.brave_popup__step__mobile.position_center_center .brave_popup__step__elements,.brave_popup__step__mobile.position_top_center .brave_popup__step__elements{margin:0 auto!important}}.pika-single{z-index:9999999999999;display:block;position:relative;color:#333;background:#fff;border:1px solid;border-color:#ccc #ccc #bbb;font-family:Helvetica Neue,Helvetica,Arial,sans-serif}.pika-single:after,.pika-single:before{content:" ";display:table}.pika-single:after{clear:both}.pika-single.is-hidden{display:none}.pika-single.is-bound{position:absolute;box-shadow:0 5px 15px -5px rgba(0,0,0,.5)}.pika-lendar{float:left;width:240px;margin:8px}.pika-title{position:relative;text-align:center}.pika-label{display:inline-block;position:relative;z-index:9999;overflow:hidden;margin:0;padding:5px 3px;font-size:14px;line-height:20px;font-weight:700;background-color:#fff}.pika-title select{cursor:pointer;position:absolute;z-index:9998;margin:0;left:0;top:5px;opacity:0}.pika-next,.pika-prev{display:block;cursor:pointer;position:relative;outline:0;border:0;padding:0;width:20px;height:30px;text-indent:20px;white-space:nowrap;overflow:hidden;background-color:transparent;background-position:50%;background-repeat:no-repeat;background-size:75% 75%;opacity:.5}.pika-next:hover,.pika-prev:hover{opacity:1}.is-rtl .pika-next,.pika-prev{float:left;background-image:url(data:image/png;base64,iVBORw0KGgoAAAANSUhEUgAAABQAAAAeCAYAAAAsEj5rAAAAUklEQVR42u3VMQoAIBADQf8Pgj+OD9hG2CtONJB2ymQkKe0HbwAP0xucDiQWARITIDEBEnMgMQ8S8+AqBIl6kKgHiXqQqAeJepBo/z38J/U0uAHlaBkBl9I4GwAAAABJRU5ErkJggg==)}.is-rtl .pika-prev,.pika-next{float:right;background-image:url(data:image/png;base64,iVBORw0KGgoAAAANSUhEUgAAABQAAAAeCAYAAAAsEj5rAAAAU0lEQVR42u3VOwoAMAgE0dwfAnNjU26bYkBCFGwfiL9VVWoO+BJ4Gf3gtsEKKoFBNTCoCAYVwaAiGNQGMUHMkjGbgjk2mIONuXo0nC8XnCf1JXgArVIZAQh5TKYAAAAASUVORK5CYII=)}.pika-next.is-disabled,.pika-prev.is-disabled{cursor:default;opacity:.2}.pika-select{display:inline-block}.pika-table{width:100%;border-collapse:collapse;border-spacing:0;border:0}.pika-table td,.pika-table th{width:14.2857142857%;padding:0}.pika-table th{color:#999;font-size:12px;line-height:25px;font-weight:700;text-align:center}.pika-button{cursor:pointer;display:block;box-sizing:border-box;-moz-box-sizing:border-box;outline:0;border:0;margin:0;width:100%;padding:5px;color:#666;font-size:12px;line-height:15px;text-align:right;background:#f5f5f5}.pika-week{font-size:11px;color:#999}.is-today .pika-button{color:#3af;font-weight:700}.has-event .pika-button,.is-selected .pika-button{color:#fff;font-weight:700;background:#3af;box-shadow:inset 0 1px 3px #178fe5;border-radius:3px}.has-event .pika-button{background:#005da9;box-shadow:inset 0 1px 3px #0076c9}.is-disabled .pika-button,.is-inrange .pika-button{background:#d5e9f7}.is-startrange .pika-button{color:#fff;background:#6cb31d;box-shadow:none;border-radius:3px}.is-endrange .pika-button{color:#fff;background:#3af;box-shadow:none;border-radius:3px}.is-disabled .pika-button{pointer-events:none;cursor:default;color:#999;opacity:.3}.is-outside-current-month .pika-button{color:#999;opacity:.3}.is-selection-disabled{pointer-events:none;cursor:default}.pika-button:hover,.pika-row.pick-whole-week:hover .pika-button{color:#fff;background:#ff8000;box-shadow:none;border-radius:3px}.pika-table abbr{border-bottom:none;cursor:help}
Accessories + Other Reviews, Amplifier Reviews, Audio Reviews, AV Preamplifier Reviews, AV Receiver Reviews, Bookshelf Speaker Reviews, Digital to Analog Converter Reviews, Equipment Reviews, Floorstanding Speaker Reviews, Front Projector Reviews, HDTV Reviews, Headphone + Accessory Reviews, Remotes + System Control Reviews, Soundbar Reviews, Stereo Preamplifier Reviews, Subwoofer Reviews, Video and HDTV Reviews, Wireless Speaker Reviews
Published On:
December 9, 2019
Home Theater Review's Best of 2019 Awards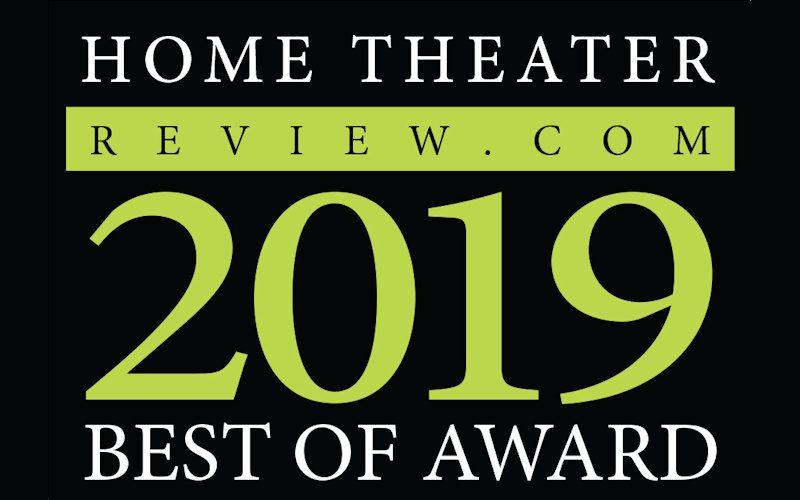 Accessories + Other Reviews, Amplifier Reviews, Audio Reviews, AV Preamplifier Reviews, AV Receiver Reviews, Bookshelf Speaker Reviews, Digital to Analog Converter Reviews, Equipment Reviews, Floorstanding Speaker Reviews, Front Projector Reviews, HDTV Reviews, Headphone + Accessory Reviews, Remotes + System Control Reviews, Soundbar Reviews, Stereo Preamplifier Reviews, Subwoofer Reviews, Video and HDTV Reviews, Wireless Speaker Reviews
Published On:
December 9, 2019
We May Earn From Some Purchases Via Affiliate Links
Home Theater Review's Best of 2019 Awards
As 2019 comes to a close, we at HomeTheaterReview.com look back at all the products we reviewed this year and pick the best of the bunch, from affordable favorites to flagship products that make us drool.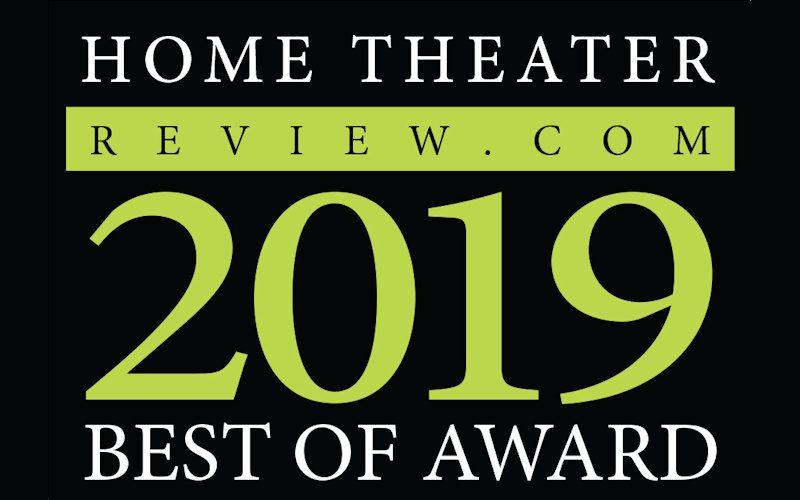 Home Theater Review's Best of 2019 Awards
The staff at HomeTheaterReview.com is comprised of experts across many fields who strive to help you learn and make better informed buying decisions.
It's awards season again, at least here at HomeTheaterReview.com. We have polled our editorial staff and picked the very best from an already elite list of 100-ish specially AV products we've reviewed this year. These awards are reserved for the tippy top of AV offerings in terms of overall performance and overall value, as well as other factors like unique design, cutting edge technology, and ergonomics.
With no further ado, here are our picks, starting with the most affordable and working up to the upper echelon.

• Schiit Jotunheim Multibit DAC ($549) (Read our review)
No audiophile company has a better sense of humor about the hobby than Mike Moffat and Jason Stoddard's Schiit Audio. You could also argue their really well thought-out two-channel products represent some of the best value in the entire industry today, none more so than their Schiit Audio Jotenheim Multibit DAC for $549. Resident HD streaming (and high end vintage guitar expert) Matthew Partrick took a close look at this physically diminutive DAC and said, "The Jotunheim is a fantastic option for those looking for high-quality desktop sound … In addition, its excellent linear power supply and support for balanced XLR output make for a special headphone experience."
• Hisense 68H8F 65-inch Ultra HD Smart TV ($599) (Read our review)

Could you ever have imagined a day when a high-performance, 65-inch 4K Ultra HD television set would cost $599? That day is today, and no the TV isn't from Vizio. Hisense is one of the newest players (along with companies like TCL) to come to market with feature-laden sets that can compete with the bigger brands for a sum of money that nearly anybody can afford.
Andrew Robinson, who has reviewed the best TVs in the market today, from Samsung's QLEDs to Sony's Master Series to LG's top-of-the-line OLED sets, said, "given enough time it would appear that even those of us on a budget can and will be able to enjoy how the other half lives. The Hisense H8 Series is proof of this, and if nothing else, it proves that it's a great time to be a 4K enthusiast on a budget" about the Hisense. Then he bought the review sample because it was too good to go back to the factory.
• Neeo Remote for Control4 ($500) (Read our review)

It's true that you need a Control4 entertainment and automation system to make this new version of Neeo work, but if you're already a Control4 homeowner or thinking about being one, and if AV control and smart home operation are equally important to you, this is the clicker you want, for sure.
Its combination of luxury materials (machined aluminum), design (a unique thin profile barely more than a third of an inch thick), and a super responsive touchscreen display (291 ppi backlit LED with Gorilla glass) contribute to a remote quite unlike anything you've ever held. In his review, Dennis calls Neeo "the sleekest, sexiest, most intuitive control solutions I've ever put my front paws around. And also one of the best-built, by a country mile.
• Bowers & Wilkins Formation Wedge + Bass ($899 each) (Reviewed here and here)

There are a lot of small wireless speakers on the market today, and most of them quite frankly suck. Bowers & Wilkins Formation products do not suck, and that's true whether you're talking about the Wedge speaker spotlit here, the Bar (soundbar), the Duo (audiophile wireless bookshelves), or whatever you chose to pair with the $899 Formation Bass subwoofer.
This insanely easy-to-install system has a modern industrial design (with some mid-century overtones) in a small form factor that doesn't sound small at all. In fact, this pairing sounds like B&W speakers, complete with excellent imaging and controlled bass that any modern audiophile could love.

• SVS Prime Pinnacle Speakers ($799 to $899/pair) (Read our review)
We were in love with SVS's $2,000-per-pair floorstanding speakers in past years, because of course we were, but these new SVS Prime Pinnacle speakers, starting at $799 per pair, have us even more jazzed for SVS on the loudspeaker front. Equally at ease with music as well as movie soundtracks, the SVS Prime Pinnacles are winning over fans and fast, and that includes Greg Handy, who said in this review: "If you are in the market for a new pair of speakers, and you simply do not have the placement flexibility required to get the most out of so many other speakers, I highly suggest taking SVS up on their 45-day, risk-free audition offer. Be warned, however, that I suspect 99 percent of you who do so won't be sending them back."

• SVS SB-3000 Subwoofer ($1,000) (Read our review)
For those looking for a right-priced yet highly powerful sealed box subwoofer, the SVS SB-3000 is a perfect choice for so many music and home theater enthusiasts. Yes, if you want that "britches leg flapping in the wind" effect, you might look for the SB-3000's ported brother, but if you seek to strike a balance between the power of a meaningful SVS sub and the control of a sealed box, this might just be the sub for you. Greg Handy wrote: "If you're looking for state-of-the-art, high performing subwoofer, with small proportions and the qualities of a sealed enclosure, the SVS SB-3000 is worth every penny and more in my opinion."
• Polk Legend Series L100 Bookshelf Speakers ($1,199/pair) (Read our review)

Another 2019 HomeTheaterReview.com award winner that gets retro-style points is the Polk Legend L-100. A lot of design went into these small bookshelf speakers, from the Polk Pinnacle Tweeter to the Turbine Cone mid/bass driver, but the thing that really makes them tick is their Enhanced Power Port, which gives you rear-ported performance without rear-ported placement issues. These little suckers kick some serious butt, yet are still very easy to set up.
Dennis Burger said in his review, "Whether you're employing them alone as part of a stereo or 2.1 system, or perhaps as surrounds for a full Polk Legend Series surround sound setup, there's just no denying that this is one incredibly detailed, textural, and holographic speaker."
• Denon AVR-X4500H AV Receiver ($1,599) (Read our review)


Talk about the Goldilocks zone for AVRs! This Denon seems to have exactly the right amount of features and power for a very fair price. We know because, by a long margin, we see more and more HomeTheaterReview.com readers buying exactly this model via our Amazon.com affiliate links.
In fact, Dennis Burger made it the centerpiece of his AV Receiver Buyer's Guide, as it just seems to hit all of the right buttons in terms of what our readers are looking for. In his detailed standalone review, Dennis said of the AVR-X4500H: "It features plenty of HDMI ins, plenty enough speaker outputs for a full-fledged Atmos/DTS:X system without dipping into channel-overload territory, its HEOS multiroom and streaming audio platform is rock solid in my experience, and its support for advanced control systems is pretty freaking fantastic."
• Technics SU-G700 Stereo Integrated Amplifier ($2,499) (Read our review)

Perhaps no specialty audio/video endeavor in recent history has captured the retro-design feel of the past while so elegantly embracing technology from the future as has the recently relaunched Technics. This integrated amp, if paired with, say JBL's re-engineered and retro-tastic L100 Classic speakers (with orange egg crate grill cloth, of course), would make for one hell of a visual statement. It doesn't sound exactly like electronics from the 1970s – in fact, not at all. It simple evokes the look and feel, while taking advantage of decades of technological innovation since.
In his review, Andrew says, "it's been a long time since I've been this excited by an amplifier. But the SU-G700 doesn't excite me by what it brings to light in a large, bombastic fashion. No, the SU-G700 excites by how confidently it goes about doing its job without needing to shout about it. It's beautifully Zen, and I love it."
• Sennheiser Ambeo Soundbar ($2,495) (Read our review)

We know what you are thinking and we were thinking it too: how can a company known for headphones be any good at making a soundbar? It turns out, if that company is Sennheiser, they can be very good at it. This pricey soundbar was the darling of a fast-fading CES Show in early 2019 (fading at least for specialty AV, not driverless cars and Internet-of-things hair brushes or ping pong playing robots), and when we got our hands on the Ambeo it very much lived up to its hype. Bob Barrett opined, "No other soundbar that I've auditioned can deliver even close to the same low bass extension of the Sennheiser without adding a separate sub. And no other current soundbar reproduces Dolby Atmos soundtracks with the natural immersive quality or the same level of accuracy."

• Aperion Novus Speakers ($2,995 for a 5.0.2 system) (Read our review)
A good value always catches our attention, and Aperion Audio is a well-established leader in online speakers that don't simply rock, but do so at a very, very fair price. Their new Novus 5.0.2 speaker system is designed for the performance enthusiast who wants a great object-based surround sound setup that is commensurate with what today's mid-range and full-featured AV receivers cost.
Dylan Seeger concluded, "Every Novus speaker is well built, looks great, and offers excellent sound quality, all of which makes them easy to recommend before you even consider the value proposition the height speakers add."
• Marantz SR8012 AV Receiver ($2,999) (Read our review)


Many around here, including the boss, think Marantz makes some of the best sounding, best designed, most feature-laden AV receivers on the market, and the Marantz SR 8012 is pretty much the best example of that concept. The question isn't what this receiver has in terms of features, it's what features doesn't it have, which is impressive given that it's pushing two years on the market at this point.
The Marantz SR8012 even does a few things that its AV preamp brother, the Marantz AV8805, can't do, and that is pretty impressive for an AV receiver – even a relatively expensive one like this. Resident AV receiver guru Dennis Burger had this to say about the Marantz SR 8012: "the SR8012 is a step up from what most of you are buying these days, and its price reflects that. But we don't live in a one-size-fits-all world, and some of you simply need more in terms of power or channels. What's reassuring is that Marantz is able to deliver that without compromising in terms of fidelity, especially for those of you who do a lot of two-channel listening via your surround sound rigs."
Click over to Page Two to see the rest of this year's top picks…
• Focal Stellia Headphones ($2,995) (Read our review)
You would be hard pressed to find better-sounding, more comfortable headphones than the wired Focal Stellias. These French cans are about as close as you can come to true studio-grade headphones, with all of the bells and whistles that come with super-premium, audiophile-grade models.
Greg Handy said, "For those audiophiles with both the means and an unwillingness to settle for less than the absolute best in a circum-aural closed-back headphone, you need look no further than the Focal Stellia."
• Focal Aria 926 Speakers ($3,299/pair) (Read our review)


Focal makes some of the finest speakers in the world. Wilson Audio used their tweeters for years for the high end of their critically acclaimed speakers. Now, Focal is starting to offer speakers that more and more mainstream AV enthusiasts can afford. The Focal Aria 926 floorstandders are an excellent example of a speaker with gorgeous looks and performance that won't quit at a price that's just a little bit above average for a speaker in its class. Bob Barrett said, "If you are a fan of the Focal sound and your musical tastes run the likes of genres such as pop/rock, alternative, jazz, instrumental, or small ensemble classical, the Focal Aria 926 would be a great choice among speakers in their price range and even a bit higher".
• JBL L100 Classic Loudspeakers ($4,300 with stands) (Read our review)

You know the classic Maxell cassette tape ad from the 1980s with the dude being literally blown away by sound while sitting in that iconic Le Corbusier chair? The speakers causing all of that ruckus in that ad are the classic JBL L100s from the early 1970s. And now they're back. Well, kinda. These new speakers look just like those old JBLs, but have been fully redesigned for a new, much more demanding era of high performance AV. Andrew Robinson opines in his 5-star review: "A truly high-end loudspeaker with superb style and heritage; one that possesses no real esoteric or buzz-worthy features that yet manages to outright embarrass the competition."
• Tekton Designs Moab Loudspeakers ($4,500/pair) (Full review pending)

Shocking! The latest design from Eric Alexander's Tekton Design earns yet another HomeTheaterReview.com Best of Award. Why you ask? At $4,500, these speakers deliver the power, impact, presence and output of speakers costing as much as 10 times the price, and that is truly extreme value. The Moabs are for people with bigger rooms and the need to rock hard in a funky place, and if that's you, they might be your perfect speaker. Made and designed in America. Custom paint finishes. These speakers are simply world beaters. It used to cost you a lot more money to get world class speakers in custom colors from Provo, Utah. Things have changed.
• GoldenEar Triton One.R Speakers ($5,998/pair) (Read our review)

While not the absolute top of the line for GoldenEar, the Triton One.R replicates in many ways the performance and aesthetics of their Triton Reference speakers in a significantly more affordable and significantly more manageable form factor.
Ask those who really know about good speakers and they will tell you that you can tangle with speakers costing double or even triple and still end up picking the GoldenEars. Dennis Burger concluded, "True, the One.R isn't quite the revolution that the original One was. It's more like evolution–small, incremental improvements that, on their own, might not seem that huge, but that when combined result in an entirely new animal."
• JVC DLA-RS2000/DLA-NX7 Projector ($7,999) (Read our review)


D-ILA projectors make us feel all warm and tingly about video. The deep blacks remind us of the glory days plasma TVs, but with an image that can be easily double the width and honestly just better than anything any plasma could ever produce (people who own 15-year-old Pioneer KUROs can leave us hateful comments below). JVC's latest D-ILA video projectors now come with 4K resolution, which has been a needed feature slow to migrate to the realm of video projectors in this price range. After measuring, testingm and ultimately buying a DLA-RS2000 (also sold as the DLA-NX7 for the consumer market), Dylan said, "For those looking for one of the best performing projectors in the under-$10,000 market, you owe it to yourself to check out the RS2000."
• Revel PerformaBe Series F228Be Loudspeakers ($10,000/pair) (Read our review)

With a parent company like Harman behind them, Revel benefits in so many ways in terms of advanced speaker designs in the audiophile world. The Revel Performa series has been incredible value options for those that can't pop for their higher-end Ultima Studio2 ($16,000 per pair) or Ultima Salon2 ($24,000 per pair).
The latest top performer in the line comes in at a slightly more affordable $10,000 price tag, but unlike some earlier designs now rocks a Beryllium tweeter that appeals to many a discerning audiophile. Brian Kahn has reviewed a number of top contenders in this price range from the likes of Bowers & Wilkins, MartinLogan, and many others. He said about the F228Be: "The balance of coherent integration of the drivers, dynamic power delivery, and wide dispersion window work together to make for a performance that does a very good job at reproducing a wide variety of music."
• Bricasti M15 power amp ($12,000) (Read our review)

For those looking for an ultimate-performance power amp without quite spending ultimate-level money, we introduce to you the Bricasti M15. While $12,000 isn't chicken feed, this amp delivers on much of what the Bricasti $30,000 monoblocks do for a fraction of the price, with a a design team of all-stars, build quality that is second to none, and so much more. Terry London said in his review: "If you want a solid-state design that offers tube-like timbres, image density, and the effortless overall liquidity of tubes, with deep bass extension, transparency that lets the smallest details be heard, and sufficient power to drive any speaker with ease and control, the M15 Pro Series might be the amplifier you want for your system."
• Magico A3 Speakers ($12,300/pair) (Full review pending)

In the audiophile world, one could safely argue that there are no speakers built with more inert and uber-sexy cabinets than Magicos. These Northern California built and designed speakers have wooed audiophiles for years, but things are a little different now as the A3, in fact the A Series as a whole, represents the company's renewed dedication to surround sound, at prices far below the highly lauded (and commensurately expensive) S Series. The A2 is designed to deliver the absolute best in terms of resolution, dynamics, and imaging from the audiophile world, in a form factor that's perhaps a little more appropriate for your 4K streaming, Ultra HD Blu-ray movies, and video games. Game on.
• Paradigm Persona 5F Floorstanding Loudspeakers ($17,000/pair) (Read our review)

Paradigm speakers are the darlings of the AV enthusiast world. They rock hard for home theater and have equally well-rated performance for music. But the Persona line of speakers ventures into the lofty world of ultra-high-performance audiophile speakers where esoterica is the name of the game. And you know what? Paradigm is capable of producing fantastically finished, uber-high-end speaker as well as the more established players in the market and in many ways for less money (although quite a pretty penny at $17k per pair).
Myron Ho reviews and owns a number of speakers in this price category, and regarding the Paradigm Persona 5F's he said, "In the case of the Paradigm Persona 5F speakers, you are getting some of the best engineering the loudspeaker world knows with a fit and finish that you might expect from speakers costing twice the price." Kind praise, indeed.
• Vivid Audio Kaya 90 Speakers ($26,000/pair) (Read our review)

From the legendary designer of the Bowers & Wilkins Nautilus comes a whole new line of ultra-modern-looking uber-performance speakers designed to both visually and sonically impress. Completely bespoke driver and crossover designs are just a couple of the things that make this radical looking speaker such a sonic overachiever, with imaging and dynamics that can take on the best of the best. Brian Kahn said, "I've been doing high-end audio reviews for the last 20 years, and the Vivid Audio Kaya 90 is one of the most impressive products I have had the pleasure of reviewing. I will be very sad to see this pair go."
• D'agostino Progression Preamplifier ($22,000; $26,500 with the optional internal DAC) (Read our review)

From audiophile designer extraordinaire Dan D'agostino (founder of Krell), the Progression Preamp is a product designed for the highest-of-high-end consumers who seek no-holds-barred performance and are willing to pay for it. The good news is, the Progression Preamp delivers in spades, making its expense well worth it. It is almost cliché to comment on the steampunk industrial design of D'agostino products, but it's such a distinctive look that it draws in everyone who comes near. Brian Kahn said "It is going to be hard to find a stereo preamp that outperforms this one."
Subscribe To Home Theater Review

You'll automatically be entered in the HTR Sweepstakes, and get the hottest audio deals directly in your inbox.

© JRW Publishing Company, 2021
As an Amazon Associate we may earn from qualifying purchases.