I have to admit that, at some point toward the middle of writing my review of the Jabra Elite 75t, I sort of forgot about it. In a strange twist of fate, though, the resulting delay let me update my prior draft with a key new feature. When I first received these headphones, they only benefited from passive noise isolation to block out the sound of the outside world. As of the most recent firmware upgrade, though, both the Elite 75t and Elite Active 75t now feature active noise cancellation. Needless to say, that's not the sort of feature normally added by a download.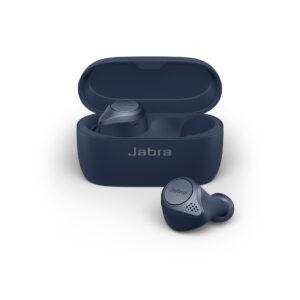 But before we dig into the particulars of that, perhaps I should back up to the beginning of the story of how I came to review both of these new true wireless earphones. It started when I attended CES 2020 and went by the Jabra booth, where I saw that they were replacing the 65t -- which I had been using with some regularity to that point -- with new models. The Jabra Elite 75t sells for $180 and the Elite Active 75t, will set you back $200. What sets the two models apart? Primarily the fact that the Elite Active 75t is more water resistant and has a grippier texture. This will be helpful if you are concerned about getting your earbuds sweaty and having them fall out. The Active version also has one more color choice. Otherwise, they appear to be the same.
Both models come with a charging case that is slightly smaller than the case for the previous model, but despite the downsizing, the new case provides an additional 20.5 hours of charge time. Add that to the 7.5 hours of juice held by the earpieces themselves and you have a total of 28 hours before you need to find a power outlet. Of course, as with any true wireless earphone, battery life is dependent on playback volume. At my preferred loudness levels, I was able to get over seven hours of usage out of a single charge but not quite 7.5.
Both of the Jabra 75t models have Bluetooth 5.0 with multi-point connectivity, allowing the Jabra's to be connected to two devices simultaneously. Why would you want to do this? You may be watching a movie or listening to music on one device but receive a call on another. Multipoint connectivity allows you to switch between the devices in this scenario without having to unpair and repair the connections.
Unlike many of its competitors in the true-wireless space, Jabra also sets itself apart by way of a full-featured app. Jabra leverages its relationship with its corporate parent, GN Sound -- which also makes hearing aids -- in some of the most distinctive features of the Sound+ app. Perhaps most noteworthy is that the app allows you to personally tune the sound with a series of beeps, or you can simply use the built-in equalizer to adjust the tuning to your preferences. Other functionality allows you to set up your digital assistant and amount of "HearThrough" (aka ambient noise pass-through), if any.
Both the Jabra Elite 75t and Elite 75t Active also come with a variety of tip sizes, and I selected the size that fit my ears best, I began my listening sessions.
"Deeper" by Pete Belasco (Tidal, Compendia Music Group) has been in heavy rotation at my house as of late, so I can say with confidence that and the factory set tuning of both Elite 75t models was a bit bass heavy, but would probably appeal to the many bass fanatics out there. I used the Jabra App to bring the bass down a bit to where there was only a slight boost. With this adjustment, the bass notes were relatively deep and clear. I say "relatively," as they were good for an in ear style headphone, but if I were to compare them to my Mr. Speakers over-ear cans or any other higher-end, over-ear headphone, they would fall short. The Jabra's did a good job with midrange, rendering Belasco's lead vocals and the female backup singers without any noticeable aberrations.
Pete Belasco - Deeper (Smooth Jazz Gold)
The Jabras did a respectable job reproducing the details that make the Eagle's "Hotel California" (Tidal, Warner Brothers) such a perennial favorite. While no speakers or headphones are perfect, it is important to note that sonic imperfections come in two forms: addition and subtraction. I rather have errors of omission, such as missing some resolution or extension, rather than dealing with egregious colorations. In the case of both Jabra 75t earphones, I'm happy to say that once I used the application to get them dialed in for my ears, they performed very well for their price without doing harm to the music. For example, the kick drums were reproduced with the proper weight and the vocals sounded natural, but some of the nuanced details that provide a sharply defined soundstage were not present.
Having used the prior generation Jabras for many dozens of hours of telephone and Zoom calls with the same group of people over the past few months, there were several people who noticed the improvement in sound quality of the microphones in the new units almost immediately. So if you use your true wireless earphones for conference calls or telecommuting, or even just a socially distant happy hour with friends on occasional, that's something to consider.
High Points
The Jabra Sound+ App provides lots of control and options to customize the performance to suit the end user.
The Jabra Elite 75t series is smaller than the Elite 65t series and the balance point is closer to the inside of the ear. This made them feel more comfortable and secure.
The Jabra Elite 75t and Elite 75t Active have longer-than-normal battery life of over seven hours per charge, with the case providing additional power for up to twenty-eight hours.
The recent addition of Active Noise Cancellation via a firmware update is both a nice feature and indicative of the company's desire to take care of its customers.
Low Points
The Jabra Elite 75t's multi-point connectivity was spotty at times, with devices not remaining connected. One device was not a problem, but sometimes the second device connection was not reliable.
Active Noise Cancellation while listening to music was not up to par with class leaders in this category. I was a bit surprised by this, as the Jabra Elite 65t and Elite 75t both do a great job with noise rejection on the microphones for telephone calls.
Competition and Comparison
The ($149, reviewed here) is one of the larger true wireless earphones out there, but it provides exceptional music quality and is worth trying out to see if it's a good fit for you.
The ($299, Generation One reviewed here, review of second generation coming soon) is also a bit on the large side but provides great sound quality. Unfortunately, battery life is on the short side and they lack active noise cancellation.
Lastly, the ubiquitous AirPod variants (both the bog-standard model and the AirPods Pro) provide excellent integration with the iOS devices and the newest variants are said to sound pretty good.
Final Thoughts
I think Jabra did a great job with their Elite 75t series, improving upon the already good Elite 65t series. I personally would opt for the Active version for the extra moisture protection, but you can't go wrong with either version. When I look for a true wireless earphone, I want something that is going to work well with music, movies, and phone calls alike while being comfortable and providing enough battery life to get me through my day without worrying about charging up.Both the Jabra Elite 75t and Elite Active 75t do all of this and more, making either of them a great choice.