By Dylan Seeger
JVC's DLA-NZ9 (also known as the DLA-RS4100 in some markets) is the company's newest flagship 8K D-ILA home theater projector. When compared to the DLA-NX9 we reviewed a few years ago, the NZ9 has been completely redesigned, with a slew of new features and upgraded hardware that improves both feature-set and image quality. And these enhancements are unquestionably required to justify the NZ9's new, much higher $25,999 asking price over the previous generation NX9.
One of the most significant changes to the NZ9 is a newly designed light engine based on JVC's Blu-Escent laser/phosphor light source, which JVC claims will last at least 20,000 hours before reaching half-brightness. JVC asserts that with the help of a new high contrast optical block and the continued use of the company's 100-millimeter all-glass lens, this projector can generate up to 3,000 lumens and also have a native contrast ratio of up to 100,000:1. Furthermore, JVC claims that this new high contrast optical block provides a significant increase in ANSI contrast performance, which has never been seen before in a consumer JVC home theater projector.
JVC also claims an infinite on/off contrast ratio by employing a newly designed laser dimming dynamic contrast system, which allows the laser to shut off completely when needed and replaces the dynamic iris found on previous-generation models. The NZ9 also retains REC2020 color gamut compatibility, with JVC claiming greater than 100% DCI-P3 gamut coverage via an optional color filter found in the light engine. Overall, the new optical system and light source upgrades represent a significant step forward for the company, designed to help make each part of the NZ9's image feel higher in dynamic range, which is useful in the era of HDR video.
Arguably an equally impressive upgrade that the NZ9 receives is a newly designed I/O board and updated video A newly designed I/O board and updated video processing, which includes a pair of full bandwidth, 48Gbps HDCP 2.3 compliant HDMI 2.1 ports, allow the projector to accept and display video signals up to 4K120p and 8K60p via the company's brand new e-ShiftX pixel-shifting technology.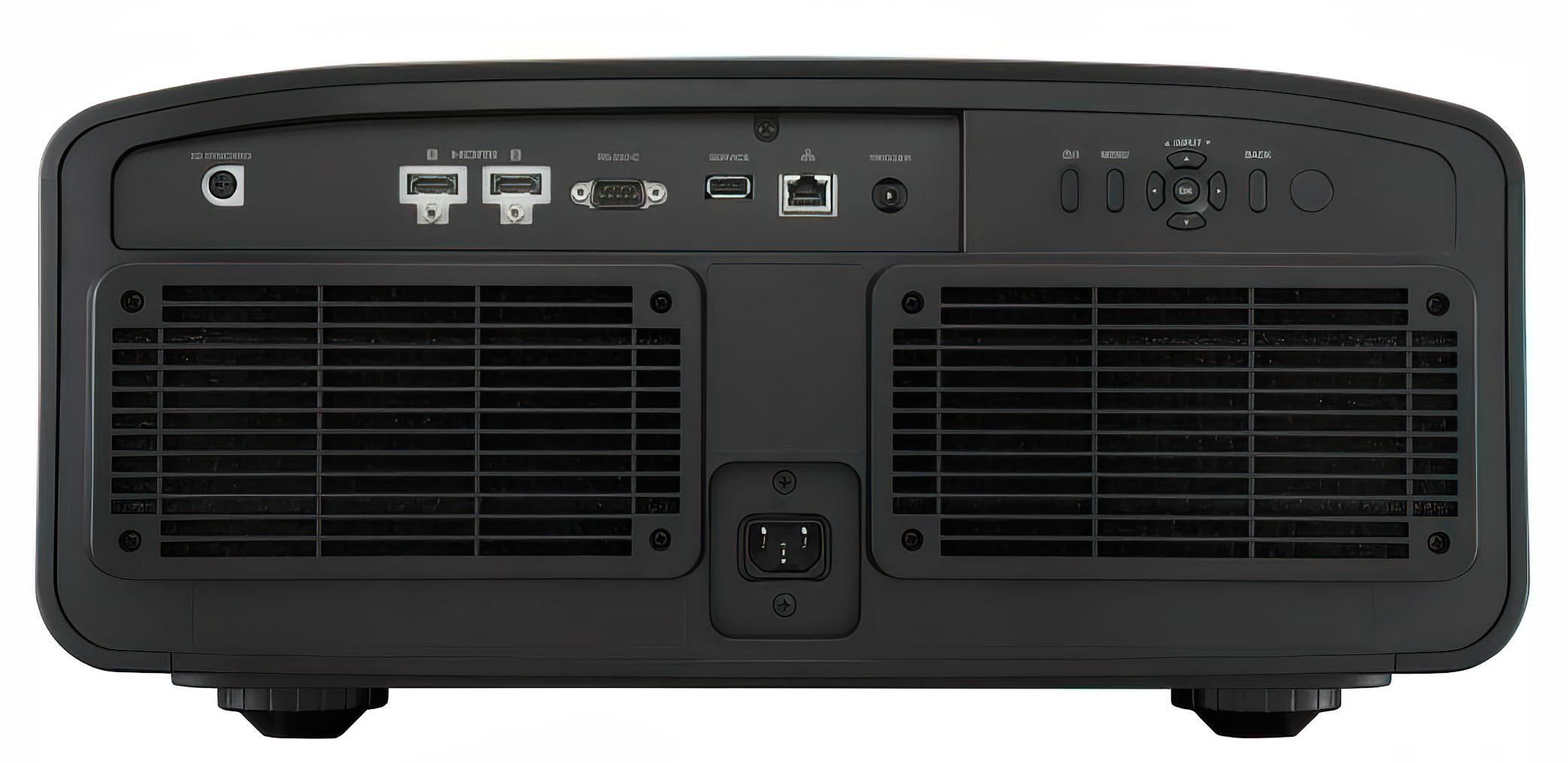 This new pixel-shifting technique makes use of an upgraded 240hz panel driver and optical actuator to quadruple the native 4K resolution provided by the NZ9's 0.69-inch DILA panels. In comparison to the NX9's previous e-Shift system, which could only double 4K resolution to try to represent an 8K image on the screen, JVC claims e-ShiftX provides more precise control and accuracy to deliver an image that approaches that of a native 8K imaging device.

Other than a few small caveats, I found the above claims to be true in my testing with various native 8K single-pixel test patterns. The sheer amount of image information on-screen, over 30 million pixels worth, is seriously impressive and something only JVC is currently able to provide consumers in the home theater projection space.
Rounding out the notable upgrades this generation sees is a newly designed Clear Motion Drive smooth motion frame interpolation algorithm useful for sports and games, HDR10+ support allowing the projector to more accurately tonemap and display the image, a lower input lag Low Latency mode for a better gaming experience, faster HDMI-sync times, and lower operating noise thanks to more efficient cooling.
---
Features (descriptions provided by JVC)
World first projector to support high-resolution 8K signal input: 8K60p/4K120p
Light source: BLU-Escent laser
Display resolution: 8192 x 4320 (with 8K/e-shiftX)
Input connectors: HDMI x 2 (48 Gbps/HDCP 2.3)
Output and control connectors: RS-232C (D-sub 9pin) x 1, LAN (RJ-45) x 1, Trigger x 1 (Mini jack), 3D Sync x 1 (Mini-DIN 3pin)
3D formats: Frame Packing, Side-by-Side (Half), and Top & Bottom
JVC proprietary 8K/e-shiftX technology with 4-direction shift reproduces 8K-quality image
0.69-inch 4K D-ILA (4096 x 2160) device x 3
18-element, 16-group all-glass 100mm diameter high-quality lens
Ultra-High Contrast Optics with BLU-Escent laser light source contributes for optical brightness of 3,000 lumens and longevity of 20,000 hours
Multiple Pixel Control image processor accurately reproduces images closer to the original
Infinity:1 Dynamic Contrast Ratio; 100,000:1 Native Contrast Ratio
Cinema Filter (DCI-P3) creates saturated, beautiful images that come to life
Compatible with the two dynamic tone mappings of HDR10+ content and Frame Adapt HDR with Theatre Optimizer*; together, the projector expresses HDR/HDR10+ content at optimum brightness and darkness in each scene as the creator intended.
The projector automatically reproduces HDR10+ content based on the metadata of the producers intentions for each scene.
Frame Adapt HDR with Theatre Optimizer performs tone mapping according to the input signal of the content, as well as the installation environment and/or usage conditions of the projector.
Installation Mode with 10 memories is ideal for applications such as ultra-wide screen, where multiple aspect ratios are needed. Focus, Zoom, Shift, Pixel Adjust, Anamorphic Scaling and more can be saved independently for each memory.
Compensation accuracy of Clear Motion Drive improved in the periphery of objects. Added with Motion Enhance technology, the projector can reproduce much smoother moving 4K images (function disabled when inputting 4K120p signals).
Low Latency Mode suppresses display delay for faster response when receiving signals from PC and game consoles
Color Management System with 6-axis Matrix
Auto-Calibration Function using an optical sensor** is capable of optimizing essential elements in the image, including color balance, gamma characteristics, color space and color tracking
ISF C3 (Certified Calibration Controls) mode*** to reproduce excellent picture quality optimized for specific environments.
Wireless transmission options for 3D viewing: RF (radio frequency) system transmission with PK-AG3 3D Glasses for 100H continuous operation and PK-EM2 3D Synchro Emitter
Click here to see full technical specifications
---
Setup
Physically, the NZ9 looks much the same as the last-generation NX9. However, the new hardware internally has upped the net weight of the projector to 55.8 pounds. You'll definitely want an extra set of hands at the ready when you go to set up the projector.
For connections, the NZ9 offers the aforementioned pair of full-bandwidth HDMI 2.1 ports, an RS-232 and RJ-45 ethernet port for system control and network IP functionality, a single 12-volt trigger, a single USB type-A port to power connected devices or to update software, and a 3-pin DIN port to attach a 3D-emitter. JVC does not include any 3D hardware in the box, so be sure to pick up JVC's PK-EM2 emitter and PK-AG3 3D glasses if you plan on watching 3D movies with the projector.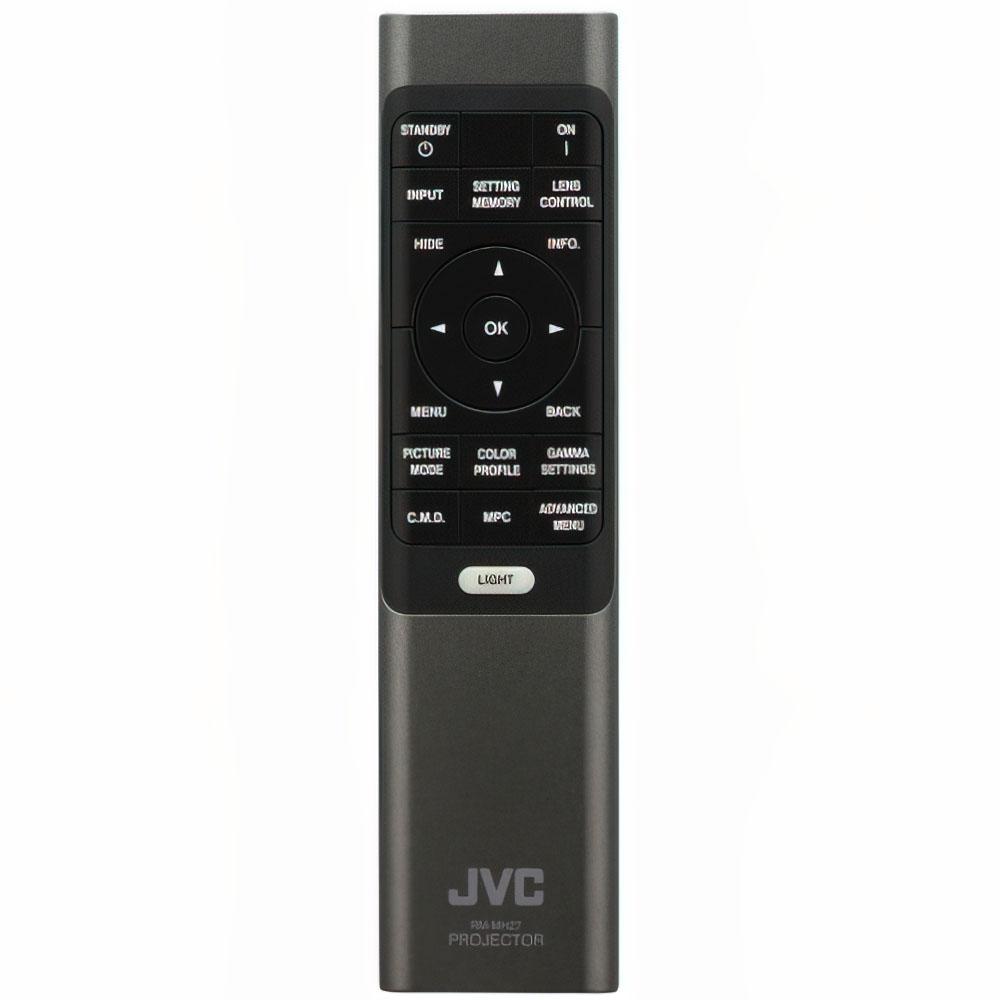 As before, the fully motorized 100-millimeter premium all-glass lens provides excellent installation flexibility. Owners will be happy to see a wide throw ratio of 1.35 to 2.70:1, with up to ±100 percent vertical and ±43 percent horizontal lens shift. This allows the NZ9 to be placed in a variety of locations with enough adjustment available to still fill your entire screen with an image. Convergence was good on my review sample, with the lens offering a tight enough focus to easily make out individual pixels across the whole image. Simply put, this is one of the best lenses found in any home theater projector selling today and adds an impressive sense of clarity and natural sharpness to the image few projectors can match.
JVC still allows up to 10 different lens settings to be saved to memory, making it easy to switch between different aspect ratios on a scope screen with the press of a button. Alternatively, those looking to pair the NZ9 with an anamorphic lens instead shouldn't run into any problems. Traditional 1.33x horizontal expansion lenses, vertical compression lenses, and specialty Panamorph DCR-series lenses are all supported by the projector, with appropriate scaling modes for each.
If you've used a JVC projector in the past, you'll feel right at home inside the menu system of the NZ9. The menu structure and options within it remain much the same, with NZ9 offering the same extensive white balance, color, and gamma controls useful for those who like to fine-tune to the image or have a professional come out and calibrate your projector.
Out-of-the-box, the NZ9 is set to automatically detect the type of video being sent to the projector, be it SDR, HDR, or 3D, and will automatically change certain picture settings, like the laser output level and color profile for instance, to best suit the type of content being sent. During my testing, I discovered that this automation worked well overall, particularly when I took the time to configure the projector's Theater Optimizer submenu, which allows you to tell the projector what type of screen you have and how big it is. After setting this up, I found it made a noticeable difference in how the projector's Frame Adapt HDR dynamic tonemapping software looked on-screen. The image appeared brighter, with an even greater sense of dynamic range than before. Because of how automated the NZ9 is, even inexperienced projector owners should be able to use it with ease, without having to frequently go beyond the default settings to get a great-looking image.
I found that the Natural picture mode preset was the most accurate out-of-the-box, with delta errors for color, gamma, and greyscale measurements all averaging below 2.5. This is reference-level image accuracy, without the need for further calibration. That is, until the projector has quite a few more operating hours under its belt.
Other useful menu items owners should be aware of that can further customize the experience are the iris and laser output level controls to improve contrast and set light output capabilities, two laser dimming dynamic contrast modes to choose from, smooth motion frame interpolation software, JVC's MPC image refinement engine, digital masking functionality, custom EDID modes for troubleshooting HDMI related connectivity issues, and a whole slew of menu options to fine-tune how the projector tone maps HDR video.
---
Performance
Even compared to last generation's NX9, what I'm seeing on-screen feels like an upgrade in a lot of ways. In my testing, the NZ9 was impressively bright when it needed to be, with its image simply popping off my 120-inch 2.35:1 Stewart Studiotek 100 screen in a way I haven't seen a JVC projector do before. This extra brightness really helped HDR video truly appear high in dynamic range, something most home theater projectors I review struggle with.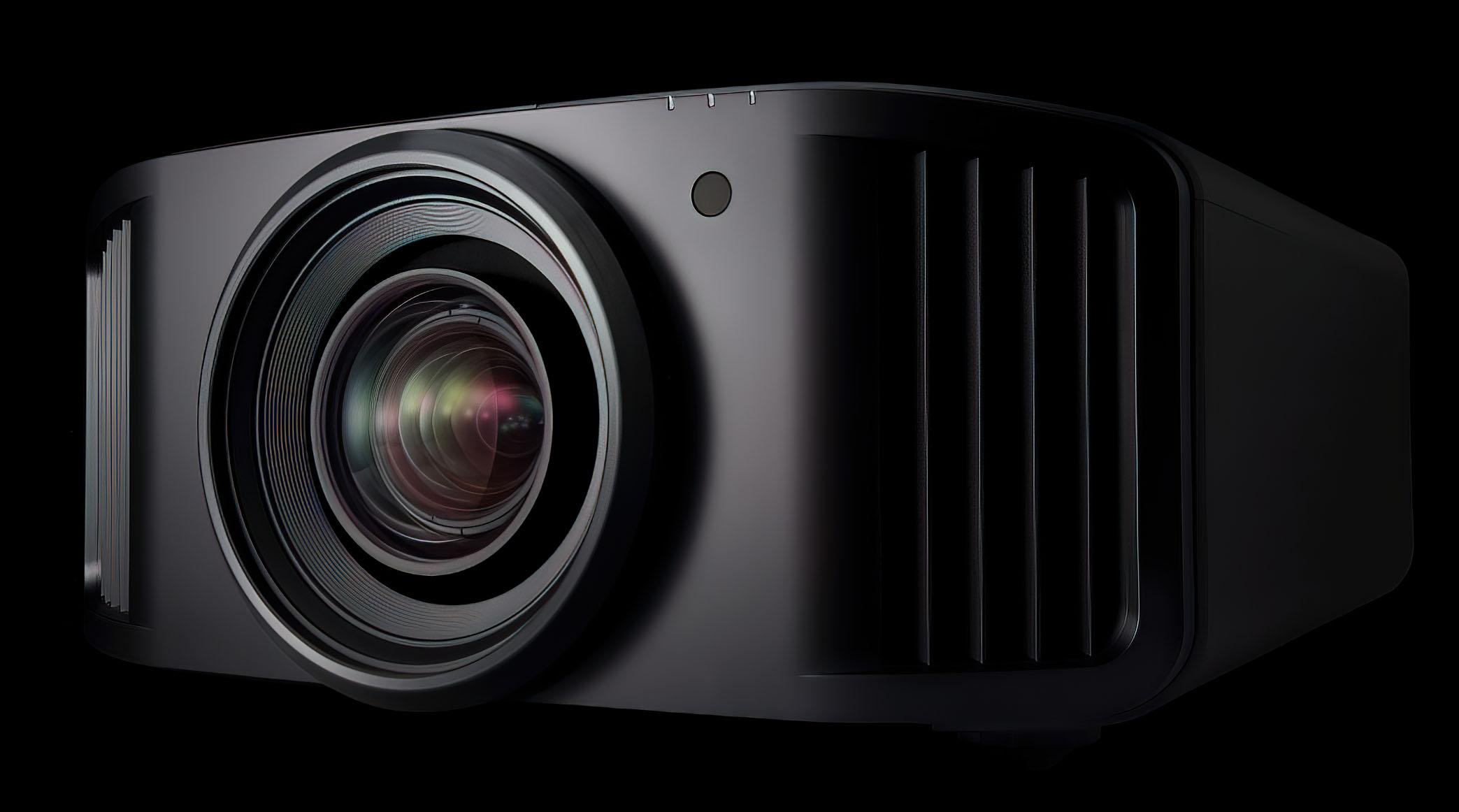 With the protector installed in the exact same spot where my NX9 once sat, measurements confirmed what I was seeing with my eyes. The NZ9 was giving me an image twice as bright—which was surprising to see considering that JVC is only claiming about a 25 percent brightness increase over the NX9. When set up to maximize light output (DCI-P3 color filter disabled, irises open, and with the lens at maximum zoom), I measured the highest obtainable brightness after calibration to be 3,020 lumens, which is right in line with JVC's claims on light output. This high level of light output, combined with the long-lasting laser, makes the NZ9 ideal for larger-sized projection screens or for those looking for some of the brightness, high-contrast HDR imagery available today from a projector.
Despite this impressive light output, something that normally makes achieving high contrast in a projector difficult, the image always appeared to have an impressive sense of dynamic range and contrast when it needed to, with the black floor dark enough to appear as true-black, even when mixed bright and dark elements appeared on screen at the same time. This used to be one of those areas I thought previous generation JVC models struggled with, especially compared to some competing DLP and SXRD projector models near this price point, where the older JVCs had a tendency to appear slightly washed out by comparison.
This improved intra-scene contrast performance made dark movie scenes, in particular, an absolute treat to watch through the NZ9, with performance approaching OLED in a subjective way. I found myself rewatching all of the darkest movies I own, including torture titles like the last few Harry Potter films, all of which looked as good as I've seen through any projector that I've had here to date. Shadow detail, in particular, has improved in a noticeable way. This is no doubt thanks to the new high contrast optical block JVC is using, allowing for a darker black floor to be rendered by the NZ9, even in these tough movie sequences.
JVC has also implemented a well-behaved laser dimming dynamic contrast system that isn't particularly distracting, at least when using Mode 1. You'll be happy to hear that it does convincing fade-to-blacks most of the time (though it does not shut off the laser completely for true-black like JVC claims) and does a great job improving how dark the level of black appears within the image. Mode 2 seems to be more aggressive and noticeable in its operation, so unless JVC updates the software for it, I don't recommend using it.
Despite it not being quite as aggressive as Mode 2, Mode 1 was still able to take this NZ9's class-leading native on/off contrast ratio of 32,120:1, all the way up to a 460,200:1 dynamic on/off contrast ratio. These measurements were obtained with the iris system fully open and with the lens at the telephoto end of its zoom range.
For best results, I found it important to ensure that the projector was set up to output as much light as possible when using the laser dimming software. That meant High laser mode, disabling the DCI-P3 color filter (Color Profile BT.2020 (Normal) for HDR or REC709 for SDR), and setting the iris system to its most open position. Without the extra brightness, I found brighter objects in dark movie scenes looked less vibrant than they should have, often giving me a sense of less impressive contrast within the image. I feel that at most screen sizes, setting the projector up like this will be important to get the most impressive overall picture quality. For those who dislike dynamic contrast systems, the NZ9's iris system can be used instead, until a nice balance between image brightness and black level is struck.
Color performance from the NZ9 is still very competitive near this price point, especially if you opt to use the DCI-P3 color filter. My test unit measured 89 percent coverage of the DCI-P3 color gamut within the REC2020 triangle without the optional color filter in place and 101 percent with it in place. However, there was a large 30 percent drop in light output when using the filter, which is why I don't recommend people using it, that is unless you have a smaller-sized screen or one with lots of gain.
I tested out the recently remastered version of The Matrix on Ultra HD Blu-ray, a reference title known for its deep shades of green encoded into the video. Despite them not looking quite as deeply saturated as I've seen from a few single-chip DLP projectors that use direct-laser light sources, they still stood out distinctly greener than other parts of the image, providing a good sense of dynamic range in color, even when I wasn't using the color filter. Overall, I think JVC has done an excellent job at balancing the native level of brightness, color, and contrast performance with this new light engine, while still giving you optional ways to enhance each of these on their own if desired.
While I'm told the software for the NZ9's Frame Adapt HDR video processing remains largely the same as we saw with the last generation, the extra brightness the NZ9 possesses seemed to compliment this software more, giving way to an image that felt brighter overall, with more punch and natural-looking color. Once I set up the Theater Optimizer submenu, I found that the default settings did a great job most of the time. On a few occasions, I thought the video still appeared a little too dark overall for my taste, but that was easily fixed each time by changing the Picture Tone setting to +1.
Compared to competing for built-in HDR video processing solutions from the likes of Sony, Epson, and LG, JVC's Frame Adapt HDR continually does a much better job at handling a wide variety of HDR10 (and now HDR10+) video sources compared to these other brands. Consider this software as an additional value proposition that these competing brands don't currently offer.
I was excited to see how much of an improvement 8K e-ShiftX made to the image. JVC told me that the NZ9 is using a new upscaling algorithm for this generation. And that's important considering that most of the video you'll be watching will still be 4K, which will need to be upscaled to 8K when using e-ShiftX. In my testing, I found this new pixel-shifting technique did add a small, but noticeable uptick in apparent resolution on well-mastered 4K titles like Mortal Engines and Midsommar. But beyond titles like these, it was more difficult to spot differences in resolution.
Test patterns, however, revealed excellent results overall, proving that e-ShiftX does a more competent job at displaying native 8K imagery than some of my test videos would indicate. When quality native 8K video content does start to appear, the NZ9 will be ready to display it well. Until then, I think the greatest asset of having 8K resolution will be for gaming, with PCs and the newest consoles already supporting this resolution.
With that in mind, I purchased an Nvidia RTX 3070 Ti to test out some of the gaming and HDMI 2.1 capabilities the NZ9 has. I found that gaming at 4K120p on titles like Team Fortress 2 made for a far more enjoyable gaming experience in my theater, giving me a distinct advantage in aiming and being able to dodge enemy fire at a better rate than I normally would on a 60hz display. You'll need a very beefy graphics card to run games at 8K resolution, but I did manage to get some older titles to run at this resolution, like SoulCalibur VI, and found the sheer resolution of the image extremely impressive. I was also happy to see that input lag in both of these modes was low enough for me to have an enjoyable gaming experience.
---
The Downside
The only real complaint I have with the NZ9 is that it can't resolve full chroma resolution with some of its video processing features enabled. While this isn't terribly important to have, even with Ultra HD Blu-ray titles, as the video files themselves aren't encoded with full chroma resolution, deficiencies can still be seen on rare occasions. I found that subtitles or other objects on-screen that required sharp-looking edges didn't always look fully resolved and appropriately sharp. That's to say, this type of content can appear more rounded off than flat and sharp as it should appear.
It is possible to get full chroma resolution back by enabling this projector's Low Latency processing mode. But this means you won't be able to use the laser dimming dynamic contrast system or the NZ9's Clear Motion Drive smooth motion frame interpolation software, with the former being pretty important, in my opinion, to get the most impressive overall image quality out of this projector.
The NX9, by contrast, was able to provide full chroma resolution with its dynamic contrast system enabled as long as you were feeding the projector an 8-bit video signal. It would be nice to see JVC find a way to give us at least that functionality back.
---
Comparisons and Competition
I'd have to say the NZ9's closest competitors are the company's remaining 2022 lineup of DILA projectors. The JVC NZ8, specifically, has similar performance and features compared to its big brother but comes in at a considerably lower price point of $15,999.
You do lose out on the 100-millimeter lens and the NZ8 lacks the hand-picked parts found in the NZ9. I haven't tested the NZ8 out yet, so I can't say for sure how close or far apart these two projectors are from one another. But historically speaking, the tier in which the NZ8 sits usually offers more bang for the buck. If you want that last bit of performance the NZ9 offers, you're going to have to pay dearly for it.
If you're thinking about going with a different brand, check out Sony's VPL-VW1025ES. It's going to offer the most competitive image and features to the NZ9. But at $40,000, it's considerably more expensive and lacks several noteworthy features the NZ9 has, like HDMI 2.1, 8K resolution, and a high-performance dynamic tonemapping solution, among other things. When you consider all of this, the VW1025ES makes the NZ9 look like a great value at its asking price.
---
Conclusion
Refined performance does not come cheap. Yes, with the NZ9 the price has gone up dramatically versus its predecessor. But I think it's clear, JVC has raised the bar yet again by offering improved performance and features, even compared to last generation's NX9. This JVC is a clear Editor's Choice for a flagship-class home theater projector.

With its long-lasting laser light source, 8K resolution, and HDMI 2.1 capabilities—making the projector great for both movies and games—the NZ9 feels like the epitome of a future-proof purchase, one that I myself am contemplating at this very moment.
---