By Dylan Seeger
JVC's brand new DLA-RS1100 joins the company's 2022 lineup of D-ILA home theater projectors. Priced at $6,999, the RS1100 (also known as the DLA-NP5 in some markets) is JVC's most affordable native 4K option at the moment, but that doesn't mean it skimps on performance. In fact, it shares a lot of the same hardware and software features found on the company's flagship DLA-RS4100 (also known as the DLA-NZ9 in some markets) I reviewed earlier this year, which I definitely think elevates this projector's value proposition at its price point.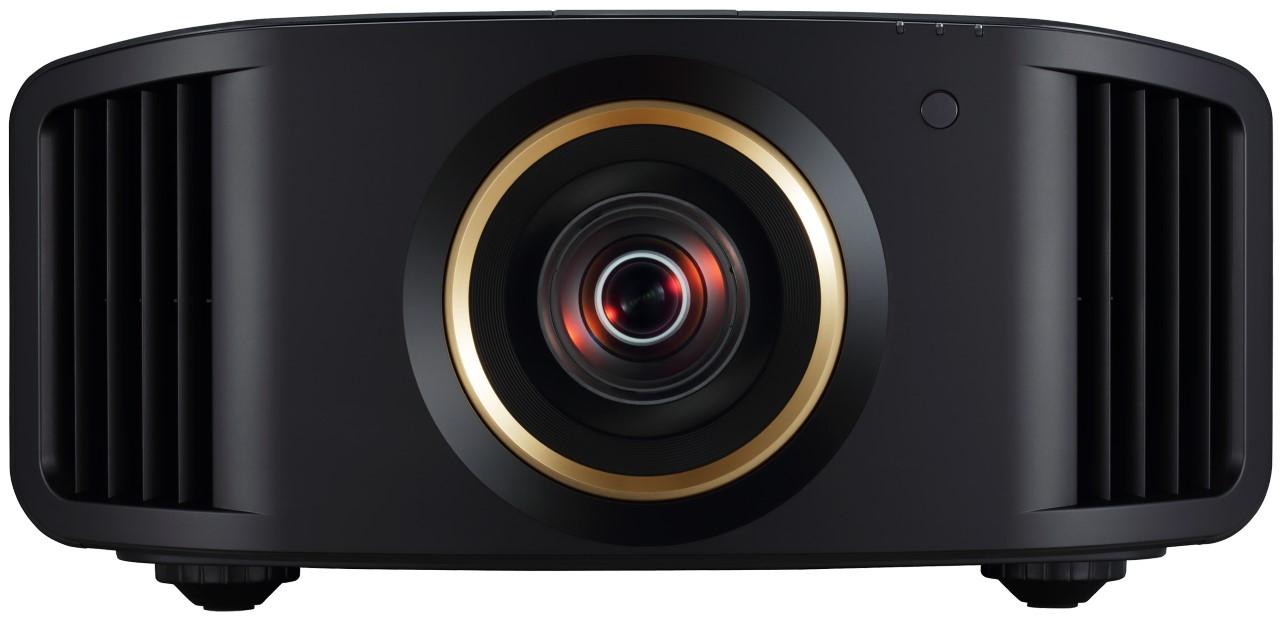 Compared to the last generation, the JVC RS1000, the RS1100 sees several noteworthy upgrades. According to the company, light output has increased. The new specified output is bumped to 1,900 ANSI lumens, a gain of 100 lumens. Meanwhile, the new model retains a claimed 40,000:1 native and 400,000:1 dynamic contrast ratio.
The modest increase in light output should give the RS1100 a little more legroom to drive slightly larger screen sizes over the last-gen model. The only caveat here is that, unlike JVC's higher priced models, the RS1100 is still using a lamp instead of a laser light source. So, owners should expect to swap out lamps every few thousand hours to restore the projector's original level of light output.
HDMI 2.1 Increases Input Options
One of the more exciting upgrades for the RS1100 is a new HDMI 2.1 input board, which opens up new connectivity options not seen on prior models. The RS1100 can now accept and display signals up to 4K/120p, a feature important for gamers who own high-end PCs since it offers lower latency, smoother motion, and higher motion resolution. The latest gaming consoles from Sony and Microsoft also offer this type of high frame rate video output.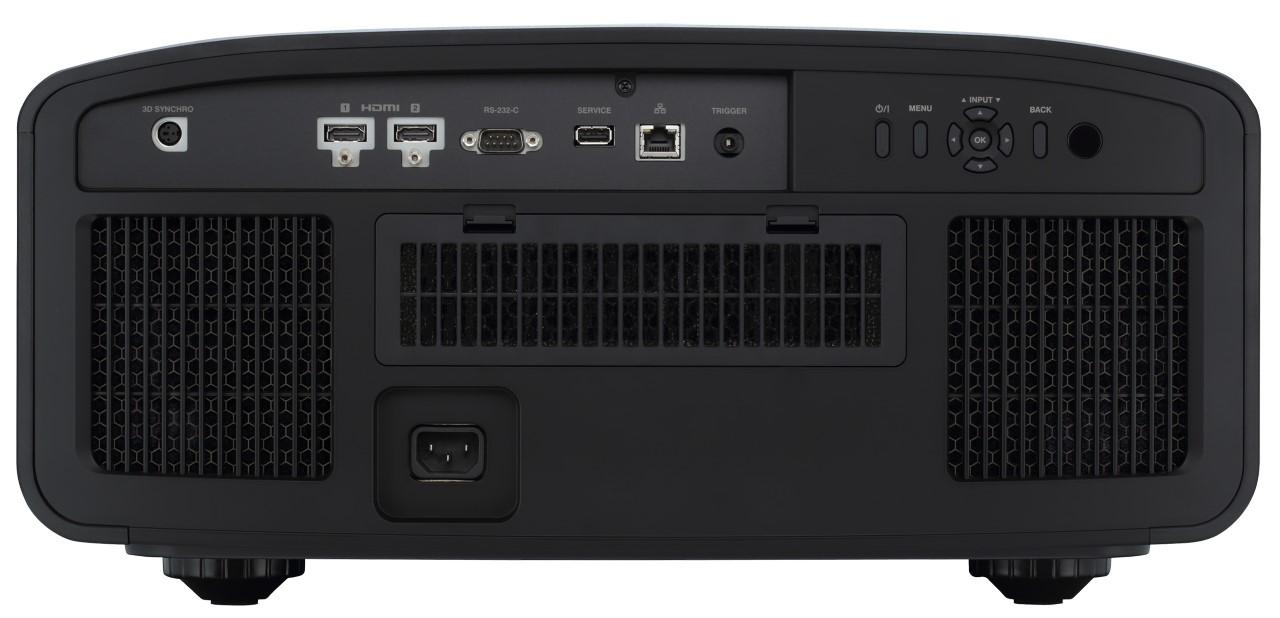 Thanks to improved video processing, JVC keeps input lag with both 1080p and 4K 120p inputs below 25 milliseconds, when using the projector's Low Latency image processing mode. This means gamers can not only expect extremely smooth and stutter-free motion, but also the time it takes actions from button presses on your keyboard or controller to show up on-screen happen quicker, giving gamers a competitive advantage with certain types of fast-paced games.
Other improvements to the video processing solution include a newly designed Clear Motion Drive creative frame interpolation algorithm useful for fast motion video like sports and video games, vastly improved HDMI sync times, improved video upscaling, and refinements to the projector's Frame Adapt HDR dynamic tonemapping solution which greatly improves image quality with HDR10 video sources.

Unlike other competing brands, the RS1100 still supports all major 3D formats, including frame-packed 3D, as you'll find on Blu-ray discs.
All-in-all, JVC has made several generational improvements for the RS1100 that not only make it a far more future-proof purchase over its predecessor, but they've also made refinements to the light engine and video processing resulting in improved image quality. All of this helps justify the new, higher price point of $6999, which is where the company's native 4K base (re)model now sits.
---
Setup
The RS1100 is using the same 65-millimeter, fully motorized all-glass lens as the previous generation model. And that's a good thing because it offers an excellent level of control over the image it throws thanks to its wide 1.40 to 2.8:1 throw ratio and up to +/-34 percent horizontal and +/-80 percent vertical lens shift. This gives the RS1100 excellent placement flexibility, allowing owners to install the projector in a variety of locations and still have enough adjustment to fill up the entire screen with an image.
JVC carries over support for up to 10 different lens settings to be saved to memory, making it easy to switch between different aspect ratios on a scope screen with the press of a button. Alternatively, those looking to pair the RS1100 with an anamorphic lens instead shouldn't run into any problems. The projector supports traditional 1.33x horizontal expansion lenses, vertical compression lenses, and specialty Panamorph DCR-series lenses, with appropriate scaling modes for each.
Connection-wise, the RS1100 offers the aforementioned pair of full-bandwidth HDMI 2.1 ports, an RS-232 and RJ-45 ethernet port for system control and network IP functionality, a single 12-volt trigger, a single USB Type-A port to power connected devices or to update software, and a 3-pin DIN port to attach a 3D-emitter. JVC does not include any 3D hardware in the box, so be sure to pick up JVC's PK-EM2 emitter and PK-AG3 3D glasses if you plan on watching 3D movies with the projector.
The RS1100 features JVC's familiar and intuitive menu system with most options within it carrying over from the previous generation. Owners will find extensive white balance, color, and gamma controls useful for those who like to fine-tune the image and offer enough control for a reference level calibration should you hire a professional to calibrate the projector.
As with all models from JVC this year, the RS1100 is set to automatically detect the type of video being sent to the projector, be it SDR, HDR, or 3D and will automatically change certain picture settings, like the lamp setting and color profile for instance, to best suit the type of content being sent. In my testing, I found this automation worked well overall, especially when I took the time to set up the projector's Theater Optimizer submenu, which allows you to tell the projector the type of screen you have and how large it is.
After setting this up, I found it made a noticeable difference in how the projector's Frame Adapt HDR dynamic tonemapping software looked on-screen. The image appeared brighter, with an even greater sense of dynamic range than before. Even novice projector owners should be able to use the RS1100 with ease, without the need to venture past the default settings often to get a great-looking image.
Other useful menu items owners should be aware of that can further customize the experience are the iris and lamp output controls to improve contrast and set light output capabilities, two dynamic contrast modes to choose from, smooth motion frame interpolation software, JVC's MPC image refinement engine, digital masking functionality, custom EDID modes for troubleshooting HDMI related connectivity issues, and a whole slew of menu options to fine-tune how the projector tonemaps HDR video.
You'll find four picture preset modes to choose from. For the most accurate image out-of-the-box, owners will want to choose the Natural picture preset mode which will give them the best opportunity to see movies and TV shows how they're meant to be seen.
After a quick calibration, the RS1100 offered reference level image accuracy, with delta errors for both color and white balance averaging below 3, which is the detectable threshold for errors as far as human vision is concerned. The only hiccup I found was that for gamma to match the reference 2.2 used to grade most SDR videos, the 2.4 setting found in the menu system needed to be selected.
---
Performance
The great thing about the RS1100 is that it offers excellent video performance in nearly every facet that makes up its image. I tested a lot of video content while it was here, including HDR and SDR video sourced from Netflix, Disney+, Blu-ray, and UltraHD Blu-ray and I was thoroughly impressed with what I saw, with RS1100 offering the kind of high-end image quality I've come to expect from JVC.
The image always seemed to possess an excellent sense of dynamic range, with nicely saturated colors when required. Black levels were consistently inky deep no matter what was being played back. And thanks to top-tier video processing, great lens quality, and native 4K resolution, the RS1100 offers impressive image sharpness. Subjectively, it doesn't get much better than this near this price point. If you're playing back high-quality source material through the RS1100, you're going to be in for a real treat. If we take a look at the measured performance, it's easy to see why this is.
Out-of-the-box, I found that Natural mode, with the D6500 white balance preset enabled, offered the most accurate image, so I chose that as a starting point for calibration. If you opt for the projectors High Bright white balance mode, I measured 2085 lumens of light output, more than the 1,900 specified by JVC. But this mode puts a very distinct green cast over the image that's not very appealing for most video content. So unless you need the extra brightness, I wouldn't recommend using this mode.
Switching over to the far more ideal 6500K preset, after a full calibration, I found my review unit was able to output a max of 1,613 lumens. Seeing how this is JVC's entry-level model, I was expecting to see reduced light output over the company's more premium, laser-based models, which offer several hundred lumens more. Even still, with this much light output, owners can drive moderate-sized projection screens up to around 140-inches with ease, or possibly larger if your screen has positive gain.
Contrast performance, on the other hand, has seen a major jump forward in performance compared to previous generation base model JVC projectors that I've tested. With the lens set to minimum zoom, the iris in the lens fully open, and the lamp settings set to High mode, I measured a native on/off contrast ratio of 31,850:1. This puts the RS1100 in the same league as the RS4100 I reviewed earlier this year. Near the RS1100's price point, you're not going to find anything anywhere close to this level of on/off contrast. If you watch a lot of dark movie content, like sci-fi or horror films, for instance, you're going to love what you see. Blacks are incredibly deep and immensely satisfying in a way few other home theater projectors can match.
Owners also have access to the manual and dynamic iris controls that can further enhance contrast performance from the RS1100. But because HDR video requires lots of brightness to do this high dynamic range format justice, I wouldn't recommend using the manual iris controls unless you're projecting onto a particularly small screen. If you choose to close down the iris, you can easily hit the specified 40:000:1 native on/off contrast ratio, but with it comes a hit in light output, which is why I don't recommend it for most setup scenarios.
The dynamic iris modes, on the other hand, are definitely worth checking out and dramatically deepen the level of black when a movie or show gets dark. You get the best of both worlds with it engaged. Brighter scenes open up the iris to allow more light to hit your screen and with darker scenes, the iris closes to enhance the black level and contrast further.
With Auto 2 mode engaged, I measured a peak 245,265:1 dynamic on/off contrast ratio. While the dynamic iris isn't as quick for fade-to-black moments compared to JVC's laser dimming found on the more premium models from the company, overall it does a really good job at not being noticeable or distracting while watching a movie and is one of very few dynamic contrast systems found in home theater projectors I actually recommend people to use if enhanced contrast is something they're after.
Color performance is also exemplary on the RS1100. After calibration, I measured 91.1% coverage of the DCI-P3 color gamut within the REC2020 triangle. This is excellent, class-leading color performance, especially for a projector still using a lamp. Checking out titles that go ham on deep, saturated colors, like those found on the UltraHD Blu-ray version of Inside Out and the recently remastered version of The Matrix, it was easy to see the extended dynamic range in color the RS1100 possesses. Colors appear intense, vibrant, and deep when required. What's more impressive is that no color filter is required to be able to reach this level of color performance, which means you don't have to sacrifice light output in order to reap the rewards.
As noted earlier, one of the main driving forces behind excellent HDR image quality through the RS1100 is the projector's built-in real-time dynamic tonemapping solution that JVC calls Frame Adapt HDR. This processing technique can analyze every frame and adjust the image to help take full advantage of all the dynamic range the projector's light engine possesses. Unlike the static tonemapping approach used by competing brands like Epson and Sony, JVC is able to provide not only an image that appears brighter overall, but you also get better shadow detail, more detail in bright highlights, and colors that appear more natural in tone, often giving way to more accurate skin tones.
So while the RS1100 may cost more than some of its competitors, remember that you'll need to spend thousands of dollars on an outboard video processing solution from Lumagen or madVR in order to add this type of processing to those projectors. At the end of the day, Frame Adapt HDR really made a huge difference with all of the HDR10 video sources I tested and gave the image a more premium look compared to how these competing brands' built-in HDR video processing handled the same content.
Gaming on the RS1100 was also a lot of fun. I spent most of my gaming sessions playing Final Fantasy VII Remake and Star Wars: Fallen Order with my custom-built gaming PC featuring an RTX 3070 Ti. Despite using the projector's Low Latency image processing mode for reduced input lag, which lowers the render quality of the image for lower processing latency, image quality didn't seem to take a hit compared to what I was seeing with movies and TV shows with the normal video processing mode engaged. However, input lag was obviously better in this mode, under 25 milliseconds, and made for a much more responsive gaming experience.
What's more, native motion handling seems to have improved compared to the last generation models, as well. There's less noticeable blur added into the moving image and the 120hz input option is just icing on the cake. Motion was buttery smooth on these titles outputting at 4K120p from my PC and greatly enhanced my theater's gaming experience. If you're eyeing this projector to double for gaming duties, I think you're really going to like what you see.
The Downside
The RS1100 is the only native 4K model in JVC's lineup this year that still uses bulb-based illumination. This may be a letdown for some who were hoping to see a laser light source at this price point, especially when you consider that competition from Epson and Sony this year now offers laser light sources at an even lower price point than the RS1100.
---
Comparisons and Competition
Around the RS1100's price point, Epson's EH-LS12000 ($4,999) and Sony VPL-XW5000 ($5,999) come to mind as its closest competitors. The biggest determining factor for which model you ultimately decide upon—other than your budget—will likely be the size and gain of the screen you're pairing with the projector.
While the RS1100 will have a distinct advantage in black level and video processing features over these other projectors, thanks to exceptionally high native on/off contrast and built-in real-time dynamic tonemapping, there is a tradeoff. It falls a little short compared to these other models in terms of calibrated light output.

It's also worth noting that both competitors include a long-lasting laser light source to boot, which JVC only offers on their higher-end models.
If your screen size is larger than around 140-inches, you might be asking a little too much from the RS1100 with HDR video sources, especially with lower gain screens. The RS1100 might not look satisfyingly bright, where these other projectors(especially the LS12000) offer a few hundred lumens more and will feel a little more at home on screen sizes larger than this.
---
Conclusion
It seems each and every year JVC finds new ways to improve the feature-set, image quality, and overall usability of their D-ILA projector lineup. And with the RS1100, they've done it again thanks to greatly improved contrast performance, better video processing, and the inclusion of HDMI 2.1 on the base model, making it not only a far more future-proof purchase, but also a much better option for movies, TV shows, and games than ever before, which earns it an Editor's Choice award.
So if you're in the market for a home theater projector in this price segment, JVC's DLA-RS1100 should definitely be on your short list of projectors to consider.