Movies are the original ultra high-resolution format. The use of 35 mm and 70 mm film has ensured that even films that are many decades old have untapped potential when it comes to picture quality. For new movies, the level of fidelity that modern motion picture productions achieve puts the onus on the playback system to do right by the creative intent of the production team. But what is a movie lover to do if they want to experience this quality at home? The short answer is to get a Kaleidescape system.

The subject of this review is the combination of a Kaleidescape Strato C player and a Kaleidescape Compact Terra movie server, which you can pick up from Best Buy for a cool $8989.97. Now, I totally understand that in a world of $50 steaming sticks and $500 PlayStation 5s, a nine-thousand-dollar playback device may strike you as illogical, but I would argue it is no more illogical than buying a motorcycle to take rides on the weekend or putting a swimming pool in your yard.

It's tempting to think of Kaleidescape as a rich person's toy. But that's a mistake. It's more of a hobbyist's tool because if you think about it, you don't need to be rich to spend money on a hobby. In other words, please don't let the sticker shock discourage you from finishing reading this review, even if a Kaleidescape system is beyond your budget, you may very well appreciate what it offers.

---
Features and Specifications
Two components comprise this system, the Strato C player ($3995) and a 6TB Compact Terra movie server ($4995). Kaleidescape also offers the compact Terra server in 12TB and 18TB versions plus a standard Terra Movie Server with larger storage configurations. The server/player arrangement is useful for large homes with multiple high-end displays because you can run up to 10 players off of a single server.

I'm not going to focus on the hardware because you can read up on that by following links to the Kaleidescape website. Instead what I'd like to focus on are the advantages of the system. And the main advantage that Kaleidescape can offer a movie lover is a huge, easy-to-access library of downloadable movies, some of which are only available in 4K and others where Kaleidescape offers advantages versus the Ultra HD Blu-ray Disc version such as using less compression (for example, Avengers Endgame) or not having to split the movie in half because otherwise, it will only fit on two discs (Lawrence of Arabia).

What Kaleidescape does to make its source files is unique, the company enjoys access to the mezzanine file formats, which are essentially the "master" from which other formats are derived.

To find out more about Strato C, follow this link to go to Kaleidescape's website. And to learn more about the Compact Terra movie server, click here.
---
Setup
If you've already seen or at least heard about Kaleidescape, it almost certainly was in the context of a home theater and a projection system. However, for this review, I paired up the system with a 65" Sony A80K OLED. Why? Simply put, for watching high-quality video content, an OLED TV is the current pinnacle of consumer display technology. The incredible contrast achieved by the emissive display technology results from each individual pixel going totally dark, or lighting up and delivering peak highlights that are way beyond what projectors achieve.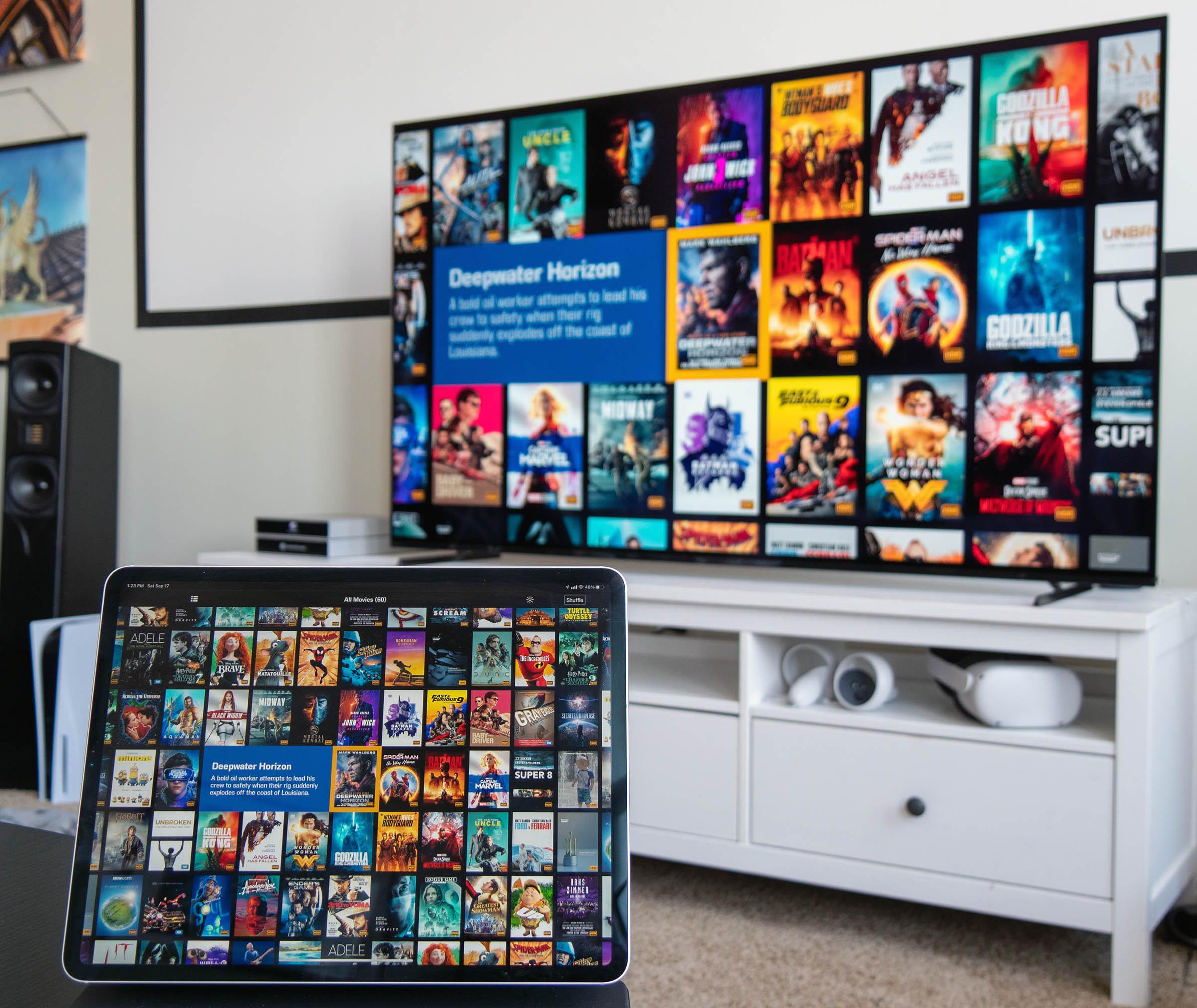 I set up the Kaleidescape system in my living room by following the simple instructions provided by the company. I used Ethernet to connect to my router and gigabit Internet, this system does not use Wi-Fi. Once plugged into the router, the setup process is simple, you enter "my-kaleidescape.local" in a web browser and it brings up settings and configuration options. But this review is not a how-to on setting it up, what I want to discuss is what the system brings to the table when it's up and running, and help explain what is the value proposition behind such a pricey playback system.

I did not use the store to buy movies, but I have in the past. One thing I want to mention is how if you already own an HD version of a title, it is often very inexpensive (around $5) to upgrade to 4K and whatever else a new version offer, like Dolby Atmos. In my Kaleidescape account, I had the option for one of my favorite movies, Starship Troopers. So unlike UHD Blu-rays where each new release costs you the full price of a new disc, with Kaleidescape when a new version comes along it is inexpensive and easy to upgrade.
---
Hands-On with Kaleidescape
For this review, Kaleidescape kindly offered to send a system preloaded with dozens of movies, but it is worth mentioning two things: This system does not stream from the web, it is strictly local playback from a downloaded file. And that if your Internet is fast enough, you can download an entire 4K movie in mere minutes, and once it is downloaded you can play it back without an Internet connection. The point is you are not bandwidth-limited and are at the mercy of your Internet connection when watching content with a Kaleidescape.

This is not my first time reviewing a Kaleidescape system, so some aspects of it were already familiar, like the interface, which is intuitive and fast. First things first, the best way to control a Kaleidescape is with an iPad and the dedicated Kaleidescape Second Screen app, but it's also possible to browse the interface directly on the screen with The Kaleidescape Mobile App. This app does more than just let you browse and buy movies; it also gives you full access to all Kaleidescape menus without ever taking your hands off the screen.

My time with the system is spent watching several favorite movies in full as well as exploring various scenes in a wide variety of films from the catalog that was pre-installed on the server. What it comes down to is this is reference-quality 4K.

On a fundamental level, it's an absolute joy to have the movies you love all at your fingertips (or now, with a recent update, also playable through voice commands using Josh.ai). No other player is as responsive as a Kaleidescape system, so you won't spoil the mood with slow loading times and sketchy navigation when guests are over. You can also program home automation to execute scripts that set the stage for watching a movie, like dimming lights. But again, my concern for this review was not how far you can go with a custom install and home automation. All I cared about is the experience it delivers to viewers, which in my opinion remains unparalleled.

The primary thing I have to say about the quality of the movies I watched is that you can expect the true nature of the film to come through. You are looking at the cinematography, not compromises made for the sake of applying compression. The same goes for audio, the tracks are uncompressed and of the highest fidelity, unlike 4K streaming. As an example, Apocalypse Now. Undoubtedly one of Coppola's masterpieces, I've never seen it look better. But, I can also see the film grain and the camera shake that's inevitable in a move from that era, much of it shot in the jungle!

Having this system reminded me how tough it is to choose what are your favorite films. I can admit that I there's 100 films I'd willingly call my top 10, depending on mood. And Spider-Man: Into the Spider-Verse is one of them. This animated film is not your typical cartoon, and the depth of detail in the artwork is a sight to behold. A lot of the movie takes place at night so the deep blacks and brilliant highlights of the OLED were working overtime to give the picture HDR "pop" while the wide color gamut expressed all the colors appropriately and vividly. There was not a single frame in the film that looked anything but perfect (unlike live-action movies where you can sometimes see if the cinematographer screwed up).

And so it went, with newer big-budget titles looking utterly pristine with slick CGI, and older films showing off the charms of film grain and practical special effects. And then there was the new Scream. Just wow. That movie is so crystal clear, and the effects so realistic, it makes you squirm when the ghost face killer sinks a knife into a victim and the red blood flows. It's just like... holy cow, maybe I should cover my eyes because that looks too real!

Do I even have to tell you Ready Player One is an astonishing viewing experience on this system? It's a top home theater demo choice to begin with, and I've seen the big race with King Kong on top systems, many times. Well, aside from screen size what I got out of it with this Kaleidescape system is definitive in nature. It's another perfect rendition of an all-time favorite flick!

And believe me, as I went through the catalog it was not lost on me how easily I pulled up a movie, how quickly I could find a favorite scene to watch. With Kaleidescape, I found myself watching key scenes and deeply appreciating the way they sparked my imagination. I'd never pull out a disc and try to do the same, the hassle of waiting for it to load and the clunky navigation are not conducive to watching scenes. Streaming is even worse! But I found myself drawn to the experience of scene-hopping. One minute I'm watching the Live Aid concert from Bohemian Rhapsody, the next moment it's the climactic scene of Deepwater Horizon (highly recommended, the action verges on shockingly real), and the next thing I know I've got Doctor Strange and the Multiverse of Madness queued up to the musical duel scene where notes are weaponized in a surrealistic battle. It's overall dark but with tons of detail in the shadows, but with ultrabright and vivid CGI effects to represent the magic. And it's a fact, that OLED outdoes projectors when it comes to rendering all that HDR.

The entire experience of browsing and watching movies on this system was, in a word, flawless. Which is exactly what you should expect from a luxury/performance piece of gear that commands top dollar.
---
Conclusion
Much like Apple and its phones, Kaleidescape's focus is squarely on delivering a best-in-class experience. That requires a complete ecosystem that starts with creating the file, making the file available in the store, and creating a system that can access that file and play it. Not unlike iTunes and an iPhone.

Look, if you are not super into movies then it's unlikely a Kaleidescape system will make sense to you. Just like a $9,000 stove makes no sense to someone who does not love to cook. But if you are into movies and concert films, this system is unquestionably the aspirational player of the moment.

This is all you really need to know about my viewing experience: Starship Troopers is one of my all-time favorite movies. And it blew my mind how good it looked. It brought tears to my eyes to "finally" see the movie in this level of fidelity. Yes, the Sony A80K needs to get credit too, it is a tremendous TV. But let's face it, the better the display, the better the source needs to be to take full advantage.

Kaleidescape is the top choice for movie playback, and that's why you see such systems in home theaters. With 4K and 8K TVs dropping in price while increasing in size, I can envision a movie lover opting for an 88" OLED and a Kaleidescape, a combination that I assure you provides an unbeatable viewing experience and makes the most of what a Strato C player and a Kaleidescape Compact Terra movie server pairing offers. The cost of entry may be high, but it delivered the goods on a 65" OLED, that's for sure. And based on tons of experience I can tell you a Kaleidescape system and the quality it delivers holds up even with the very best home theaters money can buy. It is, of course, an Editor's Choice.