By Brian Kahn
Klipsch's Cinema 1200 Dolby Atmos 5.1.4 soundbar system ($1899) is a monster. It is big in size and even bigger in performance.
---
The Arrival - Unboxing and Features
Upon hefting the box, it was clear that the Klipsch Cinema 1200 soundbar system was more substantial than the majority of soundbars on the market. The Klipsch is a 5.1.4 system that can process 7.1.4 Dolby Atmos audio signals and pass through 8K HDR video signals. The Klipsch is smart home-compatible with built-in Google Assistant, Amazon Alexa, and Spotify Connect. The soundbar borrows design cues from the Klipsch speaker line with a pattern woven into the black cloth that covers the majority of the soundbar.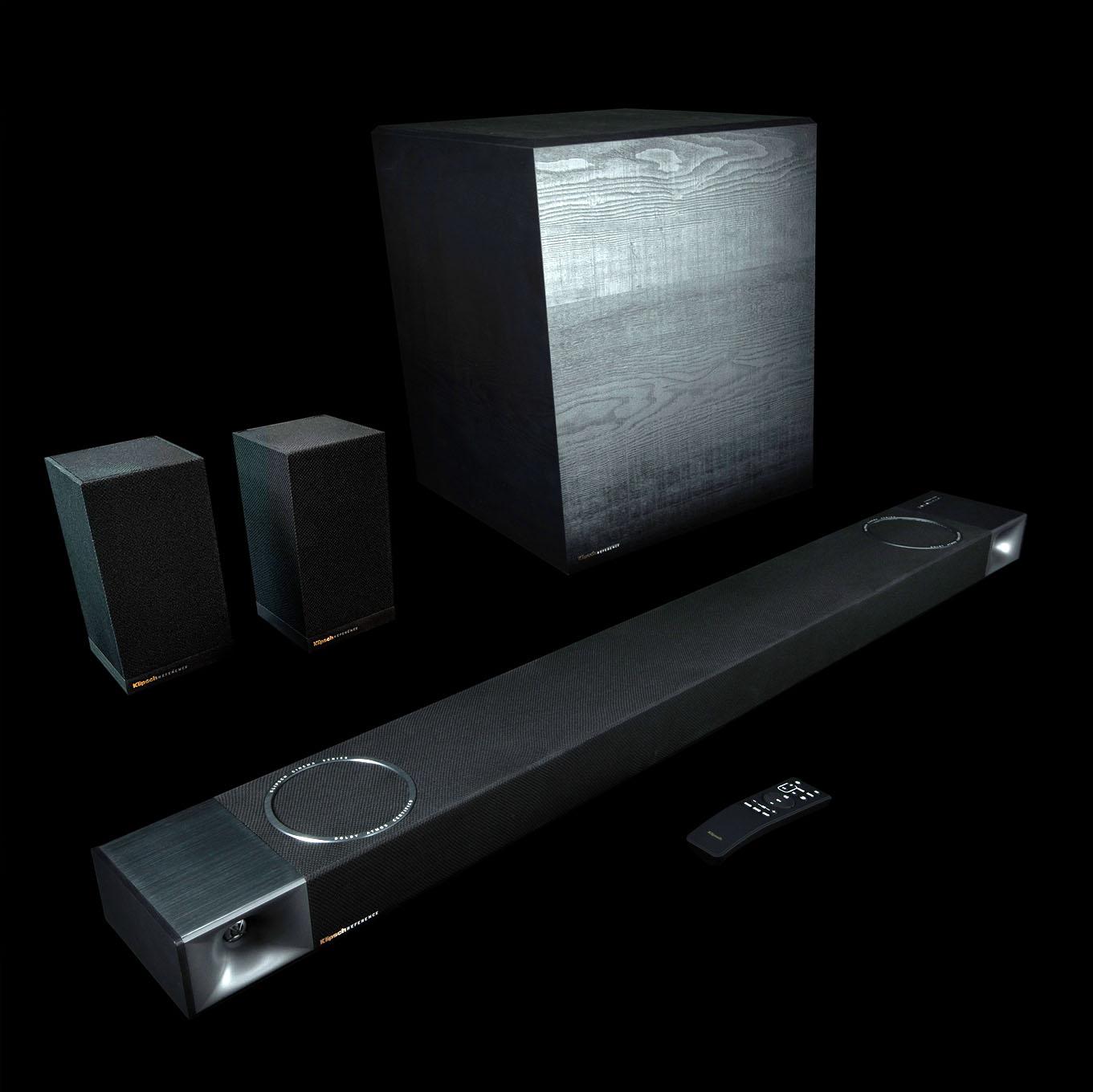 Walnut endcaps add a nice touch making for a traditional-looking speaker enclosure that feels solid. The soundbar houses three one-inch dome horn-loaded tweeters with the left and right horns being exposed. The horns are Klipsch's distinct Tractrix design, with 90-degree dispersion in both the horizontal and vertical directions. Each of the front three channels also has a pair of oval-shaped midrange drivers.

If you look at the top of the soundbar, you will see a brushed chrome circle several inches in from either end cap. This is where the upward-firing three-inch Cerametalic cones are for the height channels.

The entire enclosure is 54 inches wide, 6 3/16 inches deep and 2 15/16 high. No weight for just the soundbar on its own is specified, but it is not light at approximately 18 pounds (according to my scale). No doubt, this is due in large part to the MDF construction—which is used on most high-quality speakers—as opposed to a plastic frame.

The rear panel connections are quite extensive for a soundbar with three HDMI inputs, including one with eARC, optical and analog inputs, subwoofer output, and Ethernet. Of course, Klipsch also provided Bluetooth, in case you want to play something from your mobile device.

In the package, there is also a pair of wireless surround channels. Yes, you still need to plug them into a power outlet, so they are only wireless, not cordless. Each of the diminutive surround channel speakers has a forward firing three-inch cone for surround duties and an upward-firing one for height effects. All the height effects drivers, on both the surrounds and soundbar, are angled slightly forward to bounce the sound off the ceiling toward the listening position.

Both the soundbar and surround speakers are wall mountable, but care needs to be taken to ensure that the upward-firing drivers are not blocked and are pointing in the right direction. Last, but certainly not least, is the wireless (again, not cordless) subwoofer. The subwoofer is a downward-firing design, equipped with a twelve-inch driver. Klipsch does not say how much of the 1200 watts of total system power is comprised by the subwoofer amplifier, but it appears to be a substantial amount. The company rates the frequency response at 22 Hz to 20,000 Hz, with no range specified. But the 22 Hertz bass specification hints at the capabilities of its 12-inch subwoofer.

The system comes with a nicely rounded remote with buttons for volume, listening modes, inputs, and more. A nice touch is that it is motion activated; the buttons light up when you pick it up.

During the initial setup, I used the remote to turn the subwoofer volume to its lowest setting and engage "night" mode to bring the bass level low enough for my bedroom. When I briefly tried the Klipsch setup in my larger listening room, I did not need to use night mode to reduce the subwoofer level, but apartment dwellers may appreciate the feature. The remote can access different sound profiles, plus the night and dialog enhancement modes if you prefer to activate them for different uses.

I used the Cinema 1200 for television, movies and music. With television and movies, the Klipsch Cinema 1200 system was very impressive. Most importantly, the vocal detail was very good. Despite not being able to boost center channel volume independently, the dialog was clear and consistent throughout the soundstage.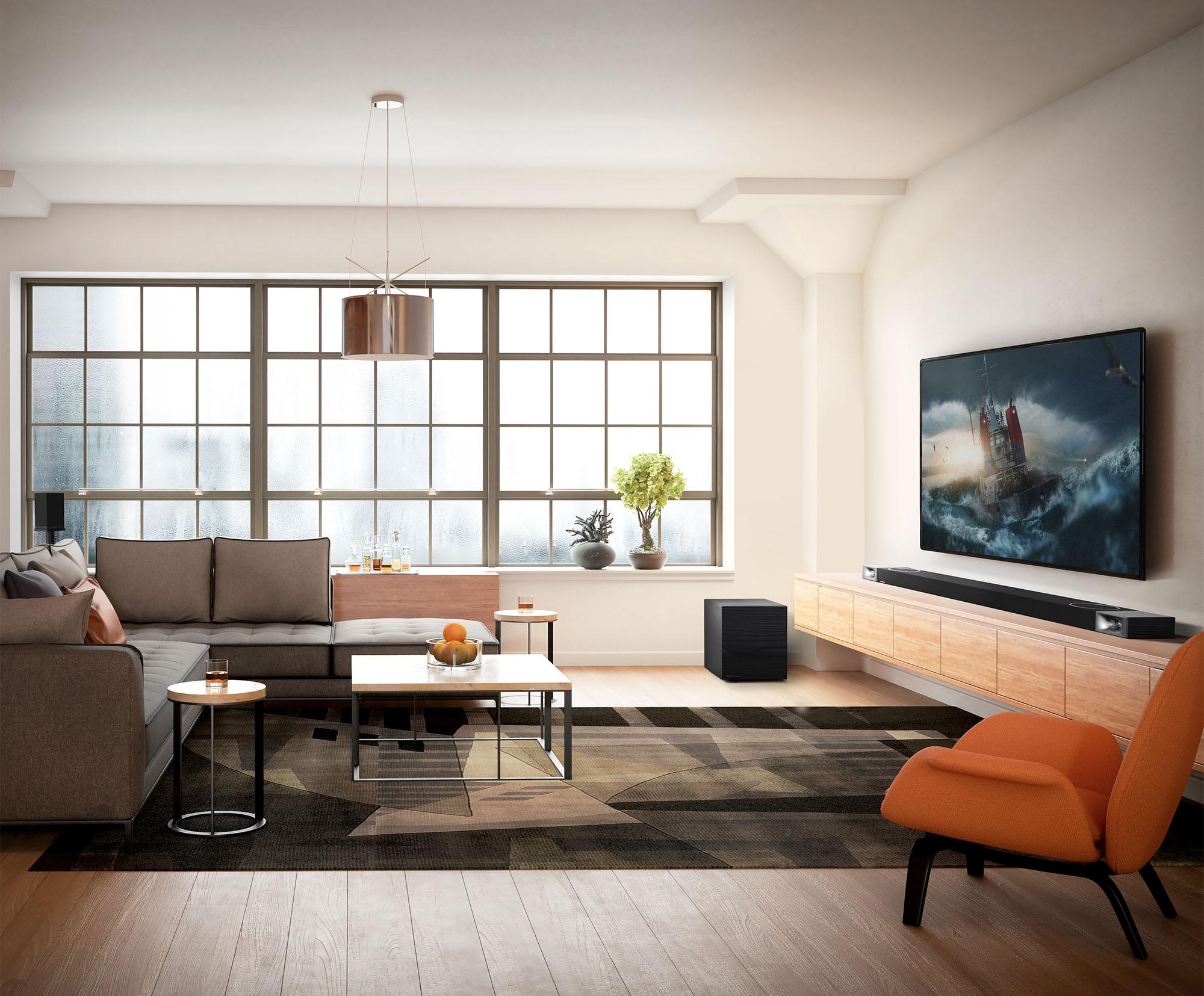 The Klipsch system was even more impressive with dynamic material which was never compressed at any reasonably loud listening volume. The height speakers did add height, creating a more three-dimensional sound to Atmos-enabled shows such as Locke and Key or Space Force but the height effects are more vaguely positioned than in my reference theater room with dedicated ceiling speakers (no surprise there).

Last, but certainly not least, the subwoofer impressed with both its composure and output. Low frequency effects such as explosions or rumbling subways were reproduced with authority and could be felt as well as heard.

Listening to music through the Klipsch Cinema 1200 system was enjoyable for non-critical listening. The soundbar to subwoofer transition was relatively smooth with a little bit of experimentation with positioning and I never felt like there was an anemic, sucked-out midrange that plagues so many lesser soundbars. However, I think room correction and/or equalization would make this even better. On that note, I saw equalization mentioned in connection with the Klipsch App, but that feature was not yet available. Hopefully, it will be in a firmware update (if it isn't already by the time you read this).

My main quibble regarding music reproduction has more to do with the soundbar format and placement, which impacts imaging, particularly the depth of the soundstage. But that is in no way unique to this soundbar, it is an issue with all soundbar systems.
The biggest issue I had with this soundbar was that about once a week it would turn on with my television but not play any audio. Unplugging the power cable for a few seconds always fixed it. A recent firmware update may have resolved this as it has been a couple of weeks without a problem.

---
Pros
• This is the most impressive subwoofer that I have seen in any soundbar system I have reviewed
• The soundbar sound quality is really good, with exceptional clarity and dynamics that outperform relative to its size
• The Atmos height effects added some height dimension, providing further immersion
Cons
• As this soundbar is a competitor to a receiver-based system, it should offer at least some form of basic room correction system or equalization
---
Competition and Comparison
The LG S95QR ($1,499.99) features DTS:X and Dolby Atmos processing with 810 watts of total power. The most unique feature I noted was the upward-firing center channel said to improve clarity.

Samsung Q990B ($1,899.99) has 11.1.4 channels and DTS:X as well Atmos processing. The subwoofer is not as robust as the Klipsch unit, but Samsung adds an Auto EQ function.
---
Conclusion
The Klipsch Cinema 1200 system was a pleasant surprise for me. My experience with active soundbar systems ranged from atrocious to above average with the rare soundbar that actually sounded good, but none of them came with a truly capable subwoofer.

The Cinema 1200 both sounds good and has a good, capable subwoofer that is more than adequate for all but larger rooms where it is highly unlikely a soundbar would be used. The Klipsch 1200 system is more than bass performance, it provides full-bodied midrange that eludes many of the smaller soundbar systems while remaining composed enough to provide clear dialog.

The Klipsch 1200 system is easy to recommend as an Editor's Choice to anyone looking for a higher-end soundbar style system that offers clarity, envelopment, and a serious sonic punch.