Klipsch has announced a comprehensive update to both of its most popular speaker lines: Reference and Reference Premiere. These are the most popular speakers in the Klipsch lineup and the most relevant models to home theater enthusiasts, so it's a big deal.

All links in this article lead to Klipsch.com product pages, where you'll find much more information. We may earn a small commission from any purchases you make.
---
Klipsch's most award-winning speaker line gets a thorough update in 2022. This is the second update, making it to the 3rd generation of this series. According to the company, this update involves advancements in audio technologies, improvements in materials, and attention to cosmetic details.
Klipsch touts the use of a new and larger Tractrix horn with its tweeter, stating that it helps improve frequency response and enhances imaging as well as dynamics. The company states that it has enhanced the cabinet bracing, improved the aluminum binding posts, added cast aluminum feet, and now has discrete Dolby Atmos connections so if you add an Atmos module, you get a cleaner look.
---

• Four floor-standing towers (RP-8060FA II Dolby Atmos® enabled, RP-8000F II, RP-
6000F II and RP-5000F II)
• Two bookshelf speakers (RP-600M II and RP-500M II)
• Three center channel speakers (RP-504C II, RP-500C II and RP-404C II)
• Two surround speakers (RP-502S II and the innovative, dual-purpose RP-500SA II that
functions as a Dolby Atmos elevation speaker or a rear/side wall-mountable surround)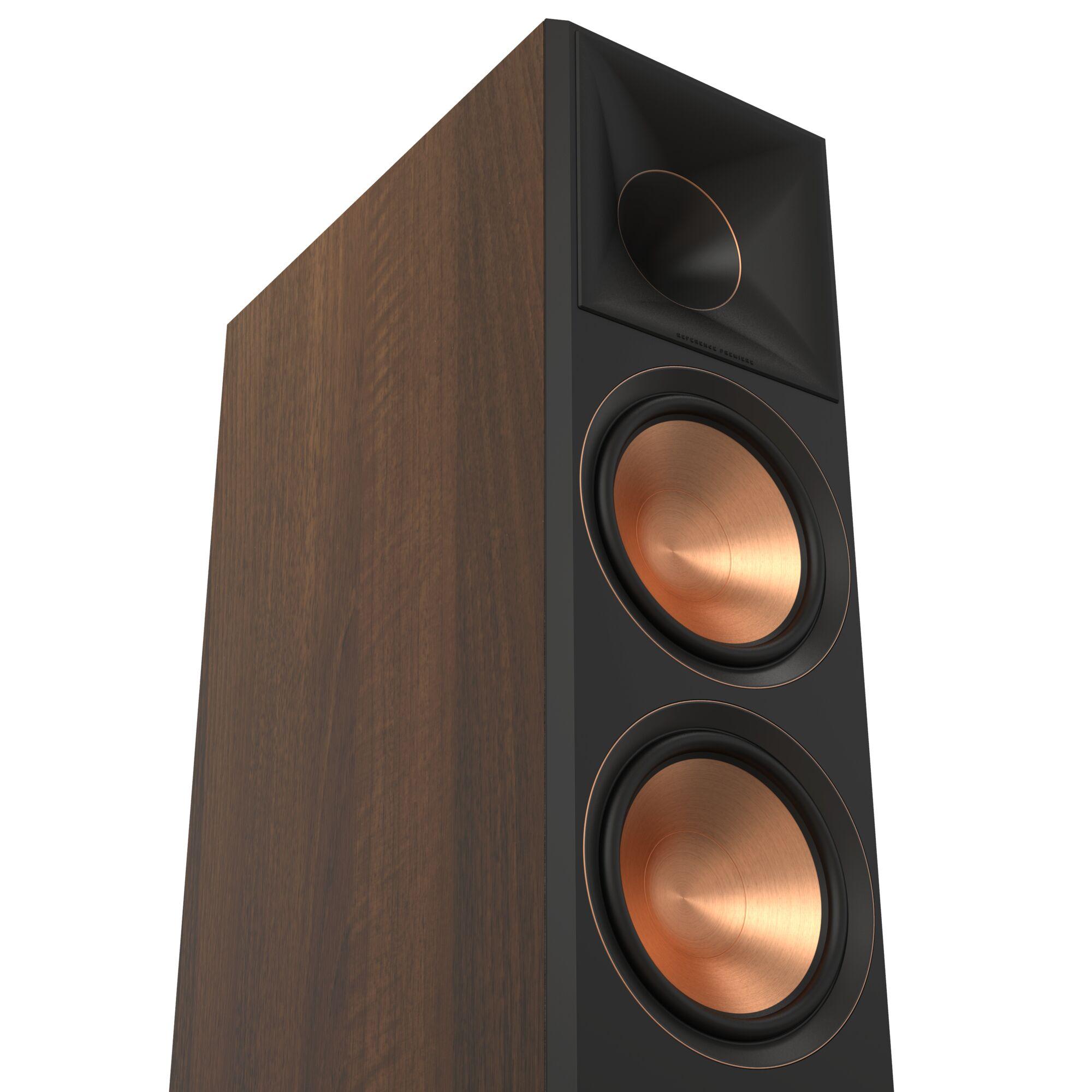 ---
As for pricing, the floor standing speakers range between $1198 and $2998 per pair. The most affordable option, the RP-5000F II, is $599 (each), this tower has dual 5.25" woofers. The next step up is the RP-6000F II with a $749 (each) retail price and 6.5" woofers. Next is the RP-8000F II which ups the woofer size to 8". And finally, the RP-8060FA II features an integrated Dolby Atmos module and costs $1499 each.

The bookshelf models are $599/pair for the RP-500M II, the 5.25" model, and $749/pair for the RP-600M II with its 6.5" cerametallic bass driver.

The three center channel speakers have MSRPs of $499, $599 and $799 respectively. The RP-500C II is $499 and that gets you dual 5.25" drivers plus the Tractrix tweeter in a center channel speaker that covers 56 Hertz to 25 kilohertz, plus-minus three decibels.

Looking for something lower profile in a center channel? The $599 RP-404C II might not play as deep as the RP-500C, with a rated frequency response of 87 Hertz to 25 kilohertz, plus-minus three decibels. But thanks to the use of four 4-inch woofers, this center channel is only 5.72 inches tall.

Listeners in need of a low-profile center channel with higher performance can turn to the $799 RP-504C. This center channel option utilizes four 5.25" woofers allowing it to achieve a frequency response of 50 Hertz to 25 kilohertz, making it the highest performance option in the Reference Premiere center channel lineup.

You can pick up a pair of the RP-502S surround speakers for $899, or for $699/pair you can go with the RP-500SA II which is a dual-purpose speaker that's usable either as a surround or for 3D immersive sound, such as Dolby Atmos and DTS:X.
---
Reference
According to Klipsch, the extremely popular Reference line receives "the most dramatic upgrades since the series inception" for this 7th generation iteration.

According to the company, the new Klipsch Reference speaker range has improved sound quality, precision, clarity, and power. A new, bigger Tractrix® horn offers improvements in coverage, bandwidth, and directivity by acting as a waveguide, in addition to increasing the efficiency of the tweeter—which in turn keeps distortion down.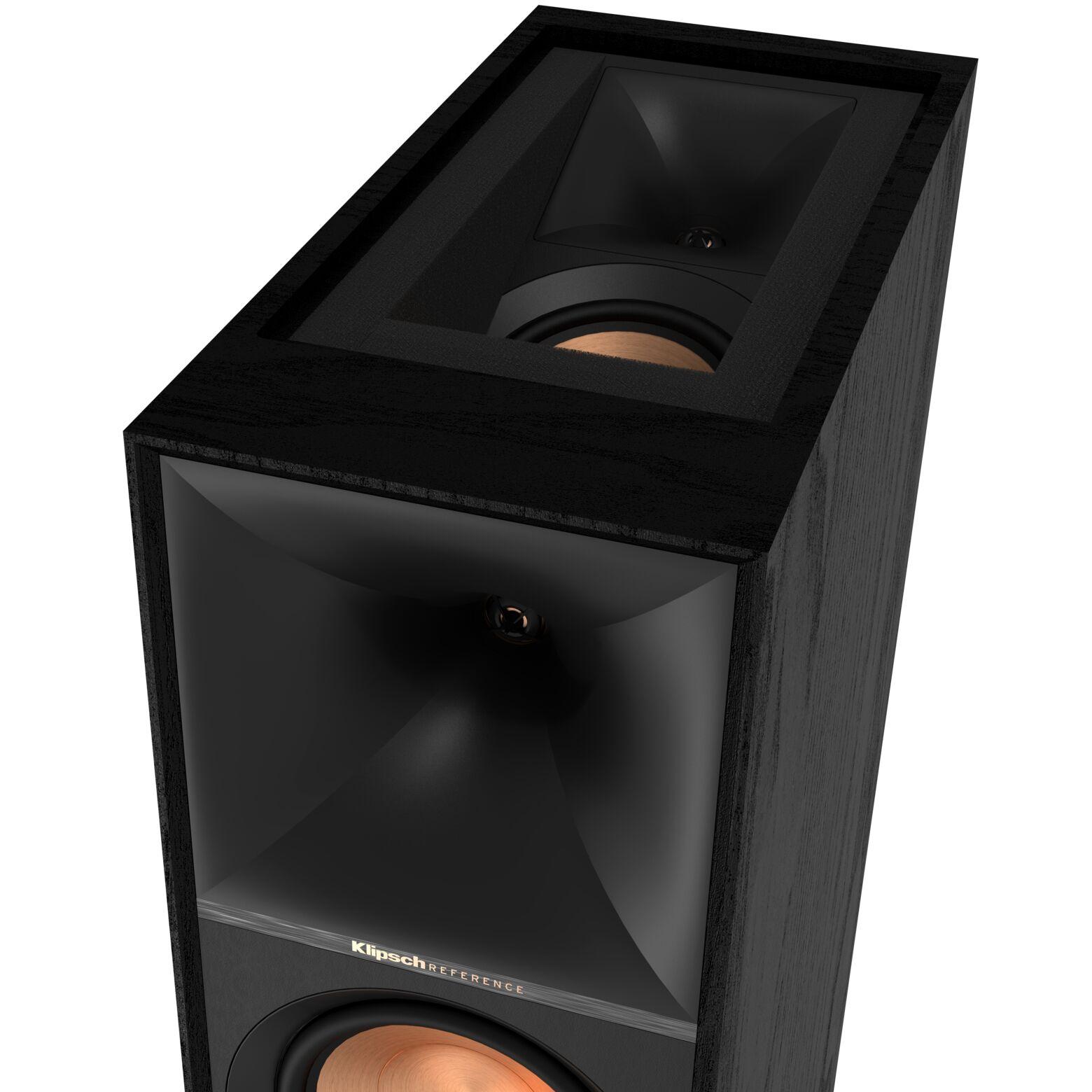 New spun-copper TCP woofers have steeper cone angles that Klipsch credits with creating a smoother response. Greater crossover integration is said to improve accuracy and transparency. Sleek cabinet designs intentionally evoke a sturdy, modern elegance. Internally, increased cabinet bracing offers the benefit of making the cabinet more rigid. On the exterior, a scratch-resistant wood grain vinyl coating, and discrete Dolby Atmos connections make it easy to add height modules.
---
There are 10 New Reference Models
Klipsch offers three floor-standing speakers: R-605FA Dolby Atmos-enabled ($899 each), R-800F ($599 each) and R-600F ($499 each); two center channel options, R-50C ($349) and R-30C ($499); two bookshelf speakers, R-50M ($399 pair) and R-40M ($499 pair); and one Dolby Atmos elevation speaker—that can also be used as a surround speaker—the R-40SA ($599 pair).

Additionally, there are two powered subwoofers, R-121SW ($599) and R-101SW ($499). Together with the speakers, these all comprise the ten new Klipsch Reference series models.
---

Galleries
---