Outdoor speakers are weatherproof and perfect for home theaters, decks, patios, and more. They are designed to deliver crystal-clear HiFi sound in any environment. Whether you're listening to music, watching a movie, or playing video games outdoors, outdoor speakers will immerse you in the action. And now with it being the holiday season, it is a great time to add some outdoor speakers to your collection!
Currently, there is a special deal going for the Klipsch KHO-7 outdoor speakers! They are discounted at $149.00 for the pair, which is $20 off their retail price of $169.99! This is already a great price for its value so the extra savings definitely make it worth getting! This pair of speakers will elevate your listening so check them out for yourself!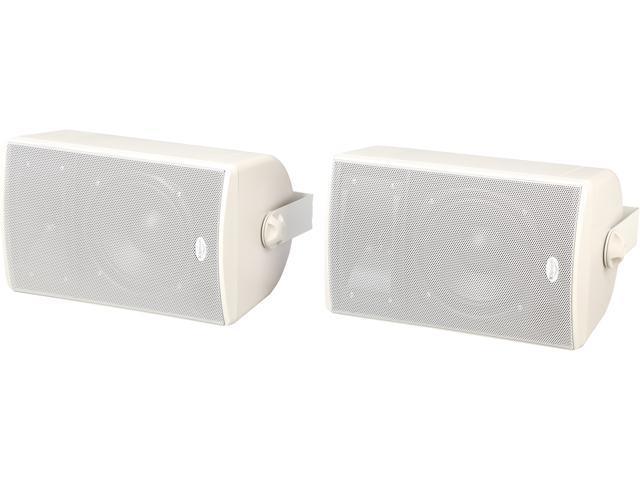 Klipsch's KHO-7 bookshelf speakers are designed for the more discerning home theater enthusiast. Klipsch utilizes the latest technologies that were developed for the Klipsch Signature Series speakers to create the KHO-7 speakers. Crafted with a rugged, weather-resistant design, and high-performance, musical sound, they are reliable for years to come. They've got Klipsch's typical bold styling, dynamic range, incredible realism, and spaciousness. These are some speakers you need to see for yourself!
Looking for a great deal on outdoor speakers? Look no further than Nuvo! Their NV-AP260W speakers do a great job of dishing out detailed music outdoors. Nuvo NV-AP260 speakers bring out the most in your music while you're outside, with their 6-1/2" Kevlar® woofers outputting tight bass and midrange, while their titanium tweeters maintain crisp, detailed highs. The drivers are built into sturdy all-weather housing to keep them safe from the elements. They're also protected by a rust-proof aluminum grille, so you can enjoy your music no matter the season. The included mounting brackets attach to the rear of the speakers and allow for mounting in any direction. They are currently priced at $54.99 for the pair, which is $44.01 off of its suggested retail price of $99.00! So don't wait – get your hands on Nuvo's NV-AP260W outdoor speakers today!
These low-profile, weather-resistant speakers from the Danish company Jamo offer good looks and good sound for your patio or deck. Within each of the speakers, there is a 4" aluminum woofer and a 1" aluminum tweeter. They are tucked inside a UV-resistant ABS enclosure that is rugged. No longer worry about not being able to enjoy your favorite tunes while you work and play in the great outdoors. At just $59.00 for the pair, this is a great deal on a quality product. Their suggested retail is $99.00, so that is a special discount of $40! The speakers are easy to install, with mounting brackets and hardware included, and they're backed by Jamo's reputation for quality craftsmanship. Grab a pair of these outdoor speakers before they're all gone!
Looking for a great gift for the music lover in your life? Or maybe you just want to upgrade your own outdoor listening experience. Either way, you'll want to check out these Polk Audio Atrium5 outdoor speakers. They're currently on sale for a great price, and they offer premium sound quality thanks to their 3/4" tweeters and 5" woofers. Plus, their rugged, weatherproof design means they can withstand full exposure to the elements. So you'll be able to enjoy years of superb performance, no matter where you choose to place them. And with Polk's new Speed-Lock™ system, mounting the Atrium5s is quick and easy. Just install the bracket and click the speaker into place. Don't miss out on this great deal!
Putting together your home theater system together as a beginner? You need some high-quality sound that can provide you with optimal sound when enjoying your audio. Check out this review written by our experts on a sound system that might be the perfect fit for you!