By Dylan Seeger
It's been fascinating to see how advanced smart TVs have become, even in the last few years. LG, in particular, has recently pushed the envelope with their OLED TV lineup. For example, LG was first to include gaming-friendly features such as full-bandwidth HDMI 2.1 ports and G-Sync support on some of their OLED models, beginning a few years ago.
The $2,499 65-inch 4K C2 OLED that LG sent me for this review ups the gaming ante in several ways, with new panel technology thrown in for good measure, which helps elevate image quality not only with games, but also with movies and TV shows. It is part of the C2 series that offers 4K OLEDs in six sizes ranging from 42" up to 83".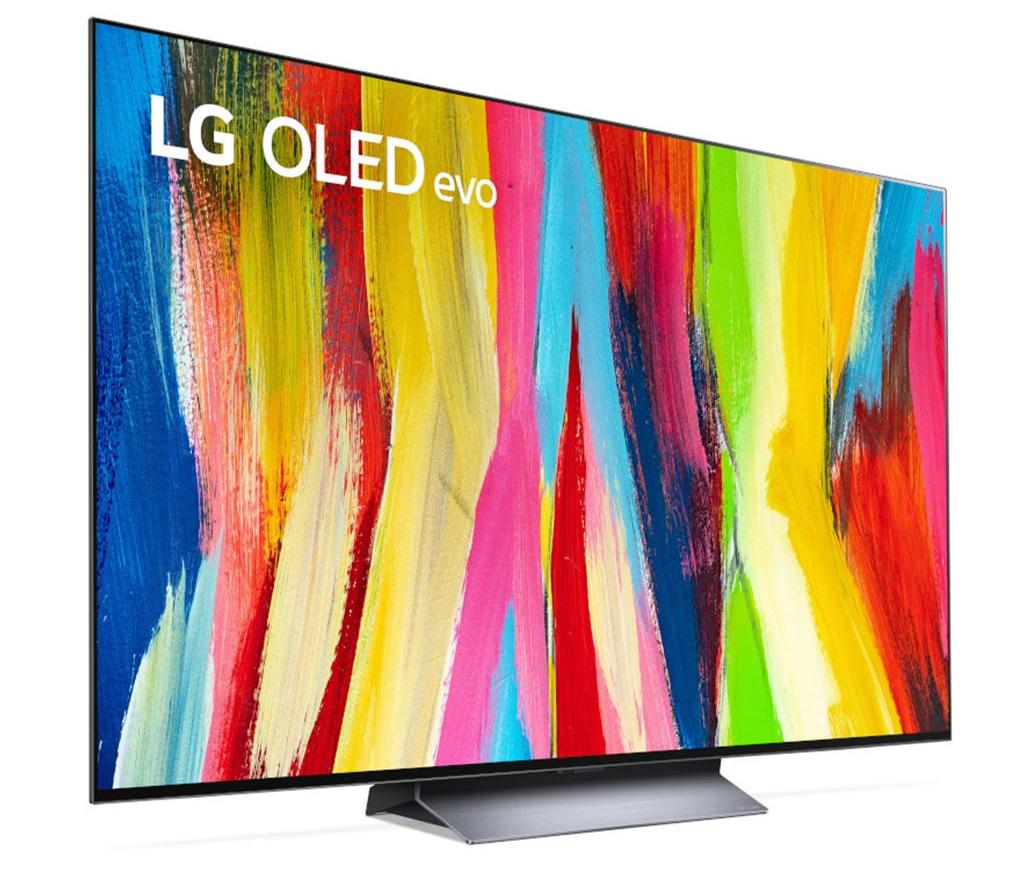 ---
Features and Specifications
The C2-series is powered by LG's brand-new EVO OLED technology, which, as the name implies, provides an evolutionary leap in overall image brightness and dynamic range over previous generation OLED TVs.
According to LG, the increased performance is due to a new deuterium-based blue OLED substructure that makes the panel far more resistant to burn-in, allowing them to drive pixels harder than ever before, for increased light output.
Many premium LCD TVs, while not providing anywhere near the same black level as OLED, can be much brighter. That has made them the go-to choice for TV buyers who have rooms with lots of windows, where sunlight that comes through competes with the TV's image.
The benefits of having this extra brightness are not just about overpowered sunlight coming through windows—most HDR videos are graded with a dynamic range far exceeding what most consumer-level displays can render.
While still far from a flagship-class mini LED QLED in brightness, LG's EVO OLED panel technology is visible and measurably gets you closer to reference-level HDR performance than ever before. This means less aggressive tonemapping needs to occur in order for the TV in order to show a subjectively pleasing image that appears natural and true to the source.
Another area where the C2 excels is in gaming-related features. LG not only includes support for ultra-smooth, tear-free motion at up to 120 frames per second—via Nvidia G-Sync, VRR, and AMD Freesync Premium over the TV's full-bandwidth HDMI 2.1 ports—but the C2 also includes support for GeForce Now and Google Stadia game streaming. This effectively transforms the TV into a gaming system without the need for an external device. To put it mildly, the C2 is LG's best gaming TV to date, offering nearly every feature a gamer could desire.
LG was also kind enough to send along their S95QR wireless Dolby Atmos soundbar and surround speaker system that expertly pairs with the C2. The S95QR is the world's first center up-firing speaker, with five total up-firing drivers (three on the soundbar and two on the rear speakers) which LG says helps to deliver improved height perspective and dialog clarity.
The system offers up an impressive 9.1.5 channels of surround and object-based audio from just four individual speakers. Some of the speakers have additional drivers to help direct sound in your room for a more immersive listening experience, greatly improving sound quality over the TV's built-in speakers.

---
Setup
Installing the 65-inch C2 went smoother than expected. My review unit was replacing a 55-inch B8 OLED mounted on the wall in my living room, so I was expecting it to be much heavier by comparison.
Despite its larger size, I was surprised to find that the C2 was actually several pounds lighter, making the mounting process a little easier. If yo plan to use it on a stand, it comes with a sturdy pedestal base. And thanks to its near bezel-less design, I couldn't have been happier with the way the C2 looked mounted on my wall.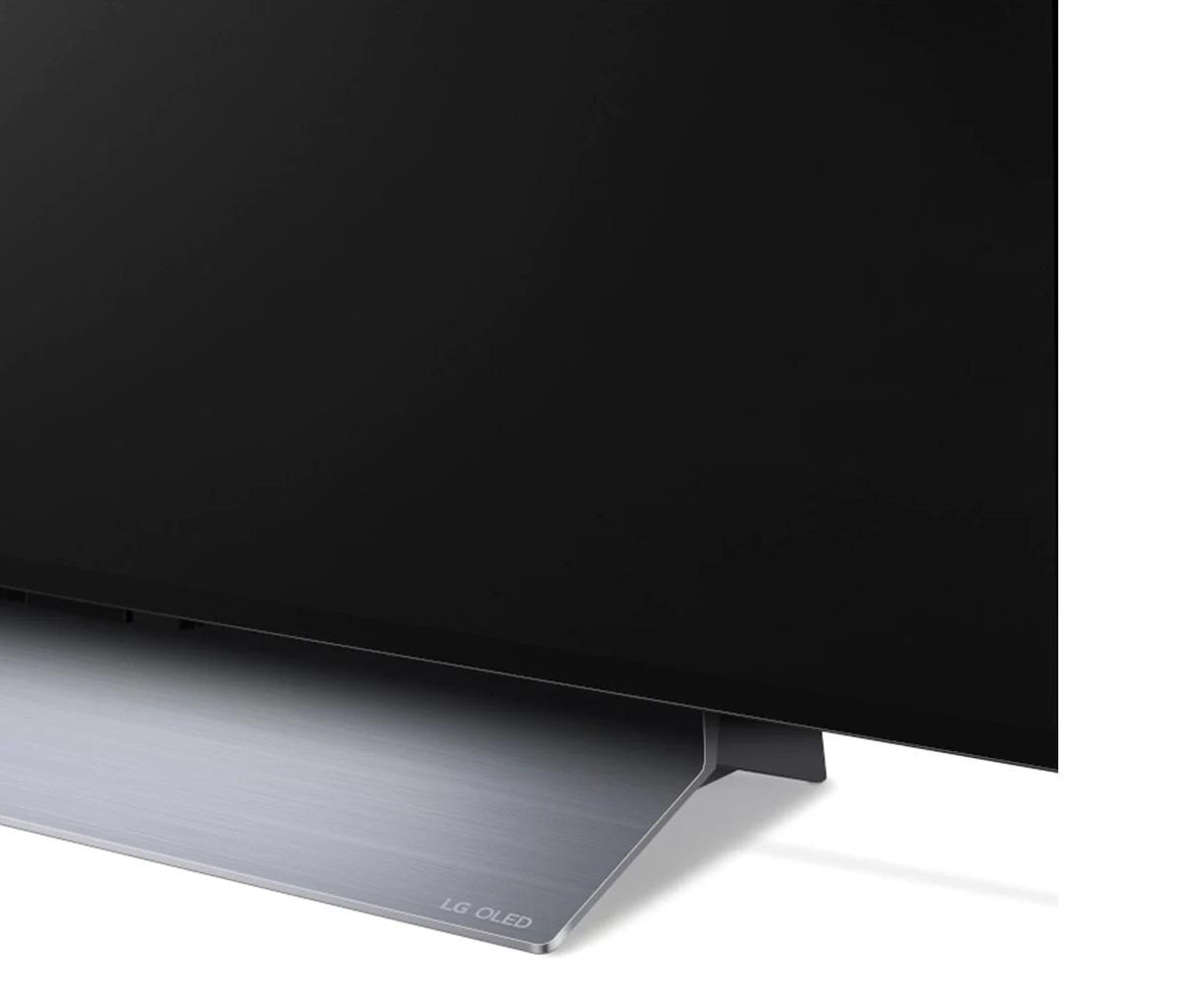 All of the ports are on the TV's side, making them easier to access when the TV is wall-mounted. The C2 has four full-bandwidth HDMI 2.1 ports, one of which supports e-ARC, three USB ports for power and device connection, an RJ-45 ethernet port for network connectivity, an optical SPDIF audio output, an RS-232 and IR-blaster port for system control, and a coaxial input for cable or OTA broadcasts.

When you first turn on the TV, you're greeted by LG's tried-and-true webOS smart-TV operating system. It has its own app store where users can find and download apps for popular streaming services such as Netflix, Hulu, Disney+, HBO Max, and others. Gamers can also install Google Stadia and GeForce Now game streaming services, which are new to the LG OLEDs of this generation.
Compared to the LG B8 OLED I've been using since 2018, the C2's user interface and the menu system have seen an overhaul which feels more fluid and intuitive to use and features a more simplistic design language while still managing to retain useful image settings advanced users can use to customize the experience.
There is still a full-color management system built into the TV, as well as support for Calman and madVR 3DLUT professional calibration functionality for those who require it. Plus there are a plethora of other custom settings useful for cleaning up lower-quality video sources, but if you're streaming the majority of your content, I'd recommend disabling or lowering these settings because most of today's video sources don't require much assistance to look good.
The C2 also has a slew of smooth motion creative frame interpolation options, as well as a black frame insertion mode for the smoothest motion possible. But, aside from using these settings to improve things like sports or video games, these options aren't always necessary, as OLED technology handles motion quite well on its own.
If you're like me and are after the most honest, true-to-the-source image possible, LG includes a Filmmaker mode that will automatically change the picture settings on the TV to ensure you're seeing an image as close as possible to what the post-production team saw when they mastered the content for home release. This is a great feature to have if you aren't quite sure how things need to be set in order to get an honest-looking image and I highly recommend using it.
Another useful setting I recommend enabling is the Dynamic Tonemapping option, which is useful when playing back HDR10 video material—like you'll find on many streaming services and UltraHD Blu-ray discs. LG has upgraded the software and now calls it Dynamic Tonemapping Pro. You'll gain a noticeable bump in image brightness and subjective dynamic range with it turned on.
LG says this newly updated software analyzes over 5,000 individual sections of the image, to dynamically adjust the tone map on the fly for each and every frame. This helps maximize image quality when the dynamic range encoded in the HDR video exceeds that of the OLED panel.
Before diving into your favorite movie or game, I think most owners will want to make sure the TV is set to output as much light as possible. After all, higher pixel brightness is one of this TV's strengths. You'll want to make sure the picture mode you choose has the OLED Light setting set to Max—some modes default to a lower setting.
You'll also want to find the Peak Brightness setting and change this to High. Additionally, you can enable the Dynamic Contrast option for even more brightness. But be aware this setting can reduce shadow detail and blow out highlights in bright portions of the image—but it definitely gives the sense of a brighter overall image, if that's something you're after.
The C2 offers many picture modes to choose from, some of which are app or input-dependent. For the most accurate image, you'll want to stick to the aforementioned Filmmaker mode or one of the Expert picture presets. if available. These modes change many of the picture settings, like white balance, gamma, and color space to more accurately reflect the type of video being sent to the C2.
I chose the Expert (Dark Space, Night) picture preset mode for calibration because it provided the most accurate out-of-the-box image. Prior to calibration, the C2 is no slouch, providing excellent image accuracy that most users will find sufficient to forego professional calibration. Prior to calibration, delta errors averaged less than 2.0 across the board. If you're looking for perfection, the C2 has enough manual image control to provide reference-level accuracy.
After calibration, my review unit had average delta errors for white balance, color, and gamma that were less than 1.0, which is well below the detectable threshold for errors in human vision.
For those looking for reference-level image accuracy without manual calibration know-how, the C2 also offers an auto-calibration feature that works in conjunction with Calman Home for LG calibration suite. This software has been specifically designed to take the guesswork out of the equation and, through an automated process, the software will calibrate and adjust the image, giving way to results even better than what the manual controls can provide. Just be sure you have a compatible meter before opting to buy the $145 software license.
If you plan on using Google Stadia or GeForce Now, you'll want to set up and connect your gaming controllers beforehand. Many popular gamepads are supported, I tested both PS4 DualShock and official Google Stadia controllers. Each connected and saved to the TV without a hitch.
LG has also designed a totally different menu system for when the C2 detects that you're gaming. The C2's Game Optimizer menu gives you quick access to gaming-centric options, like Standard and Boost input lag modes, as well as custom gamma curves that help boost shadow detail or brighten the image to give you a competitive advantage. You'll also see really useful information, like whether Low Latency and VRR modes are currently in use.
If a PC is connected, the Game Optimizer menu will show you if G-Sync or AMD Freesync mode is engaged. You also get a real-time frame-per-second monitor, so you can see how many fps the gaming device is rendering at any given moment.
If you choose to add LG's S95QR wireless Atmos soundbar speaker system, the first thing you need to do is plug the speakers into an outlet and connect the soundbar to the C2's eARC-compliant HDMI port during the initial setup. The TV will detect the speakers and even notify you that you can now adjust the volume using the C2's remote control.
Anyone who goes this route will want to download LG's Sound Bar app, available for both iOS and Android, and go through the automated speaker setup process where it fine-tunes the sound to cope with room acoustics. You can also adjust the level for each speaker, among other things. I found it extremely useful for fine-tuning the subwoofer.
---
Performance
What I really like about OLED technology, in general, is that it doesn't rely on manipulating a backlight or special video processing to yield a great-looking image. OLED was designed from the ground up to offer an impressive dynamic range, with "perfect" black levels, by directly creating and controlling light output from the pixels themselves.
If you're after some of the most honest, true-to-the-source looking image quality available today, it really doesn't get much better than OLED.
With the C2's new EVO OLED panel, it was obvious from the moment I turned it on that there's been a big improvement in pixel brightness and subjective dynamic range to its image, as compared to previous-generation models I've tested. Measurements confirm owners can now expect at least a 20 percent increase in pixel brightness overall, and sometimes more.
Peak white pixel brightness also sees an improvement, with the C2 hitting just north of 800 nits as long as ten percent, or less, of the pixels on-screen are asked to be this bright. Thanks to this improvement in overall brightness, HDR video, in particular, takes on a whole new personality and gets you much closer to seeing how it was originally mastered without the need to manipulate the video through heavy tonemapping as you see on a lot of competing displays.
In most of my testing, subjectively, the C2's image simply felt more correct than ever before. Partly because brighter objects within the image can now stand out from the rest more distinctly, as they would in real life.

Because LG can control each pixel individually, you don't see odd uniformity issues like blooming or artifacts such as blown-out highlights that you'll sometimes see from competing LCD-based TVs when their respective dynamic contrast systems engaged. LG doesn't have to rely on these types of systems, with these inherent flaws to produce a great-looking image.

The extra brightness also pays dividends when viewing in a room with moderate sunlight or if you like to watch with the lights on at night. Compared to dimmer OLEDs of the past, the C2 is simply far more watchable in these scenarios.

Thanks to a great anti-reflective coating, I found the TV did an admirable job rejecting direct sunlight hitting the screen, which, unfortunately, does happen in my living room for a few hours in the afternoon.
Despite the boost in pixel brightness, the C2 still offers excellent color saturation performance, similar to previous-generation models. I measured my review unit to cover 99.7 percent of the DCI-P3 gamut within the REC2020 triangle, effectively covering that entire color space. This means the C2 can provide accurate skin tones, lush green foliage, and eye-popping shades of red when required.
While it would have been nice to see some improvement in color saturation to more fully cover REC2020 or provide an increase in color brightness, something QD-OLED TVs are starting to do, the fact remains that the majority of colors encoded into today's HDR videos still reside within the palette of colors the C2 can render. So, it's hard to complain too much about the performance offered here. Just know that a select handful of HDR titles may look a little more vibrant and color-rich on competing QD-OLED models from Samsung and Sony.
Another great aspect to OLED technology is its off-axis viewing angle performance that allows people to sit nearly anywhere in the room, without noticeable loss in image quality like you see on a lot of LCD-based TVs. Those generally appear more washed out as you move further away from the front and center of the screen.

My living room has a couple of seats off to the side where the C2 was mounted, and compared to most of the LCD-based TVs that have been mounted there prior, this is an area where OLED clearly excelled. You don't need to be front and center to the C2 in order to get an impressive picture. But it's also worth noting that here again, the new QD-OLED models are even better at maintaining picture quality off-axis.
When it comes to gaming performance, owners will notice that LG has taken the gaming experience to the next level. In most modes, input lag is surprisingly low. With a 4K120p input, I measured a blistering 5.4 milliseconds. This means that actions from controller button presses will appear on-screen imperceptibly fast, potentially giving gamers a competitive advantage in certain fast-paced games.
I was able to test VRR and G-Sync input modes using a connected PS5 and gaming PC with an RTX 3070 Ti. When switching back to the HDMI ports where these devices were plugged in, the C2 had no trouble remembering and activating these modes.
It was cool to see how many frames-per-second my PS5 was rendering in VRR mode on supported titles like Marvel's Spider-Man: Miles Morales, which averaged around 70fps. The motion was buttery smooth, which greatly improved the subjective motion resolution and playability of most of the titles I tried, including this one.
I also spent a good deal of time playing Darksiders Genesis through Google Stadia Pro. This is a fun action-RPG game offering single or local co-op modes and plays a lot like a game in the Diablo franchise. Initially, I was concerned about excessive latency due to the inherent nature of game streaming, but I believe that as long as you use the wired network connection and a low-latency controller, such as the official Stadia controller, you'll have a great time playing non-competitive games through the C2.
Furthermore, I had no problems whatsoever with character movements or the timing of my attacks. And throughout, image quality was surprisingly good, even during quick camera movements, despite it being a re-encoded and streamed version of the original video.
Despite being a re-encoded and streamed version of the original video, I had no issues with character movement or timing of my attacks, and the image quality was surprisingly good, even during quick camera movements.
While the C2's built-in speakers offer great dialog intelligibility and plenty of sound output, the wireless S95QR Dolby Atmos speaker system was a major improvement in nearly every way.
The relatively compact 8-inch subwoofer has surprisingly deep bass response, and if you take the time to use the automated setup procedure in the LG Sound Bar app to equalize and fine tune the speaker system to the acoustics specific to your room, I found that the S95QR rendered an impressive soundscape around me, particularly on well-mastered titles like Blade Runner 2049.
Thanks to the upward and directional firing drivers on the sound bar and surround speakers, it was easy to pinpoint sound cues all around me. The ambient noise provided by the surround channels helped to make me feel as if I were smack-dab in the middle of most scenes. So, if you're looking for a compact, wireless Atmos speaker system, consider this soundbar system as it pairs very well with the C2.
---
The Downside
While most aspects of the C2 are state-of-the-art, compared to Samsung's new QD-OLED TVs, color saturation and off-axis color accuracy are two areas where LG's EVO OLED panels fall a bit short.

Ultimately, this means the C2 doesn't have the same range in color reproduction especially when it comes to rendering certain brighter and darker shades of color that may be encoded into HDR video. Whether or not this is going to affect your viewing experience is going to depend on the specific HDR video you're playing back.

As for the viewing angles, while OLED is already good in this regard, you can see some color shift the further off-axis you sit, especially in yellows. QD-OLED retains picture-perfect color and contrast, no matter how far off to the side you sit.
---
Comparisons and Competition
As alluded to earlier, the C2's biggest competitor is Samsung's $2,999 65-inch S95B. The main difference between the C2 is that the S95B uses quantum dot technology over a blue OLED substrate panel that allows Samsung to provide a wider range of color and a boost in image brightness. The S95B will provide a peak image brightness about 15-20 percent higher than the C2 depending on how many pixels need to be bright.
However, this extra brightness can only be sustained by the pixels for a short period of time before they automatically start to dim in order to protect them from damage, whereas the C2 can sustain its peak brightness, albeit a little less, for longer thanks to improvements from the new EVO panel and backplate cooling solution. So at the end of the day, it's really going to depend on the type of content you're watching, like brightly mastered HDR, in order to benefit from the extra dynamic range the S95B is capable of.
LG's other competition is Sony's OLEDs, some of which use LG Display panels, just like LG's own TVs. But Sony is also offering the BRAVIA XR A95K, which uses the same QD-OLED technology as the Samsung but has some Sony-exclusive features like Acoustic Surface Audio+ where the sound comes from the screen itself.
---
Conclusion
LG's 65-inch C2 provides an immediately noticeable upgrade in overall image quality over previous-generation models, thanks to improvements to the company's OLED panel technology. The extra brightness provided greatly enhances HDR video sources, in particular.
What's more, LG has found additional ways to improve the gaming experience, as well, thanks to built-in game streaming support that turns the TV into its very own gaming console. Pairing all of this gamer tech together with the advancements that LG's new EVO OLED panel provides and the new C2-series may be one of the most well-rounded and value-packed I've seen from the company in years.

The LG C2 is highly recommended and an easy Editor's Choice for 2022, because it really hits the sweet spot of value and performance!
---
Calibration Charts